Podcast: Play in new window | Download (Duration: 43:48 — 47.5MB)
Vancouver home sales crash 30%, we are now seeing this occur around the globe and it is spreading. The payroll numbers are in and they miss expectations but unemployment has moved down to 3.9%. The numbers are not that great, high wage jobs are declining, those who have multiple jobs are on the rise and wages are falling. The service sectors is slowing. The Fed is slowly bringing the economy to it's knees, the fed did not change rates but this is part of the plan because they accelerated their balance sheet unwind, next time they will most likely raise rates. This is done on purpose so the people don't notice what is happening. There was a twitter purge of followers and we come to find out that the biggest twitter users were followed by bots. Congress wants CEO of Twitter to explain why they are shadow banning. Russia has moved into the Golan Heights to control the area. Q drops more bread crumbs and reveals that the deep state will be using scare tactics and staged events to try to control the narrative of the movement, this will not work. The deep state will not stop and their tactics will become worse as time goes on. Be prepared.
Check Out The X22 Report Spotlight YouTube Channel X22Report Spotlight
Please check Newzsentinel.com for the latest news on the economic collapse. The Sentinel Alerts are updated throughout the day. If you haven't already, go to "The People" and join the community of people who are helping each through the economic collapse.
---
Current News – 08.03.2018
Watch The X22 Report On Video
---
Economy
 Vancouver housing in July, when according to the Real Estate Board of Vancouver (REBGV), residential property sales tumbled by 14.6% from June 2018, and a whopping 30.1% from one year ago. In fact, a total of only 2,070 transactions took place which was the fewest since the year 2000, as both buyers and sellers continue to sit on their hands amid confusion whether the recent price gains will continue or whether the housing bubble has burst.
Sales of detached properties in July was just 637, a decrease of 32.9% from the 949 recorded in July 2017, and the 1,079 apartment sold was a 26.5% drop compared compared to the 1,468 sales in July 2017.
And no, it's not seasonal: last month's sales were 29.3% below the 10-year July sales average.

Source: zerohedge.com
 BLS reported that July payrolls missed "bigly", rising just 157K, missing expectations of 193K, and the lowest monthly print since March. The 157K July jobs is well below the average monthly gain of 203,000 over the prior 12 months.
This was the biggest miss to expectations since October.
There is one potential culprit for the miss: the bankruptcy of Toys'R'Us: as SouthBay Research notes, jobs lost from the bankrupt retailer dragged payrolls lower by 31k.
 
The unemployment rate dipped from last month's 4.0%, to print where consensus expected it would, at 3.9%
Source: zerohedge.com
 looking deeper between the lines reveals a potentially troubling problem.
 high wage jobs have actually been declining throughout 2018 as employers have shifted their hiring to low-wage occupations, and replacing existing highly-paid workers with less productive, but cheaper, surrogates.
 according to the BLS, over the past 3 months the vast majority of the total workers hired, some 1.1 million, are high school graduates or those without a high school diploma.
What about workers with some college degree or higher? Here the US economy has actually lost 233K workers!
Source: zerohedge.com
 the total number of multiple jobholders in the US spiked to 8.072 million, surpassing the recession high of 8.071 million hit in August 2008, and the highest all the way back to 1999.
And yet, by far the worst news in today's report was that despite the 2.7% nominal increase in average hourly earnings, when netting out the 2.9% increase in inflation, real wages declined by 0.2%, which was the biggest monthly drop in average hourly earning going back to 2012. 
Source: zerohedge.com
 there's no slack in the labor force, we're at maximum employment, this is the best economy ever?
 real average hourly earnings turned negative year-over-year…
In fact this is the weakest YoY shift in real average hourly earnings since October 2012…
Source: zerohedge.com
Following yesterday's disappointment in manufacturing data, Markit's latest survey confirms the Services industry slowed in July as higher prices are hurting margins and business expectations hit a 6-month lows. Worse still, ISM's Services survey tumbled with a big miss to its worst since Aug 2017.
new orders crashing by 6.2pts to 57 – its biggest drop since Aug 2016… and worse still, the stagflationary threat remains as prices paid kept rising despite weaker sales.

Source: zerohedge.com
The Fed Accelerates its QE Unwind
The Fed's QE Unwind – "balance sheet normalization," as it calls this – is accelerating toward cruising speed. The first 12 months of the QE unwind, which started in October 2017, are the ramp-up period – just like there was the "Taper" during the final 12 months of QE. The plan calls for shedding up to $420 billion in securities in 2018 and up to $600 billion a year in each of the following years until the balance sheet is sufficiently "normalized" – or until something big breaks.
Treasuries
In July, the QE Unwind accelerated sharply. According to the plan, the Fed was supposed to shed up to $24 billion in Treasury Securities in July, up from $18 billion a month in the prior three months.  . Over the four weeks ending August 1, the balance of Treasury securities fell by $23.5 billion to $2,337 billion, the lowest since April 16, 2014. Since the beginning of the QE-Unwind, the Fed has shed $129 billion in Treasuries.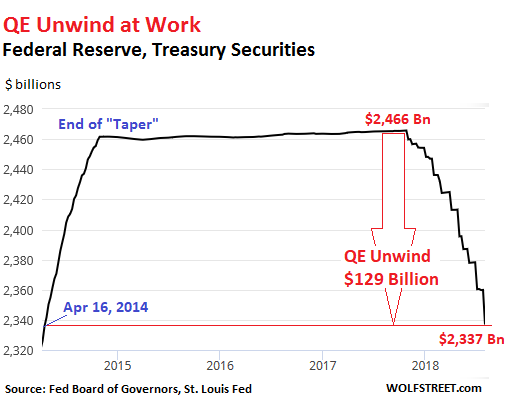 Total assets on the Fed's balance sheet for the four weeks ending August 1 dropped by $34.1 billion.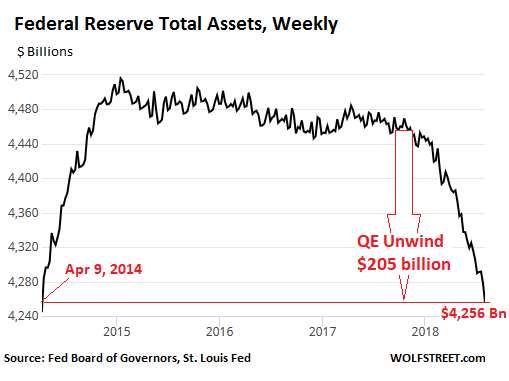 Source: wolfstreet.com
---
Political/Rights
CNN, New York Times Rank in Top 10 for Most Fake Twitter Followers After Bot Purge
As reported by Marketwatch, CNN, the New York Times and others lost hundreds of thousands of followers following a "cleanup" by Twitter.
Twitter itself lost more than 7 million fake followers.
CNN and the New York Times lost about 600 thousand each, putting them in the top 10.
Source: blacklistednews.com
GOP leader wants Twitter CEO to testify on 'shadow banning'
House Majority Leader Rep. Kevin McCarthy (R-Calif.) wants Twitter CEO Jack Dorsey to testify before the House Energy and Commerce Committee about allegations that Dorsey's platform participated in "shadow-banning" of conservative users.
Source: thehill.com
California Democratic Rep. Maxine Waters, 79, has been slapped with an FEC complaint after funneling $750,000 in campaign funds to her daughter since 2004 to manage a mailer program, as extensively detailed by the Free Beacon's Joe Schoffstall.
The scheme managed by Karen Waters has raked in hundreds of thousands of dollars from California politicians who pay to be included in her "slate mailers" – sample ballots mailed out to around 200,000 Los Angeles voters which promote who Waters endorses.
Since 2004, the campaign in turn reportedly has paid $750,000 to the congresswoman's daughter, Karen Waters, or her public relations firm Progressive Connections for help producing them.

A government watchdog in July filed the first of two complaints with the Federal Election Commission asking for a full audit
Legally, the payments are considered "reimbursements" for the state mailer, rather than a campaign contribution – which is currently limited to $2,700 to a candidate's committee and $5,000 to a PAC, so the mailer scheme is more or less a giant loophole.
A second, broader complaint is currently being drafted by the conservative National Legal and Policy Center, which will focus on Waters' sources of funding as well as the mechanism by which her daughter has been so handsomely paid for running the mailer program.
Source: zerohedge.com
---
Geopolitical/Police State
US Senators Announce Russia Sanctions 'Bill From Hell
Bill intends to sanction Russian 'oligarchs,' restrict energy projects
Sen. Lindsey Graham (R-SC), one of the leading proponents of the bill, said the massive present US sanctions against Russia have failed, saying that all of these new sanctions are needed to "punish" Russia.
There is no timeline for a vote on the bill yet, but reportedly some senators are also lining up to offer amendments adding yet more sanctions or other measures against Russia.
Source: news.antiwar.com
---
War
White House: Trump Received Letter From Kim Jong Un on August 1
How significant these letters are is unknown, as certainly the US and North Korea have, since the previous summit, set up more direct lines of communication. That said, President Trump made much of a previous letter from Kim, so he may consider these essential.
Source: news.antiwar.com
Russian military arrives at occupied Golan Heights border
 Russian military police secured UN mission access to Golan Heights on Friday, for the first time since the beginning of the conflict in Syria on.
Deputy commander of the Russian forces in Syrian Arab Republic Sergei Kuralenko said that today's event will allow the UN mission to "fully fulfil its obligations to the international community."
He added that this will also "improve the overall situation in the area."
Source: almasdarnews.com
---
Q
#GoldStarAnon is a Bad Enough Dude to Save the President! #NewQ #QAnon #GreatAwakening
Q's told us time and time again that FISA leads directly back to the corrupt deep staters we all know and despise, Hussein, HRC, and the Democratic Party. And in case it isn't obvious, that [20] refers to the 20 pages Nunes desperately wants the public to see:
On June 7, 2018, James Wolfe was arrested and charged with one count of lying to the FBI. The Wolfe Indictment was released on the same day. Note: Wolfe was only charged with lying to the FBI. Wolfe was not charged with leaking any information. For a timeline and details on Wolfe see: Wolfe's...
According to the Wolfe Indictment, on March 17 2017 Wolfe exchanged 82 text messages with reporter Ali Watkins, and that evening engaged in a 28-minute phone call with her.

The Original Page FISA Application is 83 pages long. Including one final signatory page (h/t the Conservative Treehouse).

It seems more than plausible that Wolfe took pictures of the Original FISA Application and sent them by text to Watkins.

Perhaps even more important:

What Wolfe sent was almost certainly an unredacted version.

In the public version of the Original Page FISA Application there are 37 fully redacted pages(out of 83 total). Several other pages have redactions for all but the header. There are only two pages in the entire document that contain no redactions.
This leads to the obvious question:
Has the entire media set had unredacted copies of the first two FISA Applications in their possession – selectively mining them for stories and leaks.

…

If Nunes is convinced complete redaction will make the fraud obvious to all, consider what the media may have been doing this entire time.

Publishing damaging details from the FISA while having full access to the truth.
If that's the case, and the media has had the unredacted memo this whole time… that means they've has been lying through their teeth to the American people from the very beginning – and Trump teams knows they've been lying.
Think of every time they've feigned being wounded at being called "#FakeNews."
Think of Acosta trying to corner Sarah Sanders this morning (who handled it like a boss, btw)…
The simple fact is this: you've permanently and irreversibly lost all credibility, and its no one's fault but your own.
Here's the three images Q dropped, and they're really just contextualizing the FISA drop above.
Gina Haspel knows where all the bodies are buried.
Rachel Brand was, in a technical legal move, put in office to run down the 210 day clock, which allows Trump to replace Rosenstein without a Senate confirmation vote.
The line here about "FISA = TIES TO MSM HEADS" makes much more sense now that we understand that they've probably had the full FISA docs this whole time.
Now, just to be clear, we believe SP means "Special Purposes" but we're not entirely sure. It could be something else, but that's #anons' best guess so far, and it fits with what Q is saying here.
Expect censorship to increase. Expect worse from these degenerates. They have no intention of fighting fair, because they know they're cornered.
Q drops more Anti-Q articles. Here are all the links, because I like being thorough: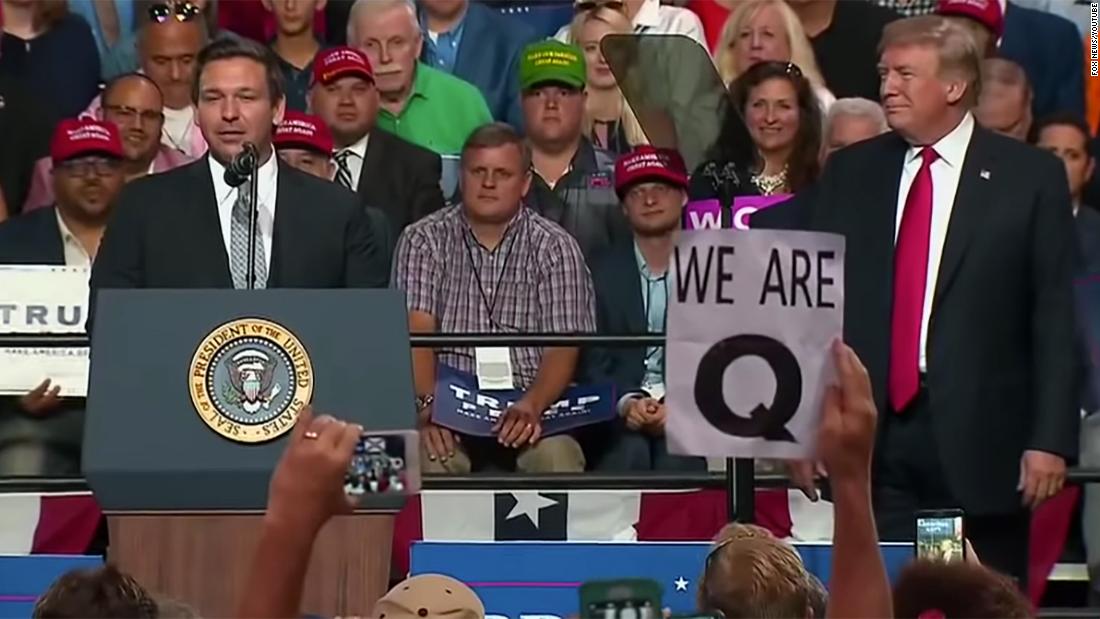 Among the attendees of President Trump's rally in Florida were people holding up signs promoting an online right-wing conspiracy persona — who's been targeting movie stars and the Democratic Party alike.
CNN
Happy Thursday! The QAnon movement got its start last October, pivoting off a cryptic comment by President Donald Trump. Sen. Lee argues free speech in the latest gun-rights dust-up. And a new SLC Airport is taking shape amid a $3.6 billion redo.
The Salt Lake Tribune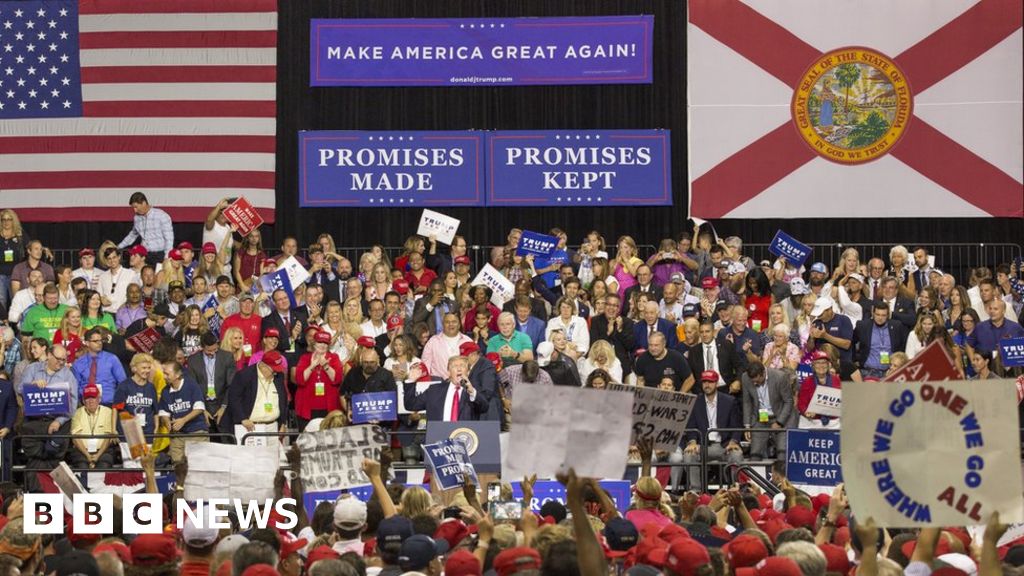 #QAnon
: The pro-Trump conspiracy theory
A bizarre and complicated conspiracy theory has spread from the internet to President Trump's rallies.
Supports of an online conspiracy theory known as QAnon are starting to show up at Trump rallies, where they tout their fringe movement with T-shirts and placards.
And look at this… They even got DICTIONARY.COM to do their shilling for them.
Everything After Z by Dictionary.com
So I guess the dictionary is comped now, too, guys.
Look, point is – we're Mainstream now.
It's not going to slow down. They have to fight us in the open. We've become too big a threat to the establishment.
I have a feeling, however, it will be too little, too late for them. If they wanted to have a chance of beating us, they needed to begin this messaging seven months ago. Now? The legal gears are already grinding, and the #TreasonousMedia is about to be exposed. They won't have time to react and program the populace. They've been circumvented.
Oh yeah, #Anon stopped a potential Presidential assassination attempt today:
Get ready to be creeped out:
Quick thinking, snapping this photo, anon.
And here are some other things anon had to say about this incident:
Q promised VIP access tonight, so I hope it was a tremendous experience, anon!
Thanks for being quick enough to recognize a threat, and smart enough to call the right people to handle it!
You're a #GoldStarAnon in my book.
UPDATE:
Look at what Boyd had to say about his motivations:
Source: neonrevolt.com
Compared to Tampa, Wilkes-Barre was a veritable Q ghost-town.
One user gives us some background:
#Anon gives us some more (potential) intel about the situation on the ground:
"Just the plan?"
Anyway, now you know the media's setup: they're attempting to frame the #QArmy as violent and dangerous, and then air that footage nonstop across the nation to try to get the normies all riled up.
Let it be known that all true Q followers RENOUNCE VIGILANTE VIOLENCE!
No true Q follower will pursue any violent actions, or issue threats against anyone – no matter how vile and repugnant they may actually be.

Source: neonrevolt.com
---
Uncensored