Podcast: Play in new window | Download (Duration: 27:18 — 33.1MB)
ADP stats came out today and jobs surged by the most in 5 months. There are many cities that have surpassed the housing bubble in 2008 and we are approaching housing bubble 2 and when it pops it will be a disaster. The GDP numbers have been revised even higher now, showing the economy is recovering when it really isn't. Bank executives are selling their stocks, are they signalling that something is about to happen. The Rothschild firm has sold US assets, another strange indicator. The FBI will not release Hillary Clinton email's because they report that the public does not care. Many journalist are now starting to point out that Antifa is pushing the agenda of hate and using tactics to push a civil war in the US. Russian journalist has been kidnapped in Ukraine. North Korea for the first time admits they launched a missile. US warships shoot down a missile after NK launched their missile. Iraq and Jordan take control of their border and reopen it.
Check Out The X22 Report Spotlight YouTube Channel –  X22Report Spotlight
Please check Newzsentinel.com for the latest news on the economic collapse. The Sentinel Alerts are updated throughout the day. If you haven't already, go to "The People" and join the community of people who are helping each through the economic collapse.
---
Current News – 08.30.2017
---
Economy
ADP Employment Surges By The Most In 5 Months 
ADP reports the US economy added 237,000 jobs in August, notably more than the expected 185k. This is the biggest addition since March, and follows upward revisions for July. While Services dominated (adding 204k), Goods-producing jobs rose 33k (with manufacturing adding 16k).
Source: zerohedge.com
The US Cities with the Biggest Housing Bubbles
 amazing house price bubbles, city by city. Bubbles really aren't hard to recognize, if you want to recognize them. What's hard to predict accurately is when they will burst. Normally the Fed doesn't want to acknowledge them. But now it has its eyes focused on them.
The S&P CoreLogic Case-Shiller National Home Price Index for June was released today. It jumped 5.8% year-over-year, not seasonally adjusted, once again outpacing growth in household incomes, as it has done for years. At 192.6, the index has surpassed by 5% the peak in May 2006 of crazy Housing Bubble 1, which everyone called "housing bubble" after it imploded (data via FRED, St. Louis Fed):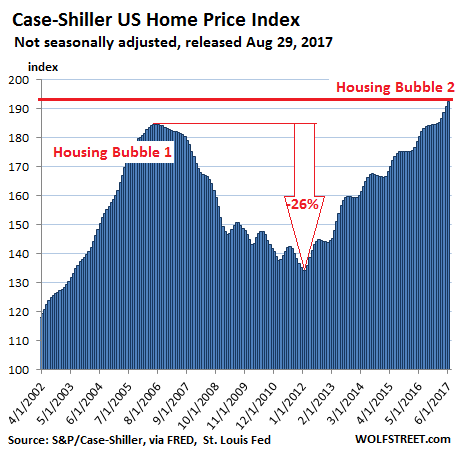 The index was set at 100 for January 2000. An index value of 200 means prices have doubled in the past 17 years, which is what most of the metros in this series have accomplished, or are close to accomplishing.
Real estate is local. Therefore real estate bubbles are local. If enough local bubbles balloon at the same time, it becomes a national housing bubble. As the above chart shows, the US national Housing Bubble 2 now exceeds the crazy levels of Housing Bubble 1, and in all ten major metro areas, home prices are setting new records.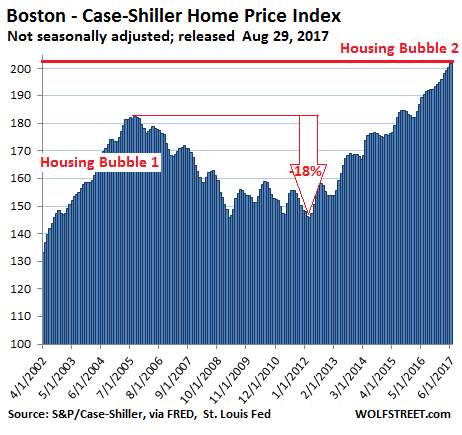 Home prices in the Seattle metro have spiked over the past year, pushing the index 20% above the peak of Housing Bubble 1 (Jul 2007):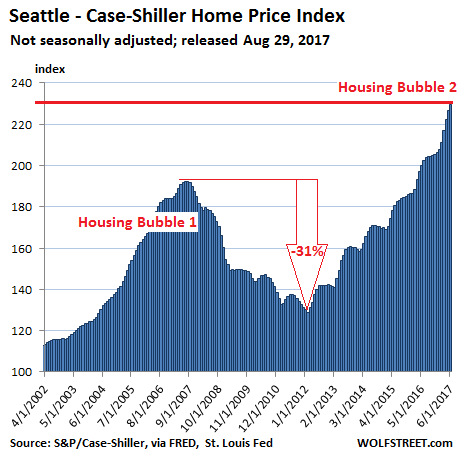 Then there's Denver's very special house price bubble. The index has soared a stunning 43% above the peak of Housing Bubble 1 (Aug 2006):
People in the Dallas-Fort Worth metro felt left out during Housing Bubble 1,  The index has now surged by 42% from the peak in June 2007: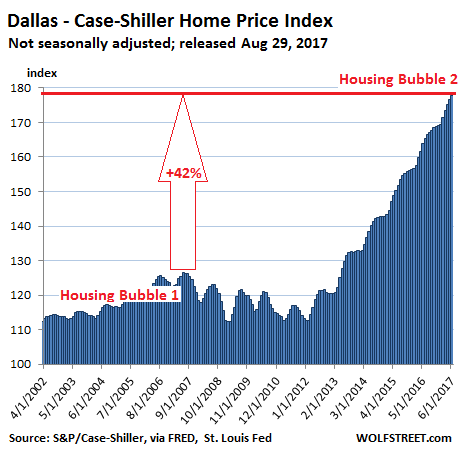 The Atlanta metro, where home prices had plunged 36% after Housing Bubble 1, has now finally squeaked past the prior peak by 2%,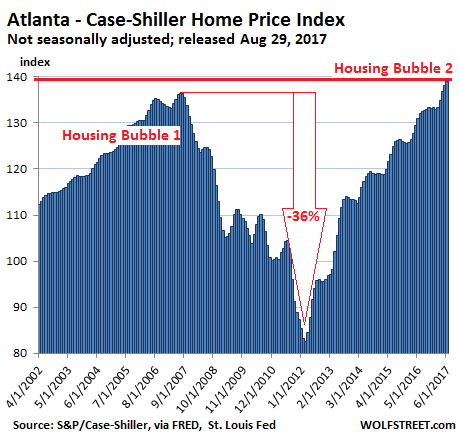 Source:  wolfstreet.com
US Second Quarter GDP Revised Sharply Higher To 3.0%, Best In Two Years 
In a surprise for traders – and the Fed – moments ago the BEA reported that after its first revision of Q2 GDP (a quarter which ended two months ago), the initial estimate of 2.6% was revised to 3.0%, beating expectations of a 2.7% print, and the highest annualized growth rate since Q1 2015. The annualized Q2 GDP was more than double the first quarter number which as a reminder printed at 1.2%
  sharp drop in profits of domestic financial corporations decreased 6.2% after decreasing 7.9%. Somewhat surprisingly, profits from the rest of the world decreased 2.0% after decreasing 2.1%,  
Source: zerohedge.com
Big Bank Bosses Are Dumping Their Stocks As "Credit Risk Ricochets Back" 
"Credit risk is ricocheting back as a legitimate concern after years of hibernation…" warns David Hendler, founder and principal at Viola Risk Advisors, who considers recent share sales by executives at the big retail banks, in particular, to be smart, asconsumer portfolios are showing signs of strain.
  executives of the biggest TBTF banks were dumping their shares as a post-Trump rally took their stock prices higher…
 . Insiders at the big six banks by assets — JPMorgan Chase, Bank of America, Wells Fargo, Citigroup, Goldman Sachs and Morgan Stanley — have in total sold a net 9.32m shares on the open market since the turn of the year. 
That is an unusually long streak of net sales, across each of the big six.
Source: zerohedge.com
Rothschild Just Dumped Massive Amounts of US Assets, Sending an Ominous Signal
In what is a sure signal to oligarchs across the globe, Lord Jacob Rothschild, founder and chairman of RIT Capital Partners, has substantially minimized his exposure to what he views as a risky and unstable U.S. capital market. In the half-yearly financial report for RIT Capital Partners, Rothschild explained the company's aggressive moves to significantly reduce exposure to U.S. assets.
Additionally, Rothschild stated that he believes quantitative easing (QE) programs employed by central banks, such as the Federal Reserve Bank in the U.S. will "come to an end."
Rothschild was quoted in the report as saying, "The period of monetary accommodation may well be coming to an end."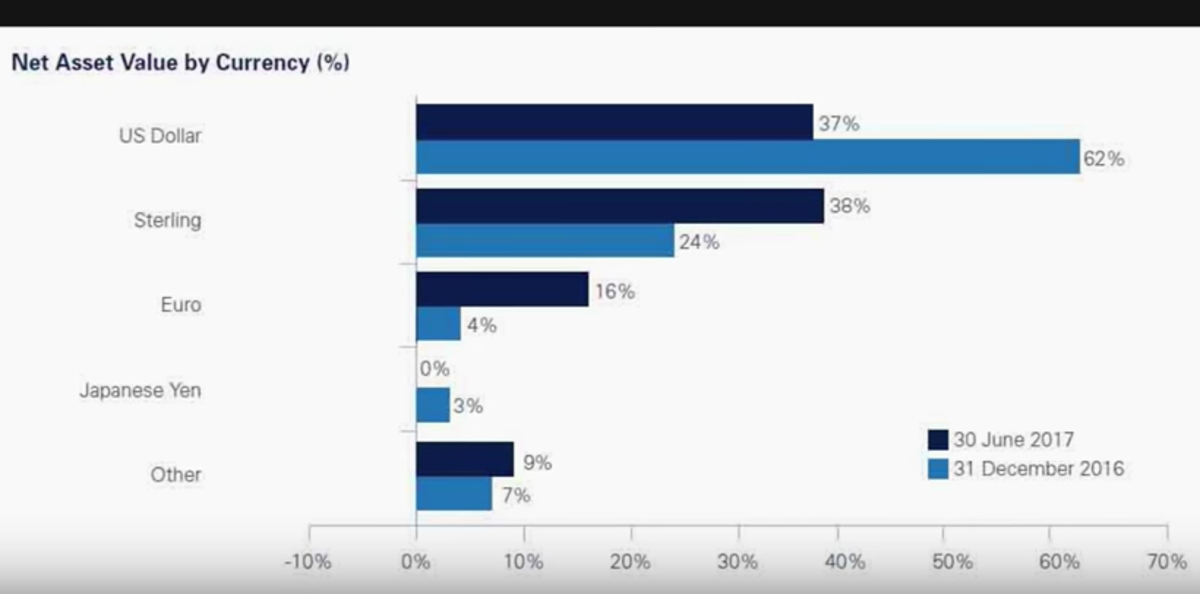 Source: thefreethoughtproject.com
---
Political/Rights
FBI refuses to release Hillary Clinton files, says lawyer did not demonstrate the 'public's interest in the disclosure'
The FBI turned down a lawyer's request for the release of FBI files on Hillary Clinton, faulting the lawyers' documents for not providing enough proof "that the public interest sought is a significant one," according to multiple reports Tuesday.
The FBI killed the request made by attorney Ty Clevenger, who filed a Freedom of Information Act request earlier this year to obtain information relating to the investigation into Clinton's emails.
"You have not sufficiently demonstrated that the public's interest in disclosure outweighs personal privacy interests of the subject," Hardy said to Clevenger in a letter on Monday. "It is incumbent upon the requester to provide documentation regarding the public's interest in the operations and activities of the government before records can be processed pursuant to the FOIA."
Source: washingtonexaminer.com
WATCH: Antifa And Nazis ARE On The 'Same Moral Plane,' Says National Review Editor
National Review Editor Rich Lowry asserted Tuesday that Antifa is "on the same moral plane" as Nazis because both groups use violence and terroristic tactics to achieve their goals.
Lowry said on Fox News that the media created a false narrative in Charlottesville, VA that would not allow people to denounce the violence of Antifa, else they be accused of supporting Nazis.
"The fact is Antifa and Nazis are on the same moral plane," Lowry said. "They both are violent, they both like these street clashes–it's not that Antifa shows up and become violent, it's a movement devoted to violence."
"Google Antifa and you'll see event after event after event where they act like this," Lowry said, explaining that he's not sure if they should be labeled a terrorist organization but "they are terroristic in their tactics."
"They show up, they break things, they burn things, and they beat people up," he concluded.
WATCH:
---
War
CONFIRMED: Kidnapped Russian journalist Anna Kurbatova is being held by Ukrainian regime–to be forcibly deported
The interior ministry of the Kiev regime has confirmed it has kidnapped  Russian journalist Anna Kurbatova and is currently holding her at an undisclosed location near Kiev.
Kurbatova who reports for Russia's Channel One is to be forcibly deported from Ukraine and banned from future re-entry to the country for three years. British journalist Graham Phillips faced a similar ban when he was apprehended by regime forces in Donbass in 2014. His ban has expired this year 
Source: theduran.com
Russia SLAMS the Kiev regime's appalling violation of Russian journalist Anna Kurbatova's human rights
Russia's Foreign Ministry has strongly criticised the Kiev regime's kidnapping and illegal detention of Russian civilian journalist Anna Kurbatova.
Source: theduran.com
North Korea in first-ever missile acknowledgement
Pyongyang confirms missile flew over Japan after launch supervised by Kim Jong Un
Seoul: Nuclear-armed North Korea said Wednesday that it had fired a missile over Japan the previous day, the first time it has ever acknowledged doing so. 
Source:  gulfnews.com
US Warship Shoots Down Test Ballistic Missile Off Hawaii
One day after the latest North Korean missile launch, which was followed by a warning in the state-owned KCNA that more Pacific launches would follow, the U.S. Missile Defense Agency (MDA) said a U.S. Navy destroyer in the Pacific shot down a medium-range ballistic missile during a test off Hawai on Wednesday.
Destroyer USS John Paul Jones intercepts the target with an SM-6 missile. 
(Missile Defense Agency photo)
Source: zerohedge.com
Russia, China Join Together In Space Exploration Effort 
China and Russia are set to sign a milestone agreement in October on joint space exploration from 2018 to 2022, sending manned missions to the Moon for the first time.
The bilateral agreement will cover five areas including lunar and deep space exploration, developing special materials, collaboration in the area of satellite systems, Earth remote sensing, and space debris research.
It is to be signed against the background of space exploration race the US is trying to win, so the two partners decided to join the efforts.  
The first module of China's space station Beijing is expected to be launched in 2018.
 
Source: zerohedge.com
Qatar and Russia to 'bolster' economic ties
Two of the world's largest energy producers, Qatar and Russia, on Wednesday vowed to increase trade ties at a time when the emirate is facing an economic boycott from neighbouring states.
Russian Foreign Minister Sergei Lavrov  said
"We are committed to bolstering trade and economic ties,"
He added that Moscow "attached great importance" to economic cooperation, including energy, between the two countries, 
Russia and Qatar are two of the world's top four gas producing countries.
Both are also major oil producers, and last year Qatar spent billions on taking a stake in Russia's state-controlled oil company, Rosneft.
Source: middleeasteye.net
Iraq, Jordan reopen border-crossing that was closed for over three years
Jordan and Iraq on Wednesday reopened their only border crossing, saying security had been restored three years after the Islamic State group seized control of frontier areas.
The reopening of the post is a sign of increasing stability in the area and the restoration of commercial traffic will be important for the economies of both countries.
Source: almasdarnews.com
ISIS Fighters Thought They Had Safe Passage, But US Says Think Again
The U.S. military is threatening to strike a convoy of hundreds of Islamic State fighters set free by Lebanon in a complex peace deal between ISIS, the Lebanese government, the  group Hezbollah, and the Assad regime.
ISIS agreed to return the bodies of nine fallen Lebanese soldiers to the government in exchange for its fighters safe passage. The fighters remain armed and were given multiple air conditioned busses and ambulances by the Lebanese government for their journey.
The U.S. government however may not let the deal go through if it has anything to do with it.  "We will not rule out strikes against IS fighters being moved," Operation Inherent Resolve spokesman Army Col. Ryan Dillon
Source: dailycaller.com