Podcast: Play in new window | Download (Duration: 23:58 — )
The UK housing bubble is bursting. The younger generation is starting to realize that college doesn't pay off. Sears is imploding at a very fast pace. Durable goods decline. Are the central banks nationalizing the economy?  The system is falling apart and looking back at history it always turns out the same way, the economy crashing. Trump signs Venezuelan sanctions.US taxpayers spent $50 million for luxury items in Afghanistan. Russia is ready and prepared to discuss business opportunities in Lebanon. Russia and Syria create a joint air defense system. Russia is not about to leave Syria, they will be there until all the terrorists are eliminated. The IS border offensive ends in a disaster. Syria is slipping through the cabal's fingers and the middle east is moving away from the US, this means the petrodollar is in trouble.
Check Out The X22 Report Spotlight YouTube Channel –  X22Report Spotlight
Please check Newzsentinel.com for the latest news on the economic collapse. The Sentinel Alerts are updated throughout the day. If you haven't already, go to "The People" and join the community of people who are helping each through the economic collapse.
---
Current News – 08.25.2017
---
Economy
  Paul Smith, the chief executive of the UK's largest independent lettings and real estate agency, Haart, "unaffordability in the UK's property market is now reaching crisis point." If drastic measures are not taken to tame prices, the UK could lose its place as a property owning democracy, he warns.
The latest figures published by the Office for National Statistics (ONS) reveal that the average cost of a home jumped by £10,000 in June from a year earlier, to £223,000. In the last eight years prices have surged by almost 50%. Its National House Price Index is now 18% higher than during the peak of the prior housing bubble (September 2007).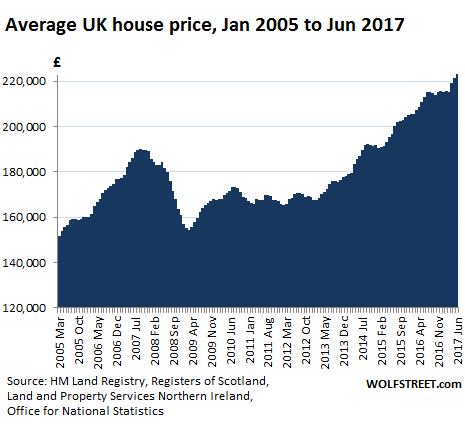 Demand is already sagging. In the first six months of 2017 alone, first-time buyer registrations dropped by almost 20% across Haart branches. It seems that a trend that began in London is now going nationwide.
 The number of homeowners in London in the 25 to 29 age bracket has dropped more than 50% since 1990. Foreign buyers have virtually cornered the market, acquiring as much as three-quarters of all new-build housing in the capital in recent years.
But even foreign buyers have begun to pull back from London's property market. In April this year values in the prime central London market were already 13% below their 2014 peak,
As many as 100,000 UK households are now trapped in unsellable leasehold properties with sharply escalating ground rents.  .
Source: wolfstreet.com
Slumping College Enrollment Signals Americans Are No Longer Buying The College Lie 
For decades, teachers and parents around the country have been repeating the same message to children: "To have a bright future, you need to go to college."
But now, in Hawaii at least, it's starting to look like the younger generation isn't buying it.
Across the state, University of Hawaii college enrollment has plummeted by 15 percent in just six years, from a high of 60,300 students in 2012 to 51,300 as of 2017.
Trying to explain this decline, university President David Lassner pointed to the fact that college enrollment has been declining around the country. Some have blamed demographics, citing the decline in birthrates. Others blame economic factors such as an improving economy, which may entice high school graduates into the workforce instead.  
Potential students are already looking at their options and deciding that college might not be worth the high price.  
Source: zerohedge.com
Sears Death Spiral Accelerates: Vendors Halt Shipments As Cost Of Default Insurance Soars
Durable Goods Orders Plunge In July After Boeing Hangover 
July Durable Goods Orders plunged 6.8% MoM (much worse than the -6.0% expectation), more than erasing June's aircraft-order-based 6.4% jump. This is the biggest drop since Boeing's reaction in Aug 2014.
Just as we saw in 2014, this is simply the hangover from Boeing's June orders with non-defense aircraft new orders  down 70.7% month-over-month.
Source: zerohedge.com
Are Central Banks Nationalizing The Economy? 
The FT recently ran an article that states that "leading central banks now own a fifth of their governments' total debt."
The figures are staggering.
Without any recession or crisis, major central banks are purchasing more than $200 billion a month in government and private debt, led by the ECB and the Bank of Japan.
The Federal Reserve owns more than 14% of the US total public debt.
The ECB and BOJ balance sheets exceed 35% and 70% of their GDP.
The Bank of Japan is now a top 10 shareholder in 90% of the Nikkei.
The ECB owns 9.2% of the European corporate bond market and more than 10% of the main European countries' total sovereign debt.
The Bank of England owns between 25% and 30% of the UK's sovereign debt.
A recent report by Nick Smith, an analyst at CLSA, warns of what he calls "the nationalization of the secondary market."
The Bank of Japan, with its ultra-expansionary policy, which only expands its balance sheet, is on course to become the largest shareholder of the Nikkei 225's largest companies. In fact, the Japanese central bank already accounts for 60% of the ETFs market (Exchange traded funds) in Japan.
Monetization is a perfect system to nationalize the economy passing all the risks of excess spending and imbalances to taxpayers. And it always ends badly. Because two plus two does not equal twenty-two. As we tax the productive to perpetuate and subsidize the unproductive, the impact on purchasing power and wealth destruction is exponential.
To believe that this time will be different and governments will spend all that massive "very expensive free money" wisely is simply delusional.
Of course, governments can print all the money they want, what they cannot do is convince you and me that it has a value, that the price and amount of money they impose is real just because the government says so. Hence lower real investment, and lower productivity. Citizens and companies are not crazy for not falling into the trap of low rates and high asset inflation. They are not amnesiac.
It is called financial repression for a reason, and citizens will always try to escape from theft. 
Source: zerohedge.com
---
Geopolitical/Police State
US Bans Dealing In Venezuelan Government Debt And New State-Owned Oil Company Debt & Equity
President Trump just signed an executive order deepening the sanctions on Venezuela, confirming the rumors of a ban on trading in Venezuelan debt t
 the U.S. government is considering "restricting trades in Venezuelan debt as it seeks to punish President Nicolás Maduro for undermining the country's democracy" and that "the unprecedented move would temporarily ban U.S.-regulated financial institutions from buying and selling dollar-denominated bonds issued by the Republic of Venezuela and state oil company Petróleos de Venezuela SA  
Source: zerohedge.com
---
War
US Taxpayers Spent $50 Million For Luxury Cars, Guns, & Booze To Mentor Afghan Intel Officers 
A foreign company hired by the U.S. government to mentor and train Afghan intelligence officers billed Uncle Sam for more than $50 million in luxury cars – including Porsches, an Aston Martin, and a Bentley – and the lucrative salaries of executives and their spouses (who didn't do any work). The firm also spent $1,500 on alcohol and $42,000 on automatic weapons prohibited under the terms of the contract, according to figures provided by a U.S. Senator from a federal audit that has not been released to the public.
It marks the latest of many scandals involving the free-flow of American dollars to controversial causes in Afghanistan, where fraud and corruption are rampant in all sectors.
 The outrageous figures became public when the top-ranking Democrat on the Senate Homeland Security and Governmental Affairs Committee, Claire McCaskill, wrote a letter to Defense Secretary James Mattis demanding answers.  
 
Source: zerohedge.com
Russia to discuss investment opportunities with Lebanese PM next month in Moscow
Russia continues to expand economic partnerships across the Middle East
Russian Prime Minister Dmitry Medvedev will discuss investment cooperation prospects with Lebanese Prime Minister Saad Hariri in Moscow on September 13, the Russian Cabinet said in a statement Friday.
Source: theduran.com
Russia and Syria create joint air defense system 
Russia's air defense group in Syria includes a radio engineering battalion, a battery of Pantsir-S units and the S-400 air defense missile systems
A unified air defense system has been set up in Syria thanks to efforts of Russian and Syrian military experts, Chief of Staff and Deputy Commander of the Russian Aerospace Forces Major-General Sergey Meshcheryakov told a round table dedicated to the Syrian experience at the Army-2017 International Military-Technical Forum.
"Today, a unified integrated air defense system has been set up in Syria. We have ensured the information and technical interlinkage of the Russian and Syrian air reconnaissance systems. All information on the situation in the air comes from Syrian radar stations to the control points of the Russian force grouping," he said. 
Source: tass.ru
US-backed forces preparing offensive for Syria's Deir Ezzor
As Islamic State has come under pressure in Raqqa, many of its forces have fallen back on towns further east along the Euphrates in Deir Ezzor province. 
Source: middle-east-online.com
Russian Air Force destroys over 1,000 terrorist sites in Syria this week
The Russian Aerospace Forces have destroyed more than 1,000 facilities belonging to international terrorist groups in Syria this past week 
According to the info-graphs published by the paper, the Russian Aerospace Forces performed over 360 combat sorties in the reported period.
Russian drones have also carried out over 140 reconnaissance flights and located over 190 objects of terrorist infrastructure.
Source: almasdarnews.com
CONFIRMED: Russia to remain in Syria until terrorism completely eliminated
The Head of Russian forces in Syria, Colonel General  Sergei Surovikin has confirmed Russia's full commitment to fulfilling its anti-terrorist mission in Syria while speaking at the Army-2017 Forum near Moscow.
Surovikin stated,
"The operation to destroy the militants of the ISIS and Jabhat Nusra terrorist groups in Syria will continue until their complete elimination".
Source: theduran.com
ISIL's border offensive ends in complete disaster as Syrian Army troops regain initiative
The Islamic State (ISIL) launched a massive offensive along the Iraqi border, yesterday, targeting the Syrian Arab Army's (SAA) primary defenses in this desert region of the Homs Governorate.
Source: almasdarnews.com