Podcast: Play in new window | Download (Duration: 45:38 — 45.0MB)
Consumers are tapped out, credit cards are at their max as revolving credit hits a new all time high. GDP growth getting better and better, Trump counters Obama, showing that he does have a magic wand. US ports are worried about the tariffs, they say they are going to lose jobs if this keeps up. The Former Fed chiefs are worried about the next financial crisis and they are making the case that the Fed will need to print money like we've never seen before and they need the government to allow them to do this. Obama spied on a reporters and also silenced them when he was president. WH now setting up another meeting with Kim Jong Un. The battle is Syria is on, this is a battle between the good guys and bad guys, we are not fighting Assad's forces. This is the last holdout of the deep state and they are about to be taken out. Q drops more breadcrumbs, the storm has arrived. Any day now the FISA pages are going to be released and we are going to see the fallout. The storm is here and the physical storms are here, coincidence?
Check Out The X22 Report Spotlight YouTube Channel X22Report Spotlight
Please check Newzsentinel.com for the latest news on the economic collapse. The Sentinel Alerts are updated throughout the day. If you haven't already, go to "The People" and join the community of people who are helping each through the economic collapse.
---
Current News – 09.10.2018
Watch The X22 Report On Video
---
Economy
  the Fed reported that in July, consumer credit posted a solid rebound, rising by $16.6 billion, above the $14.4 billion expected, and bringing the total to $3.92 trillion, a 5.1% annualized increase from a year ago.
Of this increase, the bulk was from non-revolving credit, or auto and student loans, which rose by $15.4 billion to a new record high of $3.92 trillion, it also brought the total revolving credit to a new all time high of $1.04 trillion.
In other words, while Americans continue to spend on cars and college, they were far less enthusiastic about charging everyday purchases on their credit cards.
Source: zerohedge.com
three days after the BLS reported the the 94th-straight month of labor-market expansion,  trump tweeted the following
"The GDP Rate (4.2%) is higher than the Unemployment Rate (3.9%) for the first time in over 100 years!," Trump tweeted early on Monday.
The GDP Rate (4.2%) is higher than the Unemployment Rate (3.9%) for the first time in over 100 years!

— Donald J. Trump (@realDonaldTrump) September 10, 2018
That said, there is just one problem with Trump's claim: it's not true, as Sven Henrich of @NorthmanTrader swiftly pointed out: GDP growth eclipsed the unemployment rate on several occasions, most recently in the early 2000s:
The claim is of course false.
In April 2000 the unemployment rate was 3.8% while GDP was at 5.29%
Incidentally a recession followed soon after. Markets had peaked in March. pic.twitter.com/9SowTeaQWq

— Sven Henrich (@NorthmanTrader) September 10, 2018
…And, more importantly, this isn't always a positive indicator: when GDP growth eclipsed the unemployment rate back in 1968, a recession soon followed.
Source: zerohedge.com
Across the nation, at least 10 percent of imports at many ports could vanish if President Trump's trade proposals take full effect, according to an exclusive investigation of government data by the AP.
Port officials said it is becoming a growing concern that tariffs could trigger a domestic slowdown in shipping that would ripple through the transportation industry.
Since March, President Trump unleashed new duties of up to 25 percent on $85 billion worth of aluminum, steel, and other various Chinese manufacturing related products.


Source: zerohedge.com
Bernanke, Geithner, Paulson: The Fed Should Be Able to Make Secret Trillion Dollar Loans Again
There seems to be a growing amount of concern these days about another epic financial crash on Wall Street. That, in itself, is a concern. After all, we've had only two great crashes in the past 89 years: one from 1929 to 1933 and one from 2008 to 2009. Why is another crash on the tip of so many tongues today?
Last week JPMorgan Chase released a lengthy research report in which its analyst Marko Kolanovic suggested that in the event of another major Wall Street crisis, the Fed should not only have its emergency powers restored to buy up toxic debt with abandon from Wall Street but that the Fed might also have to buy up stocks – an unprecedented action for the U.S. central bank – or at least unprecedented as far as the public knows.
The outrage of that suggestion rests in the fact that the biggest Wall Street banks, including JPMorgan Chase, have been artificially boosting "market" demand for their stocks by spending hundreds of billions of dollars collectively to buy back their own bank stocks instead of using those funds to make loans to worthy businesses — the core purpose of a bank to help grow jobs and the economy. Now JPMorgan Chase suggests that the Fed should be the buyer of last resort when the market decides to reassess the real value of those bank shares.
Yesterday, as if on cue, the three masterminds of the unprecedented 2007 to 2010 Wall Street bailout that included the funneling of a secret $16.1 trillion in cumulative, almost zero interest rate loans to the miscreant banks of Wall Street and their foreign peers, had the temerity and hubris to whine in a New York Times OpEd that "Congress has taken away some of the tools that were crucial to us during the 2008 panic. It's time to bring them back."
Former Federal Reserve Chairman Ben Bernanke, former New York Fed Bank President/U.S. Treasury Secretary Tim Geithner, and former U.S. Treasury Secretary Hank Paulson  
At the urging of Senator Bernie Sanders, an amendment was inserted into the Dodd-Frank financial reform legislation of 2010 which authorized the Government Accountability Office (GAO) to perform an audit of the Fed's crisis lending programs. That report was released by the GAO in 2011. It completely disputes the assertion by Bernanke, Geithner and Paulson that the Fed was acting "in its traditional role as lender of last resort." The report states the following:
"The scale and nature of this assistance amounted to an unprecedented expansion of the Federal Reserve System's traditional role as lender-of-last-resort to depository institutions."
Source: blacklistednews.com
---
Political/Rights
 in 2010, Obama's Department of Justice began secret surveillance of James Rosen, then Fox News' chief Washington correspondent, in the wake of his reports on American monitoring of North Korea's nuclear program.
They collected Rosen's phone conversations and emails with sources – and even kept tabs on the reporter's parents – and accused the reporter of being the "co-conspirator" of a State Department whistleblower. The surveillance did not come to light until 2013.
Obama's DOJ also seized records for 20 phone lines at the Associated Press – used by more than 100 reporters – in 2013, and subpoenaed emails and calls between New York Times reporters and government officials.
The incidents, part of the administration's crackdown on Washington leakers, were detailed in a highly critical 2013 report by the Committee to Protect Journalists.
 Obama warned against Trump's threats to "pressure the attorney general or the FBI to use the justice system as a cudgel to punish our political opponents."
The criticism came as Trump called on Attorney General Jeff Sessions to seek out the anonymous administration official who published an anti-Trump op-ed on Wednesday.
But Obama's own administration used the justice system to prosecute eight people for leaking national security secrets under the Espionage Act.
Source: yournewswire.com
CBS CEO Les Moonves Will Step Down Following New Sexual Harassment Allegations and Lawsuit Settlement…add to the list
Three hours after Ronan Farrow in The New Yorker outlined another six women coming forward with harassment claims against the embattled chief executive of CBS, bringing the total number of accusers to twelve, CBS unofficially reports a deal reached with CEO Leslie Moonves and his exit from the media company.  An official announcement is expected on Monday.
---
War
The White House is coordinating a second meeting between President Trump and Kim Jong Un, after the North Korean leader sent a "very warm, very positive letter" requesting a follow-up summit to their earlier sit-down in Singapore on June 12.


"The primary purpose of the letter was to request, and look to schedule another meeting with the president," said White House press secretary Sarah Huckabee Sanders
Source: zerohedge.com
President Trump has continued to threaten Syrian and Russian forces planning to take back the terrorist-controlled stronghold of Idlib in northwestern Syria, potentially bringing the world to the brink of World War III, as we explained yesterday. But Trump's tweets about the potential "humanitarian catastrophe" have exposed a guiding principle of the US's involvement in Syria (and indeed across the Middle East): A chemical weapons attack isn't a "catastrophe" if it's carried out by the US.
In what Russian officials warned could be a preamble to another US-approved false flag attack, US jets on Saturday reportedly dropped white phosphorus on Hajin, a Syrian town in the Deir Ez-Zor province. When it comes in contact with oxygen, white phosphorus can cause massive fires. Because of this, it's banned by the Geneva Convention for use in combat. Russian officials said they're still waiting for information on casualties.

The US promptly denied responsibility for the attack.
A Pentagon spokesperson denied the allegations of dropping white phosphorus bombs. "At this time, we have not received any reports of any use of white phosphorous," Commander Sean Robertson told the media on Sunday. "None of the military units in the area are even equipped with white phosphorous munitions of any kind." :
Source: zerohedge.com
The Wall Street Journal has just published a bombshell on Sunday evening as Russian and Syrian warplanes continue bombing raids over al-Qaeda held Idlib, citing unnamed US officials who claim "President Bashar al-Assad of Syria has approved the use of chlorine gas in an offensive against the country's last major rebel stronghold."
And perhaps more alarming is that the report details that Trump is undecided over whether new retaliatory strikes could entail expanding the attack to hit Assad allies Russia and Iran this time around.
That's right, unnamed US officials are now claiming to be in possession of intelligence which they say shows Assad has already given the order in an absolutely unprecedented level of "pre-crime" telegraphing of events on the battlefield.
And supposedly these officials have even identified the type of chemical weapon to be used: chlorine gas.
Source: sott.net
US Senator Returns From Syria Claiming UK Is Planning Chemical Attack
Richard Black, a Virginia state Senator, has returned from a trip to Syria and says he has uncovered evidence that Britain's MI6 intelligence service is planning an imminent chemical weapons attack on the Syrian people, which it will then blame on Syrian President Assad.
"

Mr Black later clarified that he meant the British are not planning to carry out the attack themselves, but to either direct rebels to do so or stage a false flag attack, which the international community will blame on Assad.
Mr Black also said some chemical attacks previously reported to have occurred in Syria were British fakes, pulled off with help from volunteer first responders known as "White Helmets".

Source: yournewswire.com
---
Q
Breaking Microchip and the Deep State! #NewQ #QAnon #GreatAwakening #NeonRevolt
Shills sowing division with deception along the boards. For those who don't know, there are teams of people being paid to do this kind of thing – namely
Q

!!mG7VJxZNCI

ID: ff4ecd

No.2947825


New shill tactic is to smear Sean Hannity

Just so everyone understands, Q has directly told us to watch Hannity. Q also links us to Sara Carter, who is literally on Hannity every single night.

Hannity is a patriot.

>>2947705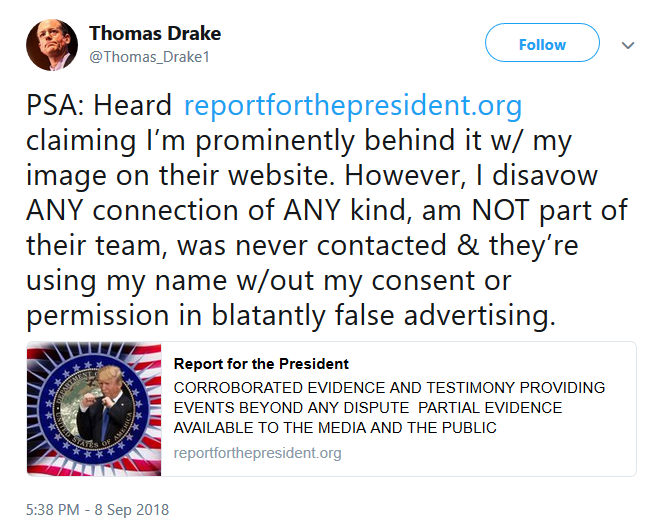 and-
JTFMaga was created by #FakeMAGA "Journalist" Jack Posobiec – the same one who has been pushing the "Microchip is #QAnon" hoax for some time now: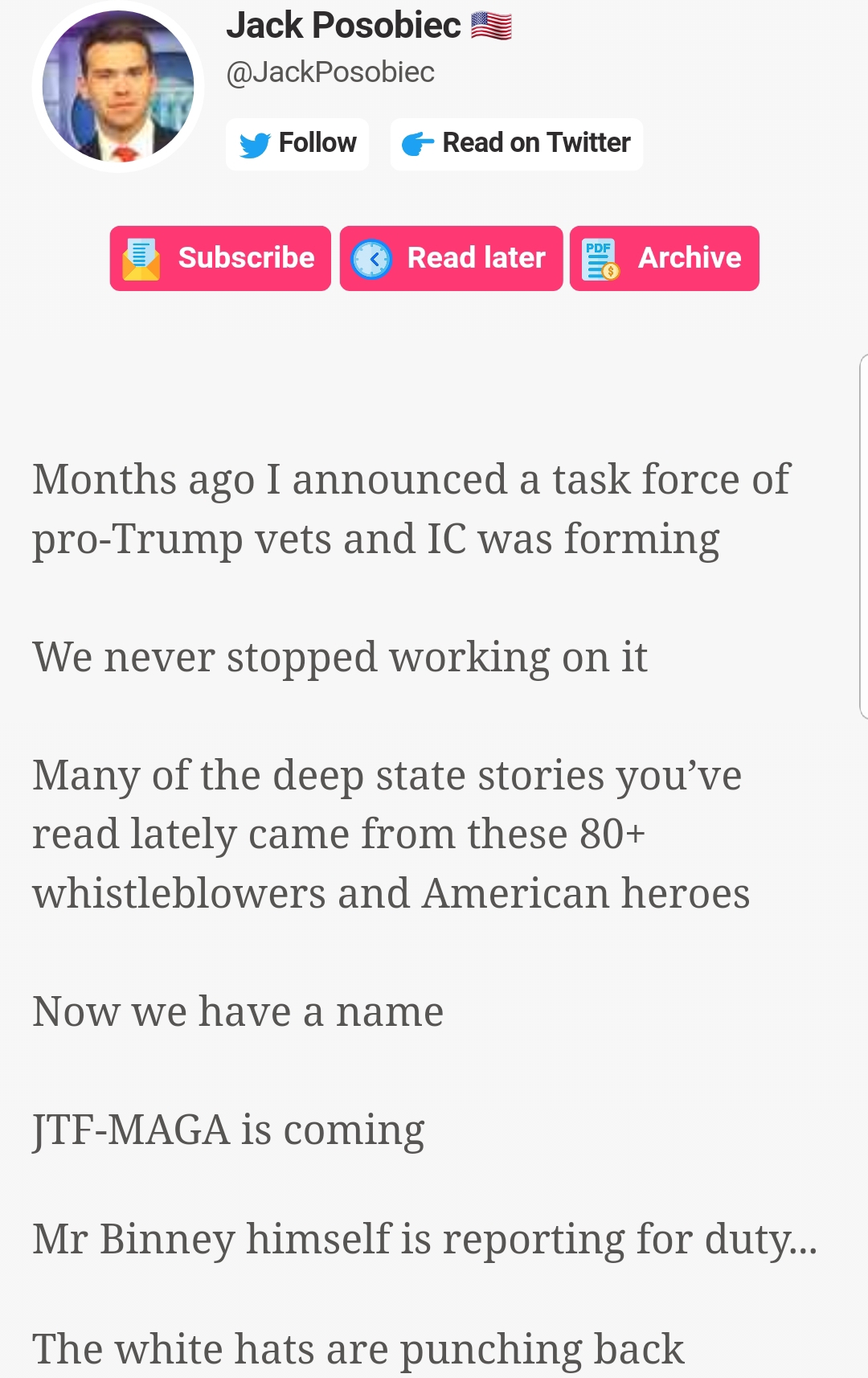 And in case it isn't obvious from the page itself, JTFMAGA is one gigantic honeypot.
The goal is to get "Patriotic Americans" to sign up and "take the oath" presented below – and now… you're on a Deep State list.
And not only is Posobiec involved…
The second site is much the same, but with more of an "Intelligence community" spin to it. Call it "social proof" for smartie-pants if you want. It purports to be a run by a bunch of folks close to the Intelligence community, ones that claim to support Trump and want to give him Intelligence that…. he supposedly doesn't already have – even sporting a super-special-mega-delux Login page for #POTUS himself (LOL).
Of course, this is all utter Clown nonsense, and they've been attempting to get us – especially the "QAnon influencers" among us (such as yours truly, mods at /r/GreatAwakening, and elsewhere) to jump on board, join their site, and hand over all our private info while leading followers into the very same trap.
JTFMAGA did try to save face, however:

Q linked to a very "special" video Posobiec linked today and told us to look at 21 seconds in:
Good morning to everyone except chat log deniers pic.twitter.com/XWBB2FqLIF

— Jack Posobiec 🇺🇸 (@JackPosobiec) September 9, 2018
And what did we find there?
Evidently, Microchip is a time traveler now!
Lastly, Q references these a Tucker Carlson broadcast by directing our attention to his recent tweets:
Q shows us the discrepancy between the dates directly, in case we weren't picking up what he was putting down.
But for the record…
And then he really spells it out.
Source: neonrevolt.comi
Q

!!mG7VJxZNCI

No.206


NEW

DXniXpXVoAAGYQo.jpg
SA cooperating? – YES
Why are these allegations surfacing now – Is that a counter-measure to Comey's 8mths Sleeper Cells? + preparation for Red October?
NXIVM? When does a bird sing? – People who have been abusing sexually and otherwise are now all selling those who are above to save their own asses. Maybe that's why powerfull influencial people are going down + the help from SA.
EYES WIDE OPEN – Obvious reference to Eyes Wide Shut the movie
Oh wow… "When does a BIRD sing?"
Has anyone looked into BIRD being a possible acronym? I just did a bit of digging and found this:
https://comptroller.defense.gov/Portals/45/documents/fmr/archive/02barch/02b_16_Jun07.pdf (scroll to page 11 of 13)
160502 Automated Budget, Intelligence, and Related Database (BIRD) and MIP Narrative
A. Purpose and Objectives. The BIRD database is the most complete, automated source of resource data for Intelligence and related activities for use by the Office of the Secretary of Defense and the Joint Staff.
Q

!!mG7VJxZNCI

No.207


NEW

DECLAS OF FISA WILL INITIATE THE RESIGNATION/RECUSAL AND/OR REMOVAL OF ROD ROSENSTEIN.
DECLAS OF FISA WILL INITIATE THE 'AWARENESS' THAT ALL SIGNERS WILL BE [CURRENTLY] UNDER INVESTIGATION.
DECLAS OF FISA WILL FACTUALLY DEMONSTRATE WITHOUT ARGUMENT THE US GOVERNMENT, UNDER HUSSEIN, KNOWINGLY, PRESENTED FALSE EVIDENCE TO FISC IN AN EFFORT TO OBTAIN 'LEGAL' US INTELLIGENCE 'UMBRELLA' SURV OF POTUS [IDEN TARGET] FOR THE SOLE PURPOSE OF INFLUENCING THE 2016 ELECTION OF THE PRESIDENCY [NOT RUSSIA BUT HUSSEIN/HRC – PROJECTION] + SAFEGUARD AGAINST POSSIBLE LOSS OF POWER [FIREWALLS].
USE OF BACKCHANNEL SURV / SPY INSERTION [BODY 1, 2, AND 5] BY UK/AUS [PRIMARY] ACTIVATED UNDER DIR BRENNAN DIR CLAPPER W/ PDB REGULAR UPDATES + [LIVE STREAMING] WH HUSSEIN NON-OVAL [SITUATION ROOM] COORDINATION.
FISA [FULL] BRINGS DOWN THE HOUSE [WH].
Q
USE OF BACKCHANNEL SURV / SPY INSERTION [BODY 1, 2, AND 5]
Funny, the first snowhites that Q shut down were 1,2 and 5. Q post 577
they have VIDEO  (live streaming) of Obama being briefed on the Trump campaign spying?
caught in a MAJOR LIE
HOUSE OF CARDS
YourVoice™ Steel Truth (9/10) "NSA's Bill Binney On DeepState!"
AnnVandersteel continues to expose #DeepState with an exclusive interview with BILL BINNEY, former Technical Director at NSA!
The Storms in the Atlantic are very dangerous. We encourage anyone in the path of these storms to prepare themselves and to heed the warnings of State and Local officials. The Federal Government is closely monitoring and ready to assist. We are with you!
The Storms [STORM] in the Atlantic are very dangerous [DECLASS OF FISA WILL OVERTURN POLITE SOCIETY MAKING LIFE IN AMERICA TEMPORARILY CHAOTIC AND UNSTABLE]. We encourage anyone in the path of these storms [ALL AMERICANS] to prepare themselves and to heed the warnings of State and Local officials [NATIONAL PREPAREDNESS]. The Federal Government is closely monitoring [THE TRAITORS] and ready to assist [PROSECUTE/EXECUTE]. We are with you! [PATRIOTS]