Podcast: Play in new window | Download (Duration: 38:38 — 40.2MB)
The holiday season did not go well for many retailers, they are now reporting that online and brick and mortar sales slumped leading up to Christmas. Trump and the patriots are in complete control, they know the plans of the deep state, to crash the economy in 2020, Q warned us that they knew of this plan. Trump will use the Fed to avoid a crash during this period. The central banks are now telegraphing that they are trapped and they are worried about the political force on the Fed not to help other central banks in a crisis. The Covington event had many agendas associated with it. The FBI raided Roger Stones house and CNN was on the scene, how did they know? This is all part of the plan, military planning at its finest. The arrest had nothing do with Russian collusion which shows again there is no Russian collusion. Trump reopened the government, did he cave on the wall, no, he used a tactical move. The storm is upon us and all the pieces are being put into place, the clock is ticking.
Check Out The X22 Report Spotlight YouTube Channel X22Report Spotlight
Please check Newzsentinel.com for the latest news on the economic collapse. The Sentinel Alerts are updated throughout the day. If you haven't already, go to "The People" and join the community of people who are helping each through the economic collapse.
---
Current News – 01.25.2019
Watch The X22 Report On Video
---
Economy
The holiday season was a brutal one for U.S. retailers, especially department stores and companies that sell luxury products, and companies and investors alike didn't see it coming.
  companies including Macy's, Nordstrom and Signet all said they struggled badly over the critical December shopping period.
 Macy's  said sales fell off after Black Friday and Cyber Monday until the week of Christmas, and it cut its sales forecast. The surprise report rattled companies throughout the industry.
The next week, Nordstrom helped confirm the trend when it said sales of full-priced clothes slowed in November and December and that the company offered more discounts.
Source: gotslaves.info
Q

!!mG7VJxZNCI

ID: a22a92

No.4243710


The plan to have the FED raise rates [steep incline beginning Mar 2019] in an effort to 'kill' the economy prior to 2020 P_elec is known and planned for.
Structure change coming?
Q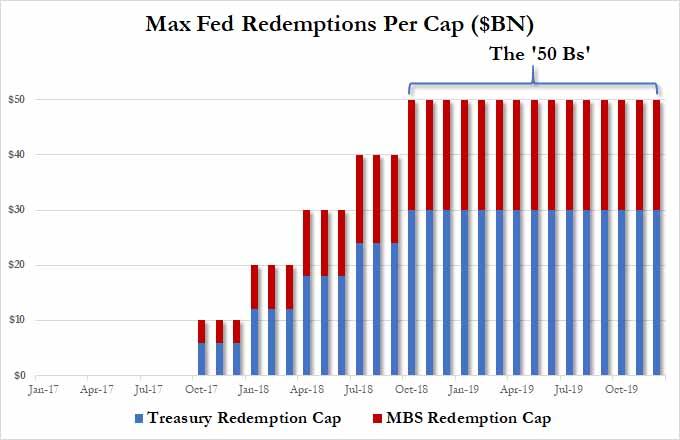 the central bank's top policy makers are seriously considering maintaining a larger balance sheet than what the central bank had initially anticipated when it stopped reinvesting the proceeds from expiring holdings.
Federal Reserve officials are close to deciding they will maintain a larger portfolio of Treasury securities than they'd expected when they began shrinking those holdings two years ago, putting an end to the central bank's portfolio wind-down closer into sight.
Source: zerohedge.com
IMF fears political rage will block Federal Reserve's rescue efforts when the next crisis hits
the International Monetary Fund has warned the system of global cooperation that saved world finance in the 2008 crisis may break down if there is another major shock or a deep recession.
David Lipton, the IMF's second-highest official, said it is unclear whether the US Federal Reserve would again be able to extend $1 trillion of dollar "swap lines" to fellow central banks – the critical measure that halted a dangerous chain-reaction after the collapse of Lehman Brothers and AIG.
Source: telegraph.co.uk
---
Political/Rights
Who knew? Trump's top White House attorney is Covington Catholic High School graduate.
Pat Cipollone, CovCath class of 1984, recently took over as White House counsel. He had previously served as an informal adviser to the president on the special counsel investigation into Russian interference in the 2016 elections.
What does Cipollone's White House role have to do with last week's incident in Washington, D.C., involving current CovCath students?
Source:cincinnati.com
Paul Sperry reports that the Buzzfeed article was from Felix Sater
BREAKING: Criminal opportunist Felix Sater, FBI/Mueller informant, dossier Source E & Buzzfeed Deep Throat, pitched Trump Moscow to high school pal Cohen AFTER Trump announced candidacy in 2015: "I figured,he's in the news, his name is generating a lot of good press" #NoCollusion

— Paul Sperry (@paulsperry_) January 25, 2019
The FBI raided Roger Stones Home, they raided his home in full gear, CNN was there during the raid, how exactly was CNN there, how did they know this was about to happen.
How Exactly Did CNN Get Footage Of Roger Stone's Arrest?
Stone was arrested early Friday morning at his home in Fort Lauderdale, Florida after being indicted by a grand jury on charges brought by special counsel Robert Mueller. Dramatic footage captured by a lucky CNN producer shows the FBI surrounding Stone's home in an armed raid and pounding on Stone's front door.
WATCH:
CNN producer @davidgshortell describes the moment Roger Stone was taken into custody by the FBI. The longtime Donald Trump associate has been indicted by a grand jury on charges brought by special counsel Robert Mueller https://t.co/wUJEIkKDTw pic.twitter.com/AJ3JWWSHs3

— CNN (@CNN) January 25, 2019
The seemingly too-perfect scenario of CNN being the only outlet on scene as the FBI raided Stone's home sparked allegations that CNN had been tipped off to the arrest. Many wondered why a raid was necessary in the first place —
Source: dailycaller.com
Greatest Witch Hunt in the History of our Country! NO COLLUSION! Border Coyotes, Drug Dealers and Human Traffickers are treated better. Who alerted CNN to be there?

— Donald J. Trump (@realDonaldTrump) January 25, 2019
Maybe a @JudicialWatch FOIA will uncover how CNN found out about the Stone raid.

— Tom Fitton (@TomFitton) January 25, 2019
Coincidence? Comey's Former Assistant Went to Work for CNN — And CNN is Only News Org to Get Tip on Roger Stone Raid
Josh Campbell later landed a gig with CNN as a law enforcement analyst.
On Friday morning CNN was the only news organization in the Miami, Florida area that was tipped off of Roger Stones pre-dawn arrest.
The entire predawn raid of Roger Stone's home was captured by the anti-Trump channel CNN.
CNN reporter David Shortell told CNN hosts he had an intuition to get to Roger Stone's house and set up his camera crew before the pre-dawn raid.
What a joke.
Shortell just happened to have his camera's set up before the FBI arrived to arrest Stone?
 Comey's former assistant Josh Campbell works for CNN and they just happened to have a van at #RogerStone's house at 6am.

— John Cardillo (@johncardillo) January 25, 2019
Source: thegatewaypundit.com
Curious. Mueller indictment of Stone details Clinton communications with and pressure on Wikileaks about emails. Will Clinton operation be investigated?

— Tom Fitton (@TomFitton) January 25, 2019
Sarah Sanders: Stone indictment has 'nothing to do with the president'
Roger Stone was fired from Trumps Campaign back in Aug 2015.
Stone Indictment Undercuts Trump-Russia Collusion Narrative
The indictment against Roger Stone makes no allegation that the longtime Trump associate conspired with Russia or WikiLeaks.
Instead, Stone is accused of lying to Congress about communication he had with Trump campaign officials and other associates about his efforts to find out what information WikiLeaks had during the 2016 campaign.
The indictment appears to undercut some of the Democratic-backed conspiracies of a vast conspiracy between the Trump team and Russia to hack and disseminate emails stolen from Democrats.
The special counsel's indictment of Roger Stone contains no allegation of a conspiracy to collude with Russia or to steal emails from Democrats, and appears to undercut some of the logic behind Democrats' collusion narrative.
Special counsel Robert Mueller accuses Stone, a longtime political operative, of lying to the House Intelligence Committee about his communication with Trump campaign officials and other associates regarding WikiLeaks, which released emails that were stolen from the Democratic National Committee and Clinton campaign chairman John Podesta.
Source: dailycaller.com
Sarah Sanders Asks Whether Hillary Clinton Be Arrested If Lying To the FBI Is A Crime
White House Press Secretary Sarah Sanders openly wondered if the FBI would be raiding the homes of Hillary Clinton, James Comey and James Clapper Friday morning after Roger Stone's indictment.
The FBI raided the Florida home of Trump-confidant Roger Stone Friday morning after Stone was indicted by a grand jury on charges with seven counts, including allegedly making false statements to Congress, tampering with a witness and obstructing a government investigation.
Source: daillycaller.com
What is Trump and the patriots doing, lets use logical thinking. The entire plan revolves around tramping the MSM and the DS and using their tactics against them. When you see these events they are done for a reason.
George Papadopoulos, former Trump campaign foreign policy adviser, was arrested in July 2017 and pleaded guilty in October 2017 to making false statements to the FBI.

Paul Manafort, Trump's former campaign chair, was indicted on a total of 25 different counts by Mueller's team, related mainly to his past work for Ukrainian politicians and his finances. He had two trials scheduled, and the first ended in a conviction on eight counts of financial crimes. To avert the second trial, Manafort struck a plea deal with Mueller in September 2018 (though Mueller's team said in November that he breached that agreement by lying to them).
Rick Gates, a former Trump campaign aide and Manafort's longtime junior business partner, was indicted on similar charges to Manafort. But in February 2018 he agreed to a plea deal with Mueller's team, pleading guilty to just one false statements charge and one conspiracy charge.
Michael Flynn, Trump's former national security adviser, pleaded guilty in December 2017 to making false statements to the FBI.
Michael Cohen: In August 2018, Trump's former lawyer pleaded guilty to 8 counts — tax and bank charges, related to his finances and taxi business, and campaign finance violations —  . But in November, he made a plea deal with Mueller too, for lying to Congress about efforts to build a Trump Tower in Moscow.
Roger Stone: In January 2019, Mueller indicted longtime Trump adviser Roger Stone on 7 counts. He accused Stone of lying to the House Intelligence Committee about his efforts to get in touch with WikiLeaks during the campaign,
An Update on RBG she has been missing in action for close to a Month??
DHS Ends Catch and Release, saying it's Instituting New Protocols
the Department of Homeland Security will turn away asylum seekers at the United States Mexico border, implementing new protocols that require illegal immigrants to wait outside the U.S. while their claims are being processed, the DHS announced Friday.
The updated DHS Migrant Protection Protocols (MPP), which addresses the humanitarian crisis at the southern border, the department stated the new policy will allow a review of claims made by immigrants, while they wait outside the U.S. borders.
End of Catch And Release
r)
It effectively puts an end to the DHS's "Catch and Release" policy, which encourages illegal aliens to enter the United States under false pretenses and exploit the broken immigration court system. Nine out of ten asylum claims, where immigrants cited Credible Fear, from Central America were considered fraudulent, according to Federal Immigration Judges.

Catch and Release is an obsolete term. It is now Catch and Detain. Illegal Immigrants trying to come into the U.S.A., often proudly flying the flag of their nation as they ask for U.S. Asylum, will be detained or turned away. Dems must approve Border Security & Wall NOW!

— Donald J. Trump (@realDonaldTrump) November 18, 2018
Why is this new policy necessary?
Illegal aliens use the loopholes in US immigration courts to enter the U.S. as family units and most times under false pretenses. Criminal traffickers ask illegal migrants to travel with unaccompanied minors so they can game the system. If the migrants arrive on U.S. soil and turn themselves into Border Patrol agents, they are usually released quickly because of the children. Further, they are given a notice to appear in court and disappear into the fabric of America,
Source: saracarter.com
Trump is ready to sign a bill that will open the government for 3 weeks, brilliant move, the spotlight is on the house and senate.
 dems and repubs will operate in good faith, both parties to work together for the benefit of this nation. If we make a deal it will show the American people that we can put country before party
He is appearing on all networks talking about the wall and why we need it, reinforcing why we need the wall, using examples, stories, stats to get the American people on board

Says he reached a deal. Says He has "a very powerful alternative" but he didn't want to use it at this time.
Since we are not in a shutdown is the SOTU back on for Jan 29, he will repeat the same info and add show all of his accomplishments
he just got the people on his side, as fed workers get paid, remember there were 4 votes and the dems did not vote to pay the workers
Remeber, what was the plan of pelosi and Schumer, open the government and then we will discuss the wall, so now the governemnt is open,their move
The MSM and the DS is ecstatic, we won, no wall. This is for 21 days, the spotlight is on congress not on him,   he just set them up, he is forcing them to negotiate, the MSM and DS have won nothing, they are now trapped, if they come up with nothing in 21 days what does this show the American people, congress does not care about the saftey of this country, that congress is putting illegals before US citizens
He also has the National Emergency in his back pocket.
When using warfare tactics , it is in your long term interest to give the opposition the illusion of victory
Comet Ping-Pong Pizza catches fire, patrons suspect arson
A sudden fire broke out inside Comet ping-pong Pizza around nine p.m. on Wednesday.
Some of the people inside Comet Ping-Pong when the fire broke out believe it also was a deliberate act.
"All of a sudden we see these flames. A fire has been started — a very big fire," said witness Nicole Lafragola.
One man saw the curtains in the back of the restaurant suddenly burst into flames. He pulled them to the ground while employees doused them with fire extinguishers, and he's also suspicious.
"
Source: wjla.com

---
War
Afghan peace talks with US now in fourth day
U.S. officials have held talks with Taliban envoys in Qatar for a fourth day, the militants said, as the two sides pursue a potential deal to bring an end to Afghanistan's 17-year conflict.Taliban spokesman Zabihullah Mujahid told the media on January 24 that "discussions are still ongoing," although they had initially been scheduled to last for two days. "We will talk in detail later when we reach agreement," Zabihullah said.T
Source: sott.net