Podcast: Play in new window | Download (Duration: 41:50 — 48.9MB)
The millennial generation is debt ridden. They have no savings, many have poor jobs and high credit card bills, they have placed life events on pause. Chapter 11 bankruptcies have increased by 63% during this incredible recovery. Manhattan home sales plunge, retail implodes, commercial real estate and residential real estate all implode. The Chinese government has halted the purchase of Treasuries. Russia, Turkey and Iran move to use their currencies instead of the dollar. Trump lashes out a the FBI for raiding his lawyer. The deep state is getting very nervous because the investigation is coming to a close and many will be implicated in the FISA, Clinton email, Uranium one deal and more. Mueller is looking into a donation that was given to Trump by a Ukranian businessman who also gave millions to Clinton. Facebook has a long history of violating users privacy. The nerve agent that was used on the Skripals can easily be traced. Warships are headed to Syria, does this mean war. Russia vetos the US at the UN and invites the chemical inspectors into Syria to investigate the chemical weapons false flag. UN says unable to determine who used chemical weapons.
Check Out The X22 Report Spotlight YouTube Channel –  X22Report Spotlight
Please check Newzsentinel.com for the latest news on the economic collapse. The Sentinel Alerts are updated throughout the day. If you haven't already, go to "The People" and join the community of people who are helping each through the economic collapse.
---
Current News – 04.10.2018
---
Economy
Millennials This generation is now coming of age and will be a majority of the labor force by mid-2020s. Their influence in American society is starting to be realized, although it is leaving a negative mark on the economy as one thing is obvious: Millennials and debt go hand-in-hand.
  the most common form of debt for 18-to 34-year-old Americans is credit card debt. Approximately, 75 percent of the millennial cohort have financial obligations, and they are 'pausing major life events' because they are too broke, the report noted.
A quarter of millennials have racked up over $30,000 in bills, including 11 percent who have over $100,000 in debt. Shockingly, only 22 percent of millennials are debt free.
In a Central Bank boom/bust economy, each generation throughout the past century has experienced some form of deleveraging.
What happens next, well, you guessed it — millennials could be the next generation to feel the wrath of natural selection through a deleveraging period, as it all depends on when the next recession strikes. The survey confirms that millennials have the weakest balance sheet, with credit cards playing an even more significant role than pesky student loans.
In a period of wage stagnation along with nearing the latter stages of the second longest economic expansion in U.S. history, credit card debt is the most significant liability on the millennials' balance sheet. Meanwhile, as the homeownership rate for millennials has rapidly declined, only 20 percent said they have a mortgage or home loan.
"Sixty-two percent of millennials owe more in debt, overall, than they have in a personal savings account. Only about a quarter (24 percent) have more money in their savings account than they owe in debt."
 Source: zerohedge.com
Highest level since April 2011. It's not just the Brick & Mortar Meltdown anymore.
New Chapter 11 bankruptcies in the US spiked 63% year-over-year in March to 770 filings, the highest number of filings for any month since April 2011 (when there had been 789 filings as companies were still trying to emerge from the Great Recession).
This chart shows Chapter 11 filings back to 2011, based on data from the American Bankruptcy Institute. The last six Marches are marked with red dots. The year-over-year jump of 299 filings in March is the second largest year-over-year jump for any month since the Great Recession. It is behind only the jump of 366 filings last December, which had set a post-recession record.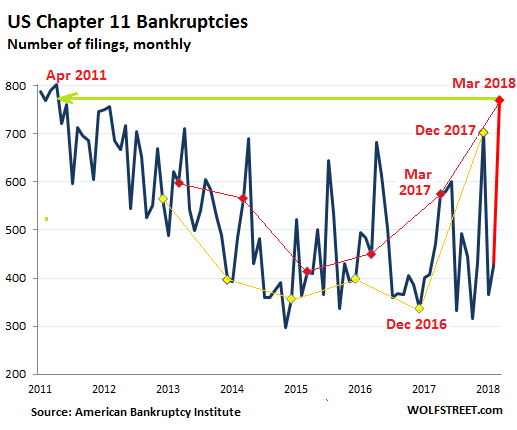 Bankruptcy filings are seasonal and usually peak in April, along with tax season. So the March jump doesn't augur well for April.
The low points in Chapter 11 filings normally occur late in the year, before or in December, except last December when filings spiked 61% from November, to the highest level for any month since April 2013. In March, it got worse when Chapter 11 filings spiked to the highest level for any month since April 2011.
The chart below shows the year-over-year change in Chapter 11 filings. This eliminates the effects of seasonality. Red bars indicate that filings rose from a year ago.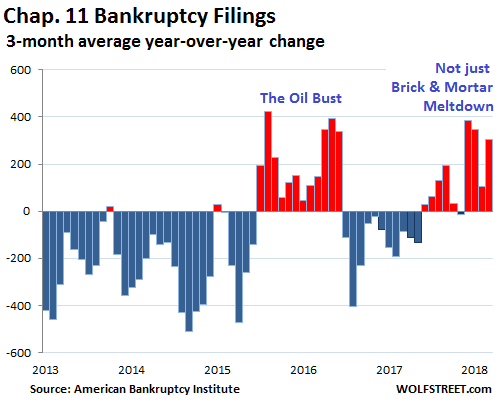 Source: wolfstreet.com
Manhattan home sales fell the most since 2009 as Bloomberg reports.
Sales of condo's and co-ops fell 25% in Q1 2018 compared to Q1 2017.
2017 also showed a drop in sales volume which makes the case that this is tax related harder to swallow.
 – as of the end of 2016, in a period of so-called "coordinated growth", global debt hit a new all time high of $217 trillion, over 327% of global GDP, and up $50 trillion over the past decade.
Six months later, on January 4, 2018, the IIF released another global debt analysis, which disclosed that global debt rose to a record $233 trillion at the end of Q3 of 2017 between $63Tn in government, $58Tn in financial, $68TN in non-financial and $44Tn in household sectors, a total increase of $16 trillion increase in just 9 months.
Now, according to its latest quarterly update, the IIF has calculated that global debt rose another $4 trillion in the past quarter, to a record $237 trillion in the fourth quarter of 2017, and more than $70 trillion higher from a decade earlier, and up roughly $20 trillion in 2017 alone.

Source: zerohedge.com
 if Beijing did not want to unleash a full-blown market nuke, and instead was hoping for a targeted, EMP hit?
Then it would simply stop buying US paper, instead of dumping it outright;

Which is precisely what a new report by SGH Macro Advisors claims.
From what we understand, the Chinese government has halted its purchases of US Treasuries. Despite the direct encouragement, according to Chinese sources, by US Treasury Secretary Steve Mnuchin for China to "stay put," Beijing has apparently discontinued purchases of US Treasuries "for the past few weeks."
Source: zerohedge.com
Russian Energy Minister Aleksandr Novak says the Kremlin is mulling taking payments for oil in national currencies, particularly with Turkey and Iran – circumventing the U.S. dollar. Novak added that both countries have expressed interest in the idea.
"There is a common understanding that we need to move towards the use of national currencies in our settlements.  
"This concerns both Turkey and Iran – we are considering an option of payment in national currencies with them. This requires certain adjustments in the financial, economic and banking sectors."
Venezuelan President Nicolas Maduro said that Venezuela was looking to "free" itself from the U.S. dollar, 
Source: zerohedge.com
---
Political/Rights
Trump described the raid as "disgraceful," "a whole new level of unfairness" and even went as far to describe it as "an attack on our country." Once again, he brought up the fact that "no one is looking at the other side".
This morning, Trump kept the drumbeat of attacks going with a series of tweets implicitly targeted at Mueller and the prosecutors who carried out the raid. For the nth time, Trump declared Robert Mueller's investigation "a total witch hunt"…
  Trump angrily declared that "Attorney-client privilege is dead!"
Trump of course, is correct to note that communications between clients and lawyers are usually beyond the reach of law enforcement based on this constitutional privilege, on occasion authorities can waive this provision.
Source: zerohedge.com
, Rod J. Rosenstein personally signed off on Monday's F.B.I. decision to raid the office of Michael D. Cohen.
Rosenstein's personal involvement shows they are getting very nervous about all the evidence mounting up against them.
Still, while Rosenstein must sign off on all moves that Mr. Mueller makes, that is not necessarily the case for searches that are carried out by other federal law enforcement offices. DOJ regulations require prosecutors to consult with senior criminal prosecutors in Washington – but not necessarily the deputy attorney general – before conducting a search of a lawyer's files.

Source: zerohedge.com
 Mueller is investigating a $150,000 donation to the Trump foundation that was given from a pro-European Ukrainian businessman during the early days of his campaign.
We first learned of the donation shortly after the election. However, the fact that Mueller is investigating the donation was not publicly known.
But there's a catch: Pinchuk, who has a history of supporting a pro-European Ukraine, was also a major Clinton donor.
Don't forget, the Clinton Foundation received more individual money from Ukrainian donors than any other foreign country.
Between 2009 and 2013, including when Mrs. Clinton was secretary of state, the Clinton Foundation received at least $8.6 million from the Victor Pinchuk Foundation, according to that foundation, which is based in Kiev,

, Pinchuk gave more than $13 million to the Clinton Foundation since 2006, and promised to give more.
Meanwhile he paid Trump $150,000. That's roughly 88x more for Clinton than Trump.
Source: zerohedge.com
---
Geopolitical/Police State
Zuckerberg testifies but not under oath and apologies
Facebook: An alternative timeline
February 2004 — Facebook is launched by Harvard College student Mark Zuckerberg
September 2006 — Facebook launches News Feed, broadcasting the personal details of Facebook users — including relationship changes — without their knowledge or consent. Scores of users protest at the sudden privacy intrusion.
November 2007 — Facebook launches a program called Beacon, injecting personal information such as users' online purchases and video rentals on third party sites into the News Feed without their knowledge or consent.
May 2008 — a complaint is filed with the Privacy Commissioner of Canada concerning the "unnecessary and non-consensual collection and use of personal information by Facebook".
February 2009 — Facebook revises its terms of service to state that users can't delete their data when they leave the service and there's another outcry.
November & December 2009 — Facebook again revises its privacy policy and the privacy settings for users and now, in a fell swoop, it makes a range of personal information public by default — available for indexing on the public web.
December 2009 — a complaint (and supplementary complaint) is filed by EPIC with the FTC about Facebook's privacy settings and privacy policy, with the coalition of privacy groups asserting these are inconsistent with the site's information sharing practices, and that Facebook is misleading users into believing they can still maintain control over their personal information.    a developer of an application has misused data it got from Facebook Ireland in some way"
November 2011 — Facebook settles an eight-count FTC complaint over deceptive privacy practices, agreeing to make changes opt-in going forward and to gain express consent from users to any future changes.
September 2012 — Facebook turns off an automatic facial recognition feature in Europe following another audit by Ireland's Data Protection Commission.
September 2012 — Facebook launches Custom Audiences, allowing advertisers to link their own databases of customer data with Facebook users to be able to target the same individuals with ads on its platform.
April 2013 — Facebook launches Partner Categories: Further enriching the capabilities of its ad targeting platform by linking up with major data broker companies which hold aggregate pools of third party data, including information on people's offline purchases. Five years later Facebook announces it's ending this access, likely as one of the measures needed to comply with the EU's updated privacy framework,
May 2014 — Facebook only now switches off the public default for users' photos and status updates, setting default visibility to 'friends'
May 2014 — Cambridge University professor Aleksandr Kogan runs a pilot of a personality test app (called thisisyourdigitallife) on Facebook's platform with around 10,000 users. His company, GSR, then signs a data-licensing contract with political consultancy Cambridge Analytica, in June 2014, to supply it with psychological profiles linked to US voters. Over the summer of 2014 the app is downloaded by around 270,000 Facebook users and ends up harvesting personal information on as many as 87 million people — the vast majority of whom would have not known or consented to data being passed
February 2015 — a highly critical report by Belgium's data watchdog examining another updated Facebook privacy policy asserts the company is breaching EU privacy law including by failing to obtain valid consent from users for processing their data
May 2015 — Facebook finally shutters its friends API for existing developers such as Kogan — but he has already been able to use this to suck out and pass on a massive cache of Facebook data to Cambridge Analytica
February 2016 — the French data watchdog files a formal order against Facebook, including for tracking web browsing habits and collecting sensitive user data such as political views without explicit consent
August 2016 — Facebook-owned WhatsApp announces a major privacy U-turn, saying it will start sharing user data with its parent company — including for marketing and ad targeting purposes.
November 2016 — facing the ire of regulators in Europe Facebook agrees to suspend some of the data-sharing between WhatsApp and Facebook (this regional 'pause' continues to this day).
May 2017 –– Facebook is fined $122M in Europe for providing "incorrect or misleading" information to competition regulators
September 2017 — Facebook is fined $1.4M by Spain's data watchdog,
March 2018 — the Guardian and New York Times publish fresh revelations, based on interviews with former Cambridge Analytica employee Chris Wylie, suggesting as many as 50M Facebook users might have had their information passed to Cambridge Analytica without their knowledge or consent.
March 2018 — the FTC confirms it is (re)investigating Facebook's privacy practices in light of the Cambridge Analytica scandal and the company's prior settlement. Facebook also faces a growing number of lawsuits

April 2018 — Facebook also reveals that somewhere between 1BN and 2BN users have had their public Facebook information scraped via a now disabled feature which allowed people to look up users by inputting a phone number or email.
April 2018 — the UK's data watchdog confirms Facebook is one of 30 companies it's investigating as part of an almost year-long probe into the use of personal data and analytics for political targeting
Source: techcrunch.com
Mandatory Eye Scans & Finger Prints Required To Buy Food & Use Basic Services In India
India has the world's largest domestic biometric identification system.
Big brother in India now requires all of  its 1.3 billion residents to have their fingerprints, eyes and faces scanned in order to access public services like schools, grocery stores, welfare benefits and banks
The Indian government has made registration mandatory for hundreds of public services and many private ones, from taking school exams to opening bank accounts.
Citizens have also been ordered to link their IDs to their cellphone and bank accounts.
Civil libertarians are outraged, saying the program, called Aadhaar, is Orwell's Big Brother brought to life.  
Source: yournewswire.com
Flashback – Novichok expert: 'No one survives exposure to it'
 Dr Patricia Lewis, research director for International Security at Chatham House, said whoever used a Novichok chemical against the Skripals would have known it would be traced back to Russia.She said British experts would have been able to detect minute trace elements proving the nerve agent's country of origin, and would therefore have been able to rule out the possibility it was from stocks developed by other nations for the purposes of devising defences against it.The experts, she said, would not just have relied on the fact Russia was the country which developed Novichok. "There are ways to detect and be much more sure about where it came from," said Dr Lewis, who served on the 2004-6 WMD Commission chaired by Dr Hans Blix."There are very high resolution analysis techniques that can track down trace elements, certain types of chemicals in the particular region where it has been made.""Russia knows there are techniques to pinpoint where something came from," Dr Lewis added. "Whoever did this would know this was traceable back to Russia. So why use such an obvious thing, leaving such an obvious trace?"
Source: sott.net
Yulia, and likely Sergey, are conscious able to speak. Yet they're being held incommunicado – except for one brief monitored conversation between Yulia and her cousin Viktoria Skripal in Moscow.
British law requires hospitals treating patients to be accountable to their next of kin. For the Skripals, it's Viktoria. Yet she was denied visa permission to visit her ill relatives for unacceptable reasons.
According to Article 36 of a still valid 1968 Soviet Russia/UK treaty,
"(a) consular officer shall be entitled…to communicate with, interview and advise a national…and may render…every assistance," including aid and legal advice.

"No restriction shall be placed by the receiving State upon the access (to) a national…or (any) communication" obstruction.
The treaty also allows the Russian embassy to designate Viktoria or another party to represent the hospitalized Skripals, required to let them meet unhindered.
Yet Salisbury hospital imposed a communication shutdown, clearly on orders from Whitehall and/or metropolitan police, the Skripals unable to communicate freely with anyone they choose.
Source: globalresearch.ca
If CIA relocates Skripals in the US 'we may not see them again' – Russia's UN envoy 

---
War
Russian forces have been jamming US drones in Syrian airspace affecting US military operations
According to the sources, the Russian equipment is very sophisticated, proving effective even against some encrypted signals and anti-jamming receivers.

Source: southfront.org
Confirmed: Deep state retrains ISIS and ISIS-like jihadists in east Syria and re-brands them 'democratic forces'
|  Clear-cut evidence has emerged that the deep state is retraining jihadist militants — most of them surrendered ISIS members as well as fighters of other militant groups with an ideology similar to that of ISIS — in east Syria and re-branding them as 'democratic forces.'
Source: legitgov.org
As the situation in Syria continues to escalate, guided missile destroyer USS Donald Cook has weighed anchor off Syrian territorial waters,   Of note, the Donald Cook has 60 Tomahawk cruise missiles on board.
Source: zerohedge.com
Source: zerohedge.com
The Harry S. Truman Carrier Strike Group (HSTCSG) is being deployed to the Mediterranean Wednesday, where it will join the USS Donald Cook off Syrian territorial waters.
The aircraft carrier will be accompanied by guided-missile destroyers USS Arleigh Burke (DDG 51), USS Bulkeley (DDG 84), USS Forrest Sherman (DDG 98) and USS Farragut (DDG 99), as well as the guided-missile cruiser USS Normandy (CG 60). The Destroyers USS The Sullivans (DDG 68) and USS Jason Dunham (DDG 109) will join the HSTCSG later, according to a statement by the US Navy.
It is worth noting that it will take approximately 6-7 days for the group to cross the Atlantic at 30 knots, plus another 3-4 three days once it arrives in the Mediterranean, to reach Syria, suggesting a full-blown on attack may not take place until after April 22 or so.
Source: zerohedge.com
Russia vetos US resolution in UN
Russia to submit UN resolution to investigate alleged Syria chemical attack
Russian Foreign Minister Sergei Lavrov on Tuesday said Moscow will propose a UN resolution to investigate alleged chemical weapons attacks in Syria, after Russia rejected a similar move from the US.
Lavrov said Russia would propose a "transparent and honest" investigation with the involvement of the Organisation for the Prohibition of Chemical Weapons at the UN Security Council on Tuesday.
Russian-backed Syrian regime forces could ensure the safety of OPCW experts if they were to travel to the scene, he said.
"

Source: france24.com
Syria invites OPCW to send fact-finding team to Douma over chemical weapons claim
Syria's Foreign and Expatriates Ministry said it has sent an official invitation to the Organization for the Prohibition of Chemical Weapons (OPCW) for a fact-finding mission to visit Douma, 

Source: rt.com
Breaking: OPCW will travel to Douma to investigate reported chemical weapons attack
The international chemical weapons watchdog will send a fact-finding mission to Douma, Syria, to investigate the reports of an attack there. The move follows calls from Moscow and Damascus to launch an international investigation.
"Today, the OPCW Technical Secretariat has requested the Syrian Arab Republic to make the necessary arrangements for such a deployment.
Source: almasdarnews.com
UN says it's unable to 'independently verify allegations' of alleged chem attack in Douma
, the UN has admitted that it is unable to "independently verify the allegations.""We're not in a position at this point to independently verify the allegations [about the alleged chemical attack in Douma], but, obviously, any allegation of continued use of chemical weapons is extremely, extremely troubling," Stephane Dujarric, the spokesman for UN Secretary-General Antonio Guterres,  .
Source: sott.net
Russia Delivered 40 Pantsir-S1 Air Defense Systems To Syria – State Media
The Pantsir-S1 is designed to defend installations and to provide cover for long-range air defense systems. The Syrian miitary actively uses Pantsir-S1 systems to defend their airfields and other military facilities.
Source: southfront.org
France warns of 'response' if 'red line' crossed in Syria
France will retaliate against the regime of Syrian President Bashar Assad if evidence emerges that it was behind a recent suspected chlorine gas attack in a rebel-held enclave, government spokesman Benjamin Griveaux said Tuesday.

Source: dailystar.com.lb
Syrian Army's operations moving closer to US base in southern Syria: report
Syrian Arabic-language newspaper Al-Watan reported, citing field sources, that the Syrian army units managed to take more lands near al-Tanf region under control.
A
Source: almasdarnews.com
Iran is threatening to restart its controversial nuclear enrichment program, as the head of the Islamic Republic's Atomic Energy Organization (AEOI)
Under the 2015 agreement spearheaded by the Obama administration, Iran promised to significantly scale back its nuclear enrichment programs and give up pursuit of nuclear weapons – however it is still allowed to develop civilian nuclear technology, including energy production and scientific research.

Source: zerohedge.com