Podcast: Play in new window | Download (Duration: 1:00:42 — 64.3MB)
The housing bubble is now popping all over the world and we are watching it in real time. In Australia prices are dropping as sales begin to slow. The retail apocalypse is not finished, more stores are on the chopping block and might file bankruptcy. Car sales tumble, the entire economy is showing the beginning stages of a collapse that people are now noticing. The plan to take down the Fed is in full swing, this will done in many stages but by the end the Fed will not exist the way we know it or it will be gone all together. Judicial Watch uncovers emails by Strzok that shows he wanted to keep his powers. The peace plan in Afghanistan is moving forward and great progress is being made. North Korea handed over 50 dead remains from the Korean war. Iran and Trump are going at it but they leave room for negotiations. Syria takes control of the border with Jordan and begins trade again. Syria is now allowing millions of refugees return to the country and putting plans together to build the country again. Russia says that Iranian troops are now out of the Golan Height area, this is the announcement, the next announcement will be that the troops are coming home. Q drops more breadcrumbs, the deep state is scared and nervous about what is coming, the people are going to see something big happen.
Check Out The X22 Report Spotlight YouTube Channel X22Report Spotlight
Please check Newzsentinel.com for the latest news on the economic collapse. The Sentinel Alerts are updated throughout the day. If you haven't already, go to "The People" and join the community of people who are helping each through the economic collapse.
---
Current News – 08.02.2018
Watch The X22 Report On Video
---
Economy
A Housing Bubble Pops: Update on Australia
heres an update In Sydney, Australia's largest housing market and one of the world's biggest housing bubbles, prices of homes of all types fell 5.4% in July compared to a year ago, and 5.5% from the peak in September. Prices of single-family houses dropped 7.0%, and prices of condos ("units") fell 1.6%, according to CoreLogic's Daily Home Value Index: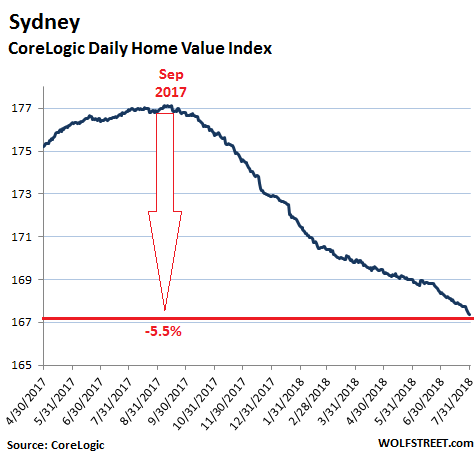 The most expensive quarter of the market got hit the hardest, with prices down 8.0% in July compared to a year ago. Across the so-called "most affordable quarter of the market" – "least unaffordable" would be more appropriate – prices fell by 1.8%.
Melbourne lags a few months behind Sydney but is now catching up. Home prices in Melbourne fell 0.5% in July year-over-year, according to CoreLogic, and are down 3.0% from their peak at the end of November 2017: House prices fell 1.4% from a year ago while condos are still up 2.3%. The index is now back where it had been at the end of June, 2017: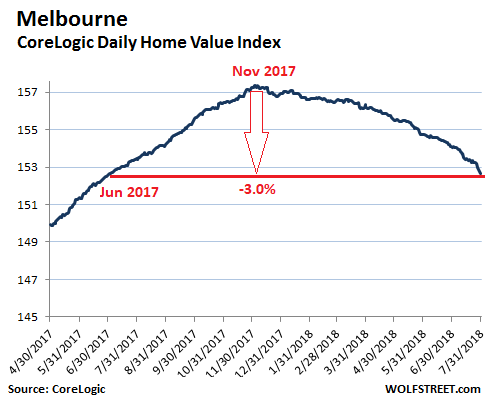 The most expensive quarter of Melbourne's market, as in Sydney, got hit the hardest, with prices down 4.1% from a year ago. In the "most affordable" quarter of the market, prices are still up 7.5%.
In aggregate, the five capital cities index fell 2.4% in July year-over-year. Note that May was the first month with a year-over-year decline since October 2012. The index has now declined month-to-month for 10 months in a row and is down 3.1% from the peak in October last year: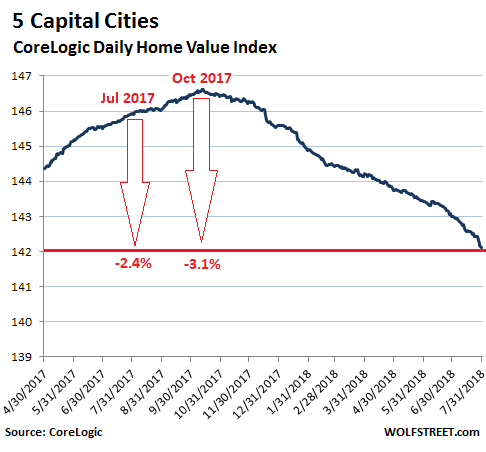 Across the country, home prices dropped 1.6% year-over-year, the largest annual fall since August 2012, according to CoreLogic, and are down 1.9% since the peak in September.

Source: wolfstreet.com
10 retailers at risk of bankruptcy: Q2 update
this year, two iconic retail brands — Bon-Ton and Toys R Us — shut their doors in bankruptcy.
CreditRiskMonitor estimates the risk of a company filing for bankruptcy within 12 months based on several streams of data, including financial ratios, bond ratings, a commonly used credit analysis model (the "Merton" model) and aggregated data patterns from its own subscribers, which include credit professionals and major corporations.
CreditRiskMonitor uses all that data to assign a proprietary rating, called a "FRISK" score, that weighs the probability of bankruptcy. A FRISK score of one indicates a 9.99% to 50% chance of bankruptcy within 12 months, and a score of two corresponds with a 4% to 9.99% chance of bankruptcy. (The scores continue to 10, which indicates risk near zero.)
The following was culled from lists of retailers with FRISK scores of one or two in the second quarter 2018.
J. Crew
FRISK score: 1

Net losses for 2017 (which included a benefit for income taxes of $105.5 million) widened to $125 million from $23.5 million the year before. In the fourth quarter, sales at the retailer's flagship brand fell 4%,
Neiman Marcus
FRISK score: 1
Neiman Marcus top-line sales in fiscal 2017 (which ended in July) fell around 5%, to $4.7 billion, compared to 2016. That's a tough hand for a retailer weighed down by a $4.8 billion debt pile,

J.C. Penney
FRISK score: 1
J. C. Penney has been under pressure for some time as the department store sector bleeds. With investors already growing impatient with the retailer's slow-rolling turnaround, the company also lost its CEO to Lowe's, further complicating its prospects for a successful turnaround this year.
Already in 2018, the retailer has axed more than 1,000 jobs and closed a distribution center. Store closures last year led to a 0.3% drop in top-line sales in 2017, and Penney's comps barely budged. Net income for the year was $116 million.

Sears Holdings
FRISK score: 1
  GNC's top-line revenue in 2017 fell 3.4% year over year to about $2.5 billion while it carried $1.3 billion in long-term debt. Same-store sales at the supplement retailer's domestic company-owned stores fell slightly and declined 2.4% at franchise locations.
99 Cents Only Stores
FRISK score: 1
99 Cents Only are losing money. In December, it reported a third-quarter net loss of $27.1 million. That came on top of a $33.6 million loss in the second quarter and an $8.8 million loss in the first quarter. I\
Bebe
FRISK score: 1
Last year, bebe paid out around $65 million to dissolve its physical retail footprint. The move helped it avoid bankruptcy and transition to an online-only player. That helped it make a relatively graceful exit from traditional retail.
Source: retaildive.com
Car Sales Tumble As Automakers Slash Discounts For The First Time In 5 Years
Almost all major manufacturers reported a sharp drop in U.S. deliveries for July, led by a 15% plunge at Nissan Motor. The reason: for the first time in 55 months, the auto industry – perhaps due to concerns about the impact of auto tariffs – cut back spending on incentives, snapping a streak of monthly consecutive increases that began 4 1/2 years ago, according to J.D. Power.
 General Motors s sales fell 3.3% last month, the same drop as Ford.
  WARD's Automotive reported a 16.68mm US auto sales SAAR for July – the weakest July sales since 2014 and set to go notably lower based on car-buying-sentiment.
Source: zerohedge.com
While headline factory orders rose 0.7% MoM (as expected), ex-transports, it rose just 0.4% in June (admittedly the 12th monthly rise in a row). Final durable goods data was all revised lower on the month
Durable Goods Orders final for June was revised down from +1.0% to +0.8% (but has rebounded from the 0.3% drop in May).
Source: zerohedge.com
The Board of Governors of the Federal Reserve is required to have seven members. It has three. Two of the current governors were put into their position by President Trump. Two more have been nominated by the president and are awaiting confirmation by the Senate. After these two are put on the Fed's board, the president will then nominate two more to follow them. In essence, it is possible that six of the seven Board members will be put in place by Trump.

The president can and will take control of the Fed. It may be recalled when the law was written creating the Federal Reserve the secretary of the Treasury was designated as the head of the Federal Reserve. We are going to return to that era.

Returning the Fed to Treasury control, however, means more than appointing new board members. It means "nationalizing" the central bank, making it a public utility responsive to the needs of the public and the economy. And that means modifying the Federal Reserve Act to change the Fed's mandate and tools.

Only John Kennedy and Abraham Lincoln and two other assassinated presidents, James Garfield and William McKinley, prior to Nixon, had actively contemplated changes of such magnitude in the U.S. financial system.

President Garfield observed that "whoever controls the volume of money in our country is absolute master of all industry and commerce . . . and when you realize that the entire money system is very easily controlled, one way or another by a few powerful men, you will not have to be told how periods of inflation and depression originate."
---
Political/Rights
Strzok gave Special Counsel Mueller "special authorities" to target Trump according to new emails
 FBI agent, Peter Strzok, insisted on maintaining special authorities before joining Special Counsel Robert Mueller's team, according to newly released emails obtained by Judicial Watch.In a July 13, 2017 email to numerous FBI officials (some of whom are redacted), Strzok says he wants to keep the privileges he had while serving as the deputy assistant director (DAD) in the counterintelligence division (CD) of the FBI:
"Broadly, I need to be able to act at least in the capacity of my old CD DAD job – approve NSLs [national security letters], conduct [redacted] declassify information, [redacted] agent travel, requisitions, etc. Of those, the most problematic and one of the most essential is declassification authority."
 Judicial Watch President, Tom Fitton, says, "These new emails show anti-Trump FBI official Peter Strzok's 'assignment' gave the Mueller Special Counsel operation special authorities to target President Trump. We know Strzok can't be trusted and the Special Counsel should tell us if Strzok abused his special authorities to target President Trump."
Source: sott.net
Trump: Sessions must stop Mueller 'right now' before witch hunt 'stains America'
President Donald Trump again lashed out at Special Counsel Robert Mueller's 'Russiagate' investigation via Twitter, warning Attorney General Jeff Sessions to step in and end it "right now."
Source: rt.com
---
War
Trump's Peace Train: Next Stop, Afghanistan
The US, bypassing the barely functional Afghan "government" — which controls only the territory around Kabul – is negotiating directly with the Taliban, whose leaders are enthusiastic about the talks. While the White House is laconic about the negotiations, the insurgents are more forthcoming: one described the talks as "very positive," and averred that "We agreed to meet again soon and resolve the Afghan conflict through dialogue."
In this the Afghan peace initiative is much like what's happening on the Korean peninsula: there, too, the people on the ground who've had to live in the long shadow of an outlived conflict spontaneously decided that they'd had enough. Driven in large part by South Korean President Moon Jae-in and North Korean Supreme Leader Kim Jong-un, the Singapore summit was the end result of the two native leaders in effect forcing the US to the negotiating table.
 Trump doesn't do things the way everyone else in Washington does, and that's to his credit in this case. His methods suit the situation, in which he finds himself negotiating with strongmen, rather than, say, the leadership of the European Union. Underlings can talk and draw up all the plans they want, but who can say that the North Korean side speaks for Kim Jong-un? Everything is tentative without the Supreme Leader's personal guarantee. Trump's inverted method gets around this problem rather neatly, and this is also true in the case of the Russians, and, to a certain extent, the Iranians.
Source: news.antiwar.com
US to Cut Troops Fighting al-Qaeda in Africa to Focus on Russia, China
North Korea have handed over fifty American human remains from Korea war
Rejecting Trump, Iran Leaves Room for Future Talks With US
iran was very quick to spurn President Trump's public offer of talks with "no preconditions."
Still, Iran has been clear not to reject the idea of talks under any circumstances, and in leaving the door open can afford to wait, gaining more leverage as the party being pursued for talks, instead of willingly engaging under any terms they can get.
Source: news.antiwar.com
Syria begins implementation of state program for restoration of Aleppo governorate
Russia Announces Iran Pullback in Syria, Israel Rejects Plan
Russian Ambassador Alexander Lavrentyev announced on Wednesday that Russia had come to an agreement with Israel on the withdrawal of Iranian forces. The deal will have all Iranian forces at least 85 kilometers from the Golan Heights.
Israel has since denied that this was a deal, and said they consider the pullback "inadequate." It would be surprising if Israel had taken this deal, as they'd rejected a near identical Russian offer of a 100 kilometer buffer just a week ago.
Israel has demanded Iranian forces be removed wholly from Syria.
Source: news.antiwar.com
Road to Syria's border crossing with Jordan is ready
The road to Syria's border crossing with Jordan, closed by conflict in 2011, is ready for use, Damascus said Wednesday. Syria is looking at prospects of reopening it after recovering the border from rebels, according to the country's transport minister. Billions of dollars in annual trade moved through the Nassib crossing before fighting erupted in 2011, and its closure has weighed on the economy of Syria and neighboring states,
Source: rt.com
UN peacekeepers return to Golan Heights for first time in 4 years
The American officials have informed their Lebanese counterparts of their preparations to withdraw forces from Syria, Lebanon's media sources reported on Thursday.
---
Q
The "Sprawling Right-Wing Conspiracy Theory" Known as #QAnon.
Despite that, they're churning up chaos by starting these fires, which only serve to hurt its own citizenry:
This is what the Cabal wants us reduced to.
Project Safe Childhood is a nationwide initiative to combat the growing epidemic of child sexual exploitation and abuse launched in May 2006 by the Department of Justice. Led by the U.S. Attorneys' Offices and the Criminal Division's Child Exploitation and Obscenity Section (CEOS), Project Safe Childhood marshals federal, state and local resources to better locate, apprehend and prosecute individuals who exploit children via the Internet, as well as to identify and rescue victims.
Think this effort got supercharged by Sessions and Trump? Yeah, I hope s
John Brennan, CIA chief under the Obama administration, used Twitter to appeal for her confirmation by sceptical Democrats.

"Senators," Brennan wrote, "show that you put country above politics. Gina Haspel is a competent, experienced and highly qualified intelligence professional. Ask her tough questions, listen to her answers and then decide but don't penalize her for previous policy decisions or because [Donald Trump] picked her."
Brennan thought he was getting a friend in power. Someone who would protect him.
He wasn't.
In case you missed it, Avenatti was freaking out today:
Avenatti posted on July 30 flipped the image of q pic on July 29
#Anon brings his decode to the table:
Go back to 1745:
FEEDERS OF FALSE INFO.
Picture clearer now?
But go back even further:
Flies and Feeders
What do flies eat?
(Whatever **** they feed you)!
Avenatti's statement today wasn't one of panic. Oh sure, he's still terrified, but he wasn't panicking. I can guarantee you, he knew about all this yesterday.
He was setting up a narrative to feed us (well, not us, but everyone else  – in conjunction with the Deep State). It just took a day to get everyone coordinated.
This is Mockingbird Media 101. Avenatti is trying to play the victim, attempting to garner sympathy and set up a narrative where he's being bullied by big, mean, ol' Mister Trump.
I have a feeling that Mr. Avenatti's usefulness to the Cabal is nearing its nadir… After all, there's no telling what they'll do once we find out #WhoPaysButtercu– I mean… #WhoPaysAvenatti.
And here's the narrative they want to feed you.  The **** they've rolled between their filthy hands and presented for you to consume:
The "sprawling rightwing conspiracy known as QAnon."
These are the ****-rollers.
They want to force-feed you their ****.
It's not all fun and games, of course.
Sometimes, there's a lot of paperwork involved:
But seriously – read this carefully:
Now read Q's next post:
Julian Assange leaked Vault 7 early last year, in March of 2017. Vault 7 really exposed the clowns, really hurt their operational capacity.
After he did that, the Clowns struck back. They cut off Assange's internet, and took over the Wikileaks site (yes). Q said as much himself in 1595:
Well… someone in the CIA had to leak that stuff… And it turns out, Schulte has long been the prime suspect.
Notably, he says he's innocent: