Podcast: Play in new window | Download (Duration: 44:15 — 52.0MB)
German Secretary Economics warns that low to negative interest rates do not work, they have failed. Department stores are being hammered they are trying everything to bring in the customers. A stock market tsunami is getting ready to go off, and nobody is really noticing the storm warnings. The Fed is pulling the plug on the entire market, they are bringing down the economy. BofA points out why the Fed is doing this at this point, in not so many words the Fed is worried that the system will come down and they will lose control, they want it to come down on their terms. As soon as Trump met with Putin at the G20 meeting the reports of Russian collusion were back on the table, the only problem is that they are as fake as all the others. The real story the corporate media is not reporting is how Comey leaked confidential information when he leaked the memo. The neocons, deep state they are pushing Trump into what they want, Trump needs to push back. Evidence has surfaced that the Russia did not hack the DNC servers but were copied off locally.  Russia shows evidence that the missile NK launched was not a ballistic missile. Tillerson meets Poreshenko are pushes the sanctions meme. White House wants the Senate bill to be modified so they have room to negotiate the Russian sanctions or remove them if need be. The Syrian battle wages on and the terrorists are losing ground, the terrorists are now fighting amongst each other.
Check Out The X22 Report Spotlight YouTube Channel –  X22Report Spotlight
Please check Newzsentinel.com for the latest news on the economic collapse. The Sentinel Alerts are updated throughout the day. If you haven't already, go to "The People" and join the community of people who are helping each through the economic collapse.
---
Current News – 07.10.2017
---
Economy
German Secretary Economics Warns Low Interest Rates Have Failed
The German Secretary General of the Economic Council of the CDU, Wolfgang Steiger,  has highlighted the growing economic crisis in Europe. The negative interest rates of Draghi and the ECB have totally failed. He has pointed out that despite various EU stress tests for banks, time and time again they continue to fail.  . He has come out and bluntly states that ONLY reforms will work, not low interest rates.
Source: armstrongeconomics.com
Mall Stocks Hammered As Even Cheap Make-Up Fails To Lure Customers
  department stores are discounting the one item they had long been able to sell at full price: cosmetics.

Last month, Lord & Taylor offered 15% off almost all cosmetics and fragrances. Bloomingdale's gave members of its loyalty program a $25 reward card for every $100 beauty purchase. The moves followed a decision by Macy's to offer 15% off cosmetics, which it touted in nationally televised advertisements this spring.

This morning's announcement of Abercrombie's failed sale process served as a startling reminder of just how toxic mall-based retailers have become  .  News that not a single suitor was willing to touch the  retail apparel chain 
 department stores like Macy's, Sak's and Lord & Taylor are even being forced to discount their last bastion of hope in order to lure customers into their dying stores: cosmetics.
Source: zerohedge.com
Since July 2012 – so over the past five years – the trailing 12-month earnings per share of all the companies in the S&P 500 index rose just 12% in total. Or just over 2% per year on average. Or barely at the rate of inflation – nothing more.
These are not earnings under the Generally Accepted Accounting Principles (GAAP) but "adjusted earnings" as reported by companies to make their earnings look better. Not all companies report "adjusted earnings." Some just stick to GAAP earnings and live with the consequences. But many others also report "adjusted earnings," and that's what Wall Street propagates. "Adjusted earnings" are earnings with the bad stuff adjusted out of them, at the will of management. They generally display earnings in the most favorable light  
And these adjusted earnings are now back where they'd been on March 2014, with no growth whatsoever. Total stagnation, even for adjusted earnings. And yet, over the same three-plus years, the S&P 500 index has soared 33%.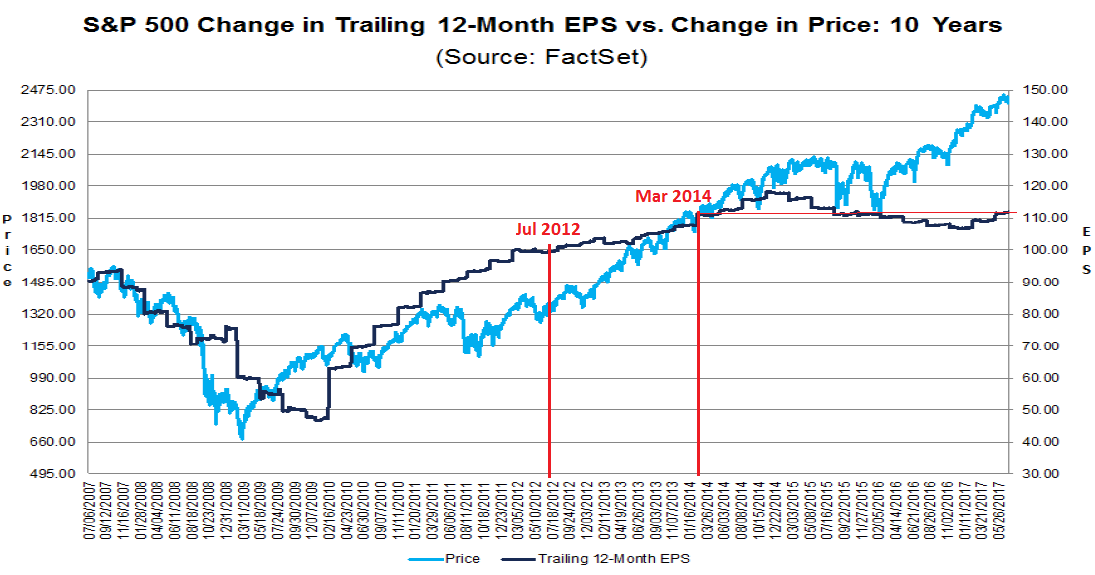 Given that there has been zero earnings growth over the past three years, even under the most optimistic "adjusted earnings" scenario, and only about 2% per year on average over the past five years, the S&P 500 companies are not high-growth companies. On average, they're stagnating companies with stagnating earnings.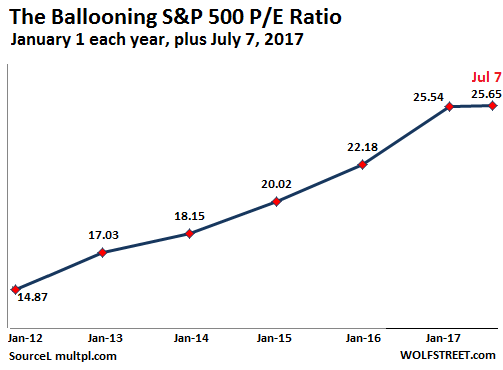 In other words, earnings didn't expand. The only thing that expanded was the multiple of those earnings to the share prices – the P/E ratio.
Source: wolfstreet.com
Yellen Goes on Record: The Fed's Pulling the Plug This Year
Janet Yellen is set to present the Fed's Monetary Report to Congress this week. Her remarks have already been posted online.
 
Valuation pressures across a range of assets and several indicators of investor risk appetite have increased further since mid-February…
The Committee currently expects to begin implementing the balance sheet normalization program this yearprovided that the economy evolves broadly as anticipated…
Firstly, Yellen is CLEARLY warning that the Fed sees bubbles in the system. For a Fed Chair to specifically cite "valuation pressures" in the markets is simply incredible… particularly when you consider that the Fed has been actively propping up stocks for the better part of eight years.
Secondly, Yellen reiterates the Fed's intention to begin normalizing its balance sheet this year. This is an absolute game changer for the markets as it marks the first time in a DECADE that that FEd will be actively withdrawing liquidity from the system.
What does all of this mean?
The Fed is getting ready to pull the plug on the markets.
What does that mean for stocks?
We're going to have the 3rd and worst crisis in 20 years.
Source: zerohedge.com
"… A Recession Has Always Followed": Is This The Real Reason The Fed Is Suddenly Panicking
"Why is the Fed so desperate to raise rates and tighten financial conditions? Why has the Fed shifted from a dovish to a hawkish bias?"
That is the question on everyones mind .
BofA  for years the focus was getting inflation back to target. They did not want a recession to occur before inflation (and interest rates) had normalized. Now the focus has shifted more to the risk of undershooting on the unemployment rate, which has fallen well below even the Fed's revised estimate of NAIRU.
As several Fed officials have pointed out, undershooting full employment can and will be problematic.  Boston Fed President Rosengren argued last summer that after hitting a cyclical low, "there are no episodes in which unemployment rose a bit and remained stable at its natural employment rate. Rather, a recession has always followed"  
Rosengren concluded: "The lesson is that policymakers should avoid significantly overshooting their best estimates of the natural rate of unemployment."
Source: zerohedge.com
---
Political/Rights
"The number of U.S. adults without health insurance has grown by some 2 million this year, according to a major new survey that finds recent coverage gains beginning to erode. … That may be a reflection of rising premiums and dwindling choices in the insurance markets created under Obama."
 
…
The Gallup-Sharecare survey serves as a kind of early indicator,
Peering at this year, Gallup-Sharecare found an erosion of progress, with the number of uninsured edging up again. 
Source: whitehouse.gov
Gallup: Cost of Healthcare Is Americans' Top Financial Worry
The main financial concern Americans face today is the cost of healthcare, according to a new Gallup poll released Monday.
 The top  financial concerns, according to the survey:
Healthcare costs: 
Too much debt/not enough money to pay debts:
Lack of money/low wages:  
Source: newsmax.com
Trump's Son Said To Have Met With Russian Lawyer After "Promise Of Damaging Hillary Info": NYT 
 Two days after the NYT reported that Donald Trump's son, Donald Trump Jr., together with then campaign chairman Paul Manafort and Trump's son-in-law, Jared Kushner – but without Donald Trump himself being present – had met at the Trump Tower with a lawyer who was allegedly "Kremlin connected" on June 9, 2016, shortly after Trump was assured of the Republican nomination, the NY Times has followed up with a new article, one which seeks to explain the one thing that was missing from the original NYT article: the motive behind said meeting, as in retrospect it turned out that members of Trump's campaign simply meeting with a Russian lawyer was less exciting than the NYT had hoped.
And, as the NYT clarifies in its sequel – citing three advisers to the White House – Trump Jr. agreed to meet with the lawyer, Russian lawyer Natalia Veselnitskaya, only after allegedly being promised damaging information about Hillary Clinton.
 "It is unclear whether the Russian lawyer, Natalia Veselnitskaya, actually produced the promised compromising information about Mrs. Clinton", t
Veselnitskaya told the Times in a Saturday statement that "nothing at all about the presidential campaign" was discussed. She "never acted on behalf of the Russian government," she said, and "never discussed any of these matters with any representative of the Russian government." More importantly, "she recalled that after about 10 minutes, either Mr. Kushner or Mr. Manafort walked out", in other words the meeting was, as Trump Jr. suggested, a waste of time.  
* * *
So what's the punchline?
Well, since as the NYT itself admits that there is yet again no smoking gun –
First, the meeting took place in early June, or roughly one month before Russia is said to have "hacked" either  the DNC or Podesta's emails.
  if this was indeed as blockbuster a meeting as the NYT reporters present it, why was Trump himself absent?
  a spokesman for President Trump's legal team, said  , we have learned that the person who sought the meeting is associated with Fusion GPS, a firm which according to public reports, was retained by Democratic operatives to develop opposition research on the President and which commissioned the phony Steele dossier. "
Source: zerohedge.com
Trump Jr. Lawyers Up As Potential Senate Intel Committee Hearing Looms
Update 2:
Well that escalated quickly.  After volunteering just over an hour ago to cooperate with the Senate Intelligence Committee, Donald Trump Jr. has apparently now joined with most of the other members of the Trump campaign in hiring his own attorney for the various "Russia probes" that are underway.
Kremlin Comments on Russian Lawyer's Alleged Talks With Trump Jr.
The Kremlin does not know the Russian lawyer whom then-candidate for US president Donald Trump's family members and campaign manager met in mid-2016 on the promise of receiving damaging material on his Democratic rival, Kremlin spokesman Dmitry Peskov said Monday.
 "We do not know who it is. And of course we cannot track the meetings of all Russian lawyers both inside the country and abroad," Peskov told reporters.
Source: sputniknews.com
Comey Bombshell: FBI Director's Leaked Trump Memos Contained Classified Information
 The Hil is reportingl, in addition to the leaked memos, Comey also leaked classified information in gross and direct violation of FBI rules and regulations. And just like that Comey finds himself in trouble. Only not just any trouble, but the virtually same trouble that Hillary Clinton was in in the summer of 2016… and which James Comey was tasked to investigate.
  James Comey is about to be investigated for the exact same thing which he absolved Hillary Clinton of doing last summer.  Comey broke his own agency's rules – by putting his own interests above those of his country – but far more grotesquely, ignored the same security protocol that he publicly criticized Hillary Clinton for in the waning days of the 2016 presidential election, in order to settle his vendetta with President Trump.
 Comey was generous enough to let Hillary go, now that the ex-FBI chief is facing the president of the US as his adversary, he may not be quite so lucky.
Upon hearing of Comey's alleged transgressions, the now former Chair of the House Oversight Committee said simply that "IF true, this is bombshell news."
FBI policy further adds that "all information acquired by me in connection with my official duties with the FBI and all official material to which I have access remain the property of the United States of America" and that an agent "will not reveal, by any means, any information or material from or related to FBI files or any other information acquired by virtue of my official employment to any unauthorized recipient without prior official written authorization by the FBI."
Source: zerohedge.com
Trump: "Comey Leaked CLASSIFIED INFORMATION To The Media. This Is So Illegal"   
Comey Using Clinton Defense – Leaker Says:"No memo was given to me was marked 'classified'"…
Today, the recipient of at least one of the leaked memos, Daniel Richman, claims the memo leaked to him by FBI Director Comey, with the specific intention to leak to the New York Times, did not contain markings designating the memo as "classified":This Comey defense strategy is the same pattern used in the initial claims by Secretary of State Hillary Clinton
It is not the MARKING that renders a document as 'classified'. It's the CONTENT. Comey, who would like to be known as 'intelligent', KNOWS this. 
Source: theconservativetreehouse.com
New Research Shows Guccifer 2.0 Files Were Copied Locally – DNC Not "Hacked By Russians" 
New meta-analysis has emerged from a document published today by an independent researcher known as The Forensicator, which suggests that files eventually published by the Guccifer 2.0 persona were likely initially downloaded by a person with physical access to a computer possibly connected to the internal DNC network. The individual most likely used a USB drive to copy the information. The groundbreaking new analysis irrevocably destroys the Russian hacking narrative, and calls the actions of Crowdstrike and the DNC into question.
The document supplied to Disobedient Media via Adam Carter was authored by an individual known as The Forensicator.
The document states that the files that eventually published as "NGP-VAN" by Guccifer 2.0 were first copied to a system located in the Eastern Time Zone, with this conclusion supported by the observation that "the .7z file times, after adjustment to East Coast time fall into the range of the file times in the .rar files." This constitutes the first of a number of points of analysis which suggests that the information eventually published by the Guccifer 2.0 persona was not obtained by a Russian hacker.
Image via The Forensicator
The Forensicator stated in their analysis that a USB drive was most likely used to boot Linux OS onto a computer that either contained the alleged DNC files or had direct access to them.
In this case, additional files would have been copied en masse, to be "pruned" heavily at a later time when the 7zip archive now known as NGP-VAN was built.  
  The Forensicator concluded that the chance that the files had been accessed and downloaded remotely over the internet were too small to give this idea any serious consideration.
The implications of The Forensicator's analysis in combination with Adam Carter's work, suggest that at the very least, the Russian hacking narrative is patently false.   
Source: zerohedge.com
---
Geopolitical/Police State
"Dumbest Idea I've Ever Heard" – Republicans Blast Trump Idea For "Cyber Security Unit" With Putin
Trump said "Putin & I discussed forming an impenetrable Cyber Security unit so that election hacking, & many other negative things, will be guarded and safe," 
  Republican Senators Lindsey Graham,   who is a member of the Senate Armed Services Committee, and Marco Rubio of Florida,  , blasted the idea.
Rubio, on Twitter, said:
 "While reality & pragmatism requires that we engage Vladimir Putin, he will never be a trusted ally or a reliable constructive partner.

"Partnering with Putin on a 'Cyber Security Unit' is akin to partnering with (Syrian President Bashar al) Assad on a 'Chemical Weapons Unit'."
But it was Graham that really let loose
 "When it comes to Russia I am dumbfounded, I am disappointed, and at the end of the day he's hurting his presidency by not embracing the fact that Putin is a bad guy,"

"He is literally the only person I know of who doesn't believe Russia attacked our election in 2016,"
Source: zerohedge.com
Putin-Trump cybersecurity cooperation to take place, but will take time – Russia G20 sherpa
Trump Cannot Improve Relations With Russia When Trump's Government and the US Media Oppose Improved Relations
President Trump Has Been Contradicted by His Own Government,  
Trump's own ambassador to the UN, Nikki Haley, and Trump's own Secretary of State, Rex Tillerson, sound exactly like Hillary Clinton, the Democratic National Committee, the neoconservatives, the Washington Post, the New York Times, CNN and the rest of the totally discredited presstitute media that is committed to raising tensions between the US and Russia to the point of nuclear war.
On the same day that President Donald Trump said "it is time to move forward in working constructively with Russia," and the day after he said "I had a tremendous meeting yesterday with President Putin," the ignorant, stupid, Nikki Haley, who Trump appointed as US UN Ambassador, publicly contradicted her president, forcefully stating: "we can't trust Russia and we won't ever trust Russia."
Joining Nikki Haley was Trump's Secretary of State, Rex Tillerson. Tillerson, allegedly a friend of Russia, is also working overtime to worsen relations between the two nuclear powers by publicly contradicting the President of the United States, thereby making it clear that Trump is barely even a cipher. Tillerson, a disgrace, said that Putin's refusal to admit that Putin elected Trump by interfering in the US election "stands as an obstacle to our ability to improve the relationship between the US and Russia and it needs to be addressed in terms of how we assure the American people that interference into our elections will not occur by Russia or anyone .  In the meeting with Putin Trump allowed Tillerson and no one else was this on purpose to see how he reacted after the meeting
Source: paulcraigroberts.org
White House Pushes Back On Senate's Russia Sanctions Bill
 
In meetings with Republican lawmakers, administration officials have argued that the Senate bill needs to be amended in order to give Trump more flexibility in his discussions with Russian President Vladimir Putin,  The White House is pushing for waivers to be written into the House version of the bill. 
Source: dailycaller.com
---
War
Russia: North Korea tested medium-range missile not intercontinental
Russia has said that North Korea did not fire an intercontinental ballistic missile in its recent test despite the US's insistence that it did.
"A Voronezh-type radar station deployed in the Irkutsk region monitored the launch of the Hwasong-14 medium-range ballistic missile (IRBM) from North Korea, which flew a distance of 510 kilometers (317 miles) in 14 minutes, reaching an altitude of 535 kilometers (332 miles), before landing in the Sea of Japan, 
The letter included a detailed illustration showing the missile's trajectory and flight path (seen below).
US intelligence agencies insisted the missile was most likely a new ICBM with an estimated range of 5,500 kilometers and capable of hitting Alaska.
Source: presstv.ir
Why China Reduces All Military Contacts With North Korea to Zero
China has suspended military contacts with North Korea amid an escalation in tensions on the Korean Peninsula. According to a Chinese senior military official, the decision was aimed at reaffirming solidarity with the rest of the world in complying with UN resolutions.
BEIJING: China set to help rebuild Syria
China and Syria are already increasing economic ties while Damascus confirms that China will be given priority in all post-conflict reconstruction.
On Sunday the China-Arab Exchange Association in cooperation with the Syrian Embassy in Beijing held the Syria Day Expo where Representative from over 1,000 Chinese business specialising in redevelopment, infrastructure and investment met with Syrian officials.
Far from just being a large repair initiative for Syria's damaged infrastructure, Chinese developmental and investment cooperation could lead to long term mutual benefits for both Beijing and Damascus. 
Source: theduran.com
Saudi King To Visit Russia: Bringing Relationship To New Phase
  King Salman is to become the first Saudi monarch to visit Russia. The trip is expected this month with talks on the way to specify the date.  
Prince Mohammed bin Salman was recently appointed to the position of Crown Prince and heir to King Salman of Saudi Arabia. This appointment bodes well for the Russia-Saudi relations.  
On June 2, Russia's largest oil producer, Rosneft, and the Kingdom's national oil company Aramco announced that they would look into joint investments in Saudi Arabia.  
The parties discussed possible ways of cooperating in Asia, including Indonesia and India, as well as in other markets. Cooperation in Asia between the world's two biggest oil exporters would be unprecedented. Saudi Arabia via its oil giant Aramco has openly stated to be interested in global gas investment opportunities, starting in Russia's Siberian region.
Russian gas giant Lukoil has revealed that it will also consider marketing oil alongside Saudi Aramco. Another Russian oil company, Tatneft, has announced it is open for cooperation with Saudi Arabia. 
Source: zerohedge.com
Russia to continue cooperation with US on de-escalation zones in Syria – Lavrov
Russia will continue cooperation with the US on de-escalation zones in southern Syria, Russian Foreign Minister Sergey Lavrov said,
A de-escalation zone helps to "disengage" armed opposition from Islamic State (IS, formerly ISIS/ISIL), Al-Qaeda, Al-Nusra Front (now known as Jabhat Fateh al-Sham) and other groups recognized as terrorists by the UN Security Council.
A monitoring center in the Jordanian capital, Amman, which oversees the truce in Syria, will work directly with the Syrian opposition and government in Damascus, according to the foreign minister.
"We agreed to use a monitoring center established by Russia, the US and Jordan in Amman to coordinate all the details of functioning of these de-escalation zones," Lavrov said.
Source: rt.com
Rebel lines shatter following Syrian Army breakthrough in key east Damascus suburb (Pictures)
The Syrian Arab Army (SAA) has achieved a major tactical and operational breakthrough in the eastern Damascus
Source: almasdarnews.com
Al-Qaeda's branch in Syria may implode after large fighting force threatens to leave
On Monday, one of the largest factions within Hay'at Tahrir Al-Sham (HTS) announced it would not fight for the Al-Qaeda affiliated group
Source: almasdarnews.com