Podcast: Play in new window | Download (Duration: 31:39 — 33.8MB)
The Manhattan bubble is popping, foreign investment is being redirected, the real estate crisis has begun and it will spread. Global debt has hit an all time high and it is getting worse. The rate at which debt is rising is of great concern because there will be a time when it won't be able to be paid back. The Fed has already decided to change the rules of the game, they are now removing data and manipulating data. Just a couple days ago the Fed said the yield curve is not accurate and flawed and now the Fed has replaced the yield curve with their new version which is based on what they think the future will bring. The collapse has been exposed, change and hide data to cover their tracks. Lisa Page will not testify and she is using the excuse that she did not received the documents but this is not true. The trial for Flynn has been postponed again. A dead body has been found in the garbage shoot of Huma Abedin and Anthony Weiner. Some government officials are pushing new laws to go after Antifa. DHS refuses to reunite families since adults are not the children's parents. NATO bends to Trump and Trump wants other nations to pay for their share. Turkey will receive the S-400 missile system by 2019. Assad forces widen assault in the southwest of Syria. Weapons have been retrieved from the paid mercenaries and they were US and UK made weapons. Netanyahu is meeting with Putin and one of the strategies is to have Putin sway Assad to ask Iran to leave, in return Netanyahu will have Trump remove the sanctions. This is part of the plan this will allow the US and coalition troops to leave Syria.
Check Out The X22 Report Spotlight YouTube Channel X22Report Spotlight
Please check Newzsentinel.com for the latest news on the economic collapse. The Sentinel Alerts are updated throughout the day. If you haven't already, go to "The People" and join the community of people who are helping each through the economic collapse.
---
Current News – 07.11.2018
Watch The X22 Report On Video
---
Economy
What the Sadly Deflating Bubble of Manhattan Office Buildings Looks Like
In the second quarter, sales of large office properties in Manhattan fell 26% from the same period a year ago. It was the worst Q2 dollar volume in years: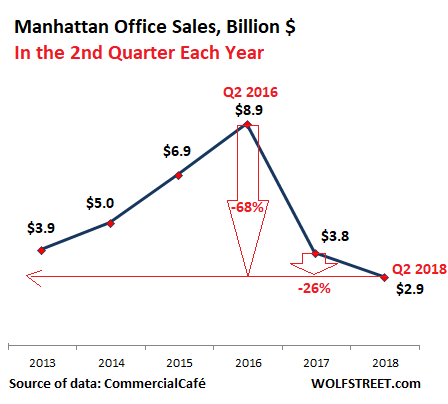 Last year's Q2 sales – as weak as they'd been – were propped up by the last-hurrah-deal undertaken by a Chinese conglomerate. The $2.2-billion sale of 245 Park Avenue to HNA Group was the sixth largest transaction in Manhattan ever. HNA paid $1,282 per square foot for the tower, which was called "among the highest price-per-pound for this type of asset." It was the last big Chinese property purchase in Manhattan.
This year, Q1 was propped up by the $2.4-billion sale of Chelsea Market to Google. The deal accounted for over half the total transaction volume in the quarter. The price was a blistering $2,181 per square foot.
"What brought the sales volume down in Q2 was the absence of the high-profile, billion-dollar office deals
 China wanted their investors to redirect their investing to the Belt And Road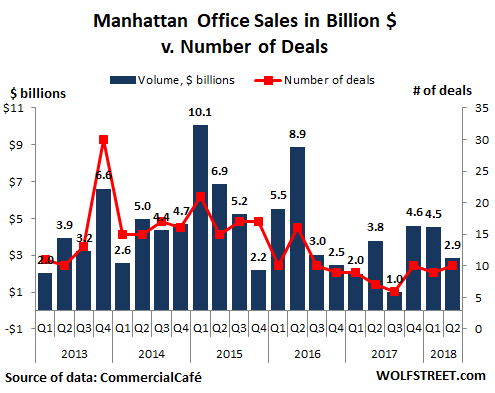 Source: wolfstreet.com
Every quarter the Institute of International Finance publishes a new number of the total amount of global debt outstanding, and every quarter the result is the same: a new record high
Today was no exception: according to the IIF's latest Global Debt Monitor, the amount of debt held in the world rose by the biggest amount in two years during the first quarter of 2018, when it grew by $8 trillion to hit a new all time high of $247 trillion, up from $238 trillion as of Dec. 31, 2017 and up from by $30 trillion from the end of 2016.
In other words, there is now a quarter quadrillion dollars in global debt, and it represents 318% of global GDP. More concerning is that this was the first time since Q3 2016 that global debt to GDP increased, suggesting that the marginal utility of debt is once again below 1.
This is how the debt is broken down as of Q1 2018 and compared to Q1 2013:
Non-financial corporate debt: $74 trillion, up from $58 trillion in 5 years
Government debt: $67 trillion, up from $56 trillion
Financial debt: $61 trillion, up from $56 trillion
Household debt: $47 trillion, up from $40 trillion
And visually:
Some more details from the report,

The government debt-to-GDP ratio has surged to 101 percent in the U.S.
What was surprising about the report – certainly not the latest all time high debt numbers, those are now standard – is that the IIF voiced a strongly negative opinion of recent developments in the debt arena.
"The pace is indeed a cause for concern," warned IIF's Managing Director Hung Tran during a call with reporters. "The problem with the pace and speed is if you borrow or if you lend very quickly, the quality of the credit tends to suffer." It also means more governments, businesses and individuals have been borrowing that could have trouble paying the money back, or merely paying interest on it as rates rise.
"The quality of creditworthiness has declined sharply," Tran added ominously, echoing what Moody's said at the end of May.
The IIF did not stop there and cautioned that with global growth losing steam and becoming increasingly divergent, and with U.S. rates rising, worries about credit risk are starting to creep back to the forefront, including in many developed economies, such as the United States and Western Europe.
"Government debt is higher than it was prior to the crisis and corporate debt as well.

Source: zerohedge.com
The New Curve
What if your local weatherman forecasted weather not based on atmospheric conditions and other scientific data but instead on his own forecast. "I dreamt it will rain in three days, therefore my forecast is for rain in three days." His prediction method, if uncovered, would probably lead him to seek a new career.
The weatherman's forecast is a good way to describe the new yield curve the Fed has recently publicized. This curve is calculated by comparing the current three-month rate for Treasuries versus what that rate is expected to be six quarters from now. The forward rate is calculated using the current rate and the interpolated rate on 1.50- and 1.75-year Treasury notes.   in laymen's terms the curve is simply a forecast of what the market thinks the Fed will do.

Comparing Curves
The traditional 2s-10s curve spread is falling at a decent pace and has been in decline for the better part of the last five years. Conversely, the new curve has been in a slight uptrend over the same period. Clearly, the curves are sending different messages.
 The Fed has much more control over the shape of the new curve versus the traditional curve.

Source: zerohedge.com
---
Political/Rights
Goodlatte Releases Statement on Lisa Page: "We Will Use All Tools at Our Disposal to Obtain Her Testimony"
Lisa Page plans to blatantly defy a congressional subpoena by refusing to appear for her deposition. She is a key witness, and it is critical that she come before @HouseJudiciary to answer questions as part of our investigation. It appears she has something to hide.

— Bob Goodlatte (@RepGoodlatte) July 11, 2018
Goodlatte said it appears "key witness" Lisa Page has something to hide and Congress will use all tools at their disposal to obtain her testimony.

OP Congressional investigators are furious after former FBI attorney Lisa Page issued a statement through her attorney notifying a jount House panel that she would ignore a subpoena to appear on Wednesday because she wasn't allowed access to documents by the FBI.Page's attorney, Amy Jeffress, claimed that "Lisa and I went to the FBI today to review the materials that were previously produced to Congress related to her propsed interview, but after waiting for more than three hours, we were not provided with any documents." 


JUST IN: Lisa Page will not appear for Congressional interview tomorrow. @CBSNews pic.twitter.com/saDS5MFmt6

— Paula Reid (@PaulaReidCBS) July 11, 2018

"The Committees have not honored this request," Jeffress said. "As a result, Lisa is not going to appear for an interview at this time."

On Wednesday morning, however, Freedom Caucus chairman Mark Meadows tweeeted that Page and her attorneys did review the requested documents at the FBI on Tuesday, and that "Her failure to appear before Congress this morning had little to do with 'preparation'–and everything to do with avoiding accountability."
Source: truepundit.com
Federal Judge Delays Sentencing For General Mike Flynn AGAIN
On Tuesday, a federal judge again delayed the sentencing of Trump's former NatSec Advisor, General Mike Flynn.
Source: thegatewaypundit.com
Dead Body Found In Huma Abedin and Anthony Weiner's Garbage Chute
A dead body has been found at the home of Hillary Clinton's top aide Huma Abedin and her husband, the disgraced former Congressman, Anthony Weiner. 
The unidentified female was discovered inside the trash compactor of the Manhattan apartment complex that Huma Abedin and convicted pedophile Anthony Weiner have used as a base for the last 16 years.
Police had been called to the block at 1 Irving Place in Union Square, after a maintenance worker found the body.
Police have withheld the identity of the woman, believed to be in her forties, until they notify her family. They do not yet know how she ended up in the trash compactor, or why, and they are refusing to rule out high-profile arrests
Source: yournewswire.com
---
Geopolitical/Police State
Following a spate of violent attacks by masked members of Antifa, four GOP members of Congress are taking matters into their own hands.
A measure introduced last month in the House would punish anyone wearing a mask who "injures, oppresses, threatens or intimidates" a person "in the free exercise or enjoyment of any right or privilege" with a fine and up to 15 years in prison.
Introduced to the House Judiciary Committee by Rep. Dan Donovan (R-NY) and co-sponsored by Peter King (R-NY), Ted Budd (R-NC) and Paul Gosar (R-AZ). H.R. 6054, the "Unmasking Antifa Act of 2018" states:
Whoever, whether or not acting under color of law, while in disguise, including while wearing a mask, injures, oppresses, threatens, or intimidates any person in any State, Territory, Commonwealth, Possession, or District in the free exercise or enjoyment of any right or privilege secured to him by the Constitution or laws of the United States, or because of his having so exercised the same, shall be fined under this title, imprisoned not more than 15 years, or both.
The bill also includes 2 years of jail time for "Destroying buildings or property" while wearing a mask or disguise.
Source: zerohedge.com
DHS Refuses to 'Reunite' Children with Adults Who Aren't Their Parents
The Department of Homeland Security (DHS) and Department of Health and Human Services (HHS) held a joint call Tuesday to announce their efforts to comply with a June 26 federal court ruling mandating children under five years old in HHS custody be "reunited" with parents if they were separated at the border.
U.S. District Judge Dana Sabraw, in response to an American Civil Liberties Union (ACLU) lawsuit, set a July 10 deadline to reunite the families and refused to provide additional time for the government to use DNA testing to determine if the people in question are even the 102 identified children's parents.
Nevertheless, the government, in its Tuesday "Joint Status Report" notes that in at least 14 of the 102 children's cases, they will not be "reuniting" them with parents because the adults in question are either not actually their parents, have been convicted of serious crimes, including rape and murder, or have been credibly accused of child abuse. The government will not place children with adults without completing these checks.
  HHS Chief of Staff Chris Meekins,   went on to explain that three "parents" admitted they were not actually related to the children with whom they were ordered to be "reunited" when agents brought out DNA swabs to test parentage. Two others were proven to not be the parents when DNA tests were completed. Eight other purported parents will not be "reunited" with children due to failed criminal background checks that turned up serious convictions or child abuse. "Our due diligence is protecting children," Meekins said.
Source: breitbart.com
---
War
NATO's secretary general agreed on Wednesday that President Trump's call for other members to boost their defense spending under the military alliance is having an effect, and promised that other NATO members would soon be chipping in more.
Trump was in Belgium Wednesday to keep up his complaint that other NATO members are "not paying what they should," and said it's an "unfair burden" to the U.S.
Source: washingtonexaminer.com
Turkey to receive first batch of S-400 systems in 2019
Turkey expects to receive the first batches of the S-400 anti-aircraft missile systems before the end of the next year,
Source: almasdarnews.com
Assad Regime Widens Assault in Southwest Syria, Hits ISIS Pocket
The

 Syria

n government widened its offensive to recover the southwest on Wednesday, extending it to an enclave held by Islamic State-affiliated fighters as Russian warplanes targeted the area, a war monitor said.
The bombardment targeted the Yarmouk Basin area, which borders Israel and Jordan, and which is held by the Islamic State-
President Bashar al-Assad is seeking to recover the entire southwestern corner of

 Syria 

in an offensive that got underway last month and has so far recovered swathes of territory from rebels fighting under the Free

 Syria

n Army (FSA) banner.
Source: algemeiner.com
Breaking: Rebels to allegedly surrender southern districts of Daraa city to Syrian Army
VIDEO: Syrian Army uncovers UK-made weapons along borders with Jordan
Having regained control of almost the entire border line with Jordan, the Syrian Army began a full-scale mop-up operation to secure the area before safely deploying border forces.
The cleansing operation has uncovered a huge underground armory which contains massive quantities of weapons and ammunition.
The newly-discovered underground depot served as the main supply hub for rebel fighters in the areas near the Jordanian borders.
The arsenal includes mortar and tanks shells (mostly UK-made), various missiles and armored vehicles.
Source: almasdarnews.com
Note to readers: please click the share buttons above
 FGM-148 Javelin anti-tank missile and launcher among a cache of weapons recovered just outside Tal Afar. The Javelin has a range of up to 2.7 miles with an 18-pound tandem warhead (two shaped charges, one to pierce reactive armor the other to wreak havoc) and designed to penetrate even the toughest armor — including the skin of the Pentagon's beloved M1 Abrams tank.
The discovery of the Javelin is disturbing. Despite ISIS's reliance on unconventional weaponry like their beloved vehicle-borne IEDs, this isn't the first time militants have wielded heavier American-made weapons against the very troops meant to carry them.
But the anti-tank weapons like the Javelin and TOW didn't just turn up in Iraq and Syria amid the chaos of the 2003 invasion: they were sent there more recently by the U.S.-led coalition in Syria. Under Timber Sycamore, the covert CIA program established during the Obama administration to arm Syrian rebels locked in a protracted civil war against the Bashar al-Assad regime, at least 500 TOW missiles were reportedly transferred through Saudi Arabia to the Free Syrian Army in late 2015. And in February 2016 Washington Post reporter and Marine veteran Thomas Gibbons-Neff identified a Javelin in the hands of Kurdish YPG forces at work in northern Syria. (
"It turns out it's — a lot of al-Qaeda we're giving these weapons to."
Source: globalresearch.ca
Netanyahu May Offer Putin US Sanctions Relief for Ousting Iran From Syria
Israeli Prime Minister Benjamin Netanyahu is set to meet with Russian President Vladimir Putin on Wednesday. Early reports are suggesting Netanyahu is going to offer a major trade with an eye toward getting Russia to kick the Iranians out of Syria.
  Netanyahu offering to see Russia given full relief from US-imposed sanctions in return for Russia expelling Iranian military from Syria. Russia has previously told Israel they don't have the capability of doing so, and that the Iranian presence is up to Syria.
Source: news.antiwar.com
---
Uncensored