Podcast: Play in new window | Download (Duration: 20:35 — 25.0MB)
The corporate media are trying everything to make it seem like this holiday season is going to be incredible. Spain's third largest bank has implemented a cashless banking agenda. The BRICS are going to create and establish a new gold trading system which will revalue gold. This is what the central banks do, keep the price of gold low, shift the gold to another location and once completed revalue gold higher. US will push more drills near NK this December. A US destroyer has entered the Black Sea. Libya's central bank does not want to work with the other banking system in Libya. The Pentagon is admitting that there are not 500 troops in Syria but the count is much higher than that. The truth is starting to come out and the truth of what has been happening will crush the cabal.
Check Out The X22 Report Spotlight YouTube Channel –  X22Report Spotlight
Please check Newzsentinel.com for the latest news on the economic collapse. The Sentinel Alerts are updated throughout the day. If you haven't already, go to "The People" and join the community of people who are helping each through the economic collapse.
---
Current News – 11.26.2017
---
Economy
Black Friday Sales Buoyed by 'Blessed' Cold Weather

The media is working over time to give retailers good press, seeing that they're all but destroyed now.

 A Macy's spokeswoman later confirmed that more than 16,000 people were lined up outside the Herald Square store before it opened Thursday evening. By 7 a.m. Friday, Macy's had already sold 200,000 coats, and was on track to sell more than 1 million coats, sweaters and fleece jackets by the end of the weekend.
The Northeast has been "blessed … with cold weather," Gennette told CNBC.
Despite all of this 'touch and feel' nonsense, online sales continue to surge, slowly but surely designating department stores as showcases for Amazon.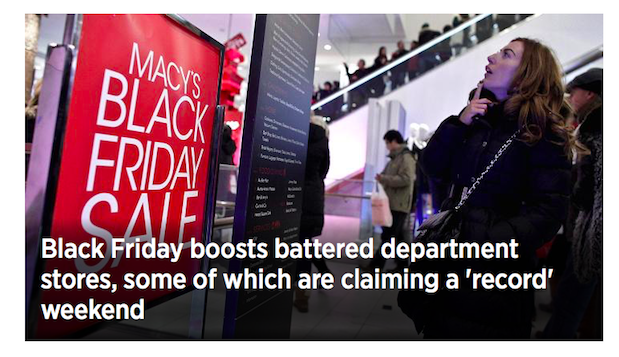 And physical store traffic looks to be down anywhere from 4-6%.
Source: zerohedge.com
War on Cash bogs down, despite best efforts of government, banks, and credit card companies.

Spain's third biggest lender, CaixaBank, has just launched a pilot project in Madrid aimed at limiting cash services in their branches to less than three hours a day, from 8:15 am to 11 am. After that point, all cash operations, including the settlement of bills and cash withdrawals and deposits, must be conducted through an ATM.
Caixabank is not the first Spanish bank to try out such a scheme, but it is the biggest. Spain's fourth largest lender, part state-owned Bankia, has removed all cash services from select branches (including my local branch), forcing customers to withdraw or deposit cash at the ATM or travel further afield to another branch that still offers cash services.
 The more difficult banks make it for their customers to use cash, the more likely those customers are to turn to alternatives, such as P2P payments and wallets, contactless cards, mobile money platforms or CaixaBank's very own contactless payment bracelet.
Source: wolfstreet.com
The BRICS countries, comprising Brazil, Russia, India, China and South Africa, are mulling the possibility of creating a unified system of gold trade "both within BRICS and at the level of bilateral contacts,"
"The traditional [trade] system based in London and partially in Swiss cities is becoming less relevant as new trade hubs are emerging, first of all in India, China, and South Africa," he said.
According to the Russian Central Bank official, on the basis of this unified system, it is possible to create new benchmarks (an approximate benchmark) in the future.
Russia's Gold Policy
The official has also revealed Moscow's plans aiming to continue the increase in the absolute value of gold in the country's reserves.

The statement comes in the wake of Bank of Russia purchase of 6 million ounces (almost 187 tons) of gold within 10 months of 2017. Over the last three years, the Central Bank has been pursuing gold purchases, with last year Russia buying 6.4 million ounces (about 199 tons).
While the volume of gold in the Russian international reserves grew by 11.6%, the country's estimated monetary value of gold in reserves increased by 22.4%.
Source: sputniknews.com
---
Geopolitical/Police State
FCC Claims Big Tech Companies, Not ISPs, More Likely to Block Content
 big tech companies like Google, Facebook, Twitter, and YouTube and services like GoDaddy and Cloudflare are currently a greater threat to a free and open internet than ISPs. The FCC agrees.
In their fact-sheet on Net Neutrality reform, the FCC notes that "recent evidence suggests that hosting services, social media platforms, edge providers, and other providers of virtual Internet infrastructure are more likely to block content on viewpoint grounds."
In their footnotes, the FCC sites a number of incidents in which major tech companies blocked lawful content, including the effective removal of the Daily Stormer from the internet and the banning of free speech platform Gab from the Apple and Google Play stores.
Source: breitbart.com
---
War
US And South Korea To Conduct Massive Air Force Exercise Aimed At North Korea
The U.S. and South Korea announced Friday they will conduct a massive air force exercise over the Korean Peninsula next month as a notable show of force targeting North Korea –
Six F-22 Raptor stealth fighters—which are among the world's most advanced warplanes—will be sent to South Korea for the drill, a U.S. Air Force
Source: zerohedge.com
US destroyer carrying Tomahawks enters Black Sea  
The US guided missile destroyer USS James E. Williams (DDG95) entered the Black Sea on Sunday. Photos of the vessel sailing through the Bosporus Strait have been published by Istanbul-based media outlets. The USS James E. Williams called at the Saudi port of Jeddah earlier in November. The 150-meter ship can carry Tomahawk cruise missiles, anti-submarine missiles and torpedoes.
Source: rt.com
Libya's Central Bank hints at rejecting Al-Sirraj's call for unification with eastern parallel bank
Less than a month ago, Gen. James Jarrard told reporters the US had about 4,000 troops in the country…

The Central Bank of Libya (CBL) has issued a statement expressing bewilderment at the decision of the Head of the Presidential Council Fayez Al-Sirraj to hold a meeting for the two governors of the CBL – in Tripoli and in Al-Bayda – in order to end parallelism  

Source: .libyaobserver.ly

Iraq to build new oil pipeline from Kirkuk to Turkey

Iraq is to build a new pipeline to allow oil exports to resume from the northern province of Kirkuk to neighbouring Turkey, the oil ministry said Sunday.

The new pipeline is to stretch for around 250 kilometres (150 miles) from the area of Baiji, in the province of Salaheddine to the south of Kirkuk, to the Fishkhabur border post with Turkey further north.

Source: middle-east-online.com

Syrian Army Confiscate ISIS Weapons Made By NATO

The Syrian Army have confiscated a large number of ISIS weapons that they say originate from the USA, Europe, Israel and NATO.
Brigadier General of the Syrian Arab Army, Hasan Suheil, showed reporters evidence of NATO weapons at an ISIS warehouse captured by the Syrian armed forces in the city of Al Mayadin, in the east of Syria.

Source:  yournewswire.com

Pentagon To Admit To 2,000 Troops In Syria; Number Likely Far Higher

 But the numbers do not reflect the extent of the US commitment on the ground, since commanders often find ways to work around the limits, sometimes bringing in forces temporarily or hiring more contractors.

Current FML figures are officially 5,262 in Iraq and 503 in Syria, but officials have privately acknowledged that the real number for each country is more.
Source: zerohedge.com