Podcast: Play in new window | Download (Duration: 25:32 — 29.5MB)
Trump announces that Sprint will bring back 5,000 jobs. Gold surges on a huge purchase of paper contracts. Mini bubbles are now ready to burst. NYC real estate is now declining rapidly, this is the beginning of the real estate market breaking apart. Italian banks are now seeing a bank run on their banks and they need more capital to keep the banks afloat. The entire economy is now setup for the economic reset. The central bankers are prepared and ready to throw the switch to bring the entire economy down. Republicans are ready to repeal Obamacare. Angela Merkel is desperate, she will now fine social media $522,000 for each story that is not aligned with the government.US spreading more propaganda that North Korea is now developing another missile site. Russia, Turkey, Iran and Syria brokered a ceasefire deal and will be triggered Dec 30. US Government have made their move with lies and fake news, they are pushing and provoking Russia to get a war started, next move a cyber attack. US says that they did not create, fund or support the IS, that Turkey is using fake news. US is sending additional troops to Syria.
Check Out The X22 Report Spotlight YouTube Channel –  X22Report Spotlight
Please check Newzsentinel.com for the latest news on the economic collapse. The Sentinel Alerts are updated throughout the day. If you haven't already, go to "The People" and join the community of people who are helping each through the economic collapse.
---
Current News – 12.29.2016
---
Economy
Trump Announces Sprint Bringing 5,000 Jobs Back To US, Says UN Might Be "Waste Of Time & Money"
"We are excited to work with President-Elect Trump and his Administration to do our part to drive economic growth and create jobs in the U.S.," said Sprint CEO Marcelo Claure. "We believe it is critical for business and government to partner together to create more job opportunities in the U.S. and ensure prosperity for all Americans."
Source: zerohedge.com
Gold Surges Above $1150 On $3.5 Billion Bid, Bitcoin Dips
Gold is up 5 days in a row and is surging above $1150 today as someone decided to buy $3.5 billion notional of the precious metal into the European close.
Source: zerohedge.com
Three Mini-Bubbles Are Bursting
The world has gotten so used to ultra-low interest rates that even economists and money managers seem to be shocked by what happens when rates start creeping back towards normal levels.
Some of the mini-bubbles that formed in an essentially free-money environment are now starting to leak. Notably:
US Housing
Pending Home Sales Reflect "Dispirited" Buyers.
US Auto Sales
Cars and trucks have been one of the economy's bright spots for several years — which seems to have gotten everyone just a little too excited. Auto financing practices have lately begun to resemble those of the subprime mortgage bubble: Today's average loan is for more money, lasts much longer, and is held by a much weaker credit than ever before. Now, with interest rates rising and pretty much every potential buyer already locked into a car mortgage, the bubble optimism is evaporating. .
Source: dollarcollapse.com
More Bad News For NYC Real Estate As Luxury Co-Op Contracts Collapse 25%
Luxury real estate broker Olshan Realty, Inc. has some bad news for New York's hedge fund managers looking to dump their luxury $5 million, 1,500 square foot palaces as the market for luxury New York City real estate just might be on the verge of collapse.  Accroding to a year end report published by Olshan, contracts for luxury co-ops (defined as those with an asking price above $4mm) collapsed 25% in 2016 while the average number of days that apartments sat on the market surged 31% and discounts to original listing price also jumped a point to 6%.wn.

 "The number of re-sales has fallen year over year in each of the last four quarters at an increasing rate.
Source: zerohedge.com
Italy Slams ECB For Revealing It Has A "Bank Run" Problem
With the world still napping in a post-Christmas daze, the ECB surprised Italian bank watchers on December 26 when it advised the insolvent, and nationalized, Monte dei Paschi that its capital shortfall had increased by 76% from €5 billion to €8.8 billion as a result of a deposit flight, aka "bank run", that had accelerated and led to a deterioration in the bank's liquidity.
The week before, Monte Paschi admitted, it had already suffered roughly €14 billion in deposit outflows, or 11%, in the first nine months of the year as shown in the chart below.
Source: zerohedge.com
---
Rights
Republicans Consider Obamacare Repeal Without A Replacement Strategy
  According to Bloomberg, the lack of a fully negotiated replacement option could result in Republicans repealing the bill on a piecemeal basis with a replacement to be implemented at a later date.
Republicans are debating how long to delay implementing the repeal. Aides involved in the deliberations said some parts of the law may be ended quickly, such as its regulations affecting insurer health plans and businesses. Other pieces may be maintained for up to three or four years, such as insurance subsidies and the Medicaid expansion. Some parts of the law may never be repealed, such as the provision letting people under age 26 remain on a parent's plan. 
Source: zerohedge.com
---
Police State
Angela Merkel Plans to Fine Social Media Sites $522,000 per Day for "Fake News"
Germany considers legal means to fine social media giants such as Facebook and Twitter $522,000 per day for leaving  so called "fake news" online on their services. Angela Merkel has made yet another poor move in pushing for suppression of free speech (globally) via financial blackmail to be levied upon social media sites. 
Some members of the government have advocated criminalizing the spread of so-called "fake news".
Source: 21stcenturywire.com
---
War
US Intel Images Suggest Another N. Korean Missile Launch Site
 

New reviews of satellite images suggest North Korea may possess another missile launching site at a village once suspected of having nuclear facilities.
The images, analyzed by Strategic Sentinel, a firm that deals with geospatial image processing, intelligence analysis and geopolitical research, exposed a missile silo in mountainous Geumchang-ri, North Pyongan province, where the U.S. intelligence community said in the late 1990s there was a nuclear weapons site.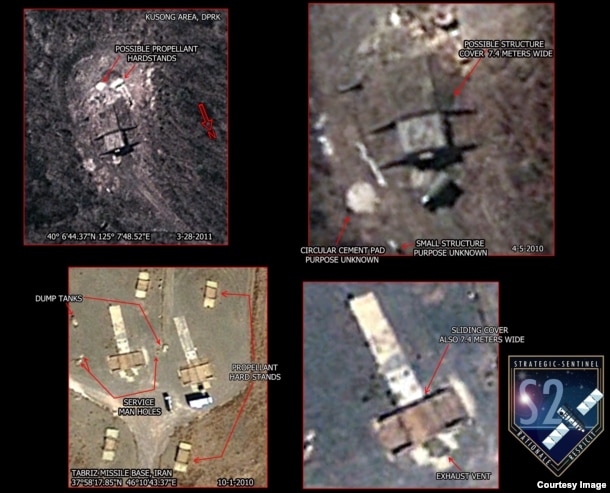 Satellite imagery of North Korea's Geunmchang-ri, North Pyongan Province, shows a structure that appears to be a missile silo similar to one in a missile base in Tabriz, Iran.
Source: voanews.com
Syria ceasefire deal: What we know so far
Q:  What does the deal cover?
A:  Theoretically, the whole of Syria. In practice, terrorist groups Islamic State and Al-Nusra Front are not part of the deal by default, so territories under their control or under attack by them are unlikely to benefit.
Q:  Who supports it?
A:  Damascus and its militia allies, as well as at least seven major rebel groups with over 60,000 fighters among their ranks.
Q:  What are the mechanisms for enforcing the truce?
A:  Yet to be revealed. The three documents detailing the deal were not immediately published.
Q:  What are the repercussions for violators?
A:  According to Russia, those in breach of the agreement will be equated with terrorist groups and will therefore be legitimate targets for the use of force.
Q:  Who has brokered the deal?
A:  Russia, Iran and Turkey. Moscow and Ankara stand as guarantors of the truce, which builds on a previous deal the three nations brokered for Aleppo.
Q:  Will the UN support the truce?
A:  Russia pledged to bring the deal before the UN Security Council for endorsement. The rest is up to the member states.
Q:  Is there a plan for what comes after the truce?
A:  Yes, Syria peace talks are being planned for Astana, Kazakhstan.
Source: rt.com
U.S. to send 200 more troops to Syria to fight ISIS
US Denies It Created ISIS, Accuses Turkey Of Spreading "Fake News"
US denied Erdogan's allegations, and accusing Turkey of spreading "fake news."
"The United States government is not supporting DAESH. The [United States government] did not create or support DAESH in the past. Assertions the United States government is supporting DAESH are not true," the embassy wrote,
It is unclear if Erdogan indeed has "evidence" of US support of ISIS  (perhaps courtesy of a recent anonymous shipment by Mossad), and if so, whether he is willing to disclose it for public consumption.
 Source: zerohedge.com
US Announces Sanctions Against Russia, Expels 35 Diplomats In Retaliation For Election "Hacking"
As promised (or threatened), the Obama administration has just unveiled – via US Treasury – new sanctions against Russia over election hacking allegations (that as yet have not been supported by any actual evidence). e sanctions apply to five entities and six individuals. In addition, US officials are expelling 35 Russian diplomats.
Today, the President issued an Executive Order Taking Additional Steps To Address The National Emergency With Respect To Significant Malicious Cyber-Enabled Activities.  This amends Executive Order 13694, "Blocking the Property of Certain Persons Engaging in Significant Malicious Cyber-Enabled Activities."  .

Specially Designated Nationals List Update LIGENCE DIRECTORATE).
*  *  *
Additionally:
*U.S. SAID TO PLAN RELEASE OF EVIDENCE SHOWING RUSSIAN HACKING
*FBI, HOMELAND SECURITY TO OFFER DECLASSIFIED EVIDENCE OF ATTACK
U.S. TO CLOSE TWO RUSSIAN COMPOUNDS IN MARYLAND AND NEW YORK USED FOR INTELLIGENCE-RELATED ACTIVITIES – U.S. OFFICIAL
U.S. EXPELS 35 RUSSIAN DIPLOMATS IN WASHINGTON AND SAN FRANCISCO, GIVES THEM 72 HOURS TO LEAVE – U.S. OFFICIAL
Now we await Putin's promised retaliation.
Russia Responds
Frankly, we are tired of the lies about the "Russian hackers", which continues to flow into the United States from the very top.

But the truth of the provocation orchestrated by the White House, sooner or later will still come out

Source: zerohedge.com
---
False Flags
Tu-154 crash probe: No onboard explosion, main recovery phase over
A full investigation into the reason a Russian Tu-154 plane crashed into the Black Sea will take some time, but preliminary results have ruled out an onboard explosion,
Divers managed to lift 13 large fragments of the Tu-154 from the sea, as well as to collect almost 2,000 smaller ones.
Source: rt.com
US Embassy Warns About Possible Terrorist Threat in Bangladesh on New Year's Eve
The US embassy warned about a possible terrorist threat for New Year's Eve in Dhaka, Bangladesh, according to the US Department of State.
US citizens in Dhaka, Bangladesh need to be on alert due to a possible terrorist threat for New Year's Eve, the US Department of State said in a security message on Thursday. "US citizens should take stringent security measures and be alert to local security developments during the holiday season," the security message stated. "There is an ongoing potential for extremist violence in Bangladesh."
Source: sputniknews.com