Podcast: Play in new window | Download (Duration: 33:10 — 38.1MB)
US Federal Reserve is now included cryptocurrencies in the FRED database, this is their move to control the crypto market so it never competes with their currency. Manufacturing declines. Trump is now pushing tariffs on Europe and China, pushing the economy to the edge. Central banks are now pushing their agenda, they are now unwinding and raising rates at the same time into an economy that is fake. BoA doesn't understand why people are running into tech stocks, last time this happened was the dot com bubble. IMF is now revising Europe's global growth and they are blaming it on Italy and the BREXIT. Both sides are now battling it out. Strzok is now stripped of his security access. Comey and Lynch might be subpoenaed if Feinstein agrees. There is another pic floating around on Facebook showing a girl crying because she was separated from her mother, this turns out to be not true. Supreme court now says you cannot track people on their cell phones. Merkel and Macron are in trouble the rest of Europe is not going along with their plan. North and South Korea are reuniting families, North Korea began returning the remains of Americans. Syrian army launches offensive. Syrian army was attacked by moderate rebels, it is now being reported that FSA is now defecting to the Syrian Army. Assad says that he doesn't think the US wants talks and they will never change from the past. This is the beginning stages of having peace talks and getting the troops out of Syria.
Check Out The X22 Report Spotlight YouTube Channel X22Report Spotlight
Please check Newzsentinel.com for the latest news on the economic collapse. The Sentinel Alerts are updated throughout the day. If you haven't already, go to "The People" and join the community of people who are helping each through the economic collapse.
---
Current News – 06.22.2018
Watch The X22 Report On Video
---
Economy
US Federal Reserve Launches Cryptocurrency Index
This week the Federal Reserve Bank of St. Louis added cryptocurrency to their Federal Reserve Economic Data (FRED) database. It's a seemingly small gesture, but one that signals to most observers crypto's maturation, at least in the eyes of arguably the most important central banking institution in the world.  
Federal Reserve Bank of St. Louis Adds Four Cryptos to its FRED Database
"FRED has added four series on the prices of different cryptocurrencies," the St. Louis Federal Reserve posted without much fanfare this week, including "Bitcoin, Bitcoin Cash, Ethereum, and Litecoin. The price data are updated daily and span from as early as 2014 to the present. All data were obtained from Coinbase, a cryptocurrency exchange company, whose overall digital asset performance is depicted in the above graph (Coinbase Index)."
Source:  bitcoin.com
 Manufacturing plunged to its weakest since Nov 2017.
More worrisome is that Stagflation is here –  New Orders tumbled to the lowest since September and inflation spiking with input costs at their highest since Sept 2013.
US continues to outperform according to the soft data surveys…
So surging prices are crushing orders and production is continuing to ignore it.. for now. That won't end well.
Source: zerohedge.com
This time he took some time off from China and aimed at the European Union, threatening a 20% tariff on all cars coming into the US from Europe…
Based on the Tariffs and Trade Barriers long placed on the U.S. and it great companies and workers by the European Union, if these Tariffs and Barriers are not soon broken down and removed, we will be placing a 20% Tariff on all of their cars coming into the U.S. Build them here!

— Donald J. Trump (@realDonaldTrump) June 22, 2018
Currently, the US charges just 2.5% on car imports. This is lower than the EU's 10% and China's 25%, although the latter will lower its tariff to 15% from 1 July. 
Source: zerohedge.com
One week after the second biggest ever weekly tech inflows, in Bank of America's latest weekly fund flow report, CIO Michael Hartnett shows what the annualized tech inflows in 2018 look like, and it is surely a surreal sight for an entire generation of traders, as the last time we observed such sheer uniform panic to plow cash into tech names was just before the dot com bubble… only this time it's even worse, as the annualized inflows into tech have never been greater, and as shown below, are now almost "off the chart."
What is odd, is that while traders, investors, algos and passive capital allocators are flooding the FAANGs with money, virtually every other sector is hurting, i
Source: zerohedge.com
Markets were surprised today when the Bank of England took a "hawkish" turn and announced that three out of nine members of its Monetary Policy Committee – including influential Chief Economist Andrew Haldane, who'd been considered dovish – voted to raise the Bank Rate to 0.75%, thus dissenting from the majority who kept it at 0.5%.
But less prominent was the announcement about the QE unwind. Like other central banks, the BoE heavily engaged in QE and maintains a balance sheet of £435 billion ($577 billion) of British government bonds and £10 billion ($13 billion) in UK corporate bonds that it had acquired during the Brexit

The BoE is the second major central bank that has put the QE unwind on its schedule, after the Fed has already plowed ahead with it. By contrast, the ECB is still engaging in QE, but has been tapering it,

Source: wolfstreet.com
IMF to revise down euro zone growth, sees Brexit, Italy risks
The International Monetary Fund is likely to revise down its growth forecasts for the euro zone as the area faces higher risks from trade, Britain's talks to leave the bloc and market jitters over fiscal easing in Italy and other states.
When the fund publishes its new forecasts on the global economy in July, it is likely to slightly revise down its growth estimates for the 19-country euro zone but does not expect "a sharp slowdown," the fund's managing director Christine Lagarde told a news conference in Luxembourg on Thursday.
"We will probably update and revise our growth forecasts for the euro area modestly, but we will revise it down a little bit," she said,

Source: reuters.com
Nomi Prins: How Donald Trump's Trade Wars Could Lead To A Great Depression
---
Political/Rights
Strzok Stripped Of Security Clearance By FBI
BI special agent Peter Strzok has been stripped of his security clearance, days after he was physically escorted out of his FBI office, said Attorney General Jeff Sessions.
Source: zerohedge.com
FBI may have meddled with Mike Flynn case evidence – US congressman
US congressman Mark Meadows has suggested that the FBI may have meddled with evidence in the case against Trump's former national security adviser Michael Flynn.

he was  referring to the 302 FBI reports that contained summaries with suspects and witnesses, Meadows said: "Were they changed to change the outcome of prosecution decisions. I think they might have".
BREAKING: IG Horowitz confirmed that he is investigating allegations that FBI officials "edited" agents' 302 summary reports of interviews with witnesses and suspects in the 2016-2017 investigations (including Gen. Flynn)

— Paul Sperry (@paulsperry_) 19 июня 2018 г.
Source: rt.com
Senate Judiciary Chairman Chuck Grassley (R-IA) says he'll issue subpoenas for former FBI Director James Comey and former Attorney General Loretta Lynch, but the panel's top Democrat Dianne Feinstein (CA) has to agree to it per committee rules. Grassley also said he would be open to exploring immunity for Comey's former #2, Andrew McCabe.
The Iowan added that committee rules require that he and Feinstein "agree to it, and at this point I can't tell you if she would agree to it. But if she will, yeah, then we will subpoena." –Politico
Feinstein may be hesitant to sign on, as she says she thinks Comey acted in good faith – which means she thinks Congress shouldn't have a crack at questioning a key figure in the largest political scandal in modern history.
Comey skipped out on appearing before Grassley's committee this week following the June 14 release of DOJ Inspector General Michael Horowitz's (OIG) report on FBI conduct during the Hillary Clinton email investigation – which dinged Comey for being "insubordinate" and showing poor judgement. Horowitz is conducting a separate investigation into the FBI's counterintelligence operation on the Trump campaign, including allegations of FISA surveillance abuse.
Maybe Comey also decided to bail after Horowitz admitted on Monday that he's under a separate investigation for mishandling classified information after leaking a memo to the press documenting what he felt was President Trump obstructing the FBI's probe into former National Security Advisor Michael Flynn – which was conducted by the FBI under dubious circumstances, and for which evidence may have been tampered with.
Loretta Lynch, on the other hand, was dinged in the IG report over an "ambiguous" incomplete recusal from the Clinton email "matter" despite a clandestine 30-minute "tarmac" meeting with Bill Clinton one week before the FBI exonerated Hillary Clinton.
Facebook Allows 'Fake News' Photo to Raise $18 Million for Border Cause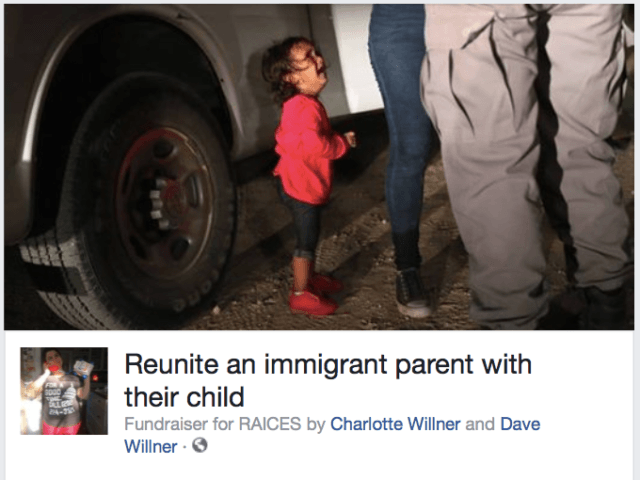 Facebook says it is in the midst of a fight against "fake news" on its platform, but has allowed activists to raise nearly $20 million for migrants using a photo that is incorrectly said to show a daughter being separated from her mother.
The fundraiser, "Reunite an immigrant parent with their child," asks Facebook users to donate money to RAICES, a charity described by USA Today as "a Texas nonprofit that helps families with legal advice and translation services." The organizers of the viral fundraiser are reportedly a couple working in the tech industry in Silicon Valley.
The donation page for the fundraiser uses a now-iconic photograph of a two-year-old girl crying as her mother is searched by U.S. Border Patrol. The mainstream media presumed that the girl and her mother were separated.
However, news broke Thursday that the mother and daughter were never separated, and were in fact in U.S. custody at a family residential facility in Texas.
Furthermore, it emerged that the mother had been previously deported in the U.S. According to her husband in Honduras, she left him and three other children in early June without informing him, paying $6,000 to a "coyote" smuggler to take her northwards so she could seek better economic opportunities.
The photograph, by John Moore of Getty Images, is real — and Getty only claimed that the mother and daughter had faced "possible separation." However, the story the media and activists had woven around the image is not accurate.
As of Thursday evening, the Facebook fundraiser had collected $17,794,627 —
Source: breitbart.com
---
Geopolitical/Police State
THe Supreme Court ruled Friday that law enforcement cannot track people's movements for periods of weeks or months without a warrant.
In a 5-4 ruling, the court held that the acquisition of cell-site records by government officials is covered under the Fourth Amendment.
While stressing that their decision doesn't question longstanding surveillance techniques and tools such as security cameras, Roberts said that historical cell-site records present even greater privacy concerns than monitoring via GPS.
Privacy groups say that cellphone location data is different, however, and could lead to a slippery slope of privacy violations involving email, text messages, social media posts and internet browsing histories of suspects.
Source: zerohedge.com
  Europe's two self-proclaimed leaders were facing an unexpected backlash from most other European governments against the German and French plans for a common eurozone budget, dealing a blow to the two countries' ambitions for a big overhaul of the single currency area.
As the FT reports, the rest of Europe's "core", including the Netherlands, Austria and Finland are among 12 governments questioning the need for any joint eurozone "fiscal capacity", challenging a central tenet of French President Emmanuel Macron's vision for the eurozone that he has successfully pressed Berlin to endorse.
  increasingly unpopular French president Macron and the politically embattled Merkel tried to restart their close collaboration this week ahead of a wider summit of EU leaders. They agreed that a new common pot of eurozone money could be funded by a mixture of national contributions and new EU levies, such as a financial transactions tax.
 the Dutch finance minister said in the letter, adding there was also no agreement to start exploring the use of a financial transactions tax to finance it.
And the punchline: the letter was written by the Dutch finance minister on behalf of Belgium, Luxembourg, Austria, Sweden, Denmark, Finland, Latvia, Lithuania, Estonia, Ireland and Malta.
The simple math: 2 vs 12, and it is safe to say that the rest of the eurozone is not aligned with France and Germany either.

Source: zerohedge.com
---
War
North and South Korea Are Preparing to Reunite Families Divided by War
North and South Korean officials met Friday for talks on resuming reunions of families divided by the 1950-53 Korean War as the rivals boost reconciliation amid a diplomatic push to resolve the North Korean nuclear crisis.
Seoul's Unification Ministry said the meeting will discuss ways to carry out an agreement on the reunions made between North Korean leader Kim Jong Un and South Korean President Moon Jae-in during a summit in April.
Reunion programs are highly emotional as most wishing to take part are elderly people who are eager to reunite with their loved ones before they die. They were driven apart during the turmoil of the Korean War.
Source: blacklistednews.com
  Trump announced that North Korea has returned the remains of around 200 US soldiers killed during the Korean War. This comes days after other US officials said such transfers would begin through UN Command in South Korea.
The US has long sought the return of troops unaccounted-for after the Korean War armistice, with military data suggesting 7,700  were unaccounted for. North Korea has returned limited numbers of remains over the years, adding up to about 200 other US troops.

Source: news.antiwar.com
Breaking: Syrian Army launches long-awaited southwest Syria offensive
The Syrian Arab Army (SAA) launched their long-awaited southwest Syria offensive,
Led by their Tiger Forces, the Syrian military began the offensive by storming the towns of Deir Dama and Al-Bustan in the Lajat area.
Source: almasdarnews.com
US military advisers came under attack in Syria's Al-Tanf – coalition
Unknown forces have attacked the Al-Tanf base housing US military advisers in a rebel-held area of Syria near its border with Iraq, the US-led coalition has said. The coalition forces returned fire and suffered no casualties.

The US has drawn a 55km "deconfliction zone" around the Al-Tanf base, threatening to attack any Syrian troops that enter it. The so-called "deconfliction zone" also encompasses the Rukban refugee camp, which is believed to house families of US-backed militants alongside other civilians.
The incident came shortly after several alleged airstrikes on Syrian government troops and allied forces, which were attributed to the US-led coalition.
Source: rt.com
US-backed rebels behind attack against Syrian Army in southern Syria – source
 the U.S. Coalition did not bomb their forces in southern Syria tonight.
According to the source, the attack was actually carried out by the US-backed rebels

Source: almasdarnews.com
Breaking: FSA group reportedly defects to Syrian Army in southwest Syria
   Free Syrian Army (FSA) has allegedly defected to the Syrian Arab Army's (SAA) side, the Russian Reconciliation Centre reported this evening.
Source: almasdarnews.com
US operating 19 terrorist training camps in Syria
According to a Russian military expert, Vladimir Kuzin, the US is training terrorists at 19 different military camps within Syria's borders. Kuzin describes the supply of weapons, food, fuel, munitions and various other supplies going to these camps from other US military bases in other nearby countries.
Kuzin also pointed out that America's support for these terrorists violates the UN Charter as well as various agreements aimed at ending the crisis in Syria

Source: theduran.com
Terrorists in Syria used chemical weapons equipment from Western Europe — Russian diplomat
Chemical weapons production equipment found in the Syrian town of Douma and used by terrorists based there was manufactured in Western Europe, Russian Foreign Ministry spokeswoman Maria Zakharova said on Friday.
"What you see is the equipment used by terrorists. It was found in the town of Douma," the Russian diplomat said
"Now an investigation is underway to establish who of the militants and terrorists used this equipment, which is improvised plant, on the one hand, but which also includes quite professional components, on the other hand,"
"I would like to draw attention to the fact that the part of equipment, which is professional plant from an expert viewpoint, was, unfortunately, manufactured in West European countries," the Russian diplomat said
Source: tass.com
Assad on Possibility of Talks With Trump: Dialogue With US is Waste of Time Now
Syrian President Bashar al-Assad has commented on the possibility of talks with the United States at the present moment in his interview to NTV channel, saying that Washington's policy was unlikely to change in the nearest future and thus, establishing a dialogue would be a waste of time.
"We do not believe that US policy will change in the near future. It [negotiations with Washington] is a waste of time," the Syrian president said in an interview with the Russian NTV channel.
Assad explained that US presidents are hostages to lobbyists' interests.
"  .
Source: sputniknews.com
---
Q
---
Uncensored