Podcast: Play in new window | Download (Duration: 31:04 — 37.0MB)
The Dow is approaching 20,000 points, Gold is moving closer to 1200. Boeing will be laying off more employees, sales are down and orders are down.  Obama keeps the real estate bubble inflated before he leaves office. Spain's banks are in trouble, we are now seeing German, Italian and Spanish banks in real trouble. CNN and Buzzfeed produce fake news discrediting Trump. The Intelligence community received information from John McCain regarding the fake news. The CIA leaks the information to the news organizations. The Deep State move forward in trying to keep Trump out of office. More refugees are crossing the border and the border agents are instructing refugees how to get into the country using fake passports. In Afghanistan the US government is not fighting terrorism anymore.  US coalition forces operate in Syria secretly. Elite Russian jets arrive in Syria.
Check Out The X22 Report Spotlight YouTube Channel –  X22Report Spotlight
Please check Newzsentinel.com for the latest news on the economic collapse. The Sentinel Alerts are updated throughout the day. If you haven't already, go to "The People" and join the community of people who are helping each through the economic collapse.
---
Current News – 01.11.2017
---
Economy
Gold Nears $1200 As The Dollar Tumbles To 2017 Lows
 there will be two more waves of job cuts in engineering later this year, the magnitude of which "will be driven by our business environment and the amount of voluntary attrition," he t, orders have plunged 53% in two years, order cancellations have soared, deliveries have dropped, production is getting cut, as wave after wave of layoffs sweep out engineers and productions worker – but no problem. In this wondrous era of ours, stocks can only go up no matter what.
The declining order book – Boeing's first since the nightmare days of the Financial Crisis –
Source: wolfstreet.com
Obama Slashes Mortgage Insurance Premiums For Subprime Borrowers With Just 10 Days Left In Office 
 The FHA doesn't make mortgages. It sells insurance, paid by borrowers, on loans protecting investors in case of default. The program allows borrowers to get a mortgage with a down payment of as little as 3.5 percent and a credit score of as low as 580, on a scale of 300 to 850. That makes it one of the most forgiving mortgage programs and popular among first-time home buyers.

Some in the real-estate industry have been calling for another fee cut and heralded Monday's move.

"Dropping mortgage insurance premiums today will mean a whole lot more responsible borrowers are suddenly eligible to purchase a home through FHA,"
We vaguely remember something like this happening about 8 years ago and,
"It seems the Obama administration's parting gift to hardworking taxpayers is to put them at greater risk of footing the bill for yet another bailout," Hensarling said.
But we wouldn't worry too much, the FHA only required a $1.7 billion taxpayer bailout last time around…no big deal really
Source: zerohedge.com
According to the report, Popular has a provision deficit of €1.9 billion. In other words, it has nonperforming loans and other toxic assets on its books whose losses would amount to €1.9 billion. But it has not yet booked (or "recognized") those losses. If it did finally recognize those losses, it could end up with a €2.4 billion capital gap. That's the equivalent of roughly 60% of its current market cap.
The UBS analysts acknowledged that their previous forecast of the bank's capacity to absorb loss provisions had been "too optimistic", with the new estimates showing a lower coverage ratio (46% compared to the previous 50%) and capital ratio (10% instead of 10.8%).
UBS also poured cold water on the idea of Banco Popular further expanding its bad-debt provisions, since doing so would "permanently depress" its profitability, limiting its capacity to create new capital and increasing its regulatory risk. This is bad news for a bank that continues to drown in its own toxic soup eight years after the burst of Spain's mind-boggling real estate bubble.
Now, one of Europe's biggest, most influential banks is recommending that 92.5% state-owned Bankia should use its "capital surplus" to take over 100% private-owned Banco Popular, warts and all. If it doesn't, one of the big boys, foreign or domestic, may have to step in. And the only way that will happen is if Popular's balance sheets are given a thorough spring cleaning beforehand, paid for by Spain's long-suffering taxpayers.
Source: wolfstreet.com
---
Rights
CIA Director hearing were delayed one day, from Wednesday to Thursday
CNN put story about a 35 page dossier about Trump financial and person life obtained from Russia.
How 4Chan McFooled John McCain, Buzzfeed, and the CIA Into Believing Trump's Golden Showers
First let's go over what happened, in reference to the pesudo intelligence report aka 'dossier' published by the high level retards over at Buzzfeed.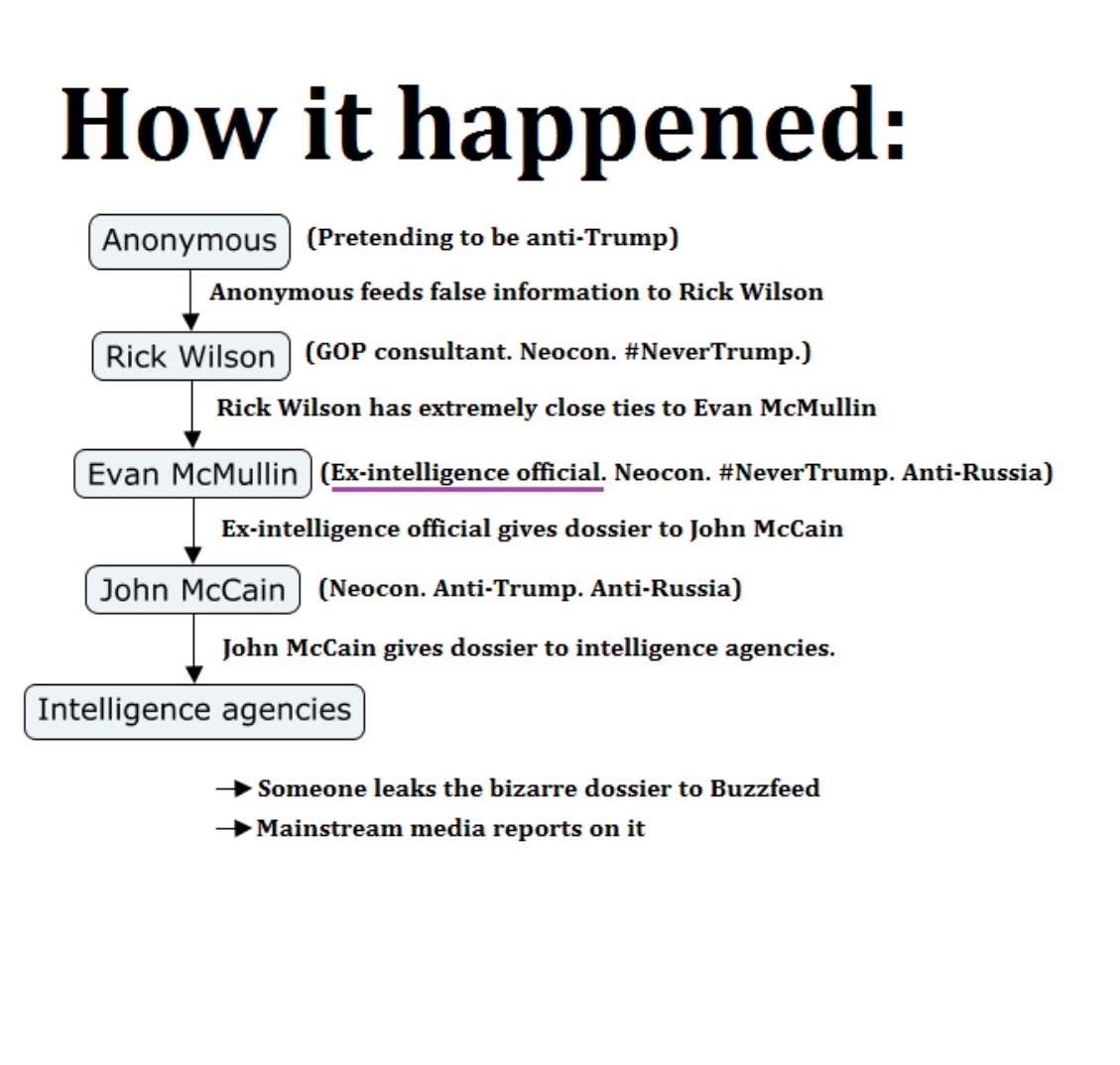 I know this appears to be unbelievable, but it's all verifiable. The neocon shill of a reporter from Buzzfeed, Rick Wilson, was catfished by from the 4chan message boards and made to believe Trump enjoyed getting urinated on and all sorts of outlandish stuff. Truly, this is incredible. Let me post some screen shots.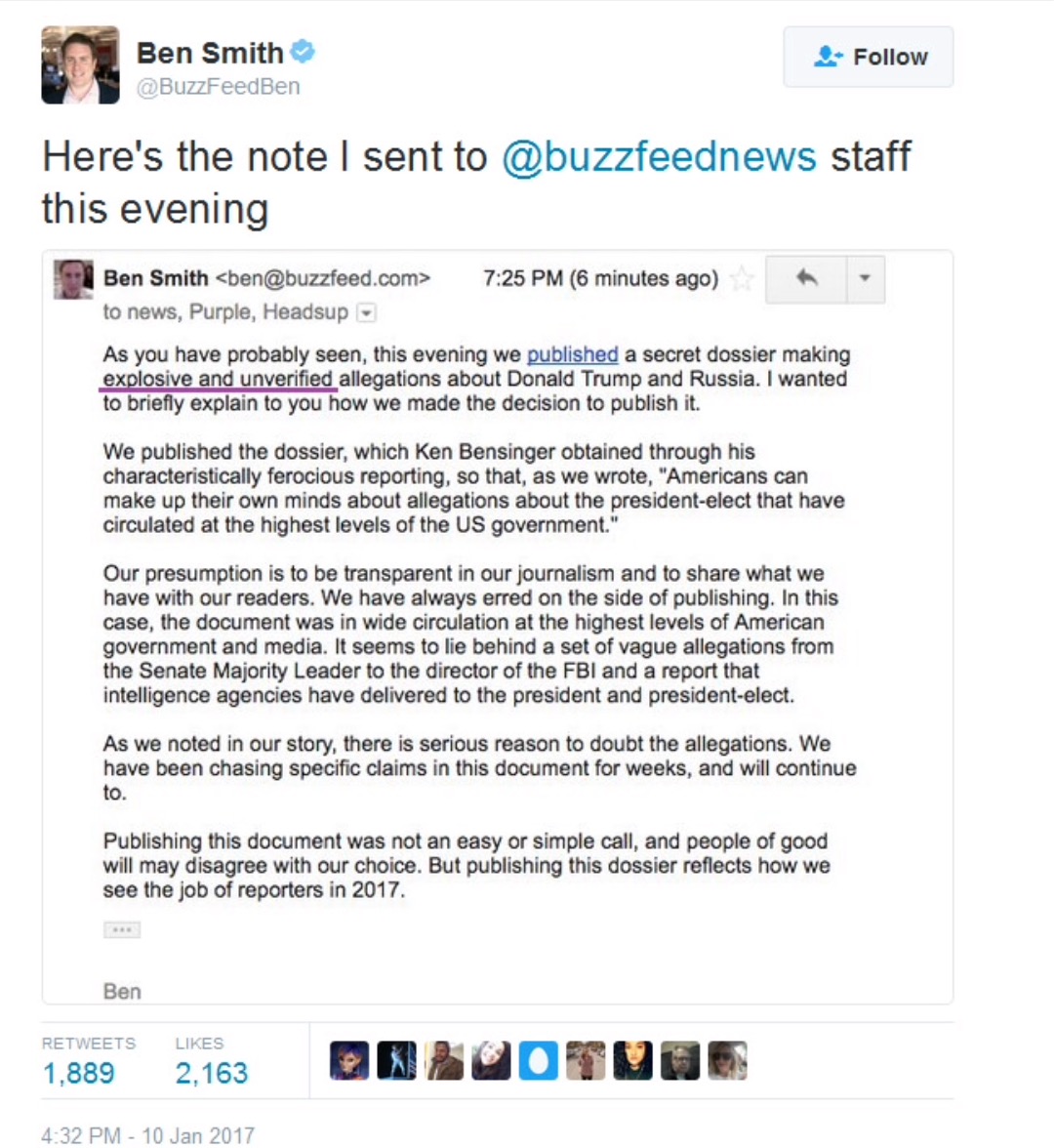 the head of Buzzfeed explaining why he published a dodgy report of utter nonsense that was, apparently, fished around to other news agencies and summarily rejected –
Since the 4chan ruse was revealed, Rick Wilson has been made out to be a top moron with a propeller helmet, laughed at and derided as a person of very low standing. The heat is, apparently, getting to him.
Wikileaks calls bullshit on the report.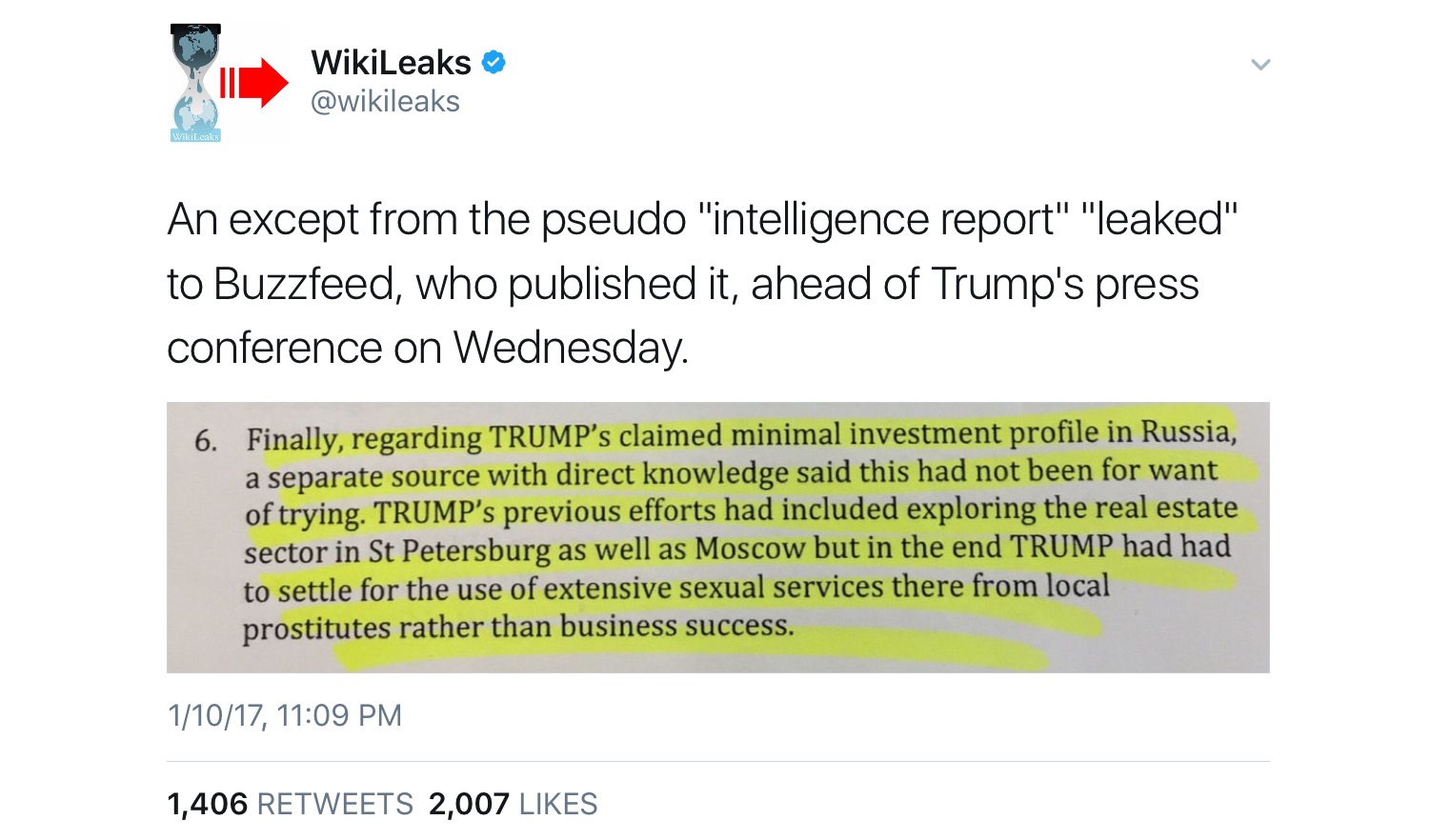 Senator John McCain passed documents to the FBI director, James Comey, last month alleging secret contacts between the Trump campaign and Moscow and that Russian intelligence had personally compromising material on the president-elect himself.

The material, which has been seen by the Guardian, is a series of reports on Trump's relationship with Moscow. They were drawn up by a former western counter-intelligence official, now working as a private consultant. BuzzFeed on Tuesday published the documents, which it said were "unverified and potentially unverifiable".

The Guardian has not been able to confirm the veracity of the documents' contents, and the Trump team has consistently denied any hidden contacts with the Russian government.
The media ran with the 'explosive news' 
Source: zerohedge.com
McCain Admits He Gave Dossier Containing "Sensitive Information" On Trump To The FBI
"Late last year, I received sensitive information that has since been made public," McCain said. "Upon examination of the contents, and unable to make a judgment about their accuracy, I delivered the information to the director of the FBI. That has been the extent of my contact with the FBI or any other government agency regarding this issue."
Source: zerohedge.com
An Angry Trump Responds: "FAKE NEWS – A TOTAL POLITICAL WITCH HUNT!"
Classified documents presented last week to President Obama and President-elect Trump included allegations that Russian operatives claim to have compromising personal and financial information about…
CNN Responds To Trump's "Fake News" Attack
Trump slammed CNN's reporter Jim Acosta, calling CNN "fake news", just after slamming Buzzfeed as a "failing pile of garbage", CNN issued a statement in response to Trump's attack, which effectively boils down to "we are not Buzzfeed" yet even though CNN said it did not publish the memo "because we have not corroborated the report's allegations" it still used it to create a front-page, uncorroborated "report."
Source: zerohedge.com
NYT Accuses CNN, BuzzFeed Of Peddling "Fake News" Over Russia Report
NYT essentially accuses both CNN and BuzzFeed of stooping to the level of "fake news" disseminators:
Of particular interest was the use of unsubstantiated information from anonymous sources, a practice that fueled some of the so-called fake news — false rumors passed off as legitimate journalism — that proliferated during the presidential election.
"In a brief interview in the Times newsroom on Tuesday evening, Dean Baquet, the executive editor of The Times, said the paper would not publish the document because the allegations were "totally unsubstantiated." "We, like others, investigated the allegations and haven't corroborated them, and we felt we're not in the business of publishing things we can't stand by," Mr. Baquet said.
Meanwhile, John Podhoretz takes it even further: "At a moment when journalists are up in arms about "fake news," what BuzzFeed has done here is take fake news to a new level. Its editor, Ben Smith, acknowledges "there is serious reason to doubt the allegations."
Source: zerohedge.com
we now know his name: the former British intelligence officer now working for a private security-and-investigations firm "who produced the dossier of unverified allegations about President-elect Donald Trump's activities and connections in Russia" is Christopher Steele, a director of London-based Orbis Business Intelligence…. and before readers google him, beware, there is a male gay porn star with the same name, who may or may not be into "golden showers."
Steele, 52 years old, is one of two directors of Orbis, along with Christopher Burrows, 58.
Burrows, reached at his home outside London on Wednesday, said he wouldn't "confirm or deny" that Orbis had produced the report. A neighbor of Mr. Steele's said Mr. Steele said he would be away for a few days. In previous weeks Mr. Steele has declined repeated requests for interviews through an intermediary, who said the subject was "too hot."
Not only was its author anonymous, but he was paid by Democrats (and, before that, by Trump's GOP adversaries) to dig up dirt on Trump. Worse, he himself cited no evidence of any kind, but instead relied on a string of other anonymous people in Russia he claims told him these things. Worse still, the document was filled with amateur errors.
One such claim — that Trump lawyer Michael Cohen secretly traveled to Prague in August to meet with Russian officials — was strongly denied by Cohen, who insisted he had never been to Prague in his life (Prague is the same place that foreign intelligence officials claimed, in 2001, was the site of a nonexistent meeting between Iraqi officials and 9/11 hijackers, which contributed to 70% of Americans believing, as late as the fall of 2003, that Saddam personally planned the 9/11 attack). This morni
The Slight Edge – Jeff Olson
Arthur Schopenhauer – Germany Philospher
"All truth passes thru three stages
first it is ridiculed
second it is violently opposed
third it is accepted as being self evident"
Ghandi
"first they ignore you, then they laugh at you, then they fight you, they you win"
Mark Twain
"In the beginning of a change the patriot is a scarce man, and brave, and hated and scorned. When his cause succeeds, the timid join him, for then it costs nothing to be a patriot."
Senate Intelligence Committee to review Russian hacking report sources
Senate Intelligence Chairman Richard Burr said Tuesday that the panel will conduct an independent review of the intelligence community's report that charged the Russian government with interfering in the U.S. presidential election to try to help President-elect Donald Trump.
While emphasizing that he "has no reason to doubt the findings" contained in the report, the North Carolina Republican said "we owe it to our colleagues and the American people to do an independent review of the report and its conclusions."
Sen. Mark Warner of Virginia, the committee's senior Democrat, said the panel's review of the intelligence report must look at whether there was any contact between the Russians and the political campaigns of Trump or Clinton.
"In my view, our committee investigation should focus on three broad areas: the Russian hacking and release of stolen information; Russia's use of state-owned media and other means to amplify real and fake news to further their goal; and contact between the Russian government and its agents and associates of any campaign and candidate."
Source: usatoday.com
---
Police State
Caught On Tape: U.S. Immigration Official Okays Syrian Immigrants With "Fake Passports"
Over the past several months, we have frequently noted the staggering increases in the number of refugees Obama has permitted into the United States just as his Presidency is winding down.  In fact, just a couple of weeks ago, we noted that in the first 84 days of the 2017 fiscal year (October 1, 2016 – December 23, 2016), the Obama administration has accepted 25,584 refugees into the United States, an 86% increase year-over-year (see  And while we were expecting a large increase in refugee admittances in 201
Josh Earnest has assured us that "significant screening was put in place to ensure that these [refugees] don't pose an undue threat to our national security."
there was an undercover video revealed earlier today by the Daily Caller which seems to show a U.S. Immigration Services official in New York coaching a woman on how to help a Syrian family gain asylum in the US with "fake passports"...a situation which the official describes as "far from unique."
Source: zerohedge.com
---
War
3 Realities You Aren't Being Told About Afghanistan
1. "Stronger Afghan Military" Still Requires Years More of US Hand-Holding
In other words, promises of a US withdrawal from Afghanistan, promises that formed the foundation of political campaign promises for years, were made in vain with US troops facing an unending, futile commitment to occupying the Central Asian state for years to come, just as US troops did in Vietnam during the 1960s-1970s.
2. US Taxpayers Will Pay Twice for Afghanistan's Ineffectual Military
General Nicholson's briefing also revealed that the military assets US taxpayers have provided Washington's proxy regime in Kabul will essentially be rendered void since most of them depend on Russian parts and maintenance assistance no longer available under Washington's ever-expanding sanctions targeting Moscow.
This means fleets of Mil Mi-17 transport helicopters Afghan forces have used for years will be replaced by US-made Sikorsky (owned by defense giant Lockheed Martin) UH-60 Black Hawks.
With this move, not only will pilots have to be retrained to fly the Black Hawks, but part inventories, airport infrastructure, supply chains, ground crew training and all other aspects necessary to sustain the Black Hawks will have to be established and maintained as well.
3. The US is not Fighting Terrorism in Afghanistan
During General Nicholson's briefing, he claimed that the US presence in Afghanistan persisted in order to defeat Al Qaeda and the self-proclaimed "Islamic State" (ISIS). However, it was clear that listening to his briefing, that the US-backed proxy regime in Kabul's primary threat was the Taliban.
The US has given its blessing for the Taliban to be brought in from the cold with a critical step towards reconciliation

Washington has endorsed plans for the Islamist network to open political headquarters in the gulf state of Qatar by the end of the year. The move has been devised so the West can begin formal peace talks with the Taliban.
This clearly conflicts directly with General Nicholson's statements.
By recognizing the Taliban as a legitimate political movement, and with US allies affording the Taliban offices in their capital cities from which to bolster their legitimacy, the US, not Russia, has done the most to undermine its own narrative regarding the so-called "War on Terror" and the entire premise with which it justifies its continued presence in Afghanistan.
While the US claims that it is fighting Al Qaeda and the so-called "Islamic State" in Afghanistan, it is clear that the real battle it fights is against the Taliban and its control over the country
Source: activistpost.com
U.S. says might not shoot down North Korean ICBM, eying intel
The U.S. military might monitor a North Korean intercontinental ballistic missile test and gather intelligence rather than destroy it, as long as the launch did not pose a threat, Defense Secretary Ash Carter said on Tuesday.
Source: reuters.com
US Sends Sea-Based Radar to Korean Peninsula to Counter N Korean Nuclear Threat
The US Department of Defense has dispatched a Sea-Based X-Band Radar unit to the Korean peninsula in response to North Korea's recent nuclear tests, 
The radar, which will be stationed around 1,000 miles off the coast of the peninsula, will be used by the US military to detect any missile launches by North Korea,
Source: sputniknews.com
Turkey to Iraq: No troop withdrawal until Mosul Op ends
Turkey will not withdraw its troops from its Bashiqa military camp in northern Iraq until the end of the Mosul offensive against the Daesh militant group, a senior Turkish official said.
Source:  middleeastmonitor.com
US-led coalition 'acts secretively in Syria,' Americans often absent from hotline – Russian military
After senior US Air Force officers accused Russian jets of flying dangerously close in Syria, Russia's Defense Ministry hit back. Moscow said US colleagues only reluctantly share plans for combat aircraft operations, and are acting secretively in Syria.
Both the US Air Force and the US-led international coalition are trying to act "secretively" during operations in Syria, he added. "Our American colleagues don't like to notify [us] about their plans to use combat aircraft, only occasionally indicating the time period and an approximate area. But not the specific types of aircraft and their affiliation.
"This has allowed [the US] in the case of tragic 'mistakes' of the coalition aircraft to avoid responsibility for the deaths of civilians and destruction of civilian objects.  t.
Source: rt.com
Elite Russian jets arrive in Syria for Aleppo offensive
On Monday evening, 4 elite Russian Su-25 fighter jets and another 4 IL-78 tankers arrived at the Hmaymim Military Airport in southern Latakia, locals in Jableh reported Tuesday.
The Russian Su-25 fighter jets will reportedly be deployed the Aleppo front, where the Syrian Arab Army (SAA) is preparing to launch a large-scale offensive against the so-called "Islamic State of Iraq and Al-Sham" (ISIS).
The Su-25 fighter jets are greatly needed during these harsh winter months, as many Syrian warplanes are immobile in rough weather.
Source: almasdarnews.com