Podcast: Play in new window | Download (Duration: 30:06 — 36.0MB)
Morgan Stanley wage growth is leveling and might be slowing. Commercial and consumer bankruptcies have surged and it looks like pre 2008. Loan creation have declined further and it is following the same pattern as 2000 and 2008. The Fed minutes shows they have the ability to bring down the market and to push the market up. This time they are getting ready to bring the market down.  The deep state is preparing to push their agenda forward. Rand Paul would like to have an investigation, Tusli Gabbard would like to have an investigation into the Syrian chemical attack. Why are the neocons and the deep state worried about an investigation. The deep state will never allow an investigation instead they are ready to push another event. The  'joint operations centre' document is a complete fake it never existed, this was to make it look like Russia, Syria and Iran are ready to attack. Be prepared the deep state is not finished.
Check Out The X22 Report Spotlight YouTube Channel –  X22Report Spotlight
Please check Newzsentinel.com for the latest news on the economic collapse. The Sentinel Alerts are updated throughout the day. If you haven't already, go to "The People" and join the community of people who are helping each through the economic collapse.
---
Current News –  04.10.2017
---
Economy
Morgan Stanley: "Wage Growth Is Leveling Off, May Be Slowing"
 wages in other industries were muted, anduggests wage growth in a broad range of industries may be leveling off, or even slowing."
Source: zerohedge.com
Commercial bankruptcy filings, from corporations to sole proprietorships, spiked 28% in March from February, the largest month-to-month move in the data series of the American Bankruptcy Institute going back to 2012. They're up 8% year-over-year. Over the past 24 months, they soared 37%! At 3,658, they're at the highest level for any March since 2013.
since the low-point in September 2015, commercial bankruptcies have soared 65%! That red spike is the mega-increase in March:
At first, they blamed the oil bust. The price of oil began to collapse in mid-2014.
So now they blame brick-and-mortar retail which is in terminal decline, given the shift to online sales.
In March, consumer bankruptcy filings rose 4% year-over-year, to 77,900, the highest since March 2015, when 79,000 filings occurred, according to the American Bankruptcy Institute data.  The turning point has now been confirmed.
Total US bankruptcy filings by consumers and businesses in March spiked 40% from February and rose 4% year-over-year to 81,590, the highest since March 2015: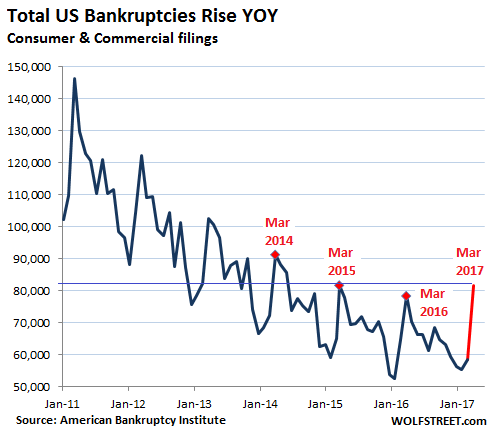 , an economy that never developed the "escape velocity" needed – and hyped by Wall Street for years – to outgrow this debt. Rising bankruptcies are a turning point in the "credit cycle." They're not exactly a positive mile-marker for the economy.
Source: wolftstreet.com
The Fed has planted three separate warnings on high stock prices into its March-meeting Minutes, released last week. In the past, the Fed has warned on various occasions on high stock prices, with, let's say mixed results. Stocks have crashed after warnings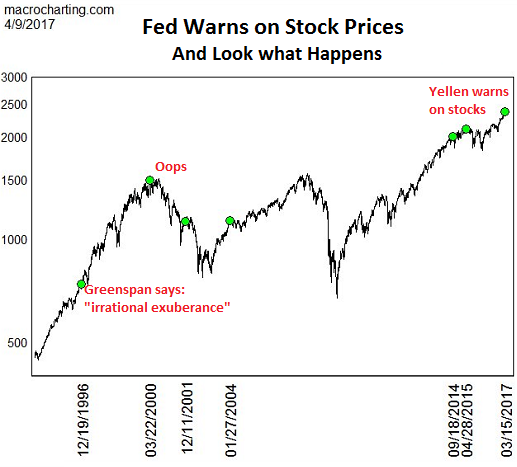 "Sometimes it's a sell signal, sometimes it's a buy signal,"
Source: wolfstreet.com
Bank Of America: "Previously This Has Only Happened In 2000 And 2008"
---
War
But there's always an escalation beyond every escalation, and US intelligence chiefs appear to have settled heavily on one, pushing the idea that the United States should just outright assassinate North Korean leader Kim Jong-un, and also kill a number of other senior leaders.
Source: news.antiwar.com
China Has Deployed 150,000 Troops To North Korea Border 
China deploiying 150,000 troops to its North Korea border.
According to Korean news agency Chosun, the "Chinese army has deployed about 150,000 troops to the North Korean border in two groups to prepare for unforeseen circumstances."
Source: zerohedge.com
Trudeau says path to peace in Syria doesn't include Assad
Rep. Gabbard under fire after refusing to accept 'Assad did chemical attack' without proof
Democratic congresswoman Tulsi Gabbard has provoked a backlash from senior Democrats after refusing to take Syrian President Bashar Assad's complicity in the Idlib chemical attack at face value and demanding proof.
 Gabbard said she remained "skeptical" of the allegations, and reminded the host of the destructive invasions in Libya and Iraq, the latter based on a false intelligence pretext. The Democratic representative from Hawaii also called out US President Donald Trump for the "reckless" and "unconstitutional" attack.
The remarks infuriated some "progressive" Democratic figures, including former Democratic National Committee (DNC) chair Howard Dean and former Hillary Clinton policy director Neera Tanden, now the President of the Center for American Progress, a pro-Democratic Party think tank. The two suggested on Twitter that Gabbard, who also famously visited Syria for a covert "fact-finding" mission, should be expelled from Congress for her doubt of Assad's guilt.  
Source: rt.com
Rand Paul demands evidence of chemical attack, says Washington is "excited" about war with Syria
RAND PAUL WANTS CONGRESS TO REVIEW THE EVIDENCE LINKING ASSAD TO THE CHEMICAL ATTACK
Senator Rand Paul is calling on the Senate Intelligence Committee to review the evidence linking Syrian President Bashar al-Assad to a chemical weapons attack that lead to Trump's illegal missile strike on Syria.
Source: theduran.com
Truth Bomb Dropped Live On BBC By British Ambassador Goes Viral
Former British Ambassador to Syria, Peter Ford, refused to go along with the BBC propaganda on Syria and dropped a truth bomb live on air yesterday. 
Fed up with the state sponsored propaganda from the very start, Peter Ford dispensed with niceties and disagreed on every level possible with the very first question put to him by the BBC host.
Referring to claims that Assad is responsible for the chemical attack in Syria, the BBC host said, "That's a statement of fact, right?"
Wrong.
"It's a myth," Ford said, his voice thick with disgust for mainstream media idiocy and lies. 
"It's a statement of non-fact," he continued, immediately rocking the host back on his heels.
"What's needed is an investigation, because there are two possibilities for what happened. One is the American version, that Assad dropped chemical weapons on this locality. The other version is that an ordinary bomb was dropped and it hit a munitions dump where jihadis were storing chemical weapons. We don't know which of these two possibilities is the correct one. 
"I don't leave my brains at the door when I examine a situation analytically.  I try to be objective," Fordham said. "And based on previous experience, including Iraq, we can see that we cannot take at face value what the so-called intelligence experts tell us when they have an agenda.
Source: yournewswire.com
WikiLeaks: Proof U.S. Orchestrated Chemical Weapons Attack in Syria
Documents from WikiLeaks suggest that a false flag chemical attack against the Syrian people was orchestrated by the United States, in order to oust Assad from power.  
Source: yournewswire.com
Russia Demands Evidence to Support US Attack on Syria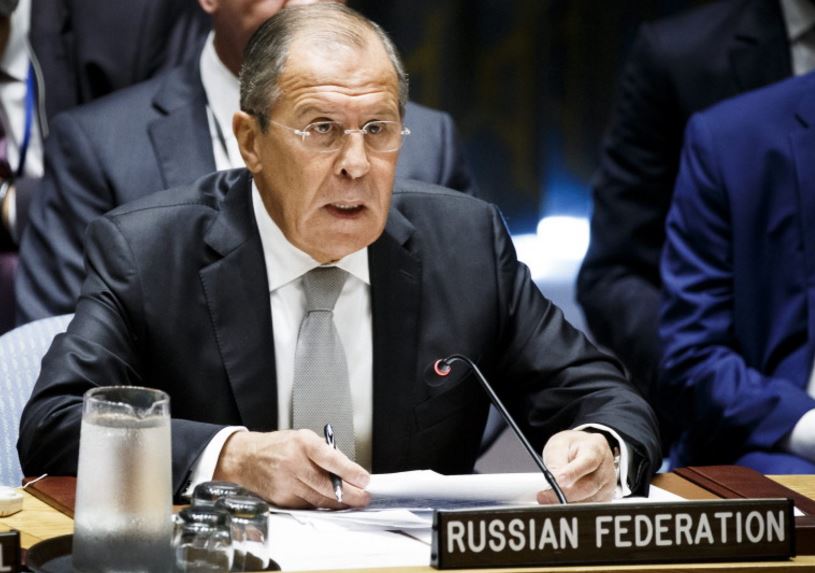 Russia's Foreign Minister Sergey Lavrov telephoned Rex Tillerson concerning the attack on Syria. The minister had told Tillerson that allegations that the Syrian military had used chemical weapons in the so-called "poison gas incident" lacked any proof whatsoever. 
Source: armstrongeconomics.com
McCain: Trump Missile Strike Not Enough, Syrian Jets Flying Again 'Not a Good Signal'
 Sen. John McCain (R-AZ) said while he supports President Donald Trump's missile strikes on a Syrian airfield in response to a chemical attack, it was not enough because Syrian jets are taking off from the base less than 36 hours after the attack.
McCain said, "Now that they are flying again basically within 36 hours is not a good signal."
He recommended "cratering the runways."
Source: breitbart.com
Putin Will Not Meet Tillerson In Russia, As Confusion Grows Over US Policy Toward Syria
CONFIRMED: Kremlin is 'unaware about' suspicious document exposed exclusively by The Duran
The Kremlin has confirmed that the document does not speak for Russia and that its provenance is totally unknown.
Kremlin Spokesman Dmitry Peskov has responded to questions about a dubious document from an unknown 'joint operations centre' claiming to speak for the armed forces of Russia, Syria and Iran (Hezbollah too according to some sources).
"We are not aware about that, we cannot confirm that and we do not know where Reuters got this and where these anonymous sources appeared from again".
Peskov echoes the remarks of the Chairman of the Defence and Security Committee, Viktor Ozerov who earlier confirmed,
"Russia is not going there to conduct armed actions with the US, our task there is to support the Syrian armed forces in the fight against terrorism".
No such body as the 'joint operations room' in this context appears to exist nor has it ever existed according to any source, dating from the beginning of Russian involvement in the civil war in September of 2015 up until today.  The reports mentioning the document in question do not for example cite the formal joint intelligence ventures of the so called 4+1 Coalition of Syria, Russia, Iran, Iraq and Hezbollah.
In all likelihood, the document is a forgery produced by those who seek to spread false stories about the strategy of Russia, Iran, Syria and Hezbollah. The second most likely scenario is that the document was produced by middle or low ranking military personnel who do not speak for any of the aforementioned parties. Such individuals would likely be enthusiastic patriotic members  of the Syria/Russia/Iran/Hezbollah coalition who want to send an unsanctioned and ultimately counterproductive message to the US.
Fake news is being used to try to increase tensions.  This is not only irresponsible but it is dangerous, as dangerous as the lies upon which the US attack was based.
Source: theduran.com
Turkey: No-fly zone could have prevented Assad chemical attacks
So is other fake news circulating on social media, falsely accusing him of using incendiary white phosphorous and napalm terror weapons –
Source:  sjlendman.blogspot.com
Russiagate will certainly fade into the background as Trump has attacked a Russian partner fighting a war beside Russia forces. He can't be accused of being a 'Putin agent' now.
Trump has placated the pro-war deep state.
Trump has placated European NATO members who want America to lead the war charge.
The mainstream media have suddenly gone from enemy to friend.Whether or not Trump continues to attack Syria, the fact remains that he achieved many if not most of domestic goals.
Source: sott.net
White House Reveals A New "Red Line": Assad's Use Of Barrell Bombs Could Lead To More Strikes
Deep state next move and Trumps next move
The deep state is using Syria and NK as flashpoints at the same time
1. There are those in congress who want an investigation
2. The deep state, central bankers, neocon just want war
3. War will need to be voted on
1. Deep state next move, since they don't want an investigation into Syria they will wait to see how each member in congress will vote for war, and if the vote is not in the right direction or if congress does not going to vote there will be another false flag.
NK, if the use of force is not sufficient enough for the Kim Jong Un to back down and stop his nuclear program the US might try a covert assination attempt.
IF the assisnation attempt does not go well, there will be a need for a false flag to push congress to vote for an invasion.
The Deep state is taken no chances this time, either way they will try to get the war they want.