Podcast: Play in new window | Download (Duration: 45:07 — 46.9MB)
UK is now ready for a no deal BREXIT. The people want the BREXIT, they are looking past the fear mongering of the EU and those in government. The people have spoken. Australia's housing market is collapsing. How do you destroy a [CB] economy, you go after their currency, the petrodollar. Saudi Arabia threatens to dump the petrodollar if nopec is signed.Countries are beginning to weaponize gold, the [CB] are now panicking. Wikileaks says Assange is leaving the embassy, this is fake news. Trump is playing up the Mueller report, he can see it if he wants. The [DS] are going after Trump's tax returns, this is a trap for the [DS].Nunes is sending 8 criminal referrals. Ukraine prosecutors say we have the evidence, the US should look at this. The people are taking control of Libya. The MSM and [DS] are pushing censorship and lying about it.
Check Out The X22 Report Spotlight YouTube Channel X22Report Spotlight
Please check Newzsentinel.com for the latest news on the economic collapse. The Sentinel Alerts are updated throughout the day. If you haven't already, go to "The People" and join the community of people who are helping each through the economic collapse.
---
Current News – 04.07.2019
Watch The X22 Report On Video
---
Economy
Britain 'Officially Ready' for No Deal Brexit, Reveals Govt Minister Responsible for Plans
The Government minister who was responsible for No Deal planning at the Brexit Department says that Britain is "officially ready" for a clean break with the European Union.
 MP for Daventry has again pressed home that "Hundreds of civil servants had been working for over two years to ensure we would be ready [for No Deal], but parliamentarians and others who are doing everything they can to stop Brexit  
Source: brexit.com
The latest polls show that the majority of British have had enough.
While parliament has so far been completely unable to agree on a way out of the current deadlock, is there any consensus among the public?

A survey by YouGov shows that, assuming the EU were to allow an extension, only 11 percent think we should take that offer, with a plurality (40 percent) saying the country should then settle for a no deal situation.

If an extension is not on the table though, the split is almost even between those favouring no deal (44 percent) and to remain (42 percent).

You will find more infographics at Statista
They just want to exit the EU without any deal whatsoever. There is absolutely NOTHING to gain from an EU deal.
Source: zerohedge.com
National home prices recorded a month-on-month decline of 0.60% in March, which CoreLogic noted was the smallest rate of monthly decline since October.

All eight capital cities in Australia posted declines, with Sydney recording the most significant price drop of .90% month-on-month.
Quarterly, the value of single-family homes and condos declined 3.9%, followed by Melbourne (3.4%), Sydney (3.2%), Perth (2.9%), and Brisbane (1.1%). Prices in Canberra were unchanged.
 Australia's economy is faltering – intensified by the real estate crisis – making it "increasingly likely" that the Reserve Bank of Australia (RBA) will slash interest rates in the coming quarters.
Source: zerohedge.com
 Saudi Arabia is threatening to drop the dollar as its main currency in selling its oil if the U.S. passes a bill that exposes OPEC members to U.S. antitrust lawsuits.
While the death of the petrodollar has long been predicted (as the petroyuan gathers momentum), this is the most direct threat yet to the USDollar's exorbitant privilege…

NOPEC, or the No Oil Producing and Exporting Cartels Act, was first introduced in 2000 and aims to remove sovereign immunity from U.S. antitrust law, paving the way for OPEC states to be sued for curbing output in a bid to raise oil prices.
While the bill has never made it into law despite numerous attempts, the legislation has gained momentum since U.S. President Donald Trump came to office. Trump said he backed NOPEC in a book published in 2011 before he was elected, though he not has not voiced support for NOPEC as president.

 
And why China suddenly admitted to increased gold reserves…
Nothing lasts forever.
Source: zerohedge.com
"The ECB shall approve both the operations in foreign reserve assets remaining with the NCBs (national central banks)…and Member States' transactions with their foreign exchange working balances above a certain threshold,"

"The purpose of this competence is to ensure consistency with the exchange rate and monetary policy of the Union."
At the time it did not seem notable for any reason other than its peculiar timing, but now things are starting to make more sense as The Wall Street Journal reports that Italy's ruling populists pushed ahead this week with efforts to seize control of the central bank and its gold reserves.
Complaining that hundreds of thousands of small individual investors lost billions of dollars after several Italian banks failed in recent years, the anti-establishment '5 Star Movement' and the nationalist 'League', depict the central bank as a symbol of a technocratic elite aloof from the needs of ordinary Italians.
And this week saw Italian lawmakers from 5 Star asking Parliament to pass two draft laws:
One law would instruct the central bank's owners, most of them private banks, to sell their shares to the Italian Treasury at prices from the 1930s.

The other law would declare the Italian people to be the owners of the Bank of Italy's reserve of 2451.8 metric tons of gold, worth around $102 billion at current prices.
"The gold belongs to the Italians, not to the bankers," said Giorgia Meloni, leader of the Brothers of Italy, a far-right opposition party that supports both bills. "We are ready to battle everywhere in Italy and to bring Italians to the streets if necessary."
  the 5 Star Movement and the League support public ownership of the gold reserves, and with backing from parties comprising 60% of lawmakers, the draft law has enough support to pass.

Source: zerohedge.com
---
Political/Rights
Ecuador Rejects WikiLeaks Claims That It Plans to Expel Assange
WikiLeaks said earlier on Twitter that Ecuador was about to expel its founder within "hours to days," citing what it called a high level source within the Ecuadorian government. Jennifer Robinson, a lawyer for Assange, declined to immediately comment.
In a statement Friday evening, Ecuador's Foreign Ministry denied it has an agreement with the U.K. about Assange's arrest. By spreading such news, "the asylum seeker and his associates express once again ingratitude and disrespect toward Ecuador," the ministry said.
Source: bloomberg.com
Q

!CbboFOtcZs

ID: 267e20

No.1918277


Desperate agencies do stupid things.
Dead cat bounce.
You may have the site but we have the source.
https://mobile.twitter.com/wikileaks/status/1011441579565953025
Panic is good.
Panic is right.
July 2018 – the month the world discovered the TRUTH.
Conspiracy no more.
Time to FEED.
Q
Trump Says He Has 'Every Right' to Read Mueller Report but Hasn't Done So
President Donald Trump said on April 6 that he has not yet read special counsel Robert Mueller's final report investigating collusion between his 2016 presidential campaign and Russia but has "every right to do so."
As Democrats clamored for the document to be released publicly, Trump said in a tweet on Saturday that he only knows the conclusions.
 Trump tweeted the following
I have not read the Mueller Report yet, even though I have every right to do so. Only know the conclusions, and on the big one, No Collusion. Likewise, recommendations made to our great A.G. who found No Obstruction. 13 Angry Trump hating Dems (later brought to 18) given two…..

— Donald J. Trump (@realDonaldTrump) April 6, 2019
…..years and $30 million, and they found No Collusion, No Obstruction. But the Democrats, no matter what we give them, will NEVER be satisfied. A total waste of time. As @FrankLuntz has just stated, "Enough, America has had enough. What have you accomplished. Public is fed up."

— Donald J. Trump (@realDonaldTrump) April 6, 2019
Trump said in another tweet
So, let's get this straight! There was No Collusion and in fact the Phony Dossier was a Con Job that was paid for by Crooked Hillary and the DNC. So the 13 Angry Democrats were investigating an event that never happened and that was in fact a made up Fraud. I just fought back….

— Donald J. Trump (@realDonaldTrump) April 6, 2019
…. against something I knew never existed, Collusion with Russia (so ridiculous!) – No Obstruction. This Russia Hoax must never happen to another President, and Law Enforcement must find out, HOW DID IT START?

— Donald J. Trump (@realDonaldTrump) April 6, 2019
Why should I be defending a fraudulent Russian Witch Hunt. It's about time the perpetrators of this fraud on me and the American People start defending their dishonest and treasonous acts. How and why did this terrible event begin? Never Forget!

— Donald J. Trump (@realDonaldTrump) April 6, 2019
Looks like Bob Mueller's team of 13 Trump Haters & Angry Democrats are illegally leaking information to the press while the Fake News Media make up their own stories with or without sources – sources no longer matter to our corrupt & dishonest Mainstream Media, they are a Joke!

— Donald J. Trump (@realDonaldTrump) April 7, 2019
We already knew King Mueller operation interfered in our nation's foreign policy. Now Mueller special counsel confesses to 13 communications with foreign governments in order to get @realDonaldTrump. https://t.co/g4V4v7KoMs

— Tom Fitton (@TomFitton) April 7, 2019
Nunes to Send 8 Criminal Referrals to DOJ Concerning 'Leaks of Classified Material' and 'Conspiracy' to Lie to FISA Court (VIDEO)
Ranking member of the House Intel Committee Devin Nunes (R-CA) told Fox's Maria Bartiromo on "Sunday Morning Futures" that is he preparing to send 8 criminal referrals to the Justice Department this week concerning leaks of "highly classified material" and conspiracies to lie to Congress and the FISA court.
Rep. Nunes explained that the criminal referrals can actually involve more than eight people because a conspiracy referral could involve "a dozen, two dozen people," and he said more criminal referrals could be on the way.

Nunes said he has been working on the criminal referrals for over two years, but he was waiting until Bill Barr was confirmed as Attorney General to make his move — Nunes did not divulge any names.
"We're prepared this week to notify the attorney general that we're prepared to send those referrals over," Nunes said. "First of all, all of these are classified or sensitive. … Five of them are what I would call straight up referrals — so just referrals that name someone and name the specific crimes," Nunes told Maria Bartiromo. "Those crimes are lying to Congress, misleading Congress, leaking classified information. So five of them are those types.
Nunes added: "There are three [referrals] that I think are more complicated. … So on the first one, is FISA abuse and other matters. We believe there was a conspiracy to lie to the FISA court, mislead the FISA court by numerous individuals that all need to be investigated and looked at that, and we believe the [relevant] statute is the conspiracy statute. The second conspiracy one is involving manipulation of intelligence that also could ensnarl many Americans."
Among the people who signed the FISA applications include then-FBI Director James Comey, DAG Rod Rosenstein, Sally Yates and Andrew McCabe.
"The third is what I would call a global leak referral,"
So  we may soon find out who leaked General Flynn's phone calls to Russian Ambassador Kislyak to the media.
Source: thegatewaypundit.com
Ways and Means Committee Chairman Richard Neal (D-MA) said Wednesday evening that he had filed a formal request with the Treasury to obtain six years' worth of the president's tax returns, putting Treasury Secretary Steven Mnuchin in the hot seat.

Several Key Republicans stand opposed to Neal's request, including Rep. Kevin Brady of Texas and Sen. Chuck Grassley of Iowa.
"Weaponizing our nation's tax code by targeting political foes sets a dangerous precedent and weakens Americans' privacy rights," "As you know, by law all Americans have a fundamental right to the privacy of the personal information found in their tax returns."
Source: zerohedge.com
In 2017, DC appeals court refused to force release of draft indictment of Hillary Clinton. For those "investigated but not charged with a crime," disclosure "represents severe intrusion on privacy interests.." Will @realDonaldTrump get the same protection? https://t.co/jns9cs5PRq

— Tom Fitton (@TomFitton) April 7, 2019
Ukrainian to US prosecutors: Why don't you want our evidence on Democrats?
Ukrainian law enforcement officials believe they have evidence of wrongdoing by American Democrats and their allies in Kiev, ranging from 2016 election interference to obstructing criminal probes. But, they say, they've been thwarted in trying to get the Trump Justice Department to act.
Kostiantyn Kulyk, deputy head of the Prosecutor General's International Legal Cooperation Department, told me he and other senior law enforcement officials tried unsuccessfully since last year to get visas from the U.S. embassy in Kiev to deliver their evidence to Washington.
"We were supposed to share this information during a working trip to the United States," Kulyk told me in a wide-ranging interview. "However, the (U.S.) ambassador blocked us from obtaining a visa. She didn't explicitly deny our visa, but also didn't give it to us."
One focus of Ukrainian investigators, Kulyk said, has been money spirited unlawfully out of Ukraine and moved to the United States by businessmen friendly to the prior, pro-Russia regime of Viktor Yanukovych.
Ukrainian businessmen "authorized payments for lobbying efforts directed at the U.S. government," he told me. "In addition, these payments were made from funds that were acquired during the money-laundering operation. We have information that a U.S. company was involved in these payments." That company is tied to one or more prominent Democrats, Ukrainian officials insist.
In another instance, he said, Ukrainian authorities gathered evidence that money paid to an American Democrat allegedly was hidden by Ukraine's National Anti-Corruption Bureau (NABU) during the 2016 election under pressure from U.S. officials. "In the course of this investigation, we found that there was a situation during which influence was exerted on the NABU, so that the name of (the American) would not be mentioned," he said.
Financial records showing a Ukrainian natural gas company routed more than $3 million to American accounts tied to Hunter Biden, younger son of then-Vice President Joe Biden, who managed U.S.-Ukrainian relations for the Obama administration.
A court in Ukraine formally concluded that law enforcement officials there illegally tried to intervene in the 2016 U.S. election by leaking documents of Manafort's business dealings after he was named Trump's campaign chairman. And a Ukrainian parliamentarian released a purported tape recording of a top Ukrainian law enforcement official bragging that he was responsible for the leak and was trying to help Clinton win.
The only question is why the U.S. government so far hasn't taken interest — and whether Attorney General Barr will change that.

Source: thehill.com
Shadow Government: Barack Obama Arrives in Berlin to Meet With Angela Merkel in Private
Former US President Barack Obama traveled to Berlin on Friday to meet with Chancellor Angela Merkel at her office in private.
Recall, Barack Obama met with globalist Chancellor Angela Merkel in 2017 to "discuss democracy."
Source: thegatewaypundit.com
Obama addresses European young leaders in Berlin. "What you're gonna start seeing is the ability to duplicate peoples speech and figures…. distinguishing what's true and whats not is going to become even more difficult."

I wonder what this guy has up his sleeve. 🤔 #qanon pic.twitter.com/L2HRZpUP5d

— Filthy Liberals (@filthy_liberals) April 6, 2019
Lets go to post 888
Q

!UW.yye1fxo

ID: a566f3

No.570744 


8B01A899-533A-4231-8BAF-6….jpeg

Try, try, try, as they might.
Fail, they will.
No free passes [MSM].
Q
President Trump Announces 750 Additional Agents Deployed to Ports of Entry…
Trump tweeted the following
We have redeployed 750 agents at the Southern Border's specific Ports of Entry in order to help with the large scale surge of illegal migrants trying to make their way into the United States. This will cause traffic & commercial delays until such time as Mexico is able to use….

— Donald J. Trump (@realDonaldTrump) April 6, 2019
….it's powerful common sense Immigration Laws to stop illegals from coming through Mexico into the U.S., and removing them back to their country of origin. Until Mexico cleans up this ridiculous & massive migration, we will be focusing on Border Security, not Ports of Entry….

— Donald J. Trump (@realDonaldTrump) April 6, 2019
….In the meantime, the Democrats in Congress must help the Republicans (we need their votes) to end the horrible, costly and foolish loopholes in our Immigration Laws. Once that happens, all will be smooth. We can NEVER allow Open Borders!

— Donald J. Trump (@realDonaldTrump) April 6, 2019
Source: theconservativetreehouse.com
---
War
UN Appeals for Humanitarian Truce in Libya
The United Nations has issued an "urgent appeal" for a two hour truce in the suburbs of Tripoli to evacuate civilians and those wounded, as forces loyal to military commander Gen. Khalifa Haftar continue a push aimed at taking the capital.
Libya's U.N. backed prime minister, Fayez Sarraj, has called the action by Haftar an attempted coup. Haftar and his forces apear to have gained ground along the outskirts of the capital but Sarraj says government troops are prepared to confront them.
Source: voanews.com
Haftar's Forces Start Air Operation Over Tripoli – Libyan Military Source
 The Libyan National Army started on Sunday the aerial part of the military operation in the sky over the Libyan capital of Tripoli, a high-ranking Libyan military source told Sputnik.
The Haftar-led units seized Tripoli International Airport on April 6 and established full control over the strategic site, which has not been operating since 2014.

source: sputniknews.com
US troops have been ordered by the Pentagon to evacuate the Libyan capital of Tripoli as fighting between the UN-backed government  & General Khalifa Haftar 

---
Q
The age put out the following article.
Media and tech companies revolt as law against violent online material set to pass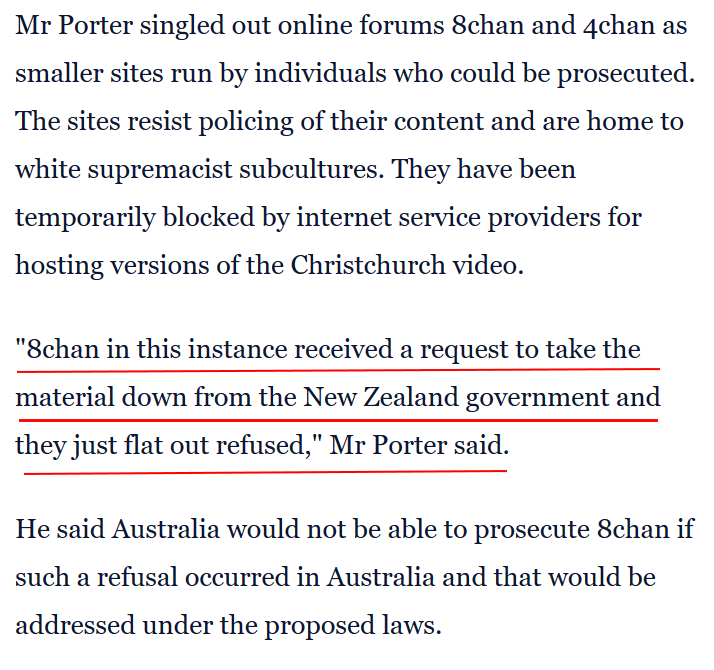 8 chan responded to this news article.
1. This is a false statement as the 8chan administration has not received any takedown request from any government or law enforcement agency, NZ or otherwise.
2. Non-US governments have no jurisdiction over 8chan.
3. The content does not break US law.https://t.co/tvmhT1s9UK pic.twitter.com/XKV9i8NgTX

— 8chan (8ch.net) (@infinitechan) April 6, 2019