Podcast: Play in new window | Download (Duration: 36:54 — 43.3MB)
Greece is testing the waters and is now planning to move back to its local currency. Australia debt has risen and it looks like it is time to panic. The central bankers are now preparing the narrative that the economy was fine until Trump came along. BCBG is now closing 120 stores. Corporate debt will be approaching 2 trillion. DOJ will be going after individuals in the mortgage back security scam.  Larry Fink says the US has two major problems. Tulsi Gabbard wants to bring back Glass-Steagall. The economic crisis is alot worse than originally thought, prepare and get ready. Trump is fighting the Federal Judges on the temporary travel ban.Swedish cop tells it like it really is with regard to refugees and immigrants. Germany is proposing to fingerprint immigrants. China's Foreign Minister tells the US to remember WWII, and how the US helped return the islands in the South China Sea back to China. Senators are creating a bill to block Trump on easing sanctions with Russia. Russia has snap drills with their S-500 missile system. US and NATO surrounds Iran and Russia with bases. The Elite are pushing the story about the secret hangings in Syria, they produce blurry satellite images and have no proof. This is another attempt to remove Assad.
Check Out The X22 Report Spotlight YouTube Channel –  X22Report Spotlight
Please check Newzsentinel.com for the latest news on the economic collapse. The Sentinel Alerts are updated throughout the day. If you haven't already, go to "The People" and join the community of people who are helping each through the economic collapse.
---
Current News – 02.08.2017
---
Economy
Is The Greek Government Testing The Waters For Drachma-tization?
 Are the lawmakers expressing their own personal views or is the Greek government testing the waters for return to national currency, the Drachma, and Grexit?
As a reminder, Greece's situation is worse than the Great Depression…
Source: zerohedge.com
Australians' private debt has soared to 187 per cent of their income. Debt is up from about 70 per cent in the early 1990s.
The jobless rate rose for the second straight month in December to 5.8 per cent,  Wage growth is the lowest on record.
Australia has one of the world's biggest property bubbles. In some sections of the country, prices are already under severe price pressure.
Source: mishtalk.com
Stage is set for sold retail sales growth, but border tax threatens outlook
Retail sales in 2017 are expected to grow roughly in line with last year's 3.8 percent gain, as rising wages, lower unemployment and a solid housing market drive consumer confidence higher.
However, with many tax and trade policies still up in the air under the Trump administration, consumers are expected to continue being methodical with their spending.
Yet with the economy on more solid footing and consumer confidence near 15-year highs, he added there's "great potential for this all to come together very positively."
The NRF's forecast comes as retailers are eyeing the potential impacts of a border adjustment tax, a GOP proposal that threatens to slap a 20 percent tax on goods they import and sell in the U.S. The industry has banded together to fight the tax, which they argue could wipe out their earnings and raise prices for consumers.
Source: cnbc.com/
US Corporate Debt to Reach Record-Breaking $2 Trillion in 5 Years – Moody's
Debt for US speculative-grade and investment-grade corporations coming due in the next five years will reach a record $2 trillion, Moody's Investors Service said in a press release Wednesday.
Baltic Dry Index falls to 702, down 12 points
DOJ Launches Probe Of Individuals Who Worked In Deutsche Bank's Mortgage Unit 
Deutsche Bank employees who were engaged in the actual trades that ended up costing the bank a $7.2 billion settlement at the end of 2016, and who were hoping to quietly get away without criminal or civil charges, are set for disappointment because as IFR reports the DOJ is probing for potential fraud by individuals who worked in Deutsche Bank's mortgage unit in the run-up to the financial crisis.
According to IFR's sources, "the investigation of former Deutsche staffers is a push to hold individuals accountable for their role in the housing crisis." The probe follows Deutsche's multi-billion settlement in December with the DOJ over toxic residential mortgage securities sold between 2006 and 2007. Observers were surprised when no individuals who worked at Deutsche were named in the settlement, leaving shareholders footing the bill.
Source: zerohedge.com
LARRY FINK: The US is facing 2 major crises
Larry Fink is worried about two impending crises he sees for the US.
 Fink, the CEO of BlackRock, said two long-term problems are looming over the US economy.
One, according to Fink, is the deficiency of infrastructure — roads, bridges, and more — in the US.
"It's now getting late for preparing cities for new technologies,"
Fink said much of the infrastructure spending is going toward repairing existing roads and bridges, not toward the large-scale investments needed for the US to compete in the future
The second crisis facing Americans, Fink said, is retirement.
The BlackRock CEO said American investors have "too much in cash," and that low interest rates are not allowing savers to generate enough capital to retire.
 Fink said he sees "dark shadows" in the market as governments pull back from global trade,
Source: businessinsider.com
Rep. Tulsi Gabbard, Lawmakers Call For Reinstatement of Glass-Steagall
Rep. Tulsi Gabbard (HI-02) joined 26 Members of Congress in introducing the Return to Prudent Banking Act today. The bipartisan legislation, endorsed by Public Citizen and the AFL-CIO, would reinstate important consumer protections put in place after the Great Depression and require separation between commercial and investment banking."From the Great Depression through the turn of the 21st Century, Glass-Steagall helped keep our economy safe. Repealing it allowed too-big-to-fail banks to gamble with the savings and livelihoods of the American people, with devastating, irrevocable consequences. Hawaiʻi, along with communities across the country, paid the price in 2008 with the worst financial crisis since the Great Depression. Today, the banks that were "too big to fail" in 2008 are even bigger and more powerful now. We must reinstate Glass-Steagall and create a financial system that works for every American—not just Wall Street banks," said Rep. Tulsi Gabbard (HI-02).
Source: gabbard.house.gov
---
Rights
(f)

Suspension of entry or imposition of restrictions by President
Whenever the President finds that the entry of any aliens or of any class of aliens into the United States would be detrimental to the interests of the United States, he may by proclamation, and for such period as he shall deem necessary, suspend the entry of all aliens or any class of aliens as immigrants or nonimmigrants, or impose on the entry of aliens any restrictions he may deem to be appropriate.
Swedish Cop Posts Epic Facebook Rant On Immigrant Crime; Ignites Nationwide Firestorm
A Swedish police officer recently offered up a little more truth than people are used to when he posted an epic rant on Facebook about immigrant crimes plaguing his police department and his country.  he wrote the following
 "Here we go; this is what I've handled from Monday-Friday this week: rape, rape, robbery, aggravated assault, rape-assault and rape, extortion, blackmail, assault, violence against police, threats to police, drug crime, drugs, crime, felony, attempted murder, rape again, extortion again and ill-treatment."

"Suspected perpetrators; Ali Mohammed, Mahmod, Mohammed, Mohammed Ali, again, again, again. Christopher… what, is it true? Yes, a Swedish name snuck in on the edges of a drug crime. Mohammed, Mahmod Ali, again and again."

"Countries representing all the crimes this week: Iraq, Iraq, Turkey, Syria, Afghanistan, Somalia, Somalia, Syria again, Somalia, unknown, unknown country, Sweden. Half of the suspects, we can't be sure because they don't have any valid papers. Which in itself usually means that they're lying about their nationality and identity."
The Facebook post was published by Peter Springare, a senior investigator at the serious crimes division at the Örebro Police Department with 47 years under his belt. 
"If you can't discuss the problem of crime among immigrants without somebody attributing it to racist propaganda, we are in deep trouble," he said. "The problem is that nobody wants to talk about this."
Source: zerohedge.com
German migration agency vows to fingerprint all refugees to combat 'benefit fraud'
In a bid to combat "benefit fraud" and the use of "cheat-identities," Germany's federal migration agency wants all regional outlets to fingerprint all asylum seekers, though it admits that they often lack the resources to achieve this, local media report.
---
War
China Foreign Minister: "I Have Suggestion For My American Friends: Brush Up On The History Of World War Two"
China's Foreign Minister Wang Yi said the United States "needs to brush up on its history about the South China Sea, as World War Two-related agreements mandated that all Chinese territories taken by Japan had to be returned to China."
 In his Senate confirmation hearing, Secretary of State Rex Tillerson said China should not be allowed access to islands it has built there. The White House also vowed to defend "international territories" in the strategic waterway.
Perhaps in an attempt to deescalate the situation, and offer an olive branch, last week U.S. Defense Secretary Jim Mattis suggested that diplomacy should be the priority in the South China Sea.
, Wang said he had a "suggestion" for his American friends. "Brush up on the history of World War Two," 
Wang added that the 1943 Cairo Declaration and 1945 Potsdam Declaration "clearly state that Japan had to return to China all Chinese territory taken by Japan. This includes the Nansha Islands," he added, using China's name for the Spratly Islands.
"In 1946, the then-Chinese government with help from the United States openly and in accordance with the law took back the Nansha Islands and reefs that Japan had occupied, and resumed exercising sovereignty," Wang said.
"Afterwards, certain countries around China used illegal methods to occupy some of the Nansha islands and reefs, and it's this that created the so-called South China Sea dispute."
China is committed to having talks with the parties directly involved, and in accordance with historical facts and international law to peacefully resolve the issue,
Source: zerohedge.com
US senators trying to gain veto power that could block Trump from lifting sanctions on Russia
A group of prominent US senators is leading a bipartisan effort to push through the so-called Russia Review Act, which would allow the Senate to veto any attempt of newcomer President Donald Trump to loosen sanctions on Moscow.
The group, which currently consists of six senators,
The group led by Senators Lindsey Graham (R-South Carolina) and Ben Cardin (D-Maryland) also includes Marco Rubio (R-Florida), John McCain (R-Arizona), Claire McCaskill (D-Missouri), and Sherrod Brown (D-Ohio).
No date has been set for a vote on that bill.
Source: rt.com
Trump Set To Approve Weapons Sales To Saudi Arabia, Bahrain Blocked By Obama 
 U.S. official directly involved in the transfers, a roughly $300 million precision-guided missile technology package for Riyadh and a multibillion-dollar F-16 deal for Bahrain are now in the pipeline ready for clearance from the new administration. The deals, if approved,
Source: zerohedge.com
Russia, China disagree with Trump on Iran
The remarks on Monday by the presidential spokesman in the Kremlin Dmitry Peskov as well as Foreign Minister Sergey Lavrov underscored that Moscow has a perspective on Iran that is diametrically opposite to President Donald Trump or his senior officials.
Referring to Trump's description of Iran as the 'number one terrorist state', Peskov underlined that any improvement of relations between Russia and the US will be rooted in the reality that the two countries are poles apart on many issues and Iran is one of them:
Lavrov lauded Iran's role in the fight against terrorist groups:
Source:  blogs.rediff.com
PROOF that Russia and Iran Want War!
These bad people are putting their countries closer and closer to our military bases:
Libyan authorities oppose EU migrant plans
Local authorities in Libya's capital city Tripoli and elsewhere are mounting resistance to EU plans to stem migration flows towards Italy.
"It is not acceptable and it is not logical that we should solve the problem of Europe by keeping the migrants and refugees in Libya," he said.
"It is the European Union that is responsible for the illegal migrants,"
Source: euobserver.com
ERDOGAN, TRUMP AGREE TO ACT TOGETHER ON AL-BAB, RAQQA IN SYRIA – REUTERS
Turkey's President Tayyip Erdogan and US President Donald Trump agreed in a phone call to act together on the ISIS-held Srian towns of al-Bab and Raqqa,
"The two leaders discussed issues including a safe zone in Syria, the refugee crisis and the fight against terror, the sources said. They said Erdogan called on the United States not to support the Syrian Kurdish YPG militia.
Source: southfront.org
Jordan says Syria not invited to Arab summit
Jordan will not invite Syria, suspended from bloc since 2011, to next month's Arab League annual summit despite calls from Russia for Damascus to rejoin.
Russian Foreign Minister Sergei Lavrov called last week for Damascus to be allowed to rejoin the bloc, saying that could help in the search for a negotiated settlement of the conflict.
But Arab League chief Ahmed Aboul Gheit, speaking alongside Lavrov in Abu Dhabi, ruled out an early return of Syria to the Cairo-based bloc.
Source: middle-east-online.com
Assad Says Russian Companies to Work in Oil, Gas Production in Syria
 Syrian President Bashar Assad said that Russian companies would work in the sphere of oil and gas production in Syria, lawmaker from the State Duma, the lower house of Russia's parliament, Dmitry Sablin said Wednesday after a meeting with Assad.

"With regard to oil and gas production, he said that neither Iran nor China have companies with a worldwide reputation in this field, as Russia has, so in the oil and gas production, he [Assad] sees only the work of Russian companies," Sablin said.

Source: sputniknews.com
OPCW's Chemical Weapons Probes in Syria, Iraq Inefficient – Russian FM
Moscow expected more from the OPCW in its investigation of chemical weapons usage in Syria and Iraq, the Russian Foreign Ministry told Sputnik.
It was pointed out that the OPCW's fact-finding mission has conducted its activity over the past years remotely by interviewing witnesses.
"Many of them are people who have been brought by hand by various non-governmental organizations opposed to Damascus. The reliability of such accounts, of course, raises serious doubts," he said.
Source: sputniknews.com
Syria rejects Amnesty 'false' report of mass jail hangings
Damascus has slammed as "inaccurate and politically-motivated" an Amnesty International report claiming that Syrian military police hanged as many as 13,000 people over the course of five years.
The Syrian Justice Ministry, in a statement published on Tuesday, rejected the account of mass hangings at Saydnaya prison near Damascus between 2011 and 2015 as bogus and false, saying such claims are meant to ruin the government's reputation in the international community.
The statement further emphasized that based on Syrian law, death sentences are handed only after judicial trials run through several degrees of litigation.
Source: presstv.ir
Syria says Amnesty's 13,000 people hanged claim 'untrue'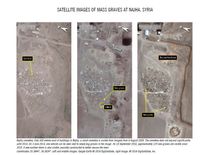 Source: skynews.com
Amnesty report is part of media campaign against Damascus: Russian MP
"This repost seems to be part of the ongoing information campaign against Syria's authorities which triggered a civil war in that country back in 2011."
The Russian lawmaker noted however that the Syrian authorities "should provide access for public activists and experts to penitentiary facilities in order to remove or at least adjust these serious accusations until this campaign becomes irreversible."
Source: almasdarnews.com