Podcast: Play in new window | Download (Duration: 38:06 — 45.4MB)
The housing market in Canada is cooling down, prices plunge most on record in Toronto. Manhattan and many of the big cities are going to be hit with an imploding housing market as China pulls back. Mega banks have been buying back their shares instead of loaning the funds out to the public.  US service economy declines. The debt ceiling approaches and it really doesn't matter at this point the system needs to be reset. The subprime auto bubble is popping.  Trump pushes China on trade and sanctions, if China pushes back it will hurt the US. Deep state is leaking as much info as possible. The FBI has your info and they don't have to inform you that they do. Seymour Hersh shows that the CIA as behind the entire Russia operation. McMasters is firing people that are close to Trump. Duterte wants 30,000 more soldiers. Troops are moving up to the contact line in Ukraine. Trump signed the sanctions but is making preparations to take it to the supreme court. Russia says the sanctions will not stop the pipeline to Germany. Russia scales down gas supply to Ukraine. Russia sets up more de-escalation zones in Syria.
Check Out The X22 Report Spotlight YouTube Channel –  X22Report Spotlight
Please check Newzsentinel.com for the latest news on the economic collapse. The Sentinel Alerts are updated throughout the day. If you haven't already, go to "The People" and join the community of people who are helping each through the economic collapse.
---
Current News – 08.03.2017
---
Economy
Toronto Housing Market Implodes: Prices Plunge Most On Record 
 On Thursday, the Toronto Real Estate Board reported that July home prices in Canada's largest city suffered their biggest monthly drop on record amid government efforts to cool the market and the near-collapse of Home Capital Group spooked speculators.
The benchmark Toronto property price, while higher 18% Y/Y, plunged 4.6%
More troubling than the price drop, however, was the sudden paralysis in the market as buyers and sellers violently disagreed about fair clearing prices and transactions tumbled 40.4% to 5,921, the biggest year-over-year decline since 2009, led by the detached market segment.
Source: zerohedge.com
Here's The Most Alarming Sign Yet That Manhattan Real Estate Is Heading For A Crash 
The Chinese government's latest crackdown on capital outflows and corporate leverage is intensifying, and that's bad news for Manhattan's property market.
The markets most vulnerable to this slowdown, according to MS, are the US, UK, Hong Kong and Australia, with commercial properties the most vulnerable.
Manhattan commercial real-estate prices could fall sharply.
"Manhattan is a particular worry, with about 30 percent of transactions in the borough that's home to Wall Street involving Chinese parties in 2017. 
Since 2015, the four companies completed a combined $55 billion in overseas acquisitions, 18% of Chinese companies' total.
Weakening demand from Chinese individuals and corporations represents another headwind for real-estate markets in the most expensive US cities, which are facing a boom of new supply in the coming quarters. Commercial real-estate sales in New York fell to a six-year low during the first quarter in anticipation, as we've previously reported.
Source: zerohedge.com
"The real economy has little to gain, and much to lose."
When tighter regulations were imposed on the banks after the Financial Crisis, the largest among them, the very ones that threatened to bring down the financial system, began squealing. Those voices are now being heard by Congress, which is considering deregulating the banks again. In particular, they claim that current capital requirements force banks to curtail their lending to businesses and consumers, and thus hurt the economy.
Nonsense! That's in essence what FDIC Vice Chairman Thomas Hoenig told Senate Banking Committee Chairman Mike Crapo and the committee's senior Democrat, Sherrod Brown, in a letter dated Tuesday, according to Reuters. The senators are trying to find a compromise on bank deregulation.
If banks wanted to increase lending, they could easily do so without lower capital requirements, Hoenig pointed out.
  the 10 largest bank holding companies in the US plowed over 100% of their earnings into share buybacks and dividends,  If they had retained more of their income, they could have boosted lending by $1 trillion.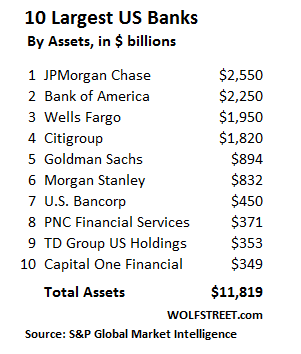 Hoenig apparently. He was president of the Kansas City Fed and member of the Fed's policy-setting Federal Open Market Committee (FOMC) from 1991 to 2011 – through the Financial Crisis. 
So Hoenig supplied some numbers in his letter.
The largest bank on his list, JPMorgan Chase, earned $26 billion over the four quarters. But it plowed $27.6 billion – or 106% of its income – into share-buybacks and dividends. If it had retained that income, it would have raised its capital by that amount, and it would have been enough to make an additional $250 billion of loans under current capital rules.
In total, the 10 largest banks combined, on an annualized basis, will plow 99% of their earnings into share-buybacks and dividends. Share-buybacks alone amount to $83 billion (not counting dividends). Under existing capital rules, if the banks were to retain this capital instead of buying their own shares with it, they could have increased commercial and consumer loans by $741 billion.
Source: wolfstreet.com
US Services Economy Crashes To 11-Month Lows (Or Surges To 6-Month Highs) – You Decide 
 Source: zerohedge.com
"The US Is Staring Down A Technical Default" – Here Are The Five Debt Ceiling Scenarios
 On Friday, Treasury Secretary Mnuchin sent a letter to Congress informing lawmakers that he currently expects that Treasury will exhaust the extraordinary measures by September 29, so Congress must address the debt limit prior to that date. Meanwhile, the CBO recently indicated that Treasury would have enough cash on hand to pay its bills until early-to-mid October. In either case, the House is currently on recess until early September. When lawmakers return, they will have 12 legislative days before September 29 in which to raise the debt limit.
 However, the so-called Freedom Caucus, a group of approximately 30-40 conservative Republicans who consistently voted against debt ceiling increases during the Obama years, have vowed to oppose an increase without deep spending cuts.
What might Congress do?
Scenario 1: Raising the caps on both defense and non-defense spending (35%)
Under this scenario, the debt limit would be increased as part of a budget deal that raised both defense and non-defense spending by equal amounts, similar to what occurred as part of the Bipartisan Budget Act of 2015. It would almost certainly be opposed by the Freedom Caucus 
Scenario 2: Kicking the can down the road (25%)
Passing a continuing resolution (CR) that extends funding for the government at current levels and also suspends/increases the debt limit for some time may be an appealing option for both parties if no resolution to the issue seems likely. 
Scenario 3: A straight increase with no strings attached (20%)
This may be the easiest approach, but it also relies on Republicans needing only eight votes from Democrats in the Senate. A no strings attached bill to increase the debt limit would be politically unpalatable to the Freedom Caucus,
Source: zerohedge.com
Did the Sub-Prime 2.0 Bubble Just Burst? 
As you know, we've been tracking the sub-prime auto-loan industry closely.
Our view is that this industry represents the worst of the worst excesses of our current credit bubble, much as the subprime mortgage industry represented the worst of the worst in excess for the Housing Bubble.
Well, the same thing that happened to housing in 2006 is now happening in automobiles: prices are rolling over. So the value of the underlying assets is now falling.
Even worse, total vehicle sales have ALSO rolled over. And this is happening despite ridiculous offers such as 0% down and interest free financing.
This is a MAJOR warning that the credit cycle is once again turning. The Sub-Prime 2.0 bubble is bursting as we write this.
We all know what comes next.
Source: zerohedge.com
Trump To Launch Trade War With China On Friday, Beijing Vows Retaliation 
 , the U.S. Trade Representative, Robert Lighthizer, is expected to announce that he's initiating an investigation into unfair Chinese trade practices — using a rarely-used tool, section 301 of the Trade Act of 1974. The investigation paves the path to the U.S. taking potentially aggressive retaliatory actions against China such as tariffs on Chinese imports or rescinding licenses for Chinese companies wanting to do business in the U.S.
U.S. Section 301 investigations have not led to trade sanctions since the WTO was launched in 1995. In the 1980s, Section 301 tariffs were levied against Japanese motorcycles, steel and other products. "
And just to make sure that Beijing's position on trade war is loud and lear, China state media signaled the nation would hit back against any trade measures,    
Source: zerohedge.com
Imagine What Would Happen if China Decided to Impose Economic Sanctions on the USA?
 Following the completion of the investigation, Washington threatens to "impose steep tariffs on Chinese imports [into the US], rescind licenses for Chinese companies to do business in the United States, or take other measures, which could, "pave the way for the U.S. to impose sanctions on Chinese exporters or to further restrict the transfer of advanced technology to Chinese firms or to U.S.-China joint ventures."
China is not dependent on US  imports. Quite the opposite. America is an import led economy with a weak industrial and manufacturing base, heavily dependent on imports from the PRC.
Imagine what would happen if China following Washington's threats decided from one day to the next to significantly curtail its "Made in China" commodity exports to the USA.
It would be absolutely devastating, disrupting the consumer economy, an economic and financial chaos.
"Made in China" is the backbone of retail trade which indelibly sustains household consumption in virtually all major commodity categories from clothing, footwear, hardware, electronics, toys, jewellery, household fixtures, food, TV sets, mobile phones, etc.   China produces over 90% of the World's computers and 45 percent of shipbuilding capacity (The Atlantic, August 2013)
A large share of goods displayed in America's shopping malls, including major brands is "Made in China".
Import Led Growth
Importing from China is a lucrative multi-trillion dollar operation. It is the source of tremendous profit and wealth in the US, because consumer  commodities imported from China's low wage economy are often sold at the retail level more than ten times their factory price.
Source: globalresearch.ca
---
Political/Rights
More Leaks: Washington Post Publishes Transcripts of Donald Trump's Calls to Mexico and Australia
The Washington Post has published two transcripts of President Donald Trump's phone conversations with Mexican President Peña Nieto and Australian Prime Minister Malcolm Turnbull.
The transcripts feature Trump's phone calls to the pair of world leaders, created by White House staff. Details of the documents were revealed in the first months of the Trump administration, but this is the first time the full texts of the conversations have been published entirely.
Source: breitbart.com
---
Geopolitical/Police State
IF THE FBI HAS YOUR BIOMETRICS, IT DOESN'T HAVE TO TELL YOU 
A new rule will prevent millions of people from finding out if their fingerprints, iris scans and other biometric information is stored in a massive federal database.
The FBI's Next Generation Identification system stores the biometric records of people who have undergone background checks for jobs, volunteer positions and military service, as well as of those who have criminal records. Effective Aug. 31, that database will be exempt from certain parts of the Privacy Act, a law that allows people whose records are held by the federal government to request more information about which records those are.
The exemption means the FBI doesn't have to acknowledge if it is storing the biometric records of an individual in that database; the bureau has argued that notifying people that they were in the database could compromise investigations. 
Under the rule, individuals won't be able to find out what types of records the FBI may have of because it could "specifically reveal investigative interest by the FBI or agencies that are recipients of the disclosures."
One of the most troubling consequences of the final rule is that people in the database might become the subject of investigation without being notified,
Source: nextgov.com
Sy Hersh comments in leaked tape: Russiagate a CIA-planted lie, "It's a Brennan Operation"
 I have a narrative of how that whole fucking thing began, it's a Brennan operation, it was an American disinformation and fucking the fucking President, at one point when they, they even started telling the press, they were back briefing the press, the head of the NSA was going and telling the press, fucking cock-sucker Rogers, was telling the press that we even know who in the GRU, the Russian Military Intelligence Service, who leaked it. I mean all bullshit. 
Source: sott.net
Senators Unveil Two Bipartisan Bills To Block Trump Firing Mueller
Two separate bills – both with bipartisan backing from two Senate Judiciary Committee members – are being put forth to protect Special Counsel Robert Mueller's job.   "ensuring that the special counsel cannot be removed improperly is critical to the integrity of his investigation."
 , two bills are being unveiled –  
 Bill 1. 

"Ensuring that the special counsel cannot be removed improperly is critical to the integrity of his investigation," Coons said.

Bill 2.
So the difference is Tillis-Coons bill is 'reactive' – once the firing has taken place, it can be challenged; where as the Graham-Booker bill is pre-emptive – forcing the decision to fire a special prosecutor to a Federal judge (as a reminder, only the attorney general or the most senior Justice Department official in charge of the matter can actually fire the special counsel). 
Source: zerohedge.com
National Security Adviser H.R. McMaster has sacked yet another member of the National Security Council today, with the White House announcing that the senior director for intelligence programs Ezra Cohen-Watnick has been removed from his position, with the requisite praising of his past service.
McMaster has had problems with Cohen-Watnick for awhile, trying to fire him back in March amid mounting complaints from CIA officials who didn't like working with him. Cohen-Watnick was close with Steve Bannon  ,Trump overruled McMaster on that last firing attempt.
Source: news.antiwar.com
---
War
Duterte wants 30,000 more troops to crack down on ISIS & other emerging threats in Philippines
Philippines President Rodrigo Duterte has requested lawmakers to cough up more cash to fund up to 30,000 new soldiers and policemen he deems necessary to tackle the ongoing ISIS-linked insurgency in the country's south.
The Philippines leader requested the funds to draft in 20,000 soldiers and 10,000 police during a security briefing in Malacanang Tuesday, as "new security threats" in Mindanao emerged, the publication noted.   
Source: rt.com
US Pentagon wasted $450 million in Afghan spy training program, says watchdog
Nearly half a billion of American taxpayers' funds were wasted by contractors hired by the United States government to train Afghan intelligence personnel, according to a scathing report by a Congressional body. The funds were spent between 2010 and 2013 by the US Department of Defense, in order to train a few dozen members of the Afghanistan National Defense and Security Forces (ANDSF). Two companies, Legacy Afghanistan R&D and Afghanistan Source Operations Management, oversaw the training program. It was primarily executed by a contractor, Imperatis Corporation, and a subcontractor, New Century Consulting, at a total cost of $457 million to the US taxpayer.
  according to a new report, the four-year program was a monumental, multimillion dollar waste. The report was written by the Special Inspector General for Afghanistan Reconstruction (SIGAR).  . Based on the available information, the SIGAR report concludes that there is virtually "no indication of improvement in intelligence operations" by ANDSF as a result of the four-year training program.
Source: intelnews.org
Ex-Blackwater CEO Erik Prince reportedly offering private air force for Afghan War
Former Blackwater founder Erik Prince, who earlier urged Donald Trump to appoint a US "viceroy" to win the Afghan war, has reportedly pitched up a "business proposal" to Kabul, offering a fully-fledged private air force to back the local army's operations.Prince, the founder and former CEO of private military company Blackwater (now rebranded Academi), has floated a business proposal offering a privately-manned "turn-key composite air wing" to the Afghan government,  Prince's plan includes providing "high speed response" as well as close-air support for Afghanistan's army fighting the Islamists. The private air force's fixed-wing planes, attack helicopters and drones would be flown by hired pilots, but "weapons release decisions will still be made by Afghans."The proposal itself involved a Dubai-registered private military contractor called Lancaster6, led by Christiaan Durrant. A former Royal Australian Air Force F-18 pilot and Qantas flight officer Lancaster6 is already operating some of its aircraft fleet in Afghanistan transporting troops as well as providing air drop support and cargo services,
Remember :  The firm secured a contracting bonanza that ensued after the 2003 US invasion of Iraq. Operating as part of the US occupational authorities, Blackwater members gained notoriety due to misbehavior, security flaws and discipline problems. 
Source: sott.net
Kiev redeploys dozens self-propelled artillery platforms, howitzers and tanks to front line
Ukrainian gunmen stepped up their positions in Donbass with self-propelled artillery platforms, howitzers and tanks,
 According to the reconnaissance's data, in the area of the Kiev-controlled Konstantinovka locality (28 km away from the contact line) the arrival of twenty 152 mm caliber self-propelled artillery platforms "Akatsia" and 122 mm caliber howitzers D-30 was recorded. In the Dzerzhynsk area (in the Gorlovka direction, 5 km away from the contact line), the location of 6 tanks was detected.
Source: dninews.com
Trump: 'Blame Congress for our bad relationship with Russia'
Relations between the US and Russia are at an all-time and very dangerous low, US President Donald Trump tweeted, adding that the Americans should blame the Congress for this turn of events. trump said he had greenlit the unwanted act "for the sake of national unity," despite the legislation being "seriously flawed" and having "clearly unconstitutional provisions."
Source: sott.net
McCain fires back at Trump: 'You can thank Putin' for poor relations with Russia
Sen. John McCain (R-Ariz.) quickly fired back Thursday at President Trump's assertion that Congress is to blame for the deterioration U.S.-Russia relations.
"Our relationship w/ Russia is at dangerous low," McCain tweeted.
"You can thank Putin for attacking our democracy, invading neighbors & threatening our allies."Trump on Thursday morning had a different take.
Source: thehill.com
Trump signs Russian sanctions law, but expect a Supreme Court challenge in future
Whilst signing the sanctions law President Trump publishes a Presidential Statement which is clearly intended to prepare the ground for a challenge to the US Supreme Court on the grounds that key provisions in the sanctions law are unconstitutional.   it would have been a serious mistake for President Trump to veto the new sanctions law. With overwhelming majorities voting for the sanctions law in Congress, his veto would certainly have been overridden and he would have achieved nothing by attempting to exercise his veto other than escalate the political crisis in the US in a way that would have damaged his own authority.Instead by signing the law President Trump has been able to make a Presidential Statement which whilst it has enraged his opponents has put him in a stronger position than an attempt to exercise any other option would have done.The Presidential Statement has clearly been carefully drafted – unquestionably by lawyers – and it is clear from Secretary of State Tillerson's comments about the sanctions that he was involved in drafting it. Its text deserves to be set out in full

Since this bill was first introduced, I have expressed my concerns to Congress about the many ways it improperly encroaches on Executive power, disadvantages American companies, and hurts the interests of our European allies.

 
Source: sott.net
US sanctions won't stop Russia's pipeline project to Europe – analysts
The latest US sanctions targeting Russia's oil and gas sector will cause Gazprom some headaches in building the new gas pipeline to Germany, experts say. However, US restrictions are unlikely to stop the project.
"The price of any project automatically increases," Tatiana Mitrova, director of the Skolkovo Energy Center told Reuters.
"Gazprom's relationships with partners, subcontractors, and equipment and service providers are very complicated. They will all ask for a risk premium," she added.
"This, however, does not mean that Nord Stream-2 won't be built," said Katja Yafimova of the Oxford Energy Institute. 
Source: rt.com
Russia scales down gas transit through Ukraine using bypass pipelines
More Russian gas is being pumped through OPAL, the European pipeline that connects Gazprom's Nord Stream to Germany and the Czech Republic. This comes as Russia seeks to cut gas transit through Ukraine.
Source: rt.com
Al-Qaeda leader urges unity among jihadist factions in Syria
The terrorist leader urged the jihadist factions in Syria to end their internal strife before they destroy one another and lose the war.
Source: almasdarnews.com
Third de-escalation zone established in northern Homs: video
Russian Ministry of Defence spokesperson Igor Konashenkov said that Moscow and Syrian opposition have agreed to create a new de-escalation zone in northern Homs, 
Source: almasdarnews.com