Podcast: Play in new window | Download (Duration: 36:00 — 42.3MB)
Italy's unemployment rises once again as youth unemployment surges.Obama created 9 million part time jobs as 14 million people aren't counted. Consumer credit spending soared this holiday season because most don't have the funds to spend. The debt surge has created this fake recovery, it looks great in the beginning but later on everything collapses. GM does assemble cars in Mexico and sell them here in the US, it turns out Trump was telling the truth and GM lied. Fed labor market condition indicates we are now in a recession. Obama and dems are now wiling to negotiate Obamacare. The true hacker has been found, it was a Russian who worked for Obama. Obama the nobel peace prize winner dropped 26,171 bombs while he was in office. USS Mahan fired warning shots at Iranian boats near Iran. US special forces carried out missions in Syria cleaning up records and evidence of the IS. It is now being reported that there a massive number of IS sleeper cells in the US, be prepared for an event.
Check Out The X22 Report Spotlight YouTube Channel –  X22Report Spotlight
Please check Newzsentinel.com for the latest news on the economic collapse. The Sentinel Alerts are updated throughout the day. If you haven't already, go to "The People" and join the community of people who are helping each through the economic collapse.
---
Current News – 01.09.2017
---
Economy
Italy Unemployment Unexpectedly Deteriorates To Highest Since June 2015; Youth Unemployment Jumps To 39.4%
According to Italy's statistics agency Istat, the jobless rate jumped to 11.9% in November, up from a revised 11.8% the month before, and well above the 11.6% consensus forecast.
youth unemployment rose to 39.4 percent, up from 37.6% and the highest since October 2015.
Source: zerohedge.com
Obama Economy: 9.9 Million More Employed, But 14.6 Million Left Labor Force
Since President Barack Obama took office in January 2009, the number of employed Americans increased by 9.9 million, but there were 14.6 million more who left the labor force, according to the latest numbers from the Bureau of Labor Statistics.
The labor force participation rate, which measures the percentage of the population that participated in the labor force by either having a job or looking for one, declined for all Americans during Obama's time in office from 65.7 percent to 62.7 percent.
"If you, a family member, or anyone is unemployed and has subsequently given up on finding a job—if you are so hopelessly out of work that you've stopped looking over the past four weeks—the Department of Labor doesn't count you as unemployed," said Jim Clifton, who is chairman and CEO of Gallup. "The official rate is misleading."
Source: freebeacon.com
Consumer Credit Soars, Driven By Near Record Credit Card-Fueled Spending
 the Fed revealed that Americans went on a credit card-funded shopping spree in November, when total revolving credit exploded higher by a massive $11 billion, the highest November increase on record, and the second highest of the post crash period.
Source: zerohedge.com
Debt Surge Producing Fake Recovery
What do the following headlines have in common?
US wages grow at fastest pace since 2009
Euro area economy ended year with strongest growth since 2011
Surge in home prices is beating the one in mortgage rates
Manufacturing in U.S. Expands at Fastest Pace in Two Years
German Inflation welcomed back
Obviously they're all favorable, with the possible exception of German inflation – though even that is "welcome". Taken together they paint a picture of a global economy that's finally returning to the kind of solid growth and steady, positive inflation that most people consider both normal and good.
Unfortunately, the reason for the improvement is emphatically not good: In 2016 the world borrowed a huge amount of money and spent the proceeds. The result is "growth," but not sustainable growth.
According to the Census Bureau's latest estimate, there were 118,215,000 households in the United States as of June. That means that the one-year increase in the federal debt of $1,422,827,047,452.46 in fiscal 2016 equaled about $12,036 per household.
The total federal debt of $19,573,444,713,936.79 now equals about $165,575 per household.
Emerging market borrowing in 2016 was triple the year-earlier level. Corporate borrowing was the highest since 2006. And the US somehow managed to add another $trillion of government debt in the late stages of a recovery, when tax revenues are usually strong enough to shrink or eliminate deficits.
Since every penny of that new debt was presumably spent, it should come as no surprise that the latest batch of headline growth numbers have been impressive. Which is the basic problem with debt-driven growth: The good stuff happens right away while the bad stuff evolves over time – in the form of higher interest costs that depress future growth – making it hard to figure out what caused what.
Source: dollarcollapse.com
GM Lied To The Public And To Trump About Where Chevrolet Cruze Sedans Sold In The USA Are Assembled
president-elect Trump tweeted about General Motors, stating the GM was building its Chevrolet Cruze in Mexico, importing them to the US tax-free, and selling them at US car dealers:

GM quickly denied Trump's tweet, and in a press release that same day, the company claimed that all Cruze sedans sold in the US are "built in GM's assembly plant in Lordstown, Ohio", and that GM builds the Cruze hatchback for global markets in Mexico,
…and the MSM and other liberal outlets were quick to pounce on GM's statement, using it to slander the president-elect.   US News went out of its way to post a clickbait headline which alluded to "the truth" about Trump's tweet, with the following quotation:
 General Motors Company (ticker: GM) is pushing back after President-elect Donald Trump early-morning Twitter attack, in which the incoming president took aim at GM for making its Chevrolet Cruze in Mexico and shipping them tax-free to the U.S. for sale.

That's not the full story, says GM.

"General Motors manufacturers the Chevrolet Cruze sedan in Lordstown, Ohio," a General Motos spokesman told U.S. News & World Report in a statement Tuesday. "All Chevrolet Cruze sedans sold in the U.S. are built in GM's assembly plant in Lordstown, Ohio."
It appears that in the MSM's rush to fact-check Trump and call him hypocritical, no media outlet bothered to fact-check GM as well.  So, who did the fact-checking work that the MSM didn't bother doing?
Auto enthusiast and Twitter user E.W. Niedermeyer, that's who.
…Niedermeyer quickly got to the nitty-gritty of his argument, noting the the VIN sequence (3G1) used at the beginning of GM cars made in Mexico…

So all you have to do to prove that GM lied to the President Elect is to find Chevrolet Cruze Sedans for sale in the US with 3G1 VINs…
…and finally, Niedermeyer provided evidence on where the autos sold in the US were built:
Think about that for a second – GM  is selling Cruze sedans manufactured in Mexico, in the same Ohio town that builds Cruze sedans.  And at the same time, GM is brazen enough to say it doesn't sell Cruze sedans built in Mexico in the US, saying all Cruze sedans in US dealerships are built in its Lordstown, Ohio plant. 
Source: zerohedge.com
Fed's Labor Market Conditions Index Plunges Most In 7 Years
The Fed's own Labor Market Conditions Index (LMCI) dropped 0.3% in December, the LMCI is now down 5.8% year-over-year, the biggest plunge since Jan 2010.
this is the eighth time in nearly 40 years the index was down on a year-over-year basis,
Source: zerohedge.com
The Results Are In: The IMF's Venezuela Inflation Guesstimate Was Way Off 
In October, the International Monetary Fund (IMF) committed a blunder when it issued a forecast for Venezuela's end-of-year annual inflation rate. An inflation forecast in a country that is toying with hyperinflation is a mug's game.
The IMF's October 2016 World Economic Outlook (WEO) forecast for Venezuela's 2016 year-end annual inflation rate was 720 percent. The IMF's figure gave the appearance that it was based on a finger-in-the-wind estimate. Indeed, the last serious connection between Venezuela and the IMF was back in September of 2004,   the 30-day moving average for Venezuela's annual year-over-year inflation in December 2016 was 290 percent. This rate is less than half of the IMF's foolish forecast.
Source: zerohedge.com
---
Rights
Democrats now willing to tweak Obamacare as Senate moves toward repeal
After six years of resisting legislative changes to Obamacare, President Obama and Democrats now say they're ready to work on fixes to the massive health law — so long as they expand the federal government's role in health care.
Source: washingtontimes.com
You Won't Believe Who They Work For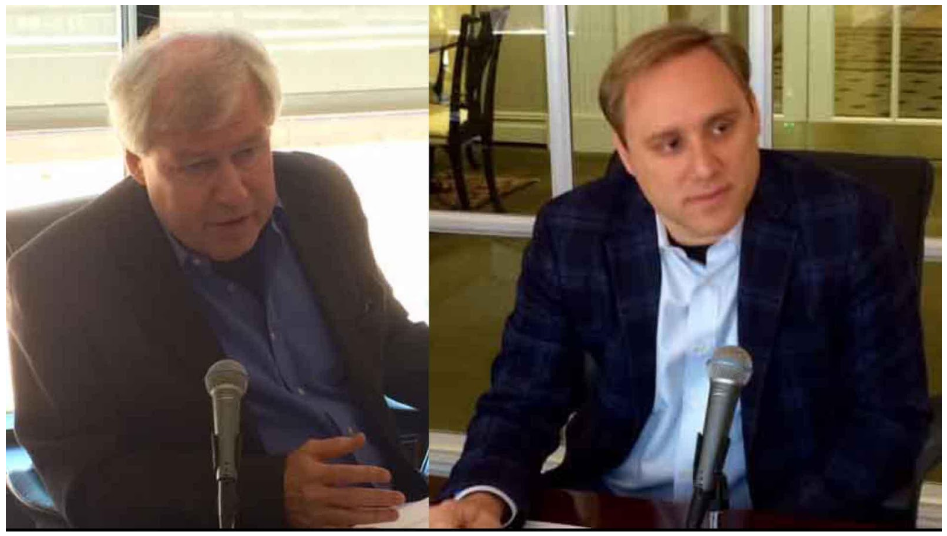 Dmitri Alperovitch, founder of CrowdStrike.
Russians did not hack the DNC system, a Russian named Dmitri Alperovitch is the hacker and he works for President Obama. In the last five years the Obama administration has turned exclusively to one Russian to solve every major cyber-attack in America, whether the attack was on the U. S. government or a corporation.  Only one "super-hero cyber-warrior" seems to "have the codes" to figure out "if" a system was hacked and by "whom."
Dmitri's company, CrowdStrike has been called in by Obama to solve mysterious attacks on many high level government agencies and American corporations, including: German Bundestag, Democratic National Committee, Democratic Congressional Campaign Committee (DCCC), the White House, the State Department, SONY, and many others.
CrowdStrike's philosophy is: "You don't have a malware problem; you have an adversary problem."
CrowdStrike has played a critical role in the development of America's cyber-defense policy. Dmitri Alperovitch and George Kurtz, a former head of the FBI cyberwarfare unit founded CrowdStrike. Shawn Henry, former executive assistant director at the FBI is now CrowdStrike's president of services. The company is crawling with former U. S. intelligence agents.
After CrowdStrike was hired as an independent "vendor" by the DNC to investigate a possible cyberattack on their system, Alperovitch sent the DNC a proprietary software package called Falcon that monitors the networks of its clients in real time. According to Alperovitch, Falcon "lit up," within ten seconds of being installed at the DNC. Alperovitch had his "proof" in TEN SECONDS that Russia was in the network. This "alleged" evidence of Russian hacking has yet to be shared with anyone.
As Donald Trump has pointed out, the FBI, the agency that should have been immediately involved in hacking that effects "National Security," has yet to even examine the DNC system to begin an investigation.
Also remember that it is only Alperovitch and CrowdStrike that claim to have evidence that it was Russian hackers. In fact, only two hackers were found to have been in the system and were both identified by Alperovitch as Russian FSB (CIA) and the Russian GRU (DoD). It is only Alperovitch who claims that he knows that it is Putin behind these two hackers.
Alperovitch failed to mention in his conclusive "TEN SECOND" assessment that Guccifer 2.0 had already hacked the DNC and made available to the public the documents he hacked –
Nancy Pelosi offered members of Congress Alperovitch's suggestion of installing Falcon, the system that failed to stop cyberattacks at the DNC, on all congressional laptops.
Key Point: Once Falcon was installed on the computers of members of the U. S. Congress, CrowdStike had even further full access into U. S. government accounts.
2014, Sony called in CrowdStrike to investigate a breach of its network. Alperovitch needed just "two hours" to identify North Korea as the adversary.
Stolen Russian Codes
In December, Obama ordered the U. S. military to conduct cyberattacks against Russia in retaliation for the alleged DNC hacks.  All of the attempts to attack Russia's military and intelligence agencies failed miserably.
 It is crucial to understand at this junction that the CIA is not solely working for America.  The CIA works for itself and there are three branches to the CIA – two of which are hostile to American national interests and support globalism.
Source:  stateofthenation2012.com
'Putin's not on our team': Obama urges Trump to trust US intelligence community
Outgoing US President Barack Obama has warned Americans and his successor Donald Trump that Vladimir Putin is an "adversary" who should never be trusted over the US intelligence community. 
Source: rt.com
---
War
Ron Paul Sums Up Nobel-Peace-Prize-Winning President Obama In One Short Sentence
Seven years after being awarded the Nobel Peace Prize for his "extraordinary efforts to strengthen international diplomacy and cooperation between peoples," despite having been in office for less than one year and having pretty much no actual, tangible foreign diplomacy accomplishments at the time, President Obama will depart the White House having dropped 26,171 bombs on foreign countries around the world in 2016, 3,027 more than 2015.
 Source: zerohedge.com
U.S. says it will shoot down any American-targeted missiles launched by North Korea
Officials in Washington are saying that if Pyongyang launches anything that threatens the territory of the U.S. or its allies, it will be shot down.
When NK launches another missile the US will most likely shoot it down, The US will make up a story that it was headed to the US and it intercepted it. The elite want a war and they are hoping this might kick it off.
Source: globalnews.ca
US Destroyer Fired Warning Shots At Four Iranian Vessels In Strait Of Hormuz 
U.S. Navy destroyer fired three warning shots at four of Iran's Islamic Revolutionary Guard Corps vessels on Sunday after they closed in at a high rate of speed in the Strait of Hormuz, according to two U.S. defense officials.
USS Mahan established radio communication with the boats but they did not respond to requests to slow down.
The USS Mahan
The Navy destroyer fired warning flares and a U.S. Navy helicopter also dropped a smoke float.
The Iranian vessels came within 900 yards (800 meters) of the Mahan, which was escorting two other U.S. ships.
It is unclear if today's incident took place in international waters.
As a reminder, there are temporarily no US aircraft carriers in the Persian Gulf region at this moment, or anywhere else around the world for that matter.
Source: zerohedge.com
Iraqi forces reach Tigris River that divides Mosul
Iraq's elite counter-terrorism service (CTS) units have fought ferociously against ISIS to a bridge that crosses over the Tigris River which divides Mosul, Iraq's second largest city
Source: almasdarnews.com
Assad willing to grant amnesty to armed groups
Members of the armed opposition will have a chance to take advantage of the amnesty offered by the government,
Source:  almasdarnews.com
Members of an elite U.S. force have carried out a ground operation in eastern Syria aimed at capturing leaders of the Islamic State, U.S. officials said Monday.
The raid took place Sunday near a small town along the Euphrates River valley to the north of the city of Deir al-Zour, deep in the heart of Islamic State territory, according to the officials and Syrian activist groups.
The troops, who landed on helicopters, spent about 90 minutes in the area, then left carrying Islamic State captives and bodies, according to witnesses quoted by the website Deir al-Zour 24, which monitors Islamic State activity in that province.
Source: washingtonpost.com
---
False Flags
Massive Network Of ISIS Sleeper Cells Spanning United States Uncovered – Training Camps And All
---