Podcast: Play in new window | Download (Duration: 59:15 — 61.5MB)
A new report was released from the Fed, the report shows that Millennial's are in more debt than any other generation and most don't even own a home. US banks are reporting billions of unrealized losses on security investments, when the market goes down the banks are going to implode. When countries want to use their gold, the [CB] is going to tell them know you cannot because it doesn't belong to the people. Trump begins to educate the American public, the borrowing and spending must come to an end. Manafort is sentenced to more months in prison, this has nothing to do with Russian collusion these are crimes before Trump. Trump thanks Pelosi for pulling back the impeachment, but as we know impeachment is a dead end. CIA is being blamed for an attack in Spain on the NK embassy. The CIA is being blamed in Syria for working with ISIS. Q drops more bread, the first wave is coming, this will bring unity and change.
Check Out The X22 Report Spotlight YouTube Channel X22Report Spotlight
Please check Newzsentinel.com for the latest news on the economic collapse. The Sentinel Alerts are updated throughout the day. If you haven't already, go to "The People" and join the community of people who are helping each through the economic collapse.
---
Current News – 03.13.2019
Watch The X22 Report On Video
---
Economy
US Banks Report $251 billion of "Unrealized Losses" on Securities Investments in 2018, the Most Since 2008: FDIC
And other juicy banking nuggets.
Net income in Q4 2018 among all 5,406 FDIC-insured banks and thrifts more than doubled year-over-year to $59 billion, due to "higher net operating revenue" and "lower income tax expenses"; and full-year net income rose 44% to $237 billion, the FDIC reported today in its Quarterly Banking Profile. But over the same period, "unrealized losses" on investment securities – losses that are not included in the "net income" figures above – ballooned to $251 billion, the largest unrealized losses since 2008.
"Unrealized losses" are losses on securities that dropped in value but that the banks have not yet sold. In other words, they're "paper losses." Every quarter in 2018 brought steep unrealized losses: Q1: $55 billion; Q2: $66 billion; Q3: $84 billion; and Q4: $46 billion (chart via FDIC, red marks added):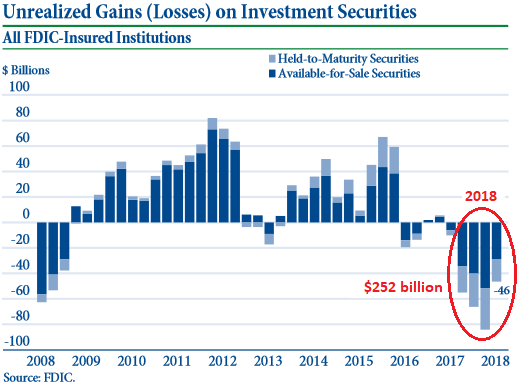 Other juicy banking nuggets from the FDIC:
Banks gobbled up US Treasuries: In Q4, banks added $93 billion to their securities holdings, bringing their securities holdings to $3.72 trillion. That $93 billion included $55 billion in Treasury securities, the largest dollar increase since Q4 2014. Their total Treasury holdings now amount to nearly $500 billion!
  $251 billion "paper losses" don't need to be included in net income. 
Source: wolfstreet.com
---
Political/Rights
---
Geopolitical/Police State
Maduro Says to Request Assistance of Russia, China to Investigate Blackout
---
War
The DS they are trying to create chaos around the world, especially NK, Venezuela & Syria
CIA Is Turning Refugee Camps In Eastern Syria Into ISIS Hotbeds
The CIA is conspiring with ISIS commanders in northeastern Syria supplying them with fake documents and then transferring them to Iraq,  s.
Source: southfront.org
---
Q