Podcast: Play in new window | Download (Duration: 34:38 — 41.0MB)
Banks issue last minute warning that Bitcoin futures might be to risky, but don't worry Goldman Sachs will clear them. Unemployed Americans says they are the most comfortable in years? GE slashes 12,000 jobs across the globe. Challenger Gray and Christmas report November job cuts worse since 2012. The people of America have been using the credit cards to survive this holiday season. Bank of America's indicator which has been on target for 100% of the time is showing a bear market headed our way.  North Korea is bypassing the US sanctions. Russia is reporting that North Korea doesn't want a war with the US. Erdogan has issued a warning to Trump, he has opened the ring of fire in the middle east. State department issues warning in the middle east. ISIS has been removed form Syria, Russia is now pushing for peace and the cabal is backed into a corner.
Check Out The X22 Report Spotlight YouTube Channel –  X22Report Spotlight
Please check Newzsentinel.com for the latest news on the economic collapse. The Sentinel Alerts are updated throughout the day. If you haven't already, go to "The People" and join the community of people who are helping each through the economic collapse.
---
Current News – 12.07.2017
---
Economy
Banks Issue Last Minute Warning About Risks Of Bitcoin Futures, Ask Regulator For Review

The world's largest banks are pushing back on the introduction of bitcoin futures, raising concerns with US regulators that the financial system is ill-prepared for the launch of the contracts as the value of the volatile cryptocurrency has soared.
As we countdown to the launch of bitcoin futures trading on the CBOE (10 December) and CME (18 December), the big banks – via the Futures Industry Association – have suddenly got cold feet about the risks. We don't blame them, somebody's going to get hurt, the only question is who. The banks are worried it could be them. The FIA's "primary" members include all of the usual suspects like JPM, Goldman, Citi, Bank of America, Morgan Stanley, etc. The risk they are most concerned about relates to clearing houses which, ultimately, they stand behind. The problem, of course, boils down to Bitcoin's volatility, something we flagged after the CME announced circuit breakers early last month.

As the Financial Times reports, the banks – via the Futures Industry Association – is sending a letter to the CFTC which it will pubish today.

Goldman Sachs plans to clear bitcoin futures contracts when they go live next week.

Bank of America Corp. and Citigroup Inc. won't immediately offer clearing of the products
Source: zerohedge.com
Unemployed Americans Are The Most "Comfortable" In 16 Years
The unemployed in America are telling Bloomberg that they have not been more comfortable since April 2001…
Source: zerohedge.com
GE Slashes 12,000 Jobs In Troubled Global Power Business
  GE confirmed that it's planning to cut 12,000 jobs globally in its power business as the company's new leadership tries to revive the company's moribund stock price.
The reductions would account for about 18% of GE Power's workforce, will mostly affect professional and production workers outside the US. GE is also paring back capital expenditures and research-and-development spending as it grapples with a sharp downturn in gas- and coal-power markets.

Source: zerohedge.com
Challenger Shows Worst November For Job Cuts Since 2012
US Credit Card Debt Surges Above $1 Trillion, Just Shy Of All Time Highs As Student, Car Loans Breach Records
Total consumer credit rose by 6.5% Y/Y, rising to $3.802 trillion as of Oct 31. That number is more than double the rate of increase of US GDP or wage growth, making it clear just where America's "purchasing power" comes from.
Finally, this was also the single biggest monthly increase in consumer credit since November 2016.
And while nonrevolving credit reached a fresh record high of $2.791 trillion, revolving – or credit card debt – is now back well over a trillion dollars, or $1.011 trillion to be precise, and fast approaching the all time bubble high of $1.02 trillion hit in the summer of 2008.
And speaking of student and auto loans, the Fed's latest data showed that in the third quarter, these rose to a new all time high, of $1.108 trillion for auto loans, and a record $1.486 trillion in student loans.
Source: zerohedge.com
Student Loan Debt Is Now As Big as the U.S. Junk Market
U.S. student loan debt now equals the size of the $1.3 trillion U.S. high-yield corporate bond market, presenting investors with a whole different range of risks.
"Delinquency rates on student loans are much higher than those on auto loans or mortgages, due to the fact students are finding it difficult to finding high paying jobs. l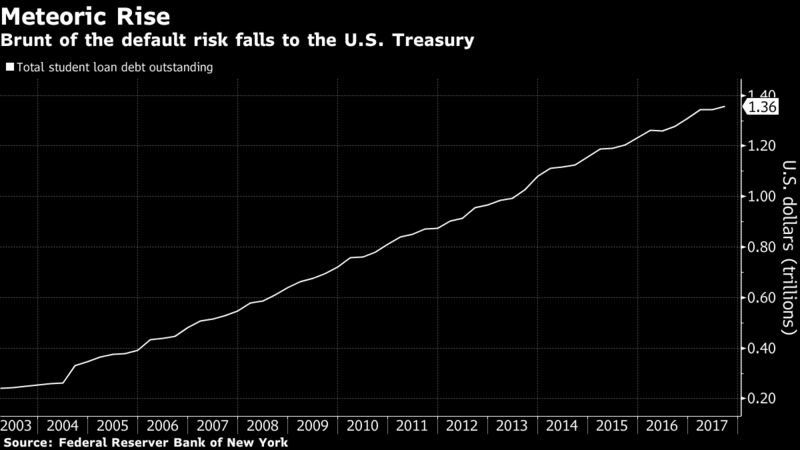 Source: bloomberg.com
One Of Bank of America's "Guaranteed Bear Market" Indicators Was Just Triggered
the S&P 500's three-month earnings estimate revision ratio (ERR) fell for the fourth consecutive month to 0.99 (from 1.03), indicating that for the first time in seven months, there were more negative than positive earnings revisions, needless to say a major negative inflection point in the recent surge in profits. The bank's more volatile one-month ERR also weakened to 0.94 (from 1.16).
 
Why is this significant?
As BofA explains, the three-month S&P 500 ERR is used by the bank as one of its 19 key "bear market signposts", and with the one-month ERR falling below 1.0 for the second time in six months, this marks the trigger for the 11th bear market signpost. BofA's ERR rule is triggered when, over a six-month window, all of the following criteria are met: 1) the one-month ERR falls from above 1.0 to below 1.0; 2) the one-month ERR is below 1.0 for two or more months; and 3) the three-month ERR falls below 1.1 for at least one month.
Incidentaqlly, the hit rate of the "ERR" bear market indicator, meaning its historical accuracy in predicting a bear market is 100%, the only question is how long it takes. The last time this trigger was set was mid-2003, and here is the punchline from Bank of America:
 Since 1986, a bear market has followed each time that the ERR rule has been triggered.
This is shown in the chart below:
Ok so one indicator out of 19 now is flashing "bear market" dead ahead. That's hardly bad if the rest are all green, right? Well, they aren't.

Source: zerohedge.com
---
Geopolitical/Police State
Report: 44,000 'unknown' military personnel stationed around the world
The U. S. military has more than 44,000 troops across the globe that the Pentagon claims it cannot track, according to a recent report.
"We are not at a point where we can give numbers other than those officially stated," said Army Col. Rob Manning, a Pentagon spokesman.
The report — compiled by the Defense Manpower Data Center under the Office of the Secretary of Defense — shows more than 44,000 personnel in a category labeled "Unknown."
Source: stripes.com
---
War
US sanctions force North Korea to use 'indirect channels' for exports
  Pyongyang has been "deliberately using indirect channels to export prohibited commodities".For years the coal trade was a lucrative earner for Pyongyang — its main ally and key economic partner China imported 22 million tonnes worth nearly $1.2 billion in 2016.But while Beijing says North Korean imports have come to a halt, RasonConTrans' business is booming.Since starting operations in 2015 its volumes have doubled each year, and Minkevich is targeting three million tonnes next year, with a goal of five million in future.It has between three and six ship movements a month at its pier — number 3 in the port, which can take vessels up to 180 metres (600 feet) long — loading 50,000 tonnes of coal on each, most of them heading for Shanghai.RasonConTrans has around 300 North Korean personnel and 110 Russian staff, and brings in much of its needs, such as diesel for its generators, directly from Russia.
Source: sott.net
Russian lawmaker, citing N. Korean envoy, says Pyongyang does not want escalation
A Russian lawmaker who met North Korea's ambassador to Russia said on Thursday that Pyongyang did not want to escalate tensions with the United States
Source:  dailystar.com.lb
Demonstrators took to the streets over US President Donald Trump's recognition of Jerusalem as Israel's capital
Turkish President Recep Tayyip Erdogan on Thursday lashed out at his US counterpart Donald Trump's decision to recognise Jerusalem as the capital of Israel, saying it would put the region in a "ring of fire".
"Taking this type of step puts the world, especially the region, in a ring of fire. Hey, Trump, what do you want to do? What kind of approach is this? Political leaders do not stir things up, they seek to make peace," Erdogan said in Ankara.
Protests broke out in cities across the Middle East on Wednesday in response to Trump's announcement
Source: middleeasteye.net
State Department warns Americans they are in danger from terror attacks WORLDWIDE following Trump's Jerusalem decision
President Donald Trump announced Wednesday that the U.S. is officially recognizing Jerusalem as Israel's capital, and will move its embassy there
Reaction in the Middle East was swift and angry with violence breaking out in Bethlehem and other parts of the West Bank, and in Gaza
The U.S. State Department issued a global alert warming Americans traveling overseas that they could be in danger
The warning didn't specifically mention Jerusalem or Trump's speech


Russia ready to work with United States to demolish ISIS in Iraq
Russia's Defense Ministry is ready to hold talks with the US in helping them fight ISIS in in Iraq's western regions, Russian First Deputy Defense Minister General of the Army "The attention of the international counterterrorism coalition should be focused on how to destroy militants in Iraq's western regions in order to prevent the ISIS comeback to Syria and how to exclude the revival of Islamic Caliphate there,
Source: sott.net
Russia Announces The Complete Destruction Of ISIS In Syria
"All terrorist units of ISIS on Syrian soil have been destroyed, and the territory is liberated,"  "Therefore, as of today, there's no territory controlled by ISIS in Syria,"
Source: zerohedge.com
US-Led Coalition: Less Than 3,000 ISIS Fighters Left in Iraq, Syria
US-led coalition spokesman Col Ryan Dillon announced on Tuesday that the current coalition estimate is that there are less than 3,000 ISIS left total in Iraq and Syria,
Source: news.antiwar.com
Tillerson: It is important Assad be part of Syria peace talks
US Secretary of State Rex Tillerson has said that "it's important" that President Bashar Assad is part of talks on the future of Syria. He added that Washington has asked Moscow to facilitate the Syrian government's involvement in the Geneva negotiations."
 he UN envoy for Syria, Staffan de Mistura, said his organization is "ready to engage" with representatives of the Syrian president, AP reported. A Syrian presidential delegation has been invited to Geneva to participate in the talks,
 The inclusion of President Assad in the Geneva negotiations should never have been a question.
Source: sott.net