Podcast: Play in new window | Download (Duration: 43:01 — 50.1MB)
EU has decided to put Greece further into debt. It is becoming clear that Greece will never get out of this debt hole. 70% of the people support the BREXIT. Canada's existing home sales has declined rapidly. Bitcoin dropped on worries about cyber attacks and regulations. Nike cutting 1500 people. The US manufacturing industry declines once again. Illinois is worse now than back in the great depression of the 30s. Bloomberg's Mike Cudmore says the Fed has just pushed us into a recession, what he really means a collapse of the economy.Japan has decided that they will look into joining China's belt and road trade system. The Fed is now pushing the collapse is not holding back, most of the people are going to be shocked when this hits. The deep state is reaching for anything now to get Trump, it is all failing. The White House is ready to reorganize departments and remove many of the people in government. The deep states plan is to merge Europe into one, this is part of the one world plan. Qatar signs deal to purchase f-15 fighters. US Senate places sanctions on Russia, the vote was cast and it does not allow Trump to veto the bill. Tillerson makes it clear that sanctions on Russia should not be tied to the Minsk deal. Syria continually pushes the IS out of their country. The deep state brings in the HIMAR to push their agenda. The deep state is making the case that NK will hit the power grid and financial institutions with a cyber attack.
Check Out The X22 Report Spotlight YouTube Channel –  X22Report Spotlight
Please check Newzsentinel.com for the latest news on the economic collapse. The Sentinel Alerts are updated throughout the day. If you haven't already, go to "The People" and join the community of people who are helping each through the economic collapse.
---
Current News – 06.15.2017
---
Economy
EU Agrees To Bailout Greece Once Again
European finance ministers have reportedly reached an agreement to bail out Greece once again (provide them with yet another EUR8.5 billion loan), and agreed to discuss the possibility of debt extensions.
This deal puts an end any uncertainty about the possibility of Greece
defaulting on over EUR7 billion in debt repayments due next month.
Source: zerohedge.com
70% Of UK Supports Pushing Ahead With Brexit Despite Election Upset
more than 70% of Britons still believe the government should push ahead with Brexit –
As expected the timeline for Brexit negotiations is going ahead, with the British government confirming the first round of talks will begin on June 19th…
Source: zerohedge.com
Bitcoin Plunges To 2-Week Lows On Triple-Whammy Of Concerns
After ralying over 80% in the last month, Bitcoin prices are tumbling (down 25% from record highs to 2-week lows) as cryptocurrencies face uncertainty on three fronts.
 investors are spooked over recent cyberattacks, uncertainty surrounding a Bitcoin platform upgrade, and proposed legislation which adds cryptocurencies a list of reportable assets under existing anti-money laundering laws.
Cyber attack
major bitcoin exchanges were hit with multiple cyberattacks this week. Bitfinex, the largest U.S. dollar based bitcoin exchange, announced it was under 'distributed denial-of-service' attacks (DDOS) which slowed the service down.  The attacks come at a time when consumer interest in bitcoins have also led to heavier than normal traffic on the exchanges, compounding the attacks.
Platform upgrade
On August 1st, the bitcoin platform will be undergoing a protocol upgrade labeled BIP148, meant to solve the block size debate – an argument over the size of bitcoin's 'blocks' (a record of transactions on the public ledger – the 'blockchain'). The planned improvements are supposed to help 'scale' bitcoin for future growth, lower fees, and speed up transaction times –  however the upgrade is not without risks, and the Bitcoin community is divided.  
Inclusion in Anti-Money Laundering Bill
Where to from here?
Source: zerohedge.com
Nike Cutting 2% Of Global Workforce
Nike announced that it will soon be parting ways with approximately 2% workforce, or roughly 1,500 employees
 Source: zerohedge.com
Trump-Train Stalls As US Manufacturing Output Tumbles In May
US Manufacturing output dropped 0.4% MoM in May (the biggest drop since Feb 2015), missing expectations of a 0.1% rise by three standard deviations.
Manufacturing Output has been swinging violently in the last 3 months…
 Industrial Production also disappointed (unch vs +0.2% exp), the weakest print since January.
The Dow Jones Industrial Average is up 30%, while US Industrial Production is down 2% from its peak in Nov 2014.
Source: zerohedge.com
Illinois' Economic Growth Is Worse Than During The Great Depression
Illinois' total state economic activity has increased by only 4 percent since 2007, which is lower than the U.S.' 10 percent GDP growth during the worst decade of the Great Depression.
There are fewer Illinoisans working today than there were 10 years ago. Millions of Illinoisans are feeling the brunt of the state's economic pain and financial meltdown in the form of joblessness and hopelessness. Too many families are dealing with unemployment and underemployment,
In fact, Illinois' economic growth is worse than during the worst years of America's Great Depression. I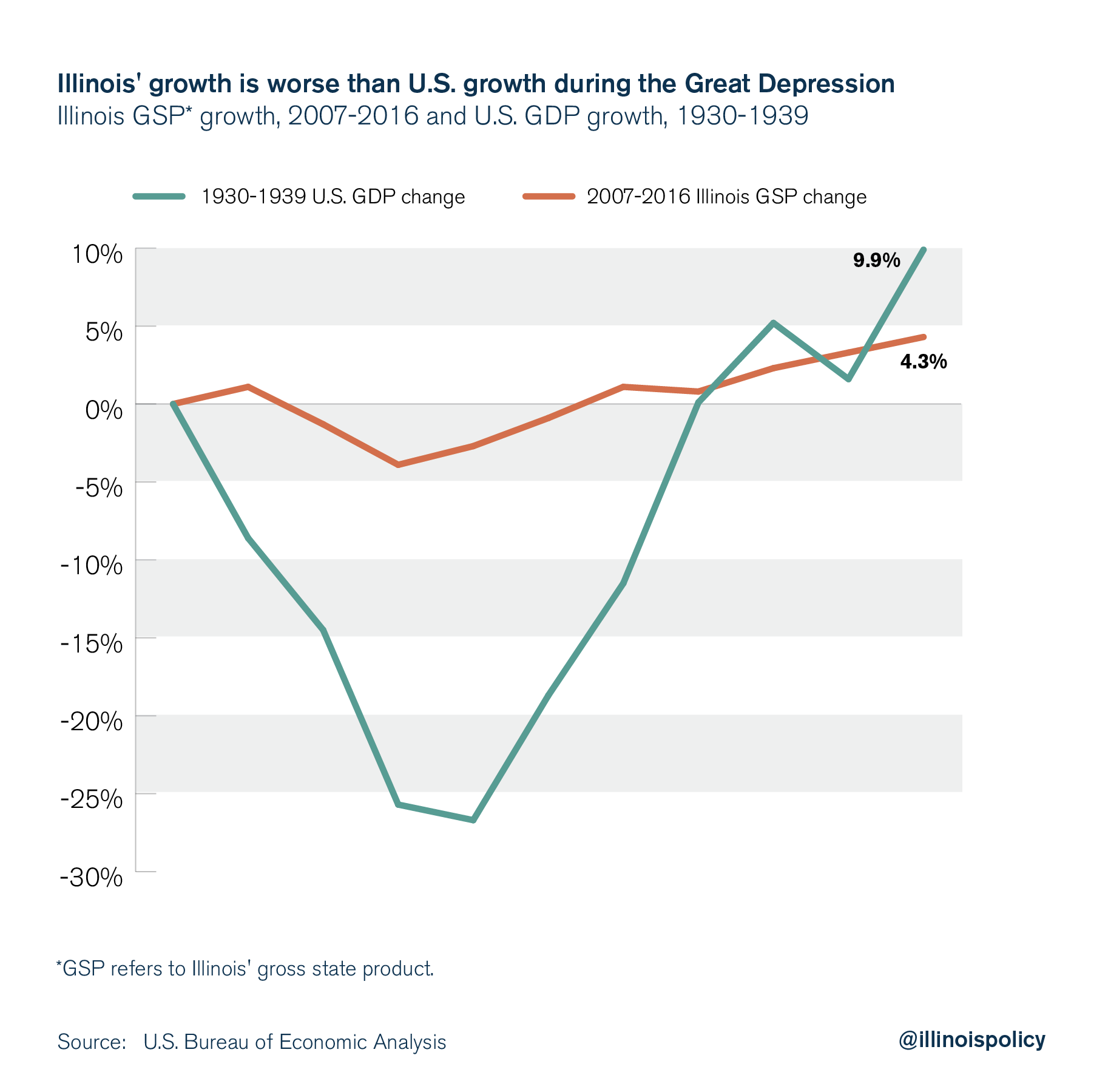 Taxes keep going up because the state has failed to address its deepest problems –gargantuan pension and retiree health care debts and uncontrolled spending on government payrolls.
that's why Illinois has the worst personal income growth in the entire country – tied only with Nevada – over the Great Recession era. Personal income has grown by only 0.8 percent per year in Illinois from the end of 2007 through 2016.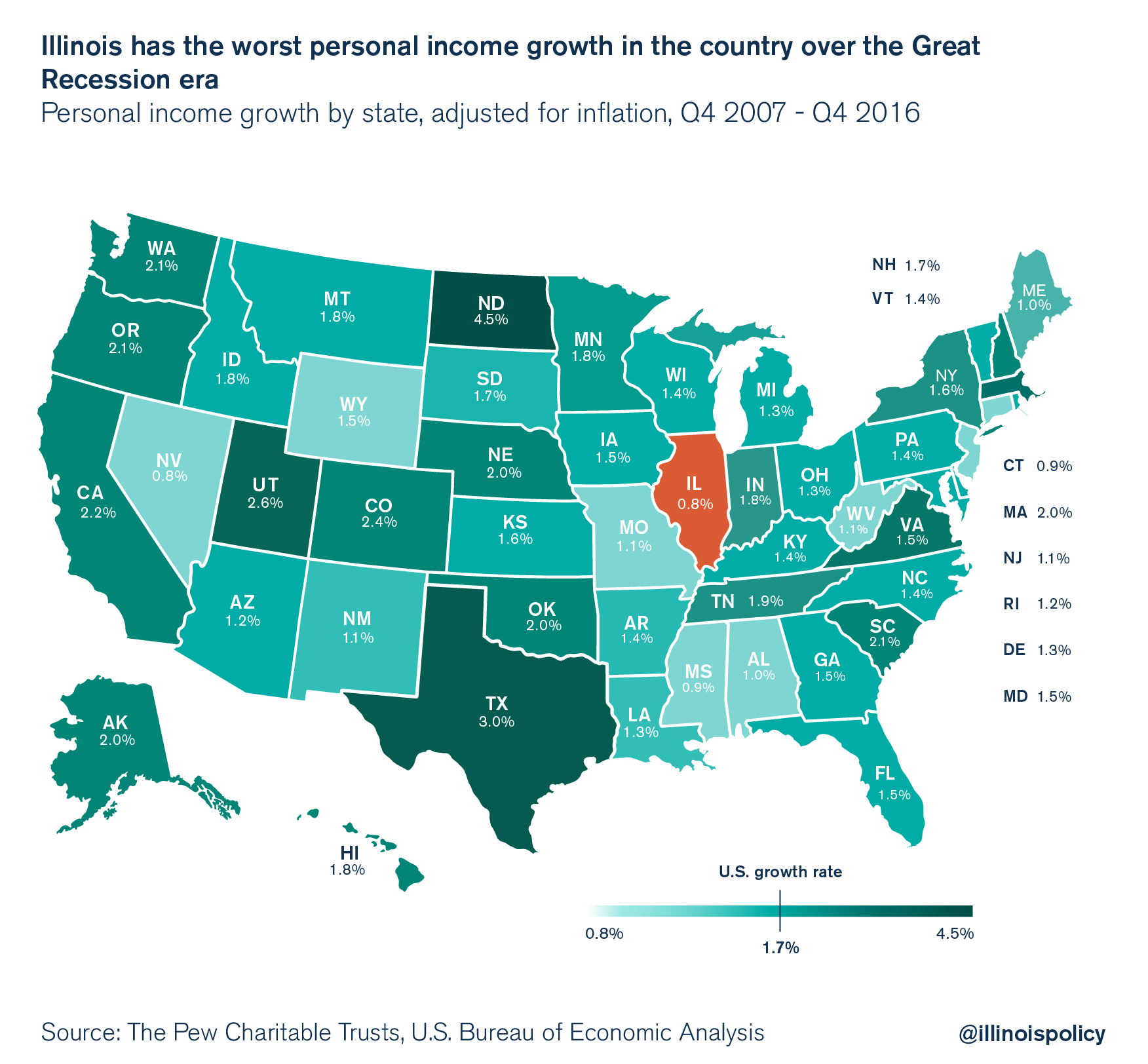 Source: zerohedge.com
Cudmore: Yellen Just Made A Big Mistake
According to Bloomberg's Mark Cudmore,   the Fed has just brought the next recession that much closer,  , every Fed tightening akways ends with a recession. The only question is when.
Source: zerohedge.com
Even Japan Is Now Considering Joining China's One Belt, One Road
japanese Prime Minister Shinzo Abe's olive branch to the "One Belt, One Road" Initiative (OBOR) last week heralds the potential of a relaxing of Japan's posture toward China. Speaking at a forum on Asia's future in Tokyo on June 5, Abe said that Japan was ready to cooperate with OBOR under certain conditions.
Abe specifically stated that one of the conditions that would have to be met for Japanese participation in OBOR is "harmony with a free and fair Trans-Pacific economic zone," in reference to the requirements, including labor and environmental regulations,

 

In response to Abe's remarks, Chinese Foreign Ministry spokesperson  , "We believe the One Belt, One Road initiative can be a new platform and a testing field for China and Japan to achieve mutually beneficial cooperation and common development." 
Source: russia-insider.com
Peak Economic Delusion Signals Coming Crisis
There is a famous investor's anecdote from Joe Kennedy, the father of John F. Kennedy, about the onset of the Great Depression – he relates that one day, just before the crash of 1929, a shoe shine boy tried to give him stock tips. He realized at that moment that when the shoe shiner is offering market tips the market is too popular for its own good. He cashed out of the market and avoided the crash
I don't know that this story is true,
 Now that the Fed's quantitative easing and near-zero interest rates have been removed as fuel, the true economic picture is becoming clear, even to the mainstream.
The US has lost 5 million manufacturing jobs since the year 2000, and this trend has accelerated in recent years. Manufacturing in the US only accounts for 8.48% of all jobs according to May statistics.
102 million working age Americans do not currently have a job. This includes the 95 million Americans not counted by the Bureau of Labor because they assume these people have been unemployed so long they "do not want to work".
Thousands of retail outlet stores, the primary engine of the American economy, are set to close in 2017.  Sweeping bankruptcies and downsizing are ravaging the retail sector, and internet retailers are not taking up the slack despite highly publicized growth.  In 2016, online retail sales only accounted for 8.1% of all retail sales.
Oil inventories continue to amass as US energy demand declines. Declining energy demand is a sure sign of overall economic decline.
Corporate earnings expectations continue their dismal path, suggesting that stock markets have been supported by central bank stimulus and blind investor faith in central bank intervention.
 Source: alt-market.com
---
Political/Rights
Trump: "Zero Proof" Of Russian Collusion "So Now They Go For Obstruction Of Justice"
"They made up a phony collusion with the Russians story, found zero proof, so now they go for obstruction of justice on the phony story. Nice" 
"You are witnessing the single greatest WITCH HUNT in American political history – led by some very bad and conflicted people!  #MAGA"
Source: zerohedge.com
Ken Starr Bursts CNN's Bubble; "No Obstruction Case Against Trump From What I've Seen"
CNN hosted Kenneth Starr, the independent counsel appointed in the 90's to look into various Clinton scandals, including the Vince Foster death and Monica Lewinsky episode, this morning to get his thoughts on the topic.
CNN:  "Do you think there is a case there?"

Starr:  "It's too soon to tell. From what I've seen — and of course we don't know a whole lot — the answer is no.  But it is going to be investigated and so we will soon know."

"Obstruction of justice is really a very hard crime to make out.  It's not just you want the investigation to go away, you suggest that the investigation goes away.  You've got to take really affirmative action and Director Comey said in his testimony that even though the expression was hope, he took it as a directive."

"But what we know is, he didn't do anything about it, right? That is that he did not dismiss the investigation or curtail the investigation. There's an expression of hope, so it becomes an interpretation."
Comey confirmed under oath that he'd never been asked to end an investigation for political purposes. 
Source: zerohedge.com
Putin: Russia ready to grant asylum to James Comey if he faces prosecution
President Vladimir Putin says Russia is ready to grant James Comey asylum, and that the former FBI director "should be aware of that." He went on to question the difference between Comey and former NSA contractor Edward Snowden."[Comey] suddenly said he recorded a conversation with Trump, and then handed the tape over to the media, which is strange," Putin said during his annual Q&A session on Thursday, noting that the leak put Comey in a vulnerable position."What's the difference between him and Mr [Edward] Snowden then? He's a human rights activist then, not an intelligence chief," Putin said.
Source: sott.net
White House Begins Its Government Reorganization
White House Office of Management and Budget Director Mick Mulvaney says the administration is ready to begin a broad government reorganization that could include efforts to merge federal agencies.
The White House says it's beginning a broad government reorganization that could include efforts to merge federal agencies.
Source: usnews.com
---
Geopolitical/Police State
A Replacement Of Population Is Taking Place In Europe
By 2065, it is expected that 14.4 million migrants will arrive. Added to the more than five million immigrants currently in Italy, 37% of the population is expected to be foreigners: more than one out of every three inhabitants.
First, it was the Hungarian route. Then it was the Balkan route. Now Italy is the epicenter of this demographic earthquake, and it has become Europe's soft underbelly as hundreds of thousands of migrants arrive.
With nearly 10,000 arrivals in one recent three-day period, the number of migrants in 2017 exceeded 60,000 — 48% more than the same period last year, when they were 40,000.

A replacement of population is under way in Italy. But if you open the mainstream newspapers, you barely find these figures.
Source: zerohedge.com
---
War
The U.S. Senate on Wednesday approved new sanctions to punish Russia for "meddling" in the 2016 election.
The bipartisan legislation, which passed with an overwhelming 97-2 vote, slaps new sanctions on Russia and restricts President Trump from easing them in the future without first receiving congressional approval. The only two senators to vote against the measure were Sens. Mike Lee (R-UT) and Rand Paul (R-KY), 
"broad new sanctions on key sectors of Russia's economy, including mining, metals, shipping and railways" and authorizes "robust assistance to strengthen democratic institutions and counter disinformation across Central and Eastern European countries that are vulnerable to Russian aggression and interference.
Source: zerohedge.com
Germany, Austria Slam US Sanctions Against Russia, Warn Of Collapse In Relations 
 Austria's Chancellor Christian Kern and Germany's Foreign Minister Sigmar Gabriel said it appeared that the Senate bill was aimed at securing US energy jobs and pushing out Russian gas deliveries to Europe.
Gabriel and Kern also accused the U.S. of having ulterior motives in seeking to enforce the energy blockade, which they said is trying to help American natural gas suppliers at the expense of their Russian rivals. And they warned the threat of fining European companies participating in the Nord Stream 2 project "introduces a completely new, very negative dimension into European-American relations."
Source: zerohegde.com
Russia, US Can Agree, Work Together on Issues Including Iran, Syria – Putin
Moscow and Washington can agree and work together, including on Iran and Syria issues, Russian President Vladimir Putin said Thursday during his annual "Direct Line" call-in session.
Source: sputniknews.com
'Don't want to be handcuffed to Minsk': Tillerson advocates 'flexibility' on Ukraine crisis and Russia
The US should develop a "more flexible" approach to the Ukrainian crisis instead of just strictly tying anti-Russian sanctions to the implementation of the Minsk agreements, US Secretary of State Rex Tillerson said.Tillerson .
Comment: Finally some refreshing comments from Tillerson asking Washington to look at the world a little differently. Hopefully it might sink in.
Source: sott.net
ISIS Drone Program Becoming Increasingly Dangerous For U.S. Special Forces In Raqqa
Over the past several months, ISIS has released a number of propaganda videos sensationalizing their autonomous attack capabilities.
In reality, the Pentagon has confirmed that the Islamic State's real drone program consists primarily of rather unsophisticated, off-the-shelf drones that have been retrofitted to drop 40mm grenade-sized munitions.
Source: zerohedge.com
---
False Flags
Shooter Declared Love For Rachel Maddow's Show In Letters To Editor
 Source: dailycaller.com
The Second Amendment Foundation (SAF) released a statement on June 14, indicating their conviction that the shooting on Congressional baseball players was the result of "Democratic hate speech."
"This hate speech that has been going on since Donald Trump was elected," said SAF founder and Executive Vice President Alan M. Gottlieb. "It gets their voter base agitated and this is what happens as a result. Is this just a coincidence this happened on the president's birthday?"
Source: breitbart.com
Shot congressman Rep Steve Scalise was actively seeking to stop pedophilia
Congressman Steve Scalise sustained a single rifle shot to the left hip. The bullet traveled across his pelvis, fracturing bones, injuring internal organs, and causing severe bleeding,"
Video uploaded by Steve Scalise vowing to fight pedophilia
"One of our greatest American values is our strong belief in the inherent worth of every human life. Human trafficking is a direct assault on this core value, and it affects millions of victims who need our help," Rep. Scalise said.
Source: hangthebankers.com
What is the deep state, elite trying to accomplish?
1. get the left all fired up by using hate speech
2. divide the country where people take sides
3. keep control
4. push agendas, like gun control
5. keep the world from finding out the truth on how they operate, which is through black mail, entrapment, scare tactics, false flags,
6. keep their pedo ring from being exposed
It just so happens that scalise was part of the crack down on human trafficing and cracking down on the pedo ring.
---
Other News
DHS, FBI WARN OF NORTH KOREA 'HIDDEN COBRA' STRIKES AGAINST US ASSETS
According to a United States Computer Emergency Readiness Team (US-CERT) bulletin, Hidden Cobra is leveraging malware called DeltaCharlie, which is the brains behind North Korea's distributed denial-of-service (DDoS) botnet infrastructure being used against U.S. assets.
Both the Department of Homeland Security and the Federal Bureau of Investigation were part of the Hidden Cobra research released Tuesday. They warn Hidden Cobra is actively targeting the media, aerospace, financial, and critical infrastructure sectors in the United States and other global assets.
A successful network intrusion attack could result in a "temporary or permanent loss of sensitive or proprietary information, disruption to regular operations, financial losses incurred to restore systems and files, and potential harm to an organization's reputation," according to the DHS and FBI.
Source: threatpost.com