Podcast: Play in new window | Download (Duration: 51:24 — 56.0MB)
UK housing home values have now declined for five consecutive months in a row. The real estate bubbles around the world are popping. The entire central bank economic recovery illusion is now coming to an end, the economy will continue to deteriorate and eventually collapse. The economy is falling apart and and Kim Dot Com has a warning to everyone, get out of the dollar and put your money into cryptocurrency and gold. The Emerging markets are breaking down and the Fed might not raise rates anytime soon. Peter Strzok has been fired. Omarosa says she has recordings of Trump saying the N word but this story is starting to fall apart. This entire show that we are watching might be a plan to trap the deep state and the MSM. A 2011 report from FB shows that they believe they can change public opinion during elections, so maybe it really wasn't the Russians that alters elections. Most of the illegal children that come to America do not have parents that came with them so they were never separated from their parents. Senior Taliban leader says the peace talks are going very well. The explosive device in Yemen was American made. Q drops more breadcrumbs and the pieces to the puzzle are coming together. The deep state is panic mode and they are being setup right now. Enjoy the show, the more you know.
Check Out The X22 Report Spotlight YouTube Channel X22Report Spotlight
Please check Newzsentinel.com for the latest news on the economic collapse. The Sentinel Alerts are updated throughout the day. If you haven't already, go to "The People" and join the community of people who are helping each through the economic collapse.
---
Current News – 08.14.2018
Watch The X22 Report On Video
---
Economy
UK Housing Prices Falling at Fastest Rate Since 2009 Crisis
   British home values declined for a fifth consecutive month in July in their longest losing streak since the global financial crisis. The ongoing depreciation,

According to a report from Acadata, British home prices dropped 0.2 percent last month to an average of £302,251 ($386,000) per home. Simultaneously, home sales in London declined by 7 percent year-on-year. This coincided with a decline in effective demand, both among EU and non-EU citizens.
Edwards said the Bank of England's (BoE) easy money policies of the past decade (with base interest rates as low as 0.25-0.5 percent) had spurred a debt-fuelled demand for housing. Meanwhile, open-border immigration policies made it easy for non-UK citizens to park their money in prime real estate in the UK.
"What you are doing is lending them more money, backed by the taxpayer, to push up house prices even more," Edwards said.
Source: sputniknews.com
America's long-term "balance sheet numbers" just continue to get progressively worse.  Unfortunately, since the stock market has been soaring and the GDP numbers look okay, most Americans assume that the U.S. economy is doing just fine.
But the stock market was soaring and the GDP numbers looked okay just prior to the great financial crisis of 2008 as well, and we saw how that turned out.  The truth is that GDP is not the best measure for the health of the economy.  Judging the U.S. economy by GDP is basically like measuring the financial health of an individual by how much money he or she spends .
If I went out right now and got a whole bunch of new credit cards and started spending money like there was no tomorrow, would that mean that my financial condition had improved?
No, in fact it would mean that my long-term financial condition just got a whole lot worse.
GDP is a measurement of how much economic activity is happening in our society, and it is basically an indication of how much money is changing hands.
But just because more money is changing hands does not mean that things are going well.  What really matters is what is happening to assets and liabilities.  In other words, is wealth being built or is more debt just being accumulated?
Economic growth that is produced by continually increasing amounts of debt is not a positive thing.  I wish that more people understood this very basic concept.  T
#1 U.S. consumer credit just hit another all-time record high.  In the second quarter of 2008, total consumer credit reached a grand total of 2.63 trillion dollars, and now ten years later that number has soared to 3.87 trillion dollars.  That is an increase of 48 percent in just one decade.#2 Student loan debt has surpassed 1.5 trillion dollars for the first time ever.  Over the last 8 years, the total amount of student loan debt has shot up 79 percent in the United States.#3 According to the Federal Reserve, the credit card default rate in the U.S. has risen for 7 quarters in a row.#4 One recent survey found that 42 percent of American consumers paid their credit card bill late "at least once in the last year", and 24 percent of Americans consumers paid their credit card bills late "more than once in the last year".#5 Real wage growth in the United States just declined by the most that we have seen in 6 years.#6 According to one recent study, the "rate of people 65 and older filing for bankruptcy is three times what it was in 1991".#7 We are in the midst of the greatest "retail apocalypse" in American history.  At this point, 57 major retailers have announced store closings so far in 2018.

#8 The size of the official U.S. budget deficit is up 21 percent under President Trump.

#9 It is being projected that interest on the national debt will surpass half a trillion dollars for the first time ever this year.

 

And I haven't even talked about unfunded liabilities.  Those are essentially future commitments that we have made that we don't have the money for at the moment.
According to Professor Larry Kotlikoff, our unfunded liabilities are well in excess of 200 trillion dollars right now.
Source: theeconomiccollapseblog.com
Anatomy of the Housing-Market Inflection Point in the Bay Area's Sonoma County: Insider View
The inflection point was in June. This is how inflection points show up at the subcutaneous level in all housing markets.
The first obvious sign that something was up, that something wasn't going the right way, came on June 6, 2017, when the housing market in Sonoma County was still booming, according to the data. Sonoma County is a little north of San Francisco, between the Pacific and Napa County. I
 Thomas Stone, a broker in Sonoma County, told me at the time. "Food and booze yes. But $1,000 cash seems qualitatively different." He'd received the offer of a $1000 cash raffle by Sotheby's for a broker's tour of four homes in the city of Novato that Sotheby's was trying to sell. The $1,000 would go to the winning broker.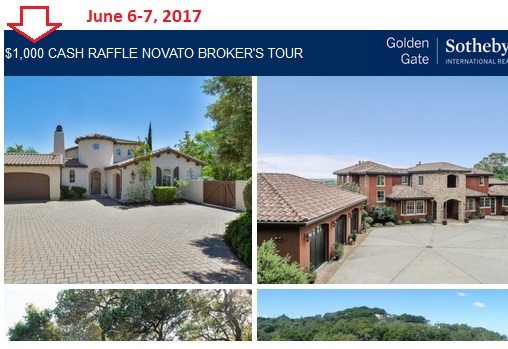 These kinds of antics are an early sign that it's getting tougher to sell homes at the prices sellers envision.
In June and July 2018, supply suddenly shot to the highest level in years. The chart below shows the number of homes listed for sale in the county. Both June (1,014 homes listed for sale) and July (1,135 homes listed for sale) hit the highest levels in the data going back to 2014: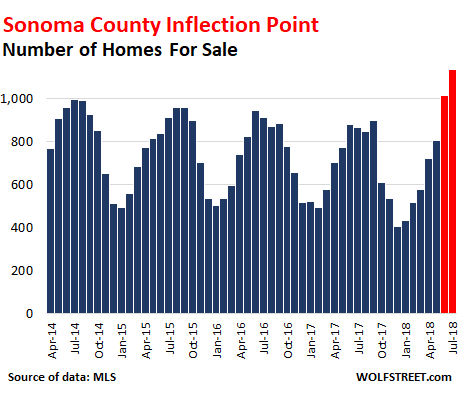 This inflection point becomes even more obvious in the year-over-year increase in the number of homes listed for sale: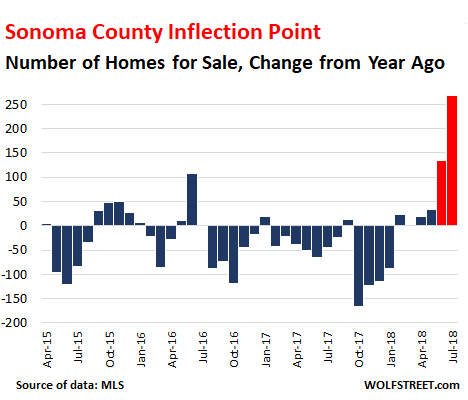 Months' supply of homes for sale – the number of homes for sale divided by the number of homes sold – jumped from 1.6 months in June 2017 to 2.3 months in June 2018. In July, it jumped to 2.7 months: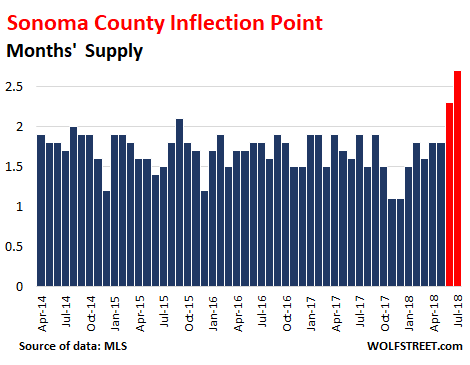 .
 Of the 114 "new" listings at the time, 30 had been listed before, and had been pulled because they didn't sell, and now were back on the market as "new" listings.
And there were 94 price reductions. "Some days the price reductions alone exceed new listings," he said.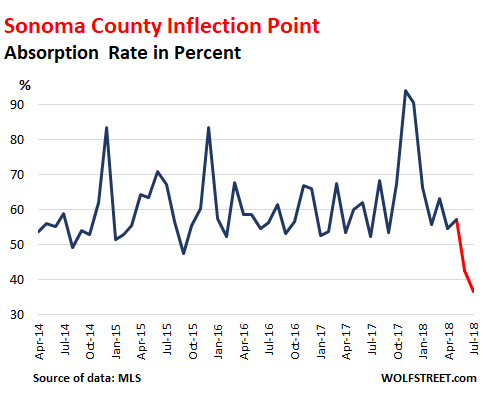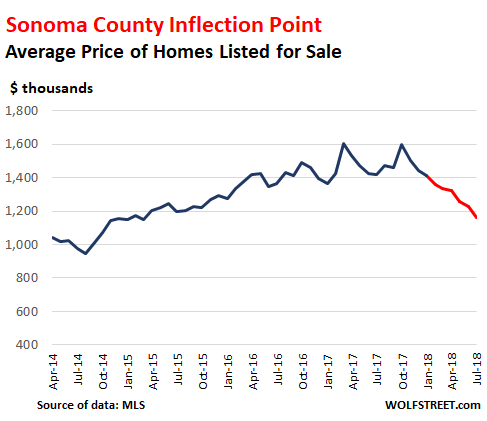 Source: wolfstreet.com
Kim Dotcom says dump 'worthless' dollar in favor of gold & crypto as US debt spirals out of control
 Kim Dotcom has called for the ditching of the US dollar, which, he says, is doomed to depreciation, and investing into gold and cryptocurrencies.
The huge US debt will destroy the American economy and lead to a global economic collapse, which is just around the corner,
Trust me. Buy crypto and gold. Your USD will become worthless. With US economic collapse all old money currencies will crash.

Times will get tough. But you'll be fine if you hedge some of your assets in preparation for the crash.

The big crash is coming 100%.

— Kim Dotcom (@KimDotcom) August 12, 2018
Dotcom had previously said that the US debt burden has become unmanageable with the government increasing the already huge figure by a trillion dollars annually, and will never be paid.
"The average unfunded liability in the US is now at $938,000 per taxpayer. Anyone who thinks US debt can be solved with economic growth, new debt or printing more dollars is an idiot. US Empire will default," he tweeted.
The average total debt per family in the US is now at 845000 USD.

The average unfunded liability in the US is now at 938000 USD per taxpayer.

Anyone who thinks US debt can be solved with economic growth, new debt or printing more dollars is an idiot. US Empire will default.

— Kim Dotcom (@KimDotcom) August 12, 2018
Source: rt.com
---
Political/Rights
Peter Strzok, who spearheaded the FBI's investigations into both the Clinton email "matter" and the investigation into Russian interference in the 2016 election, has been fired from the agency over anti-Trump texts, 
Strzok's termination follows a June report that he was physically escorted out of an FBI building despite still being employed by the agency.
News – FBI special agent Peter Strzok was escorted out of the FBI building on Friday, source familiar tells me; as of today, he is still employed; he's been stationed in Human Resources since dismissal from Mueller team.

— Laura Jarrett (@LauraAJarrett) June 19, 2018
…..Will the FBI ever recover it's once stellar reputation, so badly damaged by Comey, McCabe, Peter S and his lover, the lovely Lisa Page, and other top officials now dismissed or fired? So many of the great men and women of the FBI have been hurt by these clowns and losers!

— Donald J. Trump (@realDonaldTrump) August 11, 2018
Source: zerohedge.com
Omarosa's tape from inside the Situation Room fuels massive freakout over security
Former White House aide Omarosa Onee Manigault-Newman has unleashed a collective freak-out on Twitter after she revealed she recorded a conversation with chief of staff John Kelly from inside the White House Situation Room.
Omarosa made the shock revelation on NBC's 'Meet the Press' Sunday, where a clip of the covert recording was played. It features Kelly telling Omarosa her departure from the White House could be a friendly one.
Keep this in mind, The Situation Room is a secure conference room located in the basement of the White House, where people are required to leave their electronic devices outside before entering. It is run by the National Security Council and contains secure communications equipment which the president uses to communicate with the military and receive intelligence. Sensitive phone calls with world leaders also take place inside.
The room has sensors to detect cellular signals and bugs. There is a lead-lined box for communications devices at the reception area. There are small lockers outside the Situation Room where officials are supposed to put their phones, Apple watches, etc

Source: rt.com
Omarosa's new disclosures have been timed with the release of her new book, Unhinged. The former Apprentice contestant appeared on NBC's Meet the Press with Chuck Todd on Sunday where she dropped the Kelly recording – only to turn around and released a phone call with Trump in which he says he didn't know she was fired.
What's more – Omarosa was  caught in a lie about whether she heard President Trump use the N-word – claiming in her new book that someone told her pollster Frank Luntz heard Trump say it,
Wacky Omarosa, who got fired 3 times on the Apprentice, now got fired for the last time. She never made it, never will. She begged me for a job, tears in her eyes, I said Ok. People in the White House hated her. She was vicious, but not smart. I would rarely see her but heard….

— Donald J. Trump (@realDonaldTrump) August 13, 2018
…really bad things. Nasty to people & would constantly miss meetings & work. When Gen. Kelly came on board he told me she was a loser & nothing but problems. I told him to try working it out, if possible, because she only said GREAT things about me – until she got fired!

— Donald J. Trump (@realDonaldTrump) August 13, 2018
And in his latest tweet on the subject, Trump hinted that Omarosa may have some legal issues, writing "Wacky Omarosa already has a fully signed Non-Disclosure Agreement!"
Wacky Omarosa already has a fully signed Non-Disclosure Agreement!

— Donald J. Trump (@realDonaldTrump) August 13, 2018
This is the NDA that Omarosa Manigault Newman claims she received after leaving the White House pic.twitter.com/k7DtoQ3myw

— Edward Hardy (@EdwardTHardy) August 13, 2018
Source: zerohedge.com
Frank Lutz Responds to Omarosa's claim
I'm in @Omarosa's book on page 149. She claims to have heard from someone who heard from me that I heard Trump use the N-word.

Not only is this flat-out false (I've never heard such a thing), but Omarosa didn't even make an effort to call or email me to verify. Very shoddy work.

— Frank Luntz (@FrankLuntz) August 10, 2018
Source: truepundit.com
FACT CHECK: Brit Hume Claims That The Number Of Unaccompanied Minors Dwarfs The Number Separated At The Border
Fox News senior political analyst Brit Hume said on Twitter that the number of migrant children who arrived at the border alone, without their families, is much higher than the number forcibly separated from their families at the border.

"I wonder if the journalists working this story are aware that the overwhelming majority of immigrant minors separated from their families arrived at the border without families," he tweeted Wednesday.
"There are far more children separated from parents who arrive that way then there are children separated at the border," he elaborated in a tweet Thursday.
Verdict: True
The government identified 2,634 migrant minors in its care who were forcibly separated from adults. Several times as many alien minors in its care arrived in the U.S. without an adult.
The U.S. Border Patrol has apprehended over 40,000 unaccompanied minors so far in fiscal year 2018.
Fact Check:

"80% of minors cared for by HHS arrived in the US alone, unaccompanied, without a parent. They were not separated by the government," the White House said in a June tweet.
Because the law prohibits children from being held in federal detention facilities, the government separated children from illegal immigrant adults being detained. The Department of Homeland Security referred the children to the Office of Refugee Resettlement within the Department of Health and Human Services (HHS).
. A 2016 report to the Senate said that HHS placed almost 90,000 unaccompanied alien minors with sponsors in the U.S. since the beginning of FY 2014.
The number of unaccompanied alien minors apprehended by the Border Patrol around the time that the Trump administration implemented the zero-tolerance policy is much higher than the 2,634 forcibly separated minors. The Border Patrol apprehended 10,666 minors who arrived at the border without an adult in April and May. It has caught 41,347 unaccompanied alien minors at the border so far in FY 2018, from October 2017 to July 2018.

Source:  checkyourfact.com
---
War
Senior Taliban official praises initial peace talks with US
The leader, from an organisation within the Taliban* called 'Quetta Shura,' has been quoted as saying that both sides intend to hold the next round of talks in September, and that these "will be more specific and focused on key issues." He also added that, "once the breakthrough is started it will be stunning for all."The comments come on the heels of a string of reports since the end of July, which describe an unprecedented face-to-face meeting held in the Qatari capital, Doha, between a Taliban delegation and officials from the US State Department, led by senior diplomat Alice Wells. Representatives from the Islamist insurgency were quick to laud discussions at that time too, describing them as "very positive."While Washington officials with detailed knowledge of the negotiations remain tight-lipped, Taliban delegates who were in attendance let a few of the specifics loose: allegedly, a key US demand is for Washington to maintain a military presence in Afghanistan while peace talks are ongoing. While initially hostile to such a suggestion, reports suggest that the insurgency's leadership council has since suggested that it could be open to the idea on the condition that the US plays an active political role in the peace process
Source: sott.net
A prominent Yemeni journalist who throughout the war has been instrumental in getting images and information out of the country ahead of Western journalists has photographed and examined fragments from one of the exploded missiles found at the site of the US-Saudi coalition airstrike on a school bus in Yemen, which left as many as 50 people dead and 63 injured — the vast majority of which were children. 
The image of the missile fragment, believed to be among those that scored a direct hit on the bus full of children traveling through Dahyan market in Saada province last Thursday, was uploaded by Sanaa-based Hussain Albukhaiti and quickly spread online over the weekend. It appears to be a US-made MK-82 guided bomb produced by Lockheed Martin.
Ben Norton, an American journalist among the first to track down publicly available government contract information showing the MK-82's likely origins,  is a US-made MK-82 guided bomb, which has been used in previous attacks on Yemeni civilians. The cage code on the bomb is Lockheed Martin's."
The MK-82 is a 500-pound air dropped guided bomb which US Air Force and military publications previously touted as "causing the least amount of collateral damage" — US defense contractors have over the past few years sold the MK-82 to Saudi Arabia under contracts worth tens of millions of dollars.
Source: zerohedge.com
  PetroChina – the world's first company to hit (and lose) a $1 trillion market cap long before Apple – was in advanced discussions with Qatar to purchase liquefied natural gas (LNG) under short- and long-term agreements. The superficial explanation was that China needed to secure generous amount of LNG to supply its push to replace coal with cleaner burning natural gas to reduce air pollution. And sure enough, after Beijing started the program last year, China had overtaken South Korea as the world's second-biggest buyer of LNG.
The deal also made sense from the perspective of the "blockaded" Qatar, the world's biggest LNG producer, as the isolated Middle Eastern country sought buyers for a planned output expansion.
As it turns out there was another reason for the PetroChina supply diversification: PetroChina may temporarily halt purchases of spot U.S. liquefied natural gas spot cargoes through the winter to avoid potential tariffs as a result of the trade war between the U.S. and China, Bloomberg reported on Sunday according to sources with knowledge of the strategy. 
Source: zerohedge.com
Russian Special Forces arrive in southern Idlib for upcoming offensive
  Russian Special Forces and several aircraft technicians arrived in the southern countryside of Idlib.
The Russian military will likely remain in the advisory role during this offensive, as they have done in the past
Source: almasdarnews.com
Russia prepares to meet with France, Germany, Turkey for Syria summit
Preparations for a summit meeting between the leaders of Russia, Turkey, Germany and France on the Syrian settlement will be in focus of Russian Foreign Minister Sergey Lavrov's talks with his Turkish counterpart,
"The Russian side proceeds from the fact that Russia and Turkey bear special responsibility for peace, security and stability in Syria and in the entire region," the ministry said. "The ministers will discuss preparations for a four-lateral summit of the Russian, Turkish, German and French leaders on the Syrian settlement that is planned to be held soon."
The sides will look at ways to launch the process of political settlement in Syria "through maintaining an inclusive national dialogue on the basis of generally recognized principles of international law," the ministry noted.
Source: almasdarnews.com
---
Q
Q is saying here that if #TheCabal can't demoralize us, they're willing to start a war to distract us (and blame on Trump/the Republicans).
Here is an update on the the Q400 plane and Iron Eagle Post
But this whole plane incident is so strange.
Lets start with the  hijacker, and, well, its similarity to a supposedly scrapped submarine:
Oh, and he was also a baker:
The third odd thing was the slogan of this sub:
And some #Anons thought that related back to Q's older drops talking about "saving the best for last."
The plane crashed on Ketron Island – an island with 17 inhabitants, and whose name means "True Victory."
Anons on halfchan claimed to have found images of the island… but the images were quickly deleted
The Naval Shipyard in the area experienced some recent happenings of its own:
Anon isn't quite sure what he saw on the weather cams, but he definitely saw something that resembles a missile:
One anon theorizes about the sub, and possible nukes:
And then there was the flight pattern itself:
I'm thinking all Q means by Iron Eagle is that there are F-15 "Eagles" in the air – even though the movie Iron Eagle actually features F-16 "Falcons."
I posted this graphic from anon on Gab in my frustration last night:
One Anon had a Eureka moment:
And finally… one Anon tries to tie it all together for us: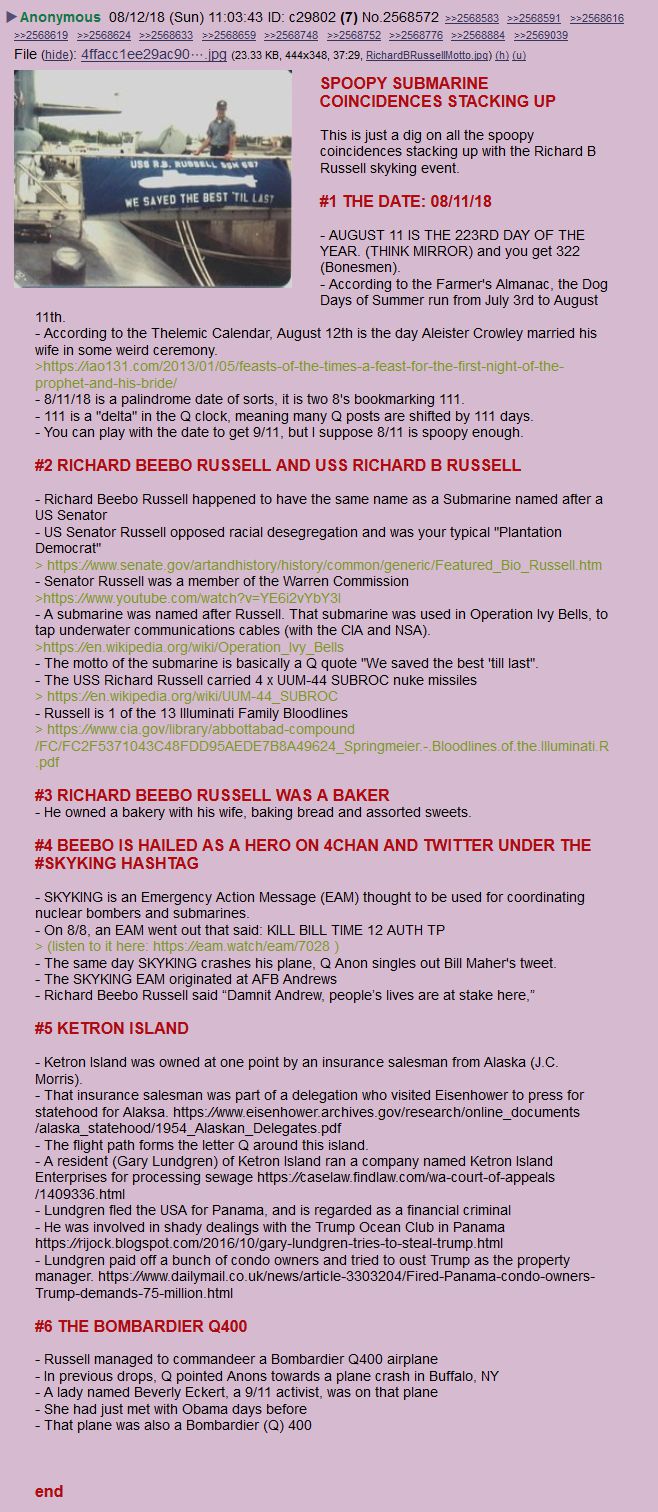 If I had to guess, with everything we've just reviewed in mind, Richard "Beebo" Russell isn't a real guy. He's a cover story for an NSA agent. (The baker backstory, and the barrel roll? COME ON!)
His family? The ones who conveniently didn't appear on TV but who had a "friend" (who looks like a long-time military guy himself) read a statement for them, while a "concerned group" looked on? No tears being shed? Yeah, not buying it, either. Just a show for the media.
There was no way an untrained baker decided to fly as complicated a machine as that on a whim, did those kinds of maneuvers (which an untrained pilot could easily mess up, causing him to fall from the sky), and then crash land on a remote island.
More likely – Beebo was an NSA asset that had been in place for months, in an area the NSA had been monitoring for a while, due to heightened levels of Cabal activity.
Note: this next article supports my theory that the Military has been actively monitoring the whole area:
This Mysterious Military Spy Plane Has Been Flying Circles Over Seattle For Days
Maybe Q will clarify what happened.  Ok, we are going to move on to post 1851 since we covered the other posts already.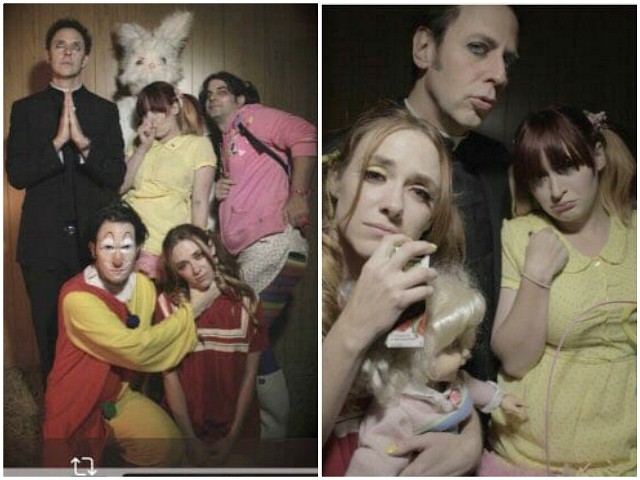 Guardians of the Galaxy director James Gunn attended a pedophilia-themed party, according to photographs surfacing on line.
Breitbart
So now Q is linking Bill Maher… with James Gunn… in one post:
Anon figured out why:
Sure enough, Matt Gunn is one of Maher's longtime writers:

It's been called an #OpenSecret for a reason. Remember, Maher was on ABC before he jumped to HBO, so he could be edgier, smoke weed, and drop F-bombs all over the place. You're telling me ABC didn't know anything about any of his more questionable behaviors??
ABC is Disney, remember.
The same company that ditched Roseanne.
The same company that hired James Gunn.
And you want us to believe that Warners doesn't know anything now?
"For those who said I was way off comparing #MicheleBachman at debate on Wed with Planet of the Apes…"
NBC is gearing up for that big report to drop at The Daily Beast, detailing the culture of abuse at NBC. The Daily Beast is getting to release a piece on sexual misconduct at NBC

The s8n account is weird.
Q references some of the tweets that got James Gunn fired in this post:
But the s8n account is run by an English guy in his mid-twenties:
When everyone started referring to Trump as Satan's son, the parody account embraced it.
For now, next Q:
"Compromised."
Riiiiiiiiight.
It's telling that they go running right to David Brock (James Alefantis ex-boyfriend. Yes, the Comet Pizza and Ping-Pong one).
The same David Brock that runs Share Blue – the guys who do all the shilling on the boards and such.
UN Report Details Widespread Child Rape by High-Level UN Employees
A deeply disturbing report has finally been released by the United Nations detailing the rampant sexual exploitation of children by UN employees that is widespread, throughout multiple countries.
While pieces of the report were released previously, the full report, detailing the scope and horrifying nature of the abuse was only just released in July.
As Disobedient Media points out in a scathing report,
The publication of a summary version of the report caused a global furor in 2002, eventually leading to some policy changes. However, these efforts have proven woefully insufficient in light of ongoing scandals, including but not limited to the recent Oxfam debacle, the Zoe's Ark scandal, allegations of horrific sexual abuse in the Central African Republic by UN forces, and the Laura Silsby incident. All of these cases (and many others) occurred after the partial publication of the UNHCR report, pointing to one unsavory conclusion:

Aid work is not a vehicle of charity, but is, in a very real sense, a cover for atrocity. It is a weapon, a blunt instrument of power that is wielded to exploit the most vulnerable populations in crisis around the world. We can now state that sentiment as fact, not opinion.
The report reads like a nightmare and states in part:
Agency workers from local and international NGOs as well as UN agencies are among the prime sexual exploiters of refugee children often using the very humanitarian assistance and services intended to benefit refugees as a tool of exploitation. Male national staff were reported to trade humanitarian commodities and services, including medication, oil, bulgur wheat, plastic sheeting, education courses, skills-training, school supplies etc., in exchange for sex with girls under 18. The practice appeared particularly pronounced in locations with significant and established aid programs.

There was compelling evidence of a chronic and entrenched pattern of this type of abuse in refugee camps in Guinea and Liberia in particular…The number of allegations documented, however, is a critical indicator of the scale of this problem as altogether 42 agencies and 67 individuals were implicated in this behavior…
Security and military forces including international and regional peacekeepers, national forces and police units are another significant category of exploiters. UN peacekeepers in Sierra Leone are alleged to be extensively involved in the sexual exploitation of children with the assessment team recording allegations against UNAMSIL peacekeepers from nine countries. Details of these allegations, which also require verification, have likewise been submitted to UNHCR.

The sex exploiters are men in the community with the money, power and influence: agency workers, peacekeepers, regional and national armed forces, teachers, police, businessmen, diamond miners, refugee leaders and logging company staff.
One would think that this 2002 report would have curtailed at least some of the abuse when a portion of it was publicly released at the time. However, that appears not to have happened. As TFTP reported earlier this year, an outright frightening dossier released by a former senior United Nations official revealed that United Nations employees have carried out over 60,000 rapes in just the last decade. What's more, the dossier estimates that the organization currently employs at least 3,300 pedophiles.
In just ten years, under the guise of rendering aid, the United Nations has literally been raping and pillaging countries across the world. The problem has gotten so out of hand that it prompted the former UN insider, Andrew Macleod, to blow the whistle and hand over the evidence to Britain's Department for International Development (DFID) Secretary Priti Patel.
According to the exclusive report by the Sun, the dossier reveals that on top of the 3,300 pedophiles working for the organization, thousands more "predatory" sex abusers specifically target aid charity jobs to get close to vulnerable women and children.
According to Macleod, anyone who's attempted to blow the whistle on the horrifyingly rampant abuse is silence and fired.
Sharing his dossier with The Sun, Prof MacLeod last night warned that the spiralling abuse scandal was on the same scale as the Catholic Church's.
While the report reveals that there are 3,300 current employees who are active pedophiles on the UN's payroll, Macleod estimates the real number to be far higher.
There are tens of thousands of aid workers around the world with paedophile tendencies, but if you wear a UNICEF T-shirt nobody will ask what you're up to.

You have the impunity to do whatever you want.

It is endemic across the aid industry across the world.

The system is at fault, and should have stopped this years ago.
According to the report in the Sun:
Professor MacLeod worked as an aid boss for the UN all over the world, including high profile jobs in the Balkans, Rwanda and Pakistan – where he was chief of operations of the UN's Emergency Coordination Centre.

He is campaigning for far tougher checks on aid workers in the field as well as the abusers among them to be brought to justice, and wants the UK to lead the fight.
The professor's grim 60,000 figure is based on UN Secretary General Antonio Guterres's admission last year that UN peacekeepers and civilian staff abused 311 victims in just one 12 month period over 2016.

The UN also admits that the likely true number of cases reported against its staff is double that, as figures outside of war zones are not centrally collated.

Prof MacLeod also estimates that only one in 10 of all rapes and assaults by UN staff are reported, as even in the UK the reporting rate is just 14 per cent.

Based on evidence from Prof MacLeod, ex-Cabinet minister Priti Patel – who resigned in November last year – this week accused senior officials at DFID of being part of the cover up.
"Child rape crimes are being inadvertently funded in part by United Kingdom tax-payer," explained Macleod.
"I know there were a lot of discussions at senior levels of the United Nations about 'something must be done' but nothing effective came of it, and if you look at the record of whistleblowers, they were fired," he said.
We are looking at a problem on the scale of the Catholic Church — if not bigger.
As the Free Thought Project has been reporting for years, none of these predators are ever held liable, and as this report shows, only the ones who expose it are fired.
In a blow to victims of human trafficking worldwide, a massive child sex ring was exposed in Haiti — involving international 'peacekeepers' with the United Nations as well as other high-level officials from around the world — and no one went to jail.
Perhaps it's time we stop relying on the ones who keep getting caught raping children to stop people from raping children. A novel idea indeed.
Source:  planetfreewill.com
In an interview on NBC's "Meet the Press," former White House aide and "Apprentice" star Omarosa Manigault Newman releases a recording of her firing by White House Chief of Staff John Kelly.
CNN
It's definitely Trump's style to have his staff sign NDAs, on top of existing criminal law against leaking classified intel to unauthorized persons. People need to understand that Trump isn't some risk-taking fly-by-night. He always takes steps to minimize risk as much as possible – even in his marriages. He's always had prenuptial agreements. And if you read Art of the Deal, you know he's approached business much the same ways his whole life.
Anyway, it's worth listening to the whole interview, because it highlights some of the tactics the media is using: spreading doubts about Trump's mental health, his "secret racism," and how the whole administration is lying to the American people:
But did you catch it? At 13:17 in the video, Omarosa says, "You have to have your own back, because otherwise, you'll look back and you'll see 17 knives in your own back!"
Chuck Todd then asks her if she would approve the White House releasing whatever HR files they have, listing whatever "integrity violations" Omarosa committed. Omoarosa approves wholeheartedly, and invited the White House to do so.
Think they'll take her up on that offer?
Getting the picture yet?
I believe Q is saying that Omarosa is a total White House plant, one who is still on-board with Team Trump and the #MAGA Agendya, and who is now using these "tapes" (which totally weren't recorded with everyone's knowledge) as a pretense to control a news cycle, eventually leading to some kind of significant disclosure.
Wild stuff. The #MockingbirdMedia report on this otherwise criminal violation because they feel protected by the CIA – when in fact, they've just been baited by the White hats.Crazy
The Gateway Pundit has always been pretty solid.
Over the last week the Washington Post, New York Times, CNN. NBC News, CBS News, Bloomberg, The New Yorker, Vox, and the Daily Beast have all written a plethora of over 20 articles on the Qanon Movement all using highly similar talking points to marginalize the movement.

Instead it's just pushing it into the cultural mainstream– the Streisand Effect. The liberal mainstream media will never learn.
Yeah, we're much bigger than they want us to think. They want us to feel isolated and crazy, so that we don't take the risk, stand up, speak out, and come together against them.
Weakness begins in the mind. If you think you're weak, if you think you'll fail, you won't even try. So it's no surprise they attack the mind first.

Back to s8n for a moment.
Q is telling us s8n was never the target.
He's telling us that the people RESPONDING to s8n with sockpuppet accounts were the target.
.