Podcast: Play in new window | Download (Duration: 42:12 — 46.7MB)
The property bubbles in Australia and Canada are now popping, this will spread and cause problems in other countries. US manufacturing slumps as orders decline. The US has shipped the majority of manufacturing overseas, it will take time to bring it back. The corporate media have started the push to say their is going to be a recession within 2 years. Most likely they will push the recession right before the Presidential elections, it looks like this is what they have planned, but on the other side the economy could come down many other reasons and the central banks will not be able to control it. Jeff Sessions is rewriting the Asylum laws. Soros held a meeting with the PM of Spain and the discussion revolved around immigration. USS Truman is headed towards  maritime security operations in international waters and the deep state is using this to say that the ship is headed near Russia to fight their aggression. The President of Iran is headed off to Austria to talk about the nuclear deal. Damascus and the Kurds are talking peace. Bolton is now saying Iran must leave Syria instead of Assad must go. Trump sends Putin signal by stopping the funding and support of the rebels in the South. The FBI caught a man who was planning to stage an event during the 4th of July. Q drops some more bread crumbs and lays out the indictments.
Check Out The X22 Report Spotlight YouTube Channel X22Report Spotlight
Please check Newzsentinel.com for the latest news on the economic collapse. The Sentinel Alerts are updated throughout the day. If you haven't already, go to "The People" and join the community of people who are helping each through the economic collapse.
---
Current News – 07.02.2018
Watch The X22 Report On Video
---
Economy
Update on Deflating Property Bubbles in Sydney & Melbourne
"Recent home buyers could be facing negative equity": CoreLogic.
In Sydney, Australia's largest property market and Petri dish for one of the world's biggest housing bubbles, home prices fell 4.6% in June compared to a year ago, with house prices down 6.2%, and prices of condos ("units" as they're called) down 0.7%, according to CoreLogic. The most expensive sector got hit the hardest: in the top quartile of home sales, prices fell 7.3%. In the nine months since the peak in
September, the overall Daily Home Value Index has fallen 5.0%: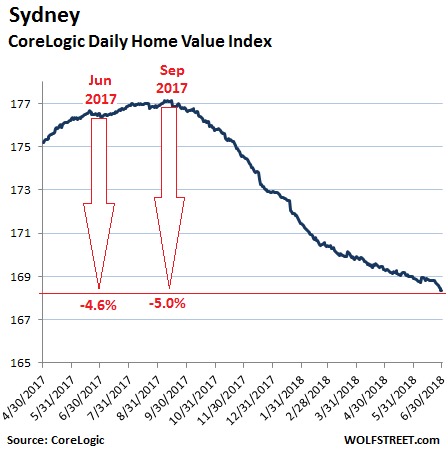 But it had been one heck of a boom in Sydney, where home prices had jumped over 80% from the end of 2009 through the peak in September last year. Even during the big-bad Global Financial Crisis, they'd only dipped 4.6%.
So the market is changing, and the denying has stopped. Australian banks are getting put through the wringer by the Royal Commission with ongoing revelations of an ever longer list of misdeeds, particularly in the mortgage sector.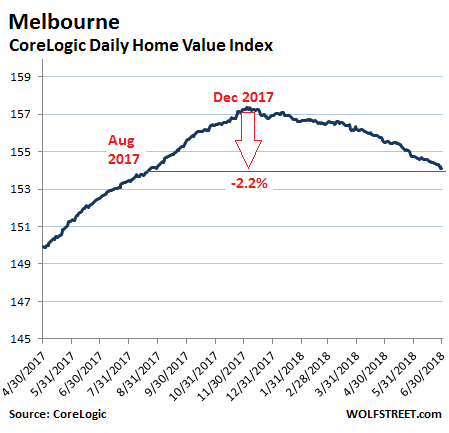 But these are just the initial signs that the market is turning. Home prices remain 32% higher than five years ago, according to Corelogic research director Tim Lawless. Seen from a different perspective: there's still a lot of air underneath these prices.
And suddenly there's the prospect that "recent home buyers could be facing negative equity," he said:
"Tighter finance conditions and less investment activity have been the primary drivers of weaker housing market conditions, and we don't see either of these factors relaxing over the second half of 2018, despite APRA's 10% investment speed limit being lifted this month."
Sydney: 56%, down from 68% a year ago
Melbourne: 60%, down from 71% a year ago
Brisbane: 38%, down from 52% a year ago
Adelaide: 55%, down from 61% a year ago
Perth: 25%, down from 40% a year ago
CoreLogic summarizes in its auction report:
In Canada, the housing bubbles in Toronto and Vancouver have been on a similar track. Locking back on the wild party times, the public mortgage insurer's massive survey of recent homebuyers reveals all.
Source: wolfstreet.com
Following disappointing prints in European PMIs and contraction in Brazil, US Manufacturing PMI also slipped to the lowest since February with optimism at the lowest since January; B
Manufacturing PMI dropped from 56.4 to 55.4 (4-month lows) but better than 54.6 expectation.
 
Under the hood, it's stagflation red flags as the PMI showed output growth slowing, new order growth at the weakest since Nov 17,
And as far as the global synchronous recovery narrative, that's over…
Just this morning, Brazil joined Russia, Turkey, Malaysia, and South Korea in 'contractionary' sub-50 territory according to Markit's PMI, as we additionally point out that South Korean exports fell 0.1% YoY in June…
Historically a big red flashing warning sign for US recession.
Source: zerohedge.com
The second-longest economic expansion in US history will most likely end in 2020 as the Fed raises interest rates to cool off an overheating economy, reports the Wall Street Journal which surveyed 76 forecasters.

 "The current economic expansion is getting long in the tooth by historical standards, and more late-cycle signs are emerging," said Bank of the West's chief economist Scott Anderson, chief economist, who thinks a 2020 recession is likely.
As for the cause – 62% of forecasters said that an overheating economy would lead to Fed tightening, while other economists (at least 5%) said that another financial crisis, bubble bursting or disruptions to international trade would be the culprits.
The takeaway: while a recession isn't imminent, the economy won't expand forever – and the next downturn may arrive during the 2020 presidential campaign.
Source: zerohedge.com
---
Political/Rights
Attorney General Jeff Sessions is drafting a regulation that will narrow the asylum rules and likely deter many people from taking the costly and risky step of migrating towards the United States, according to Vox.com.
 draft of the regulation, which could be enacted by the end of the year:
Under the plan, people would be barred from getting asylum if they came into the US between ports of entry and were prosecuted for illegal entry. It would also add presumptions that would make it extremely difficult for Central Americans to qualify for asylum, and codify — in an even more restrictive form — an opinion written by Sessions in June that attempted to restrict asylum for victims of domestic and gang violence.

…

But as it exists now, the proposal is a sweeping and thorough revamp of asylum — tightening the screws throughout the asylum process.

One source familiar with the asylum process but not authorized to speak on the record described the proposed changes as "the most severe restrictions on asylum since at least 1965" — when the law that created the current legal immigration system was passed — and "possibly even further back."
The rules would deny asylum to Central Americans who did not seek asylum in Mexico, to people who enter the country illegally, and would narrow the definition for membership of s persecuted group, such as victims of spousal abuse or gang threats, according to Vox.com.
The rewrite may help deter and prevent most migrants from exploiting the 1997 Flores settlement and other "catch and release" loopholes which are now being used by huge numbers of Central American to move into the United States.
Sessions' new regulations would not change the federal asylum law — but would merely the agencies' interpretation of the law. He has already used his authority to change many aspects of the asylum process as he tries to reduce the backlog of 600,000 asylum cases.
Source: breitbart.com
---
Geopolitical/Police State
REPORT: Soros Held 'Secret Meeting' with Spain's Socialist, Pro-Mass Migration Leader
Billionaire globalist George Soros has met "secretly" with the new socialist, open borders supporting Prime Minister of Spain,
Soros and Sánchez met with the Minister of Foreign Affairs, European Union, and Cooperation, Josep Borrell Fontelles, "to be able to share their economic and future views".
The reported secret meeting came two weeks after Sánchez proved his open borders credentials by taking in the Aquarius migrant transport ship, carrying more than 600 illegal migrants picked up off the coast of Libya, after it was rejected by the new patriotic, populist Italian government.
The socialist also pledged to take down the barbed wire fences that protect Spain's two North African exclaves, 
This leaves Soros with socialist countries open to mass migration like Spain to work with, after Central Europe outright rejected EU plans to redistribute migrants across the bloc, with anti-mass migration parties growing in support in other traditionally left-wing, progressive Western European nations like Germany and Sweden as well.
Source: breitbart.com
---
War
USS Harry S. Truman (CVN-75) conducts a strait transit. Truman is currently deployed as part of an ongoing rotation of U.S. forces supporting maritime security operations in international waters around the globe on April 27, 2018. 
Source: zerohedge.com
Iran's Rouhani leaves for Switzerland, Austria to discuss nuclear deal
Iranian President Hassan Rouhani left Monday for a visit to Europe. The trip was billed as being "of prime importance" after the US pulled out of the 2015 nuclear deal between Tehran and world powers. Rouhani was heading for Switzerland and scheduled to travel on to Vienna on Wednesday, where the nuclear deal was signed in July 2015. The visit will be an "opportunity to talk about the future of the [nuclear] agreement,"
Source: rt.com
BOMBSHELL: Obama administration granted citizenship to 2,500 Iranians during nuclear deal: Iran official
The Obama administration granted citizenship to 2,500 Iranians, including family members of government officials, while negotiating the Iran nuclear deal, a senior cleric and member of parliament has claimed.
He claimed it was done as a favor to senior Iranian officials linked to President Hassan Rouhani, and he alleged the move sparked a competition among Iranian officials over whose children would benefit from the scheme.
Source: investmentwatchblog.com
Breaking: Syrian gov't, Kurdish PYD make important agreement in Al-Hasakah
A preliminary agreement was made between the Syrian Arab Army (SAA) and Kurdish-led People's Protection Units (YPG) in northern Syria,
 Furthermore, the YPG will allow the Syrian Army to reopen recruitment offices in the Al-Haakah Governorate.
This preliminary agreement comes after the government met with Kurdish delegates in both Damascus and Qamishli city.
The source continued that the government is attempting to convince the Kurdish Democratic Federation to agree to the following:
Join forces with the government across the country
Handover the Tal Kojar and Simalka border-crossings into Iraq
Handover the Al-Darbasiyah and Ras Al-'Ayn border-crossing into Turkey
The YPG is asking in return that the government make the Kurdish language a part of the Syrian educational system, count the period the YPG fighters served as service in the SAA, and give a Kurdish official a permanent seat in the Syrian oil ministry.
Source: almasdarnews.com
Trump Adviser Bolton Shifts Tone From 'Assad Must Go' to 'Iran Must Leave Syria'
 John R. Bolton,   seems to have given up on his "Assad must go" rhetoric,
For their part, Tehran and Damascus have denied all claims about Iranian forces in Syria, pointing out that Iran is present in Syria only in an advisory capacity in the country's fight against Islamist extremism.
Source: sputniknews.com
By halting aid to Syrian rebels in the south, the US is sending a signal to Moscow ahead of the meeting between Russian President Vladimir Putin

"Israel will not prevent Assad's forces from taking positions near the [Israeli] border if the Iranians and Hezbollah are not there.
Source: sputniknews.com
---
False Flags
FBI prevents 4th of July terrorist attack in Ohio
The FBI has announced that they arrested an individual that was allegedly helping plan a terrorist attack in downtown Cleveland on the 4th of July.
The man, 48-year-old Demetrius Pitts, also known as Abdur Raheem Rahfeeq, was arrested on Sunday, and faces charges of providing a foreign terrorist group with financial support. If convicted, he could face 20 years behind bars.
Pitts, who is a US citizen, came to the FBI's attention in 2017 after he made "disturbing" Facebook posts in support of Al-Qaeda, and calling on his fellow Muslims to train with weapons and explosives. An agent was assigned to monitor Pitts.
Speaking to the undercover agent, Pitts allegedly pledged allegiance to Al-Qaeda. He reportedly talked to the undercover agent about his hatred for the US military and his desire to "chop off hands and heads" of military families.
In a news conference held Monday, FBI officials said that Pitts carried out reconnaissance in downtown Cleveland as recently as last week. US Attorney Justin Herdman said that Pitts was looking for somewhere to park a van packed with explosives and shrapnel.
He allegedly told the undercover agent that he would "blow up the fourth of July parade," as this would hit Americans "in the core." Officials
 
Pitts also told the undercover agent that he planned on carrying out a second terrorist attack in Philadelphia, Pennsylvania at some point in the future.
 He has a long criminal record of assault, domestic violence, aggravated robbery, and carrying a concealed weapon.
Source: rt.com
---
Q
The Manchurian President #NewQ #QAnon #WalkAway #GoodbyeDemocrats #GreatAwakening
40k, eh? Grand Inquisitor Huber has been keeping himself busy.
IG Horowitz, huber.
Yes, Huber has a level of authority rarely seen, and it has sent the rats scurrying for the hills.

The Midterms are the last ditch push by #TheCabal to retain control. I
>What % of DC voted for HRC?
>Q
>Hillary Clinton Democrat 282,830 90.9%
>The nation's capital has awarded its three electoral votes to the Democratic candidate in every presidential election since it gained the right to vote for president in 1961. Barack Obama won District of Columbia in 2012 by 83.6 percentage points.
Anon puts it this way:
In the short year and a half that President Trump has been in office, he has put in place policy that has mitigated the damage that President Obama inflicted on our national security and on our allies. The speed with which Trump has been able to turn things around points to the diabolical depths the Obama administration went to in order to undermine our national strength and way of life. All Trump had to do was stop doing things that hurt America; America could then take care of itself. The results are plain as day. However, it will take decades for the Obama damage to be completely undone. The deviousness of the Obama sedition runs deep.

Think about it or a moment. If you wanted peace in the Middle East, why would you throw away the trillions of dollars spent, as well as the lives of thousands of American souls, by irresponsibly pulling out ALL American troops from Iraq? No matter your thoughts on starting the war, pulling out was an irresponsible thing to do. We still have troops in Germany, Korea and Japan, for God's sake. Why? For stability, that's why. As Colin Powell said, we broke it, now we own it. It was a given that instability would follow the force withdrawal. When you combine this act with the reality that Obama never really did try to defeat the Islamic State, what conclusion can you come up with? Trump defeated them in a few months. The conclusion is obvious: Obama really didn't want to destroy them.

Why did Obama and Hillary take down Moammar Gadhafi, who had already given up his nuclear weapons? Was it to destabilize Libya, where ISIS could gain another foothold? Why did Obama help install the Muslim Brotherhood in Egypt? What was the agenda behind the so-called Arab Spring?
This article is asking all the right questions – which, for an MSM article, is a huge deal. Be sure to read through it in its entirety, and spread it everywhere.
IG Report Says Bill Clinton Told Bare-Faced Lie To Nation About Tarmac Meeting
Bill Clinton told a bare-faced lie to the whole nation when he said his tarmac meeting with then-Attorney General Loretta Lynch was an innocent affair during which they spoke about their grandchildren, according to Department of Justice inspector general Michael Horowitz's report on the FBI's Hillary Clinton email investigation.
The stunning revelation is buried on page 203 of the inspector general's report and suggests the controversial June 2016 tarmac meeting between then-Attorney General Loretta Lynch and former President Bill Clinton was not spontaneous and innocent, but actually "coordinated" and illegal.
The inspector general's revelation blows a hole in the narrative Lynch and Bill Clinton have carefully maintained for two years. Lynch claimed the "social" meeting was spontaneous and the two discussed grandchildren, however according to the report, she was deeply uncomfortable with the meeting and understood the serious consequences if the public ever found out.
  The meeting was extremely controversial at the time because it came just days before then-FBI Director James Comey announced the FBI would not recommend criminal charges against Hillary Clinton for using a private email server while secretary of state.
What does Horowitz's report say?
The report states that the DOJ department of public affairs supervisor traveling with Lynch told internal DOJ investigators that Clinton's Secret Service detail contacted Lynch's security detail ahead of time to arrange the meeting.
Bill Clinton's plane was parked next to Lynch's, the report revealed, or about just 20 to 30 yards away.
Clinton told investigators he only learned the plane next to his was Lynch's after being briefed by his staff. He claimed he then debated whether or not he should "say hello" and "shake hands with the Attorney General."
Page 203 of the report states:
The OPA Supervisor said that he later learned that former President Clinton's Secret Service detail had contacted Lynch's FBI security detail and let them know that the former President wanted to meet with Lynch. Although Lynch's staff was supposed to receive notice of such requests, witnesses told us that they were not informed of the request from former President Clinton.
In addition, Lynch revealed to DOJ investigators she was not social with the Clintons and had never met with either one of them prior to the tarmac meetings.
The report goes on to detail that Lynch's staff — who were waiting outside the plane in a staff van — felt "blindsided" and "shocked" Lynch would meet with the former president.
Finally, it was Lynch's senior counselor who broke up the meeting when she realized it would become extremely problematic if the media learned Lynch had just met with the the husband of a subject in a major investigation. The senior counselor said she could not recall what she heard when she entered the plane but said Lynch appeared "uncomfortable and wanted the meeting to be done."
According to the report, the meeting between Lynch and Clinton lasted about 20 minutes.
Source: yournewswire.com
Fear-mongering!
Glenn Greenwald had some choice words about the source of this info:
Oh, look at that, it was a CIA source. What an absolute surprise.  coming?
If you can't see the full graphic, here's the full size:
Ben's been on the Q-train for a pretty long time now, but recently verified it in plain sight:
Source: neonrevolt.com