Podcast: Play in new window | Download (Duration: 41:27 — 41.6MB)
Job numbers are incredible, remember Trump is using the DS, CB manipulation and playing their game. Trump's economic advisor says there is no recession headed our way, who else says this, the Fed. Using their playbook to show the economy is doing great and the D's and the CB will bring down the economy. Auto sales decline. Rep Thomas Massie introduces the Fed Transparency bill, this will sit in the house until it is needed.Trump blames the D's for when the economy enters a recession. The [DS] pushes ahead with all their bills, impeachment, get rid of the electoral college, protect Mueller, stop the wall etc.  This was expected. The Patriots have built a firewall around him and now it is time to build the wall. Trump sends the message to the [DS] the wall will be built no matter what. Everything is being put into place, we all need to be patient, the plan is working and the pieces are being moved around the chess board. Q has told us to expect everything we are seeing and they will counter when the time is right.
Check Out The X22 Report Spotlight YouTube Channel X22Report Spotlight
Please check Newzsentinel.com for the latest news on the economic collapse. The Sentinel Alerts are updated throughout the day. If you haven't already, go to "The People" and join the community of people who are helping each through the economic collapse.
---
Current News – 01.04.2019
Watch The X22 Report On Video
---
Economy
Jobs Blowout: December Payrolls Soar By 312K As Wages Jump Most Since 2009
  the BLS reported that in December the US added a whopping 312K jobs, far above the 184K expected, and the highest since February 2018. The total number of payrolls surged above 150 million for the first time ever, to 150.263 million to be specific.
Meanwhile, November's print  was revised up from +155,000 to +176,000, and the change for October was revised up from +237,000 to +274,000. With these revisions, employment gains in October and November combined were 58,000 more than
previously reported. After revisions, job gains have averaged 254,000 per month over the last 3 months.

It wasn't just the scorching payrolls number, but also the average hourly earnings print, which jumped by 3.2%, higher than both the November 3.1% and the 3.0% consensus; in fact it was the highest number since April 2009!
The unemployment rate rose from 3.7% to 3.9%...
… as the labor force participation rate rose above 63% for the first time since March 2014.
In terms of new-vehicle sales in the US, 2018 was the third relentless down-year in a row for three of the four biggest automakers, GM, Ford, and Toyota. For them peak sales occurred in 2015.
GM delivered 2,954,037 vehicles in 2018, down 1.6% from 2017, down 2.9% from 2016, and down 4.2% from 2015: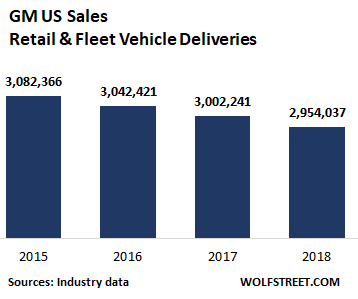 Ford sold 2,485,222 vehicles in 2018 (of which 29.3% were to fleets). Sales were down 3% from 2017, down 3.9% from 2016, and down 4.1% from 2015:
At Fiat Chrysler (FCA) – also includes Maserati and Alpha Romeo – sales in 2018 jumped 8.5% to 2,235,204 vehicles, of which 23% were fleet sales. But this comes after the catastrophic year 2017 when sales had plunged 8.8%. Despite the gain in 2018, sales were still down 1% from 2016, and down 1.3% from 2015:
Toyota sold 2.427 million vehicles in 2018. This puts it in third place, behind Ford and ahead of FCA. Toyota's sales peaked in 2015 and have declined every year since. 2018 was down 0.3% from 2017, down 0.9% from 2016, and down 2.9% from 2015:
The other Japanese brands:
Honda's sales dropped 2.2% in 2018 from its peak in 2017, to 1.641 million vehicles.
Nissan's sales fell 6.2% from its peak in 2017, to 1.494 million units, which knocked sales 4.5% below 2016.
Mercedes-Benz sales dropped 5.5% to 355,413 vehicles in 2018 and are now down 6.6% from 2015.
BMW sales inched up 0.5% to 355,778 vehicles, after two really lousy years, with sales in 2018 down 12.2% from 2015.
For the industry, sales of new cars plunged 13% in 2018; and sales of new trucks (SUVs, compact SUVs, pickups, and vans) surged 8.3%. Car sales, after four years of plunging, account for only 29% of total sales, the lowest share on record in US history.  new cars are too damn expensive, and Americans aren't buying them anymore. They're buying used cars
Source: wolfstreet.com
THREAD.

THINK LOGICALLY. 1/14

The greatest emotional trigger for [fear] is financial collapse.

… most people know and feel that things aren't adding up.

Change is coming. Economic change.

Ready for another rabbit hole?

Here we go…

— Bards Of War (@BardsOfWar) January 4, 2019
It's official! I just reintroduced my bipartisan bill to audit the Federal Reserve. #auditthefed pic.twitter.com/NIgDHew2nW

— Thomas Massie (@RepThomasMassie) January 3, 2019
Fed Chair Powell says he wouldn't resign if Trump asked
Federal Reserve Chairman Jerome Powell said Friday that he would not resign if President Donald Trump were to ask him to.
While Trump has repeatedly criticized Powell on Twitter for the central bank's campaign of steady rate hikes, the Fed chairman said there has been no direct contact between him and the president in recent months. Still, he said he would be open to meeting with Trump.
The Fed chairman also cheered investors by saying the Fed is "listening carefully" to the warning message from markets, which he said are in the process of pricing in risks that the economy may slow, though he added that they were "well ahead of the data."
"We will be patient as we watch to see how the economy evolves," Powell said at the event, which also featured former Fed chairs Janet Yellen and Ben Bernanke.
Source: politico.com
As I have stated many times, if the Democrats take over the House or Senate, there will be disruption to the Financial Markets. We won the Senate, they won the House. Things will settle down. They only want to impeach me because they know they can't win in 2020, too much success!

— Donald J. Trump (@realDonaldTrump) January 4, 2019
---
Political/Rights
BREAKING: Democrats Introduce Bill To Eliminate Electoral College
Rep. Steve Cohen (D-TN) introduced two bills on Thursday, one to eliminate the electoral college and the other to prohibit presidents from pardoning themselves or their family members.
"Presidents should not pardon themselves, their families, their administration or campaign staff," Cohen continued. "This constitutional amendment would expressly prohibit this and any future president, from abusing the pardon power."
Cohen wasn't the only Democrat that took action aimed at President Donald Trump on Thursday, as Rep. Brad Sherman (D-CA) introduced "articles of impeachment against President Donald Trump, filing them as his first order of business in the new, Democrat-controlled House of Representatives."
Source: dailywire.com
How do you impeach a president who has won perhaps the greatest election of all time, done nothing wrong (no Collusion with Russia, it was the Dems that Colluded), had the most successful first two years of any president, and is the most popular Republican in party history 93%?

— Donald J. Trump (@realDonaldTrump) January 4, 2019
Counter against those in power for a very long time
Today @RepRooney and I introduced an amendment to the U.S. Constitution to impose term limits on members of Congress. The amendment would limit U.S. senators to two six-year terms and members of the U.S. House of Representatives to three two-year terms.

— Senator Ted Cruz (@SenTedCruz) January 3, 2019
Newly-installed Speaker of the House Nancy Pelosi (D-CA) claimed Thursday that the Constitution gives her equal power to President Donald Trump.
The New York Times reported: "Asked if she considers herself Mr. Trump's equal, she replied, 'The Constitution does.'"
By inference, Pelosi seems to believe, the leader of the legislative branch is equal to the president in power.
But there are several flaws in Pelosi's analysis.
First, Pelosi does not lead the legislative branch. She leads only one chamber of that branch — and the House is generally considered the lower chamber relative to the Senate. Moreover, she only leads at the pleasure of her party, and is only one among equals. The Constitution mentions the "Speaker" but does not give the office special powers.
By Pelosi's logic, Senate Majority Leader Mitch McConnell (R-KY) could just as easily claim that he is equal to the president in power — and his claim would arguably hold more weight, given the pre-eminence of the Senate.
Second, the U.S. Constitution does not actually refer to the three branches as "co-equal" — a term that appears nowhere in the text. It is commonly held that all three share governing responsibility, but each has some ability to check the others.
Pelosi seems to suggest the legislature is the most important because it comes first under Article I, but the president has some leeway to act independently, especially in national security and foreign policy, and the courts can overturn legislation.
Source: breitbart.com
More US troops will be deployed to the Southern border to "construct or upgrade" 160 miles of fending, as well as provide medical care to thousands of migrants arriving from Central America, reports NPR, citing military sources.
The Pentagon will foot the bill out of its discretionary funding for the deployment and fence construction along the California and Arizona borders with Mexico.
The request for more troops to shore up the US-Mexico border was made by the Department of Homeland Security – which will add to the deployment of some 2,300 active duty troops on the border as well as 2,100 National Guard troops. Those deployed will include aviation units and combat engineers.
Source: zerohedge.com
the White House Tweeted out the following
In the past two months there have been 538 fraudulent family units apprehended at the Southern border—adults who illegally crossed our border with kids who are not their own in an attempt to enter our country.

— The White House (@WhiteHouse) January 2, 2019
Child Trafficking come to mind.
Trump was asked the question about the wall, he sends the message, take a listen
JUST IN: Pres. Trump says he's considered declaring a national emergency to circumvent congressional approval to allocate funds for border wall: "We can call a national emergency because of the security of our country… I haven't done it, I may do it." https://t.co/PtgasyLauD pic.twitter.com/dixTagGM4s

— ABC News (@ABC) January 4, 2019
Q

!!mG7VJxZNCI

ID: 4b8e5c

No.4031007

Q

!!mG7VJxZNCI

ID: 4b306d

No.4257392

Wow what a show!

President Trump on Tuesday engaged in an extraordinary argument with Democratic congressional leaders over his demand for border-wall funding, threatening a government shutdown if he does not get the money.

"I will be the one to shut it down," he told House Minority Leader Nancy Pelosi (D-Calif.) and Senate Minority Leader Charles Schumer (D-N.Y.) at the White House.

During the contentious meeting in the Oval Office, Pelosi (D-Calif.) repeatedly asked Trump not to discuss the funding request in front of the news media.

"You will not win," Pelosi told Trump.

The meeting was scheduled to be closed to the press but the White House unexpectedly opened it to reporters just as Pelosi and Schumer were arriving at the White House.

The exchanged heightened the sense of drama surrounding government-funding stalemate between Trump and Democrats.

https://thehill.com/homenews/administration/420782-trump-democrats-battle-over-wall-in-oval-office-spat
DZDsPa1U0AEa8sy.jpg

>>4257129

"You will not win?" – Pelosi

Y

ou didn't think the largest MIL spending bill in history (FY 2019) wasn't going to [indirectly] include funding for the wall did you? Learn the Constitution re: vested powers of POTUS re: matters of NAT SEC. This was planned and forecasted as the 'border funding' solution from the beginning. https://twitter.com/inthematrixxx/status/977540875323691011?lang=en

Anons had the proof long ago but shining a light back then would have defeated the primary purpose of showing the 'public' the real objective of D's (party of open borders/elim of ICE/elim of security/defend illegals over Americans _Midterm_elec).

These people are stupid.

Q
House Defies Trump; Votes To Reopen Government With No Wall Funding

  the Democrat-controlled House of Representatives voted late Thursday to pass two bills that would reopen parts of the government affected by the partial shutdown.
The only problem is that neither of the bills contain funding for what House Speaker Nancy Pelosi (D-CA) called an "inhumane" border wall – leaving Republicans and Democrats without any possible way forward during a Friday meeting at the White House following President Trump's vow to veto any legislation that does not include money for perhaps his greatest election promise.
"We are not doing a wall," said Pelosi – calling it "an immorality."
Source: zerohedge.com
Dems move to protect Mueller in new Congress
Incoming House Judiciary Committee Chairman Jerrold Nadler (D-N.Y.) on Thursday led a group of Democrats in introducing a bill designed to protect special counsel Robert Mueller from being fired by President Trump.
The legislation reflects growing fears among the president's critics that he could try to impede Mueller's investigation into whether his campaign coordinated with Moscow to interfere in the 2016 presidential election. Trump has increasingly castigated the investigation as an "illegal" partisan-led witch hunt that he wants ended.
The bill, formally known as the Special Counsel Independence and Integrity Act, would codify existing Justice Department regulations that say a special counsel can only be removed for misconduct, dereliction of duty, incapacity, conflict of interest or other good cause. The legislation would also give the special counsel written notice of his or her removal and the opportunity to challenge the move in court..
Source: thehill.com
sgrZzEo.png

Thank you for your service to our Country, Mr. Trey Gowdy!
Thank you for your service to our Country, Mr. Bob Goodlatte!
Your sacrifices will never be forgotten.
Q+

>>428

https://twitter.com/realDonaldTrump/status/1060256623439110146, thanking jeff sessions

While we cannot telegraph everything, for reasons all can understand, we do try in our own way to inform loyal Anons & Patriots.

What are the odds "thank you for your service" was posted less than 1 hour prior to POTUS re: Sessions "thank you for your service?"

Do you believe in coincidences?

How many coincidences before mathematically impossible?

THE SENATE WAS THE KEY. Enjoy the show! Q
Think about why the senate was the key, if the house was going to try to pass all type of bills, impeach trump, protect mueller, no borderwall etc. The Senate will not these bills pass. All the attacks they are trying to intiate will not work, the President, Q and Patriots setup a firewall.
NBC Whistleblower Breaks Rank: 'Network is 'Pro-War, Around the Clock Anti-Trump Hysteria'
Veteran national security reporter William M. Arkin wrote a farewell message to his colleagues at NBC, and which slammed the media organization for its anti-Trump obsession, calling it a "Trump circus, which he believes has distracted journalists from pursuing real stories which are going unreported as a result of the network's partisan editorial policy. He described NBC's war coverage as "ho-hum reporting" which "essentially condones" endless US wars in the Middle East and North Africa, as well as accusing his employer of never talking about "the failures of the generals and national security leaders," and for becoming "a defender of the government against Trump," and also a "cheerleader for open and subtle threat mongering." 
Source:  21stcenturywire.com
---
War
Syrian Kurds seeking peace with Damascus regardless of US withdrawal
The Syrian Kurds are seeking a political settlement with the Syrian government regardless of the U.S.' withdrawal from the country,
  the Kurdish official, Badran Jia Kurd, said that the Syrian Kurds were seeking a peaceful settlement with Damascus and will continue to move in this direction.
"The final decision is (to reach an) agreement with Damascus, we will work in this direction regardless of the cost, even if the Americans object,"
"Our view is that (Russia) is trying to open new horizons with Damascus, this is what we sensed from them," he continued.
"The ball is in the court of Russia and Damascus," Jia Kurd said. "On this basis, we can negotiate and start a dialogue."
Source: almasdarnews.com
The MSM continually reports that their is no timeline for troop withdrawal from Syria. Trump mentioned troop withdrawal back in April, 2018, think logically, do you really think that this hasn't been all planned out, Trump the patriots planned this for a long time, there is a timeline. The Deep State are the ones that continually told us that it would take years to beat the IS, that there was no timeline to leave Syria. This is them pushing their agenda.

---
Q
Q

!!mG7VJxZNCI

ID: 0365ff

No.4381317

Q

!!mG7VJxZNCI

ID: 0365ff

No.4381420


[

D]

Day, Patriots.

We will have our Country back!

Q+
Q

!!mG7VJxZNCI

ID: 432368

No.4279257 


>>4278980

FALSE.

HUBER will bring SEVERE PAIN TO DC.

SESSIONS' forced release of name

[HUBER]

to House created another variable.

Use Logic.

Why would we tell you the plan if in doing so also alerts those who we are actively engaged in HUNTING?

You are witnessing, first-hand, the demise of those in power [OLD GUARD].

Those who push simply have no grasp of reality.

Those who push simply do not understand warfare tactics.

Emotions cloud judgement.

Emotions cloud logic.

You have more than you know.

Securing the SENATE meant EVERYTHING.

Securing the SC meant EVERYTHING.

[Avoided Z]

We, the PEOPLE.

ENOUGH IS ENOUGH.

TOGETHER WE WIN!

Do you think all these attacks on 'Q' (We, the People) is simply for a person on the internet who they label as a conspiracy?

Think for yourself.

Trust yourself.

Research for yourself.

Be in control of yourself.

NEVER let someone else DRIVE YOU.

Those who try to DRIVE YOU are not your friend.

Q