Podcast: Play in new window | Download (Duration: 43:27 — 45.4MB)
The banks are a lot smarter since the 2008 great recession, instead of the large banks making the mortgages they pushed the loan making off to shadow banks. This is going to be a disaster when the economy enters a recession and real estate bubble pops. GDP came in a lot higher than expected.  Trade deals with China is much more important than everyone thinks. The Supreme Court ruled that the World Bank has lost its immunity to law suits. The take down of the [CB] system is in motion. The Cohen show is now over and the take a ways are amazing, Cohen lied, broke laws and confirmed that there was no collusion. Jordan and Meadows refer Cohen to the DOJ for lying. The Summit with NK ended without a deal, or is this part of the deal. Trump is the master of making a deal, he will wait and Kim Jong Un will contact him to make the final deal, this is a power play. The [DS] played their hand, they might try a couple more but the patriots have the facts and the truth, when Q said that FISA is going to bring down the house Q was talking about the corrupt people in the house.
Check Out The X22 Report Spotlight YouTube Channel X22Report Spotlight
Please check Newzsentinel.com for the latest news on the economic collapse. The Sentinel Alerts are updated throughout the day. If you haven't already, go to "The People" and join the community of people who are helping each through the economic collapse.
---
Current News – 02.28.2019
Watch The X22 Report On Video
---
Economy
"Shadow Banks" Dominate Mortgage Lending by Piling on Risks. Federal Housing Administration (FHA) on the Hook
There is has been a big shift in the mortgage arena, the banks pushed off their lending to shadow bank lenders, and who is on the hook, the government mostly the Federal Housing Administration (FHA) — is on the hook. shadow banks do not take deposits and are not regulated by banking regulators (Federal Reserve, FDIC, and OCC). Their funding is derived mostly from selling the mortgages they originate, but also from bank loans and other sources. During the mortgage crisis, a slew of them got in trouble and, because they did not hold deposits, were allowed to collapse unceremoniously.
According to a February 2019 report by the Mortgage Bankers Association, the share of mortgage originations by nonbank lenders has surged from 24% in 2008 to 54% in 2017, while the share of large banks has plunged: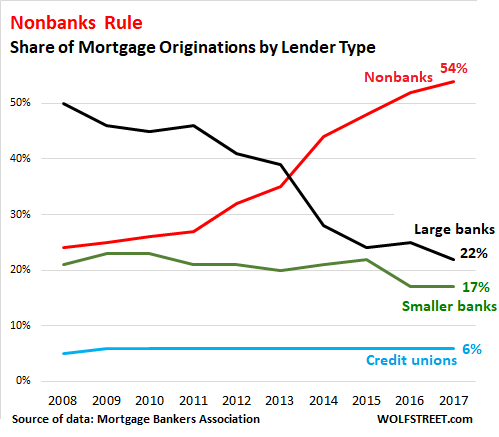 The largest shadow bank mortgage lender is, Quicken Loans, originated an estimated $86 billion in mortgages in 2017, according to the MBA's February 2019 report, giving it a market share of just under 5% of all mortgages written during the year.
These shadow banks are unlikely to get bailed out in a crisis, and investors will take the loss. From that perspective, taxpayers are off the hook. But their counterparties are also at risk of losses – with the government by far the most exposed. These counterparties fall into two groups:
Large banks extending "warehouse financing" (short-term credit lines secured by mortgages) to nonbanks to fund the mortgages temporarily until they're sold into the secondary market.
The US government, through government agencies such as the FHA which specializes in riskier mortgages that it insures and guarantees but does not buy, or Ginnie Mae which buys and guarantees mortgages; and government sponsored enterprises Fannie Mae and Freddie Mac which buy and guarantee mortgages.
In its wide-ranging report and briefing materials (February 25, 184 page PDF) on the housing market and government involvement in it, the American Enterprise Institute (AEI) outlines how surging home prices push lenders to take ever greater risks. And as deposit-taking banks have pulled back from those risks, shadow banks have plowed ever deeper into them.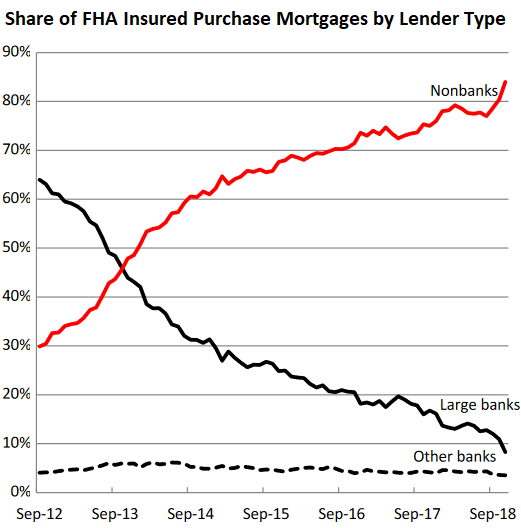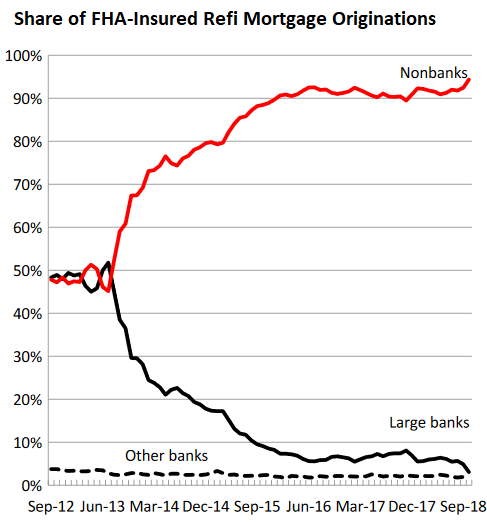 Source:wolfstreet.com
  the BEA reported GDP for the fourth quarter combining both its first and second estimates, and while consensus was expecting a sharp slowdown in the last quarter of the year, from 3.4% in Q3 to 2.2%, the US economy surprised to the upside in Q4, when it grew a stronger than expected 2.6%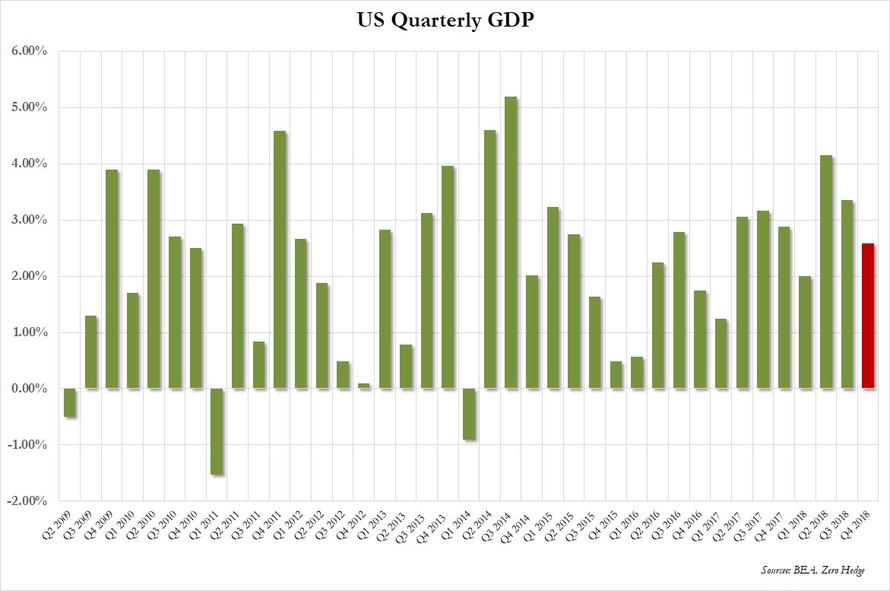 On a year over year basis, 2018 GDP rose 3.1%, the highest print since 2005,
Source: zerohedge.com
Wolverine Blood – USTR Robert Lighthizer Testimony on U.S-China Trade Negotiations to House Ways and Means Committee…
There are many people who are understandably worried that any U.S. trade agreement between the U.S. and China might not have the most ferocious teeth behind a binding enforcement provision.  
In his testimony Lighthizer walks through the basic outline of what a U.S. successful agreement would look like.  While increased Chinese purchases to lower the deficit are a part of the goal, they are a VERY SMALL part of the goal.
The protection of U.S. intellectual property; the removal of non-tariff trade barriers; the confrontation of currency manipulation and the sector by sector enforcement provisions are the primary objective.
The Section 301 review, and the subsequent tariffs on Chinese products, is the issue that pried open the Chinese fist and allowed Lighthizer, Ross and Mnuchin to begin negotiating a trade deal.  Everything is happening as a consequence of those initial 301 tariffs; and the tariff increase is only being suspended, not removed.
 Lighthizer is facing committee membership who have been purchased by The United States Chamber of Commerce and CoC President Tom Donohue. Those thoroughly corrupt, Wall Street purchased, globalist democrat and republican CoC politicians only care about removing the tariffs and getting back to the multinational exploitation of trade.
These same people do want the USMCA.  So part of Lighthizer and Trump's pressure on congress to get the USMCA passed, it to keep the threat of the Chinese tariffs for use against the Chamber of Commerce politicians
Lighthizer and Trump are not only fighting China, they are fighting U.S. politicians who are beneficiaries of China. They are also fighting against the U.S. CoC, the multinational corporations, Wall Street and members of both political parties who desperately want to stop any trade balance reset.
Source: theconservativetreehouse.com
The Supreme Court of the United States has rejected World Bank claims of complete legal immunity, ruling that one of its arms can be sued in relation to lending activities.
The 7-1 ruling (I wonder who was missing from the vote) could also open other American-based international organizations to the threat of lawsuits over financing overseas development.
For the World Bank, it means that it now faces having to defend against a suit by members of a fishing community in Mundra, India, who contend that their homes and livelihoods were damaged by pollution from a coal power plant that was financed by the bank's private sector lending arm, the Washington, D.C.-based International Finance Corporation. 
The legal case surrounded a 1945 law which granted international organizations "the same immunity from suit" as foreign governments.

 

How do you bring an institution to its knees, remove immunity from lawsuits.
Source: icij.org
Lets look at the debt situation of the US which was created by the Fed
The last time the US completely paid off the national debt was in 1840. It was the result of decades of balanced budgets under Presidents James Monroe, John Quincy Adams, and Andrew Jackson.
In the 179 years since 1840 (counting the 2018 budget), the US has run a deficit 109 times and a surplus or balanced budget just 70 times, amounting to a cumulative net deficit of $14.2 trillion. All of the surpluses combined in the last 179 years amount to $580 billion, less than the deficit in 2017 alone ($665 billion).
Since the national debt was last eliminated in 1840, the US has paid a cumulative $7.8 trillion of interest on the national debt. This interest includes repaying principal. Simple arithmetic reveals that 55% the $14.2 trillion in deficit spending since 1840 has, in effect, gone towards servicing the national debt. Put differently, instead of paying down its debt with tax revenue, the federal government has essentially rolled over 55% of its debt since 1840 with new debt. The result is that despite running 'only' $14.2 trillion in deficits over that last 179 years, and despite having already repaid all debt issued more than 30 years ago, the national debt today is $21.4 trillion. The difference, $7.2 trillion, represents the cumulative interest the US has paid to fund its deficits minus its modest surpluses. As a result, a full 36% of today's national debt is, in effect, the interest paid on past debt. Only 45% of the national debt went to spending on actual programs. The rest went to servicing the national debt itself and to rolling the debt over with new debt. It also means that the government has been carrying forward the majority of the national debt going all the way back to 1840 by paying it off with new debt. A portion of the money the government borrowed in 1841 is still being paid
Source:  thesoundingline.com
---
Political/Rights
  Michael Cohen's Testimony Cleared Trump of All Wrongdoing
Cohen Cleared Trump of Campaign Finance Allegations
It was always dumb to believe Trump would be impeached over a stupid campaign finance violation. The idea being that Trump not reporting his perfectly legal decision to pay hush money to a couple of blackmailing porn stars with his own money is illegal.
Well, even if this was a campaign finance violation, it would only mean a fine. But on Wednesday, Cohen testified it was not a campaign finance violation when he said the following:
COHEN: "Catch and kill" is a method that exists when you're working with a news outlet, in this specific case it was AMI, National Enquirer, David Pecker, Dylan Howard and others; where they would contact me or Mr. Trump or someone and state that there's a story that's percolating out there that you may be interested in. And then what you do, is you contact that individual and you purchase the rights to that story from them.

CONGRESSWOMAN: And you practiced this for the president?

COHEN: I was involved in several of these "catch and kill" episodes. These "catch and kill" episodes existed between David Pecker long before I started for working him in 2007.
Let me again point out that there is absolutely nothing illegal about "catch and kill," nor is there anything illegal about paying off blackmailers threatening to expose you with the truth or a lie — and Trump claims Stormy Daniels is lying about their one night stand, and as you will see below, Trump has been forced to use "catch and kill" to silence liars.
Therefore, the only possible campaign finance violation Trump might be guilty of is not reporting these payoffs as a campaign expense, but…
If the expense in question would have occurred if you weren't running for office, then you do not have to report it, and…
Cohen just admitted Trump has been paying off women going back more than a decade, so none of this is a campaign finance violation. History proves he would have paid these women off had he not run for president.
Cohen Cleared Trump of Russia Collusion Allegations,

Cohen Clears Trump of Allegation the President Told Him to Lie to Congress
if you recall, Buzzfeed's fake news last month revolved around the "bombshell" Trump told Cohen to lie to Congress about the date his Trump Tower negotiations ended with Russia. More importantly, Buzzfeed also claimed Special Counsel Robert Mueller had written proof of Trump suborning this perjury.
To this day, even after Mueller released a statement saying Buzzfeed was lying, the far-left outlet refuses to retract its fake news.
On Wednesday, Cohen sunk it forever.
"I lied to Congress [about] when Mr. Trump stopped negotiating the Moscow tower project in Russia. I stated that we stopped negotiating in January of 2016. That was false," he said. "Our negotiations continued for months later during the campaign. Mr. Trump did not directly tell me to lie to Congress. That's not how he operates."
What did Trump do to make Cohen believe he wanted his fixer to commit perjury? Cohen claims this directive came in the form of…  Body language.

Cohen Cleared Trump of Knowing In Advance About the WikiLeaks Document Dump

Another crucial piece of Cohen's testimony:
In July 2016, days before the Democratic convention, I was in Mr. Trump's office when his secretary announced that Roger Stone was on the phone. Mr. Trump put Mr. Stone on the speakerphone. Mr. Stone told Mr. Trump that he had just gotten off the phone with Julian Assange and that Mr. Assange told Mr. Stone that, within a couple of days, there would be a massive dump of emails that would damage Hillary Clinton's campaign."

Mr. Trump responded by stating to the effect of 'wouldn't that be great.'
Cohen's testified that "days before the Democrat convention" Trump was told about the WikiLeaks release.
The Democrat convention was held between July 25 and July 28, 2018.
In other words, Trump was told "days before" July 25.
Ooh, damning, except…
We knew in mid-June — let me repeat, June — WikiLeaks had an email trove from the Democrat National Committee. You see, WikiLeaks founder Julian Assange bragged about having the incriminating emails on June 12.
Four days later, on June 16, at least a month prior to this notorious phone call, WikiLeaks began its release of the DNC trove.
Finally, on July 7, WikiLeaks was offering the media access of its "pending Hillary Clinton publications."
Source: breitbart.com
Pollak: Michael Cohen Hearing Marks the End of Government 'Oversight'
Michael Cohen's testimony before the House Oversight Committee hearing on Wednesday yielded very little in terms of new information about alleged misconduct by President Donald Trump or his 2016 presidential campaign.
If anything, Cohen's testimony hurt the case against the president.
The media, too, lost. They billed Cohen's appearance as a climactic moment — then struggled to salvage bits and pieces of their shattered narratives from the wreckage of his testimony.
.
Yet there was something significant that happened
And now it becomes crystal clear why Rep. Elijah Cummings (D-MD), the chair of the committee, renamed it last month. What was once the "Committee on Oversight and Government Reform (OGR)" is now the "Committee on Oversight and Reform (COR)" — i.e. no "government." Cummings said the new name reflected the committee's "true jurisdiction, which covers both government and the private sector." By "private sector," he meant "Trump."
What the country saw in the Michael Cohen hearings was a committee no longer concerned with clean and effective government, but one that has become a giant Democratic opposition research operation.
Source: breitbart.com
Jordan, Meadows ask DOJ to investigate Michael Cohen for perjury
"While testifying under oath, Mr. Cohen made what appear to be numerous willfully and intentionally false statements of material fact contradicted by the record established by the Justice Department in United States v. Cohen," Reps. Jim Jordan (R-Ohio) and Mark Meadows (R-N.C.) wrote in a letter to Attorney General William Barr on Thursday. "His testimony included intentionally false statements designed to make himself look better on a national stage."

Source: thehill.com
Now I want to go back to Trumps tweet, because in the tweet there is something very interesting, here is the tweet
Michael Cohen was one of many lawyers who represented me (unfortunately). He had other clients also. He was just disbarred by the State Supreme Court for lying & fraud. He did bad things unrelated to Trump. He is lying in order to reduce his prison time. Using Crooked's lawyer!

— Donald J. Trump (@realDonaldTrump) February 27, 2019
Think logically. How do you introduce evidence into an investigation (legally)? Who has everything? Methods which info collected/ obtained? Admissible in the court of law?
CIVIL WAR: Rep Ilhan Omar Calls "Overthrow" Of "Dictator" Trump "Inevitable"
Democrat Rep Ilhan Omar tweeted out a call for the 'inevitable overthrow' of the duly elected American President.
I believe that impeachment is inevitable. It also is a terrifying notion. Nations struggle any time they overthrow a dictator, and Trump really has the markings of a dictator. https://t.co/cduTmOxous

— Rep. Ilhan Omar (@Ilhan) February 27, 2019
Note, Mueller's report isn't even in yet, and Cohen gave no smoking gun on collusion. But impeachment is inevitable.
Source: thegatewaypundit.com
Lets go back to Qs post 2901
Q

!!mG7VJxZNCI

ID: 087672

No.5399134


[INTERNAL CIVIL WAR]
All-out assault against the duly elected President of the United States.
We have never experienced anything like this in our history.
Treason & sedition at the highest levels of office throughout many departments [F + D].
Propaganda arm [FAKE NEWS MEDIA] of the D party in full attack mode (no facts, only statements).
Propaganda arm [FAKE NEWS MEDIA] of the D party prevent-limit 'sheep (you)' from learning the TRUTH.
Propaganda arm [FAKE NEWS MEDIA] of the D party retain-control of NARRATIVE (control over you).
House D's in full attack mode (no facts, only statements).
Senate D's in full attack mode (no facts, only statements).
THIS IS THEIR LAST STAND.
Fear of prosecution?
Fear of the public learning the TRUTH?
Fear of losing POWER?
Bribes, blackmail, threats, etc. all being deployed.
WE ARE AT WAR.
Q
It is becoming very clear why Q in post 2261 said that FISA was going to bring down the house, remember this was before the elections, Q knew the DS  was going to go after the house, Q knew they were going to start the investigations, Q knew that it would include these corrupt individuals, Q is telling us all these players who are pushing these investigations they are the ones that will be brought down.
PANIC IN DC

[LL]

talking = TRUTH reveal TARMAC

[BC]

?

[LL]

talking = TRUTH reveal COMEY HRC EMAIL CASE?

[LL]

talking = TRUTH reveal HUSSEIN instructions re: HRC EMAIL CASE?

[LL]

talking = TRUTH reveal BRENNAN NO NAME COORD TO FRAME POTUS?

……………..

FISA = START

FISA BRINGS DOWN THE HOUSE.

WHEN DO BIRDS SING?

Q
---
Geopolitical/Police State
Unlike Trump, Trudeau Is In Real Trouble
 a former member of the Canadian PM's cabinet has testified that he tried to interfere in a criminal investigation.
 Former Canadian Attorney General Jody Wilson-Raybould testified before the House Justice Committee alleging that Prime Minister Justin Trudeau and others in his administration pressured her in "inappropriate" ways to reach a settlement with an energy company that has been charged with crimes.
The company, SNC-Lavalin, is facing charges that it sent bribes to Libya, then under the rule of Gadhafi, in defiance of Canadian law. If found guilty, the Quebec-based company will face severe sanctions, including a ban on working with the Canadian government. This would be a severe economic blow, especially in Trudeau's home province of Quebec.
According to Wilson-Raybould's testimony, she faced "consistent and sustained," efforts by the Trudeau administration, as well as "veiled threats," in an attempt to influence her decision regarding Lavalin. Under Canadian law, this type of attempt at political influence is at best inappropriate, and at worst illegal.
  testimony from one of his former cabinet ministers and a member of his own party has flung the Trudeau administration into a full-fledged crisis. With a general election looming in October, Opposition Leader Andrew Scheer said that Trudeau has "lost the moral authority to lead," and should resign.
Source: thefederalist.com
Today, gun-grabbers in the House of Representatives held their first major vote on gun control legislation in years.
They voted to pass H.R. 8, Background Checks Act of 2019, which would require background checks for all firearm sales, including private transactions and purchases made online and at gun shows. Currently, only federally licensed firearms dealers, importers, and manufacturers are required to conduct background checks on customers under federal law. Twenty states and D.C. have already expanded background checks to include at least some private sales. "
H.R. 8 also prohibits firearms transfers by a person who is not a licensed dealer.
 the House will vote on another gun control bill.
H.R. 1112, the Enhanced Background Checks Act of 2019, will be voted on by the House tomorrow – the 25th anniversary of the day the Brady Act, which mandated federal background checks, went into effect.
That bill would extend the amount of time firearms dealers must wait for a response from the background check system before the sale can proceed to 20 days. Currently, they can make the sale if they haven't received a response in three days.
According to the NRA, H.R. 8 is "bad", but "H.R. 1112 is worse":
Under that bill, gun sales from licensed dealers would be subject to the discretion of federal officials. Through either malice or incompetence, the legislation creates an unworkable system where gun buyers could be placed in an endless loop of background checks and would never actually receive the firearms they wish to purchase. (source)
The two bills are expected to pass in the House, but would then need to be approved in the Senate, where Republicans hold a majority.
The Senate was the key, but if for some reason it gets past the senate Trump will veto the bill.
Source: zerohedge.com
---
War
"Sometimes You Have To Walk": Hanoi Summit Ends with no deal, or did it
Source: zerohedge.com
 Trump emphasized there was "no rush" to get a deal with North Korea as he sat with Chairman Kim Jong-un at their summit in Vietnam Thursday.
"I've been saying very much from the beginning that speed is not that important to me," Trump
  We don't want the testing, and we've developed something very special with respect to that," said President Trump. "I just want to say I have great respect for Chairman Kim, and I have great respect for his country, and I believe that it will be something economically that will be almost hard to compete with for many countries. It has such potential."
Source: breitbart.com
No deal, but Kim Jong-un promised no missile tests – Trump
Despite no formal deal being reached, North Korean leader Kim Jong-un said that he wouldn't test weapons or anything nuclear-related, US President Donald Trump told reporters after the aborted Hanoi summit.
Source: rt.com
Kim willing to denuclearize, allow US liaison in Pyongyang as 2nd day of Hanoi summit begins
Kim Jong Un was asked by a reporter whether he was willing to denuclearize the Korean Peninsula, Kim answered, "If [I wasn't] willing to do that, I [wouldn't] be here right now."
Kim also said he was willing to permit the US to open a liaison office in Pyongyang.
"

Source: rt.com
3 reasons not to worry about North Korea's post-summit statement
Foreign minister Ri Yong Ho lamented that the U.S. had rejected Kim Jong Un's demand for in-tandem sanctions relief in return for staggered denuclearization actions. This in-tandem demand, the foreign minister said, "will never be changed." The minister also suggested that the U.S. doesn't understand North Korea's red-lines for any deal.
Again, don't worry here.
  the foreign minister, not Kim himself. That was deliberate. Since Kim did not make this statement , Kim retains maximum flexibility in future diplomatic dealings. But it also reflects a calculated effort by the North Koreans to avoid personally alienating Trump. This concern is further supported by the statement's opening praise for the two leaders "excellent patience and self-restraint."
Second, the letter is pro forma North Korean complaining, utterly focused on the regime's interest in achieving its own maximal outcomes at the lowest cost. Ri Yong Ho talked about the U.S. lifting 5 out of 11 United Nations sanctions on North Korea in return for Pyongyang dismantling its Yongbyon nuclear facility. But considering that those sanctions represent a significant chunk of the economic pressure that Pyongyang currently faces, the North Koreans must have known that such a demand was absurd in exchange for so little.
So, why complain? Simple. By demanding major sanctions relief for Yongbyon's closure, the North Koreans hope to draw Trump towards their preferred timeline of major sanctions relief in return for far slower denuclearization. Here, then, we see not North Korean brinkmanship but rather jockeying to seize the diplomatic initiative. It's just a game.

From the day Trump entered the Oval Office on Jan. 20, 2017, the process has been incredibly dynamic rather than predictably formal. That's partly because Kim hasn't decided how to proceed vis-a-vis the U.S. But it's also because America's unpredictable presentation of the stick (threats of military action) and the carrot (detente) has forced him to negotiate on terms his regime is unused to.
The basic point here is that nothing North Korea says in any one moment can be taken as a formal policy position for the future — especially if it isn't coming from Kim himself.
Source: washingtonexaminer.com