Podcast: Play in new window | Download (Duration: 29:25 — 35.1MB)
Millions of American have negative wealth, these people never recovered from the financial crisis of 2008, meanwhile the 1% have stolen the wealth from the rest of the people. Existing home sales decline. The yield curve is flattening and this is a sign that the entire system is going to come crashing down, this is the same pattern we have seen in other recession. Inflation is starting to tick up and once it is let loose it will be uncontrollable. BoA is predicting a stock flash crash in 2008 with a bond crash at the same time. The Economist magazine has predicted a new currency in 2018. Judicial Watch is suing for the Podesta documents. Google is now censoring the Russian news organizations. Net neutrality will be revoked which will allow the internet grow organically without the government trying to control it. US is bombing in Afghanistan and most likely it is going after the poppy fields.  Russia begins delivery of the T-90 tank to Iraq. Syria is now 98% free of the IS. Putin and Assad meet to discuss the future of Syria. Putin phones Trump about Ukraine and Syria. The push is on to start a war with Lebanon.
Check Out The X22 Report Spotlight YouTube Channel –  X22Report Spotlight
Please check Newzsentinel.com for the latest news on the economic collapse. The Sentinel Alerts are updated throughout the day. If you haven't already, go to "The People" and join the community of people who are helping each through the economic collapse.
---
Current News – 11.21.2017
---
Economy
Millions Upon Millions of Americans Have "Negative" Wealth
While 3 Americans possess more wealth than 50% of the combined poorest, we now learn that 20% of ALL Americans have zero or negative wealth. I presume by having "negative wealth" they have lived beyond their means for so long their debt burden is all they have to show for their life

The wealth inequality in America is largely the function of the Federal Reserve system that operates through the U.S. Treasury. Without this mechanism of wealth transference the current wealth imbalance would not exist – it would be almost impossible to have the number of "millionaires", "billionaires" that currently roam the earth. These people would still be wealthy, but their wealth wouldn't be completely out of balance with the mass of people.
One in five households has zero or negative wealth, according to a report released this week by the Institute for Policy Studies, a progressive think tank based in Washington, D.C. What's more, an even greater share of African-American (30%) and Latino (27%) households are "underwater" financially. The combined impact of $1 trillion in credit-card debt, $1.4 trillion in student loan debt, and stagnant wages are taking a toll.
U.S. homes have regained value since the Great Recession, but many households have not. "Millions of American families struggle with zero or negative wealth, meaning they owe more than they own," the report found. "This means that they have nothing to fall back on if an unexpected expense comes up like a broken down car or illness." And inequality could get worse through new tax cuts for the wealthy. Source
The mainstream media, once again, plays their role in keeping people ignorant. Instead telling people the truth about U.S. homes have regained value since the Great Recession and calling it what it is – massive inflation on the edge of hyperinflation – it is played off as some type of benefit for the mass of people – it is not. It is a benefit for the top 0.01% only as they already own, outright, their land, their businesses and our land and businesses. If a person purchased a home 20 years ago for $50k and today that home would sell for $2mm where would that person be able to replace their home, in the same neighborhood, and realize that gain? It wouldn't happen. This is not an increase in value; it is simply inflation.
Source: zerohedge.com
Existing Home Sales Drop Year-Over-Year For 2nd Straight Month – First Time Since 2014
The yield spread collapses to lowest since 2007.
Prices of US Treasury securities fell across the spectrum on Monday, and yields rose. From the two-year yield on down, yields set new nine-year highs.
This sell-off – and the accompanying surge in yields – has occurred for months without downdraft in stocks and without a slowdown in economic growth. It's a dreamy scenario where the Fed's tightening has no negative impact on the economy. But the Treasury market at the longer end smells a rat.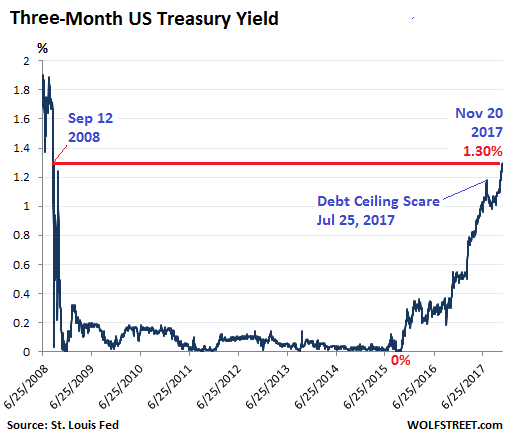 Back in November 2007, the spread was widening after having been negative in late 2006 and early 2007 as part of an "inverted" yield curve when investors chased after Treasuries with long maturities, and their yields fell, even as they dumped Treasuries with shorter maturities and their yields rose. Not much later, the Financial Crisis cracked the veneer of the banks. So this spread is the bond market's reaction to something – and it's not propitious:
  If yields of longer maturities continue to drop and fall below yields of shorter maturities, the yield curve "inverts." The last time it inverted was a precursor to the Financial Crisis.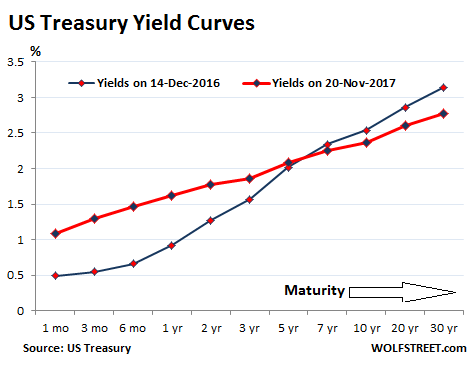 Inflation is already moving beneath the surface
Source: wolfstreet.com
BofA's Apocalyptic Forecast: Stocks Flash Crash, Bond Bubble Bursts In H1 2018, War May Follow
  BofA's  Chief Investment Strategist not only once again dares to time his market peak forecast, which he now thinks will take place in the first half of 2018, but goes so far as to predict that there will be a flash crash "a la 1987/1994/1998" in just a few months.
Finally, if that wasn't bad enough, in addition to the combined bursting of the short-vol and long credit bubbles, BofA has one final prophecy: "the biggest risk of all is that the structural "Deflationary D's" (excess Debt, aging Demographics, tech Disruption) cause wage inflation to again surprise to the downside." Here's why:
The Big Risk: tech bubble
Translation: the Fed – having created the record wealth, income and class divide that resulted in Brexit, Trump and a wave of nationalism across Europe – is unable to stop, and unleashes civil, and perhaps world war as its final act.

Source: zerohedge.com
---
Political/Rights
Judicial Watch Sues State Department for Podesta Group Records
Judicial Watch announced today that it filed a Freedom of Information Act (FOIA) lawsuit against the U.S. Department of State for all records about the Podesta Group Inc. and the European Centre for a Modern Ukraine, which have both been connected to the recent special counsel indictment of Paul Manafort (Judicial Watch v. U.S. Department of State (No. 1:17-cv-02489)).
All records of communication between any official, employee, or representative of the Department of State and any principal, employee, or representative of Podesta Group, Inc.
All records produced related to any meetings or telephonic communications between any official, employee, or representative of the Department of State and any principal, employee, or representative of Podesta Group, Inc.
All records regarding the European Centre for a Modern Ukraine.
The FOIA request covers the timeframe of January 1, 2012 to the present.
Source :  judicialwatch.org
---
Geopolitical/Police State
FCC Unveils Plan To Roll Back Net Neutrality Rules
The Trump administration has just set in motion a plan to repeal virtually all of the U.S. government's existing net neutrality rules

According to a statement from FCC Chair Ajit Pai, the move is intended to return the internet to the "light-touch regulatory approach
 "For almost twenty years, the Internet thrived under the light-touch regulatory approach  This bipartisan framework led the private sector to invest $1.5 trillion building communications networks throughout the United States. And it gave us an Internet economy that became the envy of the world."

"But in 2015, the prior FCC bowed to pressure from President Obama. On a party-line vote, it imposed heavy-handed, utility-style regulations upon the Internet. That decision was a mistake. It's depressed investment in building and expanding broadband networks and deterred innovation."

Ok lets see here:WHO is, actively, right now, censoring the internet in a major way?ANSWER: Google, Facebook, Twitter,WHO are, right now, the biggest supporters of Net Neutrality??ANSWER: Google, Facebook, Twitter,
Source: zerohedge.com
Google Executive Says New Algorithm Will Hide RT, Sputnik Articles
Eric Schmidt, the executive chairman of Google's parent company, Alphabet, announced Saturday that the company will "engineer" algorithms that will make it harder for articles from Sputnik News and RT to appear on the Google News service.
"We are working on detecting and de-ranking those kinds of sites — it's basically RT and Sputnik," Schmidt said during a question and answer session at the Halifax International Security Forum in Canada. "We are well of aware of it, and we are trying to engineer the systems to prevent [the content being delivered to wide audiences]. But we don't want to ban the sites — that's not how we operate."
Schmidt's response came after a guest in the audience asked the 62-year-old executive whether Google facilitated "Russian propaganda." The comments were in relation to a larger discussion on the search engine's Google News services which offers viewers a range of articles on certain topics.
​Schmidt later noted that he was "very strongly not in favor of censorship," but that instead he had faith in "ranking" stories.
Source: sputniknews.com
---
War
BREAKING: Robert Mugabe resigns as President of Zimbabwe
Robert Mugabe appears to have relinquished power. He had been the leading politician in Zimbabwe since independence was achieved in 1980.
Zimbabwe's parliament which is dominated by a ZANU-PF super-majority has begun impeachment proceedings against President Robert Mugabe.
Source: theduran.com
US bombs Afghan opium labs, lays out 2-year plan; Troop deaths rose in 2017; N. Korea back on terror list; Putin, Assad meet; and just a bit more…
 
The strikes come as part of the White House's "new South Asia strategy," he said, calling the plan "not quite 90 days old. And under this strategy, I received new authorities — and this is for

U.S.

Forces Afghanistan… and these new authorities allowed us to attack the enemy across the breadth and the depth of the battle space, and also functionally, to attack their financial networks, their revenue streams."
Source: defenseone.com
Russia begins deliveries of advanced T-90 battle tanks to Iraqi army
Russia's main battle tank manufacturer, Uralvagonzavod, has started delivering advanced T-90 battle tanks to the Iraqi army under a major deal struck between Moscow and Baghdad earlier this year.
The T-90 is a third-generation Russian battle tank built upon the time-proven Soviet T-72 design.
It is among the best-selling tanks in the world, known for its firepower, enhanced protection and mobility.
The Iraqi military plans to reinforce its fleet of M1A1 Abrams main battle tanks with T-90s. A large number of American M1A1 Abrams tanks have been damaged in the fight against Daesh Takfiri terrorists.
Source: veteranstoday.com
Russian General Staff: Active Phase Of Syria Military Operation Nears End
The active phase of Russia's military operation in Syria is coming to an end, Russia's Chief of General Staff and First Deputy Defense Minister Valery Gerasimov said on Monday.
Source: southfront.org
Putin and Assad discuss major principles of political process in Syria
On behalf of the Syrian people, Assad thanked Putin for helping him to protect the territorial integrity of Syria and its independence
Putin and his Syrian counterpart discussed the major principles in Syria's political process and preparations for the Congress of Syrian Peoples. Their meeting took place in the Russian Black Sea resort of Sochi on Monday, while the Syrian president was on a working visit to Russia.
Putin also introduced Assad to the senior officials of the Russian Defense Ministry and the General Staff, who are currently in Sochi for a series of meetings on defense issues.
The Russian president pointed out that on November 22, he planned to meet with his Iranian and Turkish counterparts,
Source:tass.com
Trump and Putin Speak for an Hour About Syria, Ukraine, North Korea
U.S. President Donald Trump and Russian President Vladimir Putin spoke on the phone for about an hour on Tuesday and covered topics including Syria, Ukraine, Iran, North Korea and Afghanistan, a White House official said.
Source: usnews.com
'Advanced' cyber attack targets Saudi Arabia
Saudi authorities said Monday they had detected an "advanced" cyber attack targeting the kingdom, in a fresh attempt by hackers to disrupt government computers.
The government's National Cyber Security Centre said the attack involved the use of "Powershell" malware, but it did not comment on the source of the attack or which
US intelligence officials at the time said they suspected a link to the kingdom's regional rival Iran.
Source: phys.org
Lebanese Army placed at 'full readiness' to counter 'Israeli enemy'
The head of the Lebanese Army has asked the military to be at "full readiness" to face "the Israeli enemy" at the southern border. The announcement comes as Arab nations, including Saudi Arabia, vow to tighten their grip on Lebanon's Hezbollah militia.

Source: rt.com