Podcast: Play in new window | Download (Duration: 48:00 — 52.4MB)
The real estate market is declining rapidly, when the Fed raises rates again in Sept the housing market will implode.  This will kick off a chain reaction and will hit other industries. The central banks (Fed) have been preparing to have out cash to keep the public happy as the system crashed. The central bankers are using Chicago as a test case for Universal Basic Income. They know their system is breaking down and they are going to do whatever they can to keep the public happy so they are not blamed. Trump signed an executive order to sanction anyone that interferes with the US election.JW is suing the government for the emails on Weiner's laptop. Jeff Session looking to investigate social media giants. Grand Jury indicts the NM compound individuals. The deep state is pushing their agenda in Libya attacking the oil facilities.  Syria making trade deals with other countries to rebuild their country. Q drops more breadcrumbs reports the rats are panicking and they are ready to run but there is no place to hide.
Check Out The X22 Report Spotlight YouTube Channel X22Report Spotlight
Please check Newzsentinel.com for the latest news on the economic collapse. The Sentinel Alerts are updated throughout the day. If you haven't already, go to "The People" and join the community of people who are helping each through the economic collapse.
---
Current News – 09.12.2018
Watch The X22 Report On Video
---
Economy
The Washington-based trade group said its seasonally adjusted index on applications to refinance an existing home fell 5.9 percent  . This was the weakest reading since December 2000.
Source: reuters.com
 Chicago Mayor Rahm Emanuel is forming a task force that will analyze whether the city should establish a so-called "universal basic income" program, as they Mayor seeks to salvage his legacy – currently associated with Chicago's horrendous murder rate and broken pension system. Emanuel announced he would not be seeking a third term in next February's elections.
The task force set up by Emanuel will consist of a panel that will decide whether the welfare initiative could work, as the city wrestles with a $71 billion debt load, nearly $40 billion of which is pension debt.
A Universal Basic Income scheme was first floated in July by Chicago Alderman Ameye Pawar – who is running for Governor of Illinois this November. Pawar's called on Emanuel tro launch a pilot program which would pay 1,000 families $500 each month.

"Chicago would be the largest city in the country to take this step,"
Source: zerohedge.com
---
Political/Rights
 President Trump will sign an executive order as soon as Wednesday that will slap sanctions on any foreign companies or people who interfere in U.S. elections, based on intelligence agency findings. The sanction targets could include "individual people or entire companies accused of interfering in U.S. elections by cyber attacks or other means," an official told Reuters. It was not clear if entire countries would also be subject to the order.
Election interference will be defined in the order as hacking attempts against "election infrastructure," and efforts to sway public opinion through coordinated digital propaganda or systematic leaks of private political information.
Source: zerohedge.com
Judicial Watch sues DOJ for emails found on Anthony Weiner's laptop
Judicial Watch announced Tuesday that it has sued the Department of Justice for all of the emails found by the FBI on former Congressman Anthony Weiner's laptop just days before the 2016 presidential election.
In October 2016 The Washington Post reported that the FBI obtained a warrant to search the emails found on a computer used by Weiner that may contain evidence relevant to the investigation into former Secretary of State Hillary Clinton's private email server.  Judicial Watch is seeking:
All records regarding the search of a laptop owned or formerly owned by former Congressman Anthony Weiner.
All records retrieved from a laptop owned or formerly owned by former Congressman Anthony Weiner.
All records of communications, emails, text messages and instant chats, sent to or from FBI officials relating to Hillary Clinton's knowledge or possible knowledge of illicit activities involving former Congressman Anthony Weiner.

Source:sott.net
Crazy Maxine Waters: "After we impeach Trump, we'll go after Mike Pence. We'll get him." @FoxNews Where are the Democrats coming from? The best Economy in the history of our country would totally collapse if they ever took control!

— Donald J. Trump (@realDonaldTrump) September 12, 2018
---
Geopolitical/Police State
Putin says Russia identified suspects in Novichok poisoning
President Vladimir Putin said on Wednesday that Russia has identified the two men that Britain named as suspects in the poisoning of a former Russian spy, and that there is "nothing criminal" about them.
"We know who these people are, we have found them," Putin said. "There is nothing special or criminal about it, I can assure you."
 Putin said that they are "civilians" and called on the men to come forward.
Source: washingtontimes.com
---
War
ISIS Attack HQ Of Libya's National Oil Corporation Amid Chaos In Tripoli
On September 11th, ISIS claimed responsibility for a suicide attack on the headquarters of Libya's National Oil Corporation (NOC) in the Libyan capital of Tripoli.

Source: southfront.org
  Syrian state media says the nation's Exporters' Union on Monday signed agreements with Iraqi, Kuwaiti, and Russian companies to export agricultural products to their markets.
Syria's government is looking for trade and investment partners through its annual Damascus International Fair to help rebuild its shattered economy.
Source: kiro7.com
---
Q
Q posted these both before, with their original names…
What's important is understanding this tangled web of intrigue, and the way the Deep State used the media to retroactively fabricate the basis for issuing the FISA warrants against Citizen Trump in 2016:
The Department of Justice inspector general report released today includes two elaborate charts mapping the volume of communications identified between FBI employees and members of the media in April, May, and October 2016.
"We have profound concerns about the volume and extent of unauthorized media contacts by FBI personnel that we have uncovered during our review," the report states.
Here's "Attachment H" in the IG report.
The issue of FBI employees improperly disclosing non-public information, a.k.a. leaking tips to reporters, "raised considerable concerns," according to investigators. They  discovered a number of social interactions with reporters deemed inconsistent with FBI policy and department ethics rules.
"FBI employees received tickets to sporting events from journalists, went on golfing outings with media representatives, were treated to drinks and meals after work by reporters, and were the guests of journalists at nonpublic social events," the report states.
First, we frequently find that the universe of Department and FBI employees who had access to sensitive information that has been leaked is substantial, often involving dozens, and in some instances, more than 100 people. We recognize that this is a challenging issue, because keeping information too closely held can harm an investigation and the supervision of it. Nevertheless, we think the Department and the FBI need to consider whether there is a better way to appropriately control the dissemination of sensitive information.
Second, although FBI policy strictly limits the employees who are authorized to speak to the media, we found that this policy appeared to be widely ignored during the period we reviewed. We identified numerous FBI employees, at all levels of the organization and with no official reason to be in contact with the media, who were nevertheless in frequent contact with reporters. The large number of FBI employees who were in contact with journalists during this time period impacted our ability to identify the sources of leaks.
Source: thefederalist.com

And here, Rep. Meadows tweets about the letter he sent to [RR]; the one we read about on the Sara Carter's site, linked in the previous article. There's not a lot here that you didn't already see already, other than the wheels of Justice slowly rolling along: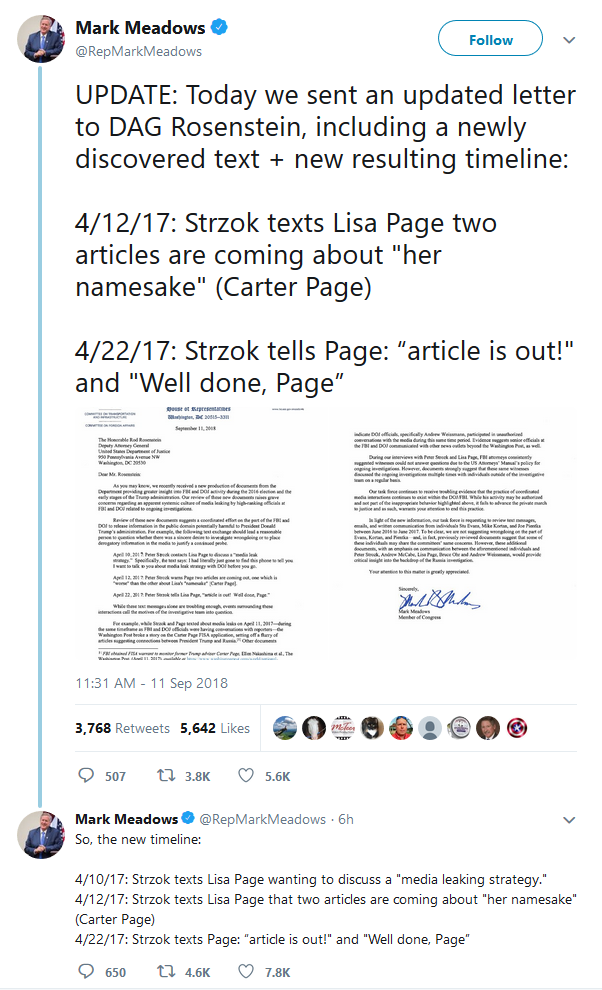 Q deleted this post (but didn't ask us to), so I'm including it here, today:
Satan, the "Great Accuser," has been unleashed against the bishops of the Church, Pope Francis said Tuesday, in a thinly veiled reference to the former Vatican nuncio to the United States.

The former nuncio, Archbishop Carlo Maria Viganò, recently accused a number of prelates of dereliction of duty in dealing with clerical sex abuse and claimed that the pope had rehabilitated serial abuser Cardinal Theodore McCarrick, elevating him to a position of influence despite knowledge of his misdeeds.

In an 11-page testimony published on August 25, Viganò alleged that he had personally informed Pope Francis in 2013 of the serial homosexual abuse perpetrated by Cardinal McCarrick, along with sanctions imposed on his ministry by Pope Benedict XVI, and yet the pope lifted those sanctions and involved McCarrick in the naming of future bishops.

"The Great Accuser, as he himself tells God in the first chapter of the Book of Job, roams around the earth looking for someone to accuse," Francis said in his morning homily at Mass in the chapel of the Santa Marta residence in the Vatican.

In these times "it seems that the Great Accuser has been unleashed and has it in for the bishops," the pope said.

"It is true, we are all sinners, we bishops," he said, but the Great Accuser "seeks to unveil sins so that they may be seen, to scandalize the people."
Looks like a long pattern of abuse and exploitation by #Bergoglio.
#Anon noticed another [0] delta here:
And… even though Q said it was just lag during the previous [0] delta… it was technically a 10 second difference between Q's post and Trump's tweet.
So… we had 10 yesterday, 9 today…
Now, I'm more inclined to just believe Q that its best attributed to lag, but if they're starting some kind of countdown, at least now you're aware of the origins, too.
DECLINE – that sends a very clear message to more than just [RR]!
NO DEALS!
So whats happening here, a sitting president orderd the willing judicial branch of the US government to spy on and set up a false sting operation on his parties political opponent for the up coming Presidential election.
So what did RR try to do, Rosenstein may have tried going to Trump to say " you cant do this, for the good of the nation" you can't do this. Either that or he truly wants to explain himself and beg for his life, maybe he thinks he has info that DJT doesnt already have "( im sure he doesnt)", and wants to cut a deal.
King and Spalding is a biiiiiiiiiig (and presumably EXPENSIVE) DC Law firm.
Yates actually works there: Plus they specialize in the following special matters and government investigations
So maybe she's getting the employee discount.
(
Trying to coordinate the details of their testimony, no doubt.

When does a bird sing? #BOOM! Haha!
UK–US extradition treaty of 2003

Controversy surrounds the UK–US extradition treaty of 2003, which was implemented by the UK in the Extradition Act 2003 and came into force in April 2007 following its ratification by the US Senate in 2006.[1][2] Christopher Steele, The Storm is now upon you.
The treaty has been claimed to be one-sided[3] because it allows the US to extradite UK citizens and others for offences committed against US law, even though the alleged offence may have been committed in the UK by a person living and working in the UK (see for example the NatWest Three), and there being no reciprocal right; and issues about the level of proof required being less to extradite from the UK to the US rather than vice versa.[4]
Reminder before we begin, that the New York Times is owned by Mexican Billionaire Carlos Slim, who is also a major investor in CEMEX.
Sherman Kent, a postwar official considered a founding figure of the United States intelligence community, liked to say that C.I.A. analysts are driven by three wishes: to know everything, to be believed and to have some positive impact. The bread crumb draws its power from that first wish — our human discontent with how little can actually be known. Curiosity, in other words.

The line between inquiring our way into the unknown and speculating our way into it is evident only in retrospect. We can see this most clearly at the edges of old maps, where the terrain loses all proportion before decaying into dragon-filled waters and rings of fire. But these maps were at least informed by the actual journeys of actual explorers; just as Kent's C.I.A. analysts had, for better or worse, real raw intelligence. What makes conspiracy-theory bread crumbs different is that they do little more than rearrange the known in hopes of sparking a conversation about the unknown. They speculate, interpret wildly, ask baffling questions. They adjust their narratives to link new developments back to old hints. These rhetorical moves all serve to conceal the fact that they have nothing verifiable to add.

Q is just one particularly absurd manifestation of this mode of thinking. A related tendency can be found in corners of the anti-Trump resistance, where Twitter gurus highlight whatever nuggets of the day's news are favorable to their camp. Like the bakers, some flatter themselves by calling their work "research," but their real formula is to aggregate and speculate. (If the Russian ambassador, Paul Manafort and Donald Trump were all present at the same Washington reception in April 2016, surely they must have hammered out the details of a criminal conspiracy then and there?) The president is forever on the verge of impeachment; the biggest bombshells are always just about to drop; the full perfidy of the Trump-Russia iceberg is always just below the waterline, visible only to those faithfully connecting the dots. These figures lack Q's mystique (and are far, far better connected with reality), but they share Q's vulnerability: Their influence depends on producing a nonstop stream of portentous tidbits, little pellets of encouragement to keep followers hitting the retweet button.
Gotta give it to the clowns on this one. This is some good propaganda. I especially liked how they derided Q's usage of pop-culture references, and then turned around and referenced fairy tales and myths themselves:
The trail of bread crumbs left by Hansel, though, is not intended as a series of clues for someone else. It is more like Theseus' ball of thread, allowing the children to find their way back home. And this plan does not work: The crumbs are eaten by birds, and the children wander deeper into the unknown, to the witch's house. By the time they arrive, they are starving.

Q's bakers, likewise, are starving for information. Their willingness to chase bread crumbs is a symptom of ignorance and powerlessness. There may be something to their belief that the machinery of the state is inaccessible to the people. It's hard to blame them for resorting to fantasy and esotericism, after all, when accurate information about the government's current activities is so easily concealed and so woefully incomplete. Despite Q's insistence that "we are in control" and "you have the power," the truth may be even more frightening.
Like those veiled threats, though? Expect that kind of thing to continue.
Note the authors Bio:
Mattathias Schwartz is a contributing writer for the magazine and a former staff writer at The New Yorker, where he won the Livingston Award for international reporting. His last feature for the magazine was about the former C.I.A. director John Brennan.
Mattathias Schwartz is a former national security reporter for The Intercept. He has served as a contributing writer at the New York Times Magazine, a staff writer at The New Yorker, and is currently a term member at the Council on Foreign Relations.
https://theintercept.com/staff/mattathiasschwartz/
White House
Plot
USA
Aliens
Hillary
Illumanti
Bigfoot
Power
QreadNSA
Documents
CIA
Justice
Secret
Q

!!mG7VJxZNCI

ID: 27e1fa

No.2925765



Specific timing rests w/ POTUS.
Hints expend ammunition.
Think NYT 'Anon' article (Ex)
The WORLD is WATCHING.
Q
More joinin' the party!