Podcast: Play in new window | Download (Duration: 48:37 — 50.8MB)
Initial jobless claims shot-up because of the government shutdown, most likely this will disappear once the government stays open. Home sales are getting uglier, the rates have been unchanged by the fed and the housing market will not decline as fast, but it is still declining. US is in high level trade talks with China, Trump will make a deal before March 1 and the tariffs will be lifted, this will put the [DS] and the MSM in a box. The Fed said something very interesting about future generations, patriots are in control. Lindsey Graham wants answers over the arrest of the FBI. Judge order Buzzfeed to release the sealed letters about the Steele Dossier. Another person on Mueller's team worked for the Clinton Foundation. Trump is changing the 9th circuit court by appointing more judges. The battle for the wall is on, Pelosi says there is no funding, but this doesn't matter because Trump will build the wall with out it. Saudi Arabia cracks down on corruption. We are watching a show and the patriots have the script and are the directors. Trump hopes RBG gets better, is he projecting. Q gave us hints about this.
Check Out The X22 Report Spotlight YouTube Channel X22Report Spotlight
Please check Newzsentinel.com for the latest news on the economic collapse. The Sentinel Alerts are updated throughout the day. If you haven't already, go to "The People" and join the community of people who are helping each through the economic collapse.
---
Current News – 01.31.2019
Watch The X22 Report On Video
---
Economy
Initial jobless claims exploded higher by 53,000 last week to 253,000 – the highest since Sept 2017 (from the lowest in 50 years).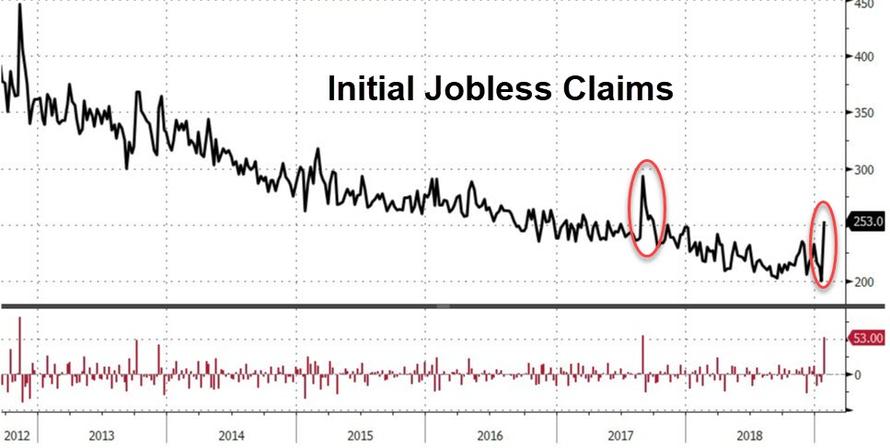 Presumably most if not all of this surge will be erased over the nest week or two as the shutdown is now over.
Source: zerohedge.com
"Dripping down, down, down. Frustrating that the housing market is not recovering": National Association of Realtors
 Contract signings run roughly one or two months ahead of when the sales close and are reported as sales. The measure of pending home sales for December projects actual home sales in January and February. To that tune, the National Association of Realtors (NAR) said that its Pending Home Sales Index for December fell to the lowest level since April 2014: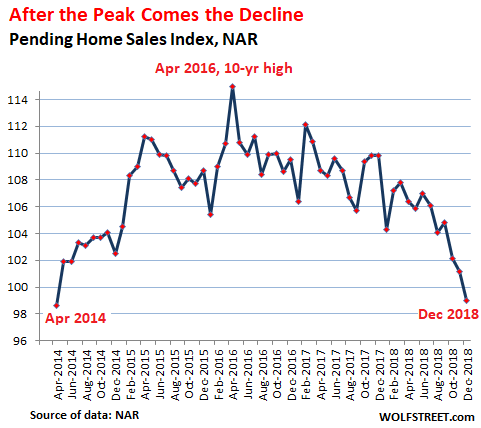 "
To show the acceleration of the declines of contract signings toward the end of the year, I marked October, November, and December in red: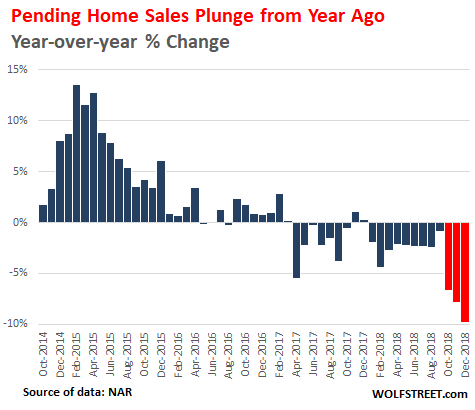 All four regions experienced year-over-year declines. Note the double-digit drops in the South and West:
Northeast: -2.5%
Midwest: -7.2%
South: -13.5%
West: -10.8%
Source: wolfstreet.com
U.S. and China Begin High-Level Trade Talks in DC…
 Two days of intense trade discussions begin in the Eisenhower building led by U.S. Trade Representative Robert Lighthizer and his Chinese counterpart Vice Premier Liu He. The stakes are high as the deadline for an agreement is March 2nd.
Ambassador Lighthizer is joined by Commerce Secretary Wilbur Ross, Treasury Secretary Steven Mnuchin, and China's arch nemesis, White House trade advisor Peter Navarro.
President Trump has made sure the Chinese are aware the status quo cannot stand. Additionally, USTR Lighthizer has previously affirmed that significant, substantive and deliverable progress must be made to avoid pending tariff increases.
China knows what will happen on March 2nd, if they do not negotiate in full faith.
China's top trade negotiators are in the U.S. meeting with our representatives. Meetings are going well with good intent and spirit on both sides. China does not want an increase in Tariffs and feels they will do much better if they make a deal. They are correct. I will be……

— Donald J. Trump (@realDonaldTrump) January 31, 2019
….meeting with their top leaders and representatives today in the Oval Office. No final deal will be made until my friend President Xi, and I, meet in the near future to discuss and agree on some of the long standing and more difficult points. Very comprehensive transaction….

— Donald J. Trump (@realDonaldTrump) January 31, 2019
….China's representatives and I are trying to do a complete deal, leaving NOTHING unresolved on the table. All of the many problems are being discussed and will be hopefully resolved. Tariffs on China increase to 25% on March 1st, so all working hard to complete by that date!

— Donald J. Trump (@realDonaldTrump) January 31, 2019
Source: theconservativetreehouse.com
Trump says he'll talk trade one-on-one with China's president
President Trump has agreed to meet one-on-one with China's president, Xi Jinping, to discuss trade policy later this year,
The meeting would be the first between the leaders since one in early December, which resulted in a cooling-down of the current trade wa
"No final deal will be made until my friend President Xi, and I, meet in the near future to discuss and agree on some of the long standing and more difficult points," Trump tweeted.
Source: washingtonexaminer.com
'No time like now' to address the federal debt, Fed chairman Powell says
F

ederal Reserve chairman Jerome Powell said Wednesday that Congress and President Trump should look to fix the federal government's finances now, rather than wait for later when the federal debt is higher.
"There's no time like now, when the economy is healthy, growing, people are working, to go after that problem," Powell said of the federal debt at a press conference in Washington. "Ultimately, we will have to."
Powell was responding to a question about congressional projections released this week showing that the federal deficit is rising and set to drive the accumulated debt up to postwar record highs in the years ahead. The deficit is growing, even though the economy is healthy and unemployment is lo
Powell called the government's fiscal situation "unsustainable" and blamed the expected run-up in debt on healthcare costs and the aging of the population into retirement programs.
"In the longer run, we'll be spending all of our money on paying interest and not on the things that we really need to be doing for future generations, for our own generation," he said.
Source: washingtonexaminer.com
---
Political/Rights
Senator Lindsey Graham Sends a Letter to FBI Requesting Briefing Over Roger Stone Arrest….
today Senate Judiciary Chairman Lindsey Graham sends a letter to FBI Director Christopher Wray requesting a briefing on the FBI conduct during the raid and arrest of 66-year-old Roger Stone.
However, sorry, I can't let this go unnoticed. This letter is pure Decepticon politics.
Just yesterday FBI Director Chris Wray gave testimony before the senate for over four hours. If Republicans in the senate were actually concerned about the issue, why didn't a single senator spend 30 seconds to ask about Wray about it?  I digress…
Source: theconservativetreehouse.com
Judge Orders Release Of Sealed Records From BuzzFeed's Dossier Lawsuit
A federal judge in Florida on Wednesday ordered the public release of dozens of documents kept under seal during BuzzFeed's lawsuit over the Steele dossier.
District Court Judge Ursula Ungaro ordered the documents be made public by Feb. 8. More than 40 records used in the case are listed in the order.
Ungaro's decision will shed light into the discovery process during the defamation case, which included depositions with dossier author Christopher Steele and the founders of Fusion GPS, the opposition research firm that hired Steele.
Ungaro ruled in BuzzFeed's favor Dec. 19, 2018. The website was sued in February 2017 by Aleksej Gubarev, a Russian tech executive accused in the dossier of using his web hosting companies to hack into the Democratic National Committee's computer systems.
Gubarev vehemently denied the allegation, which Steele made in a memo dated Dec. 13, 2016. The memo was the last of 17 memos that compile what is known as the dossier. BuzzFeed published the dossier Jan. 10, 2017.
BuzzFeed apologized to Gubarev after the lawsuit was filed and redacted his name from the copy of the dossier posted to its website. But the website hired a private investigator — a former FBI and National Security Council official named Anthony Ferrante — to uncover evidence to support its legal defense.
In her final order in the case, Ungaro revealed BuzzFeed obtained the dossier through David Kramer, a former State Department official and close associate of the late Republican Arizona Sen. John McCain. Kramer gave BuzzFeed's Ken Bensinger a copy of the dossier Dec. 28, 2016.
The discovery process of the case revealed Steele and opposition research firm Fusion GPS's efforts to provide the dossier to journalists. Steele and Fusion founder Glenn Simpson met with reporters from The New York Times, The Washington Post, The New Yorker, CNN and Yahoo! News in September and October 2016.
Source: truepundit.com
MUELLER CORRUPTION: Former Deputy Assistant AG Represented Clinton Foundation
ANOTHER Mueller investigator comes under scrutiny: Attorney on Russia probe is revealed to have previously represented the Clinton Foundation
Jeannie Rhee is a former Justice Department lawyer who joined special counsel Robert Mueller's team
 She also previously represented the Clinton Foundation
As a partner at Wilmer Hale law firm she represented former Obama security advisor Ben Rhodes
Rhee joined a legal team that defended the Clinton Foundation from a racketeering lawsuit filed by conservative activist Larry Klayman of Freedom Watch.
Jeannie Rhee, a member of special counsel Robert Mueller's team, is coming under scrutiny for her past legal work for the Clinton Foundation
Rhee also represented Obama security advisor Ben Rhodes as he negotiated a congressional investigation in connection with the 2012 Benghazi attacks. Rhodes was one of Obama's most trusted advisors..
House Republican lawmakers are also putting Mueller and his team under the microscope.
House Judiciary Committee chairman Robert Goodlatte held a hearing Thursday with FBI Director Christopher Wray, where he brought up the issue.
Source:  themillenniumreport.com
Trump will nominate three to liberal 9th Circuit
T

he White House on Wednesday announced a trio of nominees to fill vacancies on the 9th U.S. Circuit Court of Appeals,  e court.
President Trump intends to nominate Daniel Bress, Daniel Collins, and Kenneth Lee to the San Francisco-based appeals court, considered to be the country's most liberal, the White House announced
The president also plans to nominate four others to federal district courts in California,
Source: washingtonexaminer.com
Trump: More troops going to border but wall would be 'much easier'
Large sections of WALL have already been built with much more either under construction or ready to go. Renovation of existing WALLS is also a very big part of the plan to finally, after many decades, properly Secure Our Border. The Wall is getting done one way or the other!

— Donald J. Trump (@realDonaldTrump) January 31, 2019
Republicans on the Homeland Security Committee are wasting their time. Democrats, despite all of the evidence, proof and Caravans coming, are not going to give money to build the DESPERATELY needed WALL. I've got you covered. Wall is already being built, I don't expect much help!

— Donald J. Trump (@realDonaldTrump) January 31, 2019
The MSM & DS are continually using different words for the wall, they call it a fence, a slotted fence, a barrier, This is a game they are playing to confuse the public, Trump tweets out the following
Lets just call them WALLS from now on and stop playing political games! A WALL is a WALL!

— Donald J. Trump (@realDonaldTrump) January 31, 2019
Night Cameras at night spotted illegals trying to get into the country, In Arizona they caught 123 illegals trying to cross the border, this would have been much harder if there was a wall.
#USBP #YumaSector camera operators observe a group of 123 illegal aliens surrendering to agents after crossing vehicle barriers near Yuma last Friday. Yuma continues to apprehend an average of 100 – 200 Central Americans per day. @CBP #NationalSecurity #SouthwestBorder pic.twitter.com/U0S8cjNvsv

— CBP Arizona (@CBPArizona) January 30, 2019
The clock is ticking down on the amount of time congress has left to come up with a deal, and so far it is not going well, Mark Meadows tweets out.
Democrats insisted for a month they were ready to negotiate on border security when government reopened. It's been nearly a week and we have yet to see even one Dem compromise counteroffer to the multiple proposals from POTUS. This is not a negotiation—one side isn't negotiating.

— Mark Meadows (@RepMarkMeadows) January 30, 2019
He continues
Amazing. Hardly 24 hours in to conference talks and Speaker Pelosi announces "no wall money" in a bill. This is a total and open refusal to even negotiate on something fundamental to a secure border.

Stop pretending Democrats are negotiating. Democrats aren't even pretending.

— Mark Meadows (@RepMarkMeadows) January 31, 2019
Trump holds all the cards, Bill Mitchell explains
.@SpeakerPelosi could have gotten a good deal for Dreamers in exchange for the wall, but no, her pride came first.

Trump will get his wall and Nancy's base will get JACK SQUAT.

Proud of your great leader now Democrats?

— Bill Mitchell (@mitchellvii) January 31, 2019
Think about was offered for the wall, if there is no deal, Pelosi and team will get nothing and Trump will build the wall.  Nancy Pelosi said that there is no money for the wall. She is on a different agenda and we all know what that is.
 Of course they are going to complain and they will try to stop the wall, who knows we might even see an event to divert attention, they are pushing many gun bills, and as you know to push them along they would need an event…
---
Geopolitical/Police State
A free speech debate is brewing in France after lawmakers have backed a bill banning protesters from hiding their faces during demonstrations, a  The legislation seeks to make it easier for facial recognition systems to identify rioters, and carries a penalty of up to a year in prison and a 15,000 euro fine.  Facial Recognition working to help the people or to help the government track people and arrest them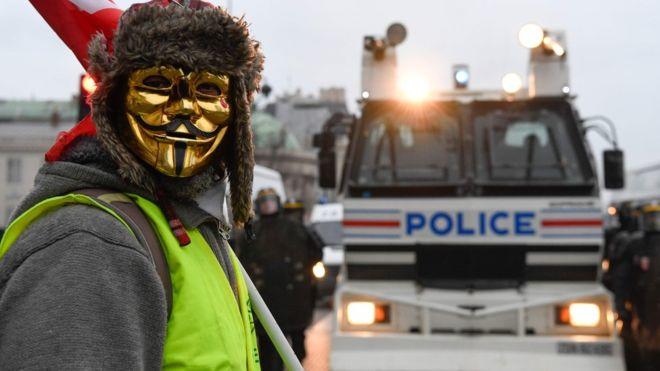 The "anti-casseurs" (anti-hooligan) bill which is expected to secure approval next week also grants French police greater powers to identify and detain potential troublemakers from demonstrations.
The anti-mask bill has drawn criticism from the center-left of French politics, with some describing the measures as "authoritarian."
Charles de Courson, from the centrist UDI party, told parliament the law was extremely dangerous. He said: "It's as if we're back under the Vichy regime [the Nazi-collaborationist regime of the 1940s]. You're presumed to be a résistant so we throw you in prison. Wake up! Wake up, colleagues! … The day you have a different government in power – a far-right government – and you're in opposition, you'll see that it's pure madness to vote for this text." –The Guardian
Of course, many of the protesters are donning gas masks to protect against tear gas fired by the police. We assume they'll be prosecuted as well.
Source: zerohedge.com
….Large protests all across Venezuela today against Maduro. The fight for freedom has begun!

— Donald J. Trump (@realDonaldTrump) January 30, 2019
It has been more than a year since Saudi Crown Prince Mohammad bin Salman ordered a sweeping "corruption crackdown" that involved arresting dozens of the kingdom's wealthiest and most well-connected businessmen and political elites and locking them up in an ad hoc prison
After dozens of detainees – a group that reportedly included Saudi Prince Alwaleed bin Talal – agreed to surrender billions of dollars in assets and cash, most were let go; others were moved to a more traditional prison where,  some are being held on corruption charges to this day.
And for the first time, the kingdom also released official numbers about the number of people who were detained, the number who settled and the number who have been referred for further prosecution after the kingdom "refused to settle" because of "existing corruption charges," per the FT.
: "The kingdom will continue its efforts to preserve integrity, combat corruption and empower law enforcement and other relevant state bodies so that they are able to effectively practice their role in preserving public funds."
The government summoned 381 people, including witnesses, as part of the crackdown, according to the Royal Court.
Settlements were reached with 87 after they confessed to the charges against them. Eight people refused to settle and were referred to prosecutors for further charges.
The attorney-general refused to settle with 56 people because of existing criminal charges against them.
Seized assets recovered included real estate, companies and cash.
The government believes the crackdown was "necessary" as the kingdom embarked on a raft of MbS's economic reforms.
Source: zerohedge.com
Simplified.
Alice & Wonderland.
Hillary & Saudi Arabia.
References:
Hillary Clinton in Wonderland by Lewis Carroll.
Saudi Arabia – the Bloody Wonderland.
Q
Q

!!mG7VJxZNCI

ID: 158b72

No.2827163


Dk1HUHvUUAAS4Kg.jpg

HRC = Alice
SA = Wonderland
WHO ARE THE WHITE RABBITS?
Re_read drops re: SA
Have faith.
For God & Country.
Q
Saudi Arabia recently arrested all their corrupt princes, and down a helicopter where corrupted officials were trying to escape. Saudis also cut tied with Hillary.
Saudi Arabia = The Bloody Wonderland.
The Alice & Wonderland event confirmed.
---
Q
We are watching Trump's/Patriot Show, they have the script.
Burn Notice Tweets the following,
1. THREAD – Is anything really happening?

For those following US and world politics, it must be accepted that we are in a 'weird' time of civilisation (I use this term loosely).

Let me focus just on Trump tweets.

My favourite was Covfefe 👇 pic.twitter.com/hRtjokn13o

— Burn Notice (@BurnedSpy34) January 30, 2019
COVFEFE H.R.2884 Introduced in House (06/12/2017) Communications Over Various Feeds Electronically For Engagement Act of 2017 or the COVFEFE Act of 2017 @POTUS referenced COVFEFE after the media had a fit about his deleting a tweet because of spelling. https://www.congress.gov/bill/115th-congress/house-bill/2884 …
This bill amends provisions governing presidential records to: (1) revise the definition of "documentary material" to include social media; (2) revise the definition of "presidential records" to include any personal and official social media account; and (3) define "social media" as any form of electronic communication (such as a website for social networking and microblogging) through which users create an online community to share information, ideas, personal messages, and other content (such as videos).
2. Trump seems to love to facilitate tremendous ridicule.

Covfefe was so brilliant because it preserved every tweet as a presidential record. 👇https://t.co/Tn4gDzStGDhttps://t.co/PwUI5d9BRT

What is funnier, is that the COVFEFE ACT 2017 was moved by the Democrats. 🤣🤣🤣

— Burn Notice (@BurnedSpy34) January 30, 2019
3. Trump has nicknames for every villain:

– Crooked Hillary
– Cryin' Chuck Schumer
– Leakin' James Comey
– Liddle Adam Schitt
– Pocahontas
– Peter Strzok and his lover…

You can all add the ones I've missed. 🤣

Trump has developed a cast that rivals a TV sit-com!

— Burn Notice (@BurnedSpy34) January 30, 2019
4. To say that "nothing is happening" is a statement of ignorance.

"What" is happening however, requires some speculation and hard research. I am very sympathetic to those who still rely on MSM to confirm things.

This is the #GreatAwakening and we all awake at different times.

— Burn Notice (@BurnedSpy34) January 30, 2019
5. Trump was very clear going into the election what he was intending to do to those who we call "Deep State". He is ambiguous and crass 'now' but he wasn't 'before' he was elected.

MUST WATCH: The video that will get him elected (5 min). Show everyone:https://t.co/8Ukqcd04ck

— Burn Notice (@BurnedSpy34) January 30, 2019
6. For anyone uncertain about what Trump is all about, the Al Smith Dinner speech clarifies everything!

This is the greatest, cleverest and funniest speech ever… in the context of a future take down.

Listen carefully to every single word. MUST WATCH👇https://t.co/YZjtMefZIL

— Burn Notice (@BurnedSpy34) January 30, 2019
7. This is the greatest troll speech ever, let alone by a would-be President. His rhythm and presentation is quality stand-up comedy. Watch it and agree!

When crowd boo's the email scandal reference, Trump says "I don't know who they're angrier at Hillary, you or I". 🤣🤣🤣

— Burn Notice (@BurnedSpy34) January 30, 2019
8. Trump goes on mercilessly:

@ 12:26 "Everyone knows of course, Hillary's belief that "it takes a village", which only makes sense, after all in places like Haiti, where she has taken a number of them…(abuse). Thank you!"

Trump didn't troll like this to then do nothing!

— Burn Notice (@BurnedSpy34) January 30, 2019
9. Fast forward to now.

Trump said he would appoint a Special Counsel and take down the Deep State. Trump is waking people up.

How? He is doing it by exposing blockages.

He is calling for people to wake him up to fix the judicial system!

The shifts consciousness.

— Burn Notice (@BurnedSpy34) January 30, 2019
10. There is much confusion. Many are unsure about alliances and loyalties and whether Trump is in control.

This lures us into a judgement of someone without evidence. DO NOT fall into this trap.

Our authority is to "accuse the evidence". The more we shout, the more we know.

— Burn Notice (@BurnedSpy34) January 30, 2019
11. Everyone is still looking to the media to confirm victory.

Stop and think about what I just said (above).

Who are we granting authority to confirm our reality?

Re-read the above question. This is a life-changing insight.

— Burn Notice (@BurnedSpy34) January 30, 2019
12. The MSM may never confirm our victory.

What even defines a victory in this war?

There have been so many BOOMS but still many 'patriots' become restless with a lack of action.

POTUS is now fighting our expectations as well as the Deep State.

Two enemies. Really?

— Burn Notice (@BurnedSpy34) January 30, 2019
13. So let's change gear and look at the real issue here.

We are in the #GreatAwakening. All else is a distraction.

Therefore, we must ask who informs our reality?
Where does your informant get its information?
Does your intuition agree with the reality you are being given?

— Burn Notice (@BurnedSpy34) January 30, 2019
14. What are we "awakening" into?

Do you really know?

– A new realm of right and wrong?
– A new ruler over us?
– A political party that better reflects my beliefs?
– New colours in the rainbow?
– Correct theology?

Seriously folks, what is going on here on earth?

— Burn Notice (@BurnedSpy34) January 30, 2019
15. Given my biased "Christian" upbringing I listen to everyone. I examined their fruit without judgement.

I also looked at what Jesus said, without bias for or against his views, I examined what Jesus said about this great shift.

Taken from: https://t.co/T80FVwPuRL 👇 pic.twitter.com/DTFlwxvlF8

— Burn Notice (@BurnedSpy34) January 30, 2019
Panic in DC, the person behind the dossier and many other crimes is panicking like crazy
Ex-CIA Chief John Brennan Explodes After Trump Accuses Him of Lying to Congress
Former CIA Chief-turned-Twitter troll John Brennan attacked President Trump over the weekend AGAIN.
President Trump reacted to Mueller's indictment of Roger Stone and asked what will be done about Comey, Brennan, Clapper and others for lying to Congress.
TRUMP TWEETED:

If Roger Stone was indicted for lying to Congress, what about the lying done by Comey, Brennan, Clapper, Lisa Page & lover, Baker and soooo many others? What about Hillary to FBI and her 33,000 deleted Emails? What about Lisa & Peter's deleted texts & Wiener's laptop? Much more!

— Donald J. Trump (@realDonaldTrump) January 26, 2019
Brennan exploded after Trump accused him of lying to Congress.
BRENNAN tweeted
Your cabal of unprincipled, unethical, dishonest, and sycophantic cronies is being methodically brought to justice. We all know where this trail leads. If your utter incompetence is not enough to run you out of office, your increasingly obvious political corruption surely will. https://t.co/S6DMeGICXZ

— John O. Brennan (@JohnBrennan) January 26, 2019
Your refusal to accept the unanimous assessment of U.S. Intelligence on Iran, No. Korea, ISIS, Russia, & so much more shows the extent of your intellectual bankruptcy. All Americans, especially members of Congress, need to understand the danger you pose to our national security. https://t.co/9iV3BTKiEv

— John O. Brennan (@JohnBrennan) January 30, 2019
In his May 2017 testimony before the intelligence panel, Brennan emphatically denied the dossier factored into the intelligence community's publicly released conclusion last year that Russia meddled in the 2016 election "to help Trump's chances of victory."

Brennan also swore that he did not know who commissioned the anti-Trump research document (excerpt here), even though senior national security and counterintelligence officials at the Justice Department and FBI knew the previous year that the dossier was funded by the Hillary Clinton campaign.
Brennan's fingerprints are all over Spygate scandal,
Brennan's fingerprints all over #SpyGate scandal:

Brennan + GCHQ

Brennan + "fusion cell" + Obama briefs

Brennan + Strzok + ICA

Brennan + congressional briefings on dossier

Brennan + Harry Reid + pressuring Comey

Brennan + Nellie Ohr

And on & on …https://t.co/Jy2LKL62Q3

— Paul Sperry (@paulsperry_) August 1, 2018
Source:thegatewaypundit.com
Brennan knows whats coming, so do the others, when you see these people lash out you know it is hitting close to home and people are starting to understand what has really happened, you will see others lash out when the spotlight is turned towards them
The Call went out, concerns over Roe v Wade, abortion.  , Hillary clinton kicked it all off….
Our democracy is broken. House Democrats' first bill, #HR1, would help fix it.

Call your representative now and ask them to support automatic voter registration, restoring the Voting Rights Act, and lessening the influence of big money in politics: https://t.co/ocSxt9jMe6

— Hillary Clinton (@HillaryClinton) January 7, 2019
UPDATED: Trump reacts after Va. Republicans share video of lawmaker backing late-term abortions; Democrats call it an 'orchestrated ambush
A video clip of a first-term Virginia lawmaker saying she would allow abortions up until the moment of birth
Virginia Governor Defends Bill Legalizing Aborting Babies During Childbirth
 The Governor," Gov. Ralph Northam (D-VA) defended the Repeal Act, which would repeal Virginia's current restrictions on late-term abortions and legalize abortion up to the point of birth. Source: breitbart.com
Oregon governor supports 'universal' gov't visits for all newborns and their parentsv
 News from Oregon that Governor Kate Brown is on board with a bill which would establish "universal" invasive home visits by state employees to all households with newborns is causing shockwaves throughout the nation.
While the proposed legislation, known as Senate Bill 526, remains in a nascent form with very few published details, it has nonetheless generated great excitement among progressive statists while sending chills down the spines of parents and families who fear increased government interference in their private lives.
The controversial bill directs the Oregon Health Authority "to study home visiting by licensed health care providers." It has also been given "emergency" status, meaning that action must be taken before the end of this year.
The "emergency" designation has an oddly ominous tone, stating that the measure is "necessary for the immediate preservation of the public peace, health and safety," so "an emergency is declared to exist."
Source:lifesitenews.com
This all brings us to RBG, she has not been seen for over a month, she has cancelled engagments into Feb, Donna Brazile tweeted out a strange message about a do dying and the name of the dog was boo and the dog was 12, then we have trump talking about RBG for the first time since he tweeted back in Dec 22 2018
Wishing Supreme Court Justice Ruth Bader Ginsburg a full and speedy recovery!

— Donald J. Trump (@realDonaldTrump) December 22, 2018
EXCLUSIVE: Trump Wishes Ginsburg Long Life, Will Likely Stick To His List For Court Picks
President Donald Trump wished Supreme Court Justice Ruth Bader Ginsburg good health and said it was likely the person he nominates to fill the next vacancy on the Court would come from his previously released list.
"I hope that she's healthy … I hope she's happy … I hope she lives for a long time," Trump said

Trump is projecting, pushing the idea that he knows what has already happened, he has the list and this is why Q told us the following
Q

!!mG7VJxZNCI

ID: 09f0b8

No.4708257 


If a woman is selected as the nominee does that eliminate the wrap up smear re: sexual assault?
What other tactics might be planned to block and/or force name removal?
Why is the Senate important?
Who controls the Senate?
53-47
Enjoy the show.
Q
Source: dailycaller.com