Podcast: Play in new window | Download (0.0KB)
Greek Deputy Finance Minister orders transfer of public accounts to the National bank of Greece. Greece might be able to skip next months IMF payment. PMI and Durable goods decline. Manufacturing implodes as the Baltic Dry Index declines. During BRICS summit Russia wants IMF reforms. IMF says yuan no longer undervalued. Bernie Sanders exposes CEO's that pay no taxes, outsource jobs and received government bailouts. US and Russia prepare for Arctic Drills. US blocks nuclear disarmament in the middle east. Turkey and US agree to air cover for the FSA. US and NATO re-positioning military assets and are preparing to bring in troops to the middle east. US getting ready to take out Assad.
Check Out The New X22 Report Spotlight YouTube Channel –  X22Report Spotlight
Please check the Sentinel Alerts for the latest news on the economic collapse. The Sentinel Alerts are updated throughout the day. If you haven't already, go to "The People" and join the community of people who are helping each through the economic collapse.
---
Current News – 05.26.2015
---
Economy
Greek Deputy Finance Minister Orders The Transfer Of Public Accounts
As Greece is running out of funds, Greek deputy finance minister Dimitris Mardas ordered the transfer of 1,039 bank accounts of public authorities in a special account in the National Bank of Greece (NBG).
The transfer of funds should be completed by June 5th, the day that the Greek government has to pay its next installment to the International Monetary Fund.
Source: greece.greekreport.com
Greek Finance Ministry: Proposal on Taxing Bank Transactions Has Been Dropped
Greece has chance to skip next loan payment
Cash-strapped Greece will allegedly be allowed to skip payment to the International Monetary Fund (IMF) on June 5 and have time to negotiate a funding deal without defaulting, if it manages to reimburse all June's repayments at the end of the month.
The struggling country is due to pay the IMF €300 million on June 5 as the first of four June tranches totaling €1.6 billion.
However, Greece could only skip payment if it provides markets and citizens with a trustworthy plan of a funding deal, because missing the payment could instigate an alarm on the market and a bank run.
Source: rt.com
EU Jobless Rate to Skyrocket in Coming Years
EU unemployment rates are projected to climb to new highs in the coming years
"The situation will be worse and worse. In the coming years the unemployment will explode even more because of euro and free-exchange model which are imposed by the European Union in Brussels," Bernard Monot, a member of the European Parliament
The European Union faces a surge in jobless rates that threatens to undermine its economy in the long run. Around 27 million are out of jobs in the 28-nation union, including 21 million in the 19-member Eurozone. Six million of them are in France,
He accused European ultra-liberals of forcing a free-exchange regime on the Eurozone and EU countries, which he said is detrimental to their economies.
Source: sputniknews.com
US Services PMI Slides To Lowest Since January
US Services PMI has slipped the last 2 months, back to the lowest since January. At 56.4, below expectations, this is the biggest 2-month drop since December.
Source: zerohedge.com
Durable Goods Orders Slide YoY 4th Month In A Row Despite Dramatic Upward Revisions
After dramatically upwardly revised data from last month (but following an even more dramatic downward revision to all historical data earlier in the month) – the highly noisy series of Durable Goods Orders printed -0.5% (from +5.1% in March, revised up from +4.0%). Capital Goods Orders (non-defense Ex-Air) beat expectations MoM (printing +1.0% vs 0.3%) and was revised remarkably up from the biggest drop since 2012 to a 1.5% rise in March.
Core Capital Goods Orders, however, remains negative YoY for the 4th months in a row. The last time this happened was either a recession, or the Fed unleashed QE3.
Source: zerohedge.com
Manufacturing Index Plunges to 2009 Level in Texas, Oklahoma, New Mexico, Other States
many manufacturers in Texas, Oklahoma, New Mexico, and a number of other states, life is getting tough. Kansas City Fed reported last week, and that's what the Dallas Fed reported today.
"Labor market indicators reflected employment declines and shorter workweeks," with only 12% of the firms reporting net hiring, but with 21% reporting net layoffs.
The general business activity index dropped to -20.8, in the negative for the fourth month in a row, worst level since June 2009:
The company outlook index fell to -10.5, for the fifth month in a row in the negative and at the worst level since July 2009. The shipments index plunged to -13.2, the worst since October 2009. The "key" production index dropped to -13.5, the worst since May 2009:
Primary Metal Manufacturing:  "Imported steel continues to be a big problem in Houston, but it is also negatively affecting volume and pricing in the entire country."Fabricated Metal Manufacturing:  "We don't feel confidence anywhere, Wood Product Manufacturing:  "We sell to new single-family home builders. Wet weather has slowed down the development of raw land into ready lots and the home construction process as well.
 manufacturing only accounts for 12% of the US economy, after manufacturers spent decades offshoring much of their labor content to cheap countries.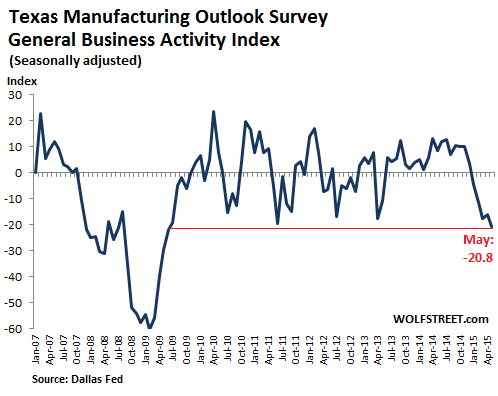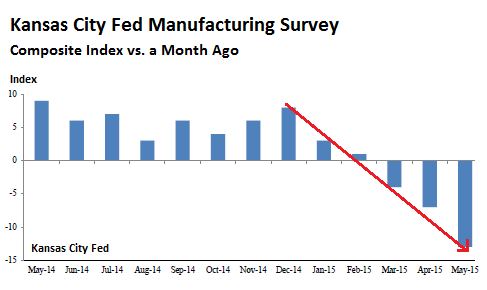 Source: wolfstreet.com
Baltic Dry Index falls to 584, down 2
Case-Shiller Home Prices Rise Over 5% YoY To 7 Year High  
– as overseas money floods into American real estate  , San Francisco and Denver reported the highest year-over-year gains, with price increases of 10.3% and 10.0%, respectively, over the last 12 months.  Pushed prices to their highest sicne Feb 2008…
Source: zerohedge.com
New Home Sales Rebound Despite Median Price Rising To Just Shy Of All Time High
Following last month's disappointing slump to only 481K new home sales in March which was the biggest drop in nearly 2 years driven by a collapse in Northeast transactions, according to the latest new home sales data by the Census Bureau housing rebounded back over 500K, printing at 517K thanks to a 37% sequential jump in Midwest new home sales,
Source: zerohedge.com
Weekly Mortgage Applications Fall
week ending on May 16th declined -1.5%. This marks the fourth consecutive week that mortgage applications have declined. The four week average has now declined from -2.02% to -2.97%.
as the nation's unemployment rate continues to trend along below 6% more American's will be enabled to obtain a home loan.
Source: virtual-strategy.com
The coming Capital Controls are designed to protect the banks from YOU.
 if  10% of people hit their breaking points and withdrew their money in cash– there wouldn't be enough cash in the system to support this demand. And the banks would subsequently collapse.
This is a major reason why they're trying to get rid of cash, and in some cases even criminalize it under the ridiculous auspices of the war on terror.
When a government is bankrupt, the central bank is nearly insolvent, the banking system is illiquid, and an entire population suffers from interest rates that are either negative or below the rate of inflation, capital controls are a foregone conclusion.
They'll hit just as soon as enough people reach their breaking points… when they say 'enough is enough' and they take their money out of the banking system.
Chile and China ink multi-billion dollar currency swap deal
China and Chile on Monday signed a host of cooperation deals including a multi-billion dollar currency swap pact as the two countries move to enhance their trade and financial ties.
 they signed a series of bilateral business contracts and governmental accords in areas including politics, trade, finance, mining, agriculture, production capacity and science and technology.
China agreed to grant a quota of 50 billion yuan (US$8 billion) to RMB qualified foreign institutional investors in the Southern American country,
The three-year currency swap deal worth 22 billion yuan (US$3.5 billion) signed between the central banks of China and Chile is aimed at promoting the bilateral trade and investment,
Source: wantchinatimes.com
Russia to Insist on World Bank, IMF Reforms During BRICS Summit
During the BRICS Summit, Russia will insist on beginning of reforms in the International Monetary Fund and the World Bank."
Source: sputniknews.com
PayPal launches China Connect service with UnionPay
US online payment service provider PayPal has announced the launch of its PayPal China Connect service and its partnership with China's bank card issuer UnionPay,
Development of China's cross-border transaction has been speeding up.
Source: wantchinatimes.com
IMF official says China's yuan no longer undervalued
The International Monetary Fund no longer believes China's tightly controlled currency is undervalued, an IMF official said Tuesday, a stance that might help Beijing in its wrangling with Washington over exchange rate controls.
The IMF's first deputy managing director, David Lipton, also said Beijing should work toward having a floating exchange rate in two to three years.
The United States has long accused of China of suppressing the value of its yuan, giving its exporters an unfair price advantage and hurting foreign competitors. 
Source: cnsnews.com
---
Rights
Bernie Sanders Exposes 18 CEOs who took Trillions in Bailouts, Evaded Taxes and Outsourced Jobs
 Sen. Bernie Sanders fired back at 80 CEOs who wrote a letter lecturing America about deficit reduction by released a report detailing how 18 of these CEOs have wrecked the economy by evading taxes and outsourcing jobs.  

Sen. Sanders  released a report that detailed how 18 of them have helped blow up the deficit and wreck the economy by outsourcing jobs and evading US taxes.

Many of the CEO's who signed the deficit-reduction letter run corporations that evaded at least $34.5 billion in taxes by setting up more than 600 subsidiaries in the Cayman Islands and other offshore tax havens since 2008. As a result, at least a dozen of the companies avoided paying any federal income taxes in recent years, and even received more than $6.4 billion in tax refunds from the IRS since 2008.
Several of the companies received a total taxpayer bailout of more than $2.5 trillion from the Federal Reserve and the Treasury Department.
Many of the companies also have outsourced hundreds of thousands of American jobs  In other words, these are some of the same people who have significantly caused the deficit to explode over the last four years.
Here are the 18 CEO's Sanders labeled job destroyers in his report.
1). 1. Bank of America CEO Brian Moynihan
Amount of federal income taxes paid in 2010? Zero. $1.9 billion tax refund.
Taxpayer Bailout from the Federal Reserve and the Treasury Department? Over $1.3 trillion.
Amount of federal income taxes Bank of America would have owed if offshore tax havens were eliminated? $2.6 billion.
2). Goldman Sachs CEO Lloyd Blankfein
Amount of federal income taxes paid in 2008? Zero. $278 million tax refund.
Taxpayer Bailout from the Federal Reserve and the Treasury Department? $824 billion.
Amount of federal income taxes Goldman Sachs would have owed if offshore tax havens were eliminated? $2.7 billion
3). JP Morgan Chase CEO James Dimon
Taxpayer Bailout from the Federal Reserve and the Treasury Department? $416 billion.
Amount of federal income taxes JP Morgan Chase would have owed if offshore tax havens were eliminated? $4.9 billion.
4). General Electric CEO Jeffrey Immelt
Amount of federal income taxes paid in 2010? Zero. $3.3 billion tax refund.
Taxpayer Bailout from the Federal Reserve? $16 billion.
Jobs Shipped Overseas? At least 25,000 since 2001.
Eighteen of the 80 CEOs who signed the call for deficit action are actually some of the biggest outsourcers and tax cheats in America.
Source: gotslaves.info
'US not engaged in major war': Obama Memorial Day remark slammed
Barack Obama has made a speech, saying that this Memorial Day is the first in 14 years without major US war. Critics and social media users slammed him as hypocritical, saying the US remains involved in military conflicts and proxy wars.
"What a joke. Of course the US is still at war,"wrote Brian Fernandes, a user on Facebook.
"The US still has troops in Afghanistan and plans to keep them there for years. And they have fomented wars in Ukraine, Africa, Syria, and now Yemen. 
Source: rt.com
---
War
Iran to construct 48 power plants in Indonesia in 5yrs
Iran and Indonesia have agreed to build 48 small-scale hydroelectric power plants. The two countries seeking to improve ties harmed by sanctions over Tehran's nuclear program.
The power plants will be constructed in Indonesia by Iranian companies in the next five years,  
Source: rt.com
Washington has blocked the final document of a UN conference that reviewed the nuclear non-proliferation treaty, accusing Egypt of manipulating the gathering to target Israel. Moscow has slammed the US for rendering the four-week meeting futile.
The 9th international conference was held in New York from April 27 until May 22. A total of 162 Nuclear Non-Proliferation Treaty (NPT) participant states were in attendance. These conferences are held every five years to assess the worldwide disarmament process.
The blocked document included a plan to establish a nuclear-free zone in the Middle East. To do this, Egypt, who first proposed such a zone in 1980, suggested a regional UN conference on banning weapons of mass destruction. The gathering would have no pre-determined agenda and would go ahead with or without the presence of Israel.
This was stonewalled by the US, with Washington representative Rose Gottemoeller saying the final document reviewed on Friday was "incompatible with our longstanding policies."
Israel, which is an observer, but not a participant of the NPT, is widely believed to have the Middle East's only nuclear arsenal,
Source: rt.com
OBAMA SIGNS IRAN NUCLEAR BILL INTO LAW
The Iran Nuclear Review Act of 2015 was signed on Friday.
The legislation overwhelmingly passed the House of Representatives and Senate earlier this month.
The measure will allow for a 30-day review of any final nuclear deal with Iran.
During the reviewing period, Obama would be able to waive those Iran sanctions, which were imposed by the executive branch. However, the president would have to leave in place sanctions that Congress had previously drafted.
The bill would also force the Obama administration to certify, on a regular basis, that Iran is abiding by the terms of any nuclear deal.
Source: presstv.ir
BRICS countries need to boost cooperation in military sphere — senior security official
Secretary of the Russian Security Council  has said it's necessary to build up cooperation in the military and technical field and in the fight against terrorism within the BRICS countries (Brazil, Russia, India, China and South Africa).
"I am convinced there is a need for increased cooperation between our countries in such areas as military and technical cooperation, joint struggle against terrorism, extremism, separatism, cross-border crime as well as in countering new challenges and threats," .
Source: tass.ru
Defense to offense: China unveils new military strategy to boost naval capability
China has unveiled a new defense strategy to boost its naval capability and said it will now shift from "territorial air defense" to both "defense and offense." Beijing also slammed its neighbors for their "provocative actions" on its "reefs and islands."
The white paper China's military strategy was issued by the State Council on Tuesday, signaling ambitions for greater naval presence in the region where tensions are rising over disputed territories in the South China Sea.
"The [People's Liberation Army] Navy (PLAN) will gradually shift its focus from "offshore waters defense" to the combination of "offshore waters defense" with "open seas protection," and build a combined, multi-functional and efficient marine combat force structure," says the document.
Source: rt.com
Russia to Deploy Armata Tanks, APCs, Air-Defense Missiles in Arctic
Russia to deploy Armata tanks, armored vehicles and other weapons systems to military units deployed in the country's Arctic regions,"
The new Boomerang unified wheeled platform will serve as the basis for a whole new family of combat and auxiliary armored vehicles.
Pantsir S-1 is a combined short to medium range surface-to-air missile and anti-aircraft artillery system using phased-array radars for both target acquisition and tracking.
Source: sputniknews.com
NATO Begins Anti-Russian Air Drill in Arctic
More than 4,000 troops from six NATO countries and three non-member states began a major air exercise over far northern Europe  Arctic Challenge is to last two weeks and involves more than 100 warplanes from the United States, Britain, Germany, France, Norway, and the Netherlands, all NATO members, plus Sweden, Finland and Switzerland.
The US Air Force will contribute 12 F-16 jet fighters as well as AWACS radar aircraft.
The exercise is clearly directed against Russia, which borders on Norway, 
Source: globalresearch.ca
Russia's Black Sea Fleet to Receive New Missile Carrier Ships
Russia won't be taking Mistral warships from France – official
Russia to Build Own Helicopter Carrier to Replace Mistral
Russia plans to build its own Mistral-class helicopter carriers 
Source: sputniknews.com
Japan joins US-Australian military exercise in July for first time
Japanese troops will take part in a major US-Australian military exercise for the first time in July, as Washington looks to strengthen links among its allies in the face of an increasingly assertive China.
Japan's ground self-defence force – its army – will send 40 personnel to participate in Talisman Sabre, a two-yearly drill that begins on 7 July, which will involve about 27,000 service men and women, a Japanese government spokesman said.
Source: theguardian.com
Yemeni Politicians Say UN Peace Talks Indefinitely Postponed
A U.N. official, who was not authorized to discuss the matter publicly and therefore also spoke on condition of anonymity, confirmed that the talks would be postponed.
The setback came as Saudi-led warplanes on Monday pounded Shiite Houthi rebel positions in the capital and across the country.
Source: theepochtimes.com
Saudi War Planes Bomb Home of Former Yemeni President's Son
Iraqi official: US defense chief has 'incorrect information'
A spokesman for the Iraqi government says U.S. Defense Secretary Ash Carter has been given "incorrect information" following his criticism of its security forces over the fall of Ramadi to ISIS.
Saad al-Hadithi said Monday that the Iraqi government was surprised by Carter saying Iraqi forces lacked the "will to fight" during the Ramadi battle.
Al-Hadithi added that the fall of Ramadi was due to mismanagement and poor planning by some senior military commanders in charge of Ramadi.
Source: dailystar.com.lb
Turkey and the U.S. have agreed in "principle" to provide air protection to Syrian rebels being trained  once they enter Syrian territory for battle,
The two countries agreed in February to train and equip up to 15,000 Syrians under the $500 million U.S. program designed to add a credible ground force to an air bombing campaign against the militant group.
Source:  hosted.ap.org
Syria 'accepting de facto partition' of country
US Department of Defense Admits Supporting ISIS, Buffer Zones In Syria
May 18, Judicial Watch published a selection of recently declassified documents that were obtained from the US Department of Defense and the US State Department as a result of a lawsuit filed against the US government. The lawsuit and most of the documents contained within the release revolved around the Benghazi scandal but a deeper look into the documents dating back to 2012 reveal an even bigger story – that the US and NATO have admitted in their own documents to supporting al-Qaeda and ISIS in Syria and Iraq
The truth is that the United States has been funding ISIS all along and that the terrorist organization would not exist were it not for its being created by American intelligence agencies as far back as the 1970s under the name Al-Qaeda and Mujahadeen.
Source: globalresearch.ca
Obama says US need to think about how its deploying military assets against Islamic State
Looking to boost Iraqi fighting forces, President Barack Obama said the U.S. and its allies need to examine whether they are deploying military assets effectively against Islamic State militants as Iraq mounts a new offensive to recapture critical territory west of Baghdad.
the Islamic State in Iraq and Syria and the turmoil in Libya have forced NATO to look south as well as east in the alliance's mission.
"That means an increase in defense capacity building with other countries like Iraq or (Persian Gulf) countries that are interested in working with us, as well as the African Union," he said. "It also means we have to think about whether we are deploying and arranging our assets effectively to meet that challenge."
Obama said the upheaval in the Middle East and the "increasingly aggressive posture that Russia has taken" in Ukraine has created a "challenging and important time for NATO." He said NATO would continue to support Ukraine..
Source: usnews.com
Damascus Calls Western Help to Militants in Syria 'Aggression'
The Syrian government has said that it will regard any outside help to the armed groups fighting in the country as aggression, said the Deputy Foreign 
Earlier it was reported that Washington and Ankara have reached a preliminary agreement to provide air support for Syrian rebels trained in Turkey under a joint program with the United States.
According to the Syrian Deputy Minister, such statements on the part of Ankara are direct evidence that Turkey intends to provide 'direct financial and military support to the terrorist groups fighting in Syria', hence prolonging the crisis causing the death of more innocent civilians.
Source: sputniknews.com
Putin: no Islamic State terrorism unitil outside interference took place
There was no terrorism in countries where the Islamic State organization acts until outside interference occurred without UN Security Council permission, Russian President Vladimir Putin said Tuesday at a meeting with secretaries of the security councils of BRICS –
"We know what is going on now, say, in the Middle East, in North Africa, we know problems connected with the terrorist organization that arrogated the right to be called 'the Islamic State'," Putin said.
"But there was no terrorism in the countries where it is active now until a totally unacceptable outside interference, which occurred without United Nations Security Council sanction, took place," he said.
Source: tass.ru
---
False Flags
FBI investigates series of bomb & chemical threats against airliners
The FBI is investigating a series of anonymous threats made to US-bound passenger planes on Memorial Day, none of which proved to be credible. One incident involved US fighter jets intercepting and escorting an Air France flight to New York City.
Flight AF022 landed at JFK airport with an escort of two F-15 fighter jets as a precaution by NORAD, the joint US-Canadian monitoring force, following one of a number of threats received over the Memorial Day weekend.
As many as 10 similar threats phoned in by the same individual were made against US-bound flights on Monday.
Source: rt.com