Podcast: Play in new window | Download (Duration: 40:07 — 42.3MB)
The [CB] is rapidly imploding on itself. Trump is pushing ahead with the transition and needs to complete most of it before the [CB] really starts to accelerate the downside. From all the indicators it is rapidly falling apart. The [CB] is designed to enrich the wealthy and hurt the younger generation, this is about to change. Around the world the [CB] are worried that their independence is being questioned by the leaders of each country. The movement has begun. AOC is being investigated by the FEC. Cohen was looking to Trump to pardon him in the very beginning, Trump has not pardoned any of the individuals Mueller indicted. Q drop more bread, war-like posture is now activated, the countdown continues. The [DS] is in a panic and they are trying to find something on Trump, Tick Tock Declass coming.
Check Out The X22 Report Spotlight YouTube Channel X22Report Spotlight
Please check Newzsentinel.com for the latest news on the economic collapse. The Sentinel Alerts are updated throughout the day. If you haven't already, go to "The People" and join the community of people who are helping each through the economic collapse.
---
Current News – 03.05.2019
Watch The X22 Report On Video
---
Economy
  December new home sales (delayed by the government shutdown) were expected to tumble, but thanks to a dramatic downward revision in November's data, December's print was +3.7% (against expectations of -8.7%)
November's initial 16.9% surge (the most since 1992) was revised down to just +9.1% MoM, which enabled December's surprise rise…
Note that new home sales remains a month lagged to the pending and existing sales data.
The last 3 months were all revised lower…
New home sales down year over year for 4 straight months: longest stretch since 2011
Source: zerohedge.com
The Fed is the mortal enemy of the young generations, and thus of the nation itself.
"The wealth effect" generated by rising stock and housing prices has long been a core goal of the Federal Reserve and other central banks.
But as Chris Hamilton explains in his recent essay Economic Doom Loop Well Underway, "the wealth effect" has enriched the already rich at the expense of the young who didn't get the opportunity to buy the assets the Fed has pushed to the moon at pre-bubble prices. That privilege was largely reserved for those who bought a decade or two ago, before the Fed made boosting asset prices the implicit goal of all its policies.
lets look at the chart of household net worth  . Household worth has soared from around $40 trillion in 2000 to $100 trillion in 2018–a gain of $60 trillion while the economy grew at a much more modest pace. Household net worth has leaped from $55 trillion in 2010 to $100 trillion in 2018–$45 trillion in gains for those who already owned stocks and houses.
The wealth effect has benefited the haves at the expense of the have-nots, the young who can no longer afford to buy homes or start families unless Mom and Dad provide the capital.
The nation is losing an entire generation as a result of the Fed's cargo-cult like obsession with boosting the wealth of the haves. The wealth effect is the most generationally lopsided policy possible, the equivalent of a "tax on youth."
How many Millennials have seen their earned income match or exceed the sharp increases in rent, college tuition and healthcare? Not many.
Rent has climbed by between 30% and 50% since 2009:
The Fed is the mortal enemy of the young generations, and thus of the nation itself

Source: oftwominds.com
Central Bank Independence Doesn't Matter—Until It Does
Philippine President Rodrigo Duterte has appointed a central banker from the cabinet.
Central bank independence is under threat as politicians around the world meddle more in monetary policy. Investors, so far, haven't seemed to care too much. By the time they miss it, it may be too late.
Source: wsj.com
European Central Bankers Are Feeling Trump-Style Political Heat
Central bankers across Europe are finding that the golden era in which they were revered has passed.
"The great days of central bank independence are behind us," said former Bank of England policy maker Charles Goodhart, adding he thought the attacks will intensify. "The central bank, far from being seen as the only game in town to keep us from collapsing, is going to be seen as an enemy of the people."
Source: bloomberg.com
---
Political/Rights
Federal Election Commission Complaint: Alexandria Ocasio-Cortez, Aide Hid $1M
An FEC complaint filed Monday charges Congresswoman Alexandria Ocasio-Cortez, her Chief of Staff, and others with using two PACs and LLCs to hide hundreds of thousands in campaign dollars.
A Federal Election Commission (FEC) complaint the National Legal and Policy Center (NLPC) filed Monday accused Cortez chief of staff Saikat Chakrabarti of using two PACs (Political Action Committees) he founded to funnel around $1 million to two of his private companies, according to the Washington Examiner. The companies may have been used to hide what funds were spent on.
The NPLC complaint takes aim at the possibility contributions from the PAC to candidates exceeded the $5,000 FEC limit. It requests an FEC investigation into the two PACs for creating "an elaborate scheme to avoid proper disclosure of campaign expenditures.
"These are not minor or technical violations. We are talking about real money here. In all my years of studying FEC reports, I've never seen a more ambitious operation to circumvent reporting requirements," said Tom Anderson, director of NLPC's Government Integrity Project. "Representative Ocasio–Cortez has been quite vocal in condemning so-called dark money, but her own campaign went to great lengths to avoid the sunlight of disclosure."
Funds traveling through Brand New Congress LLC were spent on ten or more candidates, according to NLPC, which stated the LLC was "apparently operated by Chakrabarti."
Source: breitbart.com
Remember when Michael Cohen told the House Oversight Committee last week that he had "never asked for a pardon" from President Trump? Well, it's looking increasingly likely that – and this may come as a shock – he was not exactly truthful.
According to the Wall Street Journal, lawmakers are investigating whether an attorney for Cohen raised the possibility of a pardon with Trump's legal team before Cohen had even been charged. After the FBI raided Cohen's home, hotel room and office, his attorney, Stephen Ryan, reportedly met with members of Trump's legal team to review the legal ramifications of the raid for Trump.
During that conversation, Ryan reportedly floated the notion of a pardon for Cohen should he eventually be convicted. But he likely didn't receive the answer he had been looking for: The consensus among the president's attorneys was that it wouldn't be prudent for Trump to pardon his former fixer, if it came to that.
While it's true that Cohen never personally asked the president for a pardon, if the WSJ report is accurate, it's clear that inquiries about a pardon were made, and Cohen's response during Wednesday's public hearing was facetious, at best.
President Trump hasn't pardoned any of his former associates who have pleaded guilty – or been convicted – during the Mueller probe.
Source: zerohedge.com
Adam Schiff Hires Former SDNY Prosecutor With Experience 'Fighting Russian Organized Crime' to Investigate President Trump
Rep. Adam Schiff, the Chairman of the House Intelligence Committee, has hired former SDNY prosecutor Daniel Goldman to investigate the Trump Administration.
Daniel Goldman is a veteran prosecutor who worked as a US Attorney in the Southern District of New York and has experience fighting Russian organized crime, reported The New Yorker.

Source: thegatewaypundit.com
A day after the House Judiciary Committee fired off 81 document requests in their sweeping investigation of the President and his inner circle, Trump has responded with an angry tweet accusing the Committee chairman of attempting to "harass" his associates in a wide-ranging probe into Trump's administration, campaign and businesses.
Trump tweeted the following
Now that they realize the only Collusion with Russia was done by Crooked Hillary Clinton & the Democrats, Nadler, Schiff and the Dem heads of the Committees have gone stone cold CRAZY. 81 letter sent to innocent people to harass them. They won't get ANYTHING done for our Country!

— Donald J. Trump (@realDonaldTrump) March 5, 2019
But, Trump was not done:
The greatest overreach in the history of our Country. The Dems are obstructing justice and will not get anything done. A big, fat, fishing expedition desperately in search of a crime, when in fact the real crime is what the Dems are doing, and have done!

— Donald J. Trump (@realDonaldTrump) March 5, 2019
And summed it all up in two words:
PRESIDENTIAL HARASSMENT!

— Donald J. Trump (@realDonaldTrump) March 5, 2019
Take a listen to what Nadler said about the case against Trump
Source: zerohedge.com
Donald Trump Signs Executive Order Creating Veteran Suicide Task Forc

---
War
Senators Introduce Bill to Get US Out of Afghanistan
Sen. Paul says US should declare victory, withdraw
A bipartisan resolution has been introduced in the Senate on Monday calling for the US to withdraw military forces from Afghanistan. The bill is co-sponsored by Sens. Rand Paul (R-KY) and Tom Udall (D-NM).The resolution, called the 2019 Afghan Forces Going Home After Noble Service Act (AFGHAN Service Act), would declare victory. This is on the grounds that Osama bin Laden was killed in 2011 and al-Qaeda is all but eliminated within Afghanistan.The bill goes further than just Afghanistan, too, as with the completion of the withdrawal of US troops from Afghanistan, it would repeal the 2001 Authorization for the Use of Military Force (AUMF). Though the AUMF was initially passed to invade Afghanistan, it has been broadly expanded by presidents since as a legal justification for wars across the world.
Source: news.antiwar.com
Turkey reopens southeastern border crossing with Syria after 8 year hiatus
The Turkish authorities have announced the reopening of their southeastern border crossing after a long hiatus due to the war in Syria.
Source: almasdarnews.com
Final ISIS Defeat Looms as Thousands Leave Last Area in Syria
---
Q
>>5503376

>Acting

temporary role. cause destruction then move on.

hard to hit a moving target, anon

'Scaramucci model'.
'TEMP' hire by design.
Shadow to Sessions by design.
Public will become aware > doc dump.
Q
Whitaker's role in the DOJ was not suppose to be a full time position, Trump and the patriots needed Whitaker for a specific task 
Q,

sometimes I think it is hard for yall to empathize with us. yall on operating from a position of knowledge. We are in the dark. We are desperate for truth and justice.

Define 'backchannel'.

a secondary or covert route for the passage of information.

Q
We have a backchannel q posting on 8ch that bypasses the MSM and the intelligence organization, the backchannel is designed to produce disinformation and intel to anons on what is going on. 
Hussein gave the order to start the spy campaign.

It was logged officially 2x.

1x – Domestic.

1x – Foreign.

FISC judge WH meeting?

Was there a FISC judge in on it, if Q is asking most likely yes

WH visitor logs are important.

The logs have it all, name, date, time, etc.

Hussein library CLAS doc move? 

Hussein tried to hide was he did by moving certain docs to his library

Attempt to shelter/protect?

Yes

Who has AUTH to obtain?

The President, DECLASS

The More You Know.

Q
Lets go back to post 2207, remember what Q told us
This is a video of Trump, take a listen to what he said

Promises made.

Promises kept.

Q
Who can play the game better the patriotsm, He also said we know more
>>5505069

(/pb)

Is there a benefit (think public optics) to allowing your enemy to open the front door?

Q is asking is there a benefit in allowing the DS to continue with their attacks, Yes, they become panicked, they become desperate. Trump and the Patriots want them to appear irrational and crazy.  Think about the border argument, think about the new abortion laws. 

'War-like' Posture Activated?

in the previous post trump said in the video that he would assume a war like posture, it is now activated

Thank you for playing.

Q
Statement on Chairman Nadler's fishing expedition. pic.twitter.com/tBsVzrtGYg

— Sarah Sanders (@PressSec) March 5, 2019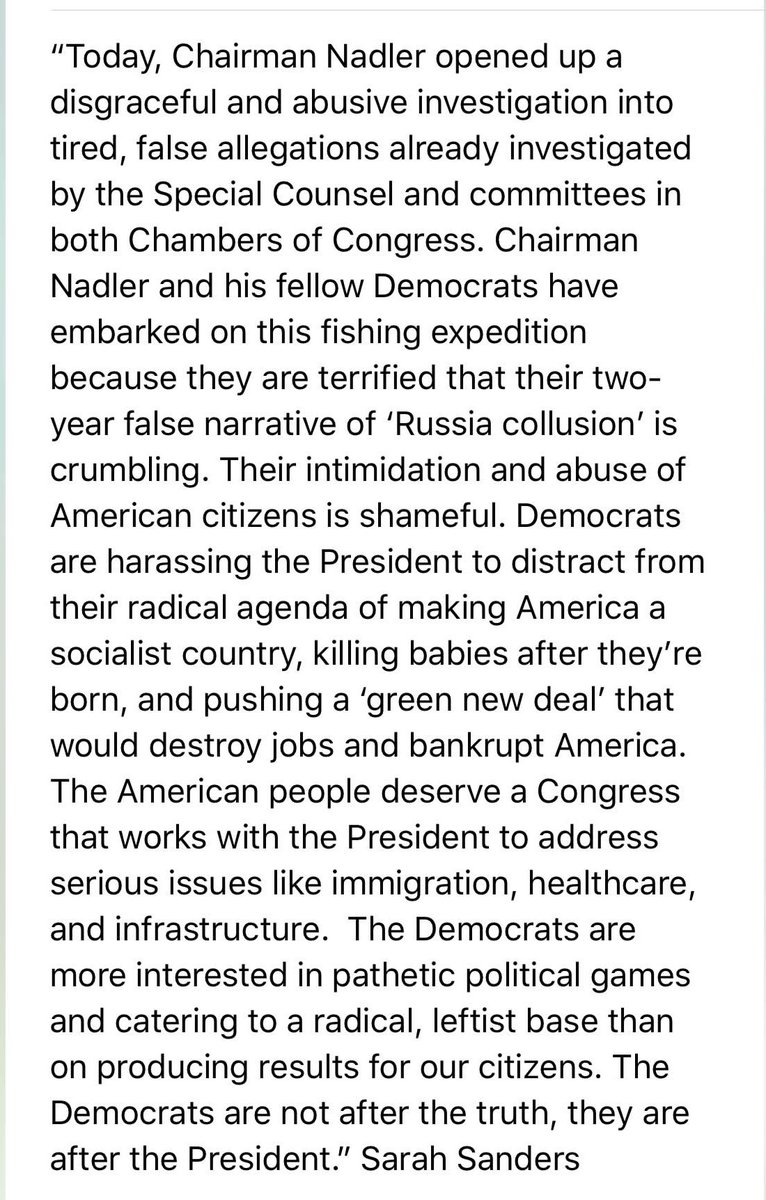 Q then gives us Stringer messages, not sure what these are for but most likley they are not for us anons, so post 2962-2967

Protect_MGL
SJAH_X-830198374 [-48]
D Fire_Good
Location assist_Good
Q
Protect_MGL
SJAH_X-830198374 [-48]
D Fire_Good
Location assist_Good
Q

MGL_change_route_under
Assist P_193
Q
>>5508181

MGL_change_route_under

Assist P_193

Q

CLEAR ALL NONS.
[-48]
Q
Dark pattern active.
[-48]
LMT_NO_NONS.
Q
Battery A_roof 1A.
Battery F_ground 9G.
Active_commence
Track report (2)
Track confirm (2)
[-48] Dark.
Q
Public comms prevent.
Switch private_reg_C.
FS on incoming.
Q
Google continues work on controversial China search engine

Google is reportedly continuing work on a search engine Opens a New Window. in China Opens a New Window. , according to an internal investigation by the tech giant's employees, putting the controversial project back into the spotlight after it was abandoned following condemnation from lawmakers Opens a New Window. in both parties.

The initiative – known internally as Project Dragonfly – was said to be ready for release by April 2019. But media leaks on Google's plans to comply with Chinese censorship rules in order to launch the engine brought intense opposition from within its own ranks, as well as from elected officials.

When asked about the project in December during a House Judiciary Committee hearing, CEO Sundar Pichai denied any immediate launch plans but did not rule out a future release. Amid media reports that work continues on the initiative, Google says nothing has changed.

"As we've said for many months, we have no plans to launch search in China and there is no work being undertaken on such a project. Team members have moved to new projects," a spokesperson said.

https://theintercept.com/2019/03/04/google-ongoing-project-dragonfly/📁

Google Employees Uncover Ongoing Work on Censored China Search

Google employees have carried out their own investigation into the company's plan to launch a censored search engine for China and say they are concerned that development of the project remains ongoing, The Intercept can reveal.

The group has identified ongoing work on a batch of code that is associated with the China search engine, according to three Google sources. The development has stoked anger inside Google offices, where many of the company's 88,000 workforce previously protested against plans to launch the search engine, which was designed to censor broad categories of information associated with human rights, democracy, religion, and peaceful protest.

The employees have been keeping tabs on repositories of code that are stored on Google's computers, which they say is linked to Dragonfly. The code was created for two smartphone search apps — named Maotai and Longfei — that Google planned to roll out in China for users of Android and iOS mobile devices.

The employees identified about 500 changes to the code in December, and more than 400 changes to the code between January and February of this year, which they believe indicates continued development of aspects of Dragonfly. (Since August 2017, the number of code changes has varied between about 150 to 500 each month, one source said.) The employees say there are still some 100 workers allocated to the "cost center" associated with Dragonfly, meaning that the company is maintaining a budget for potential ongoing work on the plan.

Did the fire in China cause GOOG to continue work from CA?
Those awake can see clearly.
Q
"I don't have a recollection of being involved in the FISA for Mr. Page at all," said Loretta Lynch to Rep. Goodlatte during December testimony. Former AG Lynch 'appeared to have amnesia' During December Testimony About Carter Page FISA

Q
PANIC IN DC

[LL] talking = TRUTH reveal TARMAC [BC]? [LL] talking = TRUTH reveal COMEY HRC EMAIL CASE? [LL] talking = TRUTH reveal HUSSEIN instructions re: HRC EMAIL CASE? [LL] talking = TRUTH reveal BRENNAN NO NAME COORD TO FRAME POTUS?

……………..

FISA = START

FISA BRINGS DOWN THE HOUSE.

WHEN DO BIRDS SING?

Q
---
Uncensored