Podcast: Play in new window | Download (Duration: 45:48 — 46.9MB)
It seems countries are ready to make bilateral trade deals with the UK. If all countries would bypass the EU and make individual trade deals the EU would be in trouble. Retail problems continue, Gymboree file for bankruptcy.  The interest on the debt is now over half trillion, this is unsustainable. Trump tweeted out that the MSM is not talking about the economy, they don't want to recognize the economy is doing well. Trump and team is maneuvering the CB and the MSM down the road to their destruction. Buzzfeed is now backing down on their story, Mueller came out and said it was fake, but the DS has lost hope in Mueller. The MSM is destroying themselves. The white hats are dropping bread crumbs to get the public prepared for what is coming. Trump ready to negotiate on the wall and Pelosi said no before the offer was made.The [DS] is panicking. Flynn changes his background, Q tells us to watch the water. The [DS] sends a coded message and it is disturbing.
Check Out The X22 Report Spotlight YouTube Channel X22Report Spotlight
Please check Newzsentinel.com for the latest news on the economic collapse. The Sentinel Alerts are updated throughout the day. If you haven't already, go to "The People" and join the community of people who are helping each through the economic collapse.
---
Current News – 01.20.2019
Watch The X22 Report On Video
---
Economy
No Worries, Mate: Australia Signs Agreement to Secure Trade with Post-Brexit Britain
A new bilateral Wine Agreement and Mutual Recognition Agreement was signed in London on Saturday designed to help ease the continued flow of post-Brexit trade between Australia and the UK.
Australia's Minister for Trade, Tourism and Investment Simon Birmingham told the Sydney Morning Herald these agreements would ensure arrangements already in place between Australia and the European Union for wine and other exports continued to apply for Britain in a post-Brexit world.
"This will mean Australian exporters can continue to benefit from existing arrangements for mutual recognition as they do currently, even if the UK leaves the EU without an agreement," Mr Birmingham said.
"These agreements provide assurances to Australian exporters that they will be able to get their goods into the UK post-Brexit, whether it be wine, medical devices or automotive parts, without additional trade barriers or regulations.
"They are a significant and necessary step in our post-Brexit preparations, where we want to minimise disruptions to trade flows and provide as much certainty to Australian exporters as we can.
Source: breitbart.com
Gymboree files for bankruptcy again, closing some 900 North American stores
Gymboree Group filed for bankruptcy this week and plans to close some 900 Gymboree and Crazy 8 stores in North America.
Gymboree first filed for bankruptcy protection in June 2017, weighed down by more than $1 billion in debt. It closed 375 stores, slashed $900 million in debt and turned over control to its lenders, but couldn't make the fresh start it had hoped for.
Source: therealdeal.com
Source: thoughtcrimeradio.net
It is well enough that people of the nation do not understand our banking and monetary system, for if they did, I believe there would be a revolution before tomorrow morning.
— Henry Ford
Always heard that as President, "it's all about the economy!" Well, we have one of the best economies in the history of our Country. Big GDP, lowest unemployment, companies coming back to the U.S. in BIG numbers, great new trade deals happening, & more. But LITTLE media mention!

— Donald J. Trump (@realDonaldTrump) January 20, 2019
https://www.wealthresearchgroup.com/Fed/  – Ending The Fed – 
Even President Wilson himself regretted the formation of the Federal Reserve. The national debt catapulted from $3 billion to $24 billion during his presidency, and in his final years, Wilson said, "I have unwittingly ruined my country. A great industrial nation is controlled by its system of credit. Our system of credit is concentrated. The growth of the nation, therefore, and all our activities are in the hands of a few men."
Pennsylvania Representative Louis T. McFadden was even harsher: "When the Federal Reserve Act was passed, the people of these United States did not perceive that a world banking system was being set up here. A super-state controlled by international bankers and industrialists… acting together to enslave the world… Every effort has been made by the Fed to conceal its powers but the truth is–the Fed has usurped the government."
---
Political/Rights
BuzzFeed Leads with Fake News 'Collusion' Story Hours After Refuted by Mueller
 special counsel Robert Mueller denied the story's veracity, describing it as "not accurate."
The allegation that the President of the United States may have suborned perjury before our committee in an effort to curtail the investigation and cover up his business dealings with Russia is among the most serious to date. We will do what's necessary to find out if it's true. https://t.co/GljBAFqOjh

— Adam Schiff (@RepAdamSchiff) January 18, 2019
On Friday morning, Nadler vowed to open an inquiry in response to the report. "
We know that the President has engaged in a long pattern of obstruction. Directing a subordinate to lie to Congress is a federal crime. The @HouseJudiciary Committee's job is to get to the bottom of it, and we will do that work.

— (((Rep. Nadler))) (@RepJerryNadler) January 18, 2019
So Mueller came out and said the story is fake, why would he do this, lets look at post 2512,
Source: breitbart.com
Q

!!mG7VJxZNCI

ID: cc526f

No.4093335


>>4093110
Mueller removed via DECLAS

>>4093224
Mueller will face charges re: U1
He's working to save himself.
Q
This story was put out their for one reason and one reason only, to get an uproar with the headlines and allow the new House to start investigations
Mueller tried to put out the fake news fire, but the DS now knows that Mueller is no longer working for them and that the report will show nothing, this is why Buzzfeed is not backing down right now and the DS is pushing hard as possible.
Giuliani calls on DOJ to investigate sources behind BuzzFeed News story
 Trump's personal lawyer Rudy Giuliani called on the Department of Justice to investigate BuzzFeed News' sources behind its bombshell report that the president told Michael Cohen to lie in his congressional testimony.
Giuliani also issued rare praise of special counsel Robert Mueller for disputing Thursday's report,
Source: washingtonexaminer.com
The MSM is destroying their own credibility,
Lets go to post
Many people are saying that the Mainstream Media will have a very hard time restoring credibility because of the way they have treated me over the past 3 years (including the election lead-up), as highlighted by the disgraceful Buzzfeed story & the even more disgraceful coverage!

— Donald J. Trump (@realDonaldTrump) January 19, 2019
EXCLUSIVE: Transcripts of Former Top FBI Lawyer Detail Pervasive Abnormalities in Trump Probe
Former top FBI attorney James Baker admitted to House lawmakers in October last year that the investigation into alleged collusion between the Trump 2016 presidential campaign and Russia was riddled with abnormalities.
Confronted with a damning summary of abnormalities, bias, and omissions, which transpired during the investigation, Baker told Congress that the investigation indeed was "highly unusual."
"I had a jaundiced eye about everything, yes. I had skepticism about all this stuff. I was concerned about all of this. This whole situation was horrible, and it was novel and we were trying to figure out what to do, and it was highly unusual," Baker told lawmakers.
Source: theepochtimes.com
The White hats are dropping more and more breadcrumbs, lettting the information out slowly so people start to understand what really is going on, they are preparing the nation.

It looks like the plan is working with the Barr nomination,
CNN's Mudd: AG Nominee Barr 'Is Going to Crush' the Trump Admin
CNN analyst and former CIA official Philip Mudd on Friday predicted that if Attorney General nominee William Barr becomes the leader of the Department of Justice, he is going to "crush" the President Donald Trump administration.
"I'm going to tell you, Barr will be one of the most significant appointees the president has ever made," Mudd prophesied. Because Barr, I suspect, is going to crush the administration. The president is going to say 'I never saw that one coming.'"  Think Mirror

Source: breitbart.com
Speaker Nancy Pelosi Rejects President Trump Proposal to End Shutdown….
30 Minutes before President Trump began to outline his compromise proposal (4:00pm, from the White House), Speaker Nancy Pelosi auto-published the response position of Democrats, NO DEAL:
(From The Speaker) "Democrats were hopeful that the President was finally willing to re-open government and proceed with a much-needed discussion to protect the border.

"Unfortunately, initial reports make clear that his proposal is a compilation of several previously rejected initiatives, each of which is unacceptable and in total, do not represent a good faith effort to restore certainty to people's lives. It is unlikely that any one of these provisions alone would pass the House, and taken together, they are a non-starter. For one thing, this proposal does not include the permanent solution for the Dreamers and TPS recipients that our country needs and supports. (read more)
President Trump outlined a common-sense bipartisan solution to reopen government.  Nancy Pelosi took a zero-sum position and rejected the proposal.
Speaker Nancy Pelosi, House Leader Steny Hoyer and Senate Minority Leader Chuck Schumer are on pre-scheduled vacation until January 25th.

Nancy Pelosi and some of the Democrats turned down my offer yesterday before I even got up to speak. They don't see crime & drugs, they only see 2020 – which they are not going to win. Best economy! They should do the right thing for the Country & allow people to go back to work.

— Donald J. Trump (@realDonaldTrump) January 20, 2019
Nancy Pelosi has behaved so irrationally & has gone so far to the left that she has now officially become a Radical Democrat. She is so petrified of the "lefties" in her party that she has lost control…And by the way, clean up the streets in San Francisco, they are disgusting!

— Donald J. Trump (@realDonaldTrump) January 20, 2019
This is the latest and most significant step yet of POTUS showing his willingness to negotiate and compromise with Democrats on the issue of wall funding. At this point, if Democrats refuse to come to the table, it will show they are not at all serious about solving this impasse.

— Mark Meadows (@RepMarkMeadows) January 19, 2019
ANOTHER BRICK IN THE WALL: America Confronts the Immigration Crisis – .futuremoneytrends.com/Wall
A study conducted by economist John Lott of the Crime Prevention Research Center found that in the state of Arizona, undocumented immigrants are 142% more likely to be convicted of a crime than other residents. In Texas, meanwhile, the data indicates that thousands of very serious offenses have been associated with illegal aliens:
These offenses include homicides, burglaries, and kidnappings, as well as sexual assault and drug-related crimes. Just in the state of Texas, 186,000 illegal aliens were reportedly charged with more than 291,000 criminal offenses, resulting in over 119,000 convictions – and that doesn't include crimes that went undetected or unreported.
Border Patrol Apprehends 1500 "Special Interest Aliens" In 2018
  Department of Homeland Security's 2019 total for Special Interest Aliens attempting to enter the U.S. illegally . As for 2018, the numbers are significant, say law enforcement officials. Roughly 1500 Special Interest Aliens were apprehended by Border Patrol agents in 2018, according to one former and current senior law enforcement official. In 2011, the number of SIAs apprehended by Border Patrol agents were just over 600.
Source: saracarter.com
Mexico is doing NOTHING to stop the Caravan which is now fully formed and heading to the United States. We stopped the last two – many are still in Mexico but can't get through our Wall, but it takes a lot of Border Agents if there is no Wall. Not easy!

— Donald J. Trump (@realDonaldTrump) January 19, 2019
---
War
Kerry rips Trump's 'pull-out, walk-away presidency'
Former Secretary of State John Kerry  said President Trump's "pull-out, walk-away presidency" is not "enhancing" U.S. interests abroad.
"This president is not negotiating. He doesn't negotiate. This is a man who claims to be the world's greatest negotiator,"
"President Trump has isolated America and taken us backwards in terms of institutions that were structured ever since World War II to bring the world together,"
Kerry also criticized Trump's recent decision to pull out U.S. troops from Syria,
Panic, fear, do you feel it, they know its just a matter of time before all of it is exposed.
1. Fake wars
2. Stolen money from the fake wars
3. Treason, stolen military secrets
4. U1 deal and what was really going on in the middle east
This is what they are really panicking about.
Take look at what the DS has created over the years, they used the troops to keep control of their treasons acts.
Smithsonian Magazine this month published a stunning map detailing just how expansive the post-9/11 "war on terror" has become, demonstrating that contrary to the common assumption that it's "winding down" more than 17 years later, it actually continues to grow and has now spread to more than 40% of the world's countries.
This includes American military and support personnel engaged in ongoing missions in 80 nations on six continents, according to Brown University's Costs of War Project at the Watson Institute for International and Public Affairs, which has recently calculated that since 2001 the US has spent $5,900,000,000,000 on war, mostly in places like Afghanistan, Iraq, Syria, Pakistan, and Yemen — where US military operations have become more or less permanent, with no consideration of ending them under any circumstances.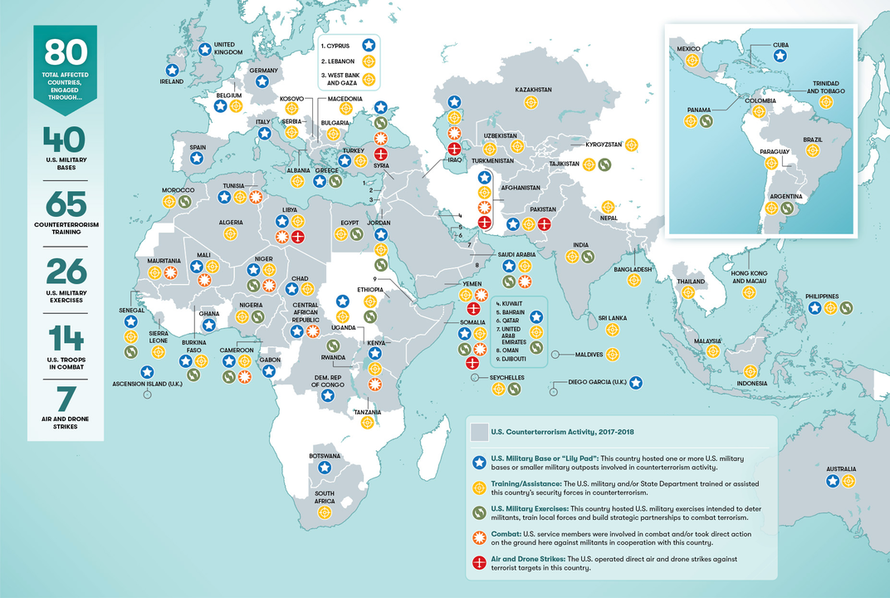 The US has over 800 formal military bases in 80 countries, "a number that could exceed 1,000 if you count troops stationed at embassies and missions and so-called 'lily-pond' bases, with some 138,000 soldiers stationed around the globe," a study in the Nation last year found. Via The American Vagabond
Source: zerohedge.com
---
Q
I want to go back to Qs post 562, q posted this on Jan 19, 2018 and it says the following
Trump made an offer to Dems on the border, they rejected before the offer was even made
New NK Summit
Buzz Feed article fake, destroying the MSM
Mueller speaks in favor of Trump, Buzzfeed fake
And General Flynn changed his background
Now an anon tried to figure out where this pic was taken,
Now looking at Flynn's new background it reminded me of post 847
Q

!UW.yye1fxo

ID: 5bf34e

No.562875


Q

!UW.yye1fxo

ID: 5bf34e

No.562842


>>562749
Water.
Why is this event BIG?
What does it signify?
Why is NK out of the news?
As The World Turns.
Q

>>562842

WATCH the water.

Q
Now this had to do with NK, so lets go to post 846
Both pics show the sun over the water, seems like a sunset to me
Q continually says watch the water, we know it has multiple meanings
In regards to NK, it was change, calm, tranquil, the nightmare DS control over NK has come to and end
Flynns pic, the nightmare of the DS MSM & CB control over America is coming to an end.
We can see with Buzzfeed, Kerry, stalling the discovery process that Judicial Watch is pushing with Clinton, Rice, Rhodes etc, Now we have Feinstein she said something very interesting, lets go back to Jan 11, 2018 to her press release
Washington—Senator Dianne Feinstein (D-Calif.) today called on President Trump to close the prison at Guantanamo:
"It was 16 years ago today that the first detainees arrived at the Guantanamo Bay detention facility. Since then, 780 detainees have been held there. I have called on both the Obama and Bush administrations to remove and transfer all detainees and close the facility, and hundreds of detainees have been transferred or released. Today, 41 detainees remain, five of whom have been cleared for transfer to other countries and 36 who remain in legal limbo.
"This prison has cost taxpayers more than $5 billion, and the propaganda value for terrorists has been even greater. It's time to close this prison once and for all, so today I call on President Trump to restart the review process for those prisoners who haven't been cleared for transfer or charged with a crime.
"I also call on Congress to lift the ban on transferring detainees to the United States and allow those who can't be prosecuted at Guantanamo to be prosecuted in federal criminal court.
"With only 5 percent of the total population still there, I believe we should be able to finally get this done. Guantanamo has been a stain on our national conscience, and it's time to shut the facility down."
###
Source: .feinstein.senate.gov
On Jan 11, 2019 she tweeted something, but before I read the tweet look at the dates, Jan 11, 2018 and Jan 11, 2019 coincidence?? No, here is the tweet
Holding detainees at Guantánamo is counter to our national security interests and is a drain on the taxpayers that has cost more than $5 billion. It's time to close this prison once and for all and I continue to reject any proposal to expand it.

— Sen Dianne Feinstein (@SenFeinstein) January 11, 2019
DS Understands the EO was activated, let go back to post 2523
Q

!!mG7VJxZNCI

ID: 7536c5

No.4115008 


DoiTMbpUcAEDYpd.jpg

DmXXl9zU0AAxhLu.jpg

DUp8ThbVMAADatt.jpg
Q

!!mG7VJxZNCI

ID: 62138c

No.4281837


>>4280189
Is Gitmo going to be used for US citizens (cabal)?

>>4281583
(3) detention centers being prepped.
Monitor funding.
Q
The DS seems to passing messages back and forth to each other via twitter, Donna Brazile tweets out the following
#MadamSpeaker today

#PresidentPelosi shortly thereafter

#MLKWeekend is underway

Keep Hope Alive! https://t.co/eOabxy18ZP

— Donna Brazile (@donnabrazile) January 18, 2019
Picture of Pelosi, Trump endangered our security
Remember the warning from Pelosi to Trump about the Security of the SOTU,
United States presidential line of succession
The line of succession follows the order of Vice President, Speaker of the House of Representatives, President pro tempore of the Senate,
Nancy, I am still thinking about the State of the Union speech, there are so many options – including doing it as per your written offer (made during the Shutdown, security is no problem), and my written acceptance. While a contract is a contract, I'll get back to you soon!

— Donald J. Trump (@realDonaldTrump) January 20, 2019