Podcast: Play in new window | Download (Duration: 32:59 — 37.6MB)
The central bankers and bankers are now making a move to control the crypto market. Toys R Us is now closing 25% of their stores in the UK. GM sales are all in China not the US.  Bank of Japan quietly is tapering, it looks like stimulus is now moving to another central bank. The central bank of central banks has just warned that the entire system cannot be sustained. This is the same warning the BIS gave back in 2008.Mueller suspended an FBI agent not because he is anti-Trump but because he leaked classified info to the corporate media. Mueller is now going after Trump account in Duetsche Bank. Mueller's investigation has already cost the taxpayers approximately 7 million dollars. Russia declares 9 media outlets foreign entities. NK missile which can reach anywhere in the world broke apart in flight. The patriot missile system did not hit the Houthi missiles that were fired at Saudi Arabia. The cabal is making a case of why the US needs to stay in Syria.
Check Out The X22 Report Spotlight YouTube Channel –  X22Report Spotlight
Please check Newzsentinel.com for the latest news on the economic collapse. The Sentinel Alerts are updated throughout the day. If you haven't already, go to "The People" and join the community of people who are helping each through the economic collapse.
---
Current News – 12.05.2017
---
Economy
Bitcoin Futures And The Need For Control
The SEC fast-tracked approval, because, what the big banks want the big banks get.  This is called 'regulatory capture' for short.  
Now there are a lot of issues here but the main thing is that these are cash-settled contracts.  This means that, for all intents and purposes, these are dollar-based bets on where the price of Bitcoin is going in the future.
And dollars, unlike Bitcoin, are in nearly infinite supply.

The question on everyone's mind is, how much of an effect this will be.
It will simply make high-frequency scam-trading and spoofing in Bitcoin an official part of the market through the creation of a near-infinite supply of dollars.  And the issuers of that supply will use those price moves to push or pull the Bitcoin market itself to fit the needs of the banks and exchanges whose business is most threatened by Bitcoin's existence.

And is it any surprise that with the rise of GLD the leverage on the gold futures platforms around the world has risen to astronomical levels?
So, don't think for a minute that the CME or the CBOE are implementing Bitcoin futures for our benefit or simply because they want a cut of the action.  No, they are doing so because they see the existential threat to their business and are moving to defend it by becoming part of the action.
The Way Forward
But, there is a silver lining to this. 
Bitcoin is not an asset where the existing power structure can coordinate pricing worldwide 24/7.  And Bitcoin trades, much to the consternation of everyone in power, 24/7.
Gold is easily manipulated (up and down) because like all other assets trading on official exchanges, gold closes on Friday afternoon and doesn't start up again until Sunday afternoon.  That's two days of policy coordination talks, headlines, bad-bank settlements and the rest to ensure that it, like any other systemically-important asset, does not spasm in price and cost anyone important too much money.
Blockchains operate all day, everyday.  And there truly is no reason why they should ever stop trading. So, the future exchanges, if they are planning on trying to control the Bitcoin price through their derivatives, better be subtle about it.
Source: zerohedge.com
Toys R Us to shutter 25% of UK stores
Toys R Us this week announced plans to close 26 of its stores in the United Kingdom   That represents more than 25% of the 90 stores in the region listed on its most recent 10-K.
Source: retaildive.com
 In China, General Motors is hot. In November, its 10 joint ventures and two wholly-owned foreign enterprises sold 418,225 new vehicles in China, up 13% from a year ago. It was the best November ever, GM said. SUV sales soared 73%.
By comparison, in the US, GM sold 245,387 new vehicles in November, it reported a few days ago, down nearly 3% from a year ago. In other words, in November, GM sold 70% more vehicles in China than in the US.
China became the world's largest new vehicle market for the first time in 2009, when sales in the US plunged. For years, growth rates in the Chinese market blew the doors off the US market. But the hectic pace has recently subsided. For 2017, deliveries are expected to rise only 2%, and competition from local automakers is getting tougher.
Source: wolfstreet.com
No flashy announcement, to avoid alarming the markets.
After years of blistering asset purchases, the Bank of Japan disclosed today that it held a total of ¥521.6 trillion in assets as of November 30, including Japanese Government Bonds (JGBs), gold, corporate bonds, Japanese REITs, equity ETFs, loans, etc. That is quite a pile, so to speak. It amounts to about 96% of Japan's GDP.
By this measure, the BOJ's balance sheet dwarfs the Fed's balance sheet, which amounts to 23% of US GDP. When it comes to QE, no one can hold a candle to Japan. Its holdings of JGBs alone rose to ¥443.6 trillion. Its balance sheet looks like a typical post-Financial-Crisis central-bank balance sheet on steroids (chart in trillion yen):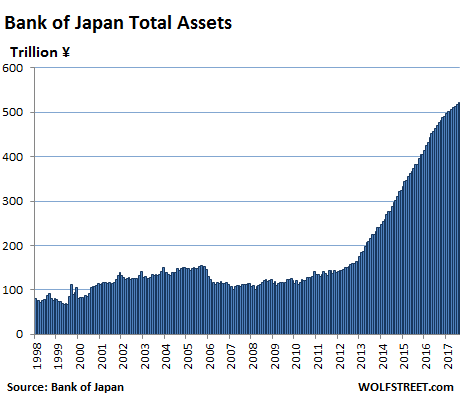 the BOJ began to curtail its asset purchases.
In other words, it began to "taper." Assets are still increasing but at a much slower rate. During peak QE – the 12-month period ending December 31, 2016 –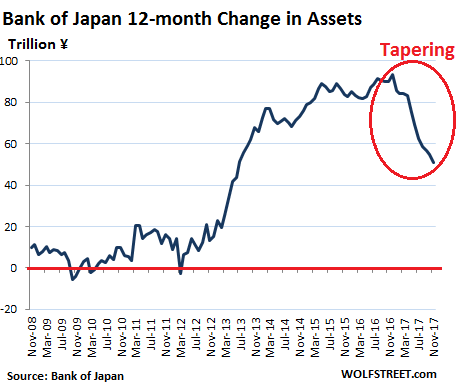 In terms of percentage change, the tapering is even clearer. In early 2014, the BOJ exploded its balance sheet by 47% year-over-year. In November 2017, the year-over-year increase was just 10.8%: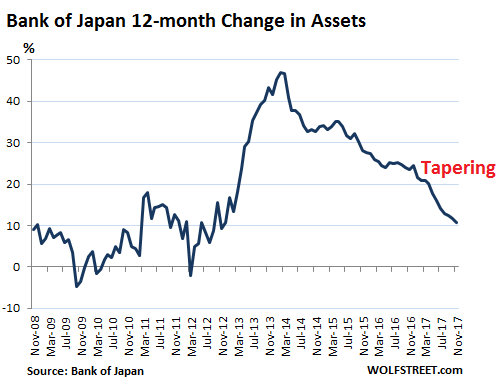 Source: zerohedge.com
The Yield Curve Just Keeps Collapsing…
"probably nothing…"
The Treasury yield curve continues to plumb new cycle lows with 2s30s now below 94bps and 5s30s testing below 60bps…
Source: zerohedge.com
Warnings of Financial Crash as Stock Markets Continue to Surge
in its quarterly review of financial conditions, issued on Sunday, the Bank for International Settlements (BIS), sometimes known as the central bankers' bank, said the situation bore similarities to that which prevailed in the lead-up to the 2008 crash.
Increases in interest rates by the US Federal Reserve and the Bank of England had failed to choke off risky investments, and financial bubbles were growing, it warned. Financial investors were basking in the "light and warmth" of improving global economic growth, subdued inflation and soaring stock markets, while underlying risks were increasing.
Introducing the BIS review, Claudio Borio, the head of its monetary and economic department, said:
"The vulnerabilities that have built around the world during the long period of unusually low interest rates have not gone away. High debt levels, in both domestic and foreign currency, are still there. And so are frothy valuations.

"What's more, the longer the risk-taking continues, the higher the underlying balance sheet exposure may become. Short-term calm comes at the expense of possible long-run turbulence."
BIS official Borio pointed to another reason for the soaring market valuations—the guarantee by the central banks that they stand ready to intervene to prop up the financial markets.
In the lead-up to the crash of 2008, he noted, the Federal Reserve had assured markets that any tightening of interest rates would be at a "measured pace." Monetary policy in the present conditions had been, "if anything, even more telegraphed."
Thus the rise of rise of financial markets is being accompanied by an escalating drive to force down wages and scrap social provisions, while at the same time creating the conditions for a collapse in the financial house of cards, with immense economic and social consequences.
Source: globalresearch.ca
---
Political/Rights
Mueller Fired FBI's Strzok for Leaking Classified Trump Intel to Washington Post; Mueller Knew Agent Was Anti-Trump When Hired
 : Mueller already knew the FBI's Peter Strzok didn't like President Donald Trump yet still hired him, according to FBI and DOJ sources.
Mueller suspected Strzok of leaking classified details about his team's FBI raid on Paul Manafort's house, a story the Washington Post first printed in August, several FBI and DOJ sources confirm.
The Manafort search warrant is a sealed document and not a public record. The Post's story offered a detailed glimpse of the pre-dawn raid of Manfort's Virginia home, which rousted Manafort and his wife out of bed.
Within days of the story Mueller concluded the Post offered details only a member of the Special Counsel's inner circle could have known:
Federal sources said Mueller fired Strzok one week after the story appeared in the Washington Post and after conducting an internal probe to isolate the leak.
Sources confirm Strzok's removal from the team had very little to do with his anti-Trump texts or his sexual romp with FBI lawyer Lisa Page, who works for FBI Deputy Director Andrew McCabe.
Source:  truepundit.com
Mueller Probe Cost Almost $7 Million in Less Than 6 Months
The Department of Justice issued the first financial report for Special Counsel Robert Mueller's "Russia" investigation Tuesday, indicating the costs ran well into the millions months ago.
The report, which covers the investigation from its inauguration on May 17 to the end of September, shows a total expenditure to that point of $3,213,695.
But buried in the report is the fact that the Department of Justice spent an additional $3,546,000 outside the Special Counsel's budget to support Mueller's investigation, yielding a total expenditure through September of $6,759,695. As the first end note of the report explains:
The largest line item for the Special Counsel's office itself is, unsurprisingly, personnel, at $1,709,597. The rate of expenditure on this is likely to increase over time as Mueller went on a spree of high-caliber hires over the summer. The office also spent $733,969 acquiring equipment and $223,643 on travel.
Source: breitbart.com
Mueller Subpoenas Deutsche Bank For Trump's Financial Record
Special Counsel Robert Mueller has reportedly asked Deutsche Bank to share information related to President Donald Trump's financial transactions.
Deutsche Bank received a subpoena from Mueller's team several weeks ago, compelling the bank to share information on credit and money transactions,
Deutsche Bank, which has loaned the Trump Organization millions of dollars for real estate investments, refused to share Trump's financial information with U.S. House Democrats in June.

Source:dccaller.com
Trump Attorney Denies Deutsche Bank Received Mueller Subpoena
When asked for a statement, Deutsche Bank issued a cryptic response where it neither confirmed nor denied the existance of a Trump subpoena. And now, Trump's own attorney is denying the story, saying he spoke with representatives from DB and they confirmed that no such subpoena had been issued.
Source: zerohedge.com
---
Geopolitical/Police State
Russia Declares 9 Media Entities "Foreign Agents," Bans Them From Parliament
In accordance with a law passed last month by Russian President Vladimir Putin, Russia has officially declared nine US-backed media outlets to be foreign agents, according to the BBC.
Starting today, Voice of America and Radio Free Europe/Radio Liberty, which are funded by the US government, and seven other media outlets affiliated with them will need to label themselves foreign agents. By law, the nine media organizations listed by the Russian justice ministry will have to brand their output as the work of "foreign agents" – and disclose their source of funding. Any "malicious" failure to comply could lead to fines or imprisonment of up to two years. As the BBC points out, a similar law, targeting charities and other civil society groups, already exists.
Russia's lower house of parliament, the Duma, has also officially banned all US reporters from entering Parliament effective today, according to the head of the Duma's rules committee.
The move was a retaliation against Washington's decision to force the US branch of Kremlin-funded broadcaster RT, as well as Sputnik, another Kremlin-funded site, to register as foreign agents. T .
Source: zerohedge.com
---
War
N. Korea's latest ICBM broke up on re-entry during test, U.S. official says
North Korea's Hwasong-15 ICBM broke up on re-entry,
U.S. and allied ships are reportedly still searching for debris from the ICBM, which was launched on Nov. 29 and came down near the coast of Japan.
While the missile flew higher and longer than its predecessors, the breaking apart of the Hwasong-15 is an indication that Pyongyang still lacks the key component of reliable heat shielding, the U.S. official said.
"The North Koreans had problems with re-entry," the official said, according to a CNN report.
Source: worldtribune.com
UN envoy arrives in N. Korea amid nuclear tensions
a senior UN official arrived in North Korea on Tuesday for a rare visit aimed at defusing soaring tensions over Pyongyang's nuclear weapons program,
Source: rt.com
A November 4 incident in which Yemen fired a ballistic missile at a site near the airport in the Saudi capital of Riyadh was presented at the time as having been foiled by US Patriot missiles fired to intercept the missile. Experts are expressing growing doubts about that.
Researchers analyzing the remnants of the Yemeni missile, which actually did hit its intended target, say that the missile having split into two pieces was not a sign that the interceptors actually worked, but rather something the missile was built specifically to do.

Source: news.antiwar.com
Syria successfully intercepts Israeli missiles amid new attack
The Golan Heights is the new key to Syria's war against terrorism.
Israel has once again launched a missile attack on Syria, in the second such attack in days. According to initial reports, Israel fired either 6 or 7 missiles at Syria in a clear violation of international law.
As was the case in the previous aggressive attack on Syria's sovereignty, Damascus successfully intercepted around half of the missiles. This time, the Syrian Arab Army claims to have used missile defence systems to intercept three of the Israeli projectiles.
Tel Aviv has thus far refused to comment on the incident.
Source: theduran.com
Breaking: Syrian Army on the cusp of final victory over ISIS in eastern Syria
The Syrian Arab Army's elite Tiger Forces resumed their operation in the last ISIS-held pocket west of the Euphrates earlier today.
Source: almasdarnews.com
US Officials Claim Assad 'Not Capable of Winning' in Syria War
Prediction Likely to Be Used as Justification for Continued US Involvement

With ISIS all but defeated and other rebel forces mostly boiled down to just the Idlib Province and a few smaller enclaves, most people have been saying for months at this point that the Assad government has effectively "won" the Syrian War and will survive the conflict, albeit with some reforms needed at the end.US officials, however, are insisting that Assad is wholly "not capable of winning" this war, citing massive damage to the national infrastructure, huge casualties the military has suffered, and his growing dependence on his allies.This prediction of "not winning" is likely to be the centerpiece of future US justifications for keeping large numbers of ground troops in Syria over the express objections of the Syrian government.. As with so many other countries, US forces deployed there are being made a target by being positioned as an anti-stability force.
Source: news.antiwar.com