Podcast: Play in new window | Download (Duration: 40:08 — 46.7MB)
More and more counties and states are adopting the crypto world, Seminole county Florida will now accept bitcoin for tax payments. Subprime auto loan delinquencies surge.Retail sales growth slows, more stores are going to feel the pain. Argentina is collapsing, the central banks will help put the country into further debt as long as they push austerity on the people. The indicator of indicators has just flashed red, its all down hill from here. Mueller has been colluding with Russian oligarchs should he be pulled from the investigation. Trump shuts down NASA global warming program. The deep state pushes their agenda, NK cancels meeting with SK and says US must stop military drills. Be on the look out for a false flag or for any reason to stop the meeting between Trump and Kim Jong Un. Iraqi people vote away from the US. US places sanctions on Iran's banking system. Trouble in the Gaza strip, people killed, US looks the other way, Haley pushes deep state agenda. Q drops more intel, lays out what is happening confirms Q is real with fire engine pic.
Check Out The X22 Report Spotlight YouTube Channel –  X22Report Spotlight
Please check Newzsentinel.com for the latest news on the economic collapse. The Sentinel Alerts are updated throughout the day. If you haven't already, go to "The People" and join the community of people who are helping each through the economic collapse.
---
Current News – 05.15.2018
---
Economy
The Seminole County, Florida, tax collector Joel M. Greenberg announced May 14 that the county will begin accepting cryptocurrency for payment for various services this summer in order to eliminate heavy fees and improve payment accuracy and efficiency.
According to a press release, the county will begin accepting Bitcoin (BTC) and Bitcoin Cash (BCH) to pay for services, including property taxes, driver license and ID card fees, as well as tags and titles. The Seminole County Tax Collector will reportedly employ blockchain payments compny BitPay, which will allow the county to receive settlement the next business day directly to its bank account in US dollars. Greenberg commented on the initiative:
"We live in a world where technology has made access to services on demand, with same-day delivery and the expectation of highly efficient customer service and we should expect the same from our government. The aim of my tenure in office is to make our customer experience faster, smarter, and more efficient, and to bring government services from the 18th century into the 21st century and one way is the addition of cryptocurrency to our payment options."
With this move, the county reportedly aims to remove risks connected to credit card usage, such as fraud and identity theft. According to BitPay, Seminole county is the first government agency to use the company's services.
Source: zerohedge.com
 banks' total indirect exposure to subprime loans – not just auto loans, but also subprime mortgages, and subprime consumer loans – could be pieced together through public filings, and according to FDIC reports, bank loans to nonbanks subprime lenders soared this decade, with the following 5 names standing out:
Wells Fargo: $81 billion, up from $13.4 billion in 2010
Citigroup: $30 billion, up from $4.1 billion in 2010
Bank of America: $30 billion, up from $2.8 billion in 2010
JP Morgan: $28 billion, up from $10.4 billion in 2010
Goldman Sachs: $22 billion
Morgan Stanley: $16 billion
The highly seasonal rate for subprime auto loans more than 60 days past due reached the highest in 22 years – since 1996 – at 5.8%, according to March data; this is well over 2% higher than the comparable March default rate in the low 3%s hit during the peak of the financial crisis a decade ago.
The more recent April data, showed a delinquency rate of 4.3%, higher than the 4.1% last year, and the second highest April on record. Keep in mind, April is the "best" month of the year from a seasonal perspective as that is when the bulk of tax refunds hit, which are then promptly used to repay outstanding bills – it's all downhill from there… or rather uphill as the chart shows ever higher default rates.
  Senior Director at Fitch Ratings who said that "it's interesting that [smaller deep subprime] issuers continue to drive delinquencies on the index in an unemployment environment of around 4%, low oil prices, low interest rates — even though they are rising — and a positive economic story overall." In other words, there is no logical explanation why in a economy as strong as this one, subprime delinquencies should be soaring.
Source: zerohedge.com
  April saw spending growth slow notably to just +0.3% from a revised-higher March 0.8% gain.
February's initial decline was also revised to a rise…
Core retail sales (ex autos and gas) also slowed and missed expectations suggesting some spillover from higher gas prices…
Source: zerohedge.com
Argentine President Macri announces deal with IMF, imposition of austerity measures
Thousands of Argentineans marched in Buenos Aires on Thursday against the economic policies of the administration of Mauricio Macri and an announced deal with the IMF, the International Monetary Fund. Organizers of the protest said that the government will undoubtedly worsen the economic situation in the country and put in danger Argentina's peso currency.

Argentines remember the last the time the IMF 'helped' them. Last time, measures adopted in connection with assuming a loan from the International Monetary Fund resulted in 1 in 5 joblessness, millions of people plunged into poverty, and strict austerity measures. Right now, history appears to be repeating itself, as President Macri has announced that he is seeking credit from the international lender.
 These austerity measures intend to squeeze more money out of the economy while the government contributes less, which invariably means that consumer activity will slow down, leading to less received in taxes and more people losing jobs as the economy adjusts to less consumer spending in compensation for higher bills.
Source: sott.net
How do you know an economy is growing? there is one clear cut sign confirming an economy is not growing: if the consumers in said economy have no demand for loans – an indicator of stagnation and/or disinflation – or worse, are actively deleveraging their existing debt exposure, a precursor to outright deflation and money destruction, the bane of every central bank.

  according to the Fed's weekly H.8 data on bank balance sheets, this rising loan demand spurred acceleration in actual bank C&I lending for the first time since the general elections in the last part of 2016 (recall that on several occasions in 2017, loan demand was on the verge of going negative Y/Y, traditionally a leading recession indicator).
And then… something snapped, because even though C&I lending has continued through April at a brisk clip, the latest, just released Senior Loan Officer Survey now shows the worst possible case (as per above): loan demand just turned collapsed, and not just for C&I loans but across the board.
At this point it will probably not come as a surprise that at the same time as C&I and resi loan demand slumped, US consumers expressed no interest for consumer loans either, as a net 9.6% and 6.6% of banks reported weaker demand for credit card and auto loans,   the demand for credit card loans tumbled to match the lowest print in the past 6 years, an indication that US consumers may have finally hit their peak for credit cards demand; if so, and with the US savings rate near all time lows, the US household's purchasing power – that driver behind 70% of US GDP – is about to collapse..
Source: zerohedge.com
---
Political/Rights
Collusion? Now Mueller linked to Russian contacts

Special Counsel Robert Mueller also has been revealed to have had Russian contacts.
"In 2009, when Mueller ran the FBI, the bureau asked Russian oligarch Oleg Deripaska to spend millions of his own dollars funding an FBI-supervised operation to rescue a retired FBI agent, Robert Levinson, captured in Iran while working for the CIA in 2007," the report said.
"Yes, that's the same Deripaska who has surfaced in Mueller's current investigation and who was recently sanctioned by the Trump administration."
"One agent who helped court Deripaska was Andrew McCabe, the recently fired FBI deputy director

Source: wnd.com
Trump Admin Cuts All Government Funding for NASA Global Warming Program
A so-called "climate change monitoring system" has just been scrapped by the Trump administration,
According to the Washington Examiner, the proposed Carbon Monitoring System would have used satellites to study signs of climate change at a cost of $10 million a year.
However, the NASA-backed program is nowhere to be found in the federal spending deal signed last month, making it essentially grounded.
"NASA spokesman Steve Cole told (Science Magazine) that existing grants for the program will be allowed to finish but no new research will be supported,"
Source: westernjournal.com
---
Geopolitical/Police State
---
War
North Korea has abruptly canceled talks with South Korea that had been set for Wednesday – and is threatening to walk away from talks with the US – over joint US-South Korea military drills, according to Yonhap.
Repeating a familiar line, North Korea's Central News Agency said the "Max Thunder" drills involving South Korea and the US air force were a "rehearsal for an invasion" of the North and an unnecessary "provocation" amid warming inter-Korean ties.
Source: zerohedge.com
Plan to Stop the Summit in NK, look out for a false flag.
'Both Iran & US lost in Iraq election, betted on different candidates'
The US will have much more difficult times ahead dealing with the incoming government in Iraq.
A Shia cleric with strong anti-American views looks on course to become the most powerful figure in Iraqi politics.Muqtada al-Sadr's coalition is sweeping to victory in the parliamentary election.
Al-Sadr is known to be an outspoken critic of the US military presence in Iraq and an opponent to Iran. He led two revolts against American forces after their 2003 invasion.While Washington called the Shia militia loyal to al-Sadr the biggest threat to Iraq's security, some Iraqis support him for his religious beliefs, while others see him as a symbol of resistance against the US.

Source: rt.com
US imposes new sanctions on Iranian bank – Treasury Department
The US has imposed fresh sanctions on Iranian banks and individuals, the Department of the Treasury has announced.
In a release on its website, the department listed four people added to the Office of Foreign Assets Control's 'Specially Designated Nationals List.'
Source: rt.com
Iran Says EU Should Make up for U.S. Withdrawal From Nuclear Deal: State TV
Iran's nuclear chief said on Tuesday that the European Union should make up for the U.S. withdrawal from the nuclear deal or Tehran would ramp up its nuclear program to a level more advanced than before the accord.
"The European signatories should make up for the U.S. withdrawal from the JCPOA (the nuclear deal) and guarantee our rights … If they cannot do that, we are ready to take our nuclear program to a level stronger than before the JCPOA,"
Source: usnews.com
Iran sanctions raise interest in oil trade in yuan
A US decision to withdraw from a nuclear deal with Iran has added fresh momentum to efforts to start trading oil in yuan following China's launch of crude oil futures.
For major oil producers like Iran and Russia which are under US and European sanctions, the new contract provides an alternative platform to market their cargoes.
China is the world's biggest importer of crude oil and also the biggest buyer of Iranian oil, with the recent boost in Shanghai futures partially attributed to the sanctions decision.
"The sanctions can potentially accelerate this process of establishing a 3rd oil benchmark," Reuters said, citing a senior vice president for derivatives in Singapore.
Source: presstv.ir
 it appears that the US and its regional partners, Israel and Saudi Arabia, seem intent on ratcheting up tensions with Iran, stoking conflict and using false-flag provocations to undermine Tehran. 
Source: strategic-culture.org
As the death toll among Palestinian protesters rises in Gaza, Amnesty International has called Israel's crackdown "deplorable," and the UN has called for an end to the Israeli military's "disproportionate" use of force.

Source: rt.com
US blocks request for independent Gaza inquiry at UN
The U.S. has blocked a request for an independent Gaza inquiry at the U.N.,
No further details were released.
Source: almasdarnews.com
'No link between US embassy move & deaths of Palestinians' – Nikki Haley at UNSC
 "The United States deplores the loss of life, but there is a lot of violence in region. And the double standard is all too common in this chamber, and is working overtime today," said Washington's envoy to the United Nations, Nikki Haley, before launching a lengthy diatribe criticizing the UN Security Council for failing to call similar meetings to discuss the "destabilizing influence" of Iran.
Haley then said that December's decision to relocate the US mission from Tel Aviv to Jerusalem "does not undermine the prospect of peace in any way" and that those who said it was in itself connected to violence were "sorely mistaken." T .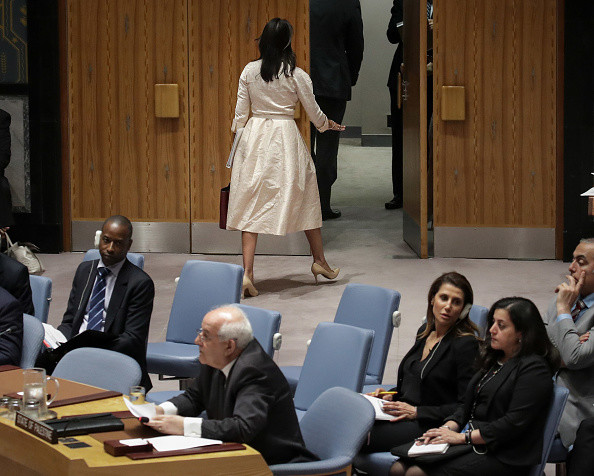 .
Source: rt.com
Breaking: Over 100 buses preparing to exit northern Homs
Over 100 buses filled with thousands of rebels and their family members are preparing to exit the northern countryside of Homs for northern Syria,

Source: almasdarnews.com
---
Q
Witness Protection for NoName? #ItsAfraid #NewQ #QAnon #GreatAwakening
1359
Q compiled a list of links here, showing the increasing number of attacks against the "Conspiracy Theory" that is #QAnon. All attempts to discredit and shut down.
:http://nymag.com/selectall/2017/12/qanon-4chan-the-storm-conspiracy-explained.html
https://harpers.org/archive/2018/06/the-wizard-of-q/
https://www.nytimes.com/2018/04/06/opinion/qanon-trump-conspiracy-theory.html
https://www.seattletimes.com/opinion/the-conspiracy-theory-that-says-trump-is-a-genius/
https://www.independent.co.uk/news/world/americas/us-politics/conspiracy-theory-donald-trump-genius-hilary-clinton-roseanne-barr-barack-obama-george-soros-america-a8293806.html
https://www.realclearpolitics.com/2018/04/06/the_conspiracy_theory_that_says_trump_is_a_genius_439119.html
http://metro.co.uk/2018/04/09/people-claiming-trump-secret-genius-pretending-collude-russians-7452136/
https://www.washingtonpost.com/news/the-fix/wp/2018/03/31/the-conspiracy-theory-behind-a-curious-roseanne-barr-tweet-explained/?noredirect=on&utm_term=.0a5319532879
https://www.washingtonpost.com/blogs/plum-line/wp/2018/04/09/the-crisis-in-journalism-thats-helping-trump/?utm_term=.b303dbe749fd
http://www.newsweek.com/how-storm-biggest-fake-news-story-796725
https://www.youtube.com/watch?v=kSAxcQ5VL5c
https://www.cnn.com/2018/03/31/politics/roseanne-barr-conspiracy-tweets/index.html
https://thinkprogress.org/rosanne-barr-promotes-pro-trump-conspiracy-theory-d52a65887183/
http://www.newsweek.com/roseanne-barr-tweets-about-right-wing-qanon-conspiracy-theory-867983
https://www.buzzfeed.com/juliareinstein/roseanne-qanon-explainer?utm_term=.kkxvYjNeP#.nqg3P8mw7
https://medium.com/@willsommer/roseanne-barr-is-tweeting-about-qanon-a-new-pizzagate-style-conspiracy-theory-234526f52e54
http://thehill.com/homenews/media/381123-roseanne-barr-faces-social-media-backlash-over-trump-conspiracy-theory-tweet
https://www.hollywoodreporter.com/news/roseanne-president-trump-has-freed-children-pimps-all-world-1098812
Actually, there is one thing I want to point out.If Q is bringing this up again, do you think it's because QTeam knows there are going to be new stories coming out soon?I mean, they're military intelligence. They know pretty much everything.The bully tactics used thus far by the media, to ignore intimidate, silence, stigmatize, sideline, and discredit haven't worked;
Pretty sure Q is telling us that there are going to be major coordinated MSM attacks in the very near future.

Now, part of me loves this billboard because it shows how much awareness is spreading, but… there was a major reason I didn't cover this billboard the day it came out (which was like… two days ago or so).

And that's because the site it links to is a really normie/pleb-tier trash-marketing site, looking to suck up your e-mail, spam you, and sell you overpriced junk.

It's a really, really scammy website.

Just look at their "store."


It spreads awareness. But please, please, please, don't throw your money at this guy. He's a total rip-off, squatting on domains, and selling you some HTML marked up 20X over cost.

1361

Admittedly, what I did not get from the photo (and what Q is saying) is that the image was ALSO referencing this post:
The Double Agent, the Punisher, the Filmmaker, and a Whole Lotta Bodies. #NewQ #QAnon #GreatAwakening
:Q already confirmed that Prince was a double-agent, back on April 8th

RUUUUUUDDDDYYY!!!Rudy is bringing the PAIN! :

1365

Rudy, the Punisher.

Mack was arrested on 4/20. Q already confirmed she was squealing, revealing names – including – and I think I missed this detail before… what looks like NXIVM providing Obama with then 10-year-old "Wendy" Maggie Nixon – and how Adam Schiff helped run these children through the Standard Hotel.




NY AG Schneiderman resigned on May 7th, giving that a 17 day delta, amid sexual abuse allegations, including

The anti-Weinstein crusader apparently had some problems of his own.

Eyes Wide Open is a reference to the old Pizzagate investigation "breads" on the chans, long before the QAnon breads, and the name itself is a reference to Kubrick's Eye's Wide Shut, which famously features elites, in masks, performing in all kinds of orgiastic sex rituals.
And really, one of the things Kubrick was trying to do with this film (and others) was reveal secrets about #TheCabal to which he was privy as an elite artist (at a time when no one else really knew this was going on), to a world-wide audience.

 if you go study his film The Shining, there's a wild whole meta-narrative in that film about the Gold Standard, and ending the Fed (YES, I'm serious). He talks about FDR, Woodrow Wilson, Fed Bankers, and more:

And then, of course, Kubrick died after Eyes Wide Shut. Many of his fans long speculated he was killed by The Cabal, because he was giving away all their secrets and exposing them to the world. I tend to lean in that direction, too.

Pompeo is NOT the most senior official to have been there.

A former President was there just a short while ago (searching for a new handler, presumably):

NK is a major human trafficking site. They move kids from Asia through there.