Cyber Attack Simulation Completed By [WEF],Pause, Planned & Accounted For,Think Election – Ep. 3141
Podcast: Download (Duration: 1:36:01 — 42.0MB)
Watch The X22 Report On Video
The economy is failing world wide, first it was Germany now it is the Netherlands, both countries are in a recession. Gov will not help anyone when we the people enter the crisis, because they are the ones that caused it. The [CB]s are panicking, as people hit the precipice they will elect leaders that will campaign on getting rid of the [CB]. Trump and the patriots are leading the [DS] down the path where he can expose all the crimes the [DS] players have committed. Everything they are doing to him will be used against them to show the people the truth. That is why the [DS] is planning on using a cyber attack to most likely postpone the elections. Trump and the patriots planned for this and this and the plan will come full circle. The [DS] time is almost up.
---
Economy
JUST IN – First Germany, now the Netherlands enters recession.

— Disclose.tv (@disclosetv) August 16, 2023
Justin Trudeau's comments on housing in Canada.

2015: "prioritize investment in affordable housing"

2021: "first home out of reach, it's time to change that"

2023: "housing is not my responsibility" 🙄

— Wall Street Silver (@WallStreetSilv) August 16, 2023
Mortgage applications fell for the fourth consecutive week as the 30-year fixed-rate mortgage rose to its highest level since 2001, reaching 7.16%. For the week that ended August 11, mortgage applications fell 0.8% from the prior week, according to data from the Mortgage Bankers Association.
Meanwhile, the refinance index decreased 2% since last week and is 35% lower than it was the same week a year ago. The unadjusted purchase index decreased 2% compared with the previous week and was 26%  lower than the same week one year ago.
Source: housingwire.com 
The number of teachers who can afford a reasonably priced home in their school district nationwide has collapsed to just 12%, down from 17% last summer and 30% in 2019, amid the worst housing affordability crisis in a generation, according to data from Redfin.
Redfin's analysis of median teacher salaries for 2022 across 50 major cities for over 70,000 PreK-12 public and private schools revealed no teacher in San Jose and San Diego could afford homes within "commuting distances" to their respective school, which means home and work are 20 minutes during typical rush hour conditions.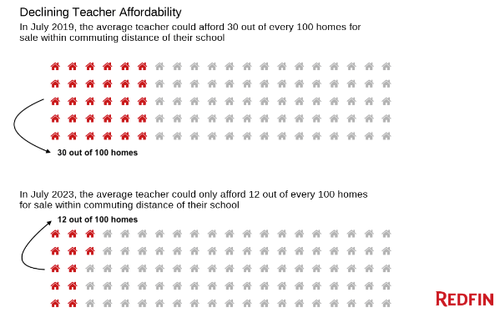 The struggle stems from teacher wages not keeping pace with high inflation. Data from National Education Association (NEA) shows teachers only received a 2% bump in pay in 2021-22 from the prior year to $66,745 when adjusted for inflation. Compared with a decade ago, teachers make $3,644 less when adjusted for inflation.
"
Source: zerohedge.com
The Department of Education announced Monday that it will begin notifying more than 804,000 borrowers that their $39 billion in federal student loans will be "automatically discharged in the coming weeks."
"The forthcoming discharges are a result of fixes implemented by the Biden-Harris Administration to ensure all borrowers have an accurate count of the number of monthly payments that qualify toward forgiveness under income-driven repayment (IDR) plans," said the administration in an Aug. 14 press release—a month after the forgiveness plan was announced.
The department said that the forgiveness program was part of fixes to address "historical failures" in which "qualifying payments made under IDR plans that should have moved borrowers closer to forgiveness were not accounted for."
If borrowers have accumulated the equivalent of either 20 or 25 years of qualifying months, they were "eligible for forgiveness," said the department.
"A single borrower who makes less than $15 an hour will not have to make any payments."
On June 30, the Supreme Court voted in a 6–3 decision to strike down the Biden administration's loan forgiveness plan.
In what is widely considered a political move, President Joe Biden promised to cancel as much as $20,000 for around 40 million borrowers, resulting in a massive $800 billion commitment, with experts claiming it could easily cross the trillion-dollar mark.
President Biden promised a "new way" to circumvent the decision.
Despite the administration's insistence that low- and middle-income borrowers would benefit, experts have pointed out the programs a putting strain on the economy, with some estimates placing the amount at up to $1 trillion in additional federal expenditures over the next decade.
"We have a student loan system that assumes that people are going to pay their debt back, and instead, it's just this massive government spending policy that has negative effects for everybody," said Caleb Kruckenberg, an attorney at Pacific Legal Foundation to The Epoch Times.
Blowback to 'Forgiveness'
The model warns that "due to the increased generosity of the newly proposed IDR (income-driven repayment) plan, future student borrowers have the incentive to increase their federal student loan borrowing." As a result, the current college financing pattern will shift toward "more loan borrowing instead of paying out-of-pocket."
Source: zerohedge.com
BREAKING: 🇬🇧 PayPal to halt #bitcoin purchases in the UK

— Bitcoin Magazine (@BitcoinMagazine) August 16, 2023
With presidents Kirchner, Macri and now Fernandez, the leftist 'peronists' have transformed Argentina into an unmitigated train-wreck, a decadent country where annual inflation is over 100%.
Take a look at the headlines below, and notice how the leftist machine in the media has started to try and destroy him before the final round of voting in October.
The smear is on!
The globalist elites and the local leftist networks have detected a existential threat in Javier Milei  
Source: thegatewaypundit.com
---
Political/Rights
The president ran as the empathetic politician who shines in times of crisis, but his reaction to Maui has left political watchers wondering where that Biden has gone. Biden's "no comment" response Sunday about the rising death toll in Maui has distracted from federal relief efforts he has directed, including the dispatch of federal responders on the ground and the approval of a disaster declaration over the deadly fires.
President Biden is facing mounting criticism over his response to the catastrophic wildfires in Maui, with former President Trump and other critics keeping the airwaves full of attacks over how he has handled the situation.
Source: thehill.com
President Joe Biden and first lady Jill Biden will survey the devastation wildfires wreaked on the Hawaiian island of Maui.
The first couple will travel to Maui next Monday to meet with first responders, survivors, in addition to federal, state, and local officials, after the fires, which killed at least 106 people last week, according to White House press secretary Karine Jean-Pierre.  
Is going to the beach for vacation first
Source: washingtonexaminer.com 
OMG – 😂😂😂😂 https://t.co/fxuQTxUNYD

— Catturd ™ (@catturd2) August 15, 2023
Target blames backlash against Pride-themed collection for 5.4% slump in sales, it's first in six years
Quarterly sales for Target dropped for the first time in six years – with the company blaming its recent Pride collection for the sudden slump.
Sales at stores that have been open for at least a year dropped 5.4 percent in the last quarter, including a 10.5 percent dip online.
The company was also forced to cut its annual sales forecast and blamed the backlash it received for its LGBTQ+ collection – including a 'tuck-friendly' bathing suit. 
As well as sales, Target's foot traffic dropped 4.8 percent last quarter, with analysts blaming 'a function of a mix that skews too discretionary, as well as the Pride merchandise issues.'
Target's revenue for the three-month period that ended on July 29 was $24.8 billion — 4.9percent lower than last year.
Source: dailymail.co.uk
A mom spoke out at a school board meeting about @BeniciaUSD injecting gender ideology into the curriculum.

Leftist activists were fuming and set to work tracking down her employer and destroying her life. @Compass, her employer, caved to the mob and fired her.

I spoke with… pic.twitter.com/Xb23R2qpZG

— Libs of TikTok (@libsoftiktok) August 16, 2023
 Janet and she shared her frustrations about what's going on America. Her life was turned upside down but she stressed she believes parents have to stand up for whats right and protect their children. She doesn't regret speaking out and hopes more parents join her!
Sixty-three percent of Americans believe President Joe Biden broke the law by violating the Foreign Agents Registration Act (FARA) by "actively assisting" Hunter Biden in removing the Ukrainian prosecutor investigating Bursima Holdings, recent polling found.
Source: breitbart.com
A Manchurian candidate is a person, especially a politician, being used as a puppet by an enemy power. The term is commonly used to indicate disloyalty or corruption, whether intentional or unintentional.
The Manchurian Candidate was a 1959 political thriller by Richard Condon. The book details a conspiracy where a US soldier, Raymond Shaw, is captured during the Korean War and brainwashed by Chinese and Soviet agents. His brainwashing is later activated by the Communists to lead Shaw to assassinate a US presidential candidate so that his running mate, Senator Iselin, will win overwhelming support. Iselin has been put in place by his power-broker wife (also Shaw's mother) to install a Chinese Communist dictatorship if elected. 
Jul 01, 2018 3:23:25 PM EDT
Q
U.S. really did have Manchurian Candidate in White House    
After returning from a tour of some of the war zones in the Middle East — which ended with the Free Iran Gathering 2018 in Paris — I am struck by the realization that America really did have a Manchurian Candidate in The White House for eight years. If you look at the evidence, there really is no other conclusion. The calamitous consequences of the Obama presidency will be felt for the foreseeable future.
In the short year and a half that President Trump has been in office, he has put in place policy that has mitigated the damage that President Obama inflicted on our national security and on our allies. The speed with which Trump has been able to turn things around points to the diabolical depths the Obama administration went to in order to undermine our national strength and way of life. All Trump had to do was stop doing things that hurt America; America could then take care of itself. The results are plain as day. However, it will take decades for the Obama damage to be completely undone. The deviousness of the Obama sedition runs deep.
Source: washingtontimes.com 
---
Geopolitical/Police State
Illinois Governor JB Pritzker is on a roll signing bills to curtail freedoms in the Land of Lincoln.
Recently, the Illinois Supreme Court found an assault weapons ban constitutional.  The high court also upheld the Pretrial Fairness Act provision of the Safety, Accountability, Equity, Transparency-today Act, meaning that cash bail will be eliminated in Illinois in 60 days, a massive win for criminals.
Pritzker signed HB 3653 THE SAFE-T (Safety, Accountability, Fairness, and Equity- Today) ACT into law in February.
Oak Park,  a suburb of Chicago, has become the first Midwestern town to ban fossil fuels, like natural gas, in new homes and commercial buildings.
The Illinois House and Senate passed Bill 3751 allowing some work-eligible non US citizens to serve in law enforcement in the state.  The bill was signed by Pritzker in July.
Now, Pritzker has signed the Illinois Civil Liability for Doxing Act.
Under the new law, Illinoians are now at risk, under the law, for writing or sharing in any manner…..even truthful, simple facts.
WirePoints reports that the new law, "lets those who are doxed bring lawsuits for damages against the doxer, subject to certain broad, vague requirements described below."
While the definition of "Doxing" most commonly used is sharing personal information about someone on the internet that makes them vulnerable to harassment, shaming or revenge.
But, while the new law uses the word doxing to garner sympathy or a concerning danger on social media, the new law has an entirely different definition in the law.
Source: thegatewaypundit.com
---
War
North Korea asserted Wednesday that a U.S. soldier who bolted across the heavily armed Korean border last month did so after becoming disillusioned with the inequality of American society and racial discrimination in its Army.
It was North Korea's first official confirmation of detention of Pvt. Travis King, who had served in South Korea and sprinted into the North while on a civilian tour of a border village on July 18. He became the first American confirmed to be detained in the North in nearly five years.
Source:  kmbc.com/ 
---
Cyber Attacks
---
False Flags
Fauci appointed the panel of "experts" who decided only costly drugs like remdesivir could be used to treat COVID. Did you know they all took money from its manufacturer?

Our doctors need to think critically and stop blindly following corrupt guidelines. https://t.co/fNjzB4isNO

— Pierre Kory, MD MPA (@PierreKory) August 14, 2023
Olympic swimmer Helen Smart dies suddenly at age 43: 'Can't comprehend' https://t.co/XDOqUguKFi pic.twitter.com/GxeEcfIxlH

— New York Post (@nypost) August 16, 2023
Former Olympic swimmer Helen Smart, who represented Great Britain at the 2000 Sydney Olympic Games, has died at age 43.
The professional swimmer also won bronze at the Kuala Lumpur Commonwealth Games in 1998 and worked as a school principal at the time of her death.
No cause of death is known at this time, however, Smart's loved ones have described it as "sudden."
Smart, then known by her maiden name Don-Duncan, made a name for herself in the swimming world after becoming the British backstroke champion in the late 1990s.
At 19 years old, she competed in the women's 50-meter backstroke and 200-meter backstroke at the Summer Games in 2000.
In a press briefing today, Kirillov detailed the most grave accusations.
Sputnik reported:
"The United States has started preparing for a new pandemic by searching for virus mutations, Lt. Gen. Igor Kirillov, a Russian senior military official, said

▪Announced in July of this year, the Biden Administration created the Office for Pandemic Preparedness and Response Policy.

▪This department's priority areas include work on creating vaccines and drugs for stopping viruses and their genetically modified variants, Kirillov noted.

▪The leading role in the Pentagon's military biological program will be played by the United States Army Medical Research Institute of Infectious Diseases, according to Kirillov.

▪Documents uncovered during the special military operation in Ukraine confirmed that this institution is involved in accumulating dangerous pathogens in various regions of the world, Kirillov added."
Intel Republic also reported, by Kirillov:
"As in 2019, the United States has begun preparing for a new pandemic by looking for virus mutations.

We do not exclude the possible use of so-called defensive technologies for offensive purposes, as well as for the purpose of global control, by creating crises situations of a biological nature."
Source: thegatewaypundit.com
---
Q
A Democrat judge in Wisconsin, newly elected to the state Supreme Court, giving leftists the majority for the first time in years, could be facing impeachment if she refuses to recuse herself from election cases.
That's according to a statement from Wisconsin Assembly Speaker Robin Vos.
"If there is any semblance of honor on the state Supreme Court left, you cannot have a person who runs for the court prejudging a case and being open about it, and then acting on the case as if you're an impartial observer," Vos said, according to a report from the Washington Examiner.
 
Republicans have a majority in the assembly and a supermajority in the state senate, and could successfully impeach and remove a judge if they chose.
Source: thegatewaypundit.com
Kamala Harris: Most Don't See VP Helping Biden's 2024 Bid

Most voters continue to have a low opinion of Vice President Kamala Harris.

More At Rasmussen Reports: https://t.co/wIuUnZqSRR pic.twitter.com/eAufvwlV3K

— Rasmussen Reports (@Rasmussen_Poll) August 16, 2023
The search warrant Special Counsel Jack Smith obtained for former president Donald Trump's Twitter account gave him access to direct messages, draft tweets and search history, according to a newly unsealed court document.
Over Twitter's objections, U.S. District Court Judge for the District of Columbia Beryl Howell granted a warrant to Smith that provided access to a wide range of account data, including location data and tweet drafts, according to a document unsealed Tuesday 
The warrant called for Twitter to release search history, location data, IP addresses used to log into the account, all tweets "created, drafted, favorited/liked, or retweeted" by the account, all direct messages, all information "relating to all other interactions" between Trump's account and other users from October 2020 to January 2021, accounts Trump "followed, unfollowed, muted, unmuted, blocked, or unblocked" and all users who took the same actions against account between the dates of October 2020 and January 2021.
It also called for Twitter to disclose include devices and networks used to access the account, communications with the company and privacy and account settings
Source: dailycaller.com
Feds have Trump's DMs, even deleted ones. And unsent drafted tweets.

🚨🚨🚨🚨🚨 pic.twitter.com/jkcEVX8mG5

— Marina Medvin 🇺🇸 (@MarinaMedvin) August 16, 2023
Texts, emails (gmail), drafts (gmail), HAM comms, PS/Xbox chat logs..
JC-BO-CS-LL-#2-NO-SY
Bonus round.
Q
The Racketeer Influenced and Corrupt Organizations Act (RICO) count runs some 70 pages and says all 19 defendants, "while associated with an enterprise, unlawfully conspired and endeavored to conduct and participate in, directly and indirectly, such enterprise through a pattern of racketeering activity." The indictment next defines the "enterprise" as "a group of individuals associated in fact," who "had connections and relationships with one another" and "functioned as a continuing unit for a common purpose of achieving the objectives of the enterprise," which Willis maintains was "to unlawfully change the outcome of the election in favor of Trump."
But there must be some sort of "enterprise," and here Willis conflates the objective — keeping Trump in power — with "the enterprise." "It was that objective, and not the sustaining of any group, that brought them together; and once that objective was attained or conclusively defeated, the group — to the dubious extent it really was an identifiable group — would (and did) melt away," McCarthy wrote. It's a "good sign that you're not dealing with a RICO enterprise," the former federal prosecutor explained.
Without an "enterprise," there can be no RICO crime, and the facts alleged in the indictment are such that the defendants will likely soon seek dismissal of that count. Now, Georgia law differs from federal law on RICO, and there is no saying how the state court will interpret its own RICO statute, but from a legal perspective, the claim is exceedingly weak.
The second fundamental problem with the RICO count is factual: Willis portrays the defendants as trying to unlawfully change the election in Trump's favor, but the many actions Trump and others took involved legal proceedings and efforts to convince the legislative bodies to use their authority to address what the defendants saw as a fatally flawed election. A court is unlikely to toss the complaint on this ground, however, with factual disputes ones only a jury can resolve.
Bucket 2: Alternate Electors
The second-biggest bucket concerns the counts related to the naming of alternative Trump electors. The crimes alleged here range from soliciting individuals to violate their oaths of office, to conspiring to file false statements or documents, to forgery. Counts 2, 6, 8-19, 23, and 37 alleged these and other crimes against various defendants all arising out of Republicans appointing an alternative slate of Trump electors who would vote for Trump in the event he prevailed in his then-pending Georgia lawsuit.
While the legacy media continue to frame these individuals as "fake electors," as I've previously detailed, that is fake news. Rather, legal precedent indicates that alternative electors should be named to protect a candidate challenging the outcome of an election, as Trump was in Georgia and elsewhere. That is precisely what Democrats did in Hawaii in 1960 when Richard Nixon had been declared the victor in the state, but John F. Kennedy's court contest remained viable.
As a matter of law, these counts should all be dismissed because Republicans naming alternate electors was not a crime — no matter how much the press wants you to believe otherwise.
Bucket 3: Petitioning the Government for Redress
 Here, the crimes charged include solicitation of violations of oath by public officers and the making of false statements during those efforts, but the common theme is that the defendants sought to have Secretary of State Brad Raffensperger or the Georgia legislature address Trump's allegations of voting irregularities or fraud.
There is nothing criminal, however, in asking the secretary of state to use his authority to investigate and respond to voting irregularities or to ask the legislature to call a special session to name Trump electors. On the contrary, those activities would seemingly be protected by the constitutional guarantee of the right to petition the government for redress.
Bucket 4: False Statements
The fourth bucket holds numerous counts against a variety of defendants with the common theme being false statements charges. Count 27 alleged false statements were included in one of Trump's election lawsuits, but lawyers are entitled to rely on information provided for others, making this count weak. Counts 7, 24, 25, and 26 all charged individual defendants with making false statements to Georgia House or Senate committees. The main issue here will be whether the defendants made the statements knowing they were false.
Bucket 5: Communications Related to Ruby Freeman
these charges concerning efforts to supposedly influence the testimony of Ruby Freeman, who was an election worker at the State Farm Arena. Here, the theory seems to be that some of the defendants attempted to pressure Freeman to lie about what happened during the vote counting. Again, it may be left to a jury to decide this issue.
Bucket 6: Accessing Voting Machines and Election Data
The final category of charges involves efforts by Sidney Powell and others to allegedly illegally access voting machines and election results.
For now, though, watch for the federal court's holding on whether Meadows, Clark, Trump, and potentially others have the right to remove the case to federal court. Simultaneously, expect the other defendants to seek dismissal of all or part of the indictment, likely narrowing this criminal case down substantially.
Source: thefederalist.com
Just starting to read through GA indictment but a few quick observations:

• Jack Smith is preparing to indict some of the same individuals in Trump's J6 case on same bogus grounds

• Tweets have been used as incriminating evidence in multiple J6 cases including Trump's "will…

— Julie Kelly 🇺🇸 (@julie_kelly2) August 15, 2023
•  "will be wild!" Dec 18, 2020 tweet inviting his supporters to Jan 6 rally. In fact, that's the date DOJ claimed was the start of the Proud Boys "seditious conspiracy."
• Which is why I still believe Smith will eventually indict Trump for seditious conspiracy. Willis' indictment, defendants just a warm up act—a way to prep the ground for his federal case.
🚨The BIG Lie! Russia, Russia, Russia! These parasites lied about a stolen election for yrs with ZERO accountability, deceiving Americans intentionally!👇🏽

1.Nancy Pelosi
2.Adam Schiff
3.Rachel Maddow
4.MSNBC
5.Hillary Clinton
6.Joe Biden
7.CNN
8.Barack Obama
9.Kamala Harris… pic.twitter.com/mCkg2pH7AQ

— 🔥🇺🇸 KC 🇺🇸🔥 (@KCPayTreeIt) August 16, 2023
TAKE A LISTEN
The boomerang of all of the indictments against President @realDonaldTrump for crimes [THEY] committed will be glorious.

FTA: More than 150 examples show Democrats denying election results, including 
President Joe Biden; two-time failed presidential candidate 
Hillary Clinton;… https://t.co/wnvmKNCD2a

— Lisa Mei (@TheNotoriousLMC) August 16, 2023
TAKE A LISTEN
Trump was up by >160K votes (56.3% to 42.7%) when CBS broke the news of a "pipe burst", pausing the count. Video would show multiple people inside State Farm continuing to count unsupervised.

He would "lose" GA by <12,000 votes, but you're not allowed to question any of this. pic.twitter.com/efy5VrdjYn

— Patri0tsareinContr0l (@Patri0tContr0l) August 15, 2023
This clip is from the hearings on election fraud in Georgia in 2020.

The signatures on the ballots do not match and were clearly forged. There were thousands of these.

They want to throw Trump in jail for questioning this & advocating for signature verification. pic.twitter.com/GZ2L07ZuMh

— TheStormHasArrived (@TheStormRedux) August 15, 2023
TAKE A LISTEN
GEORGIA!🚨🍑 @GovKemp pretends these FRAUDULENT votes never happened. This is my video where @GAballots shows me the duplicate ballot images that were obtained as part of a lawsuit before Judge Brian Amero. Hand marked ballots were scanned in MULTIPLE times.

Please follow and… pic.twitter.com/ljWncJRQxm

— Heather Mullins (@TalkMullins) August 15, 2023
 
The Fulton County Clerk of Courts on Tuesday released a new statement on the leaked charging documents.
Early Monday the corrupt Fulton County court website briefly posted several charges against Trump – including RICO charges – before the grand jury had even closed (see below).

Leaked Trump charging docs
Now the Fulton County Clerk is claiming the leaked documents were a "trial run" gone awry.
 made of a totally fictious construct, with totally random charges, that just happened to line up with the exact same charges, in the exact same sequence, as the indictment after the jury voted.  👀🤔…
Surprise, surprise! The so-called 'test sample' was IDENTICAL to actual charging documents (see below).
Source: thegatewaypundit.com
Abusing RICO enforcement could backfire on Dems: A 2nd Trump admin/ GOP admin could charge Willis, Bragg, Smith, Garland + Biden w/ conspiring to sideline Trump w/ vexatious prosecutions and other overt acts of racketeering. All their comms would be subject to subpoenas/warrants

— Paul Sperry (@paulsperry_) August 16, 2023
In one unusual way, former President Donald Trump stands to benefit from his persecutors' latest act of vengeance-inspired wrath.
On Monday, a grand jury in Fulton County, Georgia indicted Trump and 18 others on charges related to the 2020 presidential election. The former president and his fellow defendants have until Aug. 25 to surrender.
Meanwhile, the first Republican presidential debate looms on Aug. 23. Fox News will broadcast the debate in Milwaukee.
It's unlikely Trump will participate. He has said he won't sign a required pledge to support whoever wins the GOP primary race, and he has little incentive to show up, given his big lead in the polls.
If Trump chooses to surrender himself in Georgia on the day of the debate, he will do so not to distract attention from other Republican presidential candidates. After all, the latest RealClearPolitics average of polls shows the former president with a nearly 40-point lead over his closest challenger.
Instead, Trump has one good reason and one transcendent reason for surrendering himself on Aug. 23.
  he will drawing viewers away from the Republican debate, he will.
Second — and far more important — he should appear in Georgia on Aug. 23 for posterity's sake.
Source: thegatewaypundit.com
How many people had NEVER heard the full quote?

Scott's usually pretty well informed on Fake News trickery and manipulation methods.

He's saying here down in the comments it wasn't until today he heard the FULL QUOTE.

The media's been REMOVING part of the quote in its… https://t.co/n6vn30BMip

— Brian Cates – Political Columnist & Pundit (@drawandstrike) August 16, 2023
They want to remove Trump from the GA ballot as its a critical state to win in 2024
Will Arizona also indict him
Of course this was coming. Trump has built threats of violence into our politics. https://t.co/qts3iY1Osw

— Tom Nichols (@RadioFreeTom) August 16, 2023
A year-long research project led by an election integrity investigator from Utah, Sophie Anderson, and communications engineer, Dr. Charles Bernardin, has uncovered the mechanism that is being used to connect our election equipment at polling places across the nation.    the team realized that the federal government has indeed created a nationwide network that is capable of collecting and changing real-time voting data at polling places across the country from a central location. The private network tool is called FirstNet, and like so many things that have proven detrimental to American liberty – it was sold as a tool to ensure public safety.  
WHAT IS FIRSTNET?
The idea of a national cellular network dedicated to public safety was hatched in the wake of 9/11 when congested cell networks proved to be a bottleneck for first responders. In 2012, Congress created the First Responder Network Authority under the Department of Commerce to oversee the build-out of "FirstNet." The original intent provided by its sponsors was that FirstNet would serve police, fire, and EMT services.  However, the scope was soon expanded to include all "critical infrastructure" – which included water, energy, and transportation infrastructure. (https://www.digi.com/solutions/by-technology/firstnet )
Curiously, just days before Barack Obama left office, his administration's Department of Homeland Security used the specter of "Russian interference" in the 2016 election as an excuse to declare election systems to be a part of that critical infrastructure.  As a result, the stage was set to roll election systems into FirstNet.
The original plan to build FirstNet was to create a separate network with nationwide coverage that used a dedicated cellular band portion known as Band 14. Years and billions of dollars later, AT&T had built out the FirstNet Band 14 network with the coverage shown in the map below.
THE PUSH TO CONNECT ELECTION SYSTEMS TO FIRSTNET
Just because the FirstNet cellular network was now available to be used for election systems, didn't mean all local jurisdictions would connect. Some of them would need to be pushed. Coincidentally, public discussion of using the Election Assistance Commission's (EAC) influence to push election jurisdictions nationwide to connect to FirstNet took place at a two-day Election Assistance Commission (EAC) Board of Advisers meeting in April 2019. The full transcript of the meeting is here.
Source: thegatewaypundit.com
Q

 

!ITPb.qbhqo

 

ID: 4a55e6

 No.74128

Risk of another shutdown.
Be prepared to lose access.
Q
On 9 July 2021, the World Economic Forum and its partners simulated a global cyber attack. The training exercise, being held for the third time this year, involved a simulated large-scale cyber attack on a company's supply chain and the real time response thereto, with the scenario being referred to as a cyber pandemic[1].
1.

Is the Commission aware of the results and findings of the above mentioned simulation and, if so, how does it view them and what significance do they have for the Commission's work?

2.

To what extent did Commission representatives participate or were/have been informed or otherwise involved?

3.

What is the Commission's assessment of the impact of such a scenario on the Member States and on Member States' businesses and citizens, as well as on the secure use of digital currencies as a substitute for cash?