[DS] Has Been Pushed Down The Path Of No Return, Nuclear [FF], Conductor Confirmed – Ep. 3109
Podcast: Download (Duration: 1:26:35 — 38.4MB)
Watch The X22 Report On Video
ESG investing does nothing for the environment, the entire push is a scam just like everything else that has to do with the climate. The CBO reports that spending is the problem. The economy is imploding and the recession is going to be a lot worse than people think. The Fed is wrong again. The [DS] are now being pushed down a path of no return, they are trapped in their own agenda. WWIII is now building and the people will be pushed to the precipice, once they reach this point they will have the will to change. Trump and the patriots are controlling it all, he is the conductor and it seems that Scavino has now confirmed this. The patriots are in control and they are exposing the tyrannical government.
---
Economy
 , a new study indicates that ESG investing is counterproductive in practice. Kelly Shue of Yale University and Samuel M. Hartzmark of Boston College investigated the environmental impact of over 3,000 large companies between 2002 and 2020. They find that green companies' lower cost of capital does not lead to reduced emissions. This makes sense since the likes of Spotify or a hospital are not particularly heavy emitters and have little capacity to reduce emissions; brown companies produce 260 times higher environmental impact. By contrast, when brown companies are starved of capital, they become dirtier to avoid bankruptcy.
"When you punish brown firms, they become more short-termist," Shue writes.
This all means much less capital available for green technologies.
The green investing agenda may also have other unintended consequences. For example, there are examples of large oil producers offloading older assets to improve their green credentials, only for their mines and oil rigs to become dirtier in the hands of new owners, who operate them for longer. It's the same principle for the UK, where efforts to prevent new domestic oil and gas production have only resulted in importing expensive hydrocarbons (often from less-than-democratic places like the Middle East or Russia).
 Source: zerohedge.com
Headline US factory orders rose just 0.3% MoM in May (well below the +0.8% MoM exp), dragging the YoY change into the red (down 1.0% YoY) for the first time since Oct 2020…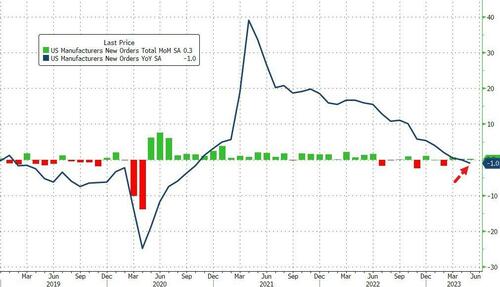 Source: Bloomberg
Worse still, core factory orders fell for the 4th straight month in May, down 4.24% YoY (worst since Sept 2020)…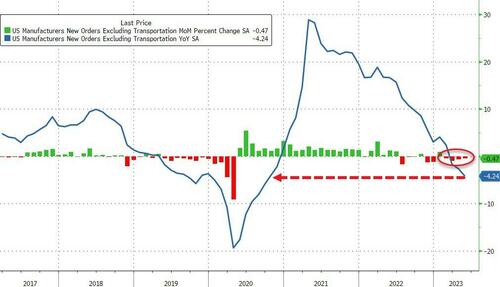 Source: Bloomberg
And if ISM data is anything to go by this is about to get much worse…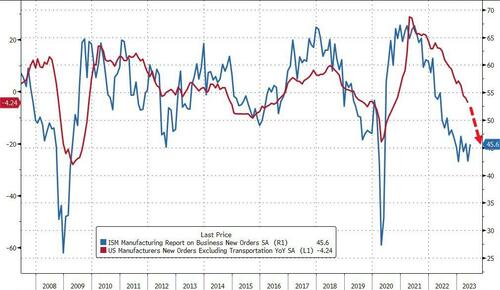 Source: Bloomberg
Source: zerohedge.com
The combination of rising debt and rising interest payments creates a 'doom loop,' where interest accumulates faster than the interest gets paid down.
  the Congressional Budget Office (CBO) recently released a report illustrating the fiscal problems looming dead ahead for the United States. Its most recent analysis, an annual report estimating the long-term budget outlook, illustrated why Democrats' "solution" to the problem — namely, massive tax increases — won't solve our budgetary woes.
Record Spending, Record Debt
According to the CBO report, the federal government faces massive deficits over the next 30 years (the timespan of the analysis). Specifically, "deficits are projected to grow almost every year over the next three decades." As a percentage of the economy, they would average more than twice the average deficit over the past half-century, growing to reach 10 percent of the entire economy in 2053.
What will cause these deficits? As the CBO report notes, it's not low levels of federal revenues. In fact, the budget gnomes believe that "revenues measured as a percentage of GDP are projected to be higher than they have been, on average, in recent decades."
Instead, spending will drive our deficits. Federal outlays will reach levels seen only twice in our nation's history: during World War II, and during the Covid lockdowns. Spending will rise faster than revenues almost every year, leading to greater and greater federal deficits.
Rising deficits will bring with it rising levels of debt. According to CBO, federal debt as a share of GDP will reach an all-time high in 2029, exceeding levels during and after World War II. But even after reaching 107 percent of the economy six years from now, the debt will rise still further, hitting 181 percent of GDP 30 years from now.
Impending 'Doom Loop'?
All that debt will lead to higher interest costs, such that net interest costs will nearly triple over the coming three decades after they have already risen sharply over the past two years. By 2051, CBO estimates, we will pay more in interest on the national debt than we will spend on Social Security.
Source: thefederalist.com
Student loan debt in the US totals nearly $1.8 trillion: pic.twitter.com/5dnPXB2wrx

— unusual_whales (@unusual_whales) July 5, 2023
GDP and GDI should be the same, but they are telling different stories.

Peter explains how we are already likely in a recession and how bad it is.

— Wall Street Silver (@WallStreetSilv) July 5, 2023
The US is headed for a more serious recession than Powell has predicted, Evercore founder says
The US is in for a more serious recession than Fed Chair Powell thinks, according to Evercore's Roger Altman.
The market veteran pointed to the inverted Treasury yield curve and troubling signs among small businesses.
A moderate recession is the most likely outcome by the end of the year, Altman warned.
The US is headed for an even more serious recession than Federal Reserve Chair Jerome Powell has projected, according to market veteran Roger Altman.
Though a recession hasn't been officially declared yet, the inverted yield curve has preceded previous recessions by about 18 months, according to Altman, as was the case for the downturns beginning in 1989 and 2006.Special business surveys are also spelling trouble for the economy, Altman said, pointing to Evercore's trucking survey, an index of freight demand that the firm touts as a reliable recession signal. That index recently dipped below 48, a threshold that's typically correlated with a downturn.
Source: news.yahoo.com
NEW – 🇬🇧 UK Financial Services Minister: Britain should be cautious about issuing a digital pound CBDC given privacy and other issues involved.

CBDC's are slavery, #Bitcoin is freedom 💥 pic.twitter.com/BGKXp0a3HD

— Bitcoin Magazine (@BitcoinMagazine) July 5, 2023
---
Political/Rights
 
On Independence Day millions of Americans were out enjoying freedom, family and fireworks.
Not, Ben & Jerry's.  The overpriced ice cream company was out trashing America.
Here is the Ben & Jerry's Independence Day tweet:
Ben & Jerry's wants the US to return our land to indigenous people.
Or do they want us to hand it over to Britain and they hand it over to Spain who then hands it over to the indigenous people before them who then hand it over to the indigenous people they stole the land from in the first place?
Source: thegatewaypundit.com
The White House grounds were evacuated on S  due to the discovery of an "unknown item" by the U.S. Secret Service (USSS).
On Tuesday, according to two officials familiar with the matter and an audio recording of a dispatch from a D.C. fire crew, a preliminary test has indicated that the white powder discovered was cocaine.
Source: beckernews.com
Kash on impeachment: "Doing an impeachment is the bringing of charges which will allow for the American public to see the trial & the documents & the testimony… to get their statements out… to get the recordings out so DOJ & FBI can't rig another Presidential Election." 💯 pic.twitter.com/ZlpOvByszI

— Patri0tsareinContr0l (@Patri0tContr0l) July 3, 2023
"How likely is it that Hunter Biden received favorable treatment from federal prosecutors because his father is the president?"

50% of Democrats say its likely.

Tomorrow 👇 https://t.co/98LWgHkm4z

— Rasmussen Reports (@Rasmussen_Poll) July 4, 2023
"Smallville" actress Allison Mack was released from prison  , according to the Federal Bureau of Prisons website.
Mack, 40, was sentenced to three years in prison in June 2021 for her role in the NXIVM sex-trafficking cult. According to search records on the Federal Bureau of Prisons website, Mack was released Monday from a federal prison in Dublin, California, close to the Bay Area.
Mack was originally charged and pled guilty to charges related to the manipulation of women into having sex with the cult's leader, Keith Raniere, as well as being branded with Raniere's and her own initials. She avoided a 20-year (or more) sentence for her role in the cult and criminal activity by helping prosecutors build their case against Raniere, who received a 120-year sentence for his crimes, The Associated Press reported.
Source: dailycaller.com
Q

 

!!mG7VJxZNCI

 

ID: b66e82

 No.7004029

D9ewQ5YXsAAGaMY.jpg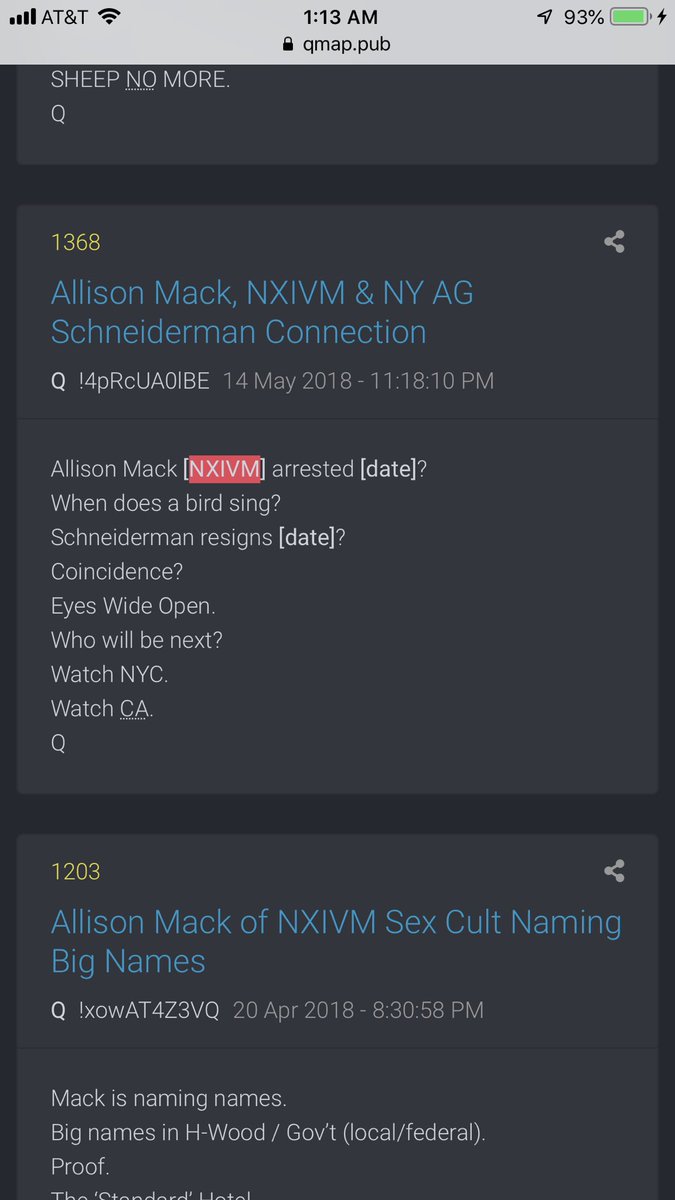 ---
Geopolitical/Police State
NEW – Mark Zuckerberg will unleash his Twitter clone app called "Threads" this Thursday, Friday. pic.twitter.com/jnkFsI2N4Z

— Disclose.tv (@disclosetv) July 4, 2023
Change is the very nature of social media. But what we've been seeing in the last few days is a sweeping reorganization of the business landscape, as big companies readjust their strategies to the new Geopolitical realities.
To begin with, Twitter is under attack. The most celebrated social media platform is paying the political price for Elon Musk's decision to stand up for free speech and against the 'censorship industrial complex' that was operating inside the platform.
So the attacks are coming hard and fast, be it 'extreme' data scraping and system manipulation, be it initiatives by other Big Tech CEOs, like Mark Zuckerberg, to create competitor apps to fight for Twitter's user base.
Reuters reported:
"Twitter made the announcement in a tweet detailing an improved version of TweetDeck with new features. It was unclear if Twitter will charge users for both the new and old version of TweetDeck. Twitter did not immediately respond to request for comment.

 

Charging for TweetDeck, which was previously free and is widely used by businesses and news organizations to easily monitor content, could bring a revenue boost to Twitter, which has struggled to retain advertising revenue under billionaire Elon Musk's ownership.
The move comes just days after Musk said that both verified and unverified users would have a limited number of posts they could read per day 'to address extreme levels of data scraping & system manipulation'."
The new measures have created a measure of pushback from Twitter users, and ad experts warn this may hurt new CEO Linda Yaccarino's job to expand ad revenue.
In Twitter Blue, individuals pay $8 per month to verify their account, while organizations pay $1,000 monthly.
Source: thegatewaypundit.com 
Scraping data, using it to train AI, Threads opens up, mass censorship using AI on THREADS
A Trump-appointed federal judge   issued a preliminary injunction prohibiting DHS, FBI, DOJ, and other agencies from its government-wide, fascist conspiracy with Big Tech to censor speech and manipulate the public.
The plaintiffs allege the defendants suppressed:
The Hunter Biden laptop story prior to the 2020 election
The lab-leak theory of Covid's origins
Covid face masks and lockdowns
Efficiency of Covid vaccines
2020 election integrity/fraud
Vote-by-mail concerns
Parody about the defendants
Negative posts about the economy
Negative posts about Joe Biden.
US District Court Judge Terry Doughty, a Trump appointee who still honors the US Constitution, accused the Biden Regime of violating the First Amendment by censoring unfavorable views in a blistering 155-page opinion.
The judge called the Biden Regime's efforts "Orwellian."
"During the COVID-19 pandemic, a period perhaps best characterized by widespread doubt and uncertainty, the United States Government seems to have assumed a role similar to an Orwellian 'Ministry of Truth,'" Judge Doughty wrote.
Judge Doughty blasted the Biden Regime and said the censorship of conservative views is "quite telling."
"This targeted suppression of conservative ideas is a perfect example of viewpoint discrimination of political speech," he continued. "American citizens have the right to engage in free debate about the significant issues affecting the country … the evidence produced thus far depicts an almost dystopian scenario."
Here is the full 155-page court memo that was released today.
Source: thegatewaypundit.com
Instead of simply reporting the facts that a federal judge just delivered a blockbuster injunction in Missouri v Biden blocking this administration from outsourcing its censorship regime to social media companies, The New York Times spins it as "a ruling that could curtail… pic.twitter.com/lHRlyWjRB5

— Charlie Kirk (@charliekirk11) July 4, 2023
 efforts to fight disinformation." Pure propaganda!
Here's why this ruling is so important

We now know the FBI coordinated w/Twitter to suppress articles about Hunter Biden's laptop in October 2020

15%+ of Biden voters said if they knew about Hunter Biden's laptop, they wouldn't have voted for him

That's *millions* of voters… https://t.co/0hknRwRhf4

— DC_Draino (@DC_Draino) July 4, 2023
 affected by Deep State election interference The FBI, DOJ, DHS etc. are now forbidden from coordinating with Big Tech to censor free speech after this ruling (for now)
The Biden regime is expected to appeal, but I have a feeling the Supreme Court will defend the 1st Amendment and maintain some of this prohibition Conclusion?
GOP chances in 2024 just went up a lot With free speech on social media, the Left doesn't have a chance, even with voter fraud
If the [DS] cannot control information, what will they eventually do, they will need to shutdown the flow of information
Liz Dunning of the Brady Campaign, a powerful gun control group, recently appeared on MSNBC and complained that despite the best efforts of her group, they just can't seem to get Congress to limit the Second Amendment.
She highlighted two recent shootings in the Democrat-controlled cities of Baltimore and Philadelphia.
Gun purchases have skyrocketed across the country in recent years precisely because people are worried about the crime that is flourishing under Democrats.
Townhall provides a partial transcript:
Source: thegatewaypundit.com
A well regulated Militia, being necessary to the security of a free State, the right of the people to keep and bear Arms, shall not be infringed.
  militia in official service should be efficient and orderly, and that the militia itself should be capable of competently executing battlefield operations.
In May 2020, mass shooting #BLM #trans suspect Kimbrady Carriker posted video from a BLM-Antifa riot: pic.twitter.com/C9Sth3QtV3

— Andy Ngô 🏳️‍🌈 (@MrAndyNgo) July 5, 2023
#FranceRiots: On the seventh day of rioting in France following the police-shooting death of a French Algerian youth, race rioters joined with #Antifa (on the upper part of the street) to brawl with a far-right group in Angers. The far-right group mobilized as a self-styled… pic.twitter.com/RVVd3ifgTR

— Andy Ngô 🏳️‍🌈 (@MrAndyNgo) July 5, 2023
89% of Frenchmen condemn the violence committed against security forces, leaving left-wing riot apologists in the tiny minority.  
The situation in France calmed Tuesday night, on the 8th night of unrest
Source: thegatewaypundit.com
France has strict gun control laws and they are under siege of a radical Islamic violent uprising destroying France and overwhelming their police.
Muslims migrated to France over the past two decades and France took them in while making it difficult for the people of France to own guns for self protection.
We need strict immigration laws and strong borders and always defend our great second amendment rights.
1/2
A chilling video from France where a local police chief tells Sky News: "They aren't riots, it's war …They want to kill us." He's referring to the mostly Muslim immigrant and "refugees" hurling Molotov cocktails and large paving stones at law enforcement. pic.twitter.com/P8SNXA6J8C

— Charlie Kirk (@charliekirk11) July 4, 2023
"FLASHBACK — Trump in 2016: 'France is No Longer France'"

thenationalpulse.com/2023/07/0

FLASHBACK — Trump in 2016: 'France is No Longer France'
Former President Donald J. Trump was one of the first global leaders to acknowledge the migration-driven social unrest in France, telling the media that
The National Pulse+
 Trump's 2016 comments came after the murder of Catholic priest Jacques Hamel at the hands of two Muslim men.
 Trump said at the time: "You see what happened to the French priest. A friend of mine, he said he was going to France like three or four months ago. I saw him yesterday. I said how did you like France? He said, I wouldn't go to France… [b]ecause France is no longer France: France is no longer France."
"They won't like me for saying that, but you see what happened in Nice, you see what happened yesterday with the priest who was supposed to be a spectacular man: France is no longer France," Trump reiterated.
 "It's only going to get worse, and it's going to start getting bad in our country. We're letting people come in by the tens of thousands," he added.
Trump's predictions have been realized countless times in France and across Europe. In the last month alone, France witnessed a Syrian asylum seeker stabbing babies in a park in Annecy, shortly followed by nationwide riots after a migrant-background teen was shot by French police.
---
War
The US Navy said it responded and prevented the seizures. "The Iranian navy did make attempts to seize commercial tankers lawfully transiting international waters," Cmdr. Tim Hawkins, spokesman for the U.S. Navy's Fifth Fleet, confirmed in a statement. "The U.S. Navy responded immediately and prevented those seizures." 
It was only the second tanker which was fired upon during the incident, leaving no casualties or major damage.
 
Source: zerohedge.com
Omg I feel sick. Eye opening doesn't even begin to unpack my feelings. Well done Max! Everyone should watch this. #FourthofJuly https://t.co/NNNdfEplr5

— 🍀 Sangria in 33 🍀 Dia gam shàbhaladh! 🍀 (@Sangria1992) July 4, 2023
 Russia and Ukraine  accused each other of plotting to stage an attack on the Russian-held Zaporizhzhia (zah po reezh ee ah) nuclear power station, long the subject of mutual recriminations and suspicions.
 Source: reuters.com
Ukraine: "The Russian military has placed explosives on the roof of the Zaporizhzhia nuclear power plant."

Russia: "The Ukrainian military is planning an imminent attack utilizing missiles and drones on the Zaporizhzhia nuclear power plant."

False flag? Who benefits? pic.twitter.com/PFcGrIJAUi

— KanekoaTheGreat (@KanekoaTheGreat) July 4, 2023
Russia have warned the UN for almost a year that Ukraine have plans to use the Zaporizhzhia NPP as a "dirty nuclear bomb", in order to to blame it on Russia and justify NATO military intervention.
Zelensky is now desperate enough where he might do it.

New blasts at a Russian-occupied nuclear plant prompt calls for an end to attacks there.

The new blasts came as international leaders expressed deepening concern
Q

 

!CbboFOtcZs

 

ID: eff7c9

 No.1972546

PROMOTE THE FEAR NUCLEAR WAR IF POTUS REMAINS IN OFFICE?
NUCLEAR ALERTS MALFUNCTION?
COMPARE TO HITLER/NAZIS?
PROMOTE VIOLENCE?
PROMOTE HATE?
PROMOTE WAR?
PROMOTE ECONOMIC DECLINE?
PROMOTE NK TO END TALKS W/ POTUS?
PROMOTE IMPEACHMENT FOR NO REASON?
PROMOTE RACISM?
PROMOTE FACISM?
PROMOTE RIOTS?
FORM ANTIFA – VIOLENT GROUP DESIGNED TO INSTILL FEAR IN FREE SPEECH.
HATRED FOR AMERICA.
SHEEP FOLLOW BLINDLY.
THEY ARE SCARED.
THEY ARE LOSING CONTROL.
WE KNEW THIS DAY WOULD COME.
https://www.youtube.com/watch?v=G2qIXXafxCQ
WE PLANNED.
WE TOOK CONTROL OVER KEY ELEMENTS.
WE STAND AT THE READY.
WE FIGHT.
DARK TO LIGHT.
GOD BLESS AMERICA.
GOD BLESS PATRIOTS AROUND THE WORLD.
THINK FOR YOURSELF.
TRUST YOURSELF.
COURAGE.
TOGETHER.
Q
False flag attack on nuclear power plants
---
Cyber Attacks
---
False Flags
---
Q
 DeSantis campaign is collapsing upon itself .   Despite their initial trust deposits, Florida Republican voters are now a case study in 'not going to be fooled again'.  Once you see the strings on the marionettes, you can never return to that moment in the performance when you did not see them.  It doesn't matter how good the stage presentation; the strings are visible, and continued pretending only makes it worse.
(Politico) – A top spokesperson for Ron DeSantis' super PAC is sounding a decidedly dour note on the Florida governor's presidential prospects, saying his campaign is facing an "uphill battle" and is trailing badly in the key nominating states.
[…] "Right now in national polling we are way behind, I'll be the first to admit that," [Steve] Cortes said in a Twitter spaces event that was recorded on Sunday night. "I believe in being blunt and honest. It's an uphill battle but clearly Donald Trump is the runaway frontrunner."
  
source: theconservativetreehouse.com
As my Poll numbers go higher & higher, the Communists, Marxists, & Fascists get more & more CRAZY with their ridiculous Indictments & Election Interference plans & plots, all controlled by an out of control, & very corrupt, DOJ/FBI. They have WEAPONIZED Law Enforcement in America at a level not seen before. Deranged Jack Smith, who is a sick puppet for A.G. Garland & Crooked Joe Biden, should be DEFUNDED & put out to rest. Republicans must get tough or the Dems will steal another Election. MAGA!
Donald J. Trump@realDonaldTrump
They are all controlled by the DOJ. ELECTION INTERFERENCE!
Speaker Kevin McCarthy@SpeakerMcCarthy·
Here we go again — an outrageous abuse of power by a radical DA who lets violent criminals walk as he pursues political vengeance against President Trump. I'm directing relevant committees to immediately investigate if federal funds are being used to subvert our democracy by interfering in elections with politically motivated prosecutions.
80% of Republicans are concerned about 2024 election fraud, 54% Very Concerned.

72% of Republicans agree there is no way Joe Biden got 81M votes, 54% Strongly Agree.

Aside from Trump there is only one other GOP candidate openly discussing national election fraud.

Guess who? https://t.co/cXUd1TPvNd pic.twitter.com/fCsQOQ6HcY

— Rasmussen Reports (@Rasmussen_Poll) July 4, 2023
Good Morning !

Election fraud deniers are a rapidly shrinking minority.

That's good.

Still don't believe U.S. registered voter lists aren't filled with fraudulent vote-able names?

Well … Welcome to New York … https://t.co/TIukufxfL0https://t.co/clacJuczdw https://t.co/GtCEJOLMZ1

— Rasmussen Reports (@Rasmussen_Poll) July 5, 2023
Republican senators, including Rep. Michael McCaul, and the House Foreign Affairs Committee are spearheading efforts to obtain answers regarding allegations of mishandling classified documents by the Biden administration's special envoy for Iran.
Robert Malley, President Biden's special envoy for Iran, has had his security clearance revoked and has been placed on unpaid leave pending the completion of an investigation, according to a Fox News report.
Last week, McCaul sent a detailed letter to Secretary of State Antony Blinken, requesting information on the matter. McCaul expressed concerns about Malley's conduct and whether the State Department provided accurate information to Congress and the public.
McCaul noted, "While the suspension of Special Envoy Malley's clearance is independently troubling, our concern is compounded by the State Department's failure to respond to the Committee's efforts to conduct oversight of its negotiations with and policy toward Iran. Since April 11, 2023, the Committee has repeatedly requested Special Envoy Malley's testimony, which the Department has not fulfilled, despite Special Envoy Malley's numerous press engagements dating back to May 30, 2023."
  Iranian American human rights activist Masih Alinejad,   and other anti-regime activists accuse Malley of misrepresenting the nature of protests against Iran's regime and pushing for negotiations with the Islamic Republic. The protests erupted in September following the reported torture and murder of Masha Amini by Iran's morality police for not wearing a hijab properly.
The National Union for Democracy in Iran, a U.S.-based organization, has been at the forefront of opposing Malley's appointment, and they hope that a legal investigation and the rule of law will prompt action if misconduct is proven.
Source: beckernews.com
The 2 men prosecuting Trump for alleged crimes –Special Counsel Jack Smith and D.A. Alvin Bragg –are married to radical Democrat activists; and the man protecting Hunter & Joe Biden from criminal prosecution–US Attorney Matthew Graves–is also married to a radical Dem activist

— Paul Sperry (@paulsperry_) July 3, 2023
MASSIVE PROSECUTORIAL MISCONDUCT IS CURRENTLY TAKING PLACE IN AMERICA. THE WEAPONIZATION OF LAW ENFORCEMENT CANNOT BE ALLOWED TO HAPPEN. CRIME & INFLATION ARE RAMPANT, OUR BORDERS ARE OPEN, OUR ELECTIONS ARE RIGGED, OUR ECONOMY IS IN SHAMBLES, OUR ENERGY INDEPENDENCE IS GONE, OUR "LEADER" IS MERCILESSLY MOCKED, & OUR COUNTRY IS BEING DESTROYED BOTH INSIDE & OUT. DO THE PEOPLE OF THIS ONCE GREAT NATION EVEN HAVE A CHOICE BUT TO PROTEST THE POTENTIAL DOOM OF THE UNITED STATES OF AMERICA??? 2024!!!
Majority of Americans Say July 4 is Among 'Most Important Holidays' https://t.co/79NwJ0qXbX via @BreitbartNews

— Rasmussen Reports (@Rasmussen_Poll) July 4, 2023
President Trump kicked off Independence Day by sharing a "F*ck Biden" meme on Truth Social.
A Truth Social user posted a meme with a "F*ck Biden" flag: "81 million votes…. and I've never seen a pro Biden hat, shirt or flag in my life."
Trump shared the meme and responded, "True: No Biden hats anywhere. Never seen one!"
Source: thegatewaypundit.com