[DS] Preparing For Chaos, Soros, It Was Always Right In Front Of Us, Durham – Ep. 3069
Podcast: Download (Duration: 1:21:58 — 36.1MB)
Watch The X22 Report On Video
Inflation is getting worse around the world, UK food prices skyrocketed and Argentina interest rates are now at 97%. The GND is falling apart, Germany reports that a climate org is actually a criminal org. The [CB] is now panicking over the debt ceiling, the patriots have them where they want them. The [DS] is now panicking over the Durham report. The report has shown the world that the FBI/CIA/Fake News made up the entire Russian collusion event and [HRC]/[BO]/[JB] etc were all involved in it. This is the [DS], they coordinated together to overthrow the US government. They are all guilty. The [DS] is now moving towards creating chaos to cover up their crimes, this will fail patriots already know the playbook. Once this fails they will try to bring us to war.Trump will have peace and the military will hold tribunals.
---
Economy
Rising food prices a priority concern for UK – Bloomberg  
Grocery inflation surged above 19% in March, according to data from the Bank of England
Food inflation has been "particularly high," reaching 19.1% in March, according to the BoE. Over the past year, grocery price growth in the UK has been at its highest level since records began. It has now replaced energy costs as the most important financial issue for the public, the Bloomberg article states.
 
He said he expects food price inflation to start slowing down soon but admits that it is taking "longer than we previously thought."
Source: rt.com
CBS segment highlights how adding bugs to the food system 'could be a game-changer' to fight climate change https://t.co/kEgw7ml5Y4 pic.twitter.com/rV3sWdwfOL

— New York Post (@nypost) May 15, 2023
Critics slammed Biden last year for creating "national security" questions after depleting the SPR to historically low levels.
The United States Department of Energy is expected to begin refilling its drained Strategic Petroleum Reserve beginning as early as next month, Energy Secretary Jennifer Granholm said Thursday.
Her comments were made during a hearing with the House Energy and Commerce Committee, where she explained that the process can begin after a "congressionally mandated sale of 26 million [oil] barrels" is completed, which is expected to happen in June.
"It's at that point," Granholm continued, "where we will flip the switch and then seek to purchase" more oil to replenish the reserves that have been drained by Biden.
Last year, the administration depleted the reserves by 180 million barrels of oil, its largest sale in American history. Continued sales caused the SPR to plunge to its lowest level in 40 years at an estimated 372 million barrels, according to Reuters.
After intense backlash for 'attacking' American energy and sparking fears of national security risks, Biden's administration said it would resume oil purchases once the price per barrel fell to $60-$72. Friday afternoon, crude oil was listed at $70.29/barrel.
Source: justthenews.com
After the stunningly surprising upside surge in April, The Empire Fed Manufacturing Survey has collapsed back to reality in May, crashing 42.6 points to -31.8 from +10.8 (dramatically worse than the -19.0 expected). Outside of the COVID lockdowns, this is the biggest MoM drop ever…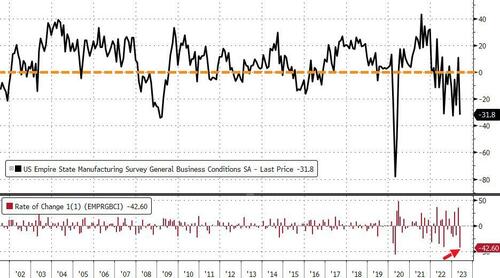 Source: Bloomberg
The swings vs expectations is clear in the chart below… April was a total headfake!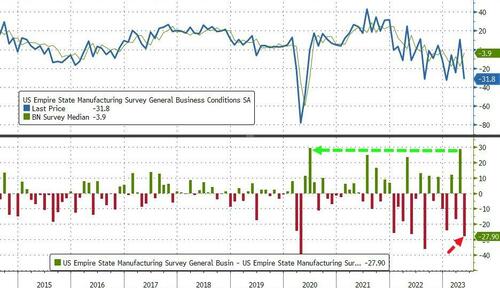 Source: Bloomberg
Most problematically, Stagflation is screaming loudly again…
Source: zerohedge.com
The US now has higher credit risk of default than Mexico, Greece, and Brazil. 🤔

Let that sink in…

Ht u/thesilvervigilante pic.twitter.com/Sv93FL5zHm

— Wall Street Silver (@WallStreetSilv) May 13, 2023
The governor's office disclosed that the newly enacted law effectively blocks the federal government from utilizing CBDC by excluding it from the definition of money within Florida's Uniform Commercial Code. In addition, the legislation prohibits the adoption of foreign-issued CBDC, citing the need to safeguard consumers against globalist initiatives aimed at establishing a universal digital currency.
"The government and large credit card companies should not have the power to shut off access to your hard-earned money because they disagree with your politics," DeSantis said in a statement.
"Biden's Central Bank Digital Currency aims to increase government control over people's finances, and we will not allow it," he said.  "In Florida, we value personal freedom and won't allow self-interested elites to chip away at our liberty."
Source: beckernews.com
·

Unless the Republicans get EVERYTHING they are asking for in terms of Cost Cutting, in particular all of the Trillions of Dollars of Inflation causing WASTE that has stupidly been approved over the last two years, much of it for the Green New Deal Con Job, they will have no choice but to let the Biden Administration Default on U.S. Debt. Better now than later, especially with 32 Trillion Dollars of Debt out there. When I was President, the Dems would cavalierly say they don't care about default!
---
Political/Rights
Gallup: Legacy Media, Confidence In? = #fail pic.twitter.com/P5TzDFcEjz

— Rasmussen Reports (@Rasmussen_Poll) May 14, 2023
Alexandria Ocasio-Cortez's aide moves on to lead the Communist Party USA for the state of New York 
According to the New York Post:
A ex-aide to Rep. Alexandria Ocasio-Cortez is now working as a senior official in the New York State Communist Party.Justine Medina, 33, spent a year employed by "The Squad" leader as a political organizer in 2020 and was paid more than $35,000 between February and November of that year, Federal Election Commission records show.Almost immediately after the election, Medina began working as a full-blown Marxist. In July 2021, she was identified as "co-chair of the New York Young Communist League" by the Communist Party newspaper People's World. The same publication today identifies her as a member of the "Executive Committee of the New York State Communist Party."Social media records show Medina's Marxist proclivities were in full bloom before and during her employment with Rep. Ocasio-Cortez."Well, I am a Communist, but work for AOC," she said proudly in a tweet from October 2020.
Source: americanthinker.com
It's really amazing to watch the head of CNN get absolutely lambasted for asking me to do a so-called Town Hall. In all fairness, nobody had any problems with what he wanted to do until after the show started, when they quickly realized that Ms. Collins was not exactly Barbara Walters, or even close. That's when the trouble from the Radical Left started. Neurotic little AOC with the bad looking boyfriend, went crazy. "He owns CNN, he's in their head," they screamed. CNN, take the GREAT RATINGS!
 the Department of Justice (DOJ) requested a judge to temporarily halt the deposition of former President Donald Trump in a lawsuit filed by ex-FBI agent Peter Strzok, who is contesting his termination in 2018.
According to court documents, the deposition is currently scheduled for May 24.
In its filing, the DOJ argued that FBI Director Christopher Wray should be deposed before Trump, stating that Wray's testimony might render Trump's deposition unnecessary.
The government's request reads, "Director Wray's testimony could obviate the need for any deposition of former President Trump."
The DOJ further requested "that the court order Mr. Wray's deposition to be conducted first and that the former President's deposition not proceed until the court has access to the transcript of Director Wray's deposition."
Source: beckernews.com
George Soros is NOT dead: Financier is 'alive and healthy' despite internet rumours of death
A bizarre rumour that billionaire George Soros has died began trending on Twitter overnight – despite the fake story coming from an account with three followers.
The tweet by the account, which had three followers at the time, snowballed and went viral after a number of users shared the fake rumours.
Source: dailymail.co.uk
Rumors that I had a heart attack are completely false. I am alive and healthy.

— George Soros (@georgesoros) May 15, 2023
The company filed for bankruptcy Monday morning, according to a filing, after several years of financial troubles and turnover among its leadership. Fortress Investment Group and Monroe Capital are taking over Vice jointly with SFM, according to the the company, though the deal is still subject to higher bids. 
Soros Fund Management (SFM) and other investors will buy Vice Media for about $225 million after the media company filed for bankruptcy protection Monday.
The digital media company was once valued at $5.7 billion, but is now relying on funds from bidders to continue operations until its sale is finalized in the next two to three months, according to a Monday press release. SFM was founded and is chaired by left-wing billionaire and philanthropist George Soros and is the principal asset manager for the Open Society Foundations, of which Soros is the founding chair.
Source: dailycaller.com
Q

 

!!Hs1Jq13jV6

 

ID: 45bbde

 No.9363305

SorosDestroyingAmerica.jpg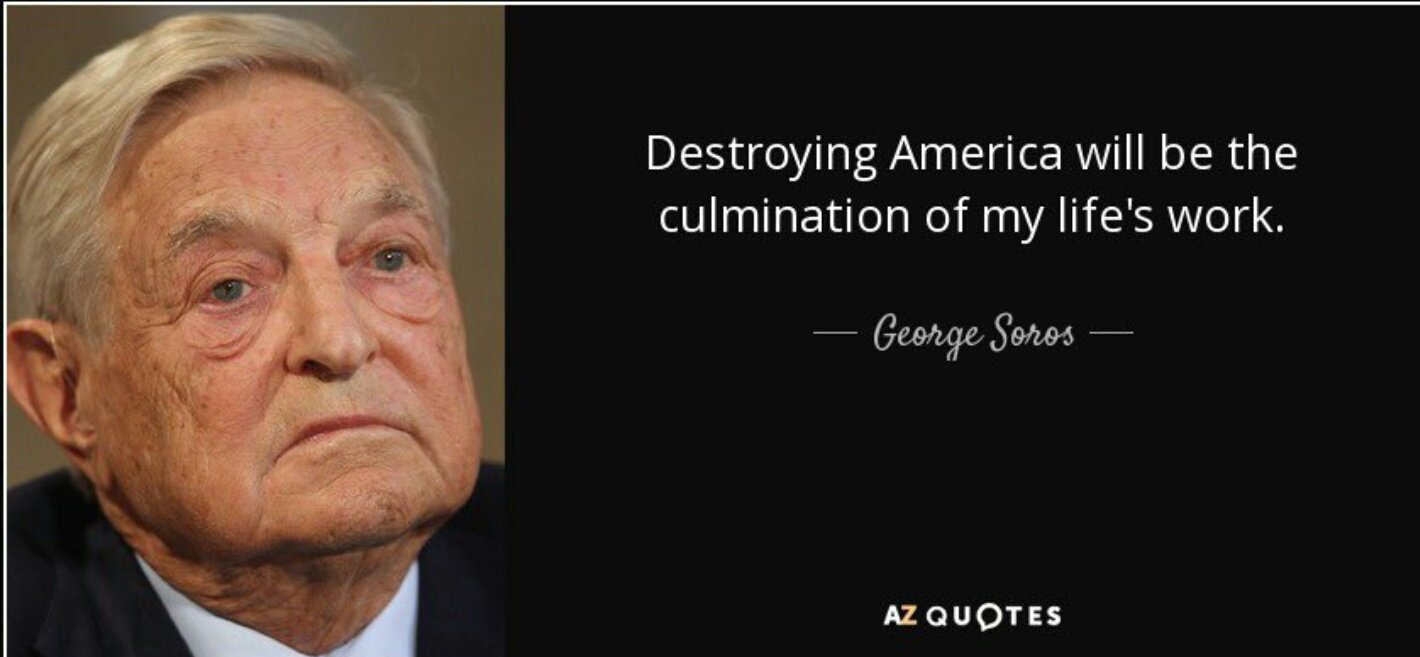 Nobody escapes this.
Joe Biden has spent 40 percent of his presidency on vacation in Delaware with no publicly released visitor logs.
the Secret Service has records of "regular" visitors to Joe Biden's Wilmington, Delaware home that the agency is prepared to turn over to Congressional investigators.
This contradicts earlier reports by the White House counsel's office and a Secret Service spokesman that no visitor logs were kept. The issue of visitor logs or records for Biden's home is part of investigations into the discovery of illicit unsecured classified documents recently found in several locations, including the garage, at Biden's home.
Rep. James Comer (R-KY), chairman of the House Oversight Committee sent a letter to the White House in January demanding the visitor logs for Biden's home. 
But now, five months later, the Secret Service is refusing to hand over records of Joe Biden's visitors at his Delaware home.
The New York Post reported:
The two-tiered justice system lives on in America.
Source: thegatewaypundit.com
Comer Says He is Going to Drop a Bomb and Reveal Who in the White House is Intimidating Biden Crime Family Whistleblowers (VIDEO)
James Comer then dropped this bomb — The informant on the Biden family has gone missing.
"9 of the 10 people that we've identified… they're 1 of 3 things: They're either currently in court. They're currently in jail. Or they're currently missing," Comer said.
Maria Bartiromo asked Comer if he knew who in the Biden White House was intimidating the informants and whistleblowers.
"Do you know?" Bartiromo asked Comer.
"I do know. We're saving that for a later time," Comer said.
VIDEO:
Source: thegatewaypundit.com
Marjorie Taylor Greene says Hunter Biden's sex workers may testify before Congress
The House Oversight Committee is in discussions to bring foreign and American prostitutes who allegedly cavorted with Hunter Biden before Congress, The Post has learned.
"We're going to track down these women and talk to them and if there is a credible reason that we need to bring them in front of the Oversight Committee then absolutely we will do that. Especially when it involves our national security," said Rep. Marjorie Taylor Greene (R-Ga.).
 
Greene, as a committee member, is one of a handful of people authorized to view banks' Suspicious Activity Reports relating to Hunter Biden and other family members.
Many of the SARS concerned Hunter Biden's alleged payments to hookers — often from Ukraine and Russia.
Many of the summary pages contain the terms, "this is a known prostitution ring" and "human sex trafficking," Greene recalled of the reports she viewed.
"There was an entire stack of papers and it was each transaction, each person, each LLC, Hunter Biden's law firm, Hunter Biden himself, and multiple Biden family members — then it was all these prostitutes. And you can go through and it gives all the prostitutes' names, addresses, birthdates, telephone numbers, their passports," Greene said.
Elon Musk stirred controversy this week when he tweeted a link to a 2021 article from The Federalist. He also acknowledged a subscriber's reply that, "The election wasn't rigged or stolen. It was "fortified" with ZuckBucks." by awarding it a "strong arm" emoji.
Source:  connecticutcentinal.com
"New evidence shows Maricopa County falsely certified that it passed L&A testing & then secretly tested all of the tabulators on three different days. It also shows they KNEW that 260 of the tabulators WOULD FAIL on Election Day… New evidence also shows that Director of…

— Kari Lake War Room (@KariLakeWarRoom) May 13, 2023
Elections Scott Jarrett gave FALSE TESTIMONY at trial concerning the BOD printers failures that caused the tabulators to malfunction."
WOW!

Signature verification is the only security measure in place to authenticate mail-in ballots in Arizona

Maricopa admits the process is non-scientific & entirely subjective

MULTIPLE whistleblowers will testify over 100,000 ballots are in question due to invalid signatures. https://t.co/sgCJXRUlxa

— Kari Lake (@KariLake) May 12, 2023
Our new evidence shows that Maricopa County falsely certified that it had passed Logic & Accuracy testing & then secretly tested all of the tabulators on three different days.
260 of the tabulators failed during these tests. Maricopa County USED them on Election Day anyway.
The CIA was using leverage over its former employees to coerce them into signing the very letter Tech and Media companies used to censor the corruption stories erupting from Hunter's laptop.

CIA wasn't satisfied altering the outcomes of elections abroad.

They brought that… https://t.co/L773ETcQNG

— Matt Gaetz (@mattgaetz) May 10, 2023
Our Secretary of State @SecBlinken interfered in the US elections by pushing a phony intelligence report 3 weeks before the 2020 election.

If it can be done in the US then it can be done everywhere.

Our media are Biden controlled. https://t.co/bsyi7RBvNP

— Richard Grenell (@RichardGrenell) May 14, 2023
May 15, 2020 1:46:44 PM EDT
It's right in front of you.
It always has been.
Q
This revelation comes just as the White House launches a domestic terror tour, with Joe Biden proclaiming in an address to the exclusively black Howard University in Washington DC that:
"The most dangerous threat to our homeland is white supremacy … and I'm not just saying this because I'm at a black HBCU."
Biden warns of "sinister forces" trying to reverse racial progress, stating that the battle against racism is a "battle that's never really over."  But that's because Biden and his associates don't want it to be over, and the sinister force he speaks of trying to reverse racial progress includes people like him.
Source: zerohedge.com
DHS to train citizens to spot radical conservatives
A report from Reed. D. Rubinstein, of American First Legal, explains, "The Department of Homeland Security's transformation into a domestic intelligence organization and a Stasi-like Deep State internal security apparatus is alarming.
America First this week released online copies of documents obtained under the Freedom of Information Act from the Department of Homeland Security that "reveal shocking internal documents from the Office of Targeted Violence and Terrorism Prevention."
The concern "so-called domestic terrorism."
The America First report said, "These documents further reveal that the government is using taxpayer dollars to expand its capabilities to deem innocent people as 'extremists' or 'domestic terrorists.'"
 c
Source: wnd.com
🚨#BREAKING: A group called the Patriot Front are currently marching towards U.S. Capitol

📌#Washington l #DC

Currently approximately 150-200 individuals, identified as the "Patriot Front" and recognized as a right-wing organization, is advancing towards the United States… pic.twitter.com/whXU2GgCw8

— R A W S A L E R T S (@rawsalerts) May 13, 2023
🚨#UPDATE: Around 150-200 individuals affiliated with the Patriot Front group are now putting their shields and flags into white U-Haul vans after they Marched around Washington DC for about an hour. they are now making their way back into the metro pic.twitter.com/DiITwSHMbQ

— R A W S A L E R T S (@rawsalerts) May 13, 2023
General Mike Flynn spoke at the pro-Trump ReAwaken Tour this weekend in at Doral International in Miami, Florida. General Flynn spoke with former Trump adviser Peter Navarro and Kash Patel.
At one point during the event on Saturday, President Trump called General Flynn while he was speaking on stage. President Trump told General Flynn, "Well, General, you just have to stay healthy because we're bringing you back."
 source: thegatewaypundit.com
Happy Mother's Day to ALL, in particular the Mothers, Wives and Lovers of the Radical Left Fascists, Marxists, and Communists who are doing everything within their power to destroy and obliterate our once great Country. Please make these complete Lunatics and Maniacs Kinder, Gentler, Softer and, most importantly, Smarter, so that we can, quickly, MAKE AMERICA GREAT AGAIN!!!