Election Evidence Will Be Introduced During The Corrupt Trial, 2020 Will Never Happen Again – Ep. 3192
Podcast: Download (Duration: 1:33:23 — 40.8MB)
Watch The X22 Report On Video
The green new deal is collapsing, the solar and wind companies are crashing, the demand is falling and the people see the truth. The EU is now making a move to bring everyone into the [CBDC], they are telling the people you will have access to cash and digital currency, this is how it begins. The economic picture is now coming clearer. The [DS] lost the propaganda narrative, the people are no longer brainwashed by the [DS]. The people are thinking logically. The people need to see the truth, they must see the election interference. They attacked Trump and he must defend himself, the evidence will be introduced during the corrupt trial. The people must accept what needs to be done, if they know how they cheat will they accept 1 day voting, paper ballots and voter id? Yes they will.
---
Economy
The renewable energy meltdown continues as solar power company stocks tumbled   after solar equipment maker SolarEdge Technologies warned of sliding European demand.
"During the second part of the third quarter of 2023, we experienced substantial unexpected cancellations and pushouts of existing backlog from our European distributors," said SolarEdge CEO Zvi Lando in a statement.
Lando said, "We attribute these cancellations and pushouts to higher-than-expected inventory in the channels and slower-than-expected installation rates. In particular, installation rates for the third quarter were much slower at the end of the summer and in September where traditionally there is a rise in installation rates."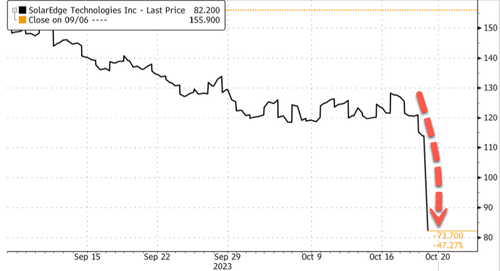 Large short in SolarEdge.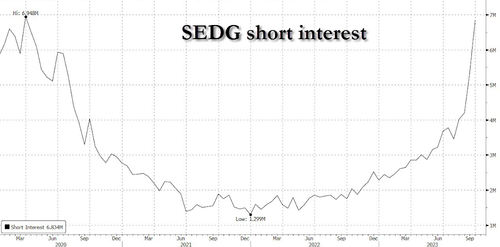 Source: zerohedge.com
Electricity grid capacity available in the world isn't keeping pace with the rapid growth of "clean energy" technologies, possibly putting governments' climate goals at risk, according to a recent report by the International Energy Agency (IEA).
In order to achieve climate goals set by global governments, more than 80 million kilometers (49.7 million miles) of electric grids have to be added or refurbished by 2040, which is the "equivalent of the entire existing global grid," according to the Oct. 17 IEA report. Even though "electrification and renewables deployment are both picking up pace," there is a risk of the clean energy transition stalling due to a lack of "adequate grids to connect the new electricity supply with the demand."
"At least 3,000 gigawatts (GW) of renewable power projects, of which 1,500 GW are in advanced stages, are waiting in grid connection queues—equivalent to five times the amount of solar PV and wind capacity added in 2022," the report noted.
"This shows grids are becoming a bottleneck for transitions to net zero emissions."
 
Source: zerohedge.com
September inflation numbers are up again, hitting 5% annualized.

Driven by rising food costs, but especially rising energy costs after Joe Biden's administrative fight versus domestic energy, after which he drained the Strategic Petroleum Reserve and sold it to China.

It's… https://t.co/1iDqtA4RuN

— Wall Street Silver (@WallStreetSilv) October 20, 2023
  looking like Covid was the crisis they always wanted, and now they're keeping the trillion-dollar spending that's keeping us in permanent inflation. They don't have a exit plan. In fact, every plan they have makes it worse.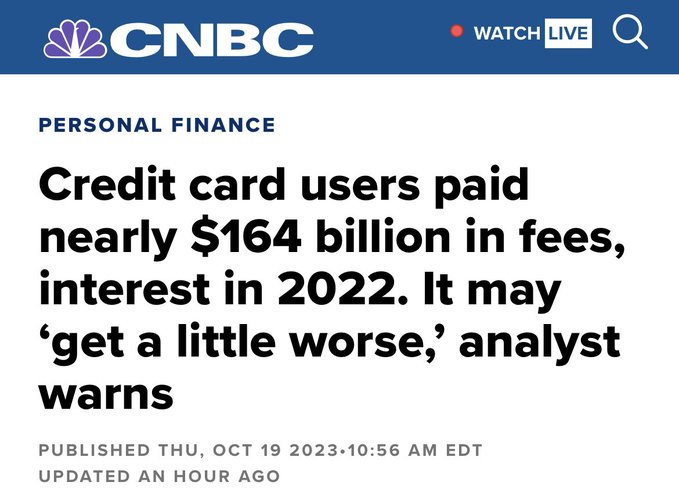 How we got to having to hope oil prices don't skyrocket:

Under Trump:

– US in charge of global oil price of oil
– Gas in the $2 range
– Iran on the ropes
– Mideast peace

Under Biden:

– OPEC in charge of global price of oil
– Gas in the $4 range
– Iran enriched and empowered… pic.twitter.com/oP8ybkbS0l

— Steve Milloy (@JunkScience) October 20, 2023
 Mideast at war
FED'S BOSTIC:

THE DEFICIT WILL BECOME MORE OF AN ISSUE AS DEBT SERVICE INCREASES.

— FXHedge (@Fxhedgers) October 20, 2023
---
Political/Rights
Despite the wave of layoffs, it appears that woke ESPN's profits had fallen by 20 percent over the first nine months of the year, according to the data released by the network's owner, Disney.
Disney usually avoids reporting ESPN's financials, but in a rare move, the Mouse House released the numbers showing that a loss of subscribers and rising sports broadcast rights fees has hit the cable network particularly hard.
"Revenues for Disney's sports division were $13.2 billion over the first nine months of fiscal 2023, a 1.3% drop compared to the same period in FY 2022 ($13.37 billion)," according to Front Office Sports.
Source: breitbart.com
🚨 BREAKING 🚨

We have found a $200,000 DIRECT payment to Joe Biden.
@RepJamesComer lays out the money trail. 👇 pic.twitter.com/0vq3lqhRHz

— Oversight Committee (@GOPoversight) October 20, 2023
---
Geopolitical/Police State
U.S. District Court Judge Roger T. Benitez struck down California's "assault weapons" ban  but is staying the implementation of his decision for ten days to give California Attorney General (AG) Rob Bonta time to begin an appeal if so desired.
He then turned to the Supreme Court of the United States' Bruen (2022) decision, writing:
Bruen makes clear that, "[t]o justify its regulation, the government may not simply posit that the regulation promotes an important interest." After all, "the very enumeration of the right takes out of the hands of government—even the Third Branch of Government—the power to decide on a case-by-case basis whether the right is really worth insisting upon."
He took pains to follow Bruen's framework for historical evidence of similar bans throughout American history and discovered that repeating rifles were actually protected in earlier decisions:
There appears to be no other law in the nation's history that prohibited high capacity repeating rifles such as the Winchester lever-action repeater rifles or the Gatling gun. And at least one court around the time of the Fourteenth Amendment specifically protected repeating firearms. "[W]e would hold, that the rifle of all descriptions, the shot gun, the musket, and repeater, are such arms; and that under the Constitution the right to keep such arms, cannot be infringed or forbidden by the Legislature."
 He concluded by deciding in favor of the plaintiffs, ordering that law enforcement not enforce California's "assault weapons" ban.  
Source: breitbart.com
---
War
JUST IN – Biden asks Congress for an additional $61 billion to support Ukraine and $14 billion to boost Israel's military.

— Disclose.tv (@disclosetv) October 20, 2023
Biden's call for more war cash includes $14 billion to faciliate the entry of illegals 
 Biden says it's time to let bygones be bygones and embrace the national unity, calling his new request for $105 billion in war cash a "smart investment that's going to pay dividends for American security for generations."
A smart investment? Everything he seeks spending money for is a "smart investment." In this context, though, the 'ick factor' was strong, because he sounded as though he was trying to sell us a timeshare.
Buried within his request was what appeared to be a nod to American national security rather than Israel's or Ukraine's: a claim that $14 billion of that money would go to "border security."
After all, when 8 million people are being allowed into the country under catch-and-release, flooding our cities and filling the streets with crime, and election time is beckoning, maybe a little border security could be slipped in as a sweetener to Republicans.
But according to congressional observers, that's what Biden would like you to think, not what Biden has in mind.
According to the New York Post:
Source: americanthinker.com
As predicted, the border funds in Biden's Ukraine bill are not for "security" (ie deportation) but to increase and accelerate the mass release, resettlement and transportation of the world's developing countries into all 50 American states. https://t.co/5vmlGATno1

— Stephen Miller (@StephenM) October 20, 2023
As world conflict intensifies, our foreign policy is being carried out by high schoolers:

"staff describe anger, depression, tears in meetings + rumors more colleagues will quit" https://t.co/CpmwcVP6j6

— Jeff Carlson (@themarketswork) October 20, 2023
Ismail Haniyeh, Chairman of Hamas's Political Bureau, called  for Arabs and Muslims to engage in "general mobilization" across the globe on Friday and urged for sympathizers of the terror organization in nearby countries to march toward the Jewish state's borders, according to the Jerusalem Post.
Haniyeh's call to action comes as Israel prepares to expand its military operations in Gaza against Hamas, which launched a shocking terror attack on the Jewish state on October 7 that has left more than 1,400 people dead and another 3,400 people wounded. Terrorists took 203 hostages into Gaza and  
Source: breitbart.com
"Hamas terrorists knew the names of the people, how many children they had and even which of them owned dogs."

— Rasmussen Reports (@Rasmussen_Poll) October 20, 2023
NEW – 100,000 Israeli civilians have applied for firearm licenses since the beginning of hostilities, the Ministry of National Security says.

— Disclose.tv (@disclosetv) October 20, 2023
U.S. firearm sales SURGE in wake of Hamas attack on Israelhttps://t.co/kfhcNuq45y

— RSBN 🇺🇸 (@RSBNetwork) October 20, 2023
americans are more worried about the potential for domestic terror threats than ever due to the unfettered flow of illegal and unvetted migration into the country since Joe Biden took office in 2021.
One Texas gun store owner, David Prince, told WFAA that he's seen a 300 percent increase in gun sales between his two locations in Farmers Branch and Lewisville since the bloody war between Hamas and Israel erupted in early October.
We are on the threshold of total war.

If the Israeli's march into Gaza they will fail to root out the thousands of Hamas fighters there.

The arsenal of rockets and missiles in the region is enormous.

The rest of the region is prepared to go to war..

It's not just a Iran.… pic.twitter.com/Q0KEOutX6E

— Douglas Macgregor (@DougAMacgregor) October 19, 2023
A UN Security Council resolution on Iran's missile program has expired today. Russia is free to deliver hypersonic missiles to Iran. First deliveries are probably arriving at Iranian ports. Russia will support Iran in the upcoming war against Israel/US. Payback for Ukraine.

— Kim Dotcom (@KimDotcom) October 19, 2023
Kash reveled the nefarious characters in the Biden regime who are making this possible.
Kash Patel: There's one individual in the White House. National security shop, head of intelligence programs. His name is Maher Bitar. Maher Bitar. Yes, remember that name. He is solely responsible for prioritizing what collection efforts on intelligence are tier one, two, three and four for President Biden. Why is this guy's name important? Well, one, he used to work for Samantha Powers, but let's put that aside in the United Nations. Two, we just found a photo of Maher Battar recently wearing Palestinian garb, raising a hand behind a picture that said, we want Jewish apartheid. This is the guy in charge of intelligence operations for the United States of America.
Kash Patel: Step two Robert Malley, Biden's number one envoy, the guy that's supposed to be keeping us out of war in Iran had his clearance, security clearance suspended by Chris Wray's FBI, of all people, just two months ago! You got to ask why? They won't publicly release it. Well, let me tell you why. Because an individual named Ariane Tabatabai, who, by the way, is currently running our special operations office at the department of Defense, was installed there by Robert Malley? Yes, the former presidential envoy to Iran installed this Iranian national to that position in DoD. – And do you know what she did in 2014? She emailed the Foreign Minister, Javad Zarif, and asked for permission as a US. Citizen to take a trip on behalf of the US. Government. This individual is still employed at the Department of Defense as the assistant chief of staff for the special operations office. The Iranian regime has infiltrated the Biden administration.
Source: thegatewaypundit.com
@realDonaldTrump —when you get back in office, can JUSTICE please pay its first visit to OBAMA?
That TRAITOR can't be hunted down & charged with TREASON fast enough?! 
Q

 

!!Hs1Jq13jV6

 

ID: b03e04

 No.8238822

EMHyS2xXkAA8JrB.png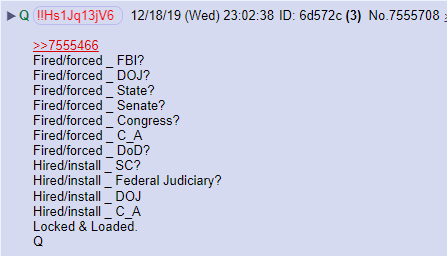 https://twitter.com/cain_nate/status/1231066589996318720
Listen carefully.
Think: re: why
[no]
arrests (justice) yet?
What if (almost) every critical position
[sr]
within the US GOV apparatus was infiltrated?
WHAT MUST BE DONE FIRST?
THE SWAMP RUNS DEEP.
+Sleepers
Backgrounds are important.
Muslim Brotherhood
List of 'in the news now
[names]
' w/ known ties to Islam?
THIS IS NOT ANOTHER 4-YEAR ELECTION.
[assumptions correct – package well rec
[known]]
Q
Former President Donald Trump has a two point lead over President Joe Biden in a hypothetical 2024 general election matchup as his standing among young voters continues to improve, a poll released Friday shows.
An Emerson College poll details Trump ahead with 47 percent to Biden's 45 percent alongside another eight percent undecided. That's a rise of two points for Trump compared to Emerson's poll from last month, while Biden's support remains static, the Hill reports.
Source: breitbart.com

---
Q
Conservative favorite Jim Jordan had to flip at least 18 of the 22 RINOS who were opposing him in order to prevail.
He needed 214 votes overall to win Speaker.
He lost:
Source: thegatewaypundit.com
We're shaking up Washington, D.C., and breaking the fever.

The only reason people think there's chaos in this town right now is because the special interests aren't in control anymore. pic.twitter.com/cjgQislCZ3

— Rep. Matt Gaetz (@RepMattGaetz) October 19, 2023
Reps. Gaetz (R-FL), Good (R-VA), Crane (R-AZ) and Burchett (R-TN) told reporters the 8 Republicans who voted to oust McCarthy are "prepared to accept censure, suspension or removal" from the Republican conference in return for Rep. Jim Jordan being elected speaker. pic.twitter.com/fi9WHHRXb7

— CSPAN (@cspan) October 20, 2023
Attorney Techno Fog made a bold prediction on Sidney Powell's plea agreement in the Georgia RICO case.
Today, Sidney Powell accepted a plea agreement from the Fulton County District Attorney, pleading to six counts of "Conspiracy to Commit Intentional Interference with Performance of Election Duties."

Those are all misdemeanors. She faces six years of probation, a $6,000 fine, and has to pay $2,700 in restitution.

Call that a win for the defense. Here's why.

Powell was indicted with seven felony counts: conspiracy to violate Georgia's RICO (Racketeer Influenced and Corrupt Organizations) statute; two counts of conspiracy to commit election fraud; conspiracy to commit computer theft, trespass, and invasion of privacy; and conspiracy to defraud the state.

These charges are felonies that carry heavy penalties. A conviction under Georgia's RICO conspiracy statute, for example, requires a punishment of between five and 20 years of imprisonment. See Ga. Code Ann. § 16-14-5.

That gets us to our second point – the risk of conviction.

Let me start by saying that I believe Powell is innocent, that there was no RICO conspiracy by her or anyone else, that the indictment, along with all overt acts in furtherance of the conspiracy, is a joke. (More on the charged conduct and RICO below.) That this case never should have been brought, that it criminalizes political conduct. But I'm not a Fulton County juror. And you probably aren't either.

When these cases go to trial (at this moment, nobody knows if Kenneth Chesebro will be offered, or accept, a plea deal or go to trial on October 23), the defendants will face a jury pool that is approximately 75% Democrat and only 25% Republican. The jurors will salivate at the chance to convict anyone associated with Donald Trump. We've seen it in DC with the January 6 defendants. We've seen it with the anti-Trump activist who lied to get on the Roger Stone jury. They're not concerned about justice. It's political.

Adding to the pressure is the cost and expense of trial. Back in September, the Fulton County District Attorneys estimated this case would take four months. There would be hundreds of witnesses, even before the defense got to their case in chief. That's the type of trial that could bankrupt a defendant.

The Fulton County District Attorney knows that, and probably threatened the excessively-long trial to increase the pressure on Powell and Chesebro (the only two defendants who demanded a speedy trial) to accept a plea deal. It's just another example of the unethical conduct of the zealous Fulton County prosecutors, who have engaged in very public evils from withholding exculpatory evidence from the grand jury (violating a prosecutor's duty to do justice) to lying about Georgia law to the trial judge. (We'll add that the plea deal further demonstrates unethical behavior, as it shows the prosecutors overcharged Powell.)

The deal also shows that Fulton County prosecutors don't want to go to trial right now. Spending four months in the courtroom and presenting hundreds of witnesses would only help the defense of Donald Trump. There would be no surprises at Trump's trial – all the witnesses would be on record, the weaknesses of the prosecution would be exposed.

Click here to read more from Techno Fog's SubStack.
Source: thegatewaypundit.com
BREAKING: Atlanta DA Fani Willis' assistant tried to tell Texan Sidney Powell she couldnt possess any firearms during her 6 yrs on probation,before the judge corrected her, asking if she's sure that were true for a misdemeanor. "I'm not certain," the prosecutor replied #ClownShow

— Paul Sperry (@paulsperry_) October 19, 2023
Sidney Powell's Plea Proves Fulton County Prosecutor Went Nuclear To Get Trump https://t.co/b5QblZps5l

— Tom Fitton (@TomFitton) October 20, 2023
Latest filing by Jack Smith again shows this is a farcical, experimental expedition with no precedent–54 pages of straw grasping to justify unprecedented criminal prosecution of a former president on dubious charges with comical evidence.

And Trump can't publicly respond… pic.twitter.com/OoxR0S5oc7

— Julie Kelly 🇺🇸 (@julie_kelly2) October 20, 2023
Let's remember this.

Election interference is criminal, Jack Smith says so! pic.twitter.com/1sBi2yytWk

— Julie Kelly 🇺🇸 (@julie_kelly2) October 20, 2023
#Breaking News: Judge Arthur Engoron has threatened to imprison President Donald Trump if he can't provide a valid reason for breaking the partial gag order.

Trump made a post saying that a law clerk was a girlfriend of Chuck Schumer and even provided pictures. Engoron… pic.twitter.com/XIvR04yxY2

— 🇺🇸Travis🇺🇸 (@Travis_in_Flint) October 20, 2023
  demanded it be removed and it was. Unknown to the Trump team, the post stayed on his website even after being deleted. Once the Trump team was notified of this, they immediately removed it. Judge Engoron told Trumps defense today that unless Trump can explain why he doesn't deserve to go to jail, he may imprison him. What kind of joke of a justice system do we have when the President of the United States can be thrown in jail during a civil trial and not even a criminal case?
 also with Ukraine/Russia, which would NEVER HAVE STARTED under the Trump Administration, and many other "hot spots" around the globe that could easily lead to big problems and death. Even INFLATION, a killer in its own right, would not have happened. So let them keep suing me over BULLSHIT, in their hope of Election Interference, as our Country becomes disabled and dies. We will successfully fight it all, and MAKE AMERICA GREAT AGAIN, GREATER THAN EVER BEFORE!
Q

 

!xowAT4Z3VQ

 

ID: d24602

 No.1105115

Q

 

!xowAT4Z3VQ

 

ID: d24602

 No.1105041


Rudy.
NYC.
Relationships High.
"Insurance File."
Quiet until now.
Join POTUS' legal team.
Direct discussions avail [now] w/ Mueller.
Enjoy the show.
They never thought she would lose.
CARELESS.
Q
>>1105041
We have everything.
How can we use what we know?
How do you 'legally' inject/make public/use as evidence?
What are you witnessing unfold?
Trust the plan.
Q
tAKE A LISTEN
Q

 

!ITPb.qbhqo

 

ID: 9044d9

 No.85926

Patriots, rest assured we are in control.
Watch, confirm, and disseminate.
The country is not divided, this is fake news. ANTIFA was organized purely for optics re: division.
It's FAKE!
Estimated 4-6% we consider 'hopeless' and forever brainwashed.
Re-read crumbs re: slave grip the D's have on the black pop.
Why is this relevant?
Why are jobs/economy (growth) relevant?
This requires a DEEP CLEANING.
These people are stupid.
You are safe.
Have faith.
Q