Enough Must See, You Are Being Presented With The Gift Of Vision, Time To Act – Soon – Episode 2212
The patriots are bringing the entire economic system online, the [CB]/MSM/DS they are trying to stop it but it is not working, they have lost control and the patriots have the magic wand. Consumer confidence is improving, housing market is improving and retail have all bounced back, its like we are seeing a "V" recovery. JP said something interesting,"We Have Entered An Important New Phase & Have Done So Sooner Than Expected".  The [DS] are deploying all assets, what we are witnessing is the show, the world must see it, patriots have been given the gift of vision, the time to act is getting closer and closer, get ready to vote. The [DS] will push this until they can't, then it will be the patriots turn, the darkness is being exposed.
Check Out The X22 Report Spotlight YouTube Channel X22Report Spotlight
Please check Newzsentinel.com for the latest news on the economic collapse. The Sentinel Alerts are updated throughout the day.
---
Current News – 06.30.2020
Watch The X22 Report On Video
---
Economy
Consumer confidence jumps to 3-month high, but still well below precrisis levels
Consumer confidence index rises to 98.1 in June from 85.9
Source: marketwatch.com
Home price gains remained steady in April as the coronavirus swept across the country, Case-Shiller index shows
The big picture: The coronavirus pandemic hasn't put downward pressure on home prices, yet. Last week, the Federal Housing Finance Agency released its monthly home price index, which similarly showed prices increasing on a monthly and yearly basis in April on average nationwide.
Source: marketwatch.com
A spike in retail sales and in personal consumption in May indicated that consumers were back and eager to open their wallets.
Despite some setbacks in several states, White House economic adviser Larry Kudlow still predicts a sharp economic recovery in the second half of the year.
"Virtually every number is showing a 'V' shaped recovery now— private surveys, government statistics, restaurants, home builders, truckers, durable goods makers, Apple mobility and travel, gasoline demand," he said on June 26 during a workforce policy roundtable at the White House.
The consumer spending number is "tremendous" and will continue to be a key driver of the recovery, he added.

Consumers increased their spending by a record 8.2 percent in May after sharp drops in March and April caused by strict lockdown measures across the country. American consumers account for more than two-thirds of economic activity and are expected to spend more in the coming months as stores and restaurants reopen their doors.
According to Kudlow, if consumer spending grows by 20 percent in the second half of the year and 5 percent in the first quarter of next year, "we will be right back to the peak in 2019."
The Wall Street firm, on June 17 revised up its forecasts for the gross domestic product (GDP) and unemployment for 2020 and estimated a "front-loaded" recovery.
According to the revised forecasts, there will be a stronger rebound in the third quarter, with 33 percent economic growth, up from 29 percent previously. Hatzius also raised the outlook for the full-year GDP contraction to -4.2 percent from -5.2 percent earlier.
The pandemic devastated the U.S. labor market leaving millions out of work. But the U.S. economy added 2.5 million jobs in May, making a stunning comeback. A sharp drop in the unemployment rate suggested that Americans were returning to work.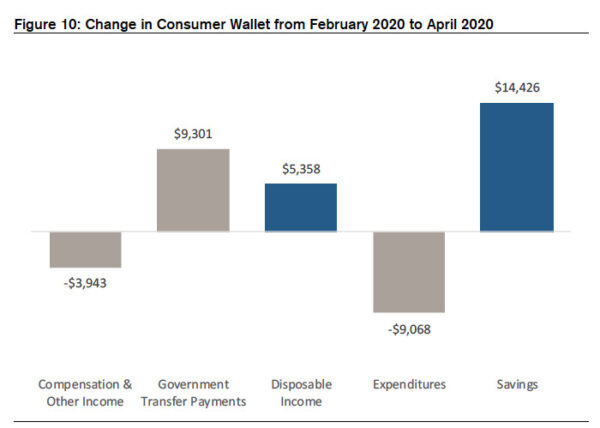 According to a survey of 34 economists by FiveThirtyEight and the University of Chicago in June, the majority of economists have started to believe that the shape of the economic recovery will be "a reverse radical" one.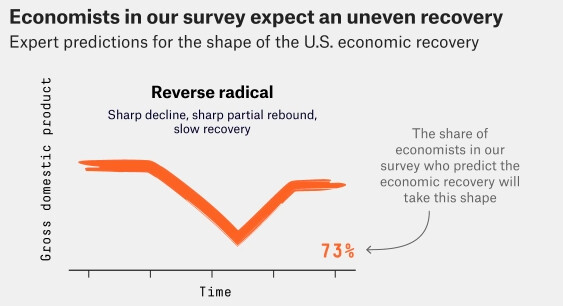 Source: theepochtimes.com
In the US, Fed Chair Powell  released the prepared comments to be used in his joint testimony –with Treasury Secretary Mnuchin– to Congress today. In them he noted: "We have entered an important new phase and have done so sooner than expected," yet mentions "extraordinary uncertainty" over the outlook. On that note, it's unclear if the "new phase" refers to
Source: zerohedge.com
---
Political/Rights
READ: Rare public statement from CIA Director Haspel. "In general, preliminary Force Protection information is shared throughout the national security community—and with U.S. allies…Leaks compromise

— Catherine Herridge (@CBS_Herridge) June 30, 2020
and disrupt the critical interagency work to collect, assess, and ascribe culpability." (This is the process to validate/corroborate) @CBSNews https://t.co/90RKrAgZyb pic.twitter.com/rEO09nOCL9

— Catherine Herridge (@CBS_Herridge) June 30, 2020
— NSC (@WHNSC) June 30, 2020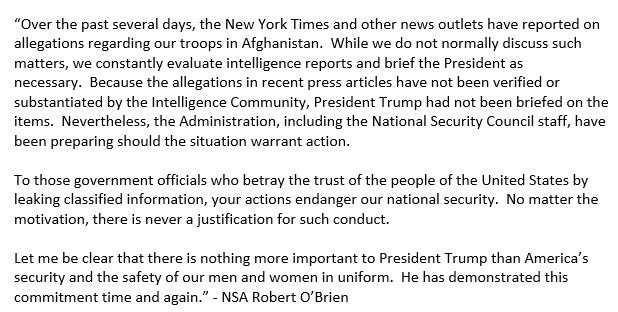 Sidney Powell  dropped another bomb.    General Michael Flynn's attorney Sidney Powell shared the following:
"He was going to audit the intel agencies because he knew about the billions Brennan and company were running off the books," Powell said, referring to former CIA Director John Brennan.
 Flynn was going to audit the Intel agencies because he knew about the billions former CIA Director John Brennan was running off the books.
Source: thegatewaypundit.com
A judge sided with President Trump's brother in an effort to stop the president's niece from publishing a tell-all book.
Judge Hal Greenwald granted Robert Trump a temporary restraining order on Tuesday, halting the publication of Mary Trump's tell-all, Too Much and Never Enough: How My Family Created the World's Most Dangerous Man, which is scheduled to be published on July 28,
The judge ordered Mary Trump and Simon & Schuster, the book's publisher, to appear before him on July 10 and warned them not to leak the contents of the book.
Source:washingtonexaminer.com
---
Geopolitical/Police State
Reddit, YouTube, & Twitch Launch Anti-Trump Purge Before Election
Chinese National Guilty of Laundering Millions for Mexican Drug Cartels
A Chinese national pleaded guilty today to conspiracy to commit money laundering in connection with laundering more than $4 million in drug proceeds generated by large-scale cocaine trafficking in the United States.
According to court documents, Xueyong Wu, 40, cultivated relationships with Latin American drug trafficking organizations to transport and launder their United States-based drug proceeds.  Wu is scheduled to be sentenced on Sept. 29.
Much of this money was repatriated to Mexico through a complex series of international financial transactions. Wu received a percentage of the money involved in these transactions as compensation for organizing these laundering activities.  Much of this money was generated through movement of cocaine or payment for cocaine that took place within the Eastern District of Virginia.
Source: justice.gov
---
False Flags
17/From the New England Journal of Medicine on masks for COVID: "We know that wearing a mask outside health care facilities offers little, if any, protection from infection." pic.twitter.com/OLowyxalUI

— Jonathan (@jcho710) June 25, 2020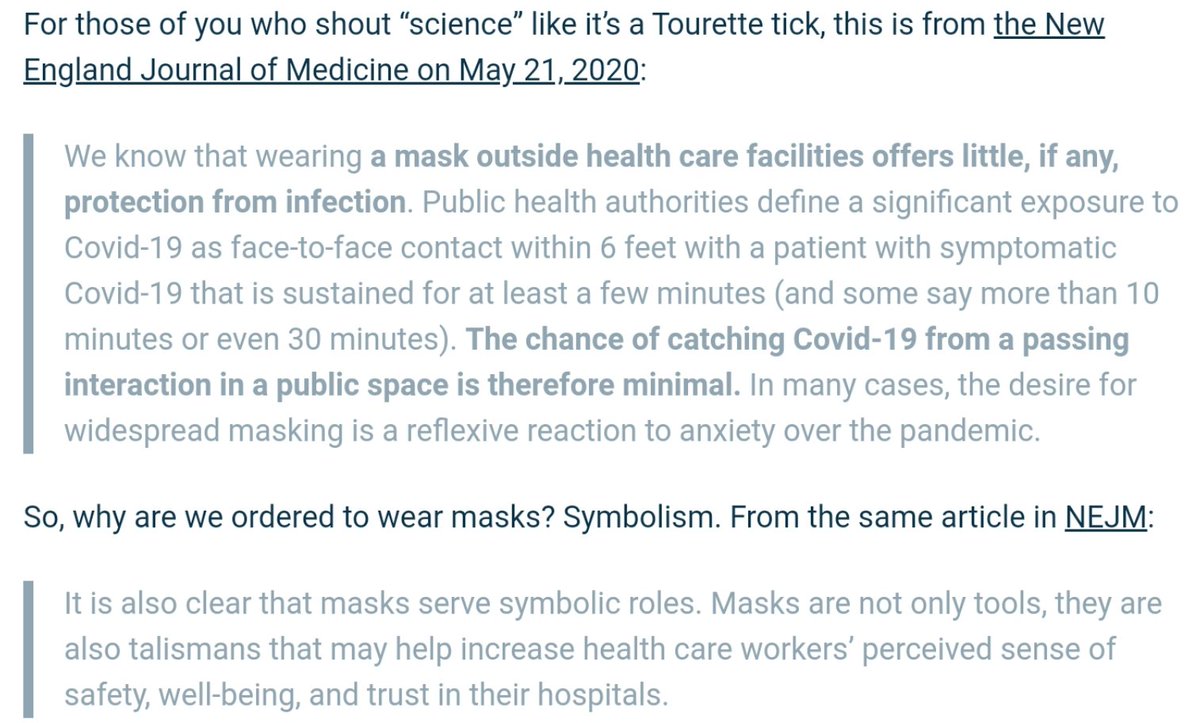 18/From the US Department of Labor, on surgical masks for COVID: "Will not protect the wearer against airborne transmissible infectious agents due to loose fit and lack of seal or inadequate filtration." pic.twitter.com/Txw2zYh9aA

— Jonathan (@jcho710) June 25, 2020

19/From "Inside Surgery," a premier surgeon's journal, in 2009 during the swine flu outbreak, in an article titled "Standard Surgical Masks Do Not Protect Wearer From Getting Swine Flu." "For the prevention of transmission of swine flu this type of mask is ESSENTIALLY WORTHLESS." pic.twitter.com/LmTQdDMcxx

— Jonathan (@jcho710) June 25, 2020


Los Angeles County Sheriff Alex Villanueva said  that he will not enforce the county's order to shut down beaches over the July 4th weekend, a
"We were not consulted on the beach closure, and will only assist our beach cities in closing parking lots and traffic enforcement on PCH. In regards to enforcing the beach closure, we will not be enforcing it because we are 'Care First, Jail Last,'" Villanueva told Melugin, according to a tweet.
Source: dailycaller.com
A new strain of the H1N1 swine flu virus is spreading silently in workers on pig farms in China and should be "urgently" controlled to avoid another pandemic, a team of scientists says in a new study https://t.co/r5XIDTVuDj
— The New York Times (@nytimes) June 30, 2020
Gov. Cuomo Calls on Trump to Sign Executive Order 'Directing Everyone to Wear a Mask'
Why does the [DS] pushing masks we know they do not work, there are couple of agendas
Push fear that the virus is getting worse
Allow antifa to hide their faces in the areas where it is against the law to where a face mask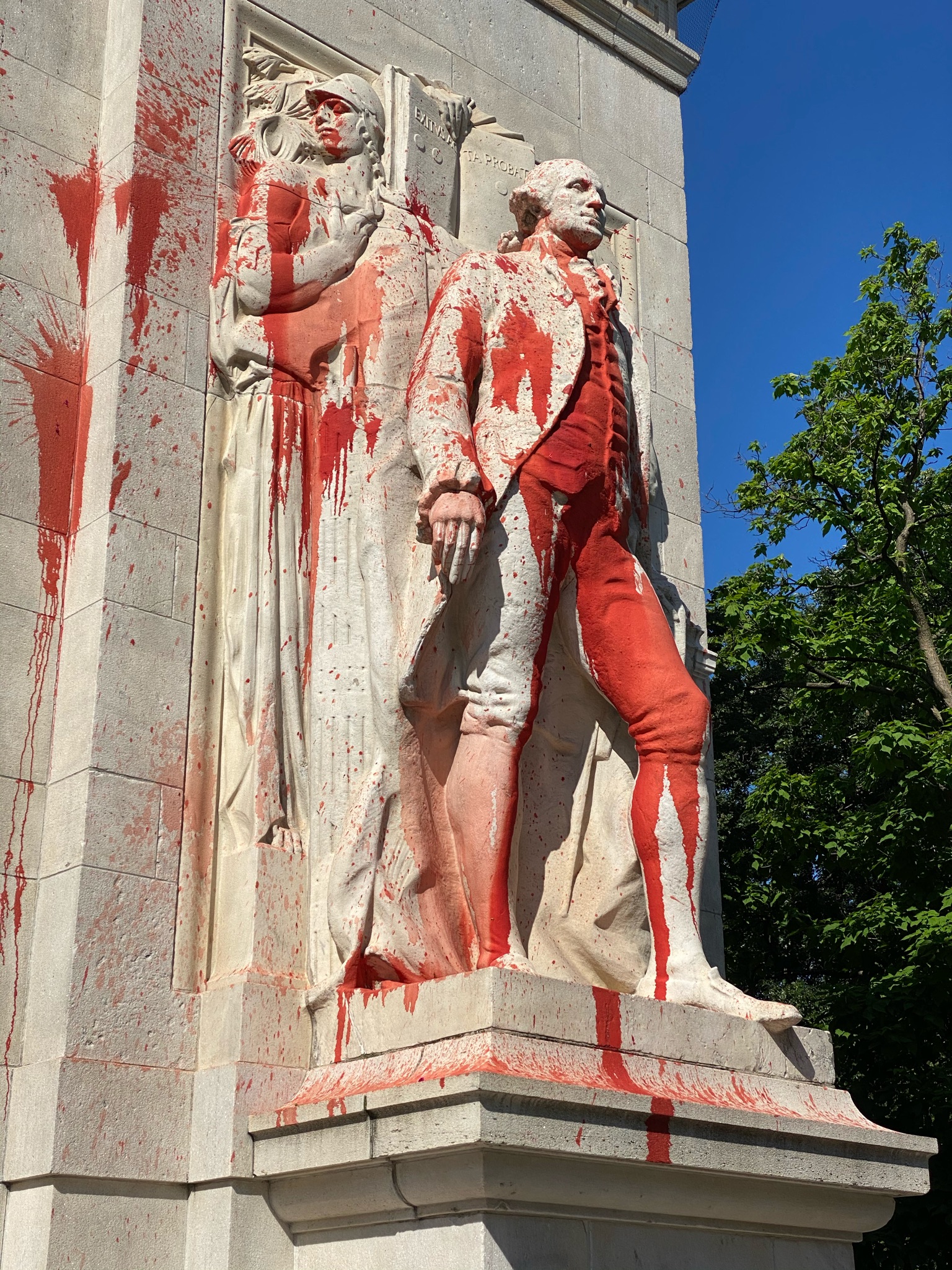 We are tracking down the two Anarchists who threw paint on the magnificent George Washington Statue in Manhattan. We have them on tape. They will be prosecuted and face 10 years in Prison based on the Monuments and Statues Act. Turn yourselves in now!

— Donald J. Trump (@realDonaldTrump) June 30, 2020
The Democrat Party   tweeted, then deleted, an attack on Mount Rushmore, negatively portraying an upcoming event President Trump is planning ahead of Independence Day at the historic monument to four great American presidents.
"Trump has disrespected Native communities time and again," the Democrats wrote on Twitter, with a link to an article in the British newspaper the Guardian, in the now-deleted tweet. "He's attempted to limit their voting rights and blocked critical pandemic relief. Now he's holding a rally glorifying white supremacy at Mount Rushmore–a region once sacred to tribal communities." 
Source: breitbart.com
Supreme Court just brought the hammer down on Soros. [GS] Open Society's foreign affiliates do not have First Amendment rights or any constitutional rights. Hello George
https://supremecourt.gov/opinions/19pdf/19-177_b97c.pdf…
---
Q
THE NEWS IS FAKE.
THE INSURGENCY IS REAL.
Q
[1]
June 7, 2020
Holy Trinity Sunday
Mr. President,
In recent months we have been witnessing the formation of two opposing sides that I would call Biblical: the children of light and the children of darkness. The children of light constitute the most conspicuous part of humanity, while the children of darkness represent an absolute minority. And yet the former are the object of a sort of discrimination which places them in a situation of moral inferiority with respect to their adversaries, who often hold strategic positions in government, in politics, in the economy and in the media. In an apparently inexplicable way, the good are held hostage by the wicked and by those who help them either out of self-interest or fearfulness.
These two sides, which have a Biblical nature, follow the clear separation between the offspring of the Woman and the offspring of the Serpent. On the one hand, there are those who, although they have a thousand defects and weaknesses, are motivated by the desire to do good, to be honest, to raise a family, to engage in work, to give prosperity to their homeland, to help the needy, and, in obedience to the Law of God, to merit the Kingdom of Heaven. On the other hand, there are those who serve themselves, who do not hold any moral principles, who want to demolish the family and the nation, exploit workers to make themselves unduly wealthy, foment internal divisions and wars, and accumulate power and money: for them the fallacious illusion of temporal well-being will one day – if they do not repent – yield to the terrible fate that awaits them, far from God, in eternal damnation.
We will also discover that the riots in these days were provoked by those who, seeing that the virus is inevitably fading and that the social alarm of the pandemic is waning, necessarily have had to provoke civil disturbances, because they would be followed by repression which, although legitimate, could be condemned as an unjustified aggression against the population. The same thing is also happening in Europe, in perfect synchrony. It is quite clear that the use of street protests is instrumental to the purposes of those who would like to see someone elected in the upcoming presidential elections who embodies the goals of the deep state and who expresses those goals faithfully and with conviction. It will not be surprising if, in a few months, we learn once again that hidden behind these acts of vandalism and violence there are those who hope to profit from the dissolution of the social order so as to build a world without freedom: Solve et Coagula, as the Masonic adage teaches.
Although it may seem disconcerting, the opposing alignments I have described are also found in religious circles. There are faithful Shepherds who care for the flock of Christ, but there are also mercenary infidels who seek to scatter the flock and hand the sheep over to be devoured by ravenous wolves. It is not surprising that these mercenaries are allies of the children of darkness and hate the children of light: just as there is a deep state, there is also a deep church that betrays its duties and forswears its proper commitments before God. Thus the Invisible Enemy, whom good rulers fight against in public affairs, is also fought against by good shepherds in the ecclesiastical sphere. It is a spiritual battle, which I spoke about in my recent Appeal which was published on May 8.In society, Mr. President, these two opposing realities co-exist as eternal enemies, just as God and Satan are eternal enemies. And it appears that the children of darkness – whom we may easily identify with the deep state which you wisely oppose and which is fiercely waging war against you in these days – have decided to show their cards, so to speak, by now revealing their plans. They seem to be so certain of already having everything under control that they have laid aside that circumspection that until now had at least partially concealed their true intentions. The investigations already under way will reveal the true responsibility of those who managed the COVID emergency not only in the area of health care but also in politics, the economy, and the media. We will probably find that in this colossal operation of social engineering there are people who have decided the fate of humanity, arrogating to themselves the right to act against the will of citizens and their representatives in the governments of nations.
__
[2]
For the first time, the United States has in you a President who courageously defends the right to life, who is not ashamed to denounce the persecution of Christians throughout the world, who speaks of Jesus Christ and the right of citizens to freedom of worship. Your participation in the March for Life, and more recently your proclamation of the month of April as National Child Abuse Prevention Month, are actions that confirm which side you wish to fight on. And I dare to believe that both of us are on the same side in this battle, albeit with different weapons.
For this reason, I believe that the attack to which you were subjected after your visit to the National Shrine of Saint John Paul II is part of the orchestrated media narrative which seeks not to fight racism and bring social order, but to aggravate dispositions; not to bring justice, but to legitimize violence and crime; not to serve the truth, but to favor one political faction. And it is disconcerting that there are Bishops – such as those whom I recently denounced – who, by their words, prove that they are aligned on the opposing side. They are subservient to the deep state, to globalism, to aligned thought, to the New World Order which they invoke ever more frequently in the name of a universal brotherhood which has nothing Christian about it, but which evokes the Masonic ideals of those who want to dominate the world by driving God out of the courts, out of schools, out of families, and perhaps even out of churches.
The American people are mature and have now understood how much the mainstream media does not want to spread the truth but seeks to silence and distort it, spreading the lie that is useful for the purposes of their masters. However, it is important that the good – who are the majority – wake up from their sluggishness and do not accept being deceived by a minority of dishonest people with unavowable purposes. It is necessary that the good, the children of light, come together and make their voices heard. What more effective way is there to do this, Mr. President, than by prayer, asking the Lord to protect you, the United States, and all of humanity from this enormous attack of the Enemy? Before the power of prayer, the deceptions of the children of darkness will collapse, their plots will be revealed, their betrayal will be shown, their frightening power will end in nothing, brought to light and exposed for what it is: an infernal deception.
Mr. President, my prayer is constantly turned to the beloved American nation, where I had the privilege and honor of being sent by Pope Benedict XVI as Apostolic Nuncio. In this dramatic and decisive hour for all of humanity, I am praying for you and also for all those who are at your side in the government of the United States. I trust that the American people are united with me and you in prayer to Almighty God.
United against the Invisible Enemy of all humanity, I bless you and the First Lady, the beloved American nation, and all men and women of good will.
+ Carlo Maria Viganò
Titular Archbishop of Ulpiana
Former Apostolic Nuncio to the United States of America
Loyalists_critical.
A counter-attack to the 1st [law and order] strike _prepared and ready in an effort to change the narrative _prevent [blind] mass public awareness re: coord effort to remove [sitting] US POTUS _covertly disrupt CoC _regional comm as needed.
Media plans to disregard [re_label as political attack _AG election interference] and inject script.
Some commanding officers [EOs] may provide [CLAS 1-99] that do not reflect those [1-99] of the POTUS or the AG of United States.
Appropriate action should be taken.
Remember your oath.
Remember your mission.
Infiltration not invasion.
Defend and protect at all costs.
Q
This is to the loyalists in the government, there is plan in place, to issue orders that contradict those of Trump and Barr. The traitors will push forward with these orders which go directly against the Trump, the media will knowingly spin fake information to cover for them. Q says remember your oath.  Defend and protect.
Why is this about to happen, because the [DS] has already lost, they are not in control, they will use what ever they have left to stop the inevitable, the arrest and trials for treason, sedition and crimes against humanity.  
The Lone Warrior | Cinematic Epic Soundtrack – Music By Sharon Gabrieli – Music Production
Q
City district attorneys rip de Blasio over planned release of high-risk inmates
he city's five district attorneys and the Big Apple's special narcotics prosecutor sent a letter to Mayor Bill de Blasio and his correction commissioner Monday slamming them for the planned release of violent inmates amid the coronavirus pandemic.
The DAs from Manhattan, Queens, Brooklyn, The Bronx and Staten Island and special narcotics prosecutor Bridget Brennan said they've been reviewing requests for the release of inmates from Rikers Island "with the goal of reducing health risks in a manner consistent with public safety."
"Our review of the lists provided to date has led us to consent to the release of many hundreds of individuals due to their age and/or health condition; the nature of their charged crime; or the length of their remaining sentence," reads the letter to Hizzoner and DOC Commissioner Cynthia Brann.
"At the same time, we want to make clear that the categories of those proposed for release have, in some instances, included individuals who pose a high risk to public safety," the letter says.
"As an example, when we learned last week that [Brann] was about to use her authority to order an across-the-board release of hundreds of inmates serving city sentences, we were assured that the release would not include those serving time for domestic violence or sex offenses, given the risks to victims," the letter states. "Unfortunately, we later learned that such individuals were indeed included in the ranks of those to be released."
"De Blasio said Sunday that more than 650 inmates had been released over coronavirus concerns."
https://www.nbcnewyork.com/news/local/crime-and-courts/released-from-rikers-in-covid-measure-man-arrested-4-times-in-3-months/2460035/📁
NYPD Brass: We're Arresting Too Many Prisoners on Early COVID Release
Hundreds of prisoners released early from Rikers due to COVID concerns are being enabled to re-offend again and again without consequences, law enforcement leaders say.
"We're continuing to see people get arrested over and over and let right back out. And it really defies common sense," NYPD Commissioner Dermot Shea said in an interview with NBC New York.
Of approximately 2,500 defendants sprung from Rikers early because of COVID safety planning, at least 250 have been arrested again since, according to Michael LiPetri, chief of Crime Control Strategies for the NYPD.
Chief LiPetri tells NBC New York the NYPD did not object to releasing older defendants, nor those with underlying medical conditions. But he says the consequences of the larger-scale release of prisoners are now showing up in the arrest data, with those 250 re-offenders being arrested 450 times so far during the pandemic.
"Hundreds of prisoners released early from Rikers due to COVID concerns are being enabled to re-offend again and again without consequences, law enforcement leaders say."
Cause and Effect.
Do you see what is happening?
Q
Dem TN Rep Cohen intros resolution for Hse to begin impeachment inquiry into Barr. Has 35 co-sponsors. Says "Barr obstructs justice by favoring the President's friends and political allies. He abuses his power by using the DoJ to harass, intimidate & attack disfavored Americans"
Like clockwork.
Q
Q

 

!!Hs1Jq13jV6

 

ID: b9b621

 No.9801649

NEW
Anonymous

 

ID: 978464

 No.9801436

NEW
>>9801324 (lb)
I See whats happening, but I would like to see you guys doing something about it already.
WE KNOW ALL OF THIS.
WE ARE HELPLESS TO IT ALL
So the real question Q is, Do YOU see what is happening??
>>9801436
Fear not.
You [we] are not helpless.
Enough must see.
It is the only way.
You are being presented with the gift of vision.
Ability to see [clearly] what they've hid from you for so long [illumination].
Their deception [dark actions] on full display.
People are waking up in mass.
People are no longer blind.
Do you think it's a coincidence they banned and prevent you attending Church _house of worship?
Anti-American.
Anti-God.
One must only look to see.
Have faith in Humanity.
Have faith in yourself.
Let light guide you.
Find peace through prayer.
Biblical.
Q
I was once told if we're not careful, 2 percent of the passionate will control 98 percent of the indifferent 100 percent of the time.
The more I've thought about this phrase, the more I believe it. There is now a small group of passionate people working hard to destroy our American way of life. Treason and treachery are rampant and our rule of law and those law enforcement professionals who uphold our laws are under the gun more than at any time in our nation's history. These passionate 2 percent appear to be winning.
Despite there being countless good people trying to come to grips with everything else on their plates, our silent majority (the indifferent) can no longer be silent
If the United States wants to survive the onslaught of socialism, if we are to continue to enjoy self-government and the liberty of our hard-fought freedoms, we have to understand there are two opposing forces: One is the "children of light" and the other is the "children of darkness."
As I recently wrote, the art and exercise of self-governance require active participation by every American. I wasn't kidding! And voting is only part of that active participation. Time and again, the silent majority have been overwhelmed by the "audacity and resolve" of small, well-organized, passionate groups. It's now time for us, the silent majority (the indifferent), to demonstrate both.
The trials of our current times, like warfare, are immense and consequences severe and these seem inconquerable.
As a policewoman from Virginia told me, "People don't feel safe in their homes and our police force is so demoralized we cannot function as we should. In my 23 years with my department, I have never seen morale so low."
Another woman from Mississippi told me that we need our leaders to "drop a forceful hammer. People are losing patience. It simply must be stopped! Laws MUST be enforced … no one is above the law."
Don't fret. Through smart, positive actions of resolute citizen-patriots, we can prevail. Always keep in mind that our enemy (these dark forces) invariably have difficulties of which we are ignorant.
For most Americans, these forces appear to be strong. I sense they are desperate. I also sense that only a slight push on our part is all that is required to defeat these forces. How should that push come?
Prayers help and prayers matter, but action is also a remedy. Our law enforcement professionals, from the dispatcher to the detective and from the cop to the commissioner, are a line of defense against the corrupt and the criminal. It is how we remain (for now) in a state of relatively peaceful existence.
We must support them with all our being. They are not the enemy; they bring light to the darkness of night through their bravery and determination to do their jobs without fanfare and with tremendous sacrifice.
The silent majority (the indifferent) tend to go the way of those leading them. We are not map- or mind-readers; we are humans fraught with all the hopes and fears that flesh is heir to. We must not become lost in this battle. We must resoundingly follow our God-given common sense.
Seek the truth, fight for it in everything that is displayed before you. Don't trust the fake news or false prophets; trust your instincts and your common sense. Those with a conscience know the difference between right and wrong, and those with courage will always choose the harder right over the easier wrong.
I believe the attacks being presented to us today are part of a well-orchestrated and well-funded effort that uses racism as its sword to aggravate our battlefield dispositions. This weapon is used to leverage and legitimize violence and crime, not to seek or serve the truth.
The dark forces' weapons formed against us serve one purpose: to promote radical social change through power and control. Socialism and the creation of a socialist society are their ultimate goals.
They are also intent on driving God out of our families, our schools and our courts. They are even seeking the very removal of God from our churches, essentially hoping to remove God from our everyday lives.
Remember, we will only remain united as "one nation under God."
And yes, there is a "resistance movement" by the forces of darkness. However, we must also resist these onslaughts and instead take an optimistic view of our situation. Like war, optimism can be pervasive and helps to subdue any rising sense of fear.
We must, however, be deliberate about our optimism. Otherwise, we may get lost in discouragement and despair of any failings we encounter. We must be tenacious in the ultimate end we wish to gain. That end is to remain an unwavering constitutional republic based on a set of Judeo-Christian values and principles. We must not fear these and instead embrace each.
Our path requires course corrections. To move our experiment in democracy forward, we should fight and reject the tired and failed political paths and instead pursue a more correct path that shines a bright light on liberty, a path with greater and greater control of our livelihoods instead of being controlled by fewer and fewer of the too-long-in-power politicians. They have discarded us like old trash.
Our will, our individual liberties and freedoms, remain powerful forces and must be understood and applied smartly. We must not be overly stubborn. Following the Constitution as our guide and adapting to change as we have throughout history, we learn more about what freedoms humans desire.
At times, however, we have to fall back on what got us here. We cannot afford to lose our God-given human rights and the strong inner desire for freedom to choose and to breathe the fresh air of liberty. We must stand up and speak out to challenge our so-called "leaders" of government. We put them in charge; we can remove them as well.
It is through our rights and privileges as American citizens that we challenge the political class and leverage our election process so "we the people" can decide who will govern.
We must not allow a small percentage of the powerful to overtake our position on America's battlefield. We, as free-thinking and acting individuals, must control how we will live and not allow a few passionate others to change our way of life.
To the silent and currently indifferent majority: Wake up. America is at risk of being lost in the dustbin of history to socialism. The very heart and soul of America is at stake.
In war, as in life, most failure comes from inaction. We face a pivotal moment that can change the course of history of our nation.
We the people must challenge every politician at every level.
We also must stand and support our law enforcement professionals: They are the pointy end of the spear defending us against anarchy.
Now is the time to act.