It Was A Trap, Barr Assessing RG Ukraine Info, Rudy Has The "Insurance File" – Episode 2093
Podcast: Download (Duration: 41:27 — 41.0MB)
Trump is getting ready to cut the budget. Trump is preparing for the transition and removing foreign aid and other cuts. This has to happen because a lot of this money in the budget cannot be accounted for. Trump is now ready to tackle the EU. The patriots are preparing it all for the transition. The [DS] was completely trapped by the patriots. The patriots knew their playbook and led them down the path they wanted them to go. Trump and the patriots have just drained more of the swamp. Barr is now assessing RG Ukraine info. Arrest are coming soon and the attacks are going to intensify.
Check Out The X22 Report Spotlight YouTube Channel X22Report Spotlight
Please check Newzsentinel.com for the latest news on the economic collapse. The Sentinel Alerts are updated throughout the day.
---
Current News – 02.10.2020
Watch The X22 Report On Video
---
Economy
Trump budget would cut $4.4T in spending, boosting defense while slashing safety nets, foreign aid
The White House on Sunday unveiled a $4.8 trillion budget proposal that would slash spending dramatically on foreign aid and social safety nets, while including $2 billion for a southern border wall and substantially boosting funding to NASA, the Department of Veterans Affairs and the Department of Homeland Security.
The plan aims to eliminate the federal deficit — or the difference between spending and revenue that is slated to exceed $1 trillion this year — by 2035. In all, the White House is seeking to cut $4.4 trillion in federal spending over the next 10 years, including reductions in spending on food stamps and federal disability benefits through more stringent work and eligibility requirements.
Total cuts to "non-defense discretionary programs," which do not include Medicare or Social Security, amount to $2 trillion in savings under the plan. The budget additionally calls for renewing the Trump administration's tax cuts for individuals and families that would otherwise expire in 2025. Modifications in Medicare prescription-drug pricing would account for $130 billion in savings.
Foreign aid would be reduced by 21 percent, in keeping with the president's push to have other countries pay what he calls their "fair share" for their own defense.   
Source: foxnews.com
https://www.youtube.com/watch?v=WNqKhRcpktU📁 [16:00]

"Are we going to be sending massive amounts of money that simply goes into other people's

[personal]

bank account(s)

[theft]

." – POTUS

Who audits where foreign aid actually goes?

Nobody.

Foreign aid > Country

[X]

> Personal Bank Accts

[+US person(s) involved]

.

Think Iran.

Think Paris Accord

[attempt]

.

Think All.

Corrupt system.

Do you think

[GS]

is spending his own money re: push of radical viewpoint adoption?

US TAXPAYER payments

[aid]

> directly/indirectly

[GS]

organizations?

Re-read drops re: 'Foreign Aid'

https://www.youtube.com/watch?v=G2qIXXafxCQ&feature=youtu.be📁 [Listen carefully]

RETURNING POWER TO THE PEOPLE.

DRAINING THE SWAMP.

POTUS IS FIGHTING FOR YOU.

It's been a long time since we've had a non_corrupt POTUS who cares for the people, and not himself.

Q
President Donald Trump said  the time has come to pursue trade negotiations with the European Union which he said imposes "incredible" barriers to US goods.
"Europe has been treating us very badly," Trump said 
Trump has made trade deals with Canada, Mexico and Japan, and a phase-one agreement with China,  next is the EU
Source: rawstory.com
---
Political/Rights
The White House has identified and will soon part ways with the "anonymous" official behind a recently released book and a "resistance" focused editorial published in the New York Times, former U.S. attorney Joe diGenova  
DiGenova made his claim on WMAL's "Mornings on the Mall," but senior White House officials declined to comment on the topic when asked by the Daily Caller. 
Source: dailycaller.com
Barr Confirms DOJ Is Assessing Credibility Of Guiliani's Ukraine Info
Attorney General Bill Barr  confirmed that the Justice Department is currently assessing information about Ukraine provided by President Trump's personal attorney Rudy Giuliani, who says the info contains a "smoking gun."
"The Justice Department has the obligation to have an open door to anybody who wishes to provide us information that they think is relevant," Barr told reporters. "But as I did say to Senator [Lindsey] Graham … we have to be very careful … with respect to any information coming from the Ukraine."
Barr said reliable information is difficult to find because there are "a lot of agendas" in Ukraine and "a lot of cross currents."
"We can't take anything we receive from the Ukraine at face value," Barr said. "For that reason, we had established an intake process in the field so that any information coming in about Ukraine could be carefully scrutinized by the department" to assess its credibility.
He added: "And you know, that is true for all information that comes to the department relating to the Ukraine, including anything Mr. Giuliani might provide."
 Rudy Giuliani on Sunday said there are three witnesses who are ready to "name names" in an investigation into Hunter Biden and corruption in Ukraine,
Source: thegatewaypundit.com
Rep. Devin Nunes, the ranking member on the House Intelligence Committee, gave Inspector General Michael Atkinson until Friday to hand over information that could help illuminate questions surrounding the timeline and procedural protocol used to vet the whistleblower complaint that centered on Trump's July 25 phone call with Ukrainian President Volodymyr Zelensky,
Source: washingtonexaminer.com
Judge Emmet Sullivan canceled that sentencing in his order Monday in U.S. District Court in Washington, D.C. Sullivan did not immediately set a new sentencing date.
---
Geopolitical/Police State
 the Justice Department is indicting four members of the Chinese military for engineering the 2017 cyberattack on Equifax that exposed 147 million U.S. consumers' personal information. Not Russia
Source: redstate.com
The Trump administration is shifting its border wall focus from procuring resources to breaking ground on new construction after securing funds for 1,000 miles of new wall along the southern border, White House officials tell the Daily Caller.
The fiscal year 2021 budget requests fewer funds for border wall construction than in previous years, but a senior White House official explained how the administration has "now shifted from securing funds to being able to build more wall."
The cuts will target agencies with overlapping and similar goals, agencies that provide similar or identical services to the same group of recipients, programs without a clearly defined federal role, federal programs that mirror state-level initiatives and erroneous payments, and for eliminating the following programs entirely:
National Institute for Occupational Safety and Health's Education and Research Centers
Department of the Interior's Highlands Conservation Act Grants
National Park Service's Save America's Treasures Grants
National Endowment for the Arts Endowment for the Humanities
Corporation for National and Community Service (including AmeriCorps)
Source: dailycaller.com
 , Annegret Kramp-Karrenbauer – better known as AKK – has confirmed that the rumors are indeed true. She will step down as the leader of Angela Merkel's Christian Democratic Union, the center-right party that has ruled Germany for two decades, and won't run as the party's candidate to succeed Merkel during the federal election to pick Germany's next chief executive in 2021. 
Germany's next national election is now expected to be a three-way race between Armin Laschet, prime minister of North Rhine-Westphalia, Germany's most populous state, German Health Minister Jens Spahn and former CDU leader Friedrich Merz, a longtime conservative rival to Merkel,  
Source: zerohedge.com
---
Q
Justice.jpg

Attorney General Barr has acknowledged for the first time that Rudy Giuliani has been giving the Justice Department information he collected in Ukraine, essentially bringing what was a stealth campaign into official government channels.

Did 'Mueller' open the door to Ukraine?

Did 'Mueller' open the door to FISA

[illegal]

?

How do you introduce evidence legally?

Did 'Impeachment' provide a platform to discuss findings of Ukraine?

How do you introduce evidence legally?

Did 'Impeachment' harm or help POTUS

[public]

?

How do you introduce

[D]

s high crimes

[corruption]

to the public?

Why didn't POTUS remove

[Hussein]

holdovers from NSC?

Do you really believe that POTUS & team trusted

[Hussein]

holdovers to remain within the admin and work to enact POTUS' agenda w/o bias or confrontation?

How do you 'awaken' the 'induced coma' public

[FAKE NEWS control]

from their long sleep?

Sometimes allowing your enemies to

[openly]

attack…….

Logical thinking.

Q
34FCAEB5-A10B-456D-BC5E-7D947F25B759.jpeg
"I'd like to express my outrage at the attempted assassination of two New York City police officers… I've recently been up there to visit with the @NYPDnews and that is a force that does exceptional work for the people of New York."—AG Barr pic.twitter.com/UD0jUNqiKN

— Justice Department (@TheJusticeDept) February 10, 2020

Why were they targeted? Did they see what was on Weiner's laptop? Haven't seen names released yet.
Bigger than Vindman: Trump scrubs 70 Obama holdovers from NSC

President Trump is making good on his promises to "drain the swamp" and cut Obama-era holdovers from his staffs, especially the critical and recently controversial National Security Council.

Officials confirmed that Trump and national security adviser Robert O'Brien have cut 70 positions inherited from former President Barack Obama, who had fattened the staff to 200.

Many were loaners from other agencies and have been sent back. Others left government work.

We got what we needed.
There is no step [5].
Thank you for playing.
Q
An Anon post the following
What we are watching is a coordinated plan to trap the [DS]/D's, while all of this is playing out the Patriots watch, observe who and what they do, these individuals feel a false sense of security. These individuals are exposed and the patriots have the ability to see who these individuals are loyal to.    
EDUTkfZUwAE5rBw.png

What happened 'FOLLOWING' Bolton's departure from the WH?
WH clean?
What happened 'FOLLOWING' impeachment?
Nadler, Pelosi, Schiff cannot walk down the street?
Imagine that!
Q
Q Foreshadowed the White House Cleaning and D's Leadership Being Ridiculed in the Streets
Q

 

!!Hs1Jq13jV6

 

ID: 9f19f8

 No.8093281


NEW

DxPWk96X4AEzPWG.jpg

Backchannels are important.
Attacks will only intensify.
You attack those who threaten you the most.
Enjoy the show!
Q
The [DS] players are panicking look what we have seen already
1. Twitter only allowed blue checks to tweet for a while, was this a test
2. 8kun is being attacked
3.MSM tweeting and putting out a huge amount of Q articles
Hyve tweeted out the following
100% spot on @JuliansRum – with yours I decided to show all the outlets who decided to drop a Q-related article.
Also included is Patrick who is spinning it and being selective if/when he writes one.https://t.co/nv5nVGj8np pic.twitter.com/Bj2APdWQvg

— HYVE (@HYVEE7) February 10, 2020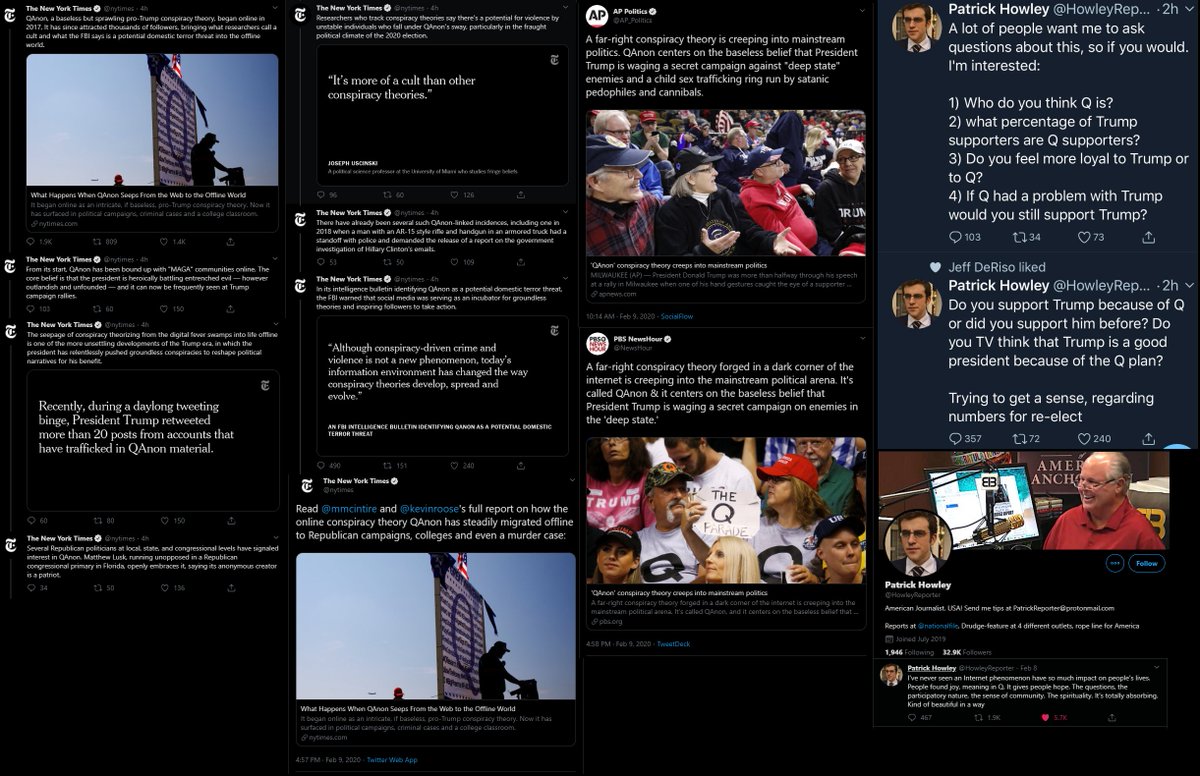 Julians rum tweeted the following
Contemplate this:

The New York Times tweeted 8 times today about Q.

I don't think I've ever seen them tweet a thread this long about any topic. Much less a "baseless conspiracy theory." #Qanon pic.twitter.com/qBkc9QOJhT

— Julian's Rum 🥃 (@JuliansRum) February 10, 2020
Now in one of the NYT tweeted they mentioned that the FBI warned that Qanon is a potential domestic terror threat 
In its intelligence bulletin identifying QAnon as a potential domestic terror threat, the FBI warned that social media was serving as an incubator for groundless theories and inspiring followers to take action. pic.twitter.com/EUgvIKWNNU

— The New York Times (@nytimes) February 9, 2020
Praying medic decided to do a little bit of research, this is what Dave tweeted
I received a reply from the FBI on my FOIA request. They could not confirm the so-called "FBI intelligence bulletin" about conspiracies.

They also referred me to the bureau's public bulletin on categorization of terror threats which does not mention conspiracies as a threat. https://t.co/joB7PNp7MA

— Praying Medic (@prayingmedic) February 10, 2020
The FBI recognizes 4 categories of violent extremism:

1 Racially motivated violent extremism
2 Anti-government/anti-authority extremism
3 Animal rights/environmental extremism,
4 Abortion extremism

They do not recognize "conspiracy extremism."https://t.co/KZYLj8h1Yk pic.twitter.com/ddR7vF0Xm7

— Praying Medic (@prayingmedic) February 10, 2020

So why all of these attacks, Q just warned us that the attacks are going to intensify, Trump might have given us some clues
95% Approval Rating in the Republican Party, a Record! 53% overall (plus add 9 points?). Corrupt Democrat politicians have brought me to highest polling numbers ever with the Impeachment Hoax. Thank you Nancy!

— Donald J. Trump (@realDonaldTrump) February 10, 2020
First indictment [unseal] will trigger mass pop awakening.
First arrest will verify action and confirm future direction.
They will fight but you are ready.
Marker [9].
Q