Message Sent, Caught The Swamp, They Never Thought She Would Lose – Episode 2016
Podcast: Download (Duration: 48:52 — 50.2MB)
The Trump administration now control the economic narrative, the [CB] was just setup, optics are very important. China put out a story that tariffs would be removed in phases when each part of the deal is made. Trump administration reminds everyone that Trump has the authority do remove tariffs. The Fed does not like what Texas is doing, they seeing where it is all headed. The [DS] impeachment plan is a big failure. The leaked transcripts are now showing the opposite, but the plan was to keep this going.  Evidence is now in favor of the patriots. The WB lawyer past is now starting to catch up with him. Many arrested for child pornography. Trump mentions that he caught the swamp, the message received, the swamp is going down.
Check Out The X22 Report Spotlight YouTube Channel X22Report Spotlight
Please check Newzsentinel.com for the latest news on the economic collapse. The Sentinel Alerts are updated throughout the day. If you haven't already, go to "The People" and join the community of people who are helping each through the economic collapse.
---
Current News – 11.08.2019
Watch The X22 Report On Video
---
Economy
DOW Reaches 110th All-Time High Since 2016 Election – Markets Up More than 50%!
The markets again reached a new high.  This is the 110th all-time high since the 2016 election and 110 more all-time highs than the two previous Presidents reached in their entire first terms.
President Trump has now increased the markets by more than any other President in their entire Presidency (when counting from their election win to the election day of their last year in office.)
Source: thegatewaypundit.com
BREAKING: IBD/TIPP Economic Optimism Index increased to 52.9, the 2nd straight monthly gain, including among independent voters. Index has now recorded a score in positive territory for a record 38 consecutive months,suggesting consumer spending will remain robust into near term.

— Paul Sperry (@paulsperry_) November 8, 2019
Under President @realDonaldTrump:
💡 6.7M jobs created
💡 Historic low African-American unemployment rate
💡 Historic low African-American poverty rate
💡 Wages up 9%
💡 2.5M lifted from poverty
💡 Groundbreaking criminal justice reform
💡 Reinvesting in forgotten communities

— The White House (@WhiteHouse) November 8, 2019
the Dallas Federal Reserve Bank president Rob Kaplan that he does have concerns about the how Texas uses low taxes and limited regulation to attract new business; he said it may not be enough moving forward.
source: wbap.com
After denying reports about a deal between Washington and Beijing that would involve the rollback of tariffs, White House Advisor Peter Navarro appeared on Morning Edition Friday to talk down the odds of lifting the tariffs, arguing that they are a critical point of leverage, and that removing them would take the pressure off Beijing to hold up its end of the deal. 
"There's tariffs coming in December – December 15. We would be willing, I think, again it's up to the president, to postpone the tariffs…Yeah the December 15 ones but not roll back any existing tariffs. That's the fine distinction here. Look the tariffs are really a necessary defense against China's economic aggression against the United States. They are also the only insurance policy we have that China will comes to the negotiating table," Navarro said.
Source: zerohedge.com
---
Political/Rights
Each day that passes the [DS] is losing traction on the impeachment story, the people are not buying it, this was part of the plan, to show the American people how these people have a personal agenda and how they are now doing what they were elected to do, they have already lost and they don't even know it yet. Trump sends a message to the swamp, I caught you and we have it all, timing is everything and your time is almost up, we will be talking about this a little bit later in this report but first lets back to a tweet Trump put out on Aug of 2019
The New York Times will be out of business soon after I leave office, hopefully in 6 years. They have Zero credibility and are losing a fortune, even now, especially after their massive unfunded liability. I'm fairly certain they'll endorse me just to keep it all going!

— Donald J. Trump (@realDonaldTrump) August 18, 2019
Stock of the company plunged as much as 7%  , finishing the session down about 4%, on news that its revenue from advertising continues to decline.
The company reported this week that ad revenue for its print version is down 9.7% year over year and down 17.2% for its digital version. Print advertising fell 7.9% while digital advertising fell 5.4%.
Source: zerohedge.com
We are now seeing more CEO resign and others are now throwing their hat into the Presidential elections. First we have GAP CEO Art Peck, Live breaking news tweeted out the following
BREAKING: Gap Inc. CEO Art Peck is reportedly leaving the company after 15 years – CNBC
— LIVE Breaking News (@NewsBreaking) November 7, 2019
Bloomberg decided to throw his hat into the ring, he believes he has the ability to win, or is he protecting himself, SkyCheese tweeted out the following
I dunno but this picture is interesting? Who dat chick? She looks familiar! Someone help me out *wink wink* pic.twitter.com/99mdQEI9O9
— SkyCheese (@gouda25) November 8, 2019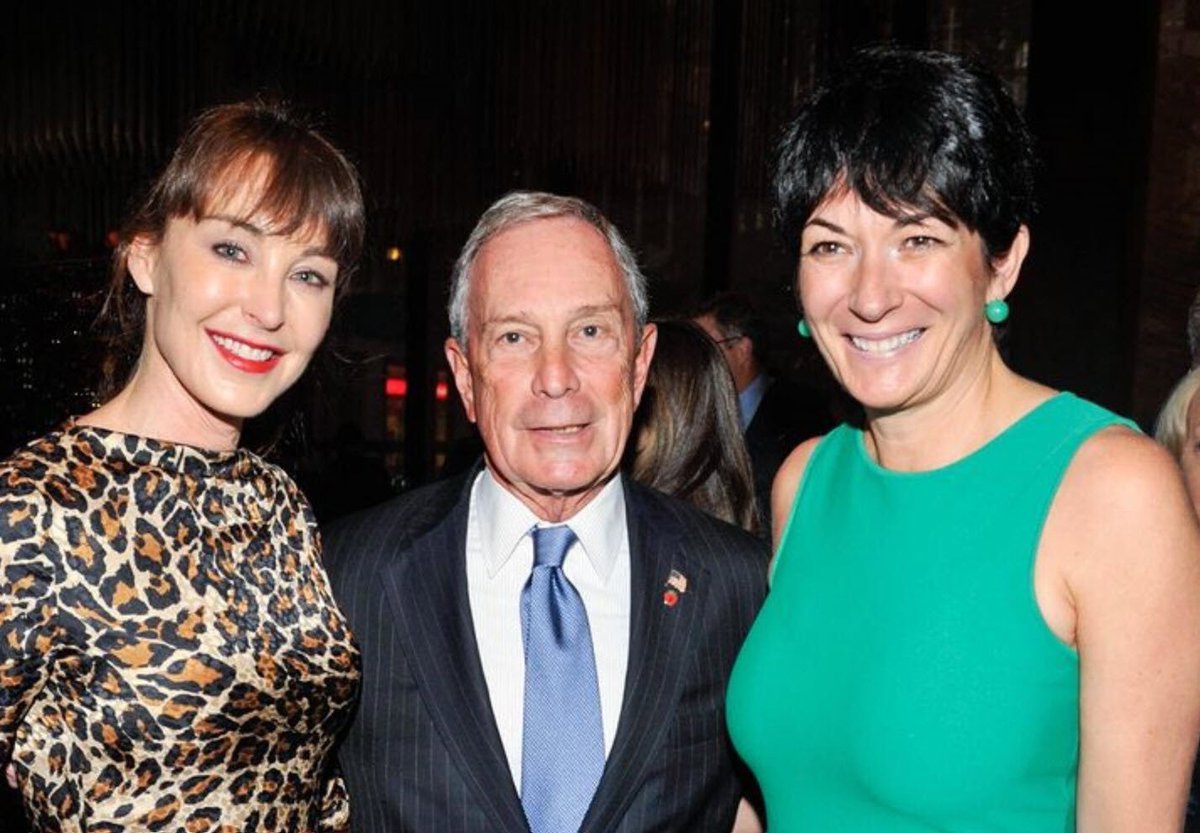 Now Jeff Sessions decided he was going to run for the US Senate again Live Breaking News tweeted out the following
BREAKING: In his campaign announcement for U.S. Senate, Jeff Sessions says "When President Trump took on Washington, only one Senator … had the courage to stand with him: me. I was the first to support President Trump. I was his strongest advocate. I still am." – Politico
— LIVE Breaking News (@NewsBreaking) November 8, 2019
>>6958589

Sometimes you need to 'take one for the team publicly' before you are vindicated as a hero.

Q
You didn't think the Epstein investigation began a few months ago did you?

It was all under the direction and oversight of AG Jeff

Sessions

.

Expect a lot more to become public (unsealing).

Q
Lets go back to post 2452, Q+ the president added the following
Thank you for your service to our Country, Mr. Jeff Sessions!
Your sacrifices will never be forgotten.
Q+
Now Don Jr appeared on the TV show The View, he was promoting his new book called Triggered. 
The View' Hosts Blatantly Lie, Falsely Accuse Don Jr. Of Crime In Wild Segment
Several segments of ABC's "The View" went off the rails as several hosts leveled lies and false accusations at guest Donald Trump Jr.
1. Joy Behar claims she never wore blackface.
But Behar admitted to wearing makeup that was "darker than my skin" for a Halloween costume years ago.
2. Whoopi Goldberg says they didn't discuss impeachment the morning after President Donald Trump won the 2016 election.
But video from November 9, 2016 — just hours after the last votes came in and election results went public — it was Goldberg herself who floated impeachment as a possible recourse. "We can kick his ass out. You know, there is such a thing called impeachment," she said.
Sunny Hostin claims Trump Jr. committed a federal crime when he named the whistleblower.
"I'm a former prosecutor," Hostin said to Guilfoyle. "Did you advise your boyfriend that it is a federal crime to out a whistle-blower?"
"I didn't advise him it's a federal crime," Guilfoyle responded. "I said, 'I left you alone for ten minutes. What happened?'"
"It's only a federal crime for the IG to do it," Trump Jr. protested.  
"That's a lie. That's not true," Hostin insisted, claiming that it was a crime under U.S. Code Section 1505.
 Dan Meyer, former executive director of the intelligence community whistleblower program,  , "There is no overarching protection for the identity of the whistleblower under federal law. Congress has never provided that protection."
Source: dailycaller.com
John Solomon is continually producing evidence that contradicts what Hunter and Joe Biden say about their dealing with Ukraine, JS tweeted out the following
Media tried to portray the Ukraine stories as conspiracy theories. But in one week we now have confirmed Hunter Biden got VIP access at State. His company used it to try to quash corruption allegations just before VP Biden got prosecutor fired.
— John Solomon (@jsolomonReports) November 8, 2019
The Patriots are contiuing to fight back against the fake impeachment and the subpoenas
Acting White House Chief of Staff Mick Mulvaney will defy a subpoena seeking his testimony before the House Intelligence Committee 
Mulvaney was scheduled to testify today in the impeachment inquiry — but like several other administration officials, he was not expected to appear.
The White House said Mulvaney won't participate in what it called a "ridiculous, partisan, illegitimate proceeding."  Breitbart TV
What we are witnessing now in regard to the fake impeachment is the DS players being exposed for lies, this entire plan is falling apart around them, lets take Yovanovitch for example, 
UPDATE: Top Democrat Witness and Fired Ukrainian Amassador Yovanovitch Used Private Email to Message Dem Staffer — LIED ABOUT IT UNDER OATH
 
Rep. Lee Zeldin (R-NY) asked Ambassador Yovanovitch about the email during her testimony before Adam Schiff's impeachment committee.
Yovanovitch lied and said she "never personally responded to it." But that was not true. Yovanovitch did respond to the staffer saying, "Look forward to talking to you."
But now there's more…
  former ambassador 'used her personal email to message Democrat staffer who asked her about a "time-sensitive" and "delicate issue" a month before the so-called whistleblower's complaint was filed.
Former Ambassador Yovanovitch is in a heap of trouble.

Source: thegatewaypundit.com
It appears Ambassador Yovanovitch did not accurately answer this question I asked her during her "impeachment inquiry" deposition under oath. https://t.co/2Ju420Pkpb pic.twitter.com/WACsyksMzW
— Lee Zeldin (@RepLeeZeldin) November 8, 2019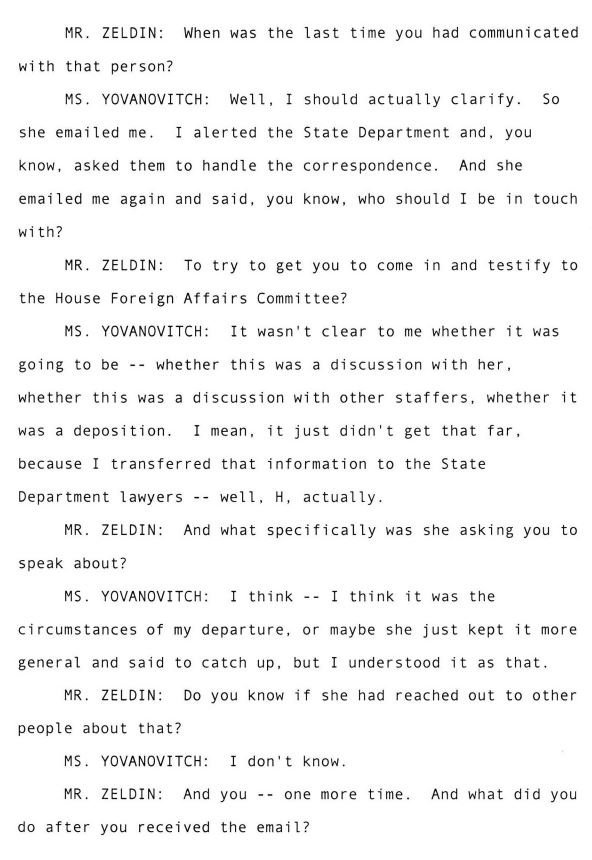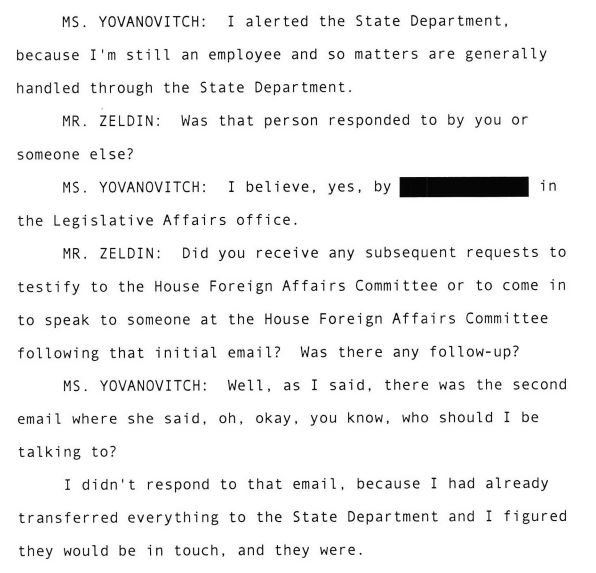 BREAKING: Just-released transcript of impeachment witness Vindman reveals that Rep. Schiff repeatedly instructed the ex-NSC official to "refrain" from naming any intelligence co-workers or contacts he spoke with out of concern naming one of them could identify "the whistleblower"

— Paul Sperry (@paulsperry_) November 8, 2019
PERJURY? Vindman flatly denied, under oath, knowing who the whistleblower is

— Paul Sperry (@paulsperry_) November 8, 2019

Whistleblower's Lawyer Sends Letter to White House Demanding President Trump "Cease and Desist" Attacking His Client
Andrew Bakaj, one of the attorneys representing the fake whistleblower, sent the White House a letter warning President Trump to "cease and desist" attacking his client.
Mr. Bakaj argued his client, which we now know to be a CIA leaker named Eric Ciaramella, is in "physical danger" because of Trump and the conservative media.
Trump has every right to defend himself, criticize Eric Ciaramella  
Source: thegatewaypundit.com
Whistleblower's Lawyer Reverses Course – Refuses to Let Client Eric Ciaramella Speak to Senate Intel Committee 
The  attorneys for the anti-Trump CIA leaker Eric Ciaramella have suddenly done a "reversal" after their initial contact with the committee.
Ciaramella's lawyers sent the Senate Intel Committee a letter stating they were anxious and eager to come in and speak to congressional investigators — and now they are backing out.
Source: thegatewaypundit.com
We are finding out alot more about Mark Zaid
Zaid has appeared as a guest on CNN at least 11 times since the start of 2017, when he predicted a "coup" just months after Trump was sworn in.
Source: saracarter.com
He also took trips to Disney along, and liked the Disney girls on youtube
I've gotten clearances for guys who had child porn issues

— Mark S. Zaid (@MarkSZaidEsq) February 11, 2018

The [DS] plan has completely backfired and the American people are not going along with it, the [DS] has now lost all credibility with impeachment and they have lost the narrative
Many have heard of polls finding that most Americans, 51 percent in an October Fox News survey, want President Trump impeached. But a recent Monmouth poll casts doubt on this, showing that 73 percent of Americans have "very little or no confidence" in the impeachment process. Why is this poll so different? It's simple:
Unlike the others, it doesn't over-sample Democrats.
Rather, its sample was "29 percent Republican, 42 percent independent, 29 percent Democrat," the National Sentinel reports. "It was 48 percent male and 52 percent female, which sounds right because nationally, there are more women than men."
As for the results, a "full 73 percent of those surveyed have 'very little or no confidence' in the impeachment process —  
"Only 24 percent said they had 'a lot' of confidence in the process,  
Contrast this with a recent Fox News poll finding that 49 percent of Americans favor impeaching the president and removing him from office, with 41 percent opposed.
Source: thenewamerican.com
Now they unleashed the bull dog Jim Jordan he is now being appointed to the intelligence Committee, Kevin McCarthy tweeted out the following
I am appointing @Jim_Jordan to the Intelligence Committee—which has now become the Impeachment Committee—where he will continue fighting for fairness and truth. @RepRickCrawford has been an exemplary member of the committee and will rejoin it when this Democrat charade is over.

— Kevin McCarthy (@GOPLeader) November 8, 2019
and Right on queue, 
Referee says he told Rep. Jim Jordan that Ohio State doctor performed sex act in shower https://t.co/fpBpbr72xh

— Maggie Haberman (@maggieNYT) November 8, 2019
looks like they are rehashing the same old smear campaign,
Now the MSM they want the President's first call to Ukraine, Trump said something very interesting when he answered the question, take a listen
💥BREAKING💥Pres Trump says the media now wants his 1st call to the Ukraine! Watch👇🏻👇🏻👇🏻what he says at the end! Have the dems obsession w/taking down POTUS taking themselves down instead? Grab the 🍿!!! #RoseDC11 pic.twitter.com/3ghN562I7L

— ✝️🇺🇸Rose ⭐️⭐️⭐️ #IStandWGenFlynn🇺🇸✝️ (@RoseDC11) November 8, 2019

Trump said the call is very revealing, he is now setting up the [DS]/and the MSM, plus he said that this is a very bad precedent, not for him but for all other Presidents, remember Q has told us that Transparency and Truth are the only way forward, will other be truthful and transparent, he also said that the press dupped but they were also in on it.
Is Pending IG Report on FISA Abuse Being Held-Up To Facilitate NSA Bulk Data Re-authorization That Expires December 15th?…
With the press busy with impeachment and pushing the [DS] agenda something very interesting is happening behind the scene.the re-authorization of the USA Freedom Act is needed prior to expiration on December 15th. Techno Fog points out the bulk NSA data collection and FISA(702) surveillance programs are part of this reauthorization.
ON November 6th, the Senate Judiciary Committee held hearings on the reauthorization.  "Senators expressed their displeasure  with the Trump administration's inability to answer questions about the National Security Agency's collection of data records" (link). Which begs the question:
Is the current Inspector General report on FISA abuse being delayed due to the need for congress to reauthorize the very same programs the IG is about to criticize?
Life Lesson – [AS]
The next time you 'leak' classified information, don't have your phone (or allow phones of the 'unknown' go-between 'students') present.
FISA works both ways.
Q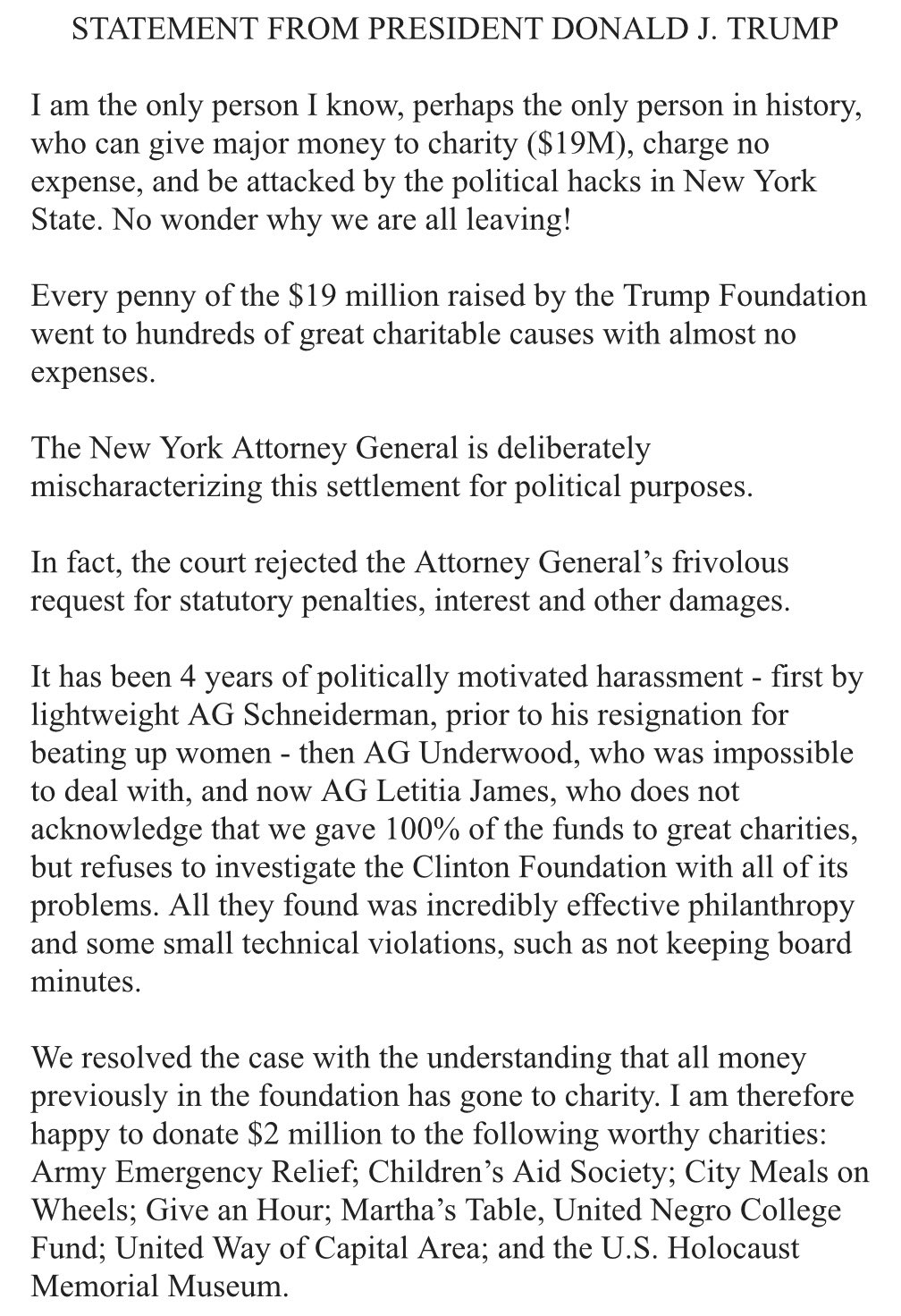 President Donald Trump has appointed more judges in less than three years to the circuit courts than any of his two-term predecessors going back to Ronald Reagan.
The Senate confirmed William Nardini, on Thursday, to the U.S. Court of Appeals for the Second Circuit, making 25% of circuit court judges Trump appointees. That was the president's 45th pick, higher than the number of judges appointed by all presidents from Reagan to Obama,
Source: dailycaller.com
Retired Air Force general charged with possession of child pornography in Pennsylvania
A retired brigadier general living in Pennsylvania was charged with 15 counts of child pornography 
Retired U.S. Air Force Brig. Gen. Frank Sullivan was charged after a search of his home in Mechanicsburg, about eight miles west of Harrisburg, turned up computers "replete with thousands of searches for "'preteen' images" and pictures of children "engaged in very graphic sexual acts," the Pennsylvania Attorney General's Office said in a statement.
Source: nbcnews.com
Maryland Police Officer Charged With 17 Counts Of Possession, Distribution Of Child Porn
Anthony M. Mileo, 53, of Huntington, Maryland was arrested at his Calvert County home  
Maryland State Police Internet Crimes Against Children Task Force received a tip in August 2019 from the National Center for Missing and Exploited Children involving the distribution of child porn online.  Authorities identified Mileo as a suspect. He was also identified as a police officer with the Maryland National Capital Park Police Department.
Source: baltimore.cbslocal.com
Over a Dozen Arrested in Florida Child Pornography Bust
 
Polk County deputies say that 17 men were arrested at the conclusion of the month-long investigation, which targeted those who possessed and shared child pornography. Among those arrested were a former middle school assistant principal, two theme park employees, and a registered nurse.
Deputies also conducted a separate special investigation during the month of October called Operation Trick-Or-Treat. During this operation, 14 men who were previously convicted of preying on children were also arrested.
Source:newsbreakinglive.com
Officials in Montgomery County, Maryland have dropped a portion of their sanctuary policy — which had been shielding criminal illegal aliens from deportation — following a series of sex crimes allegedly committed by illegal aliens.
 Montgomery County Executive Marc Elrich (D) has "quietly reversed" the county's sanctuary policy whereby agents with the Immigration and Customs Enforcement (ICE) agency had been banned from entering secure locations of the county jail to properly take custody over illegal aliens charged with crimes.
Now, Montgomery County officials will allow ICE agents to place a detainer on criminal illegal aliens in their custody and schedule a date and time to pick up those suspects from certain areas of the county jail. Still, ICE agents remain banned from entering county-owned facilities such as libraries and police stations. 
Source: breitbart.com
---
Q
BREAKING: What was former RNC chief and Trump chief of staff Reince Priebus doing meeting Clinton operative Paul Begala for lunch in September? pic.twitter.com/8eF2nSxk7A

— Paul Sperry (@paulsperry_) November 8, 2019
 Trump just sent a message to everyone , that he caught the swamp, we have everything, take a listen