Public Will Learn, Rule Of Law Returns, Bigger Than You Can Imagine – Episode 2142
Trump and the patriots are now push the economy into overdrive, everything is setup for after the event. The stimulus money is now going to people and small businesses, another round will be going out shortly. The patriots are saving the best for last, the bazooka. The [DS] event is in it's final leg, the push to change the narrative has begun, during this process, the MSM/[DS], corrupt politicians and many others are being exposed, all part of the plan. During this time Trump has been pushing a mission behind the scenes. The Rule of Law is now returning, the public will learn the truth, this is bigger than anyone could imagine.
Check Out The X22 Report Spotlight YouTube Channel X22Report Spotlight
Please check Newzsentinel.com for the latest news on the economic collapse. The Sentinel Alerts are updated throughout the day.
---
Current News – 04.07.2020
Watch The X22 Report On Video
---
Economy
The good news was that coming in at 6.882 million, down modestly from 7.012 million in January, the number smashed consensus expectation of 6.5 million which in turn was a surprisingly low number which we attribute to the fact that most analyst forgot that i) JOLTs is delayed by an extra month and ii) there were no adverse covid impacts in February.
The bad news is that since the number is for February, it is completely meaningless, especially since we now know that according to much more recent unemployment claims, the US economy has now lost over 10 million jobs in just the past two weeks.
Source: zerohedge.com
---
Political/Rights
President Trump named Kayleigh McEnany as White House Press Secretary.
Ms. McEnany was President Trump's 2020 campaign spokeswoman and will be replacing White House Press Secretary Stephanie Grisham.
Stephanie Grisham will be returning to the East Wing as First Lady Melania's chief of staff, 
Source: thegatewaypundit.com
New: Intel Chair Schiff sent a letter today to acting DNI @RichardGrenell raising concern he is reorganizing w/o receiving congressional authorization. Asks him to produce info to committee by April 16. pic.twitter.com/neHfLdptdx

— Olivia Beavers (@Olivia_Beavers) April 7, 2020
His letter was sent to the press before it was sent to me. These press leaks politicizing the intelligence community must stop. https://t.co/hdWIzGWvZr

— Richard Grenell (@RichardGrenell) April 7, 2020
The State Department on Monday rejected Hillary Clinton's effort to avoid depositions for herself and her former chief of staff in a lawsuit brought by the government watchdog organization Judicial Watch.
The former Secretary of State and her former top aide Cheryl Mills are seeking a writ of mandamus to avoid a judge's order requiring their testimony in an open records case involving Clinton's use of a private email server for government business.
"The government did not seek and thus does not support the extraordinary relief of mandamus due to the unique circumstances of this case," reads the State Department's response signed by multiple members of the Justice Department
Source: justhenews.com
Remember when HRC tweeted this out, this is now coming back to haunt her, look at these people's actions, only then can you see the truth
In the United States of America, no one is above the law. https://t.co/DGBWf5U564

— Hillary Clinton (@HillaryClinton) December 5, 2019
President Donald Trump has upended the panel of federal watchdogs overseeing implementation of the $2 trillion coronavirus law, tapping a replacement for the Pentagon official who was supposed to lead the effort.
A panel of inspectors general had named Glenn Fine — the acting Pentagon watchdog — to lead the group charged with monitoring the coronavirus relief effort. But Trump on Monday removed Fine from his post, instead naming the EPA inspector general to serve as the temporary Pentagon watchdog in addition to his other responsibilities.
Source: politico.com
The Trump administration's effort to resume federal executions got a boost   from a U.S. appeals court, which tossed a district judge's injunction that blocked four death penalty sentences from being carried out.
The 2-1 ruling by a three judge panel of the U.S. Court of Appeals for the District of Columbia Circuit could pave the way to the Justice Department carrying out the first execution of federal death row inmates since 2003, although other issues remain to be litigated.

The court concluded that U.S. District Judge Tanya Chutkan was wrong to find in her November ruling that a law called the Federal Death Penalty Act requires the federal government to follow all execution protocols in the state where the execution is set to take place. The two judges in the majority differed on what aspects of state rules the federal government have to follow.
Source: reuters.com
  U.S. Border Patrol, he recently announced that 126 miles of the border has been completed. There are 213 miles under construction and 414 miles on pre-construction. 
 c
Source: dailysignal.com
---
False Flags
Sen. Rand Paul (R-KY) announced  that he has recovered from the Chinese coronavirus and has begun volunteering at a Kentucky hospital.
 "
I appreciate all the best wishes I have received. I have been retested and I am negative. I have started volunteering at a local hospital to assist those in my community who are in need of medical help, including Coronavirus patients. Together we will overcome this!
Source: breitbart.com
BJ is doing better
Trump Asks US Pharma Companies to Help in Treatment of UK PM Boris Johnson
Take a listen
Now the [DS] is planning to use the coronovirus against Trump, 
Progressive groups that are spending millions to define President Donald Trump as an incompetent ignoramus and egomaniac during the coronavirus crisis are betting that Trump's own words at his press briefings will be their "greatest ammunition," according to a Monday Washington Post report.
As Trump uses the daily briefings to run circles around an inept and clueless legacy media
Source: breitbart.com
Source:  vigilantcitizen.com
Evolution of media's anti-Trump hydroxychloroquine spin would leave even Darwin dizzy:
1) Trump giving Americans false hope.
2) Trump peddling snake oil.
3) Trump made couple drink fish tank cleaner.
4) Hydroxychloroquine might, maybe, be helpful.
5) Trump is in it for money.

— Margot Cleveland (@ProfMJCleveland) April 7, 2020
Disgraceful of @nytimes to mislead their readers with this false narrative.

They purposely left the #'s (which are publicly available) out of the story bc it debunks their BS "Trump supports hydroxycloroquine to enrich himself" narrative.

This is why people don't trust you! https://t.co/vXziHOFSQI

— Donald Trump Jr. (@DonaldJTrumpJr) April 7, 2020
According to Trump's financial disclosure, he owns between $1,000 – $15,000 of Dodge & Cox fund.

Dox & Cox's fund has 2.9% of its money in Sanofi.

Trump owns 2.9% of btw $1,000 – $15,000.

Trump owns $29 to $435 of stock.

lol NYT didn't think anyone would do the math. pic.twitter.com/ThjWpe34ry

— Cernovich (@Cernovich) April 7, 2020
BREAKING: India has allowed the export of Hydroxychloroquine to the United States, making an exception to its earlier ban on exports to keep supply for themselves.

"The decision follows a telephone conversation between Trump and PM Modi on Saturday" pic.twitter.com/B4j8tpyL1d

— Mike Coudrey (@MichaelCoudrey) April 6, 2020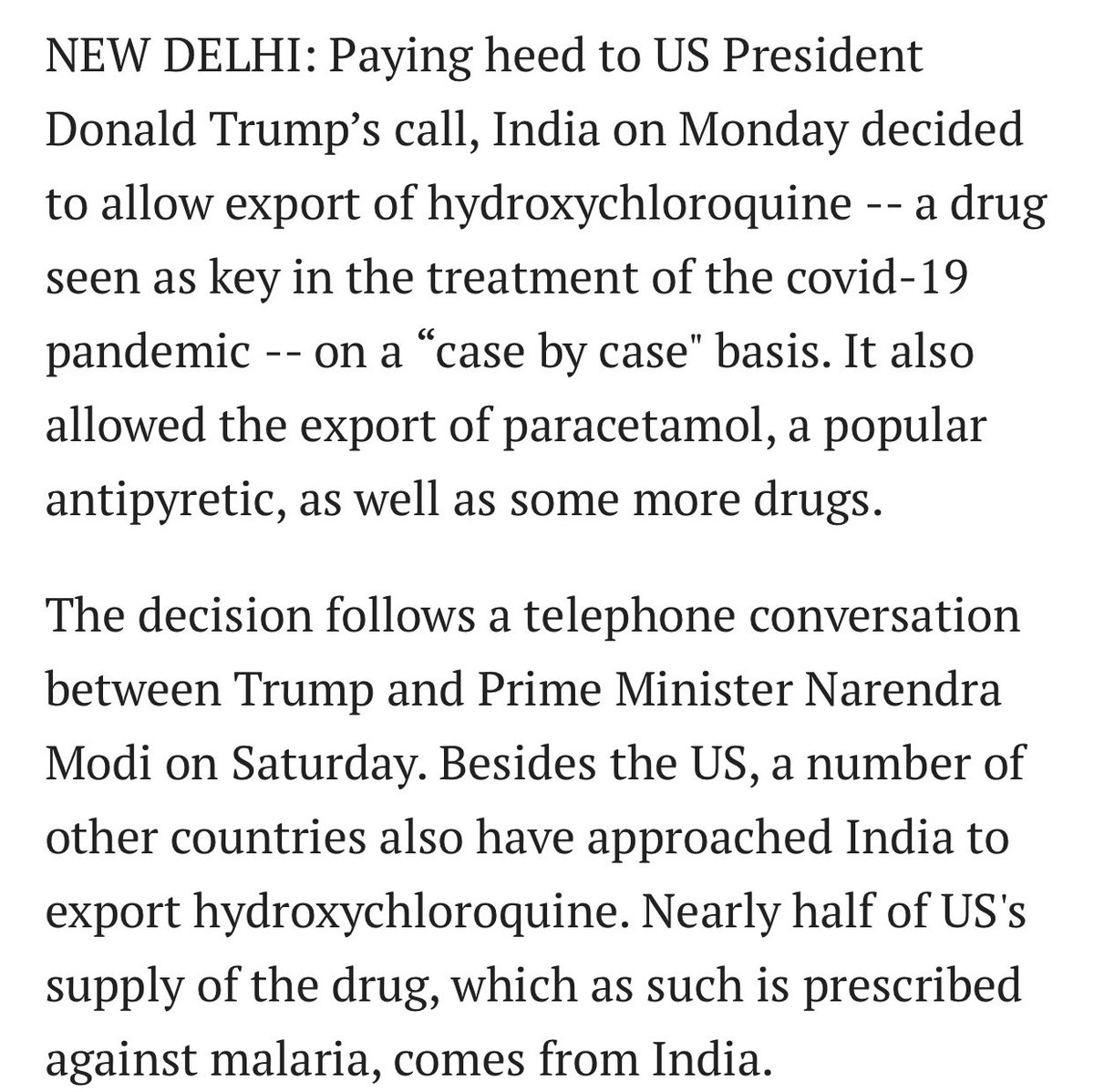 THIS IS HUGE ANONS CHECK IT OUT FOR YOURSELVES
We have much much more than we know! Q stringers and posts and wikileaks emails connection

An Anon says
I think I stumbled upon something huge that was right under our noses
So a couple of breads ago, an anon posted the following: pic.twitter.com/yRtBAxM6eu

— BusyalltheTime🌟🌟🌟 (@Jay_B83) April 7, 2020
 President Trump slammed the WHO in a tweet, accusing it of doing the bidding of China while taking the US's money 
The W.H.O. really blew it. For some reason, funded largely by the United States, yet very China centric. We will be giving that a good look. Fortunately I rejected their advice on keeping our borders open to China early on. Why did they give us such a faulty recommendation?
106K people are talking about this
Trump boasted that he did the right thing and ignored the WHO's advice when he imposed his China travel ban, and as studies have shown in recent weeks, that was perhaps the best decision his administration made during the response so far.
Source: zerohedge.com
Chanel Rion From OANN asked Trump a very interesting question about the mission, she asked if there are any other illicit activities you are going after.
TAKE A LISTEN
---
Q
Q

 

!xowAT4Z3VQ

 

ID: d5a7f5

 No.932518

Q

 

!xowAT4Z3VQ

 

ID: 8153b1

 No.932846


Connection made.
RC end.
We have grounds.
Reverting.
Thank you.
Q
Q

 

!xowAT4Z3VQ

 

ID: 8153b1

 No.932911


China.
Chongqing.
Tuesday.
Q
Q

 

!xowAT4Z3VQ

 

ID: 383caa

 No.936050

Q

 

!xowAT4Z3VQ

 

ID: 383caa

 No.936314


You have more than you know.
Steel.
Tech.
America for sale.
Systematic weakening of the US.
U1.
Cash flow funnel.
Inside job.
Traitors.
$
We are in control.
Those awake can see.
Q
Q

 

!xowAT4Z3VQ

 

ID: 383caa

 No.936472

Anonymous

 

ID: c48124

 No.936346


>>936314
Q
Please confirm or tell us if we are wrong about POTUS weekly address "It's happening" meaning what we all think it means.
>>936346
Talking to you, anon.
We always see "It's Happening" here.
The 'Tone'.
WAR.
April showers.
Q
Q

 

!xowAT4Z3VQ

 

ID: 383caa

 No.936517

Q

 

!xowAT4Z3VQ

 

ID: 383caa

 No.936472


>>936346
Talking to you, anon.
We always see "It's Happening" here.
The 'Tone'.
WAR.
April showers.
Q
>>936472
EH CA.
Relevant soon.
Q
Q

 

!xowAT4Z3VQ

 

ID: 383caa

 No.936660

Q

 

!xowAT4Z3VQ

 

ID: 383caa

 No.936517


>>936472
EH CA.
Relevant soon.
Q
>>936517
Border states are VERY key.
Bigger than you can imagine.
The pipeline.
Not R vs D.
CA is special.
Public will learn.
Q
Q

 

!xowAT4Z3VQ

 

ID: 9da7c7

 No.937520