Scavino Sends Message, [DS] Knows The Patriots Have Everything, Tick Tock – Ep. 3006
Podcast: Download (Duration: 1:05:59 — 28.9MB)
Watch The X22 Report On Video
The progressive are becoming unhappy with Biden. Everything Trump said was going to happen is happening now. The economy is falling apart and everything is pointing to Biden, there is no escape. The [DS] is panicking, they have thrown everything at Trump and it has all failed, they have no ammunition left. The counterinsurgency is working and they know controlling the narrative and the people has failed. They only have one thing left to do is to speed up the plan. Trump and the patriots were counting on this and the people are now seeing it all play out. The patriots have it all and the clock is ticking down. Scavino sends a message.
---
Economy
Several left-wing groups issued statements condemning the Biden administration's decision to nominate former MasterCard CEO Ajay Banga to be president of the World Bank, declaring the situation a missed chance to nominate a candidate more qualified to tackle climate change, Bloomberg reported Thursday.
Source: dailycaller.com
Bill Gates buys nearly $1 billion stake in beer giant – despite not being a 'big beer drinker'
Bill Gates has bought 3.76% stake in Dutch drinks giant Heineken Holding NV, although the billionaire founder of Microsoft has previously said he was "not a big beer drinker."
The filing by the Netherlands' Financial Markets Authority said the shares were purchased on Feb. 17. Heineken Holding owns a controlling stake in brewer Heineken NV.
Source: wnd.com
Cyberattack on food giant Dole temporarily shuts down North America production
A cyberattack earlier this month forced produce giant Dole to temporarily shut down production plants in North America and halt food shipments to grocery stores, 
The previously unreported hack —
"Dole Food Company is in the midst of a Cyber Attack and have subsequently shut down our systems throughout North America," Emanuel Lazopoulos, senior vice president at Dole's Fresh Vegetables division, said in a February 10 memo to retailers.
Source: wnd.com
The announcement comes days after Ericsson said it planned to lay off 1,400 workers in Sweden

Ericsson ERIC -1.97%decrease; red down pointing triangle AB plans to lay off 8,500 employees worldwide, or about 8% of its workforce, the Swedish company said Friday, while it cuts costs as orders for its 5G gear have slowed in the U.S. and other markets.

The Stockholm-based company, which sells telecommunications equipment, said layoffs would happen this year and next year. The announcement came days after the company said it planned to cut around 1,400 jobs in Sweden.
Source: wsj.com
The Federal Reserve's preferred inflation measure revealed prices rose 0.6% in January, higher than expected.
The monthly and yearly numbers came in higher than expectations.  Much of the increase came in food and energy prices.
USNews reported:
Source: thegatewaypundit.com
Lost in  a $1.7 trillion pork pie omnibus appropriations bill   has been one spectacular giveaway: $100,000 per beneficiary of the Central States Pension Fund (CSPF). The fund provides pension benefits to nearly 360,000 private-sector workers and retirees, mostly Teamsters Union members. U.S. Rep. Kevin Brady, R-Texas, called the deal out in December, noting it was "the largest private pension bailout in American history" that benefited only "a tiny minority of workers." He suggested it resulted from the insanity of "allowing those who mismanaged pensions to determine whether their funds qualify for taxpayer assistance with no safeguards."
Workers of the world are not united here. This is a cash grab benefiting one group of roughly 360,000 (3 percent) of the 11 million participants in the multi-employer plans.
And Covid, schmovid. Even before the panic and the lockdowns, the Congressional Research Service reported that the multi-employer pensions were underfunded by $650 billion. In 2018, CSPF had been projected to reach insolvency by 2025.
Now a precedent has been set. The Congressional Budget Office has already said: Sorry, the $86 billion the American Rescue Plan tagged for the union pension plans is not enough. Meanwhile, taxpayers more broadly are faced with a bigger devil lurking in the shadows. America's public pension plans have robbed the henhouse for years through risky investments, chronic underfunding, implausible rate of return projections, inadequate employee contributions, overly generous benefits, and just plain public-sector greed. These state and local pensions present a problem to be measured in the trillions of dollars.
How much is the Teamsters' mere $36 billion? To put it in perspective, you could run the state of Colorado for a year on that money. You could run all five states of New Hampshire, Vermont, South Dakota, Wyoming, and Idaho, and still have billions left over. The $36 billion is $108 from each man, woman, and child in America into the pockets of the Teamsters. And the White House bragged about it in a press release.
Source: thefederalist.com
---
Political/Rights
"Mr President, Donald Trump, I want to meet you so bad; mainly to apologize face to face for allowing the media to influence my opinion of you. I've been digging and doing my research man… so many hidden things they hid that you're ere doing. If you run again, you have my vote this time. I'm not a media puppet anymore. I see."
rumble.com/v2apq6k-president-d
@DanScavino
·

Rep. James Comer announced tonight that many are cooperating with the investigation that Congress is conducting into the Biden Crime Family, including Eric Sherwin, who was one of Hunter's closest associates and a key figure throughout the laptop and all the Biden family correspondence
The birds are starting to sing!
---
Geopolitical/Police State
Ohio Department of Natural Resources Estimates 44,000 Animals Killed By East Palestine Train Derailment
As government officials continue to claim that the air and water are fine after a train carrying hazardous chemicals derailed in Ohio, the state's Department of Natural Resources estimated that 44,000 animals have died from the toxic contamination.
Of the 44,000 dead animals, the ODNR said that an estimated 38,222 were minnows, ranging in size between 1 and 3 inches.
"ODNR used a calculation endorsed by the American Fisheries Society to estimate the total number of minnows killed in the entire 5-mile span of waterway from the derailment site to the point where Bull Creek flows into the north fork of Little Beaver Creek," the department said in a statement. "Of the estimate, 38,222 were minnows, ranging in size between 1 and 3 inches."
Source: thegatewaypundit.com
Is this how we can expect Biden to handle environmental disasters in red states? 
While Joe Biden has yet to appear in East Palestine, Pete Buttigieg finally arrived on scene in the early morning hours of February 23, nearly three weeks after the accident.  It didn't go well.  After surveying the area of the accident, he took questions from reporters.  Asked if he had waited too long to speak about the train derailment, he responded by acknowledging that "letting a week and a half go by before tweeting about the train derailment was too long."  He then told reporters he had "tried to balance his desire to get involved with the norm of transportation secretaries."
Adding further insult, it's not out of the realm of possibility that, having been advised on the combination of toxic chemicals in the air, in the water, and on the ground in East Palestine, Mayor Pete waited for the contaminants to sufficiently dissipate to be considered relatively safe for his short visit. 
Source: americanthinker.com
BREAKING: Joy Behar says East Palestine got what they deserved because they voted for Trump

"That's who you voted for!" pic.twitter.com/xbYOlfkVCu

— Jack Posobiec 🇺🇸 (@JackPosobiec) February 23, 2023
In response to the "Online News Act" legislation that Justin Trudeau's government introduced in April, Google is currently testing blocking access to news content for some Canadian users.
Reuters reports that the "Online News Acts" will require platforms like Google and Facebook to compensate news publishers for their content. The tech giant acknowledged that the tests "limit the visibility of Canadian and international news to varying degrees." and affect a random sample of about four percent of Canadian users.
Months ago, President Trump also unveiled his own plans to support a Digital Bill of Rights if reelected on his Rumble Channel, and Forbes Magazine has advocated in favor of increased online protections.
Earlier this month, Florida Gov. Ron DeSantis proposed his plans for a Digital Bill of Rights on his Twitter page.
The first will "protect the right to participate in online platforms without unfair censorship."
The second would "protect the right to know how these internet engines are manipulating search results. Transparency in terms of what we're doing so that you can evaluate whether that's a search engine you want to use, or maybe you want to take your business elsewhere."
The third principle protects the "right to control all your personal data on the largest and most common platforms. They take that personal data and they make a fortune off of your personal data. So you're talking about Google, Facebook: just a handful of these companies. They should really get express authorization from you before they're able to monetize that or use it in any way."
The fourth and final element of the proposed legislation would ensure that, "the Digital Bill of Rights aims to protect children from various online harms. And as we see, that's a huge issue."
Source: rsbn.com
QFF.jpg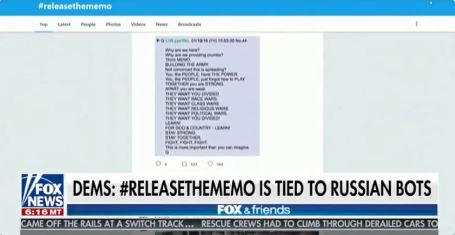 Thank you F&F!
Coincidence?
AT&T>No Such Agency [contract].
AT&T>GOOG/FB/etc. 'prevent unfair censorship' PUSH.
Internet Bill of Rights.
Q
Ohio Republicans are working to block local government and law enforcement agencies from assisting the federal government in enforcing federal acts, laws or executive orders related to firearms, according to recently introduced legislation.
Republican Ohio state Reps. Mike Loychik and Jean Schmidt introduced House bill 51 into the Ohio Legislature on Feb. 15, saying the bill was a protection for police officers who did not want to enforce President Joe Biden's "brigade against Ohioans," according to The Columbus Dispatch. Under the bill, federal laws that relate to the "possession, ownership, use or transfer of a firearm, accessory or ammunition by law-abiding citizens," or laws that call for "confiscating firearms, accessories or ammunition from law-abiding citizens" would be blocked from enforcement, according to the legislation.
Source: beckernews.com
I attended public school from the first grade until my senior year of high school, as did my wife and our four children.

I am pro-education.

That's why I introduced HR 899, a bill to eliminate the US Department of Education.

Get the Feds out of our classrooms.

— Thomas Massie (@RepThomasMassie) February 23, 2023
---
War
North Korea has warned the US that its persistent "hostile and provocative practices" in flagrant disregard of repeated protests on the part of Pyongyang may be construed as a 'declaration of war', according to state-run Korean Central News Agency (KCNA).
The warning was issued by Kwon Jong-gun, the director-general of the North Korean Foreign Ministry's US affairs department.
The only way to quell the "vicious cycle" of escalating military tensions on the Korean Peninsula and in the surrounding region, according to the foreign ministry's official, was for Washington to abandon plans to deploying strategic assets in the South and put and end to joint military drills with allies.Elsewhere in his statement, Kwon Jong-gun lambasted the fact that the US and South Korea "put a sovereign state's legitimate right to self-defence on the agenda of the UNSC" and strongly protested and denounced the move.
The official warned of "strong corresponding action" should the United Nations Security Council discuss North Korea's right to self-defense, and deplored the fact that the Council had become nothing but a tool used to exert Washington's pressure on the Democratic People's Republic of Korea.
"If the UNSC has a true intention to contribute to peace and security in the Korean peninsula, it will have to bitterly condemn the U.S. and south Korea for their moves of escalating military tension such as frequent deployment of strategic assets and large-scale joint military drills against the DPRK," the minister added.
Source: sputniknew.com
#1 NEW: Victoria Nuland, a key architect of the Iraq War, responds to Elon Musk's tweet stating she is pushing for more war in Ukraine.

"If we don't support the victim in this aggression, then this aggression will be replicated all over the planet."https://t.co/O06bTvQf8i pic.twitter.com/EeIRFOHOlC

— kanekoa.substack.com (@KanekoaTheGreat) February 24, 2023
China urges for the END of Russia's invasion of Ukraine as it calls for a cease-fire and peace talks: Beijing releases 12-point plan to solve conflict on eve of the anniversary of Putin's war
China's foreign ministry said on Thursday: 'Conflict and war benefit no one' 
The call for peace talks come on the eve of the Ukraine War's first anniversary
Ukrainian President Volodymyr Zelensky called it an important first step 
NATO Secretary-General Jens Stoltenberg on Friday reacted reservedly to the Chinese proposal, saying Beijing did not have a lot of credibility as a mediator.
WHAT IS CHINA'S 12-POINT CEASE-FIRE PROPOSAL?

 1. Respecting the sovereignty of all countries.

Universally recognised international law, including the purposes and principles of the United Nations Charter, must be strictly observed. The sovereignty, independence and territorial integrity of all countries must be effectively upheld. All countries, big or small, strong or weak, rich or poor, are equal members of the international community. All parties should jointly uphold the basic norms governing international relations and defend international fairness and justice. Equal and uniform application of international law should be promoted, while double standards must be rejected.

2. Abandoning the Cold War mentality. 

 The security of a country should not be pursued at the expense of others. The security of a region should not be achieved by strengthening or expanding military blocs. The legitimate security interests and concerns of all countries must be taken seriously and addressed properly. There is no simple solution to a complex issue. All parties should, following the vision of common, comprehensive, cooperative and sustainable security and bearing in mind the long-term peace and stability of the world, help forge a balanced, effective and sustainable European security architecture. All parties should oppose the pursuit of one's own security at the cost of others' security, prevent bloc confrontation, and work together for peace and stability on the Eurasian Continent.

3. Ceasing hostilities.

Conflict and war benefit no one. All parties must stay rational and exercise restraint, avoid fanning the flames and aggravating tensions, and prevent the crisis from deteriorating further or even spiralling out of control. All parties should support Russia and Ukraine in working in the same direction and resuming direct dialogue as quickly as possible, so as to gradually de-escalate the situation and ultimately reach a comprehensive ceasefire.

4. Resuming peace talks.

Dialogue and negotiation are the only viable solution to the Ukraine crisis. All efforts conducive to the peaceful settlement of the crisis must be encouraged and supported. The international community should stay committed to the right approach of promoting talks for peace, help parties to the conflict open the door to a political settlement as soon as possible and create conditions and platforms for the resumption of negotiation. China will continue to play a constructive role in this regard.

5. Resolving the humanitarian crisis.

All measures conducive to easing the humanitarian crisis must be encouraged and supported. Humanitarian operations should follow the principles of neutrality and impartiality, and humanitarian issues should not be politicised. The safety of civilians must be effectively protected, and humanitarian corridors should be set up for the evacuation of civilians from conflict zones. Efforts are needed to increase humanitarian assistance to relevant areas, improve humanitarian conditions, and provide rapid, safe and unimpeded humanitarian access, with a view to preventing a humanitarian crisis on a larger scale. The UN should be supported in playing a coordinating role in channelling humanitarian aid to conflict zones.

6. Protecting civilians and prisoners of war (POWs).

Parties to the conflict should strictly abide by international humanitarian law, avoid attacking civilians or civilian facilities, protect women, children and other victims of the conflict, and respect the basic rights of POWs. China supports the exchange of POWs between Russia and Ukraine, and calls on all parties to create more favourable conditions for this purpose.

7. Keeping nuclear power plants safe.

China opposes armed attacks against nuclear power plants or other peaceful nuclear facilities, and calls on all parties to comply with international law including the Convention on Nuclear Safety (CNS) and resolutely avoid man-made nuclear accidents. China supports the International Atomic Energy Agency (IAEA) in playing a constructive role in promoting the safety and security of peaceful nuclear facilities.

8. Reducing strategic risks. 

Nuclear weapons must not be used and nuclear wars must not be fought. The threat or use of nuclear weapons should be opposed. Nuclear proliferation must be prevented and nuclear crisis avoided. China opposes the research, development and use of chemical and biological weapons by any country under any circumstances.

9. Facilitating grain exports.

All parties need to implement the Black Sea Grain Initiative signed by Russia, Türkiye, Ukraine and the UN fully and effectively in a balanced manner, and support the UN in playing an important role in this regard. The cooperation initiative on global food security proposed by China provides a feasible solution to the global food crisis.

10. Stopping unilateral sanctions.

Unilateral sanctions and maximum pressure cannot solve the issue; they only create new problems. China opposes unilateral sanctions unauthorised by the UN Security Council. Relevant countries should stop abusing unilateral sanctions and 'long-arm jurisdiction' against other countries, so as to do their share in deescalating the Ukraine crisis and create conditions for developing countries to grow their economies and better the lives of their people.

11. Keeping industrial and supply chains stable.

All parties should earnestly maintain the existing world economic system and oppose using the world economy as a tool or weapon for political purposes. Joint efforts are needed to mitigate the spillovers of the crisis and prevent it from disrupting international cooperation in energy, finance, food trade and transportation and undermining the global economic recovery.

12. Promoting post-conflict reconstruction.

The international community needs to take measures to support post-conflict reconstruction in conflict zones. China stands ready to provide assistance and play a constructive role in this endeavour. Source: dailymail.co.uk
A Russia-China alliance is inevitable. It will grow much stronger over time.

— Elon Musk (@elonmusk) February 24, 2023
The sirens that went off in Ukraine during Biden's speech were STAGED, FAKE, PHONY. He knew it, and so did everyone else. Scam!
---
False Flags
Don't let the CDC and their minions confuse you with spin. In Florida, total vaccines administered increased by 400% after mRNA COVID-19 vax was introduced, while adverse events increased by 1700%.

— Joseph A. Ladapo, MD, PhD (@FLSurgeonGen) February 23, 2023
Florida saw a 1,700% increase in adverse event reports after COVID-19 vaccinations. Does that sound safe and effective? I didn't think so either. That's why we released this health alert.
 
Just because "correlation ≠ causation" doesn't mean we should abandon common sense. https://t.co/uknKQoeowQ

— Joseph A. Ladapo, MD, PhD (@FLSurgeonGen) February 16, 2023
Through their obvious lies about the safety, need, and efficacy of COVID shots, @CDCgov has done more in the past three years to promote vaccine hesitancy for childhood immunizations than any group in modern history. It's been eye opening.

— Thomas Massie (@RepThomasMassie) February 24, 2023
---
Q
No
They were peaceful until cops started tear gassing everybody, including fellow cops, and then people moved to find breathable air
If you have 100 people stacked behind you, of course you'll move forward to literally breathe
MASSIVE J6 DISCOVERY
Timelapse video of the West Side of the Capitol shows the crowd move past police lines at 2:27 PM EST
You know what happened at 2:26 PM?
Bodycam footage shows a cop shooting a tear gas grenade *into police lines* causing them to retreat for air
Watch!
One cop asks the question, "What do we got that can push them? Munitions wise?" The other responds they can beat one [innocent] protester, creating a multiplier effect on the angry mob. https://t.co/dTt8W5MaoS

— Kingmaker – Big IF! (True) (@KingMakerFT) February 23, 2023
Just to make every one of those people suffering from Trump Derangement Syndrome feel better, it doesn't really matter that the jury foreperson went on a Media rampage, thereby badly tainting the case and making it impossible to bring, because I did absolutely NOTHING WRONG! Two perfect phone calls on Election Integrity, that's it! The D.A. should go after the murderers and other violent criminals in Atlanta, one of the most dangerous cities in the World, and leave honest people alone!
KJP called Joe Biden as President Obama. pic.twitter.com/lEgAoxa5ko

— Becker News (@NewsBecker) February 23, 2023
Candidates moving to challenge former President Donald Trump for the 2024 nomination, like South Carolina Sen. Tim Scott and former U.N. Ambassador Nikki Haley, have tried to position themselves as the face of a younger, more optimistic and policy-minded Republican Party. They are bolstered by polling that suggests that Republican voters want a different candidate than Trump.

Source: rawstory.com
— Dan Scavino Jr.🇺🇸🦅 (@DanScavino) February 24, 2023
There are more good people than bad. The wizards and warlocks (inside term) will not allow another Satanic Evil POS control our country. Realize Soros, Clintons, Obama, Putin, etc. are all controlled by 3 families (the 4th was removed post Trump's victory).
11.3 – Podesta indicted
11.6 – Huma indicted
Manafort was placed into Trump's camp (as well as others). The corruption that will come out is so serious that deals must be cut for people to walk away otherwise 70% of elected politicians would be in jail (you are seeing it already begin). A deep cleaning is occurring and the prevention and defense of pure evil is occurring on a daily basis. They never thought they were going to lose control of the Presidency (not just D's) and thought they had control since making past mistakes (JFK, Reagan).
Good speed, Patriots.
PS, Soros is targeted.
Q

 

!!Hs1Jq13jV6

 

ID: f4dc5f

 No.9991332