Sometimes You Must Lose Everything To See Who Is Loyal, Illusion No More – Ep. 2865
Podcast: Download (Duration: 1:11:48 — 31.5MB)
Watch The X22 Report On Video
Russia is shutting down gas to Germany because of leaks. The People are hitting the precipice and now there is talk of protests when winter hits. This movement will bring down the [CB]/[WEF] and it will spread world wide. The [DS] is now stripping the illusion away, their roles that have used for years are no longer working, now they are reacting out of panic and fear and people can see their true selves. When Trump allowed the [DS] to move into the WH, he did it so he could see the entire board and to see who was loyal. Those who thought that they won allowed their true inner person to come out and Trump was able to see this very clearly. Now [JB] and the puppet masters are so panicked that they have removed their roles and the people can now see their true inner evilness.
---
Economy
  Manufacturing surveys signaling a slowdown in the US economy, analysts expected US factory orders to grow at just 0.2% MoM in July (and overall durable goods orders unchanged), but they were way off as July factory orders tumbled 1.0% MoM and June was revised down from +2.0% to +1.8% MoM…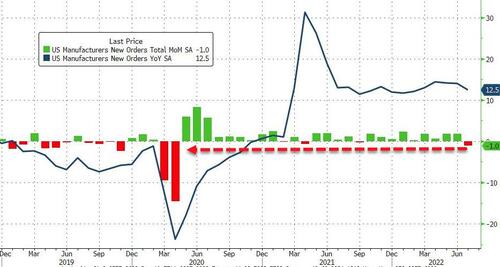 That is the first drop in factory orders since September 2021 and biggest drop since the peak of the COVID lockdown crisis in April 2020
The main driver of this disappointment was a lack of war-buying – Defense Aircraft and Parts tumbled 49.7% MoM after spiking 78.3% MoM last month…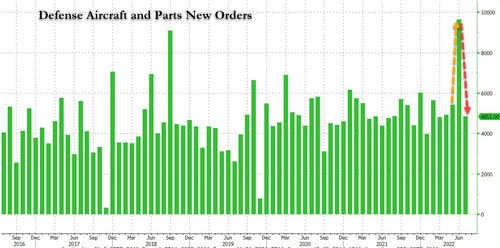 Source: zerohedge.com
The poll asked respondents, "In your opinion, what is the most urgent issue facing the country today: Russia's invasion of Ukraine, COVID-19, inflation, climate change, health care, racial inequality, immigration, election laws, abortion, gun violence, or crime?"
Inflation ranked first at 27 percent with no other issue reaching double digits: Gun violence (nine percent), global warming (nine percent), abortion (nine percent), immigration (eight percent), Ukrainian war (two percent), and coronavirus (one percent).
Source: breitbart.com
Thanks to President Biden, more than 1 million prisoners received Covid stimulus checks. Maybe he can send his 87,000 new IRS agents to retrieve those rather than go after hard-working Americans.

— Mike Pompeo (@mikepompeo) September 1, 2022
Energy Shortages And Inflation Threaten Civil Unrest In Europe
According to risk consultancy Verisk Maplecroft, the world is facing an unprecedented rise in civil unrest due to rising inflation and energy costs.
In Europe, even some of the wealthiest nations are facing extreme risk of protest, including the Netherlands and Germany.
While wealthy governments may be able to buy more time, it appears that the worst of this crisis is yet to come.
"The data, covering seven years, shows that the last quarter saw more countries witness an increase in risks from civil unrest than at any time since the Index was released," he noted.
If that's not bad enough, Soldvedt said that the worst is still to come.
"With more than 80% of countries around the world seeing inflation above 6%, socioeconomic risks are reaching critical levels. Almost half of all the countries on the CUI are now categorized as high- or extreme-risk, and a large number of states are expected to experience a further deterioration over the next six months."
Source:  oilprice.com/
---
Political/Rights
Breaking News: President Biden named John Podesta, who led the Obama White House on climate strategy, to oversee $370 billion in clean energy funds under a landmark new climate law. https://t.co/87o4ITOqwi

— The New York Times (@nytimes) September 2, 2022
15  
Anonymous
10/31/2017 23:00:47
 ID: grTMpzrL
4chan/pol: 147434025
34  
Anonymous
11/01/2017 22:56:16
 ID: pGukiFmX
4chan/pol: 147567888
---
Geopolitical/Police State
"Over 50 officials in President Joe Biden's administration across a dozen agencies have been involved with efforts to pressure Big Tech companies to crack down on alleged misinformation, according to documents released on Aug. 31," the Epoch Times reported.
"Senior officials in the U.S. government, including White House lawyer Dana Remus, deputy assistant to the president Rob Flaherty, and onetime White House senior COVID-19 adviser Andy Slavitt, have been in touch with one or more major social media companies to try to get the companies to tighten rules on allegedly false and misleading information on COVID-19, and take action against users who violate the rules, the documents show," the report added.
A Facebook employee (name redacted) contacted the CDC on July 28, 2021 seeking assistance with policing conversations that American citizens were having about Covid-19 and their government's response to the pandemic. The subject header is "RE: FB Misinformation Claims_Help Debunking."
"Great!" the unnamed Facebook employee said. "I'll let [redacted] gather some more claims and before we set a date, I'll reach out on topics so you can get the right folks on the call."
"Yes, we would love to do that," a CDC employee replied. "I do think getting the claims several days in advance will be critical to being sure we have what you need."
"Thank you so much, [redacted]," the Facebook employee replied. "[Redacted] and I have been talking about in addition to our weekly meetings, doing a monthly misinfo/debunking meeting, with maybe claim topics communicated a few days prior so that you can bring in the matching experts and chat casually for 30 minutes or so. is that something you'd be interested in?"
Source: beckernews.com
Top Republican Senators Demand Facebook Hand Over Information…
dcenquirer.com/republicans-zucTop Republican Senators Demand Facebook Hand Over Information About Hunter Biden Laptop Censorship – DC Enquirer
More and more Leftists are waking up to the clear evidence that Facebook and Twitter censored the Hunter Biden laptop story for political purposes. At this
989  
Q
!xowAT4Z3VQ
04/02/2018 23:47:24
 ID: 491f56
8chan/qresearch: 875289
New York's Concealed Carry Improvement Act comes into effect today.
 
A federal judge, dismissing a challenge to the law, said that its provisions are 'vague' and 'confusing.'
New York now requires all applicants for a concealed carry permit to supply social media history to authorities,  
The new rules, which were included in Senate Bill 51001 – known as the Concealed Carry Improvement Act (CCIA) and signed by Democratic Gov. Kathy Hochul on July 1 — increase the requirements for New York residents to obtain a concealed carry permit for a pistol.
The new requirements mandate that new applicants for permits attend 16 hours of classroom instruction on firearm safety, as well as provide character references and three years' worth of social media account history, including former accounts, to verify their "character and conduct" as suitable for firearm possession.
Additionally, the duration of firearm permits issued in New York City and surrounding counties, as well as all concealed carry permits in the state, will be shortened to three years, down from five years under previous rules. Renewal applicants must meet the new requirements.
Source: dailycaller.com
---
War
Taiwan shoots down 'unidentified drone'
Taiwan has said it was forced to shoot down a drone flying between the Chinese coastline and an island controlled by Taipei, claiming it was exercising its right to self-defense while suggesting Beijing was behind the alleged incursion.
Premier Su Tseng-chang outlined the drone incident during a Friday press conference, saying an unidentified "civilian" UAV entered Taiwan's airspace the day prior and was shot down by the military.
"They repeatedly ignored our warnings to leave and we had no choice but to exercise self-defense and shoot. This is the most appropriate reaction," he said, adding that China should exercise restraint.
Source: rt.com
---
False Flags
A CDC panel on Thursday voted in favor of approving the latest Covid booster shot that hasn't even been tested on humans.
CDC Director Rochelle Walensky still has to give the final approval.
Source: thegatewaypundit.com
---
Q
Pennsylvania's Republican gubernatorial candidate Doug Mastriano has filed a lawsuit against the January 6 Committee.
Mastriano filed his lawsuit on   afternoon in federal court. He was subpoenaed in February over alleged involvement in an alternate electors plan.
In his lawsuit, Mastriano points out that edited clips from interviews could be used to "improperly influence the midterm elections."
The 21 page lawsuit also argues that the committee cannot compel depositions because they do not have any members designated by the Republican Party to represent them. "Central to this issue is the fact that this Committee lacks a Ranking Minority Member, or any members designated by the minority party," the lawsuit, which was obtained by Politico, says. "Although Courts have previously held that, despite this defect, the Committee has the power to issue subpoenas, no Court has ever examined the issue of whether this particular Committee is able to comply with the Deposition Regulations which explicitly require certain actions to be taken by the Ranking Minority Member."
The suit adds that the lack of a "Ranking Minority Member or minority party representation does impact the substantive rights of the witness and, therefore, must be examined differently than prior litigation."
  outgoing Reps. Liz Cheney and Adam Kinzinger do not count because they "follow ideologies that are inconsistent with their own party, instead choosing to pursue the priorities of the Democratic Caucus."
Mastriano is asking the judge to rule that he cannot be forced to sit for a deposition and to be awarded legal fees from the panel.
Source: thegatewaypundit.com
— Julie Kelly 🇺🇸 (@julie_kelly2) September 2, 2022
Oh I think Maggie Haberman said he flushed them down the toilethttps://t.co/yp0LjM8JXB

— Julie Kelly 🇺🇸 (@julie_kelly2) September 2, 2022
#EmptyFolders is actually trending lol

Maybe Trump had photos of you and Fang Fanghttps://t.co/yNqPI499jd

— Julie Kelly 🇺🇸 (@julie_kelly2) September 2, 2022
the DOJ's claim to continue with this shroud of Secrecy." NOTE: With backing ranking republicans three committees for FBI + DOJ, letter suggests no internal turf wars for oversight of Mar-a-Lago case, if house flips in November.

— Catherine Herridge (@CBS_Herridge) September 2, 2022
The speech @POTUS gave last night is one of the most important I've seen a president give. We must name the threat our democracy faces–including a MAGA faction that incites violent insurrections and rejects the rule of law—in order to overcome it together. pic.twitter.com/7Qiy4vmTh8

— Hillary Clinton (@HillaryClinton) September 2, 2022
"'Reject the evidence of your eyes and ears.', it was their final, most essential, command."
-G. Orwell pic.twitter.com/wJ4iRXdaAf

— The Redheaded libertarian (@TRHLofficial) September 2, 2022
None of the major networks carried this tonight. They know if they did 99% of America would've run the other direction. They are attempting a few things. They are baiting – we won't fall for it. We aren't a violent bunch. They are also anticipating that if they can get away with the second coming of Hitler without pushback, they have carte blanche. This was a big mistake for them. Huge tactical error saying all of this in front of our marines while shrouded in red like an authoritarian dictator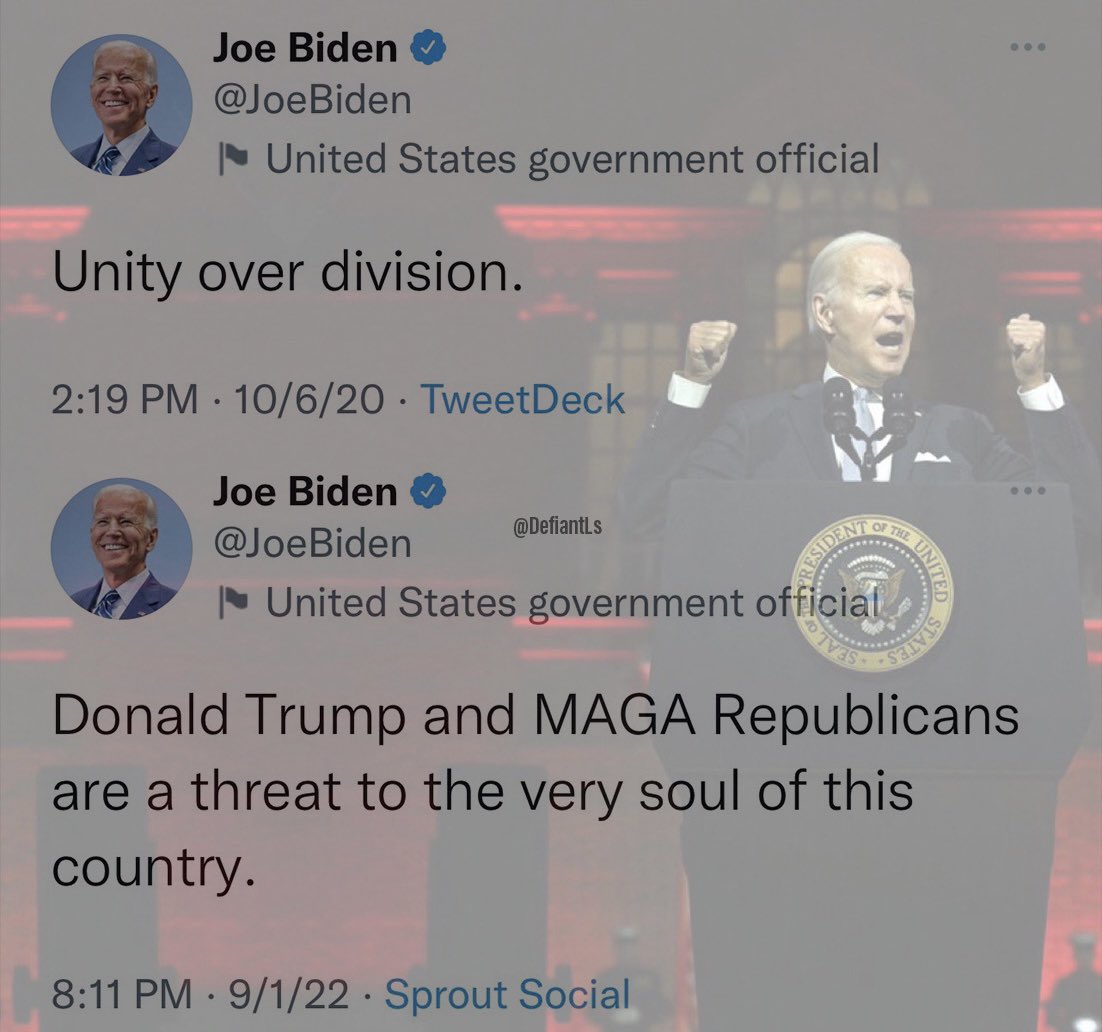 The venue, backdrop of military and and the red color scheme were all carefully chosen and crafted for maximum visual impact tonight for Biden's speech.
You got the message whether you wanted to or not.
Remember in November.
Who is the Biden regime at war with and how will the regime win this war? Be specific. https://t.co/TEQUWx3S9j

— Sean Davis (@seanmdav) September 2, 2022
You will conform to the new control mechanisms.
You will conform to the lockdowns.
You will conform to the social distancing.
You will conform to the mask wearing.
You will conform to the mandated vaccination.
You will conform to the new energy economy.
You will conform to the new electric vehicles.
You will conform to the new energy equity programs.
You will conform to the new speech guidelines.
You will conform….
Everything about the "new democracy," the Build Back Better democracy, is based on conformity.
Source: theconservativetreehouse.com
Mentions in Biden's speech:

China: 0
Crime: 0
Inflation: 0
Fentanyl: 0
The Border: 0
Charlottesville: 1
January 6th: 2
Insurrection: 3
Donald Trump: 3
Extremism: 7
Violence: 10
MAGA: 13
Republicans: 16

Priorities.

— Charlie Kirk (@charliekirk11) September 2, 2022
These are the maga threats
– Bring manufacturing home
– Pro-family policies
– Better trade deals
– Enforce anti-trust laws and stop corporate monopolies
– Fight government corruption
– Stop funding endless wars
– Fix social security

What part of this extreme MAGA agenda is a threat to democracy?

— Greg Price (@greg_price11) September 1, 2022
the military is supposed to be apolitical. Positioning Marines in uniform behind President Biden for a political speech flies in the face of that.  
 Biden's speech  was to justify the arrest of his predecessor  
throughout history Dictators who lose control divide the people, then they blame everything they have done on the opposing group within the population. They will raid, threaten, and project everything they are doing on their opponent and those that support him/her.  As the dictator continues to lose control and the people of the country are turning against him/her they must regain control and force people to conform, this is done by using force, like the military or specialized squads.   
Someone should explain to Joe Biden, slowly but passionately, that MAGA means, as powerfully as mere words can get, MAKE AMERICA GREAT AGAIN! If he doesn't want to Make America Great Again, which through words, action, and thought, he doesn't, then he certainly should not be representing the United States of America!
If you look at the words and meaning of the awkward and angry Biden speech tonight, he threatened America, including with the possible use of military force. He must be insane, or suffering from late stage dementia!
Trump retruthed
Sometimes you must show the people.  Why did Trump lose, sometimes you must lose everything to see the truth, to see who is loyal .
People use roles, when in public they pretend to be something they are not, to see past their role you must remove it, the only way to do this is to make the that person/people lose control, once they are in the state of panic/fear and they feel they have lost control they will remove the role and you will see very clearly who they really are.
MAtT Rowell hIXso@matthixson17
4414  
Q
!!Hs1Jq13jV6
06/04/2020 19:49:59
 ID: 866b8a
8kun/qresearch: 9473673
DWuttxKVwAARaSd.jpg-large.jpg

Fellow Patriots:
What you are about to learn should not only scare you, but intensify your resolve to take back control
[Freedom]
. The information that will become public will further demonstrate the criminal & corrupt
[pure evil]
abuse of power that the Hussein administration undertook in joint efforts w/ domestic and foreign dignitaries. The snowball has begun rolling – there is no stopping it now. D5.
Stay the course and trust the plan.
Protective measures are in place.
Remain BRAVE.
We knew this day would come.
https://www.youtube.com/watch?v=G2qIXXafxCQ
United We Stand (WW).
WWG1WGA.
We FIGHT.
Conspiracy no more.
Q