Terrorists Tracked,At The Moment Of Destruction Will People Find The Will To Change – Episode 2191
The economy is moving forward, we see businesses opening, we see real estate picking up, we see the economy coming alive again. Home sales in Houston spike, the people who were waiting to purchase a house doing it now. Trump is ready to sign an EO, the EO would expedite the permitting of construction projects despite environmental rules. The [DS]/MSM is now pushing their agenda, but this new event has failed, Trump and the patriots are in control and they are tracking and monitoring those involved in the latest event. The pandemic has basically ended, HCQ report has been retracted and now the [DS] is planning their next event. The people are waking up, the people are now seeing the truth.
Check Out The X22 Report Spotlight YouTube Channel X22Report Spotlight
Please check Newzsentinel.com for the latest news on the economic collapse. The Sentinel Alerts are updated throughout the day.
---
Current News – 06.04.2020
Watch The X22 Report On Video
---
Economy
Buyers closed on 2,401 homes during the week ended June 1, a 50 percent jump over the same period a year earlier, new data from the Houston Association of Realtors show.
Many of those who were intending to buy during the shut down are coming back to the market this summer.
Source:  houstonchronicle.com
After small businesses left more than $140 billion in the expanded 'PPP' program tank (underlining how the Democrats' calls for a $3 trillion stimulus package was a calculated, political tactic), the Senate on Wednesday voted to pass a bill allowing for more flexibility in how companies spend their money.
The bill was the product of a bipartisan deal that finally cleared the hurdle after Sen. Ron Johnson of Wisconsin finally relented on several changes.
The bill purports to respond to complaints from actual small business owners, and changes the thresholds for how much of the program's relief money can be spent on payroll, as well as the qualifications for a loan to transition into a grant. 
Trump is expected to sign the bill.
Source: zerohedge.com
Trump expected to sign order lifting environmental review for big projects
---
Political/Rights
Graham on subpoenas: Now that we figured out that the Mueller investigation was driven by people who hate Trump's guts, no one seems to care..I want to find out why they kept going after Flynn, when everyone says he shouldn't have been part of Crossfire Hurricane

— Chad Pergram (@ChadPergram) June 4, 2020
Kyiv's court authorizes compulsory interrogation of Poroshenko on June 10
Kyiv's court authorizes compulsory interrogation of Poroshenko  , Kyiv's Pechersky District Court has ruled that fifth president of Ukraine, Member of Parliament Petro Poroshenko must be brought to the premises of the State Bureau of Investigation (SBI) for questioning on June 10. The court's ruling that authorizes compulsory interrogation of Poroshenko was passed on June 4, the SBI's press service said.  Source:  unian.info
---
Geopolitical/Police State
I am to happy announce that Navy Veteran, Michael White, who has been detained by Iran for 683 days, is on a Swiss plane that just left Iranian Airspace. We expect him to be home with his family in America very soon….

— Donald J. Trump (@realDonaldTrump) June 4, 2020
….I will never stop working to secure the release of all Americans held hostage overseas! Thank you Switzerland for your great assistance.

— Donald J. Trump (@realDonaldTrump) June 4, 2020
Backchannels are important

---
False Flags
  Europe in the last several weeks. The Wall Street Journal has compiled a list of officials from countries who have overwhelmingly reported, that after a month or so of having education systems open, there are limited to no outbreaks of the virus.
Schools in Denmark, Austria, Norway, Finland, and Germany, have been operating for 1-2 months with no issue whatsoever about the virus. This is excellent news for American parents but also for stubborn US education officials who continue to shutter many school systems across the country for the upcoming academic year.
Source: zerohedge.com
Cuomo says George Floyd protesters should assume they've been exposed to COVID-19
New York Governor Andrew Cuomo said Thursday that people in New York City protesting George Floyd's death should assume they've been exposed to the coronavirus. "If you were at a protest I would assume you're exposed," Cuomo said.
Source: cbsnews.com
It was just more than a week ago that crowds gathered at Missouri's Lake of the Ozarks to enjoy the Memorial Day weekend. With the celebrations however, came sharp criticism over the lack of social distancing featuring fearmongering elites shaming those relishing the springtime sunshine.
Former Missouri Democratic Sen. Claire McCaskill was among those quick to demonize the apparent selfish behavior as "embarrassing" for her home state.

The densely crowded protests would soon draw the attendance of House Speaker Nancy Pelosi and Massachusetts Democratic Sen. Elizabeth Warren, both over the age of 65 putting them at higher risk of serious complications from the Chinese virus.
Source: thefederalist.com
ICE HSI Baltimore seizes over 14,000 unapproved COVID-19 treatment capsules, several unapproved test kits https://t.co/Z1QoCDCrJD pic.twitter.com/p0Sp6Ms4Br

— ICE (@ICEgov) June 3, 2020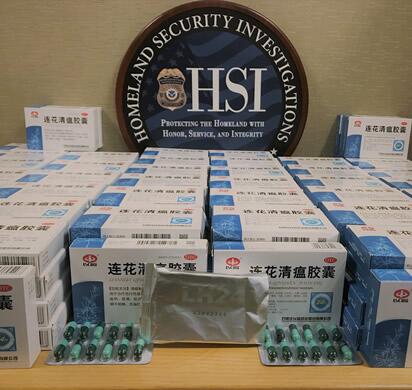 The Fake Newspaper! https://t.co/X6LEqpQeBc

— Donald J. Trump (@realDonaldTrump) June 4, 2020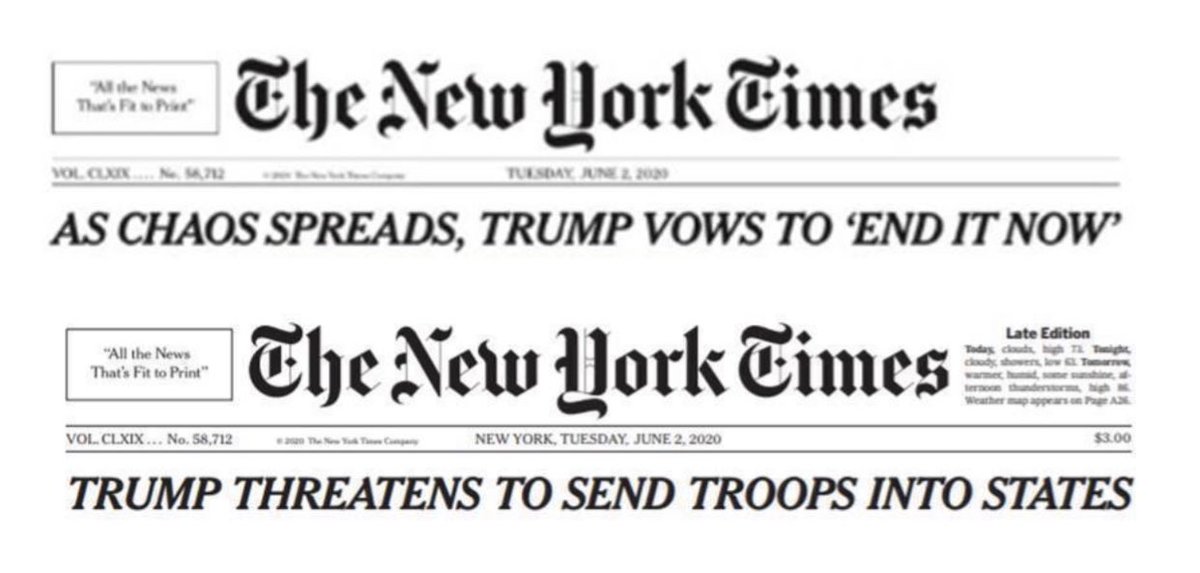 The full autopsy report on George Floyd, the man who died while being restrained by Minneapolis policeman Derek Chauvin, confirms that Floyd took a highly dangerous narcotic and methamphetamine sometime before he died and suffered with an enlarged heart and high blood pressure.
The report also says Floyd had the Chinese Virus — COVID-19.
The final report does not mention asphyxia or strangulation and says Floyd did not sustain life-threatening injuries.
 
Floyd suffered multiple "blunt force" wounds, but "no life-threatening injuries [were] identified," the report says.
A. No facial, oral mucosal, or conjunctival petechiae
B. No injuries of anterior muscles of neck or laryngeal structures
C. No scalp soft tissue, skull, or brain injuries
D. No chest wall soft tissue injuries, rib fractures (other than a single rib fracture from CPR), vertebral column injuries, or visceral injuries
E. Incision and subcutaneous dissection of posterior and lateral neck, shoulders, back, flanks, and buttocks negative for occult trauma
The absence of petechiae — small red or purple spots in the eyes or skin from bleeding capillaries — is significant because they occur in upwards of 85 percent of strangulation or traumatic asphyxia deaths; i.e., increased pressure on the neck of the kind that Chauvin applied to Floyd.
Source: dailycaller.com
James O'Keefe and Project Veritas released their investigative report on the domestic terrorist group Antifa on Thursday morning.
Antifa is a violent left-wing Communist faction that uses a black bloc tactic where they dress in black from head to toe and cover their faces with black masks.
The tactic is meant to make it more difficult for police to identify those who break the law during a riot.
Antifa is short for anti-fascist. The group has long claimed a leadership role in violent movements across America and the world.

"They do not hesitate to either push back or incite some kind of violence. In our classes and in our meetings, before we do any sort of demonstration or Black Block, we talk about weapons detail and what we carry and what we should have," said the Project Veritas Undercover Journalist.
Source: thegatewaypundit.com

Source: thegatewaypundit.com
A new ad released by President Donald Trump's campaign calls for healing during the ongoing protests sparked by the death of George Floyd.
Source: breitbart.com
---
Q
In a stunning development, our office has learned that every single one of the St. Louis looters and rioters arrested were released back onto the streets by local prosecutor Kim Gardner.
Safe zone(s) known.
Coordinated.
Q
Acting DHS Secretary Chad Wolf: Feds Have Opened Up Investigations Going After 'Leaders Of Antifa And Other Organizations'
Acting Department of Homeland Security Chad Wolf  said that federal law enforcement officials have opened cases up against leaders of Antifa and other organizations who are believed to be behind violent riots that are plaguing the nation's inner cities.
Source: tathasta.com
US Attorney General Bill Barr delivered remarks on the protests, looting and rioting taking place across the nation.
 
But how could this be? The mainstream media said Antifa doesn't exist!
"We have evidence that Antifa and other similar extremist groups as well as actors of a variety of different political persuasions have been involved in instigating and participating in the violent activity. We are also seeing foreign actors playing all sides to exacerbate the violence," said Barr.
WATCH:
AG BARR: "We have evidence that Antifa and other similar extremist groups as well as actors of a variety of different political persuasions have been involved in instigating and participating in the violent activity. We are also seeing foreign actors playing all sides.."
Source: thegatewaypundit.com
 AG Barr mentioned Antifa, but no reporter asked any questions about it A  even though they both called them out by name as being a part of the violence in many of the cities. 
DmYfacLU0AAR9rQ.jpg
THE SWAMP RUNS DEEP.
Q
EZrZLLPXQAYisPO.jpg
"Trump will disappear in 2020 or even sooner." –
Wake up, America.
TAKE A LISTEN
Demons continue to serve the devil in his attempt to lead the world away from God and into sin.
Q
EZRIAxpXQAAotiO.jpg
DC Mayor Muriel Bowser criticizes fencing around White House: "That's the People's House. It's a sad commentary that the house & its inhabitants have to be walled off… We should want the White House to be opened up for people to be able to access it from all sides."
What happens if a breach occurs @ WH?
Attempts
[coordinated]
to 'capture a horrifying moment'?
https://www.dictionary.com/browse/goal
📁
goal – the result or achievement toward which effort is directed; aim; end.
What happens then?
Heavy protect (WH) _prev?
POTUS 'warning' meant to push 'rational thought' (peaceful protestors) _prev coordinated anarchist
[anarchy 99]
push to victory
[WH breach]
?
Q
Jun 04, 2020 3:16:58 PM EDT
JUST IN: DC Mayor Muriel Bowser says there will not be a curfew in the District tonight as protests over the death of George Floyd are expected to continue. DC Police say no arrests were made last night, as demonstrations were peaceful.
Speaker Nancy Pelosi (D-Calif.) on Thursday demanded that President Trump provide a list of the agencies involved in deploying law enforcement officers around Washington, D.C., in response to the crowds of demonstrators protesting police brutality.
Some officers policing protests in the city in recent days have been seen without any identifying labels on their uniforms, raising questions about which law enforcement agencies they represent.
Important to understand.
What happens if a breach occurs @ WH?
Attempts [coordinated] to 'capture a horrifying moment'?
What happens then?
Heavy protect (WH) _prev? POTUS 'warning' meant to push 'rational thought' (peaceful protestors) _prev coordinated anarchist [anarchy 99] push to victory [WH breach]?
Q
Jun 04, 2020 3:21:11 PM EDT
Los Angeles Mayor Eric Garcetti, City Officials Cutting $100 Million-$150 Million From LAPD Budget, Funds To Be Reinvested In Communities Of Color
As he began to speak about reforming the LAPD during his Wednesday evening press conference, Los Angeles Mayor Eric Garcetti called this an "urgent moment" for the city, "an inflection point."
He said he is "committed to making this moment not just a moment."
Garcetti said he would be making commitments to creating racial equality. "It is time to move our rhetoric towards action to end racism in our city."
He said the city must move beyond police reforms of the past. "Prejudice can never be part of police work…It takes bravery to save lives, too."
"We will not be increasing out police budget," said the mayor. That allocation is pegged at $1.8 billion in the mayor's previously proposed budget. Garcetti spoke of "reinvesting in black communities and communities of color."
The mayor proceeded to announce $250 million in cuts to the proposed budget and to reallocate those dollars to communities of color, "so we can invest in jobs, in education and healing." L.A. Police Commission President Eileen Decker then announced that $100 million-$150 million of those cuts would come from the police department budget.
Important to understand.
Q
Minneapolis City Council members consider disbanding the police
If you've been tuned into the Minneapolis public safety scene, you know that for years, Reclaim the Block and other grassroots community groups have been asking the city to do one thing: stop investing in policing.
Budget meeting after budget meeting, they'd turn out with their petitions and signs, demanding the city put less money into its police department and more money into programs that stop crimes from happening in the first place – affordable housing, addiction counseling, violence prevention programs.
The council's been listening.
"I think we've had a vision for a while of wanting to see another kind of city response to those [911] calls," says Council Member Steve Fletcher, whose Ward 3 covers parts of downtown.
Calls about mental health crises could be answered by mental health professionals. Calls about opioid abuse could be answered by addiction experts. Instead, both get cops, usually armed.
But it's one thing to think that's a good idea and another to get it done. The city has "struggled" to put any of these reforms in place in a substantial way, Fletcher says.
Then George Floyd was killed by Minneapolis police.
Now the council members are listening to a city that is wounded, angry, fed up with decades of violence disproportionately visited upon black and brown residents. Various private and public bodies – from First Avenue to Minneapolis Public Schools – have essentially cut ties with the police department. Council members are trying to figure out what their next move is.
Their discussion is starting to sound a little more like what groups like Reclaim the Block and the Black Visions Collective have been saying for years. On Tuesday, Fletcher published a lengthy Twitter thread saying the police department was "irredeemably beyond reform," and a "protection racket" that slows down responses as political payback.
"Several of us on the council are working on finding out what it would take to disband the Minneapolis Police Department and start fresh with a community-oriented, nonviolent public safety and outreach capacity," he wrote.
Important to understand.
ONLY AT THE PRECIPICE [moment of destruction] WILL PEOPLE FIND THE WILL TO CHANGE.
Q
Q

 

!!Hs1Jq13jV6

 

ID: 62f1ac

 No.9470223 

NEW
In an important moment for science and data transparency, @thelancet announces that its 96,000 observational study on hydroxychloroquine has been RETRACTED.
A sad story but an important one
When media and [D] elected officials [coordinate] [knowingly] attempt to prevent a 'medically verifiable' solution [prevention] re: COVID-19 [prev_death] we enter a STATE OF CRISIS.
When [D] elected officials [coordinate] [knowingly] push COVID-19 positive 'elderly' patients into nursing homes [HOT SPOT(s)_ most at risk] we enter a STATE OF CRISIS.
Your life means nothing to them [sheep].
You are a vote when it matters and a dollar sign when it does not.
Q
The Guardian's investigation has found:
A search of publicly available material suggests several of Surgisphere's employees have little or no data or scientific background. An employee listed as a science editor appears to be a science fiction author and fantasy artist. Another employee listed as a marketing executive is an adult model and events hostess.
The company's LinkedIn page has fewer than 100 followers and last week listed just six employees. This was changed to three employees as of Wednesday.
While Surgisphere claims to run one of the largest and fastest hospital databases in the world, it has almost no online presence. Its Twitter handle has fewer than 170 followers, with no posts between October 2017 and March 2020. 
Source: theguardian.com
EZsibwiXgAAecF4.jpg
Operators are standing by.
Q
Tonight the President of the United States used the American military to shoot peaceful protestors with rubber bullets & tear gas them.

For a photo op.

This is a horrifying use of presidential power against our own citizens, & has no place anywhere, let alone in America. Vote.

— Hillary Clinton (@HillaryClinton) June 2, 2020
Q told us  in post 4397
You are a vote when it matters and a dollar sign when it does not.
Ending systemic racism will take systemic change.

If you're in a place to give, donate today to support groups working to end racial injustice, increase the representation of Black people, and fight efforts to suppress Black votes.https://t.co/gaBnz2veD2 pic.twitter.com/fI9MLxdtUd

— Hillary Clinton (@HillaryClinton) June 4, 2020