The "Police State" Is Being Exposed,Posse Comitatus Act, What Is The Keystone? It's Time – Ep. 3159
Podcast: Download (Duration: 2:14:27 — 59.3MB)
Watch The X22 Report On Video
The [WEF] is pushing their agenda and the more they push the worse its going to get for them. In Texas they have declared and emergency because the wind and solar power is not working and they decided they can use other methods of creating electric. Trump says there is a great depression coming but we will be able to fix it. The [DS] police state is now exposed. The people are seeing how the [DS] is violating all our rights, they want us to believe they are privileges but they are not. The people are fighting back, every-time the people feel uncomfortable the people push back, this is the plan of the patriots. Trump needed the people to take back this country, he needed them awake for the 2024 election. He will make sure the election is fair and transparent, but allowing the [DS] to push war. Potus and the people are the stone, the military is the key, put it all together you have the keystone.
---
Economy
JUST IN – Germany's ruling left-green-liberal coalition passes controversial bill to phase out oil and gas heating systems.

— Disclose.tv (@disclosetv) September 8, 2023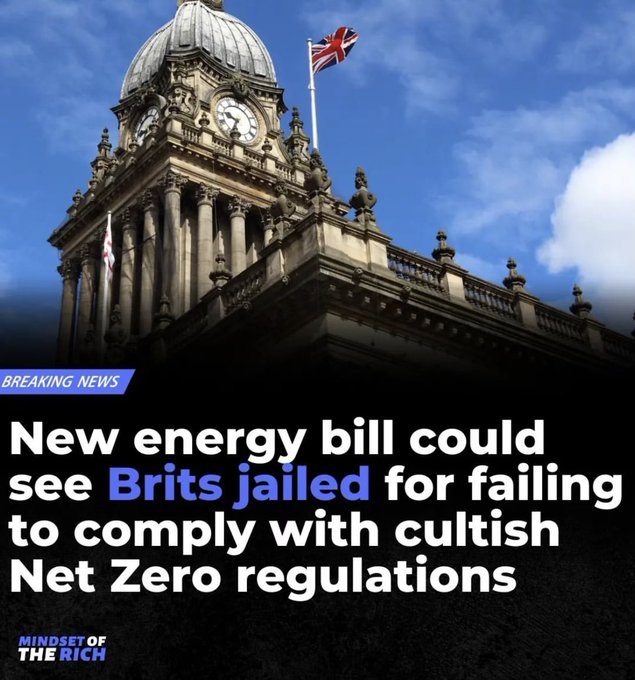 The $7.6 trillion of US government debt is currently paying very low interest rates from the years back before 2022 when rates were near 0% to 1%.

As that debt matures over the next 12 months, the US Treasury will rollover the debt and issue new debt at the current rates of… pic.twitter.com/GafsOBDQ9A

— Wall Street Silver (@WallStreetSilv) September 9, 2023
Central banks added 55 tonnes to their gold reserves in July, with China, Poland, and Turkey taking the charge.

Central banks set a record for #gold purchases last year, and demand reached an all-time high in the first quarter of this year.

We are seeing debt issues globally. pic.twitter.com/fQUUsoeBpT

— Shawn Khunkhun (@ShawnKhunkhun) September 9, 2023
If it looks like a recession, swims like a recession, and quacks like a recession, then it's probably a soft landing.

Ht u/InternationalTop2405 pic.twitter.com/LlJF1sUnbH

— Wall Street Silver (@WallStreetSilv) September 10, 2023
Bond yields are up the prices are down.

At some point massive numbers of banks both inside the US & around the world are going to realize all these treasury bonds they bought 20 years ago are worthless.

This will implode the financial system immediately.

— Douglas Macgregor (@DougAMacgregor) September 8, 2023
President Trump says "we're probably heading into a Great Depression." 👀 pic.twitter.com/U5FVrsAdwP

— TheStormHasArrived (@TheStormRedux) September 9, 2023
TAKE A LISTEN
---
Political/Rights
Uncomfortable
Watching the Sunday Shows?

"Which ONE of the following news organizations do you TRUST THE MOST?"

Legacy Broadcast Networks now can't even break 10% in 'most trusted'

ABC News: 7%
CBS News: 6%
NBC News: 7%

Broadcast Network News Less Trusted – https://t.co/LT8INeM72Y https://t.co/0IRi3qt3qL

— Rasmussen Reports (@Rasmussen_Poll) September 10, 2023
ICYMI🚨

Bill & Melinda Gates Foundation just bought $95 MILLION worth of Anheuser-Busch stock due to fallout after the Dylan Mulvaney DISASTER.

Do you SEE what just happened here???

Bill's cronies at the WEF purposefully destroyed the brand, so he could start buying it up…

— The Patriot Voice (@TPV_John) September 9, 2023
🚨 Bank records prove the Biden family raked in money from foreign adversaries around the world.

Romania: over $3 million 💰

China: over $8 million 💰

Russia: $3.5 million 💰

Ukraine: $6.5 million 💰

What were the Bidens selling? Nothing but access to @POTUS. @NEWSMAX pic.twitter.com/Dl9BESXK1Q

— Rep. James Comer (@RepJamesComer) September 9, 2023
---
Geopolitical/Police State
The ADL is an op.

DNC wants to stop RFK Jr's campaign? ADL makes an accusation.

DNC wants to censor Trump? ADL makes an accusation.

DNC wants to thwart Elon's resistance? ADL makes an accusation.

New purpose of ADL is turn opposition to DNC agenda into a hate crime. https://t.co/3xdVz7lydw

— David Sacks (@DavidSacks) September 8, 2023
The ADL's real mission is leveraging antisemitism to advance Democratic Party goals, like endorsing Biden's border policies and advocating for critical race theory in schools while accusing Trump of being antisemitic.

They issue far-left censorship demands, threatening to label… pic.twitter.com/mxPPXL1ZQb

— KanekoaTheGreat (@KanekoaTheGreat) September 9, 2023
 platforms as racist, tarnish their image, and organize advertiser boycotts to bankrupt companies. They are the establishment's thought police, a tool of the censorship industrial complex, weaponizing claims of racism to stifle political dissent, control the narrative, and determine who gets to speak. The First Amendment is the foundation of a free society, and

@elonmusk is commendable for taking a stand against the ADL to protect freedom of speech.
No kidding

— Elon Musk (@elonmusk) September 9, 2023
Democrats are testing the waters for a national gun grab.
Let no one be fooled: This is Step One to see if Americans are paying attention and if they have the stones to fight back.
Our Constitution is a paper document with nothing to protect it from being burned to ashes. Unless the People rise up against this gun grab, .
The Second Amendment was written to protect Americans from tyrannical kings and rulers. It was not given to us to hunt for food. Too many Americans, utterly ignorant of why America was formed in the first place, are only too happy to have us under the fat thumb of tyrants who will do for us what so many are too lazy to do for themselves. Kings have absolute power. So does any government where the People do not know their history.
  The ownership of firearms is our last line of defense against losing our God-given liberty.
Source: americanthinker.com 
---
War
There was an emergency request from government authorities to activate Starlink all the way to Sevastopol.

The obvious intent being to sink most of the Russian fleet at anchor.

If I had agreed to their request, then SpaceX would be explicitly complicit in a major act of war and…

— Elon Musk (@elonmusk) September 7, 2023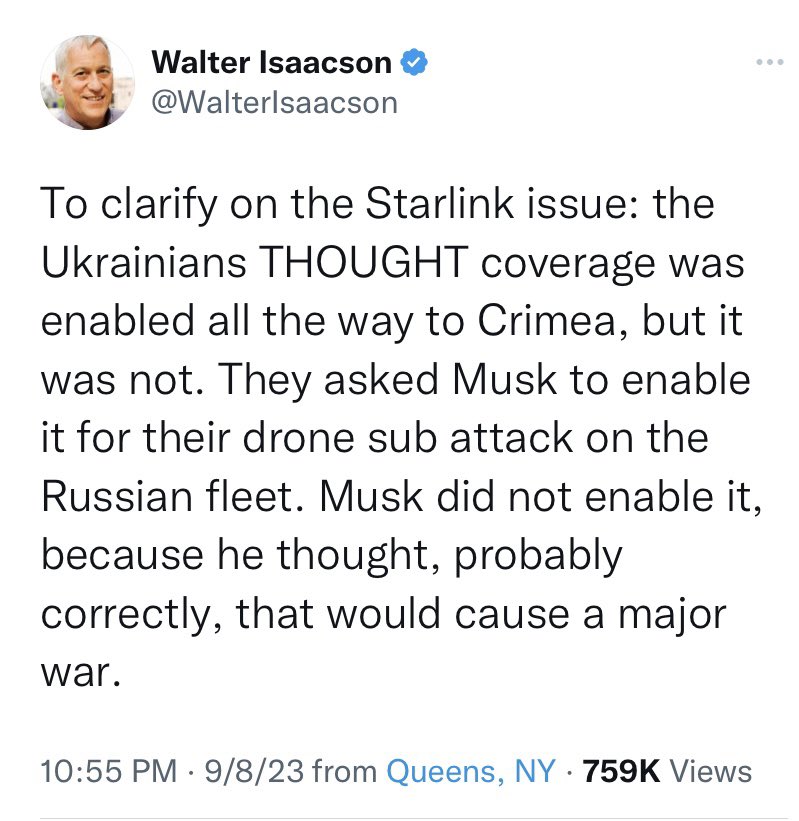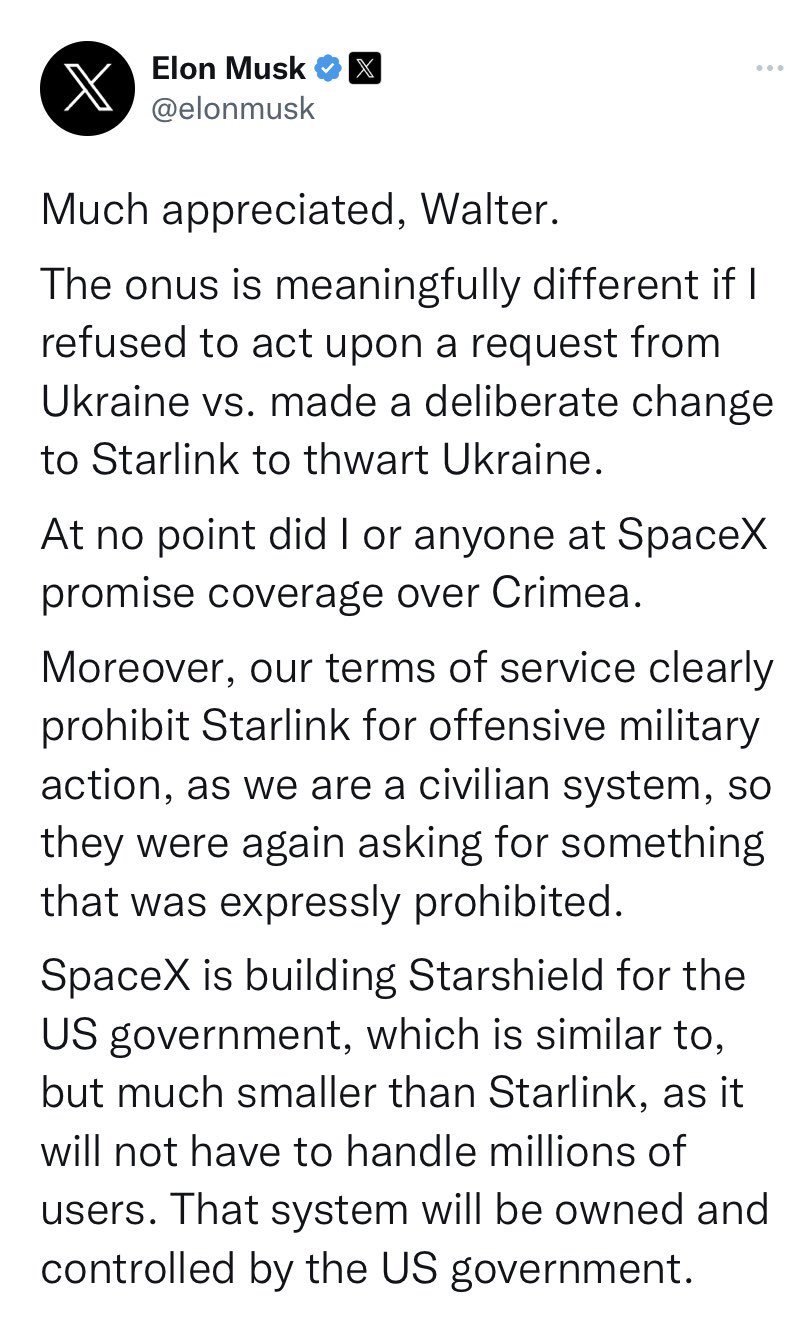 ---
False Flags
Two years ago, CDC changed the definition of "vaccine," because the COVID jabs don't meet the established definition of vaccine. https://t.co/biyR8VnrC4

— Thomas Massie (@RepThomasMassie) September 10, 2023
🤣 The CDC backflipped on their scare campaign against the latest COVID variant. The fallout must have been so epic it destroyed their will to politicize the virus for election-theft purposes. Stick to your guns, people. "Existing antibodies work": CDC https://t.co/J06rz30kso

— Miranda Devine (@mirandadevine) September 10, 2023
FDA got expedited approval for Covid vaccines. Guess who produces them?

The US keeps approving military aid to Ukraine. Guess who produces that?

The media stays silent. Guess who are they?

Did you guess? pic.twitter.com/2XzNf5N29x

— Not Jerome Powell (@alifarhat79) September 9, 2023
This bill is a wolf in sheep's clothing.

What it actually means is that if you disagree with the other parent about sterilizing your child, you lose custody.

Utter madness!

— Elon Musk (@elonmusk) September 8, 2023
---
Q
Charlie Kirk & @TPUSA have been labeled extremist hate groups by Biden's DHS. Thankfully, ACLJ is filing the largest lawsuit against Biden yet. Sign the lawsuit support statement below and help battle Biden's regime. FIGHT BACK HERE⬇️ https://t.co/5j3zBSan9j

— Donald Trump Jr. (@DonaldJTrumpJr) September 8, 2023
A 12-member jury convicted Navarro on two counts of contempt after he refused to testify or turn over documents to the Democratic-led House panel that investigated the Jan. 6, 2021 riot by Trump supporters and broader attempts by Trump, a Republican, to reverse his 2020 election defeat.
.@KariLake Attorney Kurt Olsen: "We found evidence of malware put on the printers used at 223 vote centers & those printers are what caused the Election Day chaos…

There were over 7,000 ballot rejections every 30 minutes, beginning at 6:30 AM all the way through 8:00 PM when… pic.twitter.com/Qd3sfixaeM

— Kari Lake War Room (@KariLakeWarRoom) September 8, 2023
 when the polls, even after the polls closed… That's over 200,000 ballot rejections on a day when there were only 248,000 votes cast."
Election Integrity: Most Voters Suspect Fraud – https://t.co/HvWM64KMOf https://t.co/0dmjUIu4Sm pic.twitter.com/sHsFFsbsHk

— Rasmussen Reports (@Rasmussen_Poll) September 9, 2023
A majority of voters suspect recent elections have been affected by cheating, and believe officials are ignoring the problem.
The latest Rasmussen Reports national telephone and online survey finds that 60% of Likely U.S. voters think it is likely that cheating affected the outcomes of some races in last year's midterm elections, including 37% who say it's Very Likely. Thirty-five percent (35%) don't believe it's likely the 2022 midterms were affected by cheating, including 20% who think it's Not At All Likely. (To see survey question wording, click here.) 
The Fulton County Grand Jury went insane –

Voting to indict Lindsey Graham, Michael Flynn, David Perdue, and Kelly Loeffler "with respect to the national effort to overturn the 2020 presidential election"

Perdue and Loeffler (and many others) would have faced RICO charges. pic.twitter.com/Zs9Cegn2VH

— Techno Fog (@Techno_Fog) September 8, 2023
Trump considering calling lawmakers as witnesses during criminal trial for Jan. 6 charges: Report
F

ormer President Donald Trump's legal team is reportedly considering calling lawmakers to the witness stand for his trial in the 2020 election case in Washington, D.C.
  Trump's lawyers are looking to call Republican members of Congress who objected to the electoral votes in some states during the special session of Congress on Jan. 6, 2021, to certify the 2020 presidential election.
The report named Sens. Josh Hawley (R-MO) and Ted Cruz (R-TX), with a source telling the outlet that objections by the senators were "very important" because a formal objection required a member of the House and Senate to sign off. Calling the witnesses would reportedly be to show that Trump's alleged concerns with the 2020 election were not unique to him.
Source: washingtonexaminer.com
NEW: At least three of the Atlanta grand jurors declined to recommend indictments because they "do not believe that the wording of the statutes applies to the conduct at issue"

— Paul Sperry (@paulsperry_) September 8, 2023
Abusing RICO enforcement could backfire on Dems: A 2nd Trump admin/ GOP admin could charge Willis, Bragg, Smith, Garland + Biden w/ conspiring to sideline Trump w/ vexatious prosecutions and other overt acts of racketeering. All their comms would be subject to subpoenas/warrants

— Paul Sperry (@paulsperry_) August 16, 2023
Q

 

!!mG7VJxZNCI

 

ID: 373780

 No.5669977

>>5669520
Kids say they can't log into Instagram or post on facebook
"The Party told you to reject the evidence of your eyes and ears. It was their final, most essential command."

George Orwell, 1984

Trusting your intuition is bad for you. Instead, trust corporate media narratives, even when you know that what they're claiming doesn't make… pic.twitter.com/LTPUBW2z4c

— Wall Street Silver (@WallStreetSilv) September 10, 2023
Trusting your intuition is bad for you. Instead, trust corporate media narratives, even when you know that what they're claiming doesn't make sense.
Increasingly appealing

— Elon Musk (@elonmusk) September 9, 2023
TAKE A LISTEN 
"…and we have to be so careful, we have to make sure they don't cheat because they are cheaters and that's the biggest fear…" – President Donald J. Trump pic.twitter.com/JQir4dpkoO

— RSBN 🇺🇸 (@RSBNetwork) September 9, 2023
President Trump laid out his top priorities last night when he retakes power:

1) "I will prevent WW3" & create peace in Ukraine

2) "I will obliterate the Deep State"

3) Overhaul DOJ then use it to investigate Marxist DAs who release murderers/rapists yet persecute Republicans… pic.twitter.com/DM1cDWQDKV

— DC_Draino (@DC_Draino) September 9, 2023
President Trump Shows Rare Moment of Emotion During Speach About How Our Great Nation Is Being Destroyed