Total Declassification Without Redactions, Red October, Patriots On The Hunt – Episode 2296
BJ is now threatening the EU, they will just walk away if there is no deal by the end of the week. The EU is trying to stall. Trump set the Ds up and exposed them to the people, what is their true economic agenda, it's not to help the people. The Fed right on queue says we need this stimulus to keep the economy moving along. The [DS]/MSM is now the hunted. The patriots are declassifying documents which show the [DS] players planned a coup against a sitting President. More docs are now being declassified without redactions. We are now in the middle of Red October and the [DS] is panicking, the hunt is on.
Check Out The X22 Report Spotlight YouTube Channel X22Report Spotlight
Please check Newzsentinel.com for the latest news on the economic collapse. The Sentinel Alerts are updated throughout the day.
---
Current News – 10.07.2020
Watch The X22 Report On Video
---
Economy
The House & Senate should IMMEDIATELY Approve 25 Billion Dollars for Airline Payroll Support, & 135 Billion Dollars for Paycheck Protection Program for Small Business. Both of these will be fully paid for with unused funds from the Cares Act. Have this money. I will sign now!

— Donald J. Trump (@realDonaldTrump) October 7, 2020
If I am sent a Stand Alone Bill for Stimulus Checks ($1,200), they will go out to our great people IMMEDIATELY. I am ready to sign right now. Are you listening Nancy? @MarkMeadows @senatemajldr @kevinomccarthy @SpeakerPelosi @SenSchumer

— Donald J. Trump (@realDonaldTrump) October 7, 2020
 Federal Reserve Chair Jerome Powell warned Tuesday that a tentative recovery from the pandemic recession could falter unless the federal government supplies additional economic support.
Powell said that government support — including expanded unemployment insurance payments, direct payments to most U.S. households and financial support for small businesses — has so far prevented a recessionary "downward spiral" in which job losses would reduce spending, forcing businesses to cut even more jobs.
---
Political/Rights
The [DS]/MSM are using the same playbook they used during the 2016 elections, it didn't work then it will not work now. 
Biden widens lead to 21 points after Trump's coronavirus diagnosis, poll says https://t.co/5lR8lcONQi

— Newsweek (@Newsweek) October 7, 2020
Flashback
Trump was released from the hospital, he is feeling great and his ready for the debates.
I am looking forward to the debate on the evening of Thursday, October 15th in Miami. It will be great!

— Donald J. Trump (@realDonaldTrump) October 6, 2020
Joe Biden said "we shouldn't have a debate" if Trump remains infected with COVID-19. "Too many people have been infected. It's a very serious problem, so I will be guided by the guidelines," he said. https://t.co/L3xpmhX0MV

— Jon Cooper 🇺🇸 (@joncoopertweets) October 7, 2020
Vote TRUMP California. No more blackouts, shutdowns, ridiculous forrest fires, or water "rationing" (coming soon). We can win in California NOW! https://t.co/6O8F9jjhTf

— Donald J. Trump (@realDonaldTrump) October 7, 2020
Gov. of Puerto Rico on Telemundo: "I ask all Puerto Ricans who are listening to vote. They have to go vote, exercise their right to vote and evaluate who has represented being a person who thinks about Puerto Ricans and their needs at the most difficult time. It is Donald Trump"

— Stonewall Jackson (@1776Stonewall) October 7, 2020
11,00 North Carolina residents get incorrect voter registration forms. 2000 LA County Voters received "faulty" Ballots, with NO WAY TO VOTE FOR PRESIDENT. Many others throughout USA. Here we go. This will be the most corrupt Election in American History!

— Donald J. Trump (@realDonaldTrump) October 7, 2020
---
Geopolitical/Police State
---
War
---
Cyber Attacks
---
False Flags
New York Democrats representing orthodox Jewish neighborhoods break ranks with @NYGovCuomo in a joint statement https://t.co/1f4e4rrEeM

— Ron Coleman (@RonColeman) October 7, 2020
If you would have told me in 2019 that we were just 1 year away from Americans being ARRESTED for holding outdoor church services, I would have thought you to be insane.

This is one of the most heartbreaking things I've ever seen. Pray for America.pic.twitter.com/ucauKApWPC

— Cliff Maloney (@LibertyCliff) September 24, 2020
DEMS WANT TO SHUT YOUR CHURCHES DOWN, PERMANENTLY. HOPE YOU SEE WHAT IS HAPPENING. VOTE NOW! https://t.co/dqvqz6b1WD

— Donald J. Trump (@realDonaldTrump) October 7, 2020
"Governor, if you hadn't stood against the lockdowns, we'd have no proof of just how useless they really have been."

Is it normal to be standing alone in your office clapping at an online video?pic.twitter.com/RBEPgNQSFO

— Cliff Maloney (@LibertyCliff) October 6, 2020
TAKE A LISTEN 
A Wednesday update from President @realDonaldTrump's physician: pic.twitter.com/IEn3Clv9yg

— Kayleigh McEnany (@PressSec) October 7, 2020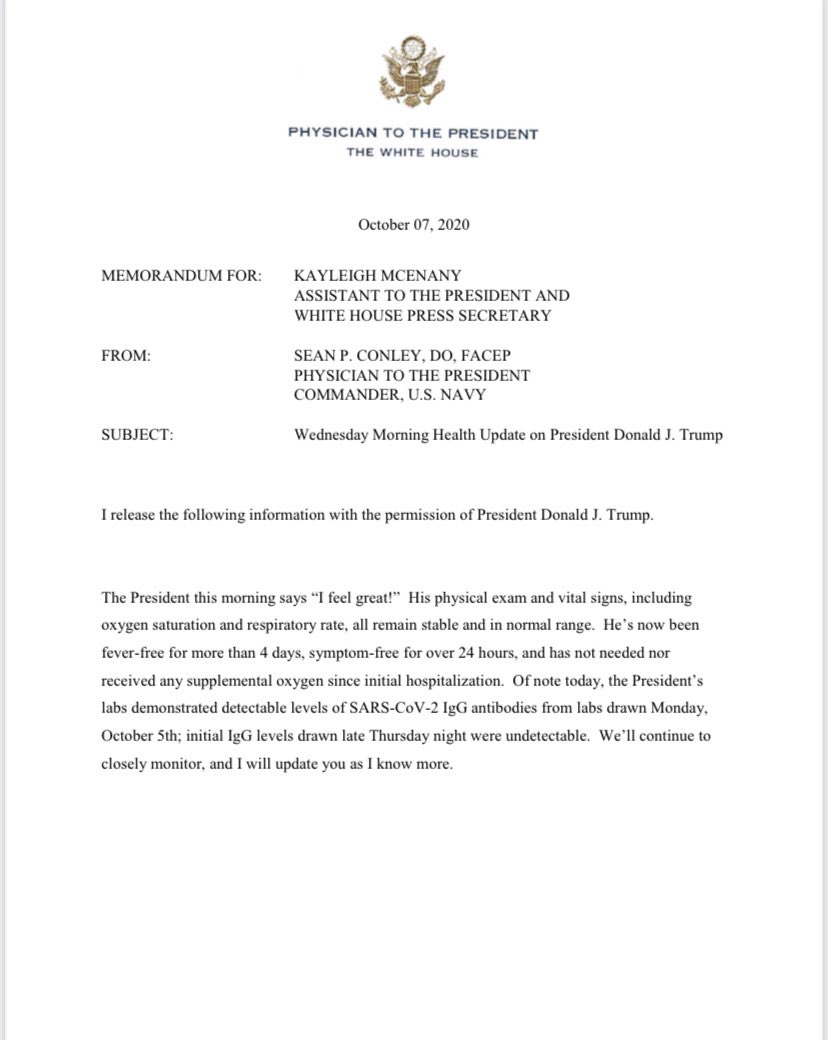 * No info about what medication the president may be on
* No specifics about his oxygen levels
* No info about lung condition
* No info about when he last tested negative
* But it does quote the president saying "I feel great" with an exclamation point https://t.co/9Iho3PYdHC

— Jake Tapper (@jaketapper) October 7, 2020
Question asked, wait for it…
Chief of Staff Mark Meadows: "The president wants to make sure that whatever drugs he was able to receive at Walter Reed — that all Americans can receive those drugs.
Just saying. #WWG1WGA pic.twitter.com/cNYUF10Ohd

— BLUEPRINT 🇺🇸 (@BLUEPRINT_Q) October 7, 2020
61aiBqOMPAL_SL1000_.jpg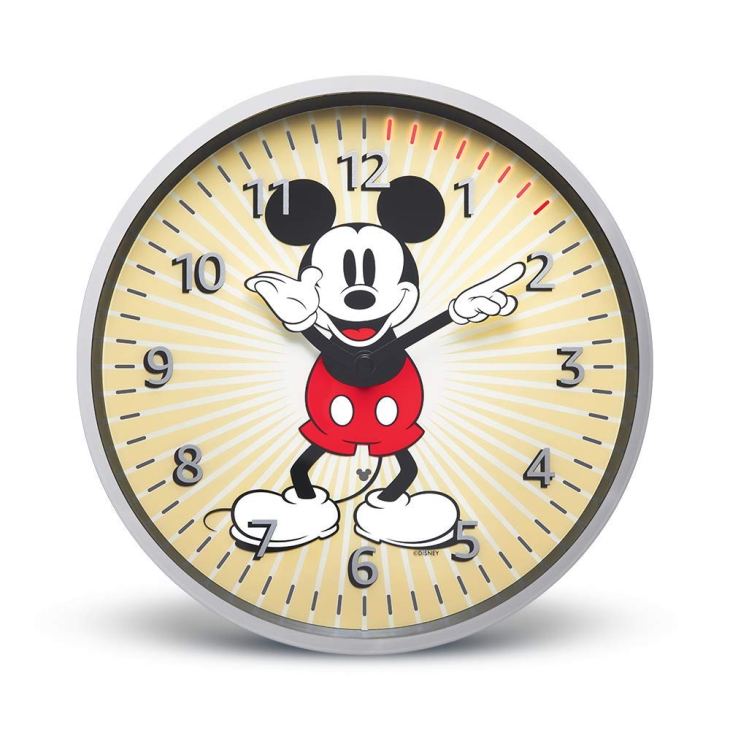 ---
Q
Trump has turned the Washington Post into The National Enquirer.
[DS] is panicking, they do not like transparency and the truth
You're an asshole. Really. https://t.co/muHxN8k7Wt

— Gen Michael Hayden (@GenMhayden) October 6, 2020
I see you don't like to be exposed. And so you resort to name calling.

Transparency isn't political. https://t.co/STnZMlQKBd

— Richard Grenell (@RichardGrenell) October 7, 2020
Hayden, a retired four-star Air Force general who served as director of the National Security Agency and later the CIA, threw his support behind @JoeBiden.

"If there's another term for President Trump, I don't know what happens to America."

— Washington Examiner (@dcexaminer) October 7, 2020
Q

 

!!Hs1Jq13jV6

 

ID: a63e6c

 No.10949641 

NEW
The Air Force E4B Doomsday plane flying under the callsign "Trust17?"
Is the term "conspiracy" used to shame those who disagree with mainstream reporting? Why is shame used? How do you control people? What is the danger (to them) when people think for themselves? You awake and thinking for yourself is their greatest fear.