Trump:"It Can't Be Much Longer,One Year Is A Very Longtime",Martial Law,Patriots On Guard – Ep. 3199
Podcast: Download (Duration: 1:29:24 — 38.1MB)
Watch The X22 Report On Video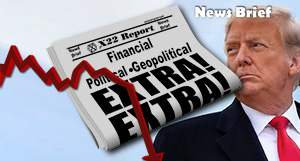 The green new deal is dead, the EV market is shot, the people are not buying what they are selling. Sometimes you need to show the people. Bank deposit outflows have picked up. The people see who is responsible for all of this and if they are telling everyone that everything is great they will not do anything to fix it. The [DS] is bringing the entire world to the brink of disaster. The borders are wide open and Trump has warned that terrorist are probably in the country. Most likely as the war picks up there will be chaos and events happening around the world. The event will most likely occur in the control blue cities and states which mean martial law might have to be enacted. This play right into the 2024 election.
---
Economy
Ford has postponed $12 billion in spending on EV manufacturing capacity.
The company has warned that electric vehicles are too expensive and that demand is slowing.
Other automakers are also cutting investment and abandoning manufacturing targets.
Ford has halted billions of dollars in investment in EV manufacturing, warning that customers will not pay a premium for these vehicles.
Source: insider.com
"Uber is a bad idea." – Taxis

"Airbnb is a bad idea." – Hotels

"Computers are a bad idea." – Newspapers

"#Bitcoin is a bad idea." – Banks

— Bitcoin Magazine (@BitcoinMagazine) October 28, 2023
---
Political/Rights
TAKE A LISTEN
---
Geopolitical/Police State
---
War
Taylor Swift net worth: $1.1 billion
Oprah Winfrey net worth: $2.7 billion
Donald Trump net worth: $2-3 billion
Mousa Marzook net worth: $3+ billion
Khaled Mashal net worth: $3-5 billion
Ismail Haniyeh net worth: $4-5 billion

Those last 3 are the leaders of Hamas

— End Wokeness (@EndWokeness) October 29, 2023
The only way to save Germany is to start massive deportations as soon as possible. There is really just no other solution.

Unfortunately, I doubt the current radical left wing coalition government in Germany will do it. https://t.co/xdkAAoPtoo

— Wall Street Silver (@WallStreetSilv) October 28, 2023
NOW – Trump: "This is a fight between good and evil." pic.twitter.com/f65gNZ4bGC

— Disclose.tv (@disclosetv) October 28, 2023
TAKE A LISTEN
IRan, we will do what needs to be done
.
---
Q
  HIGH, had a 100% Disclaimer Clause, Banks were fully paid, "on time, on schedule," with never even a minor default, there was NO VICTIM, EXCEPT ME. Any other Judge in the Country would have thrown this case out on day one. He's an out of control "Nut Job," who fined me $10,000 over a ridiculous Gag Order so that the publicity for the day would take over from the fact that Racist James and the Judge's Star Witness admitted LYING TO CONGRESS on the stand – CASE OVER!
 completely, and everybody who is watching this Witch Hunt so agrees. Hopefully, that will soon change. This CRAZED Judge ruled against me before the Trial even started, and said Mar-a-Lago is worth only $18,000,000. Other properties, likewise. This is a Biden Election Interference Scam! There were No Crimes & No Victims, and there is NO JURY ALLOWED. This Radical Trump Hater Must Be Taken Off This Case!
President Trump on Mike Pence: "He should endorse me…because I had a great, successful presidency" pic.twitter.com/fnpH05ZId5

— RSBN 🇺🇸 (@RSBNetwork) October 29, 2023
 forced #MSM to cover TRUMP— Americans were shown the strong policy & leadership TRUMP offered in comparison to Biden & the GOP.
•Trump is DOMINATING POLLS — optics weaken Dems ability to rig Primaries or keep Trump off the ballot, bc PEOPLE are watching Trump win with THEIR OWN EYES.
•TRUMP is "draining" donors— the large & diverse group running against Trump means that BIG TECH, WOKE COMPANIES & DEMS are spread too "financially" thin to defeat him.
TRUMP WEAKENED 2 LETHAL WEAPONS USED BY DEMS TO SWING RACES— MSM & MONEY.
  in almost every Poll!). The Globalist, China Centric, and once influential Wall Street Journal, who picks up anything negative about me that they can, puts this ridiculous endorsement into its pages of bad RINO loving policy and misinformation. Use it well, Nikki, it's all you've got!
6 years ago today Q went active and posted 2 drops.
Today Trump "dropped" 2 times. I'm sure it's just a coincidence.
>>146981635
Hillary Clinton will be arrested between 7:45 AM – 8:30 AM EST on Monday – the morning on Oct 30, 2017.
Debunking the Media's Claim That All of Trump's 2020 Election Challenges Were 'Baseless'

An Election Integrity review conducted on 92 court challenges filed over the 2020 election found that a clear majority of the cases decided on the merits were ruled favorably for the… pic.twitter.com/UWtTBNwqh7

— Kyle Becker (@kylenabecker) October 28, 2023
  favorably for the plaintiffs; particularly, the Republican Party and the Trump campaign. The election review noted the cases decided on the merits and those that were dismissed for lack of standing or other procedural issues.

"Some Non-Merit reasons for stopping lawsuits from going forward are for: a) Standing, b) Timing [Laches], c) Judicial authority [Jurisdiction], and d) Moot (e.g. not enough malfeasance to make a difference)." The list of court cases decided on the merits, meaning "the Plaintiff was able to argue the facts of the case, and, if applicable, given opportunity to present evidence via Discovery," as well as the links to the case information, can be found below. "You're gonna wanna bookmark this," remarked Arizona Sun Times reporter

. "This is a compilation of all of the 2020 election challenges and what became of them. Despite the MSM lies that 60+ election challenges found no evidence of wrongdoing, there were actually 92 cases, with only 30 decided on the merits, and of those 30, Trump and/or the GOP plaintiff prevailed in 22 of them."
The case entries, many linking to Stanford's Healthy Election Project, confirm the statuses and the rulings. It is debatable whether affirmative rulings in all of the cases would have been sufficient to lead to Donald Trump being elected instead of Joe Biden.
The pivotal lawsuit may have been the Texas case brought by AG Ken Paxton contending that a number of swing states made unconstitutional election changes, because they did not go through the state legislatures.
This case was denied by the Supreme Court, despite the Constitution stipulating its original jurisdiction. Furthermore, many states have since decided that 2020 election practices such as the inclusion of privately funded "Zuckerboxes" were either illegal or were subsequently outlawed.
It is up for debate whether any particular lawsuit would have been the deciding factor, but the critical underlying point is that the election challenges were legal and valid.
The sum of these lawsuits paint the picture that the "fortified" 2020 election was highly flawed and undemocratic, since it did not abide by fundamental practices of election integrity.

Thus debunks a widespread narrative: Trump's legal challenges to the 2020 election were all "baseless."
"We have a leader that can't be our leader, and I'll tell you something. It can't be much longer. One year is a very long time.

They can do tremendous damage to our elections. They can do tremendous damage to our country in one year – and we're not gonna let it happen." 👀 pic.twitter.com/ewXaORUlVL

— TheStormHasArrived (@TheStormRedux) October 29, 2023
TAKE  A LISTEN
80% of Republicans and 64% of Independents are joined by 55% of Democrats in the national bi-partisan majority of voters concern that November 2024 will be yet another national election cycle affected by cheating. pic.twitter.com/eLyGvWbDbv

— Rasmussen Reports (@Rasmussen_Poll) October 28, 2023
56% of voters believe every state should require that ballots be available immediately after elections for bipartisan voter reviews to enhance election confidence and transparency. Only 23% are against ballot reviews, while another 21% are not sure.https://t.co/NK8Q5q84qc

— Rasmussen Reports (@Rasmussen_Poll) October 28, 2023
Wider War Will Bring Inevitable Attempts At Martial Law In America
 Biden and his globalist friends have used every possible tactic to make martial law an inevitability. Economic instability and stagflation have created a spike in violent crime and looting. Mass illegal migration is dragging down state welfare systems and is creating a trend of cultural dilution. Open borders have allowed any number of possible foreign hostiles into the US.
A multi-front war breaks out in the Middle East including nations like Iran, Syria, Lebanon, Jordan and Yemen. Israel faces serious failure. The US is dragged into the war, or, Israel uses its nuclear arsenal to destroy the resources (including populations) of enemy nations, leading to the possible involvement of China and Russia, and thus, the US is still dragged in.

Riots and terror attacks become a regular occurrence in the US, not just initiated by Muslim extremist infiltrators but also leftists who have attached themselves to the cause.

 As the war continues
Biden tries to implement a draft in order to force the momentum.  

 
Source:  theburningplatform.com 
Martial law is the replacement of civilian government by military rule and the suspension of civilian legal processes for military powers.[1] Martial law can continue for a specified amount of time, or indefinitely, and standard civil liberties may be suspended for as long as martial law continues.[2][1] Most often, martial law is declared in times of war and/or emergencies such as civil unrest and natural disasters.[3] Alternatively, martial law may be declared in instances of military coup d'états.[4]
https://en.wikipedia.org/wiki/Posse_Comitatus_Act
"..or in response to chaos associated with protests and mob action,"
Article 1, Section 9 of the US Constitution states, "The Privilege of the Writ of Habeas Corpus shall not be suspended, unless when in Cases of Rebellion or Invasion the public Safety may require it."
Q