25th Ready For [JB], How Do You Sneak One In, Scavino Stay Strong – Ep. 2436
The people are seeing the difference. When Trump first introduced the tax cuts it was to give the people a taste of what would be like to have more spending money. Now people will see the difference when [JB] introduces his tax plan. States are opening up and spending and the economy is bouncing back, just like Trump said. People are nervous about inflation, Gold, Bitcoin on deck. [JB] gave his first live press conference. It was scripted and staged, but that didn't help it was a total disaster. The reporters asked softball questions and [JB] was not truthful about a lot of the issues. 25th is coming to get him, the [DS] is ready to sneak one in. The [DS] is doing everything they can to bring us back to the point right before Trump was elected. Scavino sends a message, stay strong.
Watch The X22 Report On Video
😎 Get The Same Solar Power Bank I Have Here: ☀️🏕️
➡️ http://www.backupsolarbank.com ⬅️
Get 20% OFF Using Promo Code (X20)
---
Heat & Boil Water In 30 Minutes Anywhere!🌊
✅ Click Here ➡️  http://www.solarwaterheater.com
🙌 Use Promo Code X20 for 20% OFF ☀️
---
Economy
The Biden administration is preparing to raise taxes on "high-income earners," which it defines as Americans making $400,000 a year or more.
However, critics warn that the Democrats' tax hikes would have a catastrophic impact on lower-income people as well.
If Democrats get their way, millions of Americans should "get ready for 70% tax rates," according to the Committee to Unleash Prosperity, an economic advocacy group.
 "The Biden tax plan that Congress will start debating this week or next would raise the top income tax rate to 39.6% from 37% today,"
"But he also would impose a new payroll tax of 15% on earnings over $400,000, which could be as little as $200,000 each for a married couple. The combined payroll/income tax rate would bring the marginal tax rate on an additional hour of work to roughly 54%."
However, the overall tax rate would balloon to a staggering 70 percent once you add in state income taxes from high-tax states run by Democrats.
"Hence, if you live in a high-tax state, like New York, New Jersey, or California your marginal tax rate will start to approach 70%," the committee said. "But it is worse than that. There is a proposal to raise the income tax in California, New Jersey, and New York.
"In the California General Assembly, there is a bill to raise the income tax rate to 16.5%. In New York, Governor Andrew Cuomo has proposed a two percentage point tax hike, which would raise the income tax in New York City to 15.5%."
Source: westernjournal.com
CLAIM: At his first press conference since taking office, President Joe Biden claimed that 83 percent of Donald Trump's 2017 tax cut went to the top 1 one percent of earners.
Verdict: False.
The beneficiaries of the 2017 tax reforms were not confined to the top earners. In fact, the overwhelming majority of American taxpayers received a tax cut through the Trump Tax Cuts and Jobs Act.
Eighty-two percent of American middle-class households received a tax cut and received an average tax cut of $1,260. Ninety percent of Americans saw an increase in take-home pay. The tax cuts raised wage growth by 3.3 percent and helped foster historic lows in unemployment.
The nonpartisan Tax Policy Center estimated in 2018 that the top 1 percent would get 20.5 percent of the tax cuts.  The top twenty percent would get 65.3 percent.  Higher-income people pay most of the income tax so cuts to income taxes tend to benefit them. The top twenty percent of households, for example, earn 53 percent of pre-tax income and pay 68 percent of all income taxes, according to the Peter Peterson Institute.
Source: breitbart.com
A new survey found that a vast majority of Americans are worried about the effects of inflation on the U.S. economy as the country continues to recover from the coronavirus pandemic.
77% of Americans are concerned about inflation negatively affecting the economy, according to the survey conducted by CivicScience, a data firm, and obtained Thursday by Axios.
Source: dailycaller.com
---
Political/Rights
Legal Insurrection reported:
Bandy Lee, the psychiatrist who repeatedly diagnosed Trump as mentally unfit and dangerous, without ever even having met him, has apparently been fired by Yale University.
Dr. Lee is fighting Yale over her dismissal.
Source: thegatewaypundit.com
This CNN story is false.

H.R. 1 does ban voter ID laws.

Here's the section that does it. pic.twitter.com/Gwm4DautrH

— Tom Cotton (@TomCottonAR) March 25, 2021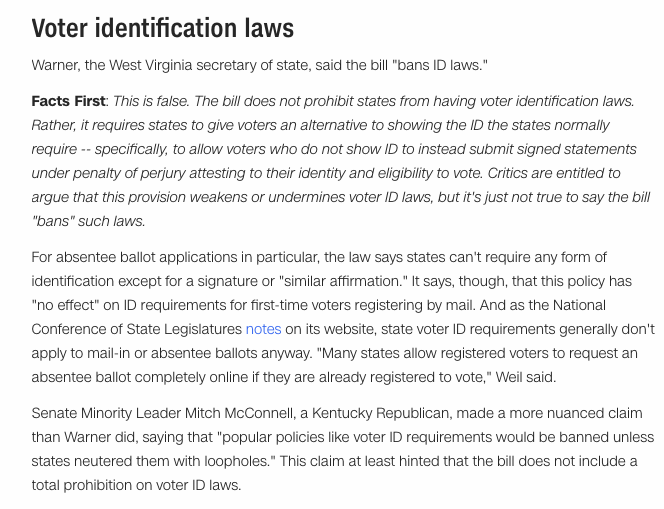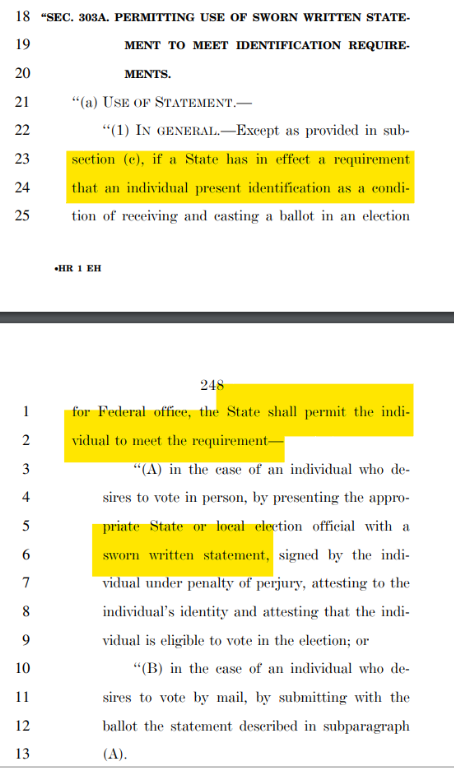 H.R. 1 says that a state CANNOT enforce a voter ID law, as long as a voter submits a written statement "attesting to the individual's identity."

If a state can't enforce a voter ID law, that is the same as banning voter ID laws.

— Tom Cotton (@TomCottonAR) March 25, 2021
Normally, the Department of Justice would defend employees over their official duties. But department lawyers argued in a March 15 motion that the DOJ must determine whether the employee defendants "reasonably appear to have acted in the scope of employment,"
reporte4d Just the News.
The motion said the DOJ also must determine "whether their representation is in the interest of the United States … and whether legal or factual conflicts exist among the various defendants such that representation of all by the same attorney would be inappropriate."
Source: wnd.com
This entire diatribe on immigration from President Biden should be fact-checked as "FALSE" by any honest fact checker.

Biden claims migrants are not coming because of him when they are ON CAMERA saying they are and wearing Biden T-shirts, displaying Biden flags!

— Kayleigh McEnany (@kayleighmcenany) March 25, 2021
Joe Biden is blaming Donald Trump for the migrant crisis at the border… when we literally have immigrants on camera saying they came to the border because of Joe Biden's policies

— Mark Meadows (@MarkMeadows) March 25, 2021
Nasty joke from Biden about unaccompanied minors coming over the border because he's a nice guy… since many of those kids are the victims of human & sex trafficking.

— Liz Wheeler (@Liz_Wheeler) March 25, 2021
.@POTUS just told a blatant falsehood at the presser. The Administration is categorically *not* returning the "vast majority" of illegal alien families—in fact, it's the exact opposite. The vast majority (87 percent) are being released into the U.S.

— Stephen Miller (@StephenM) March 25, 2021
Mexico…one of his Admin's first actions was to terminate the seamless cooperation with Mexico through MPP and to assail as "inhumane" any attempt to return illegal crossers to Mexico.
Biden just effectively told Latin America that he will not crackdown on illegal immigration like Trump did

That's an open invitation to illegal fold our borders

— Ryan Saavedra (@RealSaavedra) March 25, 2021
 Biden says the press will have access to all migrant facilities. Asked when, he said: "I don't know, to be clear."
Some questions I'd love to see at this press conference:

-who built the cages, Joe?
-where's Hunter?
-how many illegal immigrants killed Americans by spreading COVID?

Too bad we don't have a real media.

— Rep. Lauren Boebert (@RepBoebert) March 25, 2021

Not a single reporter asked Biden about him falling 3 times while holding onto a rail trying to walk up some simple steps
Pres. Biden: "I will commit to transparency [on migrant detention facilities] once we get this thing moving." Kristen Welker: How soon will that be? Pres. Biden: "I don't know."
Biden only called on left-wing news publications. Don't think he called on Fox News even once, not even sure if they were even allowed in the room.

This was an illegitimate press conference. Biden is hiding from having to answer tough questions.

— Ryan Saavedra (@RealSaavedra) March 25, 2021
Just received word that Fox News reporter Peter Doocy was in the room and Joe Biden refused to call on him

Apparently Doocy was not on Biden's pre-approved list of reporters to call on

— Ryan Saavedra (@RealSaavedra) March 25, 2021
The press conferenced was scripted, the questions known and he had answers prepared for him and still it was a clown show
A local Border Patrol station announced   two migrants had drowned in the Rio Grande while attempting to illegally enter the United States along the Texas-Mexico border. The drownings were caught on amateur video released to local media. A man on the U.S. side of the Rio Grande, Jesus Vargas, who took the video says he witnessed two teenagers and a woman drown. He said he was able to rescue another boy he estimated to be about 13 years old.
source: thegatewaypundit.com
President Joe Biden has essentially told the American people the buck does not stop at the Oval Office — at least not on the border crisis. Having dismantled many of the immigration policies the Trump administration used to regain control of our southern border, Biden administration officials now insist the current mess is somehow all Trump's fault.
Unfortunately, the facts are not on their side. In truth, the Trump administration reformed a broken immigration system — one that had encouraged illegal migration, incentivized the most vulnerable to attempt an often deadly journey, and forced the Department of Homeland Security to release those they caught (in some cases criminals) into American communities.
Under President Trump, we applied long-standing immigration law, working with officials in Mexico and Central America to ensure those who were truly in fear of their governments applied for asylum closer to home. Furthermore, we assured those with lawful claims of asylum were allowed to enter. Meanwhile, those who did not have lawful claims gave up even trying.
As a result of these policies, we inherited a flood of fraudulent asylum claims and a massive backlog of cases. Unfortunately, this meant deserving individuals were waiting years to have their claims adjudicated. To meet this need, we hired roughly 500 new asylum officers to address the backlog, leading DHS and the U.S. Department of Justice to grant asylum to more individuals in Trump's first three years in office than in the highest four years of Obama's entire eight-year tenure.
The claim that the Biden administration inherited an immigration system "dismantled in its entirety" is quite dubious. If this was true, why have they turned to a number of Trump policies and programs to try to dig themselves out of the crisis they created?
For example, they're using Title 42, a Trump-era public heath order, to return to Mexico single adults and families caught illegally entering the United States. Unfortunately, however, they've opted not to enforce Title 42 for minors. As such, instead of returning minors to their homes and families, the administration has advertised that any minor showing up at the border will be released into the United States, a dangerous and inhuman policy with tragic consequences.
The Biden administration is also relying on temporary facilities built or acquired during the Trump era. Of course, back then, the media wrongfully labeled them as "cages," whereas now, such venues are simply branded "reception centers." Americans are not fooled.
Additionally, the current administration is now leaning on Mexico to do more to enforce border controls. This, too, was a key element of Trump's approach. It worked, but only in conjunction with other enforcement policies.
Biden is also using hotel rooms to house families that arrive here illegally, just as Trump did. The difference is, under Trump, they were held in hotels until they could be returned to their home countries. Now, they're put up in hotels then released into American communities.
Source: thefederalist.com
Derek Maltz, former DEA Special Operations Agent, joined Newsmax on Thursday morning to discuss the historic crisis at the open US southern border.
During his segment, Derek Maltz brought up the horrific increase of fentanyl trafficking at the border.
Source: thegatewaypundit.com
So @JoeBiden let a camera into a facility President Trump admin built and @PressSec called it the "aspirational facility" why didn't you let them into the facilities Obama built? Ya know the cages? #BidenBorderCrisis

— Rosie memos (@almostjingo) March 25, 2021
The CEO of Gallup posted a friendly warning for President Joe Biden: Roughly 42 million people south of Texas want to migrate into the United States.
Here are questions every leader should be able to answer regardless of their politics: How many more people are coming to the southern border? And what is the plan?There are 33 countries in Latin America and the Caribbean. Roughly 450 million adults live in the region. Gallup asked them if they would like to move to another country permanently if they could.A whopping 27% said "yes." This means roughly 120 million would like to migrate somewhere.Gallup then asked them where they would like to move. Of those who want to leave their country permanently, 35% — or 42 million — said they want to go to the United States.Seekers of citizenship or asylum are watching to determine exactly when and how is the best time to make their move.In addition to finding a solution for the thousands of migrants currently at the border, let's include the bigger, harder question — what about all of those who would like to come? What is the message to them?What is the 10-year plan?330 million U.S. citizens are wondering. So are 42 million Latin Americans.
---
Geopolitical/Police State
Nearly all members of Congress who oversee privacy and antitrust issues have received donations or lobbying money from Big Tech, according to a Public Citizen report.
"Tech companies are going to spend millions and dial through their Rolodexes looking for officials to stop regulation and legislation needed to protect consumers," Lisa Gilbert, executive vice president for Public Citizen, said in a statement.
In total, 134 of the 142 members of four House and Senate committees with jurisdiction over Big Tech issues accepted money from industry PACs and lobbyists in 2020, the report found.
Source: dailycaller.com
HOLYYYYY this Biden response to gun control is INSANE. He straight-up just said rolling out gun control is "all about timing" when a shooting happens.

— Caleb Hull (@CalebJHull) March 25, 2021
---
War
Biden: 'It's Gonna Be Hard' To Meet Deadline To Leave Afghanistan
President Joe Biden said Thursday it would "be hard" to meet the May 1 deadline the United States is committed to for withdrawing all troops from Afghanistan.
"It's gonna be hard to meet the May 1 deadline, just in terms of tactical reasons it's hard to get those troops out,
Update 730pm: Japanese defense have confirmed that the missile launch by North Korea was ballistic, while the Japan's government said North Korea's missile launches are a serious problem for the Japan and the international community, adding it will "gather and analyze information, and maintain alertness."
Shortly after, Japan's PM Suga said that North Korea had fired 2 ballistic missiles, calling the launch a threat to regional security and strongly condemning the launch.
* * *
Source: zerohedge.com
Iranian Missile Hits Israeli-owned Cargo Ship in Arabian Sea
Last month, a ship owned by an Israeli firm, the MV HELIOS RAY, was hit by an explosion in the Gulf of Oman. Israel estimated that the explosion was a targeted attempt against an Israeli-owned ship by Iran. Iran denied involvement at the time. "We strongly reject this accusation," Saeed Khatibzadeh, spokesman for the Foreign Ministry in Tehran.
Source: haaretz.com
---
False Flags
Pres. Biden falsely claims the U.S. is doing a better job of vaccine distribution than any other country, "it's not even close." pic.twitter.com/pk2nKu1tsj

— Alex Salvi (@alexsalvinews) March 25, 2021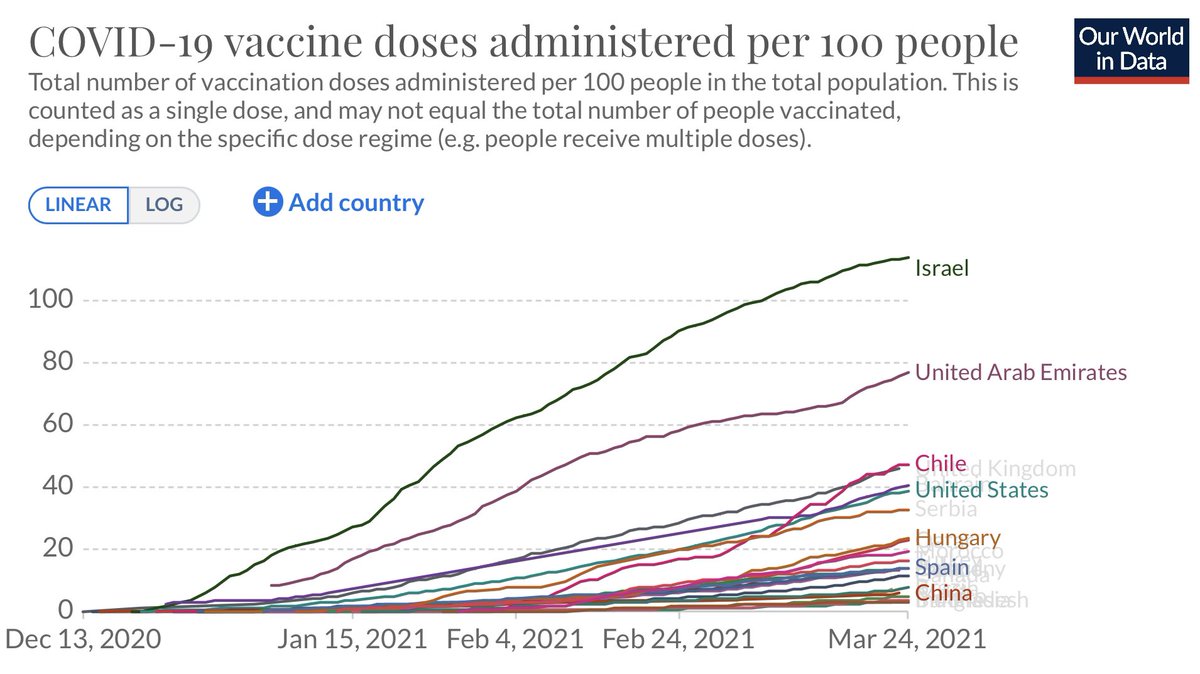 The Senate  confirmed Dr. "Rachel" Levine, a transgender, as Assistant Health Secretary in a 52-48 vote.
Levine has a horrible track record as Pennsylvania's secretary of health.
The Coronavirus ravaged nursing homes across the US because of deadly Democrat policies of forcing people infected with COVID-19 back into the long-term care facilities.
Dr. Levine however made sure his 95-year-old mother was removed from the death box and transported safely to a hotel.
When confronted by a reporter for moving his mother out of the elderly care facility while allowing others to die, Levine answered by reading prepared notes and talking points.
"Well my mother is actually a resident of a personal care home — not a nursing home and that is regulated by the Department of Human Services, not the Department of Health," Levine said. "My mother requested — and my sister and I as her children complied to move her to another location during the COVID-19 outbreak. My mother is 95 years old. She is very intelligent and more than competent to make her own decisions."
Levine also believes minors can make their own decision to receive puberty blockers.
Dr. Levine refused to answer Dr. Rand Paul's questions about hormone therapy to 3-year-olds.
Rand Paul RIPPED Dr. Levine during the confirmation hearing last month.
WATCH:
Source: thegatewaypundit.com
Another week, another Andrew Cuomo scandal.
It is now coming to light that Andrew Cuomo's family got special treatment on COVID testing early in the pandemic, including his brother Chris Cuomo the CNN host.
This was unfolding as Andrew Cuomo's policies were killing the members of other families by putting COVID patients into nursing homes.
The Albany Times Union reports:
Top health officials told to prioritize COVID testing for Cuomo's relatives

High-level members of the state Department of Health were directed last year by Gov. Andrew M. Cuomo and Health Commissioner Dr. Howard Zucker to conduct prioritized coronavirus testing on the governor's relatives as well as influential people with ties to the administration, according to three people with direct knowledge of the matter.

Members of Cuomo's family including his brother, his mother and at least one of his sisters were also tested by top health department officials — some several times, the sources said.
Source: thegatewaypundit.com
Judicial Watch announced today the receipt of emails they requested related to the National Institutes of Health (NIH) and its interactions with China and the World Health Organization.   
The new emails include a conversation about confidentiality forms on February 14-15, 2020, between Lane and WHO Technical Officer Mansuk Daniel Han. Han writes: "The forms this time are tailored to China's terms so we cannot use the ones from before."

A WHO briefing package sent on February 13, 2020, to NIH officials traveling to China as part of the COVID response ask that the officials wait to share information until they have an agreement with China: "IMPORTANT: Please treat this as sensitive and not for public communications until we have agreed communications with China." 
These revelations are puzzling.  Why was Fauci's NIH bending over backwards to accommodate China's terms for confidentiality in regards to the China coronavirus and what was in the WHO's 'strictly confidential' COVID-19 epidemiological analysis?
Source: thegatewaypundit.com
DR. SCOTT ATLAS
LOCKDOWNS
"Lockdowns were harmful. They were the opposite of what should have been done. We said it from the beginning. And there's a massive price to pay it's not just that they failed to stop the infection. The lockdowns actually killed people, destroyed lives, destroyed families. And, in the schools, our country more than any other country, frankly, was willing to sacrifice its children out of fear."
OPENING SCHOOLS
"It is really unconscionable that there are any schools that are not in person. The data was in last spring. It's been validated by studies at Duke University, Brown University, and all over the world. Kids have extremely low risk from covid-19 and there are enormous harms from keeping schools closed. There were hundreds of thousands of child abuse cases not reported. There's children's nutritional needs. All of these things are worse for lower & middle income families."
SCHOOL MASKING
"There's no scientific rationale or logic to have children wear mask in schools."
MASKING
"The empirical evidence from looking at places that used mask mandates shows there was no evidence that a mask mandate was effective in stopping cases from spreading. Moreover, there's a large study from Denmark that shows mask did not reduce infections with any statistical significance. There is no evidence that a mask mandate has worked. In fact, the people in the US have been wearing mask at a very high frequency for months and the cases exploded."
MEDIA COVERAGE
"The American media is different from most of the world. There's a study which quantified how much negative media was being produced about the pandemic and in the English-speaking media outside the US, there was about 53% negative press coverage. Inside the US, 90% of the coverage about the pandemic was negative. The media is reckless when they incite fear like that. There's a responsibility of the media that really has been abandoned."
SOCIAL MEDIA
"In the town-square of today, it wasn't just attack mode, it was also overt censorship. I had my own YouTube interviews about schools opening pulled down. Various tweets were censored. I think many of us have had that happen. This is very harmful. The power of media to just overtly control what is even said. When you extend that to the rebukes of speaking against the narratives, we interfere with the process to achieve the truths that we need to seek and this is a huge problem."
HERD IMMUNITY
"There was a complete rejection of decades of fundamental knowledge about biology and immunology. We have decades of experience with coronaviruses. Fundamental biology says that if you get an infection from a virus it's highly likely you will have some sort of protection. Data from Singapore showed a robust t-cell response and a cross-protection mechanism. This is first-year medical school stuff yet if you said that you were pilloried. Decades of information and basic biological phenomenon were thrown out and became controversial."
---
Q
JUST IN – Suez Canal 'temporarily suspending navigation' until they finish the process of re-floating the stuck container ship (AFP)

— Disclose.tv 🚨 (@disclosetv) March 25, 2021
Authorities now want to free the giant container ship by a combination of removing containers, oil and water, multiple tug boats and dredging of sand. It will take days or even weeks.

— Disclose.tv 🚨 (@disclosetv) March 25, 2021
And just like that, millions of people are learning Hillary's secret service codename was Evergreen.
I SMELL POPCORN! I find it strange that Biden has only been (fake) President for 64 days and is swiftly implementing EVERYTHING Trump warned us he would do if he got in the White House….
Predictions from Trump's campaign speeches>>
• Radical Cabinet Picks
• Joe won't be making the decisions
• Eliminate Fracking
• Kill the Keystone Pipeline
• Get back in the Paris Accord
• Open up the Borders
• Change Election Laws (to allow theft)
• Money sent to Illegal Border Jumpers
• Extended CoronaFascism Measures
• Oil Prices Skyrocketing
• Tax Hikes on the Middle Class
• Coming for our guns
I become more convinced, every day, that we are watching a movie!
#BREAKING — @CapitolPolice announced that "all of the fencing that surrounded the outer perimeter of the U.S. Capitol Complex has been removed…" The Inner perimeter still remains.
.
.
.@wusa9 #CapitolHill #Capitol #Politics #CapitolSecurity pic.twitter.com/L4Zg4shDpX

— Evan Koslof (@ekoslof) March 24, 2021

A federal prosecutor largely responsible for leading the criminal investigation into the Jan. 6 Capitol riot told CBS News' "60 Minutes" that current evidence "probably meets" sedition requirements.
Source: dailycaller.com