Buckle Up, Patriots Are Going To Bring It All Down, Senate Was The Key – Episode 2089
Podcast: Download (Duration: 42:25 — 41.8MB)
Trump has ended the Obama-Era regulations which allowed the US to become energy independent. Trump and the patriots have been setting the economic stage and it is almost complete. This need to happen to move the economy into the transition. The Fed is now looking to cut rates, the [CB] has completely backfired. The [DS]/D's have failed in their mission, Trump was acquitted of all charges, now it's the patriots turn. Trump gave the SOTU and the D's were not happy about it, they were exposed to the world. The patriots are ready to drip some more information, get ready, the [DS]/D's will feel pain, the patriots are going to bring it all down, it's going to biblical.
Check Out The X22 Report Spotlight YouTube Channel X22Report Spotlight
Please check Newzsentinel.com for the latest news on the economic collapse. The Sentinel Alerts are updated throughout the day.
---
Current News – 02.05.2020
Watch The X22 Report On Video
---
Economy
President Donald Trump touted how his reversal of Obama-era regulations on the fossil fuel industry has led to the United States being the largest producer of oil and natural gas in the world during his State of the Union address on Tuesday at the U.S. Capitol.
"Thanks to our bold regulatory reduction campaign, the United States has become the number one producer of oil and natural gas in the world, by far," Trump said.
"With the tremendous progress we have made over the past three years, America is now energy independent, and energy jobs, like so many elements of our country, are at a record high," Trump said. 
Source: breitbart.com
 Hyundai Motor Co. and its sister Kia Motors Corp. suspended production lines in South Korea after it was hit with a parts shortage from China as the virus outbreak broadened.
Now there is a new report that could create huge problems for America's most valuable company: Apple supplier Foxconn said Wednesday that its facilities in China could take several weeks to resume full production,
Foxconn is responsible for assembling Apple iPhones in China.
Source: zerohedge.com
A Fed rate cut in 2020 is now on the table as coronavirus spreads, economist says
As coronavirus spreads, market participants are trying to assess whether global central banks will make a concerted effort to stem the damage in their respective economies by leveraging monetary policy tools.
The People's Bank of China kicked things off Monday with a $22 billion injection in an effort to boost liquidity as Asia stocks plunged on the first trading day after the Lunar New Year.
The outbreak could even force the Federal Reserve to step in and cut interest rates to ease the pain in U.S. markets, said Benn Steil, director of international economics and senior fellow at the Council on Foreign Relations.
Source: cnbc.com
---
Political/Rights
Day Three – Iowa Caucus Results Still Stuck in Propaganda Mode – Club Engineers in Holding Pattern…
Today is the third day since the Iowa caucuses took place and still the results are not announced.  The current status is 71 percent reported and the Democrat narrative engineers are in a holding pattern. [New York Times Election Results]:
Bernie Sanders is leading in the popular vote, but Pete Buttigieg is leading in State Delegate Equivalents (SDE's); each has received 11 delegates so far.
If I had to guess I'd say the results will be released after the impeachment acquittal vote.
Source: theconservativetreehouse.com
What are the odds that:

➡️ most anticipated poll of the year (@DMRegister) is cancelled.

➡️ voting system completely crashes.

….and it has nothing to do with a Bernie blowout and a Biden crash?

— Lindsey Graham (@LindseyGrahamSC) February 4, 2020
No RBG🧐 #SOTU

— Rosie memos (@almostjingo) February 5, 2020
This is what Nancy Pelosi ripped up. A truly shameful move, even for her. pic.twitter.com/I7mNMZn4sj

— Donald Trump Jr. (@DonaldJTrumpJr) February 5, 2020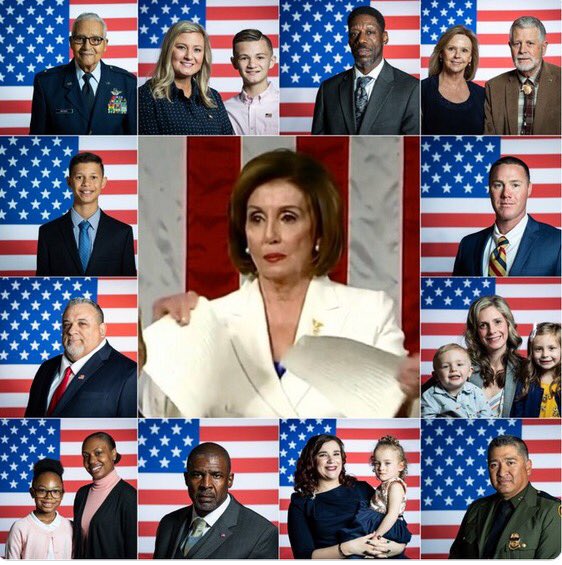 Speaker Pelosi just ripped up:

One of our last surviving Tuskegee Airmen.

The survival of a child born at 21 weeks.

The mourning families of Rocky Jones and Kayla Mueller.

A service member's reunion with his family.

That's her legacy.

— The White House (@WhiteHouse) February 5, 2020
Pelosi Was Mandated to Preserve Trump's Signed Copy of His SOTU Speech — She Tore It Up Instead
According to Carl Hibgie — US law requires that Pelosi preserve any official government document:
FYI: @SpeakerPelosi destroyed an official government document.

18 US code 2071 states:

"Whoever, having the custody of destroys the same, shall be fined… shall forfeit his office and be disqualified from holding any office under the United States."https://t.co/o5jzF4X43C pic.twitter.com/xbj3gCzzX8

— Carl Higbie (@CarlHigbie) February 5, 2020

Nancy Pelosi chose to very publicly destroy the document instead.
(a)Whoever willfully and unlawfully conceals, removes, mutilates, obliterates, or destroys, or attempts to do so, or, with intent to do so takes and carries away any record, proceeding, map, book, paper, document, or other thing, filed or deposited with any clerk or officer of any court of the United States, or in any public office, or with any judicial or public officer of the United States, shall be fined under this title or imprisoned not more than three years, or both.

(b)Whoever, having the custody of any such record, proceeding, map, book, document, paper, or other thing, willfully and unlawfully conceals, removes, mutilates, obliterates, falsifies, or destroys the same, shall be fined under this title or imprisoned not more than three years, or both; and shall forfeit his office and be disqualified from holding any office under the United States. As used in this subsection, the term "office" does not include the office held by any person as a retired officer of the Armed Forces of the United States.
Source: thegatewaypundit.com
Former Mitt Romney Adviser Sits on Burisma Board of Directors
Source: breitbart.com
 Judiciary Committee Chairman Jerry Nadler is planning to subpoena John Bolton to testify in the House,
 President Trump's acquittal  is a virtual certainty, and Trump is walking away from the third impeachment trial in the nation's history more popular than ever. But that's not all: The whole process was a snoozefest. An almost unbearable procession of ridiculous and hysterical soundbites like when Adam Schiff warned that Trump might trade Alaska to the Russians.
Source: zerohedge.com
UPDATE: Solomon on podcast said that his vehicle may have been targeted in theft, thief may have been looking for his car, and forensics show thief twice tried to exploit his hard drive but appears to have been unsuccessful due to security countermeasures installed on his machine https://t.co/s55rAzw3MX

— Paul Sperry (@paulsperry_) February 5, 2020
The National Archives and Records Administration (NARA) confirmed   that it is in the process of reviewing documents requested by two leading GOP Senators that pertain to numerous meetings held in 2016 by senior Obama White House officials, the Democratic National Committee and Ukrainian officials.
  the documents requested by Senator's Ron Johnson, R-Wisconsin, and Chuck Grassley, R-Iowa, were being reviewed.  According to Senate officials and confirmed by the National Archives the documents will first be reviewed by representatives of President Obama and President Donald Trump for classification purposes and executive privilege before being turned over to the Senate.
There are thousands of documents currently being reviewed, said Senate sources familiar with the ongoing process.
What's Being Investigated?
 Grassley and Johnson are investigating the content of those meetings based on   information that surfaced over the past year suggesting that DNC consultant Alexandra Chalupa, who attended the meetings was also working with Ukrainian officials to gather information against President Trump's campaign at the time.
The Senator's letter asked for the "records of multiple White House meetings that took place in 2016 between and among Obama Administration officials, Ukrainian government representatives, and Democratic National Committee officials."
"The White House meeting records also show Alexandra Chalupa, a Ukrainian American operative 'who was consulting for the Democratic National Committee' during the 2016 election, attended numerous meetings at the White House, including one event with President Obama," 
Source: saracarter.com
President Trump centered the immigration portion of his State of the Union speech on "sanctuary cities," calling for Congress to pass a Senate bill that would allow victims of crimes committed by illegal immigrants to sue the local or state government if it is a sanctuary.
"The United States of America should be a sanctuary for law-abiding Americans — not criminal aliens," Trump said
Source: washingtonexaminer.com
---
Geopolitical/Police State
Twitter has locked the account of conservative journalist James O'Keefe for publishing publicly available evidence that a pair of radical leftists with violent fantasies work for the Bernie Sanders campaign. While O'Keefe's tweets are still visible, he can't publish anything new on the platform until he deletes a post which violates Twitter's rules against "posting private information."
O'Keefe was responding to a tweet by Washington Post reporter Dave Weigel claiming that the men, Kyle Jurek and Martin Weissgerber, are Sanders volunteers. When O'Keefe demanded a retraction, posting publicly available Federal Election Commission (FEC) records revealing their employment, Weigel deleted his tweet.
And now, O'Keefe must delete his evidence or he won't be able to tweet again.
BREAKING: @JamesOKeefeIII Twitter account has been locked for reporting on Sanders campaign staff

He recieved this message:
Source: zerohedge.com
---
Q
T

ake a listen 

What happens when the mass pop witnesses

[no political spin][FAKE NEWS cannot censor SOTU address]

the 'anti-American' actions of the LEFT firsthand?

The Silent War Continues…..

Q
In God We Trust.jpg
EPtY15_VAAEYi2A.png

>Sometimes the past can find the future.IN GOD WE TRUST. WHAT A COINCIDENCE!

>>8031593

Sometimes the future can find the past.

Q
Law Abiding Citizen – "Its Gonna Be Biblical"

Q