The Light Shines On The [DS] Shadow Players, SR ETA June – Episode 2088
Podcast: Download (Duration: 46:43 — 48.2MB)
The [CB] just backfired Larry Kudlow is letting everyone know that the event in China will have no real impact in the US. Actually he said that it might have the opposite effect, business might be moving back to the US because of the event. It seems Trump and XI are on the same page, Trump is getting exactly what he needs to keep this system pumped up. The transitional economy is in full swing. The [DS]/D's just ran out of ammunition, the fake impeachment has fallen apart. The D's are having problem with the Iowa Caucus, it seems shadow players are involved. Tom Fitton gets hit by the WaPo, Fitton fights back.  Rand Paul reads his question in front the Senate. Emails surface that have to do with SR, even though the FBI says there was no investigation. The MSM pushing technology that can show which pics and videos are fake and what is real.
Check Out The X22 Report Spotlight YouTube Channel X22Report Spotlight
Please check Newzsentinel.com for the latest news on the economic collapse. The Sentinel Alerts are updated throughout the day.
---
Current News – 02.04.2020
Watch The X22 Report On Video
The audio of John Kerry is muted, if you would like to see the video click on the link ->https://twitter.com/TheSharpEdge1/status/1224714529524850689
Here is the original video that YouTube Blocked

---
Economy
---
Political/Rights
federal judge Deborah Batts, who was set to preside over Michael Avenatti's trial on charges of stealing money from Stormy Daniels, is dead at age 72
US District Judge Deborah Batts passed away on Sunday from unknown cause 
Last fall, she set Michael Avenatti's embezzlement trial for April 21 
Batts, a Harvard Law School graduate, was appointed to the US District Court for the Southern District of New York in 1994 by President Bill Clinton 
Source: dailymail.co.uk
RAND PAUL Drops MOAB on Senate Floor — Reads Aloud His Question Naming Anti-Trump CIA Operative Eric Ciaramella and Sean Misko (VIDEO) 
Last week Supreme Court Chief Justice Roberts played politics and REFUSED TO READ SENATOR RAND PAUL'S QUESTION  during the Senate impeachment trial!
  
  during his closing comments Senator Rand Paul read out his question on the floor of the US Senate.
This was an AMAZING SPEECH by Rand Paul!
Source: thegatewaypundit.com
The Democrat Caucus is an unmitigated disaster. Nothing works, just like they ran the Country. Remember the 5 Billion Dollar Obamacare Website, that should have cost 2% of that. The only person that can claim a very big victory in Iowa last night is "Trump".

— Donald J. Trump (@realDonaldTrump) February 4, 2020
Three different sources say a firm called "Shadow" developed the Iowa Dem caucus app. They haven't responded to comment, neither has Iowa Dem Party. The firm was paid by both Nevada & Iowa Democratic Party, disclosures show. Also by Mayor Pete's campaign.

— Lee Fang (@lhfang) February 4, 2020
Nevada Dem federal account paid Shadow $58k in August, Iowa Dems state account paid Shadow $63,183 in two payments over Nov & Dec, suggesting app wasn't developed until just months ago? Both caucus states. Shadow is a spin-off from PACRONYM, a new Dem dark money/superPAC hybrid.

— Lee Fang (@lhfang) February 4, 2020
The caucus app blamed for the Iowa vote count chaos was created by tech firm Shadow, Inc.

Shadow's CEO Gerard Niemira, product manager Ahna Rao, CTO Krista Davis, and COO James Hickey all worked on the Hillary for America campaign. pic.twitter.com/hA0JPYX5Ig

— Michael Coudrey (@MichaelCoudrey) February 4, 2020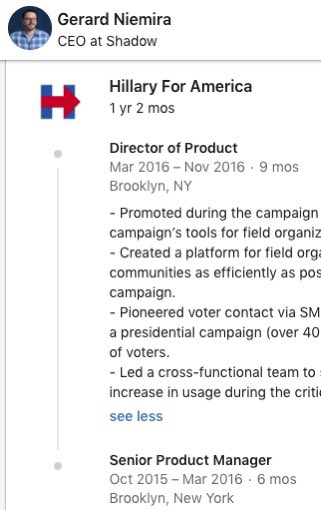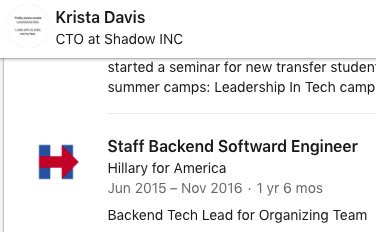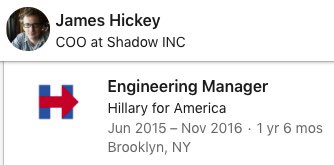 Nevada Democrat party paid Shadow $58k in August & the Iowa Democrat party paid Shadow $63,183 in two payments over Nov & Dec, suggesting app wasn't developed until just months ago.

Shadow is a spin-off from PACRONYM, a New Democrat dark money/superPAC hybrid. pic.twitter.com/4URUwr68le

— Michael Coudrey (@MichaelCoudrey) February 4, 2020

Facebook/Instagram also quickly moved to censor Judicial Watch's data on Iowa's dirty voting rolls.
Judicial Watch and Tom Fitton were right all along,  truth.
Source: thegatewaypundit.com
Biden Camp Has 'Real Concerns' About Iowa Caucus Process
This makes the case for paper ballots & voter IDs even stronger!
Everything we are watching is most likely planned by the D's, watch they will break into the SOTU to announce the results which will block out the SOTU 
BREAKING EXCLUSIVE: FBI Claims Previously Undisclosed Peter Strzok and Lisa Page Emails on Seth Rich Are Redacted to Protect Investigation They Claim Never Happened!
On Monday, January 27, 2020, we had a stunning update ==>>
After  claiming no FBI records could be found related to Seth Rich, emails were uncovered. These emails weren't just from anybody. These emails were between FBI lovebirds Peter Strzok and Lisa Page, the two most corrupt individuals involved in the Russia Collusion Hoax.
In a set of emails released by Judicial Watch on January 22, 2020, provided by a FOIA request on Peter Strzok and Lisa Page, multiple emails were found referring to Seth Rich:
The emails are heavily redacted but we do know that Jonathan Moffa was also involved in the email exchange:
What's also unreal is that the individual releasing the emails to Judicial Watch, David M. Hardy, is also with the Deep State  who claimed he couldn't find any emails related to Seth Rich to Ty Clevenger. Per Clevenger, he was never contacted by Hardy or the FBI to notify him that Seth Rich emails have been found.
Clevenger has prepared an email and he will notify the court tomorrow and will provide the following complaint to US Attorney Durham, US Attorney Donoghue and DOJ Inspector General Horowitz:
Ty Clevenger now has ample ammunition to return to court and insist that the FBI be required to identify all agents involved in these email chains and to discuss what they knew about the Seth Rich case. David Hardy declared under the penalty of perjury that there were no such emails. I doubt that the two judges involved in the relevant cases on this matter will be happy to learn that the FBI stonewalled a valid FOIA request.
Source: thegatewaypundit.com
DOJ tells Supreme Court that subpoenas for Trump's finances are unconstitutional
The Department of Justice is arguing in filings to the Supreme Court that the multiple subpoenas for President Trump's financial records are unconstitutional.
The solicitor general's office is siding with the president in his appeal of lower court rulings upholding subpoenas issued by House committees and the Manhattan district attorney's office.
The Justice Department argued that the Constitution prohibits local law enforcement from investigating the president and that Congress must overcome high hurdles when seeking information from him. 
"These cases involve the first attempts by congressional committees to demand the personal records of a sitting President of the United States," the Justice Department said in one of the filings, submitted Tuesday. "That use of their limited and implied investigatory powers poses a serious risk of harassing the President and distracting him from his constitutional duties."
Both cases will be argued before the Supreme Court on March 31.
source: thehill.com
---
Geopolitical/Police State
---
War
Iran wants to resolve issues with Saudi, UAE quickly
 Iran wants to resolve differences with Gulf states Saudi Arabia and the United Arab Emirates "as quickly as possible, 
Source: dailystar.com.lb
---
Q
The company, owned by Google's parent, introduced a free tool it calls Assembler to sort out real images from fake ones
On Tuesday, Jigsaw, a company that develops cutting-edge tech and is owned by Google's parent, unveiled a free tool that researchers said could help journalists spot doctored photographs — even ones created with the help of artificial intelligence.
Jigsaw, known as Google Ideas when it was founded, said it was testing the tool, called Assembler, with more than a dozen news and fact-checking organizations around the world.
Source: nytimes.com